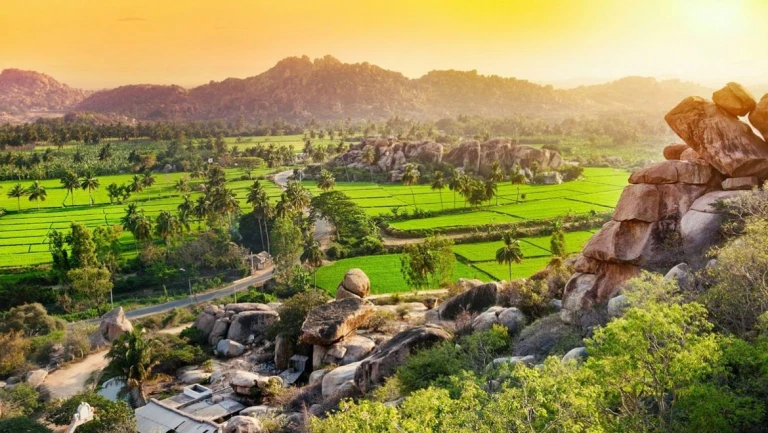 An ancient idea, ecotourism has seen tremendous development since the 1980s as a result of growing pollution and the consumption of resources brought on by tourists. The tourism industry embraced environmentally friendly techniques to conserve cultural and traditional values, strengthen local economies, preserve natural flora and fauna, and generate jobs.
However, it wasn't until 2017 that the United Nations emphasized the significance of sustainable tourism and that it received significant attention. With the onset of climate change and worldwide warnings, the tourist industry's role in contributing to it has sparked a collaborative effort to embrace sustainable tourism practices, highlighting the significance of ethical travel habits in the tourism sector.
Here are some of the Indias most Unique Eco-Tourism Destinations.
Sikkim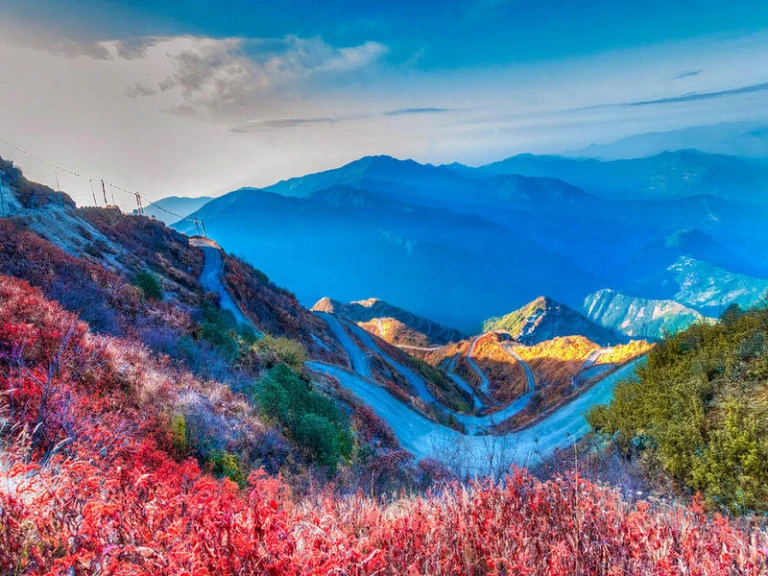 Sikkim started to promote ecotourism in 1995–1996 as a result of its rugged terrain and international visitors. The government emphasized showcasing nature in rural regions and eventually got people interested in village tourist operations.
Bhutias and Lepchas, two ethnic groups, coexist peacefully according to their shared traditions, customs, and religious beliefs. The Bhutias and Lepchas celebrate Loosong, Namsoong, and Dasai & Tyohar festivals.
The mountainous area of Sikkim is home to 28 significant peaks, 180 lakes, and a rich biodiversity that includes 4000 kinds of floral and medicinal plants, 600 species of birds, 600 species of butterflies, 39 types of rhododendron, and 558 species of orchids.
Activities 
Visit the Singba Rhododendron Sanctuary, Fambong Lho Wildlife Sanctuary, Kyongnosla Alpine Sanctuary, Maenam Wildlife Sanctuary, and Varsey Rhododendron Sanctuary as part of your ecotourism excursions.
Visitors have the opportunity to experience the region's rich flora and wildlife through these ecotourism activities. The breathtaking scenery and diverse wildlife of Kanchedzong National Park are well recognized, and the brilliant rhododendron blooms of Singba Rhododendron Sanctuary make it a haven for nature lovers.
While Kyongnosla Alpine Sanctuary gives stunning vistas of alpine meadows and snow-capped mountains, Fambong Lho Wildlife Sanctuary offers the chance to see endangered animals like the red panda. 
Mawlynnong, Meghalaya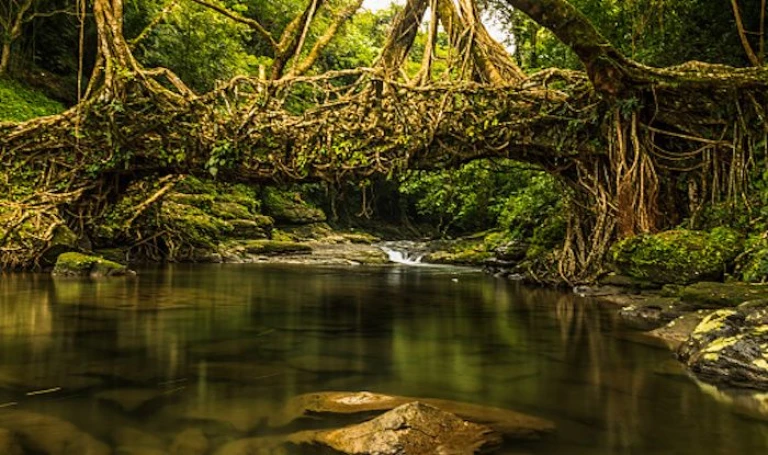 Since 2003, Discover India Magazine has named Mawlynnong, the cleanest town in Asia, the cleanest hamlet in the continent. To encourage environmental sensitivity and regional culture, the town has undertaken ecotourism initiatives including composting, rainwater gathering, and plastic waste management. This eco-friendly holiday experience appeals to both domestic and international visitors.
The people seek to maintain the area's natural beauty by maintaining wood and growing trees because they are proud of their culture and traditions. Mawlynnong village serves as an example of how eco-conscious tourism can have a beneficial effect on the environment and local economy while drawing tourists looking for a genuine and sustainable travel experience.
Activities 
Mawlynnong hamlet provides expansive views of the surrounding hills and Bangladesh plains and is well-known for its Living Root Bridge and Sky View. The Balancing Rock, a huge rock that resists gravity, is another attraction open to visitors.
The area is decorated with lovely flower beds and has a number of hiking routes that lead to waterfalls and verdant woodlands. Attend the Nongkrem Dance festival in Smit to get a taste of the local way of life.
This harvest festival features traditional Khasi dance performances and ceremonies. The celebration features a large parade where the community's rich cultural history is on display as inhabitants dress in traditional garb and engage in rituals to please the gods for a good crop.
Thenmala, Kerala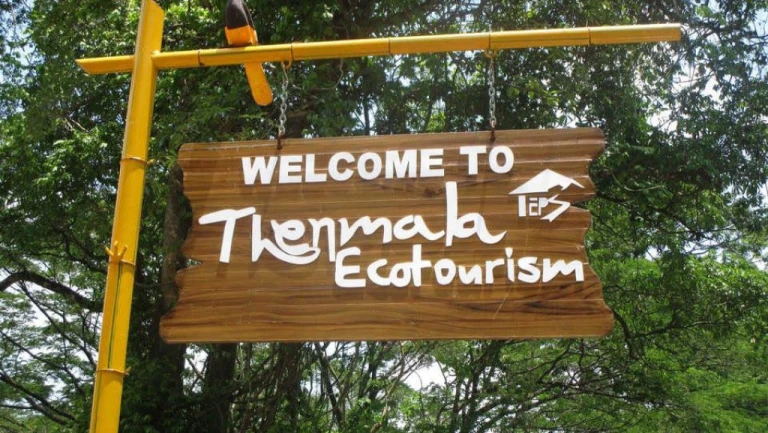 Thenmala, in Kerala's Kollam district, is India's first eco-tourism destination, famous for its high-quality honey export. The Kallada Irrigation and Tree Crop Development Project's Thenmala Dam is an ecotourism site in Kerala. The dam creates the state's largest reservoir, producing a 26-square-kilometer artificial lake in the heart of the Shendurney Wildlife Sanctuary.
The Parappara Dam is Kerala's largest irrigation project. The Parappara Dam serves as a vital irrigation project for the region. It plays a crucial role in ensuring water supply for agricultural activities and supports the overall development of the area.
The dam's construction has not only enhanced agricultural productivity but also contributed to the conservation efforts of the surrounding natural habitats. 
Activities 
With a variety of activities including lake boating, a rope bridge, hiking, mountaineering, bicycling, and a musical fountain, Thenmala draws both local and foreign tourists. One of the main attractions nearby is the waterfall known as Palaruvi.
A deer rehabilitation facility is also close by, where visitors can witness deer in a woodland environment and peek inside a historic tree house that was formerly used by forest residents to protect themselves from wild predators.
Thenmala also provides a distinctive experience with its eco-tourism activities in addition to these attractions. Visitors may stroll through the lush vegetation of the Shenduruney Wildlife Sanctuary, which is home to a variety of plant and animal species.
Visitors can also take advantage of restorative Ayurvedic therapies and treatments in the nearby wellness centers. 
Also read: Discover Incredible Places to Visit for an Amazing Kerala Trip in 2023
Khonoma, Nagaland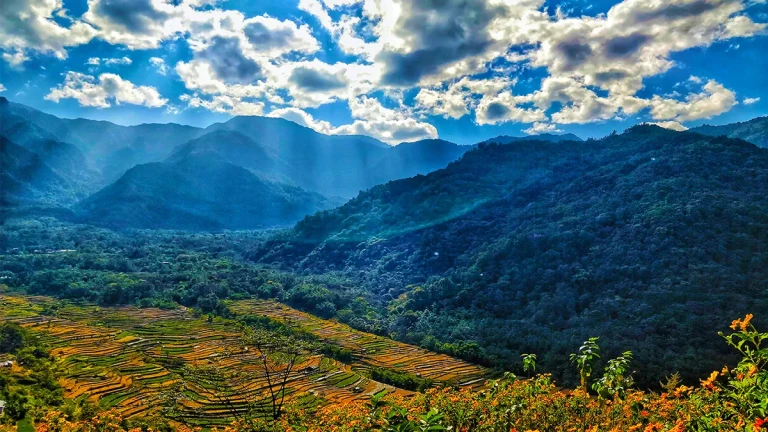 Kohima, a lovely town in Nagaland, is drawing tourists owing to its natural beauty and ecotourism. The sanctuary in Khonoma, a model eco-tourism community, is drawing people who want to see endangered animals and vegetation.
One of the sixteen Nagas tribes, the Angami, largely inhabits this area, supporting appropriate cleanliness and environmental protection. They do not cut down trees, instead mandating homes to have trash cans and utilizing ashes and leftovers as plant manure.
The neighborhood does monthly sanitation campaigns and waste fires to promote hygiene and sanitation. Khonoma hamlet is an ideal eco-tourism destination since it provides camping, hikes, and outdoor activities. Visiting the sanctuary is a unique experience that pays tribute to tribal travel experiences.
Activities 
Kohima is a popular tourist destination known for its Kohima War Cemetery, Naga Heritage Village, Dzükou Valley, zoological park, Japfu Peak, Khonoma Nature Conservation, and Tragopan Sanctuary.
The cemetery is a memorial to World War II soldiers, while the Naga Heritage Village showcases the Naga tribes' cultural heritage through traditional houses, artifacts, and performances. Dzükou Valley offers stunning landscapes and vibrant floral diversity, while the zoological park offers a diverse range of wildlife. Japfu Peak offers thrilling hiking trails and panoramic views of the surrounding valleys.
Khonoma Nature Conservation and Tragopan Sanctuary preserve the region's unique flora and fauna.
Matheran Maharashtra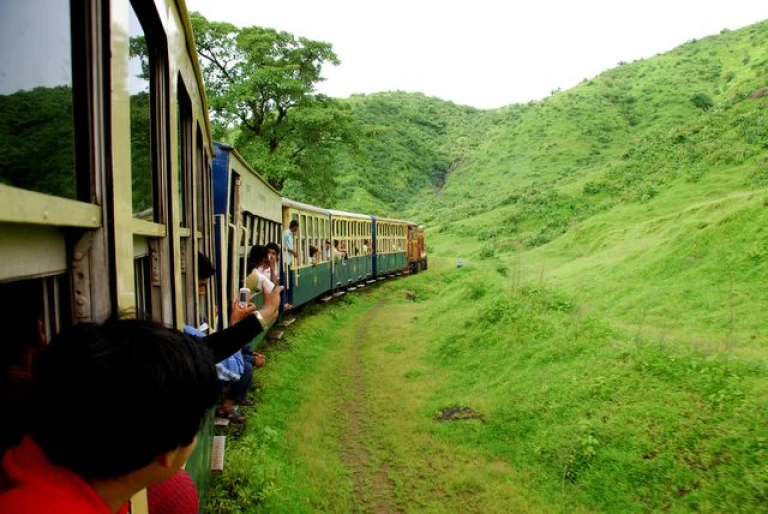 Matheran, a designated eco-sensitive zone by the Ministry of Environment and Forests of the Government of India, has drawn visitors from surrounding cities such as Mumbai for a revitalizing weekend vacation. Beyond Dasturi Point, no cars are permitted, creating a tranquil area for relaxation and spending time with loved ones.
The zone protects the region's ecosystem from mining and quarrying enterprises, as well as prohibiting new development, plastic usage, and tree removal. Matheran's roads are built of red laterite soil and are not metalled. The area also has semi-evergreen and evergreen woods, which add to the natural splendor and link people to nature.
Plastic has been prohibited in Matheran for more than two decades, and the municipal government conducts special cleaning initiatives to keep the city clean.These initiatives have helped to maintain the pristine beauty of Matheran and preserve its unique ecosystem.
Additionally, the ban on tree removal ensures the preservation of the area's lush greenery and contributes to the overall sustainability of the region. 
Activities 
Visitors can see the Malabar Whistling Thrush, Whistling Schoolboy, and Malabar Trogon, which are all unusual sightings. Crested Serpent Eagles, Leopards, Pied Hornbills, Hanuman Langurs, Palm Squirrels, Bonnet Macaques, and Parakeets are among the other prominent species.
Panorama Point, Louisa Point, Charlotte Lake, Monkey Point, Porcupine Point, One Tree Hill Point, Hart Point, and Rambagh Point are among the 35 vistas in Matheran. These locations provide amazing views of the stunning surroundings and are ideal for nature enthusiasts to have a tranquil picnic with family and friends.
Also read: Explore 9 beautiful Hill Stations Near Mumbai in 2023
Coorg, Karnataka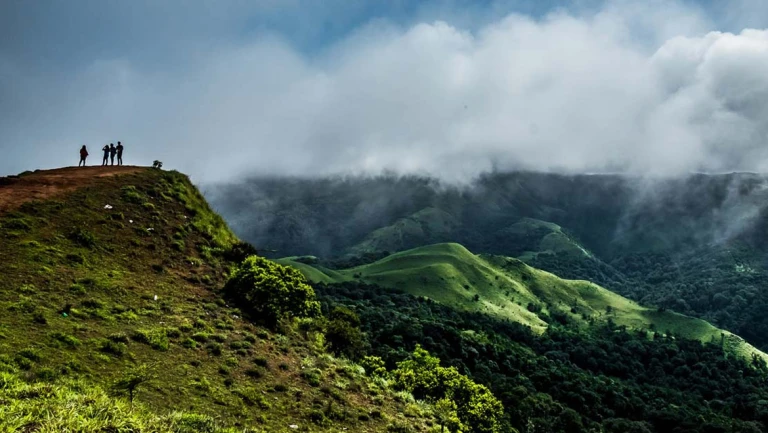 Coorg, located amidst the picturesque landscapes of Karnataka, is a prime example of sustainable tourism. This charming hill town is well-known for its coffee plantations, luxuriant vegetation, and thundering waterfalls.
Coorg encourages eco-tourism and sustainable agriculture techniques, offering tourists the chance to engage in eco-friendly adventure activities, go organic farming, and explore wildlife sanctuaries. The neighborhood actively encourages responsible travel, ensuring that Coorg's natural wonders be preserved for future generations. 
Activities
Tourists can also enjoy guided treks through the region's dense forests, where they can learn about the importance of biodiversity and conservation efforts. Additionally, Coorg offers homestay accommodations, allowing visitors to experience the local culture firsthand while supporting the livelihoods of community members. 
Also read: Coorg - The Ultimate Travel Guide 2023
Lahaul Spiti, Himachal Pradesh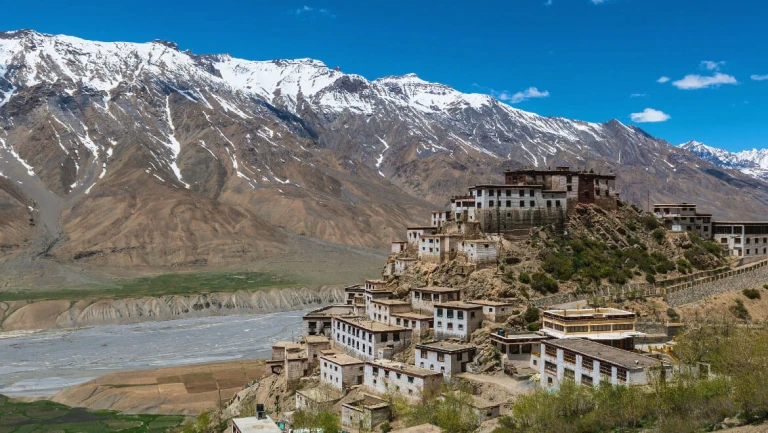 Lahaul Spiti, a lonely haven tucked away in the alluring trans-Himalayan area of Himachal Pradesh, enchants travelers with its untainted beauty, historic monasteries, and active native culture. This location promotes ethical hiking, homestays with local populations, and cross-cultural interactions as part of sustainable tourism practices.
Visitors may join in traditional Buddhist festivities, see the breathtaking grandeur of high-altitude lakes and snow-capped peaks, and contribute to the community's economic and ecological preservation.
Activities
With its pristine landscapes and rugged terrain, Lahaul Spiti offers a unique opportunity for adventure enthusiasts to indulge in activities like mountaineering, river rafting, and camping. The region's rich biodiversity also makes it a haven for wildlife enthusiasts, who can spot elusive species like snow leopards and Himalayan blue sheep in their natural habitat.
Also read: Himalayan Camping 101: Everything You Need to Know
Sitlakhet, Uttarakhand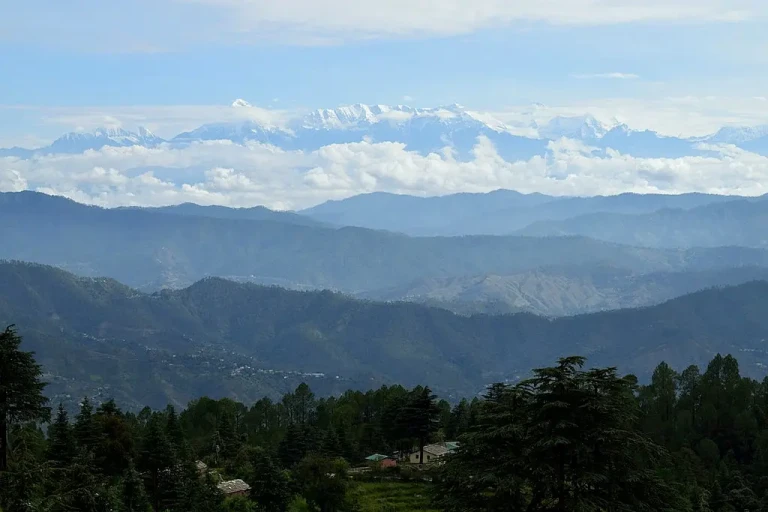 Sitlakhet, a hidden gem in Uttarakhand's Kumaon region, offers a serene, sustainable tourism experience with its natural woods, panoramic views, and mild temperature. Visitors can engage in organic farming, explore village pathways, and learn about local culture. The destination promotes eco-friendly activities and trash management, focusing on protecting its unique biodiversity and cultural legacy and ensuring a unique and memorable experience.
Activities 
Sitlakhet offers opportunities for adventure enthusiasts with activities like trekking, bird watching, and wildlife spotting. The region's commitment to sustainable tourism ensures that visitors can enjoy these experiences while minimizing their impact on the environment and supporting the local economy.
Also read: 15 Stunning Places to Explore in Uttarakhand this winter
It is critical for tourists to practise sustainable and responsible tourism activities in order to reduce our carbon footprint, maintain natural beauty, and assist local people and businesses. Tourism's negative repercussions include carbon emissions, resource pressure, environmental destruction, and community upheaval. We can mitigate these negative consequences and contribute to the general well-being of the environment and local populations by implementing sustainable practices. Supporting eco-friendly lodging, adopting low-impact transportation, and participating in ethical activities may all help to maintain our beloved areas. We can make a more favorable and long-lasting impression on our experiences by doing so.