Mumbai is a dream city that skillfully blends the old and the new, elegance and simplicity, modernity and history. In this city beside the Arabian Sea, tourists may enjoy a variety of attractions, including the famed Gateway of India and the bustling Marine Drive.
Foodies will appreciate the city's distinct street food culture. However, the busy pace of the city and the hot weather can be exhausting. People commonly visit adjacent hill stations like Lonavala and Mahabaleshwar to escape the heat, which provides calm getaways with lush green landscapes and good weather. 
Top 9 hill stations near Mumbai are featured here, offering a fantastic escape from the city's hustle and bustle.
1. Karjat (75 km)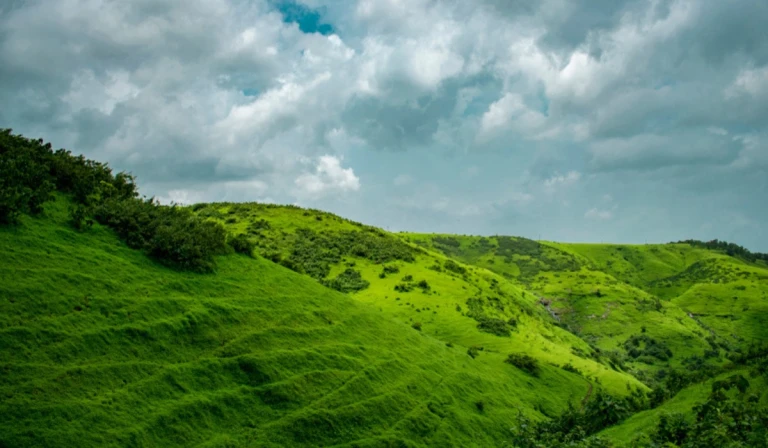 Karjat, a scenic hill town in Maharashtra's Raigad district, is a renowned adventure location for activities such as trekking, rappelling, white water rafting, and valley crossing. Major attractions in the region include Kondana Caves, Ulhas Valley, Bhor Ghat, and Peth Fort. Karjat is a 1.5-hour drive from Mumbai, giving it a great getaway from the city's hustle and bustle.
The stunning scenery and availability of activities make it a perfect weekend vacation for outdoor enthusiasts. The tranquil getaway from city life is a must-see for wildlife enthusiasts.
2. Matheran (81 km)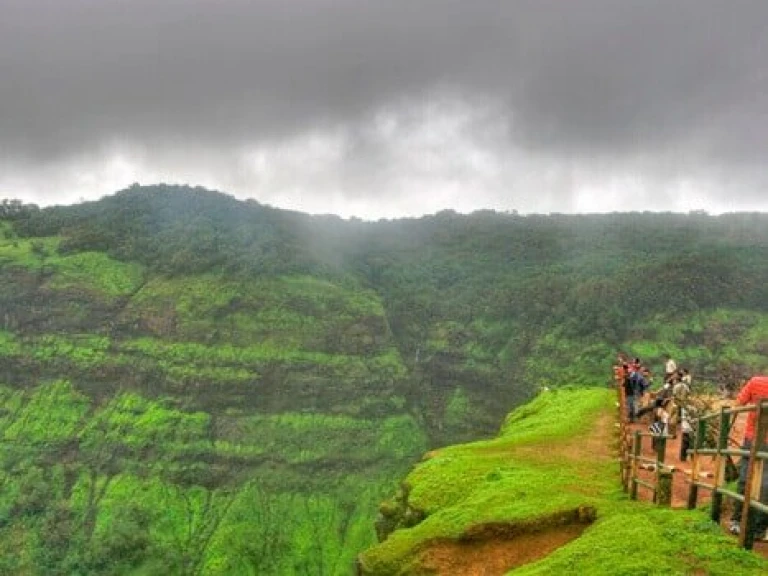 Matheran, a local hill station near Mumbai, provides a tranquil respite from the city's activity. Matheran, with its lush flora and breathtaking views, is a pollution-free zone and one of the few sites in Asia where automobiles are not permitted.
Matheran is an ideal destination for nature enthusiasts, with 33 notable overlooks such as Porcupine Point, Louisa Point, and Heart Point. In the beautiful green surroundings, visitors may also enjoy sports such as horseback riding and trekking. The beautiful weather and peaceful environment of Matheran make it a perfect destination for nature enthusiasts.
3. Lonavala-Khandala (82 km)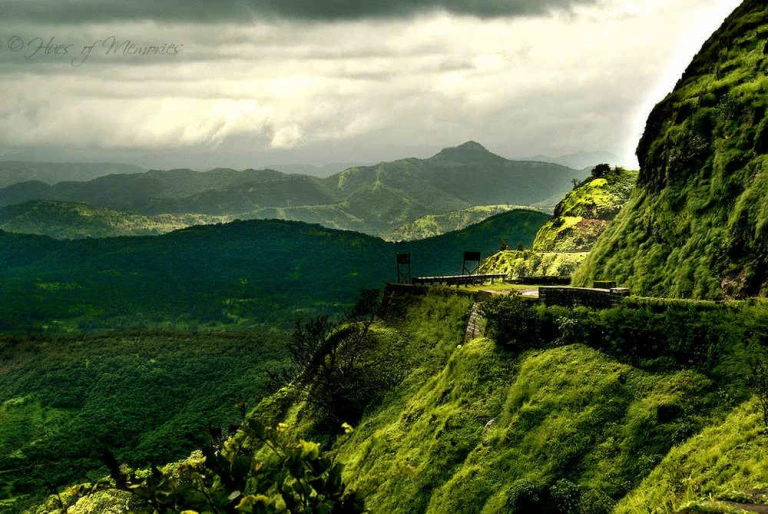 Because of their beautiful green landscapes, waterfalls, and clean air, Lonavala and Khandala are popular weekend getaways from Mumbai and Pune. They provide outdoor activities like trekking, hiking, and paragliding, as well as great local food.
The trip from Mumbai to Khandala takes around 1 hour and 35 minutes. Kune Waterfalls, Lohagad Fort, Bhaja Caves, Karla Caves, and Rajmachi Fort are among the attractions. These hill stations are perfect for environment lovers and history buffs since they combine natural beauty with historical relevance.
4. Malshej Ghat (125 km)
Malshej Ghat is a stunning Western Ghats mountain pass with gorgeous vistas, milky waterfalls, and diverse flora and fauna. Birdwatchers can see several wonderful varieties of flying animals, and pink flamingos can be seen during the monsoon season.
The ghat also has various trekking paths that provide spectacular views of the surrounding valleys and hills. Furthermore, adventure enthusiasts may engage in activities such as rock climbing and rappelling, making it an ideal location for both nature lovers and adrenaline seekers. 
5. Igatpuri (117 km)
Igatpuri is a popular location for environmental enthusiasts and adventure seekers due to its spectacular natural scenery. It has many forts, the Vipassana International Academy, and sights like as the Vaitarna Dam, the Bhatsa River Valley, Tringalwadi Fort, Kalsubai Peak, and Camel Valley. Hiking, camping, campfire evenings, and wine-tasting trips are among the activities available. The region also has wineries and beautiful scenery.
6. Lavasa (165 km)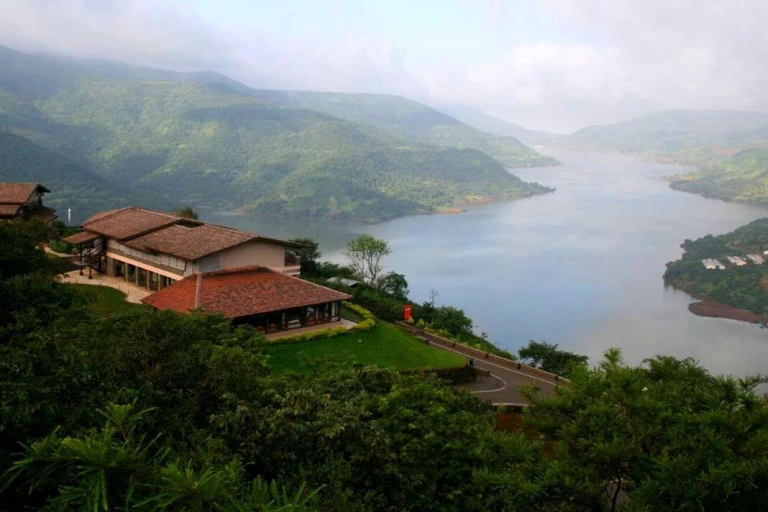 Lavasa is a tranquil getaway from city life amid the Sahyadri Mountains. It provides a serene refuge with its lush foliage, calm lakes, and well-kept walking pathways.
The contemporary infrastructure of the city ensures a comfortable stay without sacrificing convenience. Unobstructed vistas of the peaks and rivers, as well as adventure sports and gaming zones, are available to visitors.
Hiking, cycling, and rowing are among the indoor leisure activities available at the Indoor Golf Recreation and Learning Centre. Lavasa also provides food alternatives, luxury lodgings, and retail complexes to meet the demands of visitors.
7. Mahabaleshwar (203 km)
Mahabaleshwar is a renowned tourist destination owing to its unique flora and breathtaking surroundings. With a diverse choice of hotels, including upscale resorts and budget-friendly guesthouses, the town caters to both local and foreign visitors.
The Strawberry Festival in March or April, Arthur's Seat, Wilson Point, Bombay Point, Kamalgad Fort, Elephant's Head Point, Wax Museum, Venna Lake, Lingmala Falls, and Velocity Entertainment are all popular attractions.
These attractions include stunning views, historical landmarks, and recreational activities, making Mahabaleshwar a perfect vacation for nature lovers, history buffs, and those looking for leisure.
8. Panchgani (221 km)
Because of its scenic terrain and agreeable temperature, Panchgani, a delightful hill station in the Sahyadri Ranges, is a favorite tourist destination. Visitors interested in history are drawn to its colonial and old-world charms.
Panchgani is also well-known for its strawberry farms, which produce the most succulent and tasty strawberries in the region. Visitors may go strawberry picking and enjoy delectable delights such as jams, ice cream, and shakes.
The village has stunning views of nearby valleys and abundant flora, creating a tranquil environment for nature enthusiasts.
9.

Bhandardara (172km)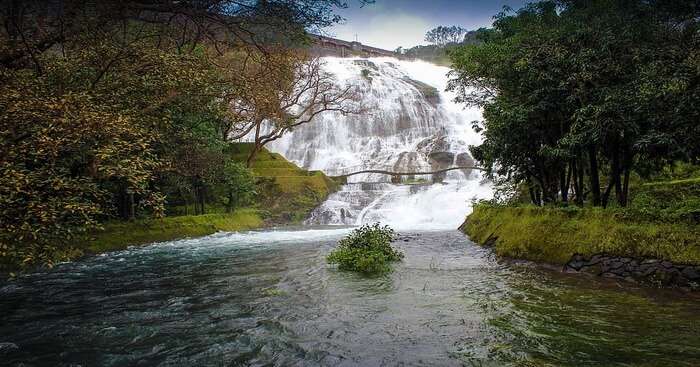 The hill town and vacation destination of Bhandardara in Maharashtra's Ahmednagar district is well known for its scenic surroundings and eco-tourism possibilities.
The area, which is located at a height of 750 meters on the Pravara river, features lush vegetation, breathtaking vistas, and historical landmarks like the old Amruteshwar Temple. Arthur Lake, Randha Waterfalls, Umbrella Falls, Bhandardara Dam, and Amruteshwar Temple are all popular tourist attractions.
In addition, Bhandardara provides short excursions and treks to places like Mount Kalsubai, Ratangad Fort, and Harishchandragad Fort, all of which have stunning scenery.
Also, check out Top 14 Maharashtra Destinations to Visit in 2023
Conclusion 
Beautiful landscapes, outdoor activities like hiking, camping, and water sports, as well as mouthwatering native cuisine, are all available in these Sahyadris (Western Ghats) hill towns. These hill communities are also well-known for their vibrant marketplaces, making them ideal for day trips.
Visitors may purchase handicrafts, fresh fruit, and traditional apparel in the local markets. Furthermore, the hill stations provide a variety of lodging alternatives, ranging from small cottages to opulent resorts, offering a comfortable stay for travelers seeking a calm vacation.