The allure of the desert is a timeless fascination that has drawn travelers and explorers for centuries. The vast, arid landscapes, towering sand dunes, and unique ecosystems found in deserts make them incredible destinations for adventurous souls seeking dune adventures.
From the rolling sands of the Arabian Peninsula to the rugged terrains of Africa and the Americas, this article explores some of the best desert safari destinations worldwide.
Arabian Desert - United Arab Emirates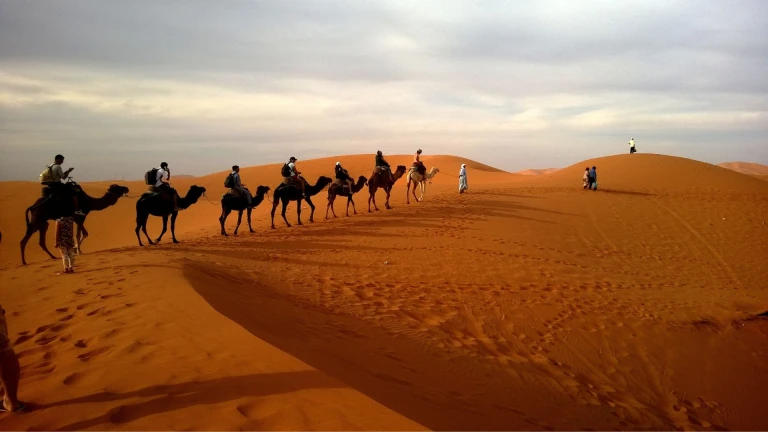 Arabian Desert - United Arab Emirates
The Arabian Desert is perhaps the most iconic destination for desert safaris, and the United Arab Emirates (UAE) offers some of the most luxurious and exhilarating experiences.
Popular cities like Dubai and Abu Dhabi serve as gateways to the vast sand dunes of the UAE. Visitors can enjoy thrilling dune bashing, camel rides, and even hot air balloon rides to witness the breathtaking sunsets over the dunes.
Sahara Desert - Morocco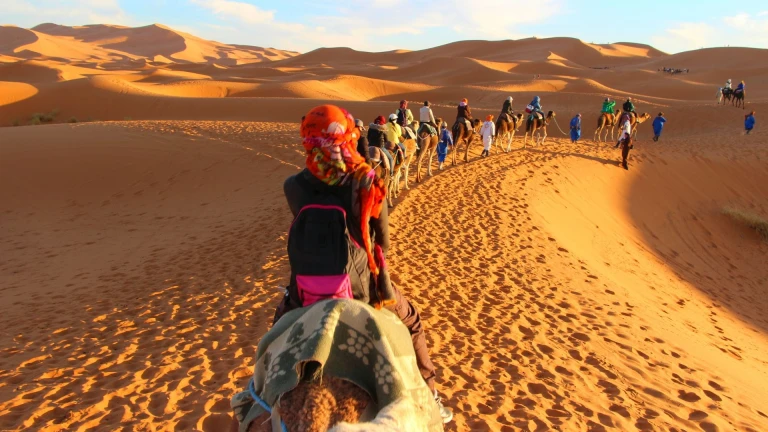 Sahara Desert - Morocco
The Sahara Desert in Morocco is the world's largest hot desert, known for its mesmerizing sand dunes, kasbahs, and oases. Travelers can embark on a variety of desert safari experiences, including riding camels through the dunes, staying in traditional Berber camps, and witnessing the starry night skies in this enchanting landscape.
Read more: Top 10 Wildlife Safaris that you must Experience in India
Atacama Desert - Chile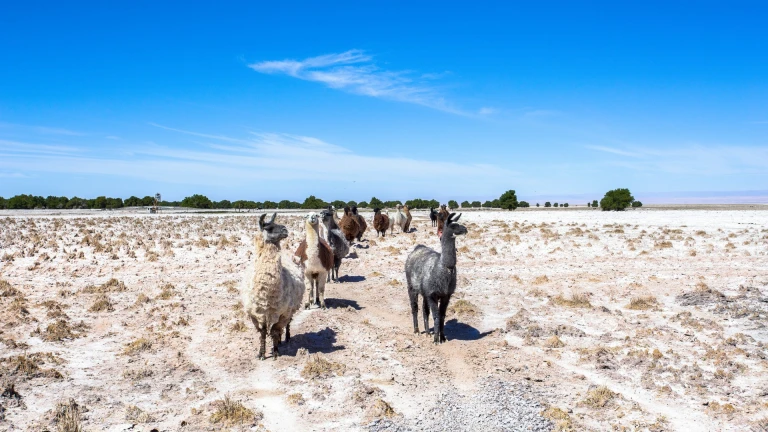 Atacama Desert - Chile
The Atacama Desert, located in northern Chile, is a unique and otherworldly destination. Often referred to as the "driest desert on Earth," it offers a striking contrast with its salt flats, unusual rock formations, and vibrant landscapes.
Visitors can explore the Moon Valley, soak in natural hot springs, and stargaze in one of the best astronomical destinations globally.
Read more: Travel guide to Chile from India in 2023
Namib Desert - Namibia
Namib Desert - Namibia
The Namib Desert in Namibia is home to some of the tallest sand dunes on the planet, with the iconic Sossusvlei being a must-visit. The surreal, burnt-orange dunes create an otherworldly atmosphere, and sunrise hikes are especially popular. The desert is also teeming with unique wildlife, including oryx, springboks, and desert-adapted elephants.
Sonoran Desert - USA (Arizona)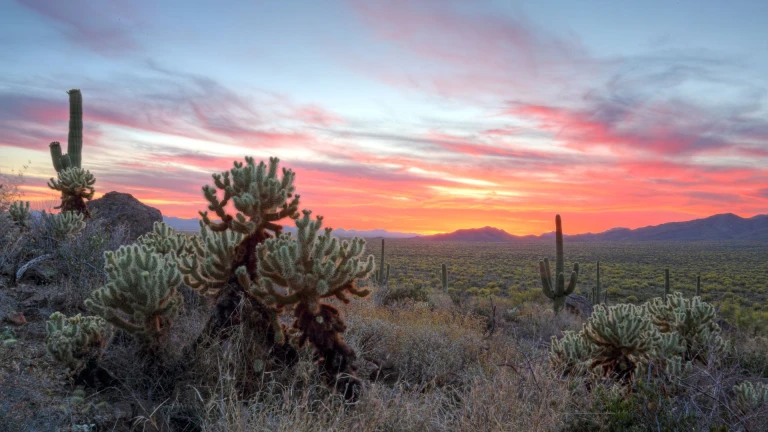 Sonoran Desert - USA (Arizona)
The Sonoran Desert in the United States, specifically in Arizona, offers a diverse range of desert experiences. From the saguaro cactus-studded landscapes of Saguaro National Park to the dramatic canyons of the Grand Canyon, there's an array of adventures to be had. Jeep tours, horseback riding, and hiking are popular ways to explore this unique desert ecosystem.
Read more: The Ultimate New York Travel Guide for First-Timers
Wadi Rum Desert - Jordan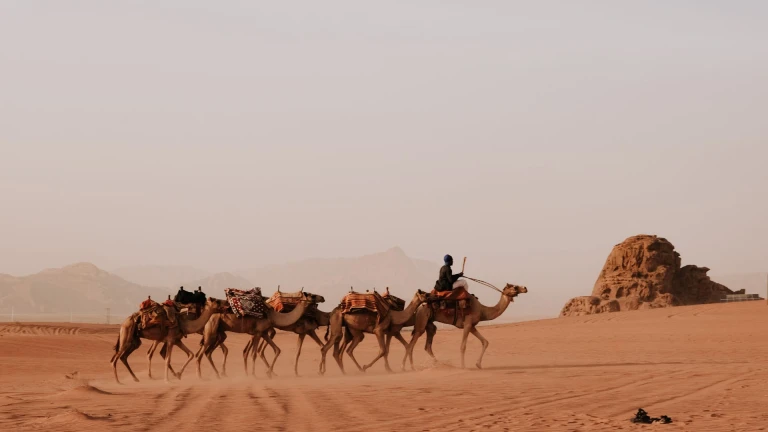 Wadi Rum Desert - Jordan
The Wadi Rum Desert in Jordan, often referred to as the "Valley of the Moon," boasts stunning sandstone and granite rock formations, red sand dunes, and a rich history.
Visitors can partake in jeep safaris, go rock climbing, and explore the ancient petroglyphs that adorn the desert's rocks. Spending a night in a Bedouin camp is a fantastic way to experience the local culture.
Thar Desert - India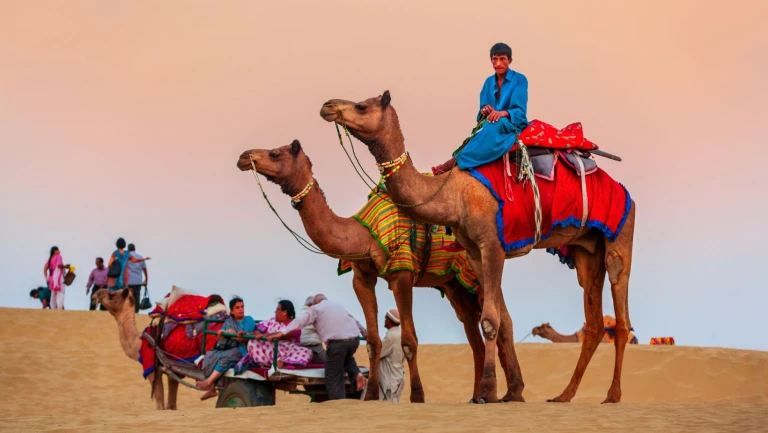 Thar Desert - India
The Thar Desert in India, also known as the Great Indian Desert, offers a rich cultural experience along with its mesmerizing sand dunes. Visitors can enjoy camel safaris, witness vibrant Rajasthani culture, and explore the historic forts and palaces in cities like Jaisalmer and Jodhpur.
Gobi Desert - Mongolia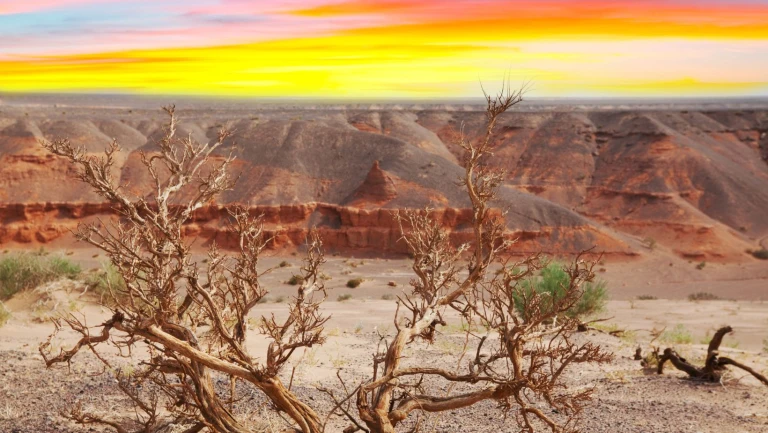 Gobi Desert - Mongolia
The Gobi Desert in Mongolia is a vast expanse of arid landscapes and dramatic canyons. Travelers can witness the unique Bactrian camels, explore dinosaur fossils, and visit remote nomadic communities for an authentic desert adventure.
Kalahari Desert - Botswana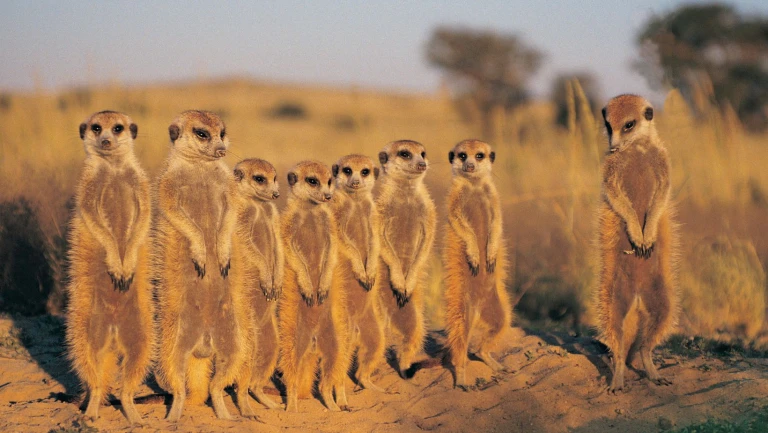 Kalahari Desert - Botswana
The Kalahari Desert in Botswana provides a captivating desert experience with its semi-arid terrain and diverse wildlife. Visitors can go on guided bushwalks, enjoy game drives, and discover the San Bushmen culture, making it an extraordinary combination of desert and safari.
White Desert - Egypt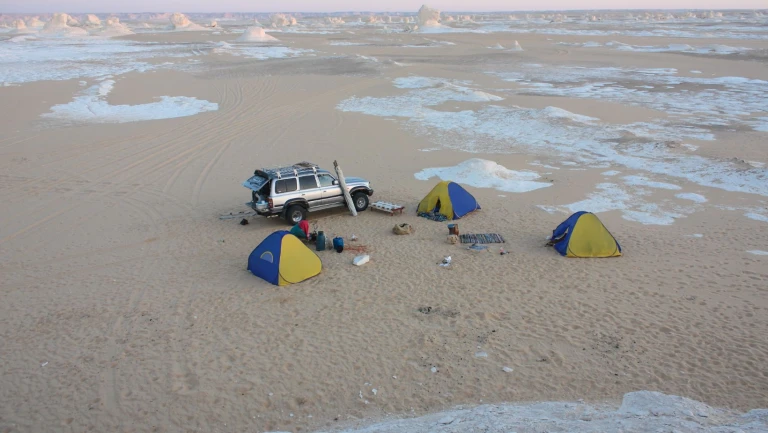 White Desert - Egypt
The White Desert in Egypt is known for its striking white chalk rock formations that resemble a lunar landscape. Travelers can camp under the stars and explore the surreal shapes and sculptures created by the elements, making it a photographer's paradise.
Simpson Desert - Australia
Simpson Desert - Australia
The Simpson Desert in Australia is famous for its vast red sand dunes and unique desert flora and fauna. Travelers can embark on epic 4WD adventures, cross the iconic "Big Red" sand dune, and camp beneath the southern hemisphere's stunning night sky.
Colorado Plateau - USA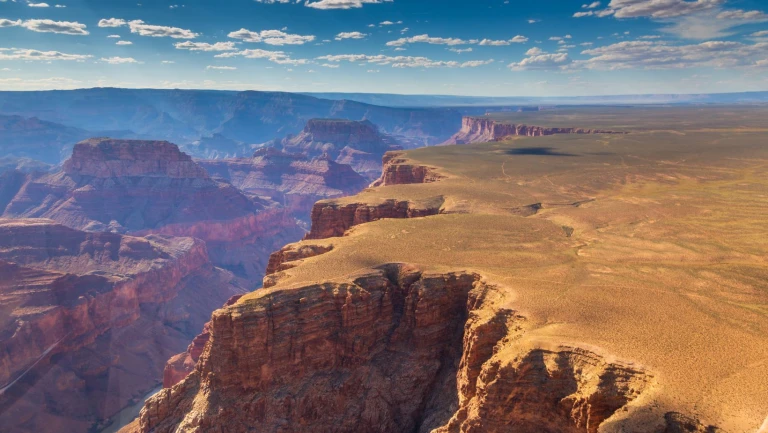 Colorado Plateau - USA
The Colorado Plateau in the United States is home to mesmerizing desert landscapes like Monument Valley and Antelope Canyon. It's a photographer's dream, with opportunities for hiking, rock climbing, and taking guided tours to appreciate the unique geological formations.
Danakil Depression - Ethiopia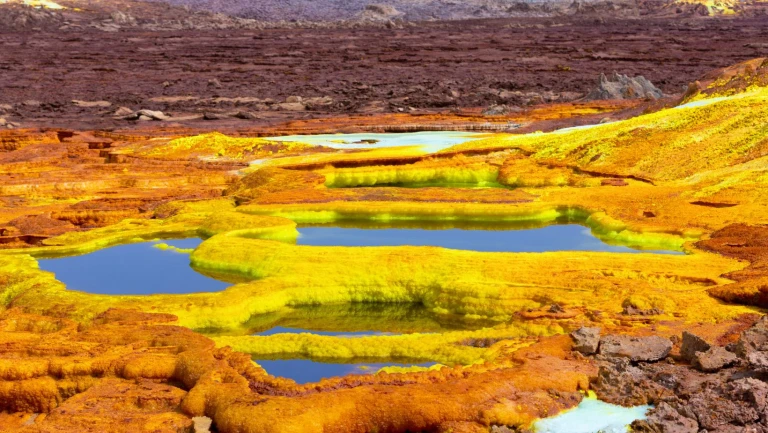 Danakil Depression - Ethiopia
The Danakil Depression in Ethiopia is a surreal, extreme desert landscape with bubbling lava lakes, colorful mineral deposits, and vibrant salt flats. It's one of the hottest places on Earth and offers a truly unique and alien-like experience.
Dasht-e Kavir - Iran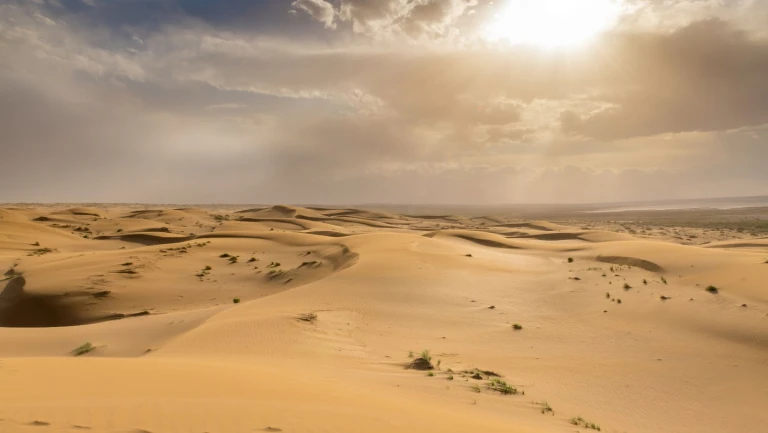 Dasht-e Kavir - Iran
The Dasht-e Kavir, also known as the Great Salt Desert, is Iran's largest desert. It boasts a mesmerizing salt flat landscape and opportunities for desert trekking and stargazing. The unique and serene environment makes it an off-the-beaten-path destination for desert enthusiasts.
Sinai Desert - Egypt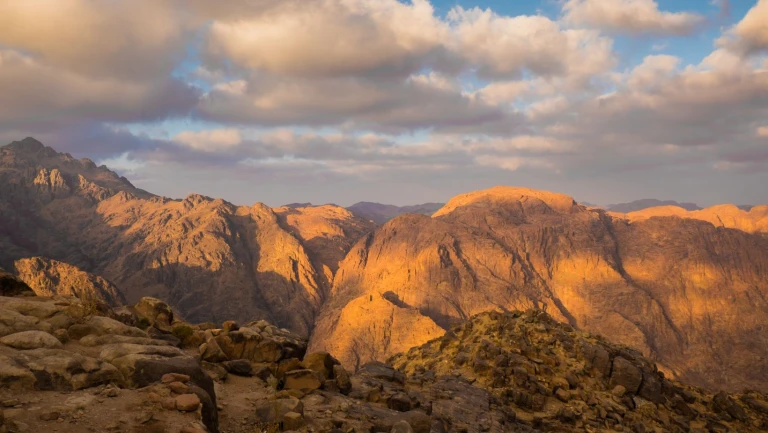 Sinai Desert - Egypt
The Sinai Desert in Egypt is a land of contrasts, with rugged mountains, serene beaches along the Red Sea, and vast sand dunes. Visitors can explore historic sites like St. Catherine's Monastery, enjoy water sports, and embark on exhilarating jeep safaris into the heart of the desert, making it a versatile desert destination.
Desert safaris offer a unique blend of adventure, natural beauty, and cultural experiences. These six destinations around the world provide a glimpse into the incredible diversity of desert landscapes and the myriad ways to explore them.
Whether you're seeking adrenaline-pumping dune bashing in the UAE or a tranquil camel ride in the Sahara, each desert safari promises unforgettable memories that will stay with you for a lifetime. So, embrace your inner adventurer and embark on a dune adventure to discover the magic of the world's best desert safari destinations.