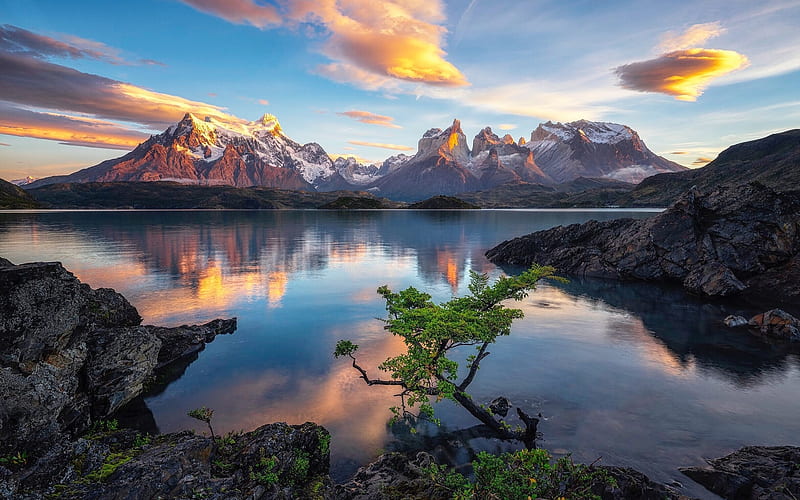 Chile, a country with a length of 150 miles, is home to a variety of attractions, such as the Maoi statues on Easter Island, the Andes Alps, snow-capped peaks in Patagonia, and fine wines. Santiago is a tech powerhouse and one of South America's most industrialized nations. It is a place of awe and wonder because of the incredible food and breathtaking scenery.
Chile's vibrant festivals and traditional dances represent the country's rich cultural heritage, providing travelers with an unforgettable experience. The country's lengthy coastline is a refuge for outdoor enthusiasts, with gorgeous beaches and opportunities for water sports. Chile's distinct combination of urban sophistication and natural marvels entices many Indian visitors.
Can I travel to Chile from India?
Yes, Chile is fully open to Indian travelers, both for tourists and business travelers.
Visa Requirements for Indian Travelers to  Chile
The following conditions must be met in order for Indian nationals to be granted a Chile visa:
Passports must be current for at least six months after the date of entry into Chile for Indian nationals.

Two recent passport-size photographs

Financial Proof: You have the required financial means to sustain them while you are in Chile. 

Travel itineraries and return flight tickets as proof of their travel arrangements.

Verifiable hotel reservations for residential accommodations during their stay in Chile
COVID Info and Vaccination Requirements for  Chile
COVID-19 entry requirements are lifted, which means There is no need for quarantine or a COVID test while entering the Chile.  To guarantee a smooth entry into the country, it is suggested to obtain a valid COVID-19 vaccination certificate or confirmation of a negative test result before visiting. 
Which Flights to  Chile from India
There are currently no direct flights between India and Chile. The majority of routes feature one or more stops.
What international airports are there in Chile?
Chile is home to a number of international airports, the biggest of which is Comodoro Arturo Merino Bentez International Airport (SCL).
Which other standard airline options (1 connection)
Airlines: 
Air Canada

Air France

Air India

British Airways

Cathay Pacific

KLM

Qatar Airways

Vistara
One-Stop Flights from India to Chile:
Bengaluru

Chennai

Hyderabad

Jaipur

Kolkata

Lucknow

Mumbai

New Delhi

Pune

Surat

Thiruvananthapuram

Vadodara
Seasonal Guide to  Chile
Chile, which lies in the Southern Hemisphere, has a unique climate where Chile's winters are equivalent to India's summers and vice versa. The Lakes area and Patagonia experience frigid and damp weather in the coldest months of June, July, August, and September.
In October, the springtime begins, and from then, a beautiful summer lasts until March. Due to the nice weather and welcoming sun, Patagonia and the lake region are popular during the summer. In February, the Atacama desert offers breathtaking views.
Temperatures in the central valley range from 0-13C/30-50F in the winter to 16-35C/60-90F in the summer. Since it is less expensive in the summer, residents in the central valley frequently go to the cooler regions of the nation. 
The ideal time to visit Chile varies by area, but summertime travel can offer the most memorable experiences. In addition, Chile's summers are perfect for taking part in outdoor pursuits like hiking, camping, and experiencing the different landscapes of the nation.
Additionally, coming in the summer enables visitors to take advantage of the extended daylight hours and engage in the numerous festivals and events that are hosted around the nation during this time. 
Currency Information of  Chile
The official currency of Chile is the Chilean Peso (CLP).
Getting around in  Chile
Public transportation is dependable and reasonably priced, particularly in Santiago. Since individual tickets are no longer offered, you must acquire a refillable bus pass (BIP Card) for your travels in Santiago.
The BIP Card, which works on both buses and the metro, is easily bought at metro stations. It provides discounted tickets for repeat users, making it a practical choice for city transportation. 
For interstate travel, buses are the cheapest option, reclining seats are popular, and many of them recline almost completely. Furthermore, some night buses include a curtain between the seats, allowing you to enjoy some privacy from your neighbor.
Buses in Santiago offer a large network of routes that serve numerous places inside the city and its surroundings, in addition to their affordability and comfort. Whether you're visiting a major tourist attraction or exploring off-the-beaten-path districts, Santiago's large bus system provides easy access to all sections of the city. 
Traveling by train is almost non-existent in Chile. Outside of the country's center area, many of the rails have been let to deteriorate beyond repair. Trains with air-conditioned carriages connect Santiago with Curico, Talca, Linares, and Chillan, but that is the extent of Chile's railroad infrastructure.
Despite the limited rail alternatives, Santiago's fast and vast metro system provides an easy way to navigate around the city. It is a popular alternative for both locals and visitors, thanks to its various lines and regular trains. 
Taxis and ride-sharing services are also commonly accessible in Santiago, giving yet another flexible mode of transportation for touring the city. 
To compare: Unlike Chile, India has a large railway network that covers even the most distant parts of the nation.
 Where to Stay in Chile
Chile has a wide selection of accommodations available, from elegant boutique hotels to ranch-style vineyards and luxury eco-camping. 
Find boutique hotels made from adobe that fit in with the desert in Atacama, a waterfall on your doorstep and the imposing horns from your window in Torres del Paine, or a vineyard in your own back garden in the Central Valley. 
Visitors to Santiago, Chile's dynamic capital city, may select from a choice of luxury hotels with modern facilities and great city views. 
In addition, for those looking for a one-of-a-kind experience, the Chiloé Archipelago has beautiful waterfront hotels where tourists may immerse themselves in local culture while admiring stunning coastal vistas. 
Things to do in Chile
Explore Valparaíso
Valparaiso, located on the Pacific coast, is recognized for its colorful hillside communities, creative attitude, and UNESCO World Heritage classification. 
Valparaiso is also known for its vibrant street art that covers the walls of its small passageways and stairs. 
The bohemian ambiance and vibrant nightlife of the city make it a popular destination for artists, musicians, and visitors alike. 
The Atacama Desert
Prepare to be transported to another universe amid the Atacama Desert's surreal scenery. It is one of the driest and hottest areas on the planet, located in northern Chile. 
The enormous salt flats, towering sand dunes, and fascinating rock formations of the Atacama Desert are well known. 
Its severe aridity provides a one-of-a-kind ecosystem in which uncommon flora and animals have adapted to thrive under hard conditions. 
The island of Chiloé
The mythological and traditional Chiloé Island offers a singular fusion of natural splendor and historical significance. Chiloé Island may be reached from the port city of Puerto Montt on the mainland. 
The island's lush landscape, charming fishing villages, and distinctive wooden structures, like the Church of Colo in Quemchi, one of 16 churches in Chiloé that were recognized as UNESCO World Heritage sites in 2000, particularly captured my attention. 
These churches, which were constructed completely of wood and date from the 18th century, exhibit the distinctive Chiloéan architectural style. Each church displays the rich cultural heritage of the island via elaborate carvings and vivid colors.
Visit the valley of Maipo
The Maipo Valley, just outside of Santiago, is one of Chile's oldest and most well-known wine regions. This area, which is well-known for its Cabernet Sauvignon, is home to some of the oldest and most well-known wineries in the country. 
Visitors can go on tours and take part in tastings at well-known wineries, including Concha y Toro, Santa Rita, and Cousio Macul. 
The Andes Mountains, which serve as a backdrop, add to the area's attractiveness. With its scenic surroundings and breathtaking vistas, the Maipo Valley provides a distinctive wine-tasting experience. 
For wine fans and environment lovers alike, the vineyards' illustrious history, world-class wines, and stunning Andes Mountain background make them a must-visit location. 
Easter Island
The intriguing island of Easter Island, often referred to as Rapa Nui, is located in the southeast Pacific Ocean and is famous for its enigmatic moai statues. The island is widely known for its isolation and is one of the most remote places on Earth where people live. 
It is a must-visit for travellers seeking a really unique experience because of its unique culture and history, as well as its lovely landscapes and archaeological treasures. One of Easter Island's primary draws are the enormous stone statues known as moai sculptures. 
The Rapa Nui people are said to have built these statues, which are thought to symbolize their forefathers. The island's distinctive topography, which includes volcanic craters and a breathtaking shoreline, adds to its appeal as a vacation spot for outdoor enthusiasts. 
What to Eat in Chile
Pastel de Choclo is a typical Chilean meal that mixes the savory aromas of a beef filling with the sweetness of corn. In order to make the dish, a savory filling—typically cooked with meat, onions, and spices—is layered on top of a creamy corn mixture. 
The meal is then baked, resulting in a great textural contrast as the corn topping turns golden and somewhat crunchy. This rich and comforting dish is frequently served as the main course for family get-togethers or on special occasions. 
Empanadas are pastries that are filled with meat, cheese, or mussels and baked or fried until crisp and golden. Many Latin American and Spanish-speaking nations enjoy these delectable snacks, which come in a variety of fillings and tastes.
Empanadas are a flexible and filling alternative for any occasion because they may be consumed as a snack, an appetiser, or even a main dish. 
Cazuela is a homemade stew prepared with meat, poultry, corn, rice, and potatoes and simmered in a tasty broth. 
This classic dish is frequently cooked for hours to let the flavors combine and produce a warming and filling supper. 
Cazuela provides warmth and sustenance to those who love it and is frequently served during colder months or as the centerpiece for family gatherings. 
Everyone at the table can enjoy this filling main course choice because of its delicious blend of ingredients. 
To conclude,
Chile has plenty to offer everyone, whether they are history buffs, environment lovers, or adventure seekers. Discover the stunning scenery of Torres del Paine National Park, partake in wine tasting in the charming vineyards of the Colchagua Valley, or immerse yourself in Santiago, Chile's dynamic street art scene. Chile ensures that every visitor will have an excellent experience with its wide variety of activities and friendly people.