India, a land of rich culture, magnificent history, and unmatched grandeur, has always been a jewel in the crown of world tourism. The country's royal heritage, especially from the eras of maharajas and nawabs, has left behind a trail of palaces, fortresses, and luxury experiences.
For those with a penchant for extravagance, there's no better way to explore India than on one of its luxury tours.
Here are the 16 most exclusive luxury tours for you to experience India like a royal:
1. Palace on Wheels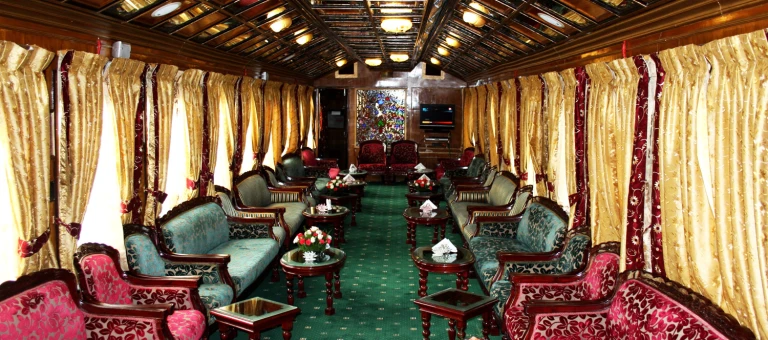 Image Source: SP Holidays
This is a 7-day luxurious journey through the heart of Rajasthan.

Each saloon is inspired by the royal carriages used by the Maharajas, adorned with rich textiles, wooden furnishings, and modern amenities.

On-board dining offers Rajasthani cuisines, and personalized butler service ensures a memorable ride.

With destinations like Jaipur, Udaipur, Jaisalmer, and the Taj Mahal, you'll witness India's royal past firsthand.
2. Maharajas' Express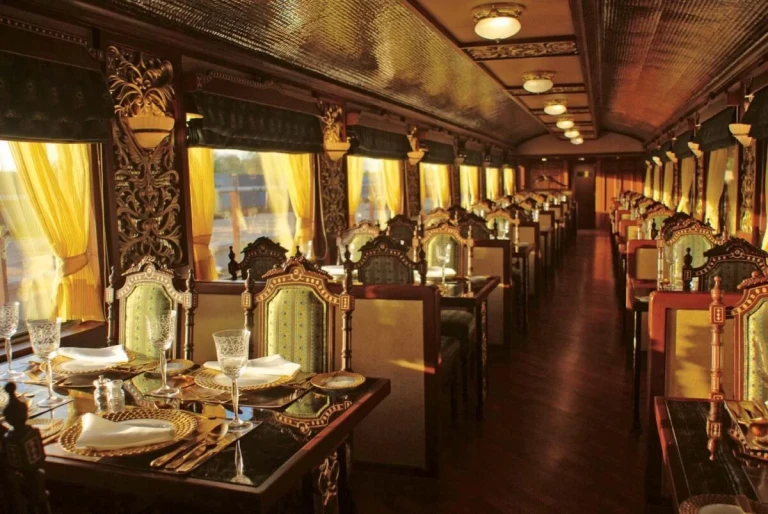 Image Source: Maharajas Express
Known as the "World's Leading Luxury Train," it covers India's iconic landmarks.

Choose from multiple itineraries spanning 4 to 8 days.

Each cabin, named after a precious gemstone, offers panoramic windows, plush interiors, and modern facilities.
3. The Golden Chariot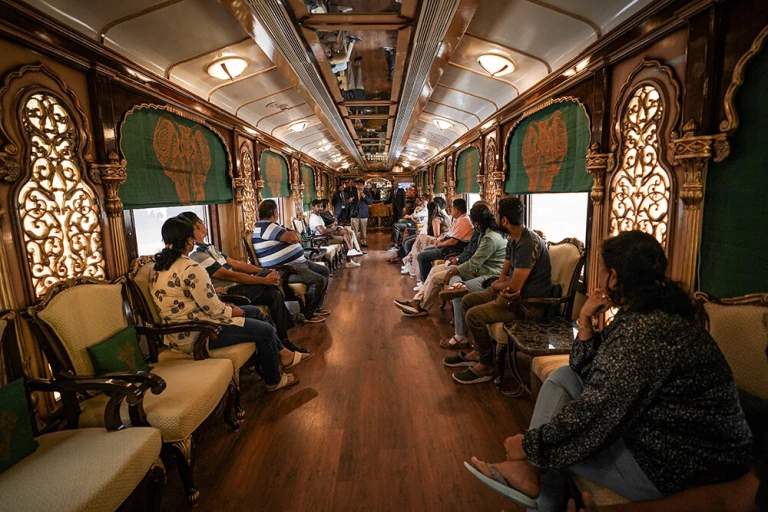 Image Source: Golden Chariot
Experience South India's diverse landscapes from the Western Ghats to the coastal belt.

Lavishly designed carriages named after the dynasties that ruled the region offer a blend of history and luxury.

Onboard spas, fine dining, and cultural performances elevate the experience.

Venture through the southern wonders of India including Goa, Hampi, and Kerala on this splendid train journey.
4. Royal Rajasthan on Wheels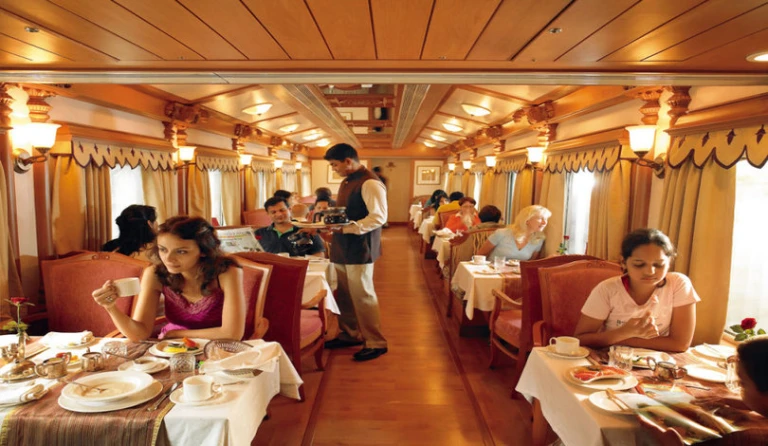 Image Source: IndoVacations
This 8-day journey takes you to India's historical landmarks, from the romantic city of Udaipur to the deserts of Jaisalmer.

Each suite is intricately designed, reflecting Rajasthan's artistry, with a dedicated personal attendant for each cabin.

Experience Rajasthan's jewels like Jodhpur, Chittorgarh, and the lake city of Udaipur, in a royal carriage reminiscent of the Rajput warriors.

Read on: Top 10 Must-Experience Train Route Journeys in India 2023
5. Oberoi Vanyavilas, Ranthambore
Set amidst 20 acres of wildlife-rich land, these luxury tents are reminiscent of the royal hunting trips of yesteryears.

Each tent boasts finely embroidered canopies, private gardens, and opulent bathrooms with standalone bathtubs.

A luxury tented camp just on the edge of the Ranthambore Tiger Reserve.

Experience the thrill of spotting the majestic Bengal tiger by day and dine under the stars by night.
6. The Taj Lake Palace, Udaipur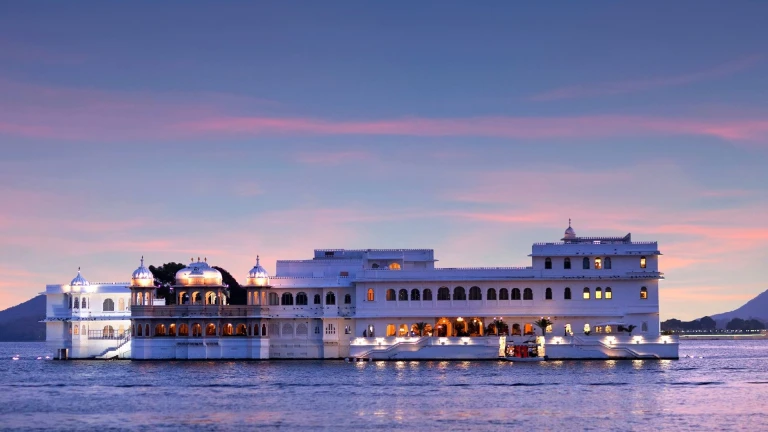 Built in 1746, this architectural marvel appears to float on Lake Pichola.

Guests are treated to a royal welcome with a boat ride, folk dances, and the soft melodies of the Santoor during their stay.
7. The Leela Palace, Udaipur

Image Source: Leela Palace
With a backdrop of the majestic Aravalli mountains, The Leela offers rooms with private plunge pools, a spa by ESPA, and curated dining experiences, including Sheesh Mahal, an open-air restaurant with views of the city.

Overall this palace offers a mix of modern luxury and traditional Rajasthani splendor.
Also read: Gangtok Tourism 2023: Discover the Best of Gangtok, India
8. The Oberoi Amarvilas, Agra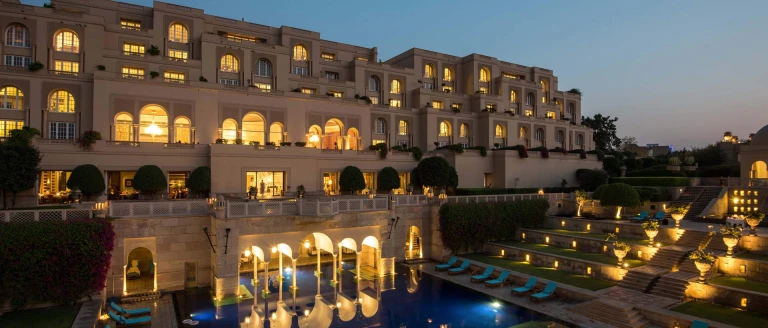 Image Source: Oberoi Hotels
A mere 600 meters from the Taj Mahal, every room here offers an uninterrupted view of this wonder.

Mughal gardens, terraced lawns, and reflection pools enhance the architectural brilliance of the property.
9. Taj Falaknuma Palace, Hyderabad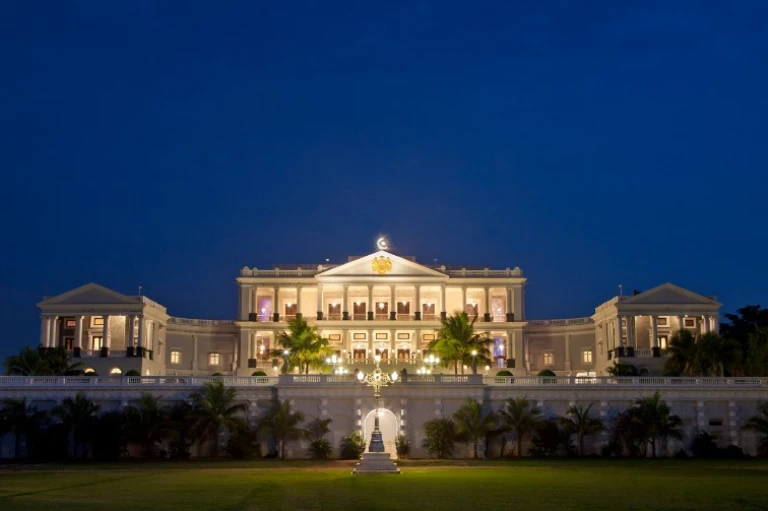 Image Source: Brad A Johnson
Once the residence of the Nizam of Hyderabad, this palace hotel allows you to experience the life of Indian royalty.

Perched 2,000 feet above Hyderabad, this palace is a blend of Italian and Tudor architecture.

Guests are welcomed with a horse-drawn carriage, and rooms are adorned with Venetian chandeliers, rare artifacts, and grand marble staircases.
10. Wildflower Hall, Shimla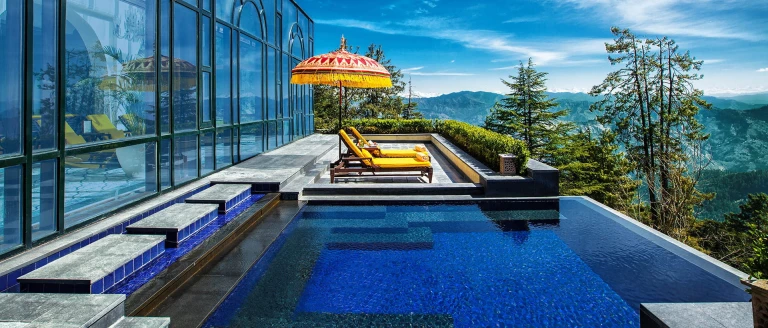 Image Source: Oberoi Hotels
Formerly the residence of Lord Kitchener, this property at 8,250 feet above sea level offers panoramic views of the Himalayas.

Indulge in nature walks, spa treatments, or simply bask by the indoor heated pool.
11. Private Yacht Cruise in Goa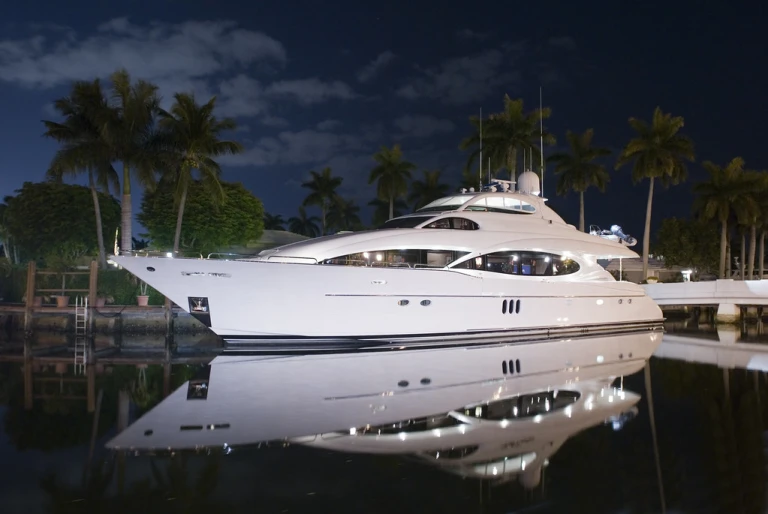 Image Source: Go Bananas
Charter a luxury yacht and sail down the Mandovi River.

With personalized services, gourmet meals, and views of Goa's pristine beaches, it's an unparalleled experience.
12. Aman-i-Khas, Ranthambore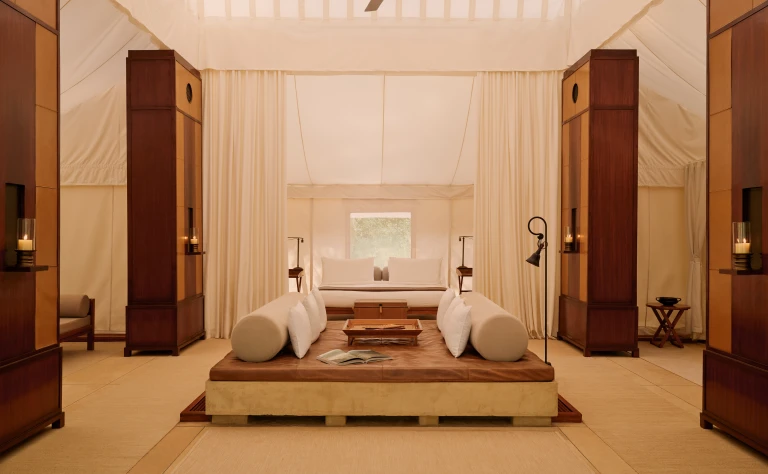 Image Source: Aman
It is located on the fringes of Ranthambore National Park.

This Mughal-inspired luxury camp arranges guided wildlife safaris during the day and romantic bonfire dinners by night.

Each tent is adorned with hand-stitched canvas interiors and a personal batman(Helper).

A stay here offers a unique combination of wilderness and luxury, where you can indulge in spa treatments and dine under the stars after a day of tiger-spotting.
13. Royal Retreats in Jaipur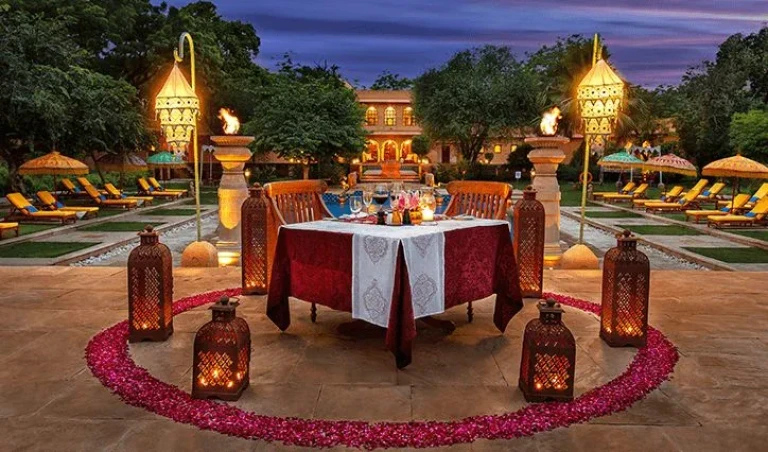 Image Source: Oberoi Hotels
Historical suites, ornate courtyards, and expansive gardens await at properties like Rambagh Palace and Rajmahal Palace.

Culinary journeys, puppet shows, and vintage car drives take guests back in time.

Stay in heritage hotels like Rajvilas, Rambagh Palace or Rajmahal Palace and relive the era of maharajas in Jaipur, the Pink City.
14. Ananda in the Himalayas, Uttarakhand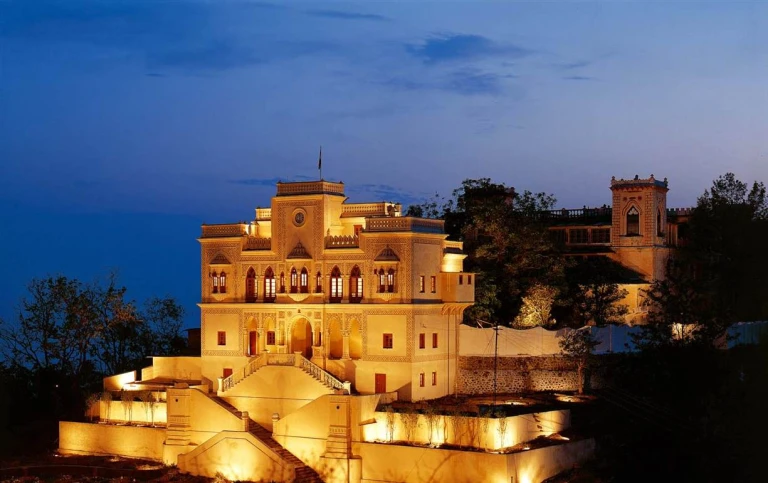 Image Source: Ananda
Nestled in the tranquil Himalayas, Ananda is a world-class destination spa that offers a serene environment, rejuvenating treatments, and holistic wellness experiences.

Overlooking the Ganges River and the temple town of Rishikesh, it promises both spiritual and sensory retreats.
15. Umaid Bhawan Palace, Jodhpur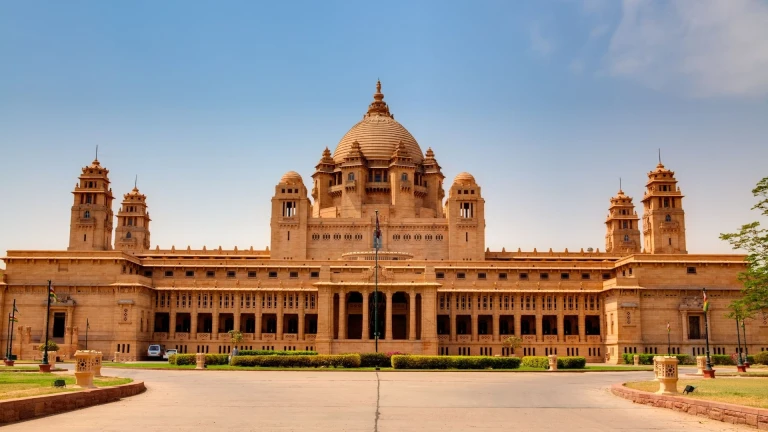 Once the residence of the royal family of Jodhpur, Umaid Bhawan is now one of the world's largest private residences.

Guests can experience a taste of regal life with vintage car rides, lavish suites, and private dinners in the sand dunes.
16. The Oberoi Sukhvilas, Chandigarh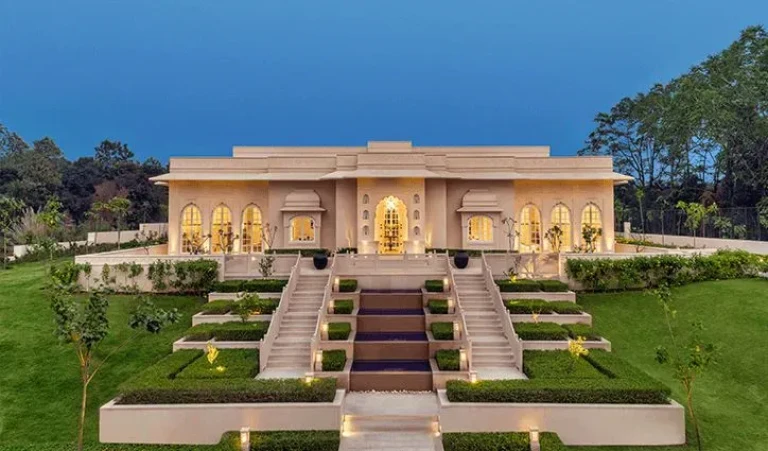 Image Source: Oberoi Hotels
Spread over 25 acres of forest, this resort offers traditional Indian therapies, private pools, and courtyard views, designed for both relaxation and adventure.
Also read: Complete Travel Guide to Pune - 2023
India's royal heritage offers an array of luxury experiences that are a blend of tradition, culture, and modern extravagance. Whether it's the historical palaces converted into luxurious hotels, the grandeur of luxury trains, or the unique natural retreats, India in 2023 promises a journey of opulence, grandiosity, and sheer royalty. It's time to step into a world where every moment is designed to make you feel like a monarch.