India, a land of diverse cultures and traditions, is also a paradise for shopaholics. The country is a treasure trove of unique, handcrafted, and culturally rich items that cater to every shopper's preferences.
In 2023, the shopping scene in India is set to be as vibrant and varied as ever. In this article, we'll explore 15 must-visit shopping destinations across India to make your shopping experience memorable and extraordinary.
1. Jaipur, Rajasthan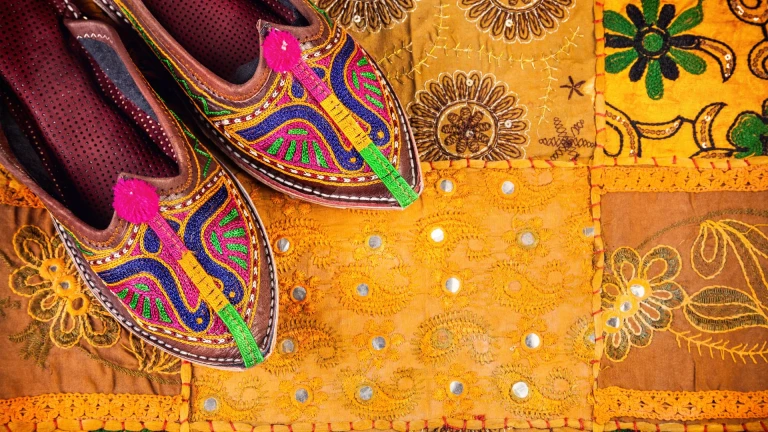 Jaipur, Rajasthan
Jaipur's vibrant bazaars are a haven for jewelry enthusiasts and textile aficionados. The city's Johari Bazaar is famous for its exquisite gems and jewelry, including the stunning Kundan and Meenakari pieces. In Tripolia Bazaar, you'll find an array of traditional fabrics, including the renowned Bandhani and Leheriya textiles, along with intricate handicrafts like blue pottery and lac bangles.
2. Varanasi, Uttar Pradesh
Banarasi silk sarees
Varanasi, one of the oldest cities in the world, is celebrated for its Banarasi silk sarees. The markets along the ghats offer an authentic experience where you can watch skilled artisans at work and find a wide range of silk textiles that reflect the city's cultural richness.
3. Delhi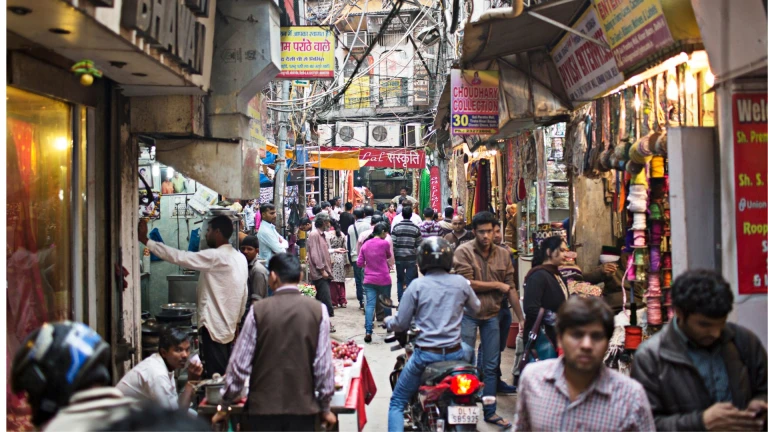 Delhi
The capital city is a shopaholic's paradise, catering to all tastes and budgets. Chandni Chowk is a bustling market offering an eclectic mix of traditional Indian goods, while the upscale malls in Saket provide a contemporary shopping experience. Dilli Haat, on the other hand, is a cultural extravaganza, showcasing handicrafts and cuisine from various Indian states.
Read more: Places that you MUST VISIT in Delhi with your Family
4. Mumbai, Maharashtra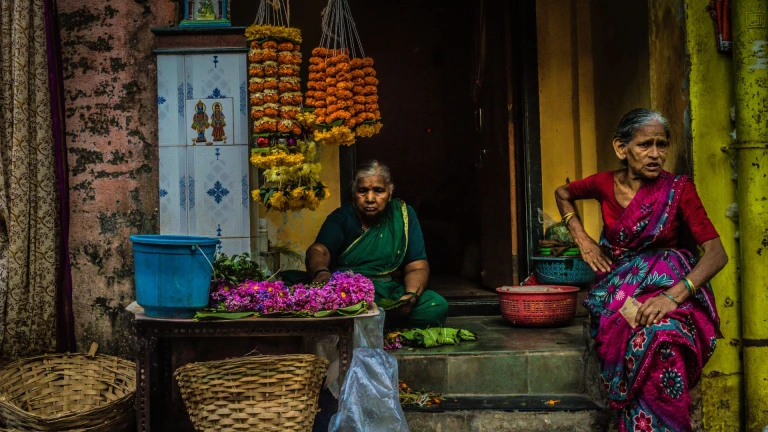 Mumbai, Maharashtra
Mumbai, the city that never sleeps, offers a shopping experience as diverse as its people. From the trendy boutiques in Bandra to the street markets of Colaba Causeway, Mumbai caters to every shopper's preferences. Don't miss exploring the numerous street food stalls while you shop.
5. Kolkata, West Bengal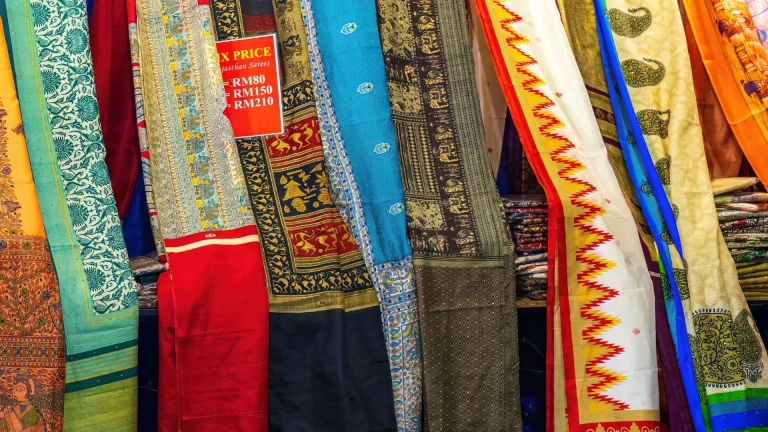 Bengali sarees
Kolkata is renowned for its elegant Bengali sarees and traditional textiles. Markets like New Market and Gariahat Market are must-visit destinations for those seeking authentic Bengali crafts, saris, and exquisite handwoven fabrics.
Read more: Durga Puja West Bengal 2023 | Everthing You need to know
6. Hyderabad, Telangana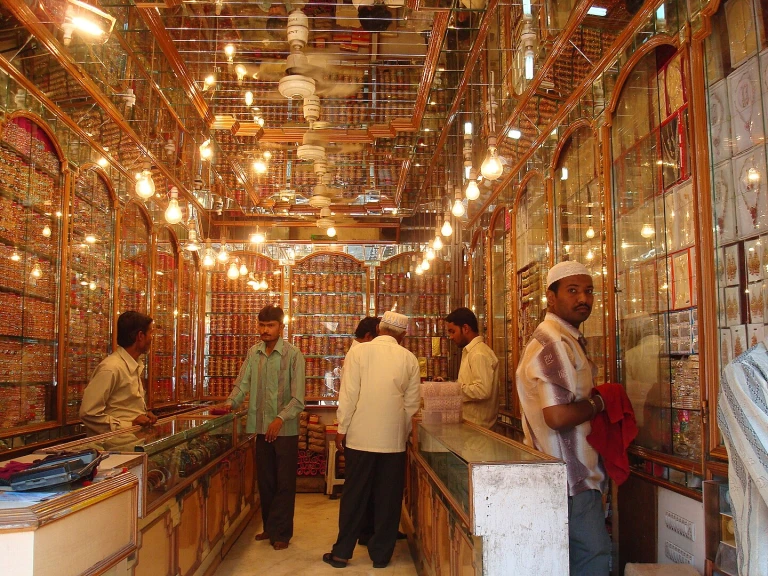 Laad Bazaar, Hyderabad
Known as the "City of Pearls," Hyderabad is a prime destination for pearl and jewelry lovers. Charminar and Laad Bazaar are iconic places to explore intricate pearl jewelry and traditional Hyderabadi bangles.
7. Udaipur, Rajasthan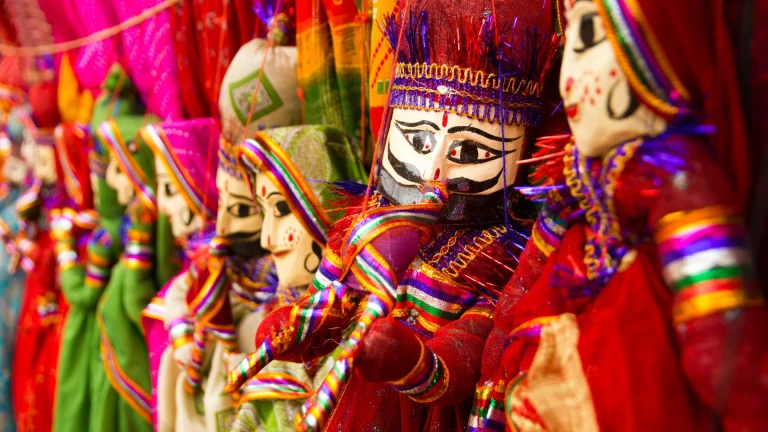 Udaipur's Markets
Udaipur's markets are a treasure trove of Rajasthani crafts, including miniature paintings, colorful turbans, and ethnic jewelry. Hathi Pol is a recommended starting point for exploring this enchanting city's shopping scene.
8. Kochi, Kerala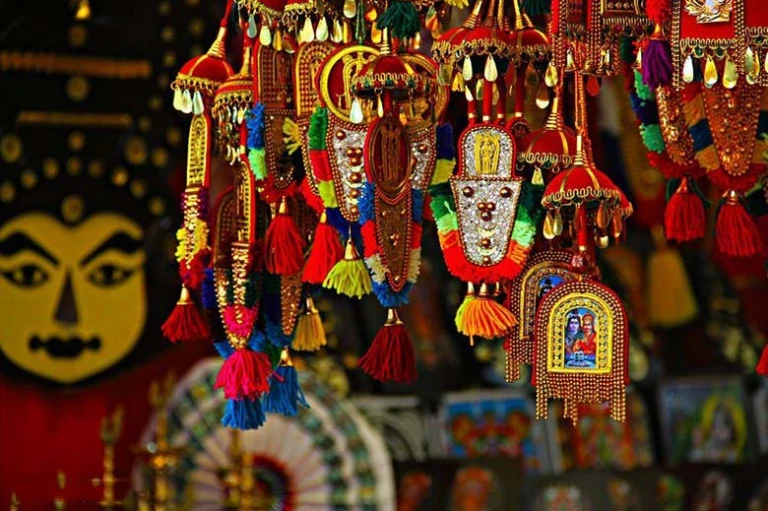 Kochi, Kerala Img: Revv
With its unique blend of cultures, Kochi offers a range of artistic and antique items. Jew Town, with its antique shops, and Broadway, with its bustling markets, are fantastic spots for finding eclectic souvenirs and vintage treasures.
9. Goa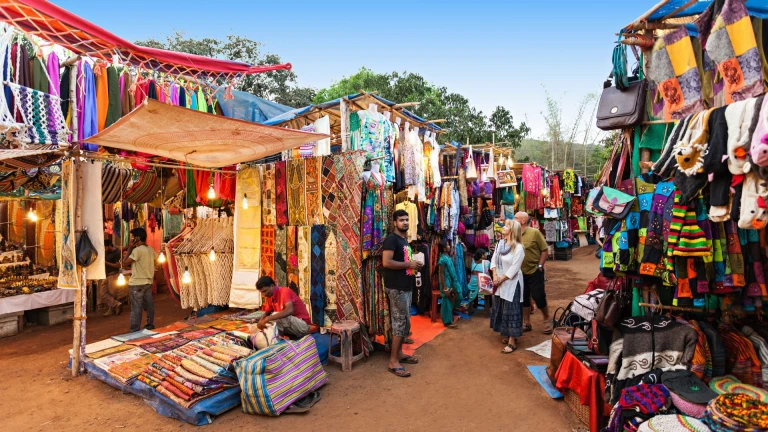 Anjuna Flea Market
Goa's markets are a mix of traditional Indian and international products. Anjuna Flea Market and Mapusa Market are famous for their vibrant and diverse selection, including bohemian clothing, jewelry, and handicrafts.
Read more: 20 Things to Do in Goa 2023 - Activities and Attractions
10. Agra, Uttar Pradesh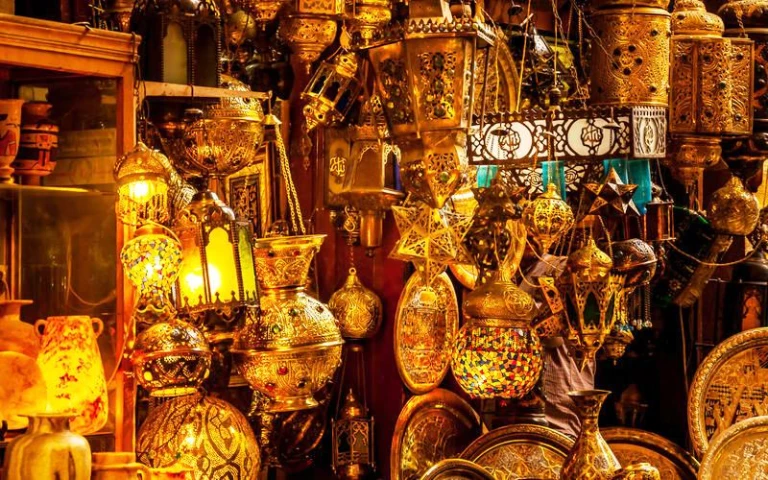 Agra market Img: Tusk Travel
Agra is famous not just for the iconic Taj Mahal but also for its exquisite marble and leather products. You can find intricate marble inlay work and beautifully crafted leather items in the local markets.
11. Jodhpur, Rajasthan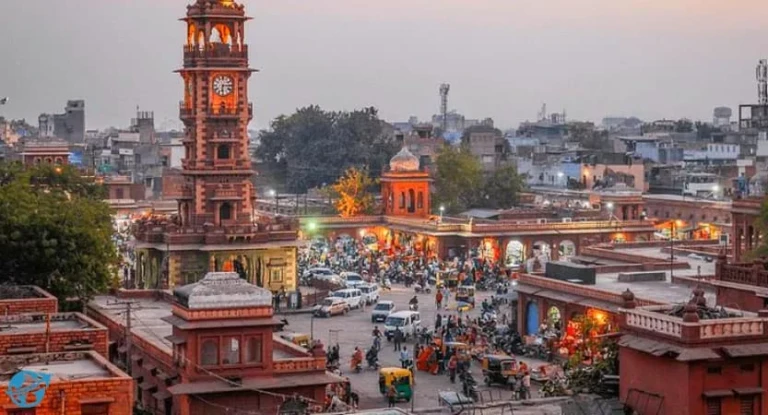 Clock Tower Market, Jodhpur Img: PlanYourTour
Jodhpur is a haven for those interested in traditional Rajasthani textiles and handicrafts. The Clock Tower Market, with its vibrant stalls and bustling atmosphere, is a favorite among shoppers looking for local products.
12. Puducherry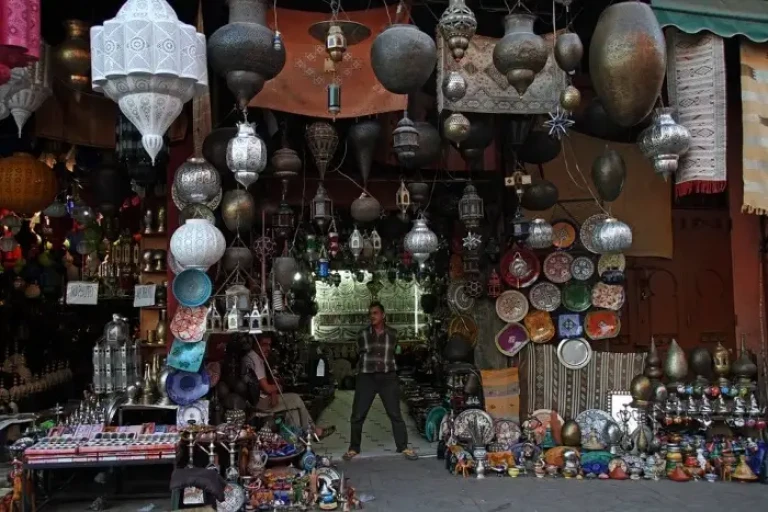 Puducherry Img: Travel Triangle
The French Quarter of Puducherry offers a different shopping experience. Here, you can explore boutiques and chic clothing stores that reflect the city's unique blend of Indian and French influences.
13. Amritsar, Punjab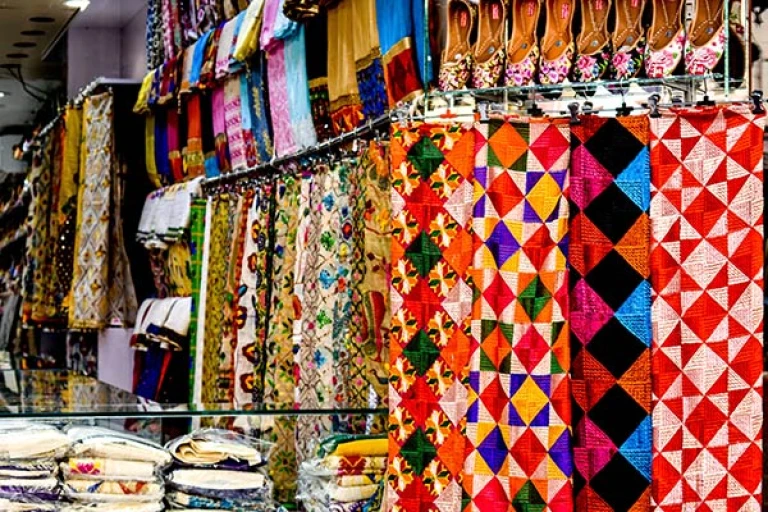 Amritsar, Panjab
Amritsar is renowned for its intricate Phulkari work and Punjabi juttis (shoes). Markets like Hall Bazaar and Lawrence Road are excellent shopping destinations to explore these traditional Punjabi products.
14. Guwahati, Assam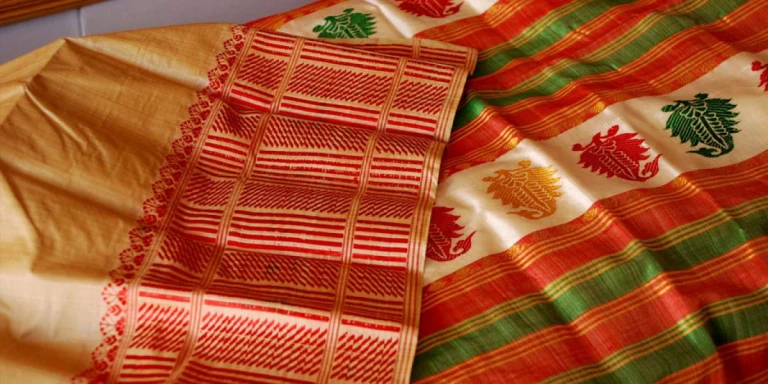 Assamese textiles Img: The Sentinel Assam
Assam's Muga silk and traditional Assamese textiles are a must-buy when in Guwahati. The bustling markets of Pan Bazaar and Paltan Bazaar showcase these unique textiles, known for their beautiful designs and craftsmanship.
15. Mysuru, Karnataka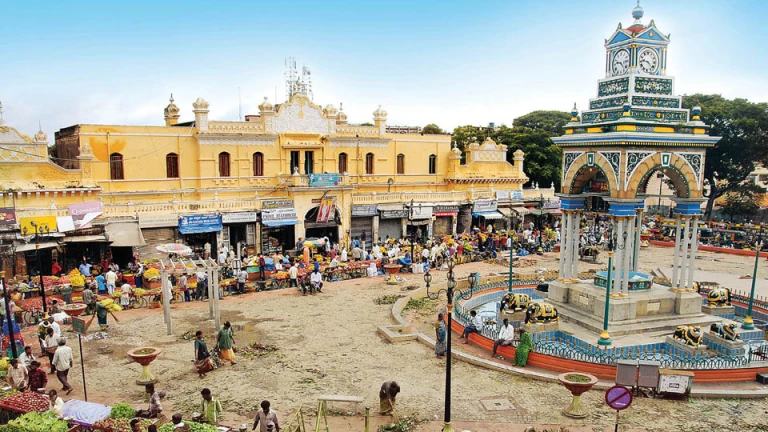 Devraja Market, Mysuru
Mysuru is famous for its fragrant sandalwood products, vibrant silk sarees, and intricately carved wooden items. Devraja Market is an excellent place to experience the city's rich shopping scene, with its focus on these traditional crafts.
Also Read: Exploring Delhi's Famous Cuisine: A Food Lover's Guide