Delhi is a city that has something for everyone. Whether you are a history buff, a culture lover, a foodie, a shopper, or an adventurer, you will find plenty of places to visit in Delhi that will suit your interests and preferences. Delhi is the capital of India and one of the oldest cities in the world, with a rich and diverse heritage that spans over thousands of years. Delhi is also a modern and vibrant metropolis, with a thriving economy, a cosmopolitan culture, and a lively nightlife. In this article, we will introduce you to the top 10 places to visit in Delhi that will give you a glimpse of the city's past, present, and future. These places are not only popular among tourists, but also among locals who love to explore their own city. So, without further ado, let's begin our journey through Delhi's top 10 attractions.
1. Red Fort
If you want to witness the glory and grandeur of the Mughal era, you should not miss visiting the Red Fort. This magnificent fort, made of red sandstone, was built by Shah Jahan in the 17th century and was the seat of power for over 200 years. The fort complex houses several beautiful buildings, such as the Diwan-i-Aam, the Diwan-i-Khas, the Moti Masjid, and the Rang Mahal. You can also admire the intricate carvings, paintings, and inlay work that adorn the walls and ceilings of the fort. The Red Fort is also a UNESCO World Heritage Site and a symbol of India's freedom struggle.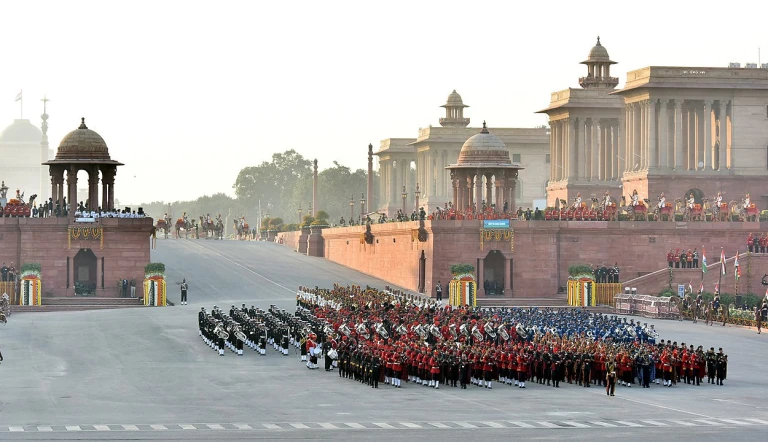 One of the highlights of visiting the Red Fort is watching the Light and Sound Show that narrates the history of Delhi and the fort through colorful lights and sound effects. The show is held every evening in Hindi and English languages. The Red Fort is a must-see attraction for anyone who loves history and culture.
2. Akshardham Temple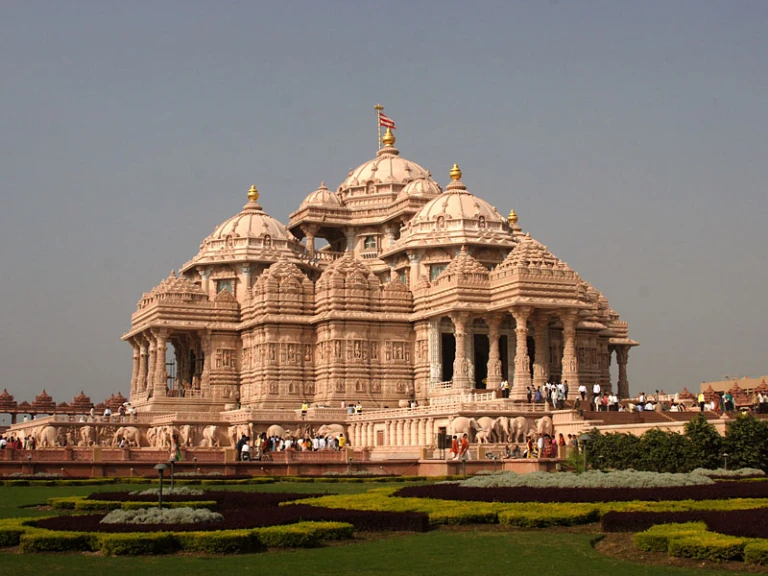 If you are looking for a place that combines beauty, devotion, and art, you should visit the Akshardham Temple. This temple is one of the largest and most impressive Hindu temples in India, built in 2005 by the followers of Swaminarayan. The temple's design is based on ancient Hindu scriptures and reflects the rich heritage and diversity of India. The temple complex covers an area of 100 acres and features stunning gardens, fountains, sculptures, and exhibitions.
The main attraction of the complex is the Akshardham Mandir, a majestic structure made of pink sandstone from Rajasthan and white marble from Italy. The mandir has 234 ornate pillars, nine domes, 20,000 statues of saints, devotees, and deities, and exquisite carvings of flora, fauna, musicians, and dancers. The mandir is also a place of worship and meditation for the devotees of Swaminarayan. The Akshardham Temple is a must-visit destination for anyone who wants to experience the essence of Hindu culture and spirituality.
3. India Gate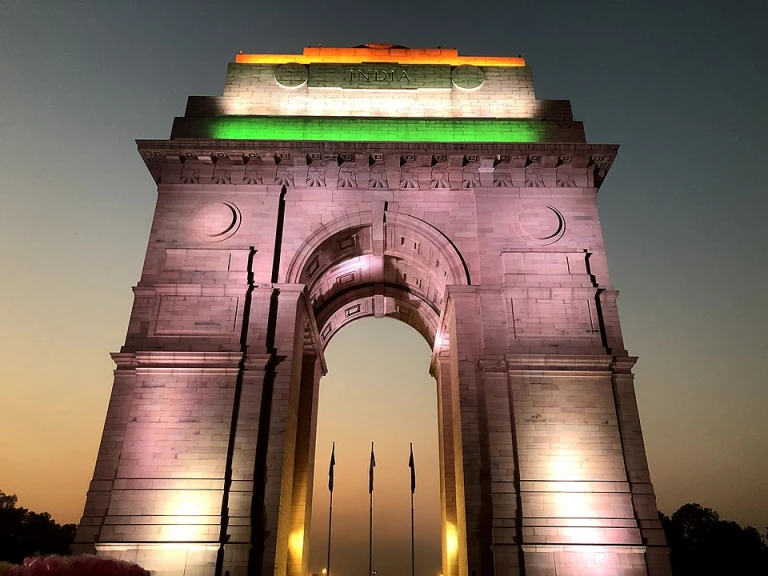 One of the most iconic landmarks of Delhi is the India Gate, a war memorial dedicated to the brave Indian soldiers who sacrificed their lives in World War I. The gate stands tall at 42 meters and is made of yellow and red sandstone and granite. The gate has the names of 13,516 soldiers inscribed on its walls. The gate also has an eternal flame, called the Amar Jawan Jyoti, that burns in honor of the unknown soldiers. The India Gate is surrounded by lush green lawns and fountains, where families can relax and enjoy a picnic. The gate also offers a spectacular view at night, when it is illuminated with colorful lights.
One of the most important events that take place at the India Gate is the Republic Day Parade, which is held on January 26 every year. The parade showcases the cultural and military diversity of India, with various floats, bands, and contingents. The parade also features the presence of the President of India, the Prime Minister of India, and other dignitaries from India and abroad. The India Gate is a must-visit place for anyone who wants to pay tribute to the heroes of India and witness its vibrant culture.
4. Kidzania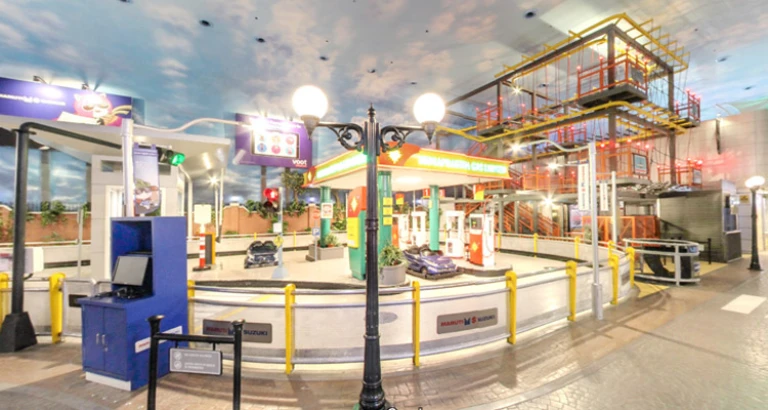 If you want to give your kids a memorable and enriching experience, you should take them to KidZania. KidZania is an indoor theme park that simulates a real city, where kids can learn and play in a safe and interactive environment. KidZania has over 100 activities that teach kids about various professions, such as fire-fighter, doctor, pilot, and more.
Kids can also earn and spend their own currency, called kidZos, at various shops and services. KidZania is not only entertaining, but also educational, as it helps kids develop their skills, creativity, and confidence. KidZania is a must-visit place for families who want to have fun and learn together.
5. Dilli Haat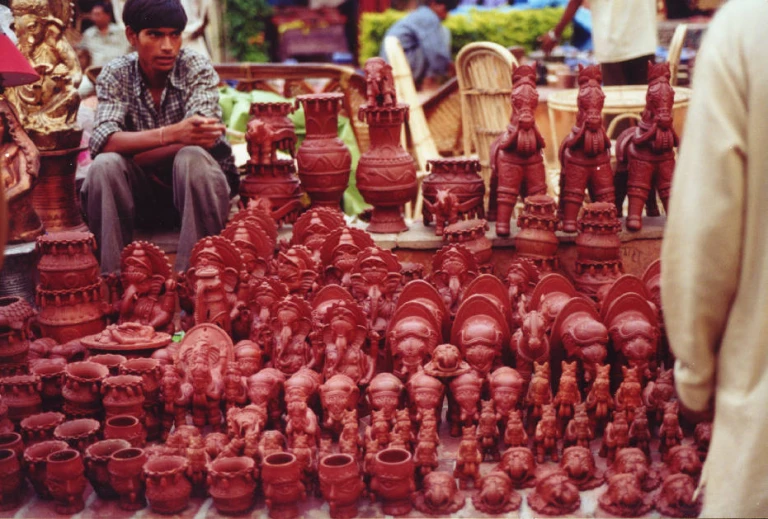 If you love shopping, eating, and culture, you should visit Dilli Haat. Dilli Haat is an open-air food plaza and craft bazaar that showcases the diversity and richness of India. Dilli Haat has over 62 stalls that offer a variety of handicrafts, such as antiques, jewelry, clothing, home furnishings, and toys.
You can find products from different states and regions of India, such as Kashmir, Rajasthan, Gujarat, and more. You can also enjoy the delicious cuisines of India, such as momos, dosas, biryanis, and more. Dilli Haat also hosts many cultural events, such as dance and music performances, that celebrate the heritage and traditions of India. Dilli Haat is a must-visit place for anyone who wants to experience the colors and flavors of India.
6. Qutub Minar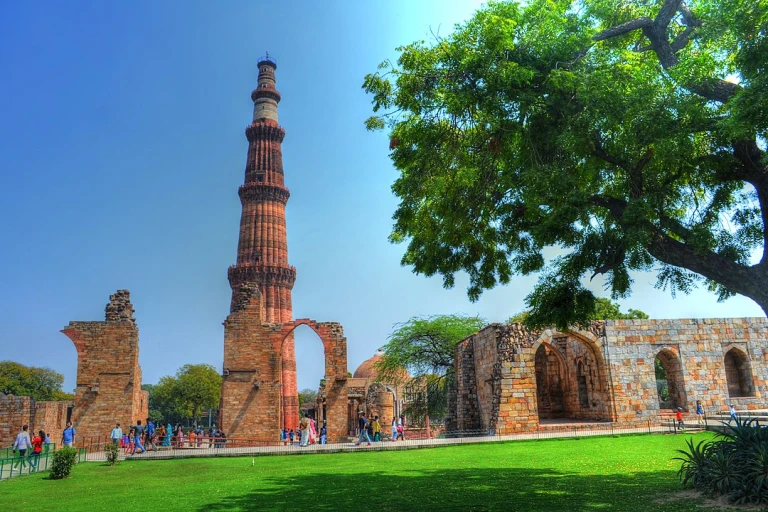 One of the most remarkable and historic attractions of Delhi is the Qutub Minar, a soaring tower of red sandstone and marble that stands as a testimony of the city's ancient glory. The Qutub Minar was built in the 12th century by Qutub-ud-din Aibak, the founder of the Delhi Sultanate, and was later expanded by his successors. The tower has five stories, each with a distinct style and design. The tower's base is 14.3 meters in diameter, while its top is only 2.7 meters. The tower has 379 steps that lead to the top, where one can enjoy a panoramic view of the city.
The Qutub Minar is also part of the Qutub Complex, which is a UNESCO World Heritage Site and contains several other monuments, such as the Quwwat-ul-Islam Mosque, the Iron Pillar, and the Alai Minar. The Qutub Minar is a must-visit place for anyone who wants to admire the architectural and cultural legacy of Delhi.
7. Humayun's Tomb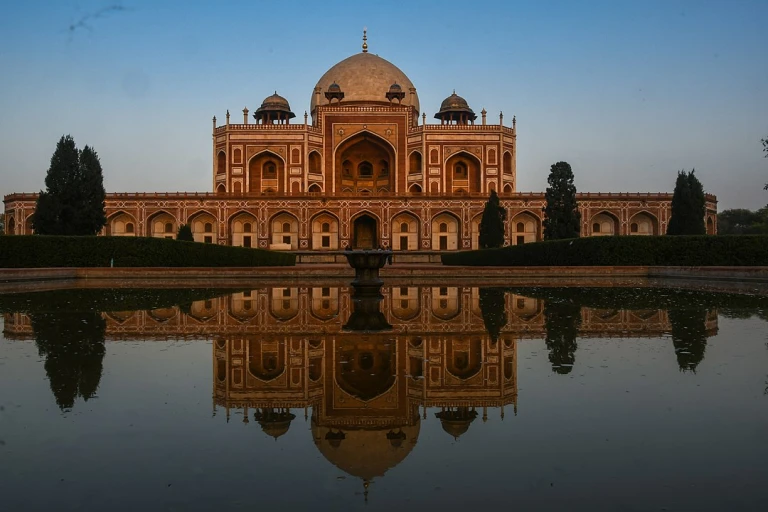 One of the most splendid and majestic monuments of Delhi is the Humayun's Tomb, the final resting place of the second Mughal emperor of India, Humayun. The tomb was commissioned by his first wife and chief consort, Empress Bega Begum, in 1569-70, as a tribute to her beloved husband. The tomb is considered to be the first example of the Mughal style of architecture, which was influenced by the Central Asian and Persian styles of Islamic architecture. The tomb is made of red sandstone and white marble, and has a height of 47 meters and a width of 91 meters. The tomb has a symmetrical and geometrical design, with a large dome, arched entrances, and ornamental gardens.
The tomb also contains the graves of several other members of the Mughal dynasty, such as Akbar, Jahangir, and Nur Jahan. The tomb is also a UNESCO World Heritage Site and a popular tourist attraction. Humayun's Tomb is a must-visit place for anyone who wants to witness the beauty and elegance of Mughal art and architecture.
8. National Rail Museum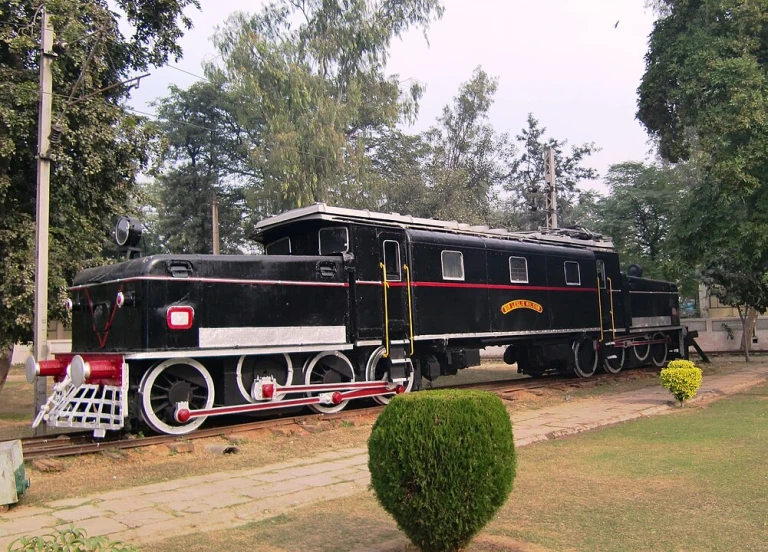 If you are a fan of trains and railways, you should visit the National Rail Museum in Delhi. This museum is dedicated to the rail heritage of India, and showcases the evolution and development of the Indian railways. The museum is spread over 10 acres of land, and has both indoor and outdoor exhibits. You can see various models, displays, and artifacts related to the railways, such as locomotives, coaches, signals, tools, and uniforms. You can also enjoy a ride on a toy train or a steam engine, and experience the thrill of traveling on the rails.
The museum also organizes special events and activities, such as night entry, heritage walks, and quiz competitions. The National Rail Museum is a must-visit place for anyone who wants to learn more about the history and culture of India's railways.
8. Chandni Chowk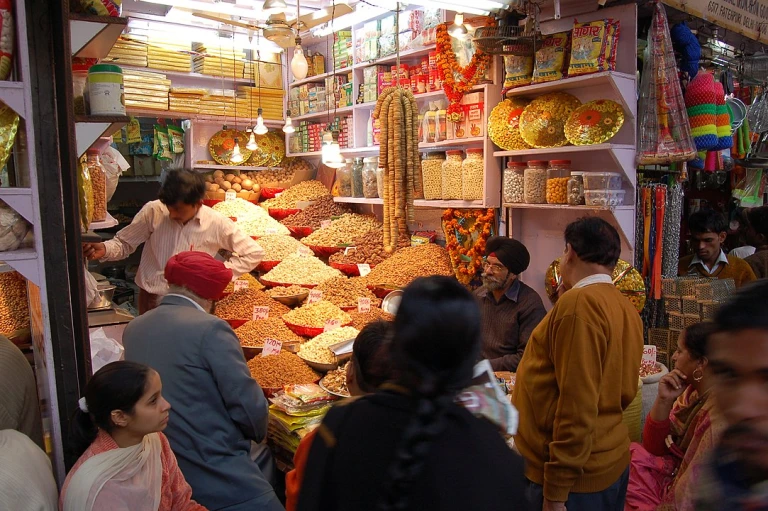 If you want to experience the charm and chaos of Delhi, you should visit Chandni Chowk, one of the oldest and busiest markets in the city. Chandni Chowk, which means Moonlight Square, is a narrow street that runs from the Lahori Gate of the Red Fort to the Fatehpur Masjid. The street is lined with hundreds of shops, stalls, and vendors that sell everything from clothes, jewelry, electronics, books, spices, sweets, and more.
You can find items of different styles, prices, and quality, and bargain for the best deals. Chandni Chowk is also a place where you can taste the authentic and delicious cuisine of Delhi, such as parathas, chaat, kebabs, biryanis, jalebis, and more. Chandni Chowk is a must-visit place for anyone who wants to shop till they drop and enjoy the vibrant and diverse culture of Delhi.
9. Hauz Khas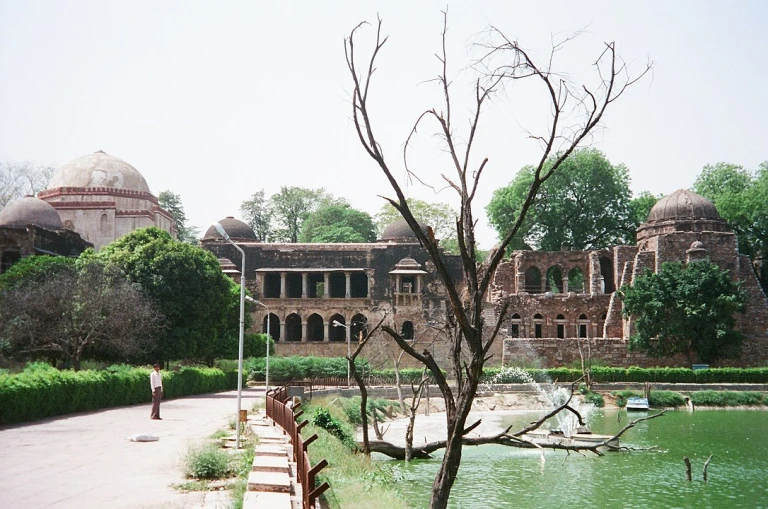 If you are looking for a place to chill out in Delhi, Hauz Khas Social might be the perfect choice for you. This place combines the best of a café and an office, offering you a cozy and comfortable space to work or unwind.
Whether you want to catch up with your colleagues, enjoy a delicious meal, or sip a refreshing drink, Social has something for everyone. Hauz Khas Social is one of the most popular places to visit in Delhi for youngsters who want to have some fun and relaxation. The place is open all day long, so you can drop by anytime you want. The nearest metro station is Hauz Khas, which makes it easy to reach from anywhere in the city.
10. Snow world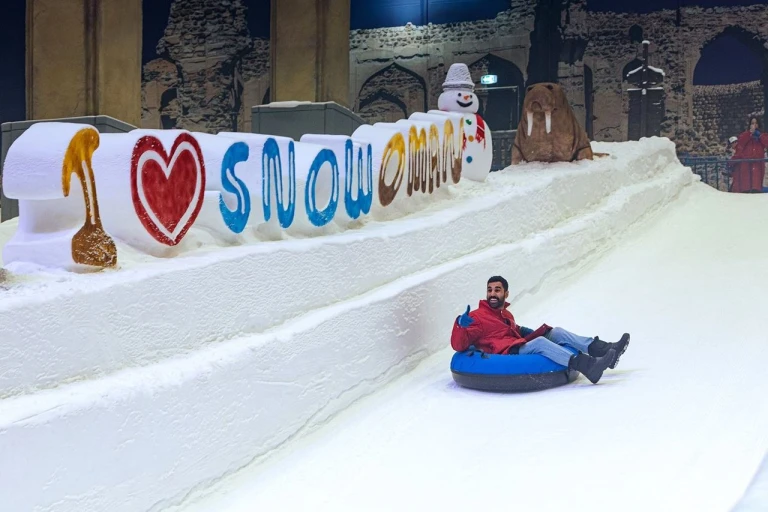 If you love snow and ice, you will be amazed by Snow World, the largest indoor snow park in Asia. Located in DLF Mall of India, Noida, this place offers you a chance to experience the thrill of winter sports and activities in a realistic snow environment. You can try ice skating, sledding, skiing, luge, and toboggan rides in this park, which covers an area of 6,000 square meters. The park is decorated with beautiful snow sculptures and ice carvings, creating a magical atmosphere.
The temperature inside the park is maintained at minus 10 degrees Celsius, so you will feel like you are in a real snowy land. Snow World is a great place to visit with your family and friends, as it has something for everyone. You can enjoy the park from 11:00 am to 10:00 pm every day, and the ticket price is INR 1000 per person. The nearest metro station is Sector-18, Noida, which makes it convenient to reach from anywhere in the city.
We hope you enjoyed reading this article and learned something new about the places to visit in Delhi. Delhi is a city that never ceases to amaze and inspire its visitors, with its rich history, culture, cuisine, and entertainment. Whether you are planning a short trip or a long stay, you will find plenty of places to visit in Delhi that will make your visit memorable and worthwhile. Delhi is a city that welcomes everyone with open arms and offers them a unique and unforgettable experience. So, what are you waiting for? Book your tickets now and get ready to explore the amazing places to visit in Delhi. Thank you for reading and have a wonderful day!