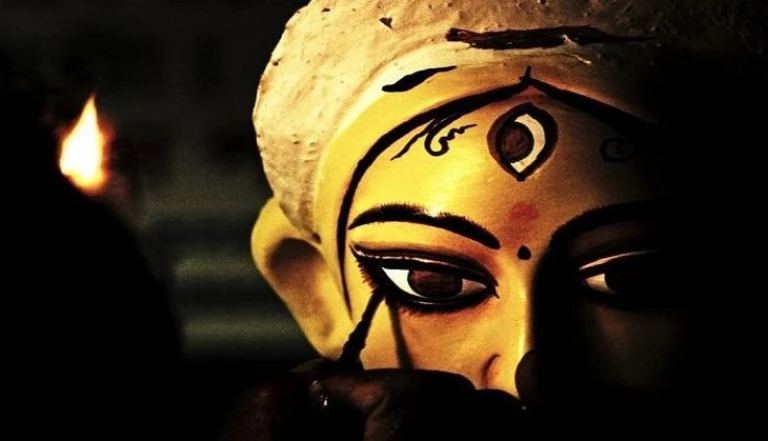 Dhaker tale ongo dole khushite aaj mon
sobai mile anondo aaj korbo sarakkhon
sondhya prodip jaliye mayer korbo aroti
bolbo make moner kotha kore minoti
hridoy majhe monete aaj rong legeche
eseche bochor ghure bangalir durga Puja eseche
Happy Durga Puja!
May this auspicious occasion of Durga Puja bring joy and happiness to everyone's hearts. Let us come together and celebrate this festival by lighting the lamps of hope and spreading love in our hearts.
One of the most popular holidays in West Bengal is Durga Puja, especially in the energetic metropolis of Kolkata. Taking place during the auspicious Navaratri season, this unique event is an homage to the beloved goddess Durga. During Durga Puja, the city of Kolkata comes alive with vibrant decorations, elaborate pandals (temporary structures), and mesmerizing cultural performances.
It is a time when people from all walks of life come together to celebrate and immerse themselves in the rich traditions and festivities associated with this grand celebration. The Pandals, which span 10 days, open their doors to guests from the sixth to the ninth day and feature magnificent Durga statues. These statues are meticulously crafted by skilled artisans and are adorned with intricate jewelry and vibrant clothing.
Each pandal tells a unique story or theme, showcasing the creativity and artistic talents of the organizers. Visitors flock to these pandals to marvel at the beauty of the statues and soak in the festive atmosphere, making Durga Puja a truly unforgettable experience in Kolkata. The main Visarjan (water immersion) ritual is held to celebrate the climax on the tenth day, Dashami, amid joyful celebrations and processions.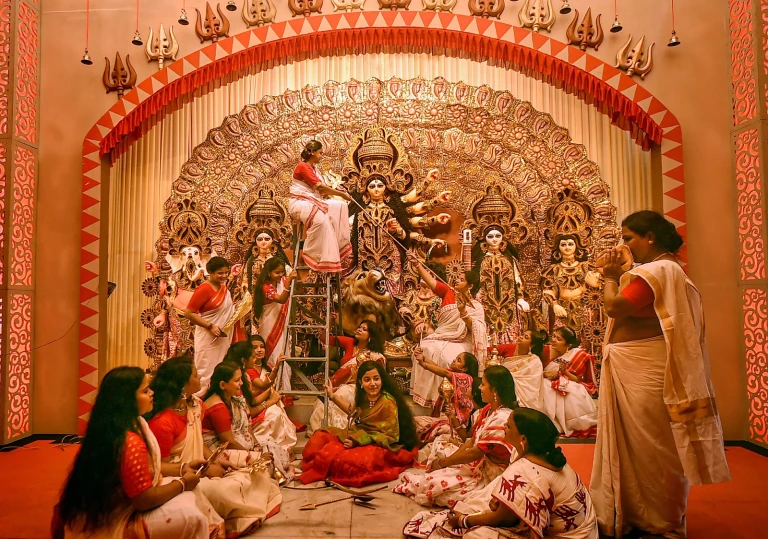 The Mythology of Durga
Durga, a Hindu deity, is known for her role as the "unreachable" or "inaccessible" in Sanskrit. She represents Shakti, the primal cosmic energy, and is revered as the Mother of the Universe. Durga is worshipped in various forms, including Uma, Gauri, Parvati, Jagatmata, Kali, Chandi, and Bhairavi.
As the consort of Lord Shiva, she is venerated across India as both a benevolent preserver and a formidable destroyer. Her most awe-inspiring form is Simhavahin, "she who rides astride the lion." She is adorned in red and golden attire, with intricate gold ornaments and a crown on her head. Durga's creation was a result of the malevolent Mahishasur, who had terrorized the world.
After a monumental battle, Durga emerged victorious, restoring balance and harmony to the celestial realm. Durga's victory over Mahishasur symbolizes the triumph of good over evil and serves as a reminder of the power of divine feminine energy.
She is often depicted with multiple arms, each holding a weapon, representing her ability to simultaneously protect and destroy. Durga's story continues to inspire devotees to overcome obstacles and fight for justice in their own lives.
Durga Puja in West Bengal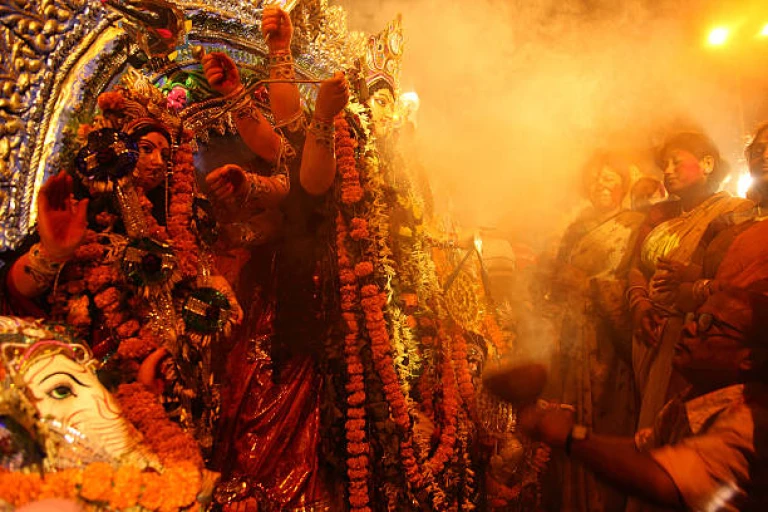 In West Bengal, the ten-day Durga Puja celebration is fervently observed beginning with Mahalaya on the first day of fall. The streets come alive with colorful processions and ornate decorations during Durga Puja.
People congregate in great numbers to pray to Goddess Durga and ask for her blessings, participating in the joyful celebrations that symbolize the victory of good over evil.
Similar to a married woman visiting her parents and children before going to her husband's home, the festival calls for the goddess to come to Earth. In order to organize public puja rituals and collect money to support the production of gorgeous idols in Kumartuli, which is famous for its talented artisans and is home to theme-based pandals, locals join committees.
The Main Five Days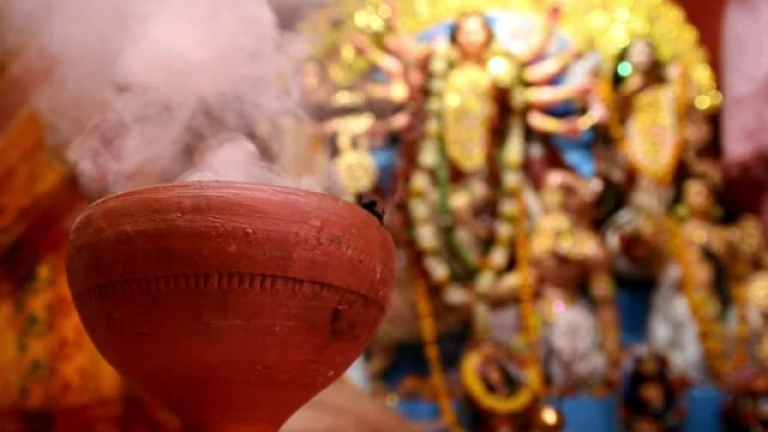 Shoshthi, Saptami, Ashthami, Nabami, and Dashami, the festival's final five days, are of the highest importance. Every day, special puja ceremonies are done, with "shondhi pujo" taking place in the evening amid the throbbing beats of drummers and pious chanting.
The "dhunuchi naach" dance, which makes use of tiny jars of burning incense, adds a ceremonial component. "Thakur darshan" refers to the practice in which worshippers visit multiple sculptures to seek the god's blessings.
Devotees take part in cultural events and performances that feature traditional music, dancing, and theater over these final five days. When the idols are submerged in rivers or other bodies of water as part of the festival's finale, it symbolizes the return of Goddess Durga and her family to their celestial home.
Famous Pandals to visit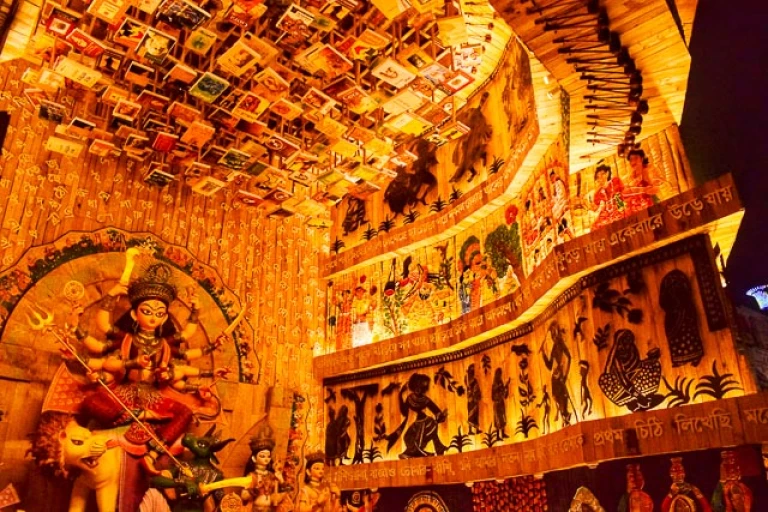 Santosh Mitra Square Durga Puja Pandal
For more over 80 years, Santosh Mitra Square has hosted Durga Puja, and it is known for its elaborate pandals and skilled craftsmanship. It is a must-visit attraction for visitors and enthusiasts alike due to the brilliant colors, fine decorations, and intricate lighting that create a magical environment.
Bagbazar Durga Puja Pandal
The Bagbazar Sarbojanin Durgotsav & Exhibition, a cultural heritage occasion showcasing conventional art forms, performances, and exhibitions, is held in Bagbazar, North Kolkata. Visitors may take pleasure in the festive ambiance, Puja rituals, funfair games and cuisine.
Ballygunge Cultural Association
Ballygunge, a Durga Puja Pandal in Kolkata, features intricate idols created by artisans during Rath Yatra, elaborate decorations, stunning lighting, cultural performances, and delicious food from various stalls.
Shib Mandir Sarbajanin Durgatsab
The Shib Mandir Sarbajanin Durgatsab in Kolkata is a popular event with high crowds and numerous awards. It is known for its innovative themes and artistic installations, and hosts cultural events and competitions, making it a must-visit destination during Durga Puja in Kolkata.
Tridhara Sammilani Puja Pandal
A well-known Durga Puja in South Kolkata called Tridhara Sammilani Durgotsav combines the ideas of Seniors, Present, and Future Youth. With its spectacular decorations and intricate traditions, it serves as a mix of tradition, culture, and social activity. The puja pandal serves as a forum for social interaction and cultural exchange by representing the peaceful coexistence of many generations and the fusion of traditional values with modernity.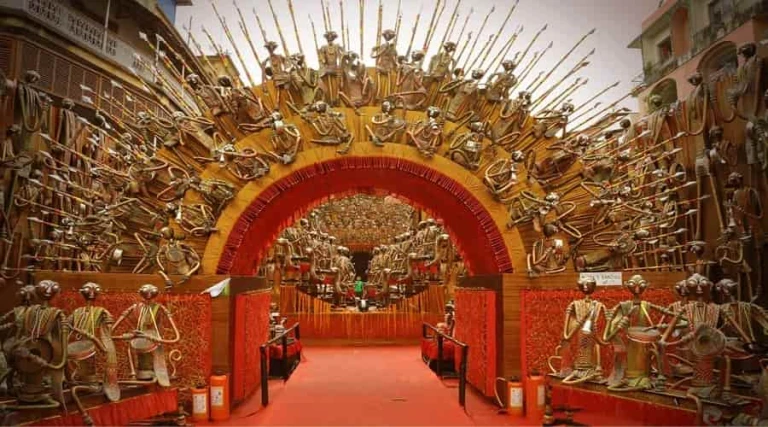 These are few examples of the numerous Durga Puja pandals that can be found throughout Kolkata during the festive season. Each pandal offers a unique experience, showcasing the creativity and craftsmanship of local artists and artisans.
Visitors can immerse themselves in the vibrant atmosphere, witness traditional rituals, and indulge in mouthwatering delicacies from different regions of India.
Durga puja Bhog
A variety of delicious meals are offered to the goddess as part of the traditional food offering, or bhog, during the Durga Puja celebration in Kolkata.
Bhog offerings are made to the goddess in pandals, and communal kitchens are also set up. No one goes hungry while the celebrations are going on thanks to these communal kitchens, which offer free meals to tourists and believers alike.
The Bhog meals are frequently made with the utmost dedication and care, using fresh ingredients and traditional recipes passed down through generations.
Additionally, food booths are set up offering classic Bengali dishes like luchi, cholar dal, and shorshe ilish, which may be found all throughout Kolkata. As people consume these delectable delights, the scent of spices permeates the air.
The celebration serves a dizzying array of Bengali food, including sweets, snacks, and themed Bhog dinners.
Conclusion
Durga Puja is more than simply a holiday; it's a cultural spectacle that captures the essence of West Bengal and its history. It symbolizes a celebration of fortitude, harmony, and the victory of right over wrong. It is definitely a celebration of grandeur because of the exuberant ceremonies, creative manifestations, and group commitment. So embrace the enthusiasm and experience Durga Puja's enchantment to observe the tenacious spirit of Bengali culture.
Also read: Top 9 Must See Destinations During Navratri Celebration in India