As the new year dawns upon us, travel enthusiasts are already planning their next adventure. When it comes to exploring the diverse and enchanting landscapes of India, two destinations often top the list: Goa and Kerala.
Both states offer unique experiences, but choosing between them can be a delightful dilemma. In this article, we will compare these two popular travel destinations on various aspects to help you decide where to travel in 2023.
Read more: Your Must-Have Travel Guide to Goa in 2023
Climate in Goa and Kerala:
Goa and Kerala, both blessed with tropical climates, offer an escape from the harsh winter months in many parts of the world. However, there are subtle differences that might influence your choice.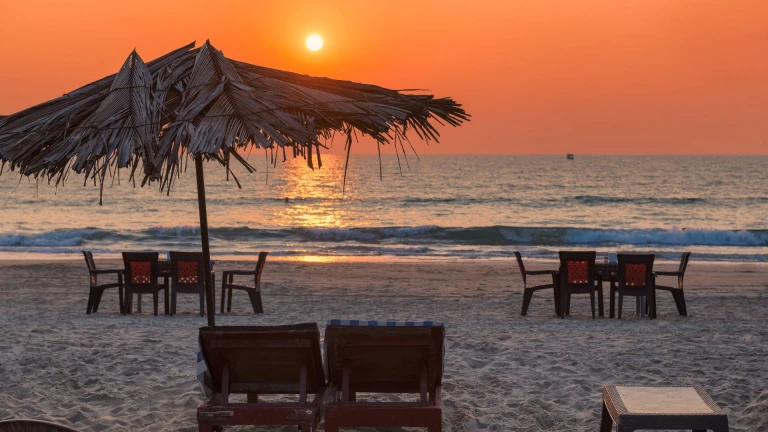 Goa Beach
Goa enjoys a hot and humid climate, with the peak tourist season falling between November and February when the weather is cooler and drier. On the other hand, Kerala experiences more variation in climate.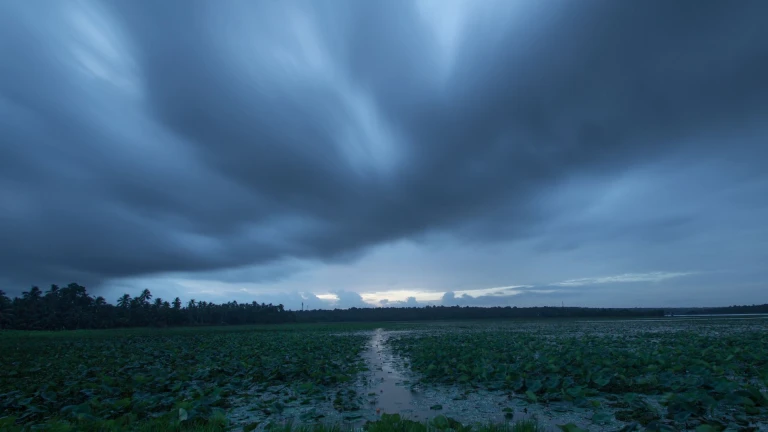 Monsoon Clouds over Vellayani Lake Kerala
While the peak season here is from September to March, Kerala's monsoons, which usually occur from June to August, transform the lush landscapes into a breathtaking canvas of green. So, if you prefer milder temperatures and lush greenery, Kerala's diverse climate might be your preference.
The Beaches: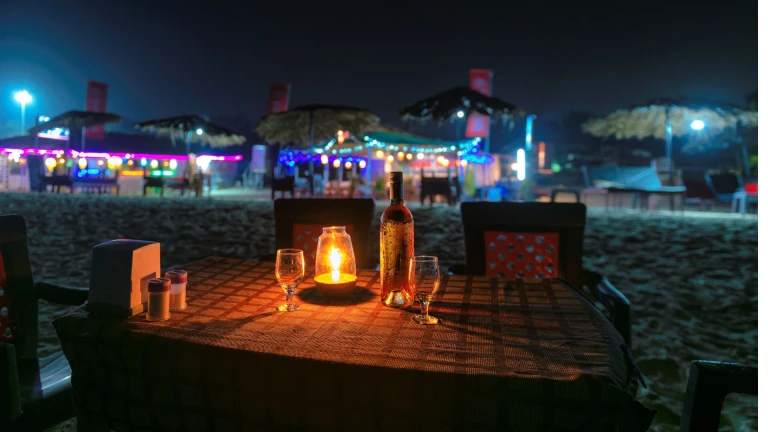 Goa Beach Party
Both Goa and Kerala boast stunning beaches, but they offer contrasting experiences. Goa is renowned for its vibrant, party-friendly beaches like Baga, Calangute, and Anjuna, where you can enjoy water sports, beach shacks, and a lively atmosphere.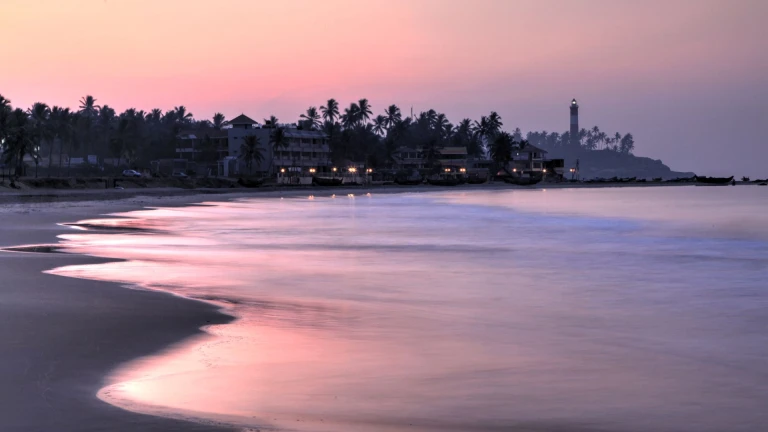 Kovalam, Kerala
In contrast, Kerala's beaches, such as Varkala and Kovalam, are more serene and less crowded. They offer a tranquil setting, ideal for relaxation, yoga, and Ayurvedic treatments.
Landscape: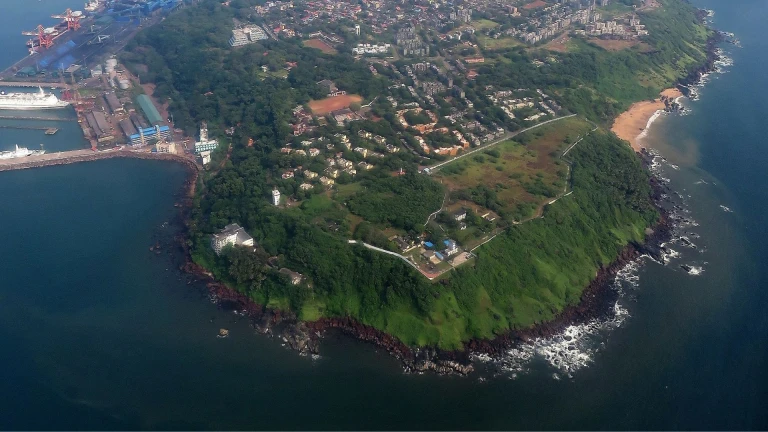 Coastline of Vasco de Gama, Goa
When it comes to landscapes, both states are incredibly diverse. Goa, with its coastal beauty, is home to palm-fringed beaches, lush paddy fields, and rolling hills in the hinterland.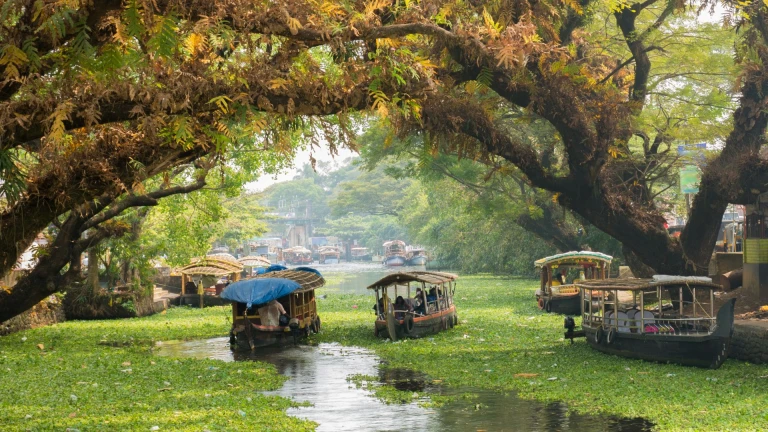 Kerala Backwaters
Kerala, on the other hand, boasts of a unique backwater ecosystem, dense forests in the Western Ghats, and tea plantations in Munnar. It's a land of rich biodiversity and serene, interconnected waterways. If you're a nature enthusiast, Kerala's diverse landscapes might be more appealing.
Local Culture:
Goa and Kerala have distinct cultural identities. Goa, with its Portuguese influence, is known for its vibrant and carefree culture. The state is famous for its seafood cuisine, laid-back lifestyle, and festive celebrations.
Read more: 20 Things to Do in Goa 2023 - Activities and Attractions
Kerala, in contrast, is steeped in traditions and known for its classical dance forms, elaborate temple festivals, and authentic South Indian cuisine. Both places offer a unique cultural experience, so your choice depends on the type of cultural immersion you seek.
Sightseeing and Experiences:
When it comes to sightseeing experiences, Goa and Kerala offer distinct yet equally captivating adventures. Each state boasts a rich tapestry of attractions, ensuring that every traveler finds something to pique their interest.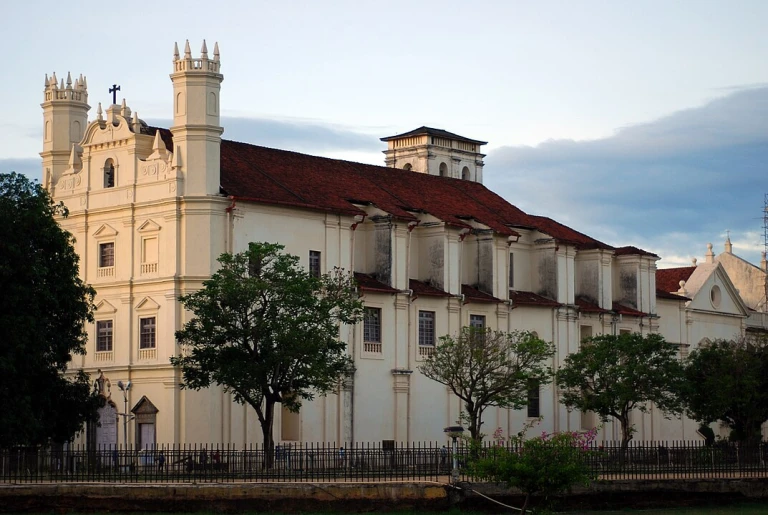 St Francis Church at Old Goa
In Goa, you can explore historical sites like Old Goa's churches, visit spice plantations, or engage in thrilling water sports.
Historical Charm: Goa's historical landmarks, such as Old Goa's churches, forts like Aguada, and colonial architecture, provide a glimpse into its past.

Beach Vibes: The vibrant beaches of Goa, including Baga, Calangute, and Anjuna, are perfect for sun, sea, and water sports enthusiasts.

Spice Plantations: Visit spice plantations to learn about the region's rich agricultural history and sample local spices.

Water Adventures: Thrill-seekers can indulge in water sports like parasailing, jet-skiing, and scuba diving, making it an adrenaline-filled experience.

Nightlife: Goa's nightlife is legendary, with beachfront parties and clubs for those seeking an electrifying after-dark scene.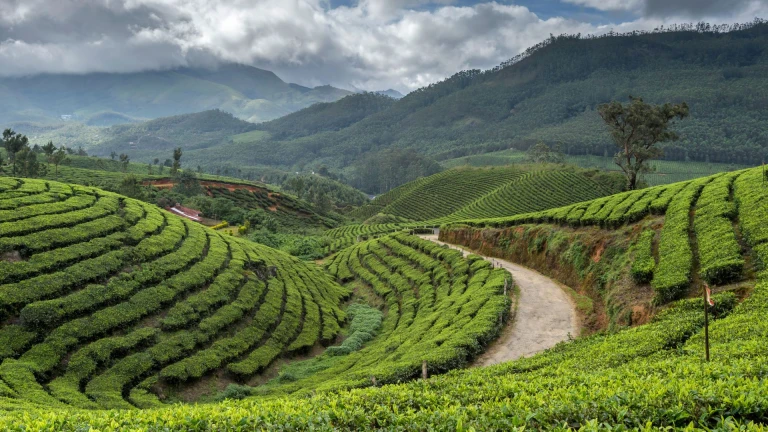 Tata Tea Plantations, Munnar, Kerala
In Kerala, you can take scenic houseboat rides in the backwaters, go trekking in the Western Ghats, or visit tea plantations. Both states offer diverse experiences, but the choice ultimately depends on your interests.
Backwater Cruises: Explore the tranquil backwaters of Kerala aboard traditional houseboats, offering a serene and picturesque journey.

Lush Tea Plantations: Munnar, in Kerala, is known for its sprawling tea plantations, where you can witness the tea-making process and savor freshly brewed tea.

Wildlife Safaris: Embark on wildlife safaris in places like Periyar Tiger Reserve and Wayanad Wildlife Sanctuary for a chance to spot elephants, tigers, and exotic birdlife.

Cultural Immersion: Immerse yourself in Kerala's culture by visiting ancient temples, experiencing classical dance forms, and savoring traditional cuisine.

Hill Station Retreats: Head to hill stations like Thekkady for cooler climes, lush forests, and opportunities for trekking, providing a nature lover's paradise.
Read more: Discover Incredible Places to Visit for an Amazing Kerala Trip in 2023
Wildlife: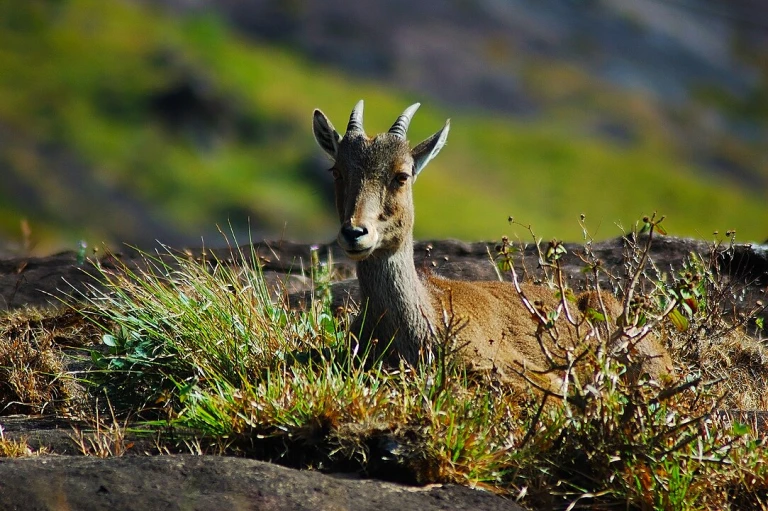 Nilgiri Tahr, spotted in Eravikulam National Park, Kerala
If you're a wildlife enthusiast, Kerala wins hands down. With its lush forests, Kerala is home to a variety of wildlife, including elephants, tigers, and an incredible diversity of bird species. The Periyar Tiger Reserve and Wayanad Wildlife Sanctuary are just a couple of the wildlife hotspots you can explore. Goa does have some wildlife sanctuaries, but it can't match Kerala's abundance in this aspect.
Shopping: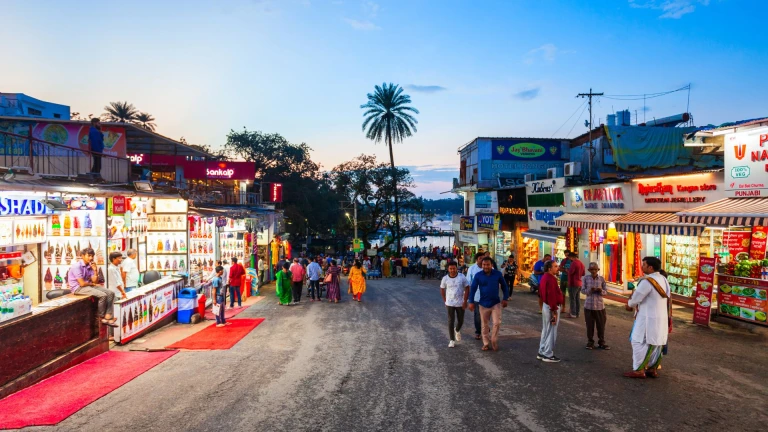 Shopping
Goa and Kerala both offer unique shopping experiences. Goa is famous for its flea markets, where you can find everything from clothing and jewelry to local handicrafts.
In Kerala, you can shop for spices, tea, traditional saris, and wood carvings. Your choice of shopping destination might depend on what you're looking to bring back as souvenirs.
Read more: Top 10 Places to Visit in Kerala in 2023
A final Word:
In the battle of Goa vs. Kerala, it's not a matter of one being definitively better than the other; it's about what suits your individual preferences and travel goals. Goa and Kerala are like two different strokes on a canvas, each with its own unique beauty and charm.
If you're seeking lively beaches, vibrant nightlife, and a carefree atmosphere, Goa might be your paradise. However, if you're more inclined towards tranquil backwaters, lush green landscapes, and a taste of authentic South Indian culture, Kerala could be your dream destination.
The choice between Goa and Kerala ultimately depends on what you seek from your journey, and both destinations have something remarkable to offer. So, why not explore both and savor the best of both worlds? Whether you're drawn to the party vibes of Goa or the serenity of Kerala, your experiences in these two enchanting Indian states will undoubtedly leave lasting memories. The real winner is the traveler who gets to savor the diverse and unique flavors of both destinations.