Nestled in the heart of the beautiful Kashmir Valley, Srinagar is a destination that feels like a slice of heaven on earth. Known for its serene Dal Lake, picturesque Mughal Gardens, and vibrant local culture, Srinagar is a must-visit for any traveler seeking an unforgettable experience. In this travel guide, we'll take you through the ultimate checklist for exploring Srinagar, ensuring that your trip is filled with wonder, relaxation, and memories to last a lifetime.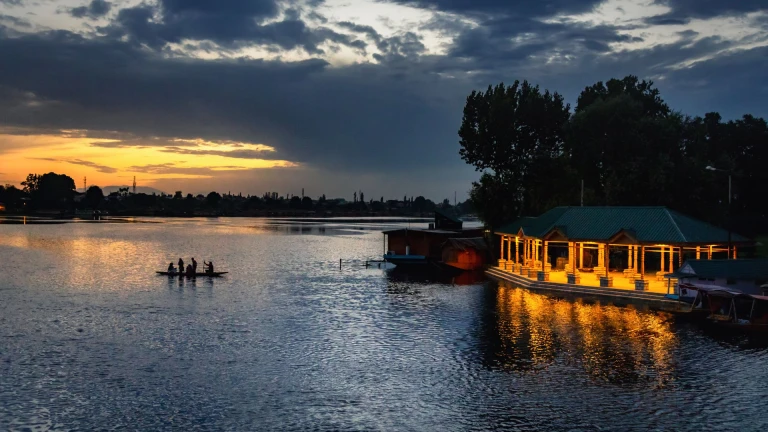 Also Read: First snowfall of the season in Gulmarg
Getting There
Choosing the Right Time to Visit
Srinagar's climate varies greatly throughout the year, so the timing of your visit is crucial. The best time to explore this paradise is during the summer months, from May to September, when the weather is pleasant, and the gardens are in full bloom. However, if you're a fan of snow and winter sports, visiting from December to February offers a different charm.
Arriving by Air
Srinagar has its own international airport, Sheikh ul-Alam Airport, which connects the city to major Indian cities like Delhi and Mumbai. Flights are often available throughout the year, but be sure to book in advance during peak tourist seasons.
1. Delhi to Srinagar:
Airlines: Several airlines operate direct flights from Indira Gandhi International Airport (DEL) in Delhi to Sheikh ul-Alam Airport (SXR) in Srinagar. These include Air India, IndiGo, SpiceJet, GoAir, and Vistara.

Flight Duration: The direct flight typically takes around 1.5 to 2 hours.
2. Mumbai to Srinagar:
Airlines: Air India, IndiGo, and GoAir offer direct flights from Chhatrapati Shivaji International Airport (BOM) in Mumbai to Sheikh ul-Alam Airport (SXR) in Srinagar.

Flight Duration: The direct flight from Mumbai to Srinagar takes approximately 3 to 3.5 hours.
3. Bangalore to Srinagar:
Airlines: While there are no direct flights from Kempegowda International Airport (BLR) in Bangalore to Srinagar, you can choose connecting flights through Delhi or other major cities. IndiGo, Air India, and SpiceJet are some of the airlines that operate these routes.

Flight Duration: The total travel time for connecting flights varies depending on the layover duration.
Connecting Flights to Srinagar:
1. Kolkata to Srinagar:
Airlines: You can take connecting flights from Netaji Subhas Chandra Bose International Airport (CCU) in Kolkata to Srinagar via Delhi or other major hubs. Airlines like Air India, IndiGo, and GoAir offer such connections.

Flight Duration: The total duration can vary based on the layover time.
2. Chennai to Srinagar:
Airlines: For travelers from Chennai International Airport (MAA), connecting flights via Delhi or other cities are available with airlines such as IndiGo, Air India, and SpiceJet.

Flight Duration: The total travel time will depend on the chosen route and layover duration.
3. Hyderabad to Srinagar:
Airlines: While there are no direct flights from Rajiv Gandhi International Airport (HYD) in Hyderabad to Srinagar, you can opt for connecting flights via cities like Delhi or Mumbai. IndiGo, Air India, and SpiceJet are among the airlines offering such connections.

Flight Duration: The overall travel time will depend on your chosen flight itinerary.
Tips for Booking Flights to Srinagar:
Book in Advance: Srinagar is a popular destination, especially during the summer months. It's advisable to book your flights well in advance to secure the best fares and availability.

Consider Layovers: If you're flexible with your travel schedule, you can often find more affordable options by choosing connecting flights instead of direct ones. However, be mindful of layover durations and total travel time.

Check for Seasonal Discounts: Some airlines may offer seasonal discounts or promotions for flights to Srinagar, so keep an eye out for deals when planning your trip.
Reaching Srinagar by Road
If you prefer the scenic route, you can also reach Srinagar by road. National Highway 1A connects Srinagar to Jammu, and the journey offers breathtaking views of the Himalayas. Keep in mind that road conditions can vary, so plan your trip accordingly.
Also Read: Top 15 Must-Visit Places Winter Destinations in Himachal Pradesh
Accommodations in Srinagar
Staying on a Houseboat
One of the most unique and memorable experiences in Srinagar is staying on a houseboat on Dal Lake. These traditional wooden boats offer cozy rooms, delicious Kashmiri cuisine, and an opportunity to immerse yourself in the local way of life. Be sure to book your houseboat stay in advance, especially during the peak tourist season.
Hotels and Guesthouses
Srinagar offers a range of accommodation options, from luxury hotels to budget-friendly guesthouses. Some popular areas to stay in include Dal Lake, Nishat Bagh, and the city center. Check online reviews and book your accommodation according to your preferences and budget.
Exploring the City
Shikara Ride on Dal Lake
Start your Srinagar adventure with a shikara ride on Dal Lake. These colorful, gondola-like boats will take you through floating gardens and bustling markets, allowing you to witness the unique way of life on the water.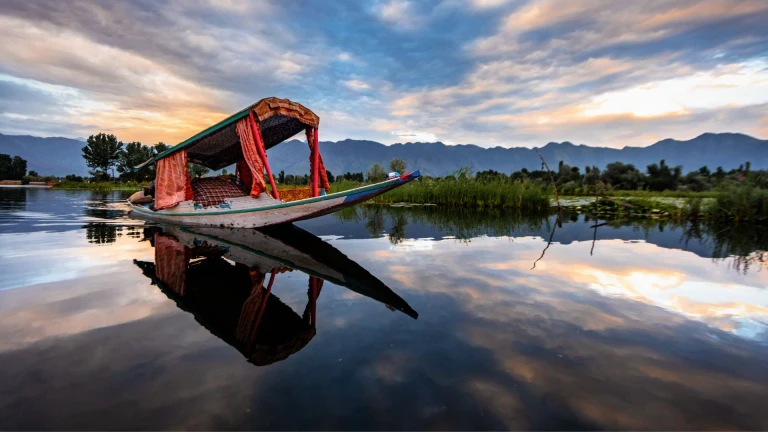 Visit the Mughal Gardens
Srinagar is famous for its Mughal Gardens, with Shalimar Bagh, Nishat Bagh, and Chashme Shahi being the most renowned. These beautifully landscaped gardens offer a tranquil escape from the city's hustle and bustle, with terraced lawns, fountains, and panoramic views of the Zabarwan Range.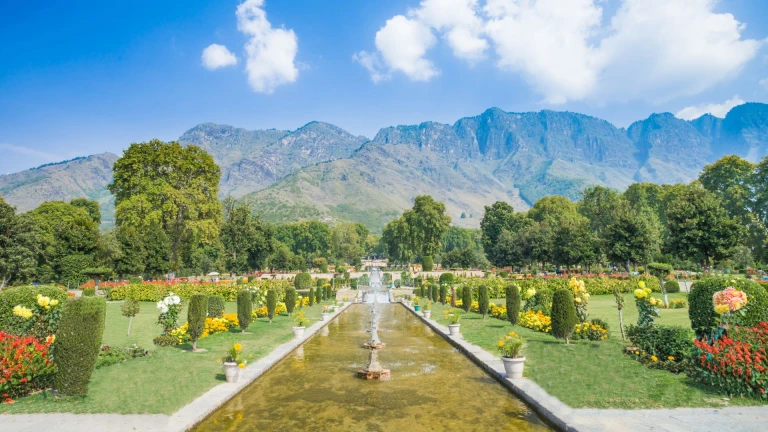 Explore the Old City
Wander through the narrow, winding streets of Srinagar's Old City, where you'll discover historic architecture, bustling markets, and friendly locals. Don't forget to visit the Shah Hamdan's Mosque and the Jamia Masjid, two of the city's architectural gems.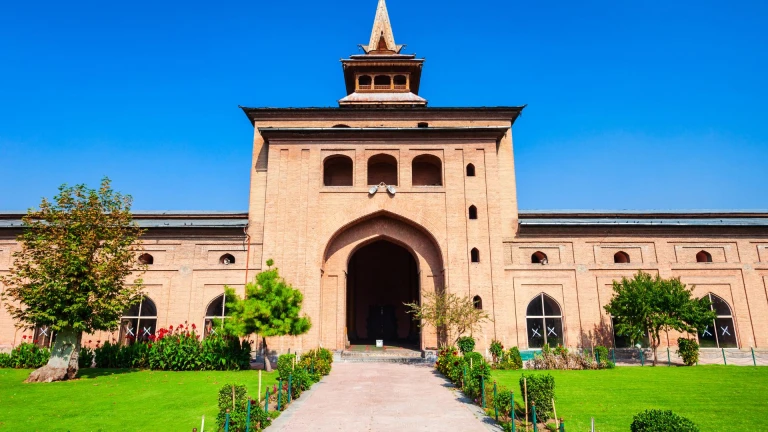 Shop for Handicrafts
Srinagar is famous for its exquisite handicrafts, including Pashmina shawls, handwoven carpets, and intricately carved woodwork. Visit local markets like Lal Chowk and Badshah Chowk to shop for unique souvenirs and support local artisans.
Also Read: Ladakh Bike Trip 2023 Your Ultimate Guide from Start to Finish
Culinary Delights
Indulge in Kashmiri Cuisine
Kashmiri cuisine is a highlight of any trip to Srinagar. Don't miss the opportunity to savor dishes like Rogan Josh, Dum Aloo, and Yakhni. Finish your meal with a cup of Kahwa, a traditional Kashmiri green tea infused with spices and saffron.
Try Wazwan
For a truly authentic culinary experience, try Wazwan, a traditional multi-course feast. It typically includes dishes like Gushtaba (minced meatballs in a creamy sauce) and Rista (spicy meatballs).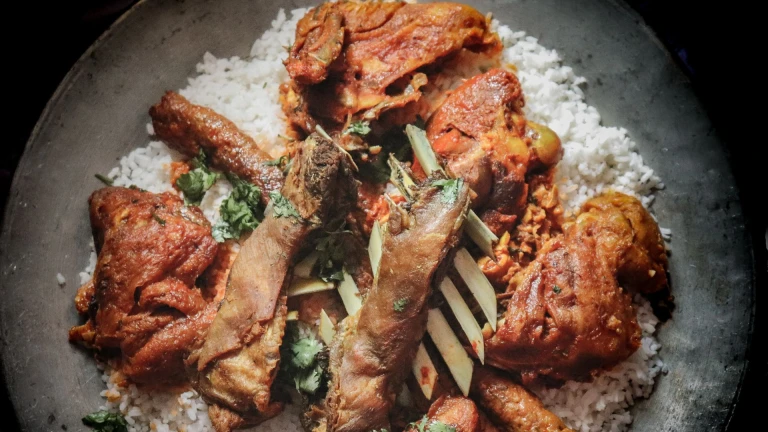 Adventure and Recreation
Trekking and Hiking
If you're an adventure enthusiast, Srinagar offers several trekking and hiking opportunities in the nearby Himalayan mountains. The trek to the Great Lakes of Kashmir is a popular choice, providing stunning views of pristine alpine lakes.
Gulmarg Day Trip
Take a day trip to Gulmarg, which is just a couple of hours from Srinagar. Known as the "Meadow of Flowers," Gulmarg offers opportunities for golfing, horse riding, and the world's second-highest operating cable car, the Gulmarg Gondola.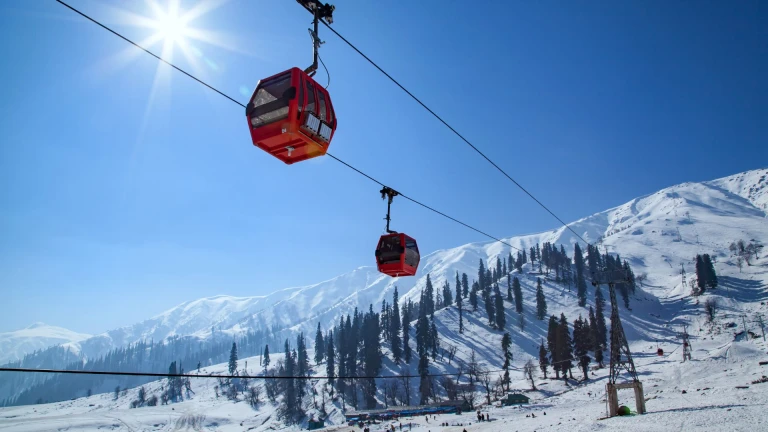 Cultural Experiences in Srinagar
Attend a Cultural Show
Immerse yourself in Kashmiri culture by attending a traditional music and dance performance. These shows often take place in hotels and houseboats and offer a glimpse into the region's rich artistic heritage.
Interact with Locals
One of the most rewarding aspects of visiting Srinagar is interacting with the warm and welcoming locals. Strike up conversations, learn about their way of life, and gain insights into the region's culture and history.
Practical Tips
Respect Local Customs
Kashmir is predominantly Muslim, so it's important to dress modestly and respect local customs and traditions.
Weather Considerations
Pack appropriate clothing and gear depending on the time of year you visit. Summers can be warm, while winters are cold with heavy snowfall.
Safety Precautions
While Srinagar is generally safe for tourists, it's advisable to stay updated on the local situation and follow any travel advisories issued by your government.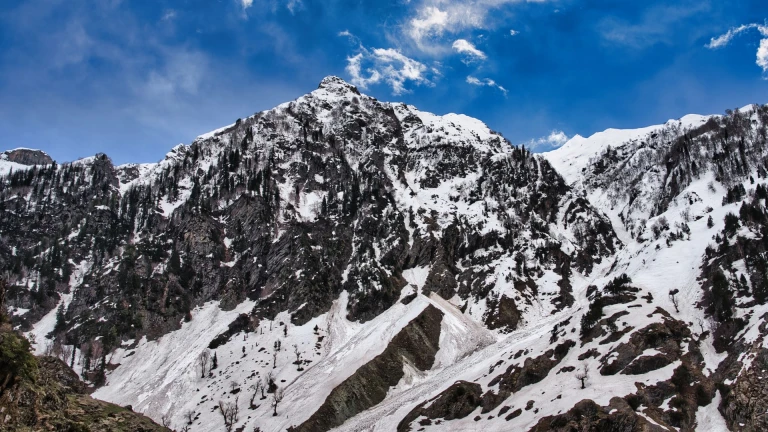 Also Read: Experiencing Mysore Dasara: Your Ultimate Festival Guide
Srinagar is a destination that will captivate your senses and leave you with memories to cherish for a lifetime. From the tranquil waters of Dal Lake to the vibrant markets of the Old City, this city has something to offer every traveler. So, make sure to include this paradise on your travel bucket list, and follow this ultimate checklist for an unforgettable trip to Srinagar. Happy travels!
Like and follow us if you love traveling!