As the chilly winds of winter start to sweep across the northern regions of India, Gulmarg, the crown jewel of Jammu and Kashmir, has once again transformed into a breathtaking winter wonderland.
Gulmarg Gondola
Nature's magic was on full display as Gulmarg recently welcomed its first snowfall of the season, blanketing the region in a pristine white cover. This picturesque town, known for its unmatched beauty throughout the year, takes on a whole new level of enchantment when winter graces its doorstep.
A Snowfall Extravaganza:
The first snowfall in Gulmarg is a highly anticipated event, not only for the local residents but also for travelers from all around the world. Every year, when the first snowflakes fall from the sky, it's as if a magical spell has been cast over this serene valley. As the news of Gulmarg's transformation spreads, tourists and adventure enthusiasts flock to this Himalayan paradise, seeking to immerse themselves in its winter charms.
Endless Adventure Awaits:
Gulmarg is renowned for its winter sports offerings, and with the arrival of snow, the town's adventure quotient soars to new heights. The freshly powdered slopes become a playground for skiing and snowboarding enthusiasts.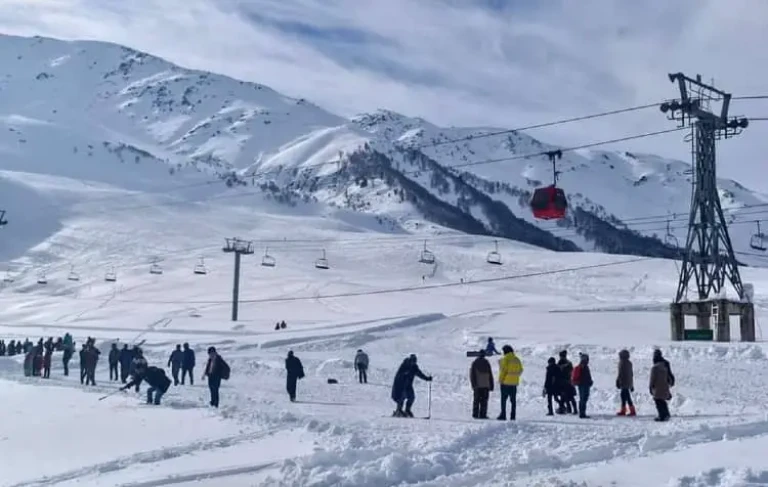 Gulmarg Gondola
The Gulmarg Gondola, one of the highest cable cars in the world, takes visitors to the peaks where they can enjoy exhilarating rides on snowmobiles and sledges. For those who prefer a slower pace, the snow-covered meadows are perfect for serene walks and horseback rides.
A Photographer's Paradise: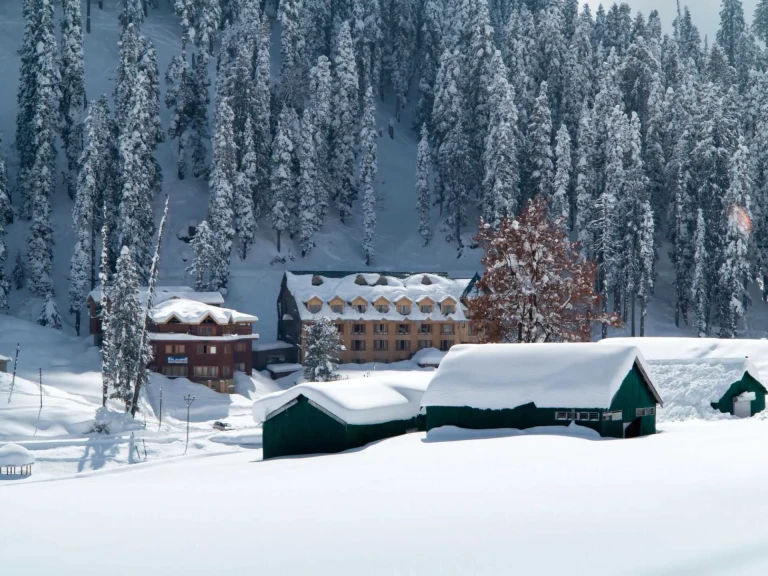 Gulmarg's winters
Gulmarg's winter beauty is not just limited to thrill-seekers; it's also a paradise for photographers and nature lovers. The landscape is transformed into a postcard-perfect scene with snow-laden trees, frozen lakes, and the majestic backdrop of the Himalayan mountains. Sunrise and sunset in Gulmarg during winter are nothing short of magical, offering breathtaking views that leave visitors awestruck.
Cosy Retreats:
After an exciting day in the snow, Gulmarg offers cozy retreats to warm up and unwind. The town boasts a variety of charming hotels and resorts that offer panoramic views of the snow-covered landscapes. A steaming cup of traditional Kashmiri Kahwa by the fireplace is the perfect way to end the day.
Local Delights: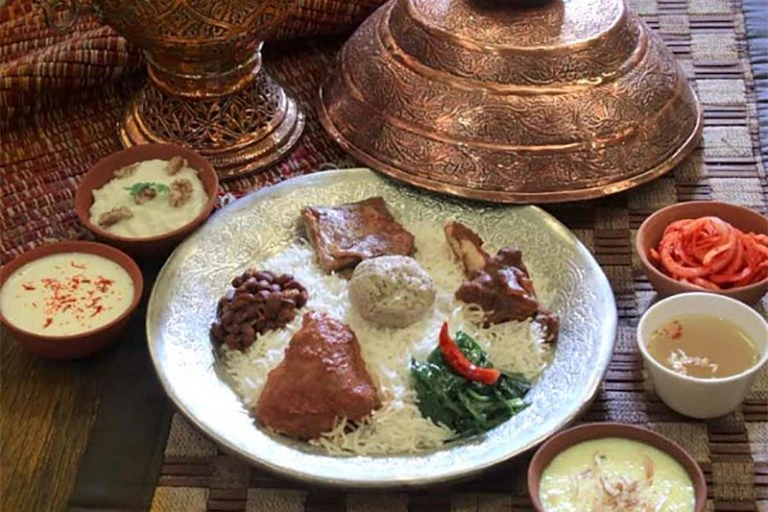 Kashmiri cuisine
Gulmarg's winter experience would be incomplete without savoring the local cuisine. Savor the flavors of Kashmiri dishes like Rogan Josh, Yakhni, and Dum Aloo to warm your taste buds. And don't forget to indulge in freshly baked bread, locally known as "girda," and the famous Kashmiri Wazwan.
Planning Your Visit:
If you're planning to experience Gulmarg's winter wonderland, it's important to keep in mind that the region experiences heavy snowfall, and road accessibility can be challenging during this time. Therefore, it's advisable to check weather conditions and road closures before planning your trip. Additionally, make sure to pack warm clothing, including snow boots, to stay comfortable in the chilly temperatures.
Conclusion:
Gulmarg's first snowfall of the season marks the beginning of an enchanting winter journey. Whether you're an adventure seeker, a photographer, or simply looking for a serene winter escape, Gulmarg promises an unforgettable experience. As you step into this winter wonderland, you'll find yourself surrounded by the magic of nature and the warm hospitality of the Kashmiri people. So, bundle up and get ready to make lasting memories in the pristine, snow-covered paradise of Gulmarg.