Ladakh, often referred to as the 'Land of High Passes', is a dream destination for bikers around the globe. Its rugged terrains, scenic landscapes, and pristine beauty make it a paradise for adventurers. In this guide, we'll take you through all the essential details you'll need to embark on a bike trip to Ladakh.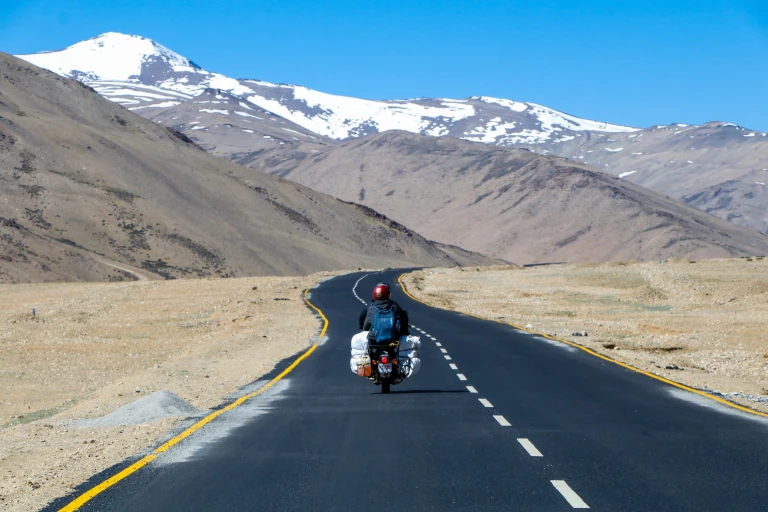 1. Best Time to Visit
Ladakh experiences extreme climatic conditions, making it essential to choose the right time for your trip.
June to September
Weather: Temperatures range from 21°C to 25°C in the day and drop to around 10°C to 5°C at night.

Advantage: Most roads are free from snow, making them accessible.

Consideration: Monsoon season can sometimes bring unexpected rain, especially in August. It's wise to check weather updates.

2. Preparing Your Bike
Your bike is your primary mode of transport, and it's essential to ensure it's in top condition.
Choose the Right Bike
350cc or Above: Bikes with higher cc are more powerful, making it easier to navigate through the challenging terrains.

Royal Enfield, Bajaj Dominar, and KTM Duke are popular choices.

Comfort: Ensure your bike seat is comfortable for long rides.
Regular Maintenance
Engine Check: Ensure the engine is tuned and oiled.

Brakes: Check brake pads and brake fluid.

Carry Spare Parts: Including chain links, headlight bulbs, brake cables, puncture kit and portable tyre inflator.
3. Route Planning

Ladakh's beauty lies in its journey, not just the destination. Plan your route wisely.
Manali to Leh
Highlights: This is the most popular route passing through Rohtang Pass, Baralacha La, and Tanglang La. It's about 490 km long and takes approximately 2 days with an overnight halt at Sarchu or Jispa.

Road Conditions: Mixed – includes tarmac, dirt tracks, and water crossings.
Srinagar to Leh
Highlights: Sonamarg, Drass (Known as the Gateway of Ladakh), Mulbekh Monastery. This route goes through the beautiful Kashmir valley, crossing Zoji La Pass. It's about 420 km and typically takes two days, with a halt at Kargil.

Road Conditions: Mostly tarmac with some rough patches.
4. Acclimatization
High altitudes can cause health issues. It's essential to get your body used to the conditions.
Gradual Ascent: Since Leh is located at 3500 above sea level, Avoid gaining more than 500 meters in altitude in one day after reaching it. Before heading to Ladakh, spend a few days at a higher altitude place like Manali or Srinagar.

Stay Hydrated: Drink plenty of water to avoid altitude sickness.

Avoid Alcohol: At least for the first couple of days, as it can exacerbate altitude sickness.
5. Permits
Visiting Ladakh, especially in areas near international borders, requires special permits for security reasons. Here is the detailed breakdown:
1. Inner Line Permit (ILP)
The Inner Line Permit (ILP) is a travel document that Indian citizens need to procure before they enter certain restricted areas in Ladakh.
Areas Covered under ILP
Nubra Valley

Pangong Tso

Tso Moriri

Dah & Hanu Villages

Digger La

Tangyar (for trekking)
How to Obtain?
Offline: You can apply for an ILP at the District Magistrate Office in Leh.

Online: The Ladakh administration has an online portal where you can apply for an ILP, make payments, and get it approved. This makes the process more straightforward and faster.
Documents Required
Valid Photo ID proof (like an Aadhar Card or driver's license(DL)).

Details of the journey including the route and days of travel.
Validity
Cost
There is a nominal fee for the ILP, which can vary.

As of October 2023, the current permit with a 3-day validity costs 560 - 760 per person.
2. Protected Area Permit (PAP)
The Protected Area Permit (PAP) is required for foreign nationals to visit the protected areas of Ladakh. It's essential to note that foreign nationals are not allowed in certain areas, even with a PAP.
Areas Covered under PAP
Nubra Valley

Pangong Tso

Tso Moriri

Changthang Valley

Dah & Hanu Villages
How to Obtain?
Travel Agency: Foreign tourists can only obtain a PAP through a registered travel agency. This is mandatory.

Group Requirement: Foreigners need to be in a group of at least two to obtain a PAP. Solo foreign travellers cannot obtain this permit.
Documents Required
Validity
Cost
The cost is higher than the ILP and varies depending on the areas covered.

There will be a fixed one-time environmental fee and another daily fee. Currently, it is around 1000 rupees approximately.
Things to keep in mind
Bikers: If you're travelling on a motorcycle, ensure the vehicle's registration number is mentioned on the permits.

Checkpoints: There are multiple checkpoints where you need to show the permit, so it's advised to carry multiple photocopies.

Updates: Rules and regulations concerning permits can change. Always check the latest guidelines before planning your trip.
Read on Himalayan Camping 101
6. Essential Gear
Safety and comfort should be your top priorities.
Helmets: Invest in a high-quality full-face helmet with transparent and tinted visors. Keep additional visor sets.

Riding Jacket & Pants: Must be waterproof, thermal, and with protective padding. make sure it also has proper ventilation during the heat.

Riding Gloves: Waterproof gloves with insulation are best. Make sure they provide a good grip with warmth.

High Ankle Boots: Get a water-proof pair that provides a better grip and protects against cold and injuries.
7. Accommodation & Food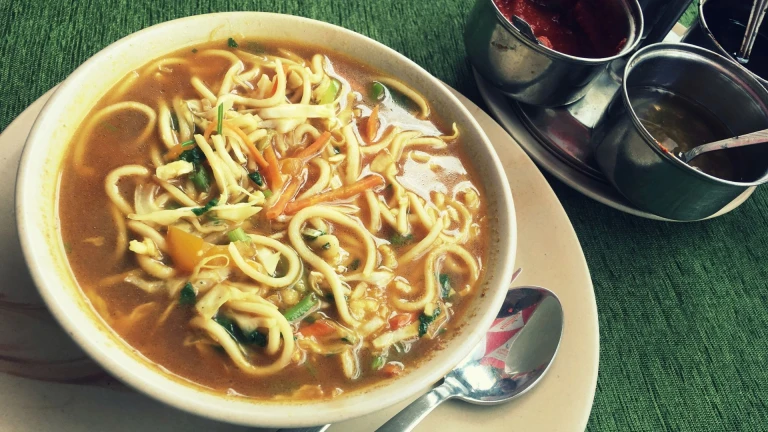 Ladakh offers a mix of traditional and modern stays.
Camping: Experience the pristine beauty by camping under the stars. Locations like Pangong and Tso Moriri offer camp stays.

Homestays: Experience Ladakhi culture firsthand by staying with a local family.

Local Delicacies: Try Thukpa (noodle soup), Momos, and Skyu (a type of pasta).
8. Places to Visit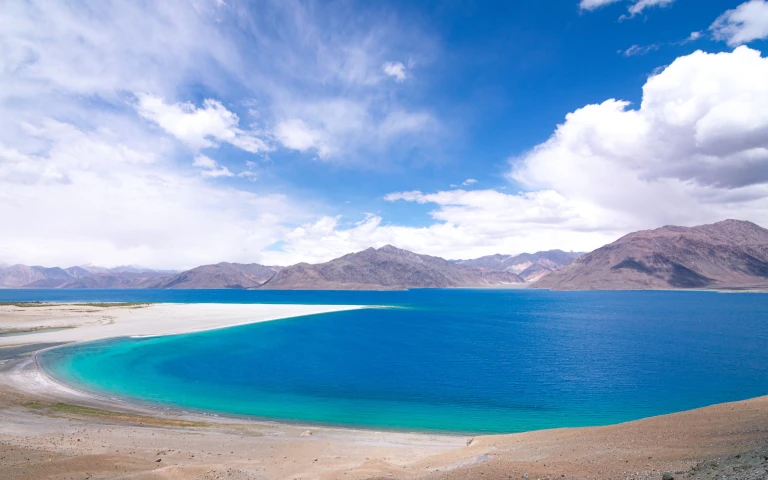 Ladakh is filled with natural wonders and cultural landmarks.
Pangong Lake: Famous for its blue waters and ever-changing hues.

Nubra Valley: Known for its dunes and the double-humped camels.

Magnetic Hill: A phenomenon where vehicles seem to move uphill on their own.

Shanti Stupa: Offers panoramic views of the surrounding landscape.

Tso Moriri: A less crowded alternative to Pangong, this lake is a haven for birdwatchers.

Hemis Monastery: The largest monastery in Ladakh, known for the annual Hemis festival.

Leh Palace: An architectural marvel offering panoramic views of Leh town.
9. Tips and Precautions
Medical Kit: Carry essential medicines, especially for altitude sickness.

Fuel Up: Petrol pumps are scarce; always fill up when you see one.

Avoid Night Travel: Reduced visibility can make the journey dangerous. So it's always advised to avoid night travel unless necessary.

Stay Updated: Regularly check road conditions and weather forecasts.

Respect the Locals: Ladakhis are warm and welcoming; always greet with a smile and respect their customs.
10. Budgeting
A well-planned budget ensures a hassle-free trip.
Miscellaneous Costs: Keep some money aside for emergency expenses. Trust me on this and it will make your trip hassle-free.

Travel Insurance: Consider buying travel insurance that covers high altitude sickness, evacuation, and bike damage. Keep these things in mind and be ready for it.
Read on 10 Road Trips from Mumbai You Can Take in 2023
A Ladakh bike trip is as much about the journey as the destination. Proper planning and precautions will ensure you have a memorable and safe trip. Whether you're riding amidst the clouds or resting by a serene lake, Ladakh promises the experience of a lifetime. Safe travels! Have a good one!