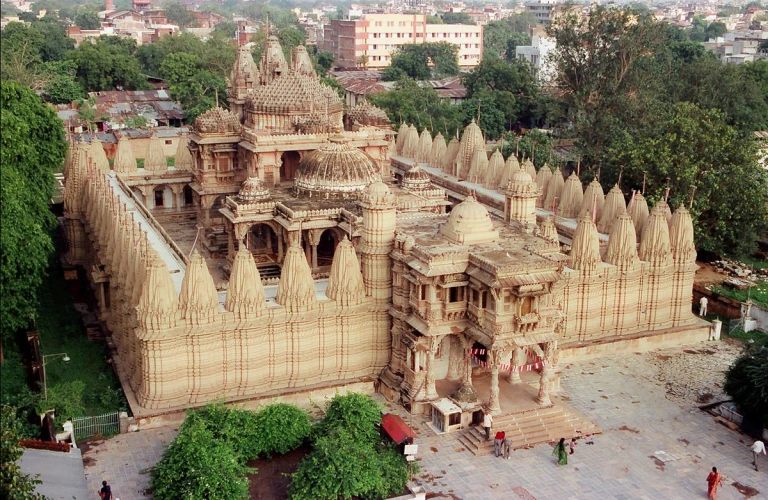 Ahmedabad, often called Amdavad, is a bustling city in Gujarat that is well-known for its colorful celebrations like Navratri and Uttarayan as well as its extensive architectural history. The city, which highlights its historical importance and cultural richness, is the first UNESCO World Heritage City.
A pleasant shopping experience can be had in its marketplaces, such as Manek Chowk, which features traditional handicrafts, textiles, and street food. Examples of the splendor of the city are the Sabarmati Ashram and the Swaminarayan Temple. The lively festivities of Ahmedabad, such as Uttarayan and Navratri, further emphasise the city's ethnic diversity.
In addition, the city has a number of parks and water tanks, such as the Law Garden and Victoria Garden, which offer peaceful green areas for locals and tourists to unwind.
The city's water tanks, like Kankaria Lake and Vastrapur Lake, offer recreational activities like boating and water sports, further adding to its charm and appeal.
Also read: Experience Gujarat in 2023: A Comprehensive Travel Guide
1. Sabarmati Ashram.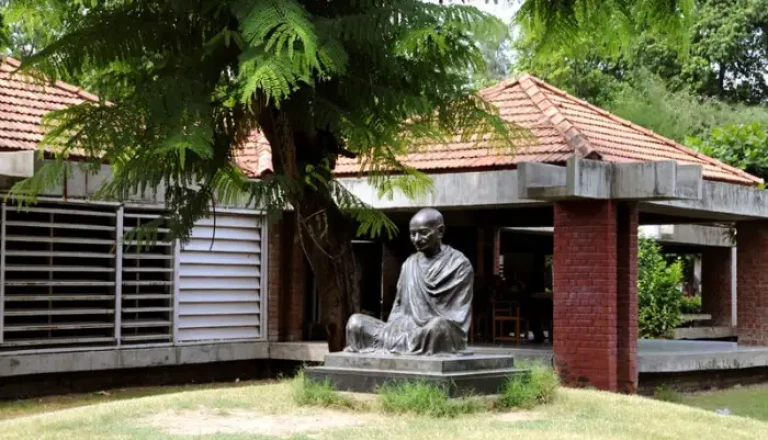 When Ahmedabad is mentioned, the first names that come to mind are Sabarmati Ashram and Mahatma Gandhi.
As the home of Mahatma Gandhi and the hub of his nonviolent movement during India's fighting for independence, Sabarmati Ashram, which is situated on the banks of the Sabarmati River, has significant historical importance.
Gandhi's personal items, including his spectacles, slippers, and books, are preserved at the ashram, which now serves as a museum. providing a window into his life and teachings for visitors. There is an art gallery here as well as a library with about 35,000 volumes in Gujarati, Hindi, and English.
If one wishes to understand more about the life, family, and revolutionary methods of the time, the books, artwork, and artifacts at this location are a veritable gold mine.
The famous Dandi March, which served as a turning point in the fight for Indian independence, had its beginning at Sabarmati Ashram.
Location: Sabarmati Ashram, located on Ashram Road in Ahmedabad, is a significant historical site that offers a unique insight into the life and teachings of Mahatma Gandhi.

Special mention: Magan Niwas, Upasana Mandir, Udyog Mandir, Hriday Kunj, and Nandini Bhavan are some of the notable buildings within the Sabarmati Ashram complex. These buildings not only showcase the simplicity and minimalistic lifestyle advocated by Gandhi but also house important documents and personal belongings of the great leader.

Opening hours: 8.30 AM to 6.30 PM Visitors can explore the ashram at their own pace and take part in guided tours.

Activities: Visitors can participate in various activities at the Sabarmati Ashram, such as attending prayer sessions, engaging in meditation and yoga, and learning about Gandhi's principles of non-violence and self-reliance through workshops and lectures. Additionally, the ashram also offers opportunities for volunteering and community service projects, allowing visitors to actively contribute to the preservation of Gandhi's legacy.

The ashram also offers various educational programs and workshops for visitors to deepen their understanding of Gandhi's teachings and principles. These programs cover topics such as sustainable living, social justice, and community development, allowing individuals to actively engage with Gandhi's ideas and apply them to their own lives.

Entry Fees: Free

2. Bhadra Fort.
Sultan Ahmad Shah constructed Bhadra Fort, commonly known as Ahmedabad Fort, in 1411 to highlight the city's extensive historical and cultural legacy.
The fort is a must-see location for history buffs and lovers of architecture because of its elaborate carvings, imposing entrances, and beautiful castle. A spiritual element is added to the fort's appeal by the Bhadra Kali Temple, a revered shrine that sits inside the fort.
According to legend, the Hindu goddess Lakshmi honored the Muslim Sultan by entering the fort and bringing wealth to the neighborhood.
The fort has a large courtyard with multiple palaces and gorgeous green grounds.
Location: Court Road, Ahmedabad The fort, also known as Bhadra Fort, is located in the heart of Ahmedabad city.

Special mention: Teen Darwaza, Clock Tower, Royal Square, Azam Khan Sarai Some other notable attractions near the fort include the Teen Darwaza, a magnificent gateway that once served as the royal entrance to the fort.

The Clock Tower, located nearby, is a popular landmark and a bustling hub of activity.

Additionally, the Royal Square and Azam Khan Sarai are worth exploring for their historical significance and architectural beauty.

Opening hours: 9 AM to 5 PM Visitors can immerse themselves in the rich history and vibrant culture of Ahmedabad by exploring the heart of the city.

Activities: Visiting the intricately designed palaces and courtyards, admiring the stunning artwork and carvings, and learning about the fascinating stories behind each structure.

Visitors can also enjoy panoramic views of the city from the fort's ramparts and indulge in shopping for traditional handicrafts and textiles at the nearby bustling markets.

Entry Fee: Free

3. Jama Masjid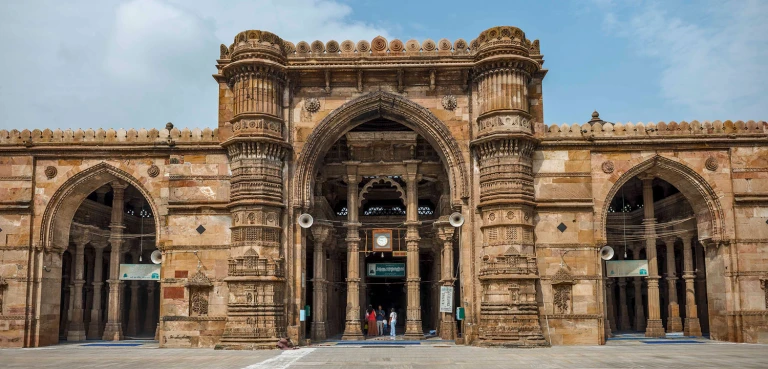 A major mosque for the Muslim community is Ahmedabad's Jama Masjid, which dates back to the 15th century.
Sultan Ahmed Shah constructed it in 1423, and its grandiosity and complex embellishments draw tourists from all over the world.
The mosque, which has 260 ornately carved pillars and is situated near to Bhadra Fort, is constructed of yellow sandstone.
The yellow sandstone used in the mosque's construction is taken from Hindu and Jain temples, combining Islamic and Hindu architectural elements.
Visitors from all over the world are drawn to it by its grandeur and spiritual atmosphere.
Location: Manek Chowk, Ahmedabad

Special mention: Its wide courtyard sunlight-filtering latticework creates a mesmerizing play of light and shadows within the mosque. This unique feature adds to the overall ethereal ambiance, making it a photographer's delight.

Opening hours: 6 AM to 8 PM. (closed during Namaz)

Activities: In addition to exploring the architectural beauty, visitors can also participate in guided tours to learn about the history and significance of the mosque.

Additionally, the mosque offers a peaceful space for prayer and reflection, allowing visitors to experience a sense of tranquility amidst its magnificent surroundings.

Entry Fee: Free
4. Sarkhej Roza

Sarkhej Roza is renowned for its distinctive fusion of Hindu and Islamic architectural traditions. It draws pilgrims and tourists looking for spiritual peace since it is said to be the ultimate resting place of the Sufi saint Shaikh Ahmed Khattu Ganj Baksh.
The complex's calm atmosphere, elaborate latticework, and sculptures are examples of the great craftsmanship of the Mughal Empire.
It was constructed around an artificial lake called Sarkhej Lake. Islamic brackets and pillars make up the complex, but the majority of the decorative themes, including the representations of gods and goddesses and exquisite floral patterns, are Hindu.
Sarkhej Roza is an incredible example of the cultural fusion that occurred during the Mughal Empire and serves as a monument to India's long history and diverse culture.
Location: Sarkhej Makarba Road, Ahmedabad

Special Mention: Sarkhej Roza is not only known for its architectural beauty but also for the presence of Sheikh Ahmed Khattu Ganj Bakhsh's Tomb and Baradari.

These structures add a spiritual touch to the complex and serve as important religious landmarks in the area.

Opening hours: 9 AM to 6 PM Visitors can explore the intricate designs and exquisite craftsmanship of the Sarkhej Roza complex, which showcases a blend of Persian, Hindu, and Islamic architectural styles.

The site's opening hours allow ample time for visitors to fully appreciate the historical significance and cultural richness of this remarkable monument.

Activities: Visitors can also participate in guided tours that provide in-depth information about the history and significance of Sarkhej Roza.

Additionally, the complex hosts cultural events and festivals, offering visitors a chance to experience the vibrant traditions and customs of the region.

Entry Fee: Free

5. Shah-e-Alam's Roza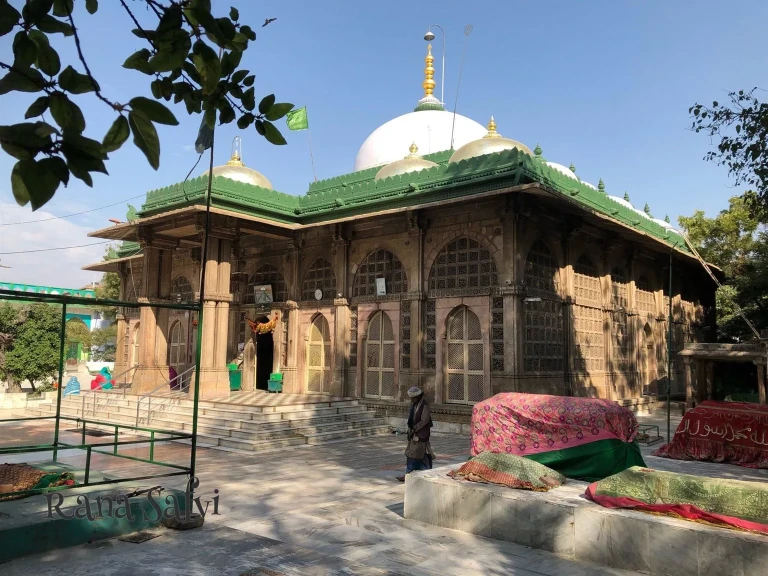 Shah-e-Alam's Roza is a spectacular tomb in Ahmedabad, Gujarat, India, built in the 15th century. It is a monument to Mughal architectural grandeur and serves as a mark of respect for Shah-e-Alam, a respected Sufi saint.
Visitors from all over the world come to see the elaborate carvings and beautiful artwork covering the walls of the tomb. The tomb's dome was formerly decked with gold and precious stones, adding to its opulence.
The tomb's floor is decorated with a beautiful pattern of black and white marble, and the door frames and two stone pillars on both sides are finely carved with pure white marble.
Even now, despite the fact that the gold and valuable stones have been lost to the passage of time, Shah-e-Alam's Roza continues to astound and enchant those who come to see it.
The historical importance and architectural splendor of the mausoleum make it a must-see site for history and art fans alike.
Location: Shah Alam Road, Ahmedabad

Special Mention: Perforated stone windows and pierced stone walls add to the intricate beauty of the structure, allowing for a play of light and shadow that adds to its ethereal charm.

The attention to detail in the design is evident in every aspect of the mausoleum, from the delicate floral motifs adorning the walls to the intricate geometric patterns on the windows.

It is truly a testament to the craftsmanship and artistic vision of its creators.

Opening Hours: The mausoleum is open to visitors from 9 am to 6 p.m. every day, allowing ample time for exploration and appreciation of its architectural marvels.

Activities: Visitors can take guided tours to learn more about the history and significance of the mausoleum or simply wander through its halls and gardens to soak in the serene atmosphere.

Additionally, photography enthusiasts will find endless opportunities to capture the beauty of the mausoleum's unique features and surroundings.

Entry Fee: Free
6. ISKCON Temple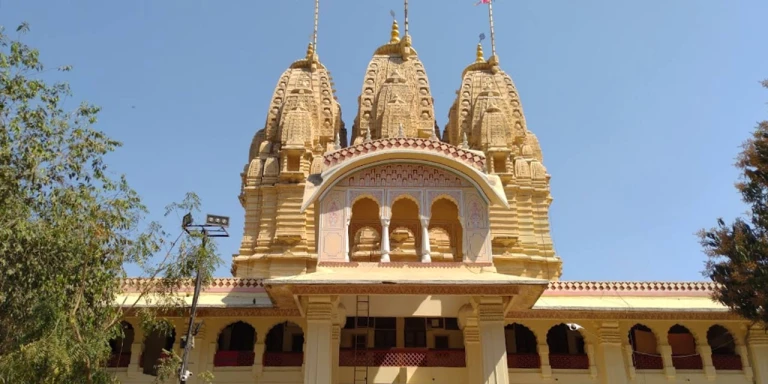 The ISKCON temple, a beautiful architectural marvel, combines the Rajasthani Khamira and Gujarati Sompura styles with elaborate carvings and vivid colors.
The temple, as well as well-kept gardens and stunning fountains, are all located on the 4-acre complex. It has idols of various Hindu deities in addition to those dedicated to Lord Krishna and Radha.
The breathtaking visual experience at the temple draws tourists from all around the world.
The temple is a well-liked tourist attraction because of its magnificent design and exquisite paintings.
Location: The temple's location on Satellite Road, Sarkhej, Ahmedabad, adds to its appeal as a must-visit destination.

Activities: Meditation in the prayer room is a popular activity for visitors seeking inner peace and tranquility.

Morning and evening aartis are popular activities for visitors at the temple. The serene atmosphere and devotional ambiance make it a perfect place for spiritual retreat and reflection.

The temple also offers guided tours for visitors who are interested in learning more about its history and significance.

Additionally, there are various stalls and shops nearby where tourists can purchase souvenirs and traditional handicrafts.

Opening hours: 4.30 AM to 1 PM and 4 PM to 9 PM The temple's opening hours accommodate both early morning and evening visitors, allowing them to experience the peacefulness and spirituality at different times of the day.

It is recommended to check the temple's schedule for any special events or ceremonies that may enhance the overall experience.

Entry: Free
7. Swaminarayan Temple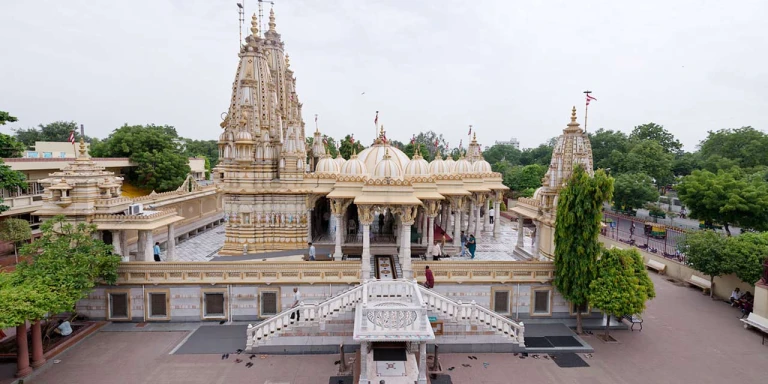 An architectural wonder from the 19th century with beautiful carvings and workmanship is the Swaminarayan Temple in Ahmedabad.
It is a well-liked tourist destination because of its cultural importance and magnificent architecture.
The nine "Nau Gaz Pir" or "Nine Yard Saints" graves, which are located in the temple, are said to be the final resting places of the nine holy men who disseminated Swaminarayan's teachings.
Visitors may also stroll around the exquisitely planted gardens, which provide a peaceful setting for meditation.
The temple has idols of Hari Krishna Maharaj, Radhakrishna, and Dharmadev-Bhakti Mata in addition to those of Lord Narnarayan.
Location: Swaminarayan Mandir Road, Kalupur, Ahmedabad, Gujarat, India. The temple is not only a place of worship but also a centre for cultural and spiritual activities, hosting various events and festivals throughout the year.

Activities: The Nar Narayan Temple is dedicated to the divine duo of Nar and Narayan, while Akshar Bhavan serves as a hub for educational and social initiatives.

The Women's Temple is a unique space dedicated to empowering women in their spiritual journey.

Additionally, visitors can enjoy a mesmerizing light and sound show that showcases the rich history and teachings of the Swaminarayan sect.

Opening hours: 6 a.m. to 7 p.m.

Entry fee: free
8. Auto World Vintage Car Museum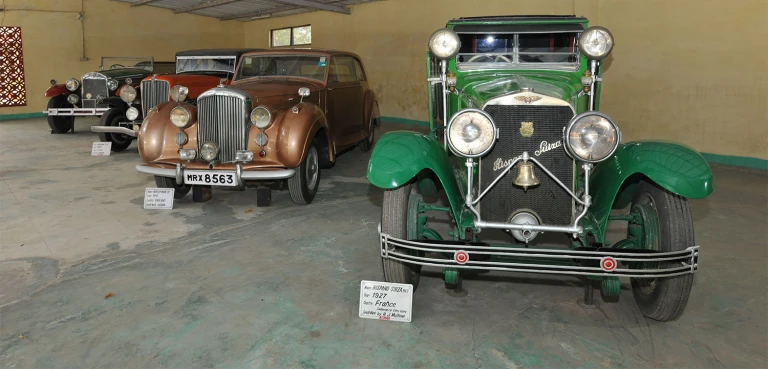 At this museum, visitors may observe the progress of automobiles throughout history. The rich history and amazing progress of autos are displayed at the Auto World Vintage Car Museum's collection of vintage vehicles.
Visitors may immerse themselves in the intriguing world of historic automobiles, which includes the pioneering models that transformed transportation as well as the legendary cars that marked various eras.
This museum provides a singular chance to appreciate the artistry and creativity that have impacted the automotive industry over time by housing a sizable collection of expertly restored autos.
Location: Kathwada, Ahmedabad

Special Mention: Exquisite limousines, sports cars, and boat-tailed wooden speedsters can be found within the museum's walls, showcasing the diverse range of vehicles that have captivated enthusiasts throughout history.

Activities: Visitors can also delve into the stories behind these iconic automobiles, gaining a deeper understanding of their significance and the innovations they brought to the industry.

The museum offers guided tours led by knowledgeable staff members who provide fascinating insights into the history and craftsmanship of each vehicle.

Additionally, visitors have the opportunity to take part in interactive exhibits and hands-on workshops, allowing them to experience firsthand the engineering marvels of these classic cars.

Timings: 8 AM to 9 PM

Entry Fee: ₹ 50
9. Calico Museum of Textiles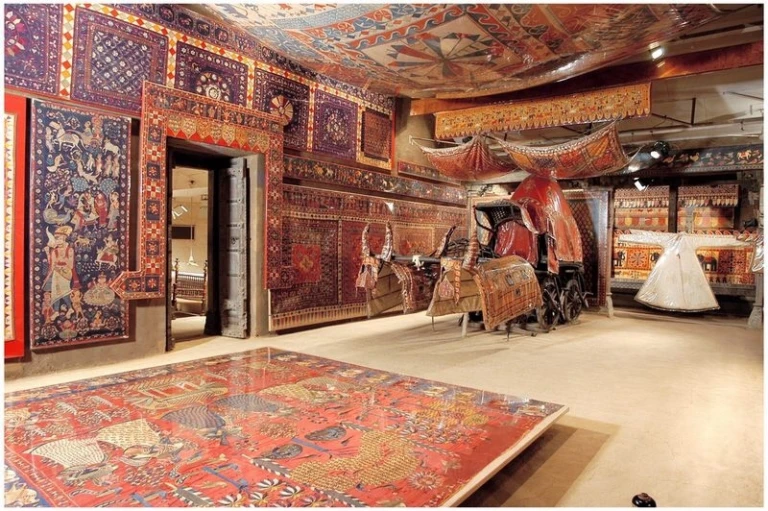 The Calico Museum of Textiles is located in Ahmedabad, Gujarat, India. It is one of the most renowned textile museums in the world and showcases a vast collection of Indian textiles from different regions and time periods.
The museum not only displays exquisite textiles but also provides valuable insights into the history, techniques, and cultural significance of these textiles.
Visitors can explore various galleries that highlight different types of textiles, such as saris, shawls, carpets, and embroidery. The museum also offers educational programs and workshops for visitors to learn about the various techniques used in creating these textiles.
Additionally, the museum houses a research library that is a valuable resource for scholars and researchers interested in studying Indian textile history.
With its comprehensive collection and dedication to preserving and promoting Indian textile heritage, the museum is a must-visit destination for anyone interested in the artistry and cultural significance of textiles.
Location: The museum is conveniently located in Shahibag, Ahmedabad, making it easily accessible for both locals and tourists. Its central location allows visitors to explore other nearby attractions and immerse themselves in the rich cultural heritage of the city.

Special Mention: Pichwai hangings, a tribal art collection, and Indian miniature paintings are some of the notable highlights of the museum's collection.

These exquisite pieces showcase the diverse range of textile traditions and craftsmanship from different regions of India, providing visitors with a comprehensive understanding of the country's textile heritage.

Timings: 10.30 AM to 1 PM (Wednesdays closed)

Activities: These activities include workshops on traditional textile techniques, interactive sessions with local artisans, and guided tours that provide in-depth insights into the history and significance of the exhibited artworks.

These engaging experiences allow visitors to not only appreciate the beauty of the textiles but also gain a hands-on understanding of the intricate processes involved in their creation.

Entry Fee: Free
10. Science City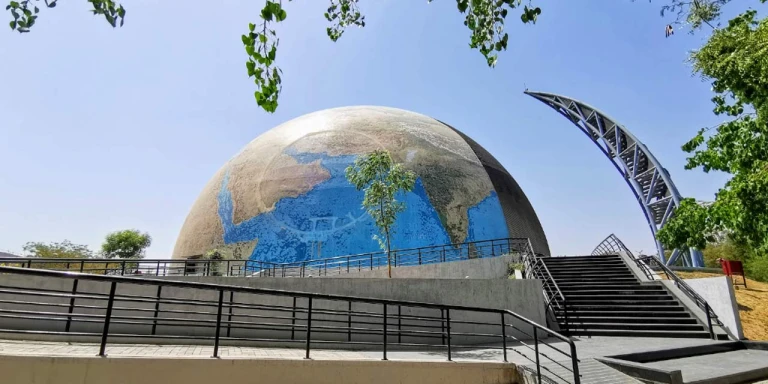 You may learn scientific facts in a fun and engaging way in this science city.
The Gujarati government has launched this program in an effort to pique people's curiosity about science. Visitors of all ages may engage in a variety of interactive exhibits, educational events, and hands-on activities at The Science City.
By displaying cutting-edge technology and ground-breaking findings from diverse disciplines of research, it seeks to promote curiosity and develop a love for science.
This scientific city is one of the top attractions in Ahmedabad for children and students because to its imaginative exhibits, entertaining virtual reality activity areas, and clear explanations.
Location: SG Highway, Ahmedabad

Special Mention: The 3D IMAX theatre offers an immersive cinematic experience.

While the Energy Park showcases various renewable energy sources and their importance in sustainable development,

The musical fountain provides a mesmerizing display of water and light synchronized to music, creating a captivating spectacle for visitors.

Additionally, the simulator allows individuals to experience thrilling rides and simulations, adding an element of excitement to the visit.

The Hall of Space educates visitors about the wonders of outer space, while the Elecrodrome introduces them to the world of electricity and technology.

Activities: interactive science exhibits, hands-on experiments, educational workshops, live demonstrations by scientists, planetarium shows

Timings: 10.30 AM to 7.30 PM

Entry Fee: Science City admission costs INR 100 for adults and INR 50 for kids. In addition, Science City provides discounted pricing for seniors and students with proper identification.
Together, Science City provides tourists with a well-rounded experience that satisfies both their interests in education and enjoyment. It encourages not just sustainable growth but also awe and curiosity in its guests, motivating them to value and safeguard our world.
11. Jhulta Minar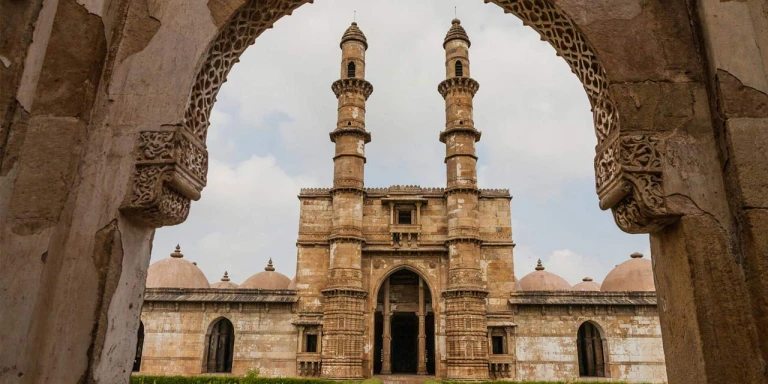 In Ahmedabad, Gujarat, India, there is a historical site known as the Jhuta Minar. It is recognized for both its cutting-edge engineering innovations and architectural designs.
The famous structure is known for its swaying minarets, which move independently yet are still attached to the main structure of the mosque.
Both visitors and experts have long had difficulty comprehending this amazing feature. Mahmud Begada, the Sultan of Gujarat, constructed the Jhulta Minar in the fifteenth century.
The minarets are thought to have been built to resist earthquakes, allowing them to swing during shocks without endangering the main building.
The Jhulta Minar is a unique architectural feature that showcases the innovative engineering of its time.
Location: Laxmi Bazar, Ahmedabad

Special Mention: Striking architecture The Jhulta Minar's distinctive design has captivated tourists and architectural enthusiasts alike.

Its ability to sway during earthquakes remains a mystery, leaving visitors in awe of the engineering marvel.

Opening Hours: 5.30 AM to 9 PM

Activities: Visitors can explore the Jhulta Minar's intricate carvings and climb to the top for a panoramic view of Ahmedabad.

Additionally, there are guided tours available that provide insights into the history and construction techniques of this remarkable structure.

Entry Fee: Free
12. Adalaj Step Well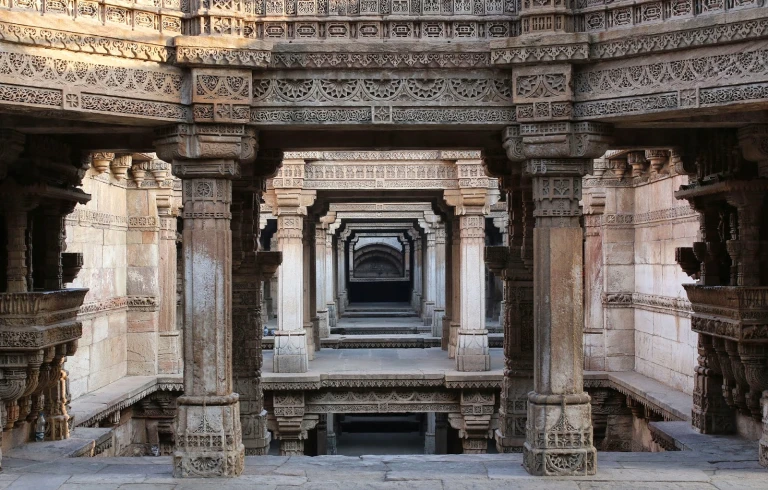 Adalaj Step Well, also known as Adalaj ni Vav, is a five-story architectural marvel in Adalaj, Gujarat, India. Built in the 15th century by Queen Rudabai, it stands as a testament to the region's rich cultural heritage.
Step wells, once the primary water source, are ornately carved and decorated, reflecting the love for colors and decoration in Gujarat. Adalaj Step Well is the most famous in the city, constructed in 1499 by Rudabai, the wife of a prominent chieftains' wife.
Each floor features intricately carved platforms and galleries, showcasing Hindu mythology through the carving of deities on the pillars.
The shafts of the well are adorned with floral and geometric motifs, interlaced with figurines, enhancing the beauty of the well. The pavilions are lit with diffused lighting in the evening, adding an intriguing look to the steps.
Location: 30 km from Ahmedabad

Special mention: Special note should be made to the yearly Water Festival in Adalaj-Ni-Vav, which takes place in November each year.

The celebration, which lasts a week, honors World Heritage Week.

Activities: During the Water Festival, visitors can participate in various cultural activities such as traditional dance performances, music concerts, and art exhibitions.

Additionally, there are workshops where people can learn about the history and significance of step wells in Indian culture.

Opening hours: 5 AM to 7 PM

Entry fee: Free
13. Nalsarovar Bird Sanctuary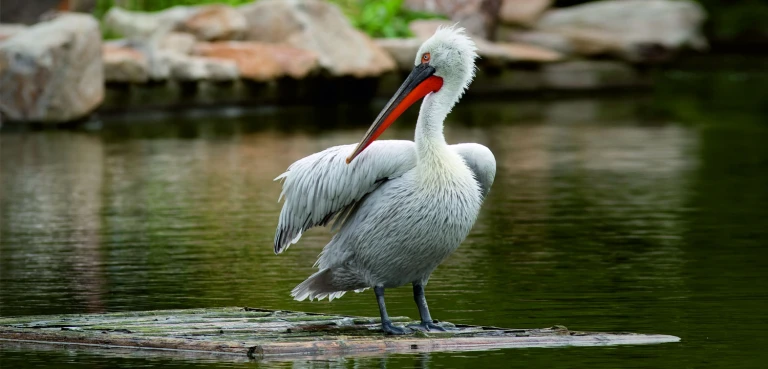 With an area of more than 120 square kilometers, the Nalsarovar Bird Sanctuary is a sizable wetland sanctuary in Gujarat, India.
It is a well-liked location for birding because it is home to more than 200 migrating bird species. Over 200 kinds of waterfowl, including geese, pelicans, flamingos, cranes, spoonbills, storks, and ibis, are drawn to the sanctuary, which has an area of approximately 115 square kilometers.
Location: known for its diverse range of bird species, making it a popular destination for birdwatchers and nature enthusiasts.

The sanctuary's proximity to Ahmedabad, only 60 km away, makes it easily accessible for visitors looking to explore the rich avian biodiversity of the area.

Special mention: Siberia, which can be easily seen in the winter, is attracted to the marshy area and lake at Nal.

The Sarus Crane, one of the most amazing birds seen here, is renowned for its iconic dance in which it gracefully bows down while spreading its wings.

Opening hours: 5 AM to 7 PM

Activities: Visitors can engage in bird watching, photography, and nature walks to fully appreciate the diverse range of bird species and other wildlife present in the sanctuary.

Additionally, there are designated picnic spots where visitors can enjoy a leisurely day surrounded by the serene beauty of the sanctuary.

Entry fee: ₹60 for entry and ₹100 for a camera. Boating charges are ₹220 per person and ₹1320 for an individual boat ride.
14. Vastrapur Lake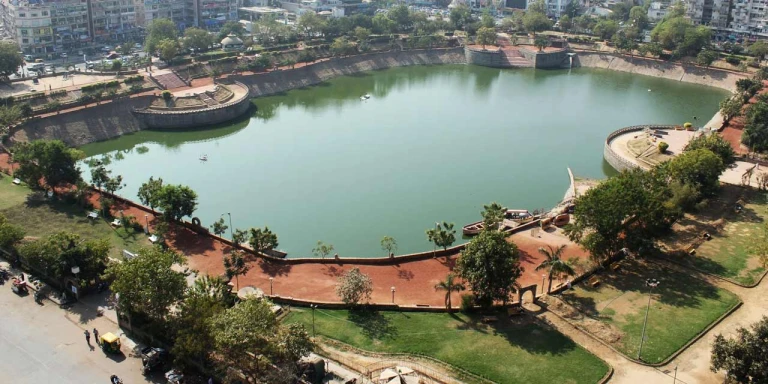 Ahmedabad's Vastrapur Lake is a well-liked hangout for nights since it provides a tranquil setting with vegetation.
With recreational opportunities including boating and jogging trails, it is a well-liked location for both locals and visitors.
The cafés and eateries that line the lake's perimeter provide a lovely view. The open-air theater presents cultural performances all through the year that give visitors a taste of Gujarat's vibrant traditions. Ahmedabad's lake is the ideal location for a tranquil evening.
Location: Vastrapur, Ahmedabad

Activities: The jogging track and grassy shores are perfect for outdoor activities and picnics.

Additionally, the lake is also home to a variety of bird species, making it a popular spot for birdwatching enthusiasts.

Opening hours: 8 AM to 10 PM

Entry: Free
15. Kankaria Lake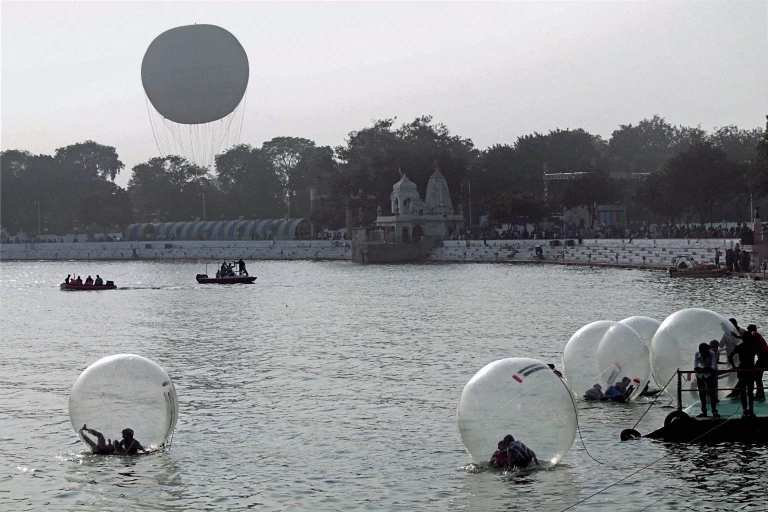 Kankara Lake, Ahmedabad's largest waterbody, has attracted locals and tourists for years. Built in the fifteenth century by Sultans Muhammad Shah and Ahmed Shah II, it features an in-built water purification system.
An entertainment zone has been developed on the lakeside, including a zoo, kids' city, toy trains, a water park, and food stalls.
Visitors can enjoy a day picnic and stroll along the lakefront, while Nagina Wadi offers authentic Gujarati food at a garden-themed food stall.
Location: Kankaria, Ahmedabad

Special mention: Children's park, musical fountain, Jogging track, mini-golf, balloon rides, archery, Segway, mirror maze Other attractions at Kankaria include a children's park with various rides and activities, a mesmerizing musical fountain show, and a jogging track for fitness enthusiasts.

Additionally, visitors can enjoy playing mini-golf, taking balloon rides for a unique perspective of the area, trying their hand at archery, exploring the surroundings on a Segway, and getting lost in the thrilling mirror maze.

Opening hours: 9 AM to 10 (visitors); 4 AM to 8 AM (joggers)

Entry Fee: INR 100 per person for the mirror maze and children's park, while the musical fountain show and jogging track are free of charge.
These 15 Ahmedabad must-visit attractions are perfect for anyone looking to explore the vibrant city. There is something for everyone, from the renowned Sabarmati Ashram, where Mahatma Gandhi resided and gave sermons, to the breathtaking architecture of the Adalaj Stepwell.
Manek Chowk's bustling marketplaces, where one may enjoy in delectable street cuisine and purchase for traditional Gujarati handicrafts, are another noteworthy feature. With its lovely surroundings and a variety of leisure options, the Kankaria Lake provides a peaceful haven.
The Jama Masjid offers an insight into the religious variety of the city, while the Calico Museum of Textiles highlights the region's rich textile tradition. Ahmedabad has much to offer everyone, regardless of whether they are history, culinary, or environment enthusiasts.