Cebu has it all! From land to water to air, this beautiful province right in the middle of the country offers you adrenaline-packed activities suitable for every fitness level. I must admit, as a Cebuano local, I haven't completed all of these Cebu adventures, but I've already added them to my bucket list. Soon, I shall conquer them all, and you must, too! The next time you visit Cebu, challenge yourself to complete every item on this list.
Where to stay in Cebu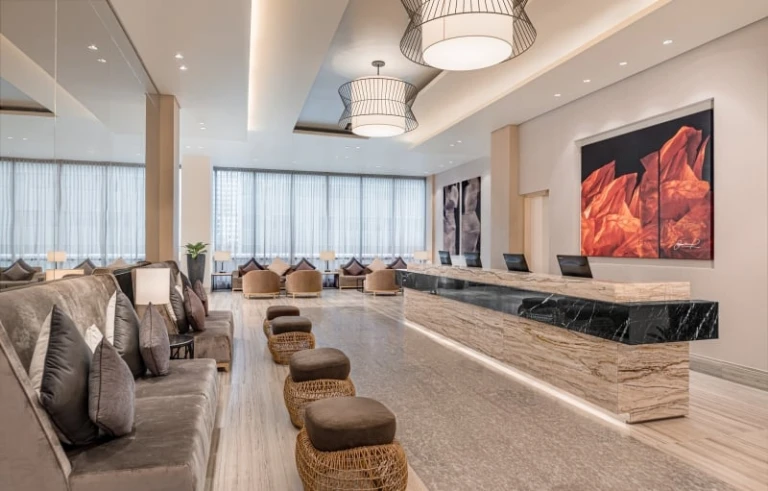 Image credit: Seda Hotels Official Facebook Page
Looking for a home away from home as you discover the wonderful experiences of Cebu? We recommend booking a stay at Seda Central Bloc Cebu, a winner of the Travel Excellence Awards 2023 – Serviced Residence Star. Simply put, this stylish accommodation is a homey serviced residence and hotel located in Cebu's newest business district, Cebu I.T. Park. Boasting comfortable rooms and on-site restaurants and bars, Seda Central Bloc Cebu provides ample opportunity to relax, unwind, and recharge after a day of exploration.
What's more, guests can enjoy quick and direct access to Ayala Mall from the hotel's fifth level. Talk about convenience! So whether it's a short getaway or an extended stay, make yourself at home in Cebu when you stay at Seda Central Bloc Cebu!
Outdoor adventures in Cebu for the daredevils
1. Canyoning or canyoneering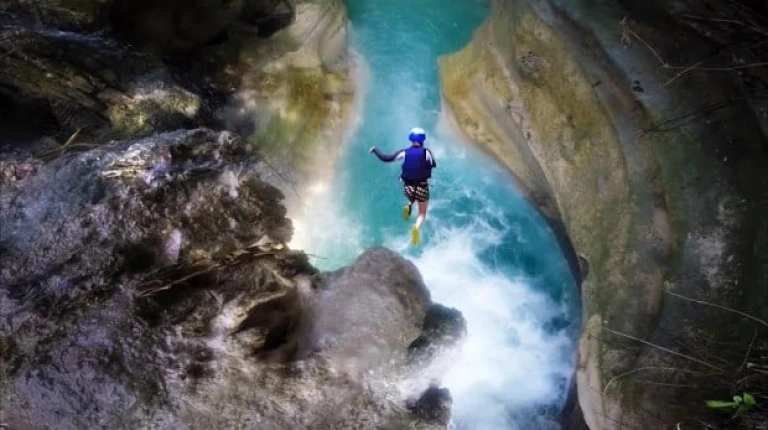 Image credit: Highland Adventures
This definitely deserves to be on top of the list! Canyoning or canyoneering is as easy as counting 1-2-3. Just count 1…2…3… then JUMP!  This exciting outdoor activity entails traversing canyons and jumping into natural pools and mini waterfalls. When you're scared, the trick is to hold your breath and don't wait too long – just JUMP!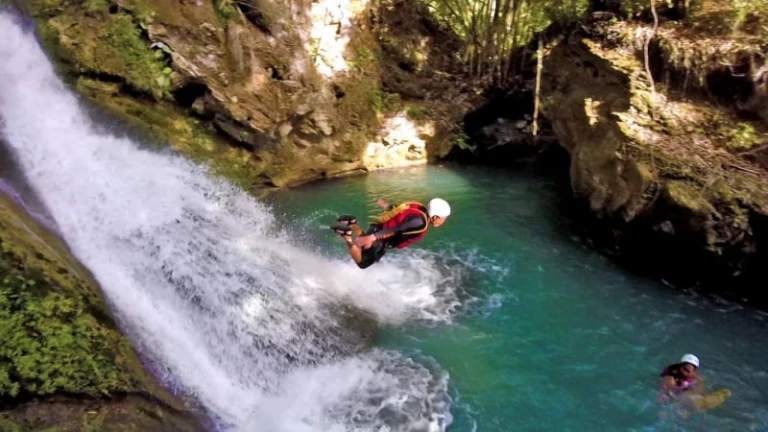 Image credit: Highland Adventures
Your journey starts at Kanlaob River in Alegria and ends at Kawasan Falls in Badian. You would have to arrange with a tour guide to experience this adventure. I highly recommend Highland Adventures because my friends and I have personally experienced their service.
2. Cliff diving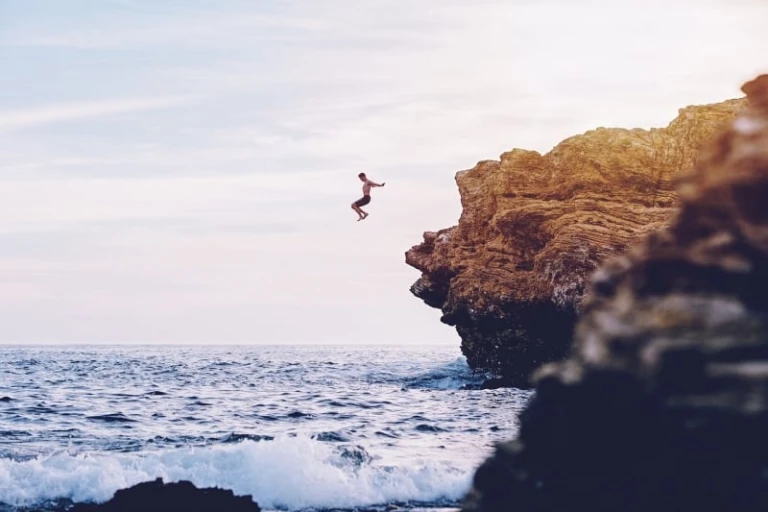 Image credit: StockSnap
You can do this anywhere when there's a cliff on the beach, lake or waterfall. Make sure that the water is deep enough for cliff diving.
3. Skydiving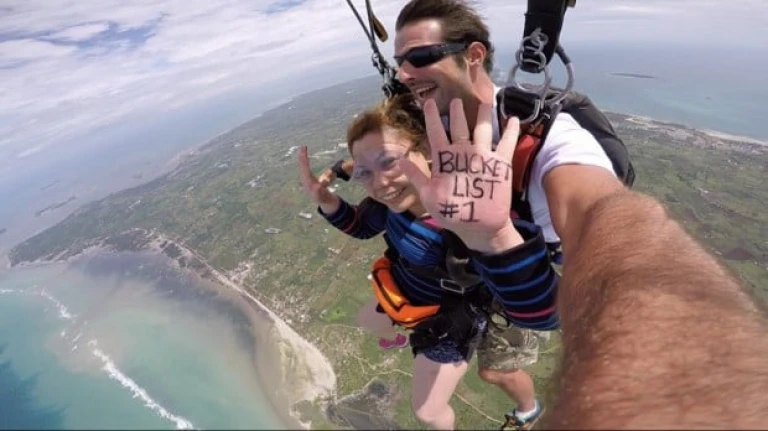 Image credit: Skydive Greater Cebu
Skydiving is one hell of an extreme sport for the daredevils, and it's already starting to get popular in Cebu. Leap off a plane with Skydive Greater Cebu, a professional skydiving group that offers skydiving experiences in Cebu, particularly in Bantayan Island.
4. Rock climbing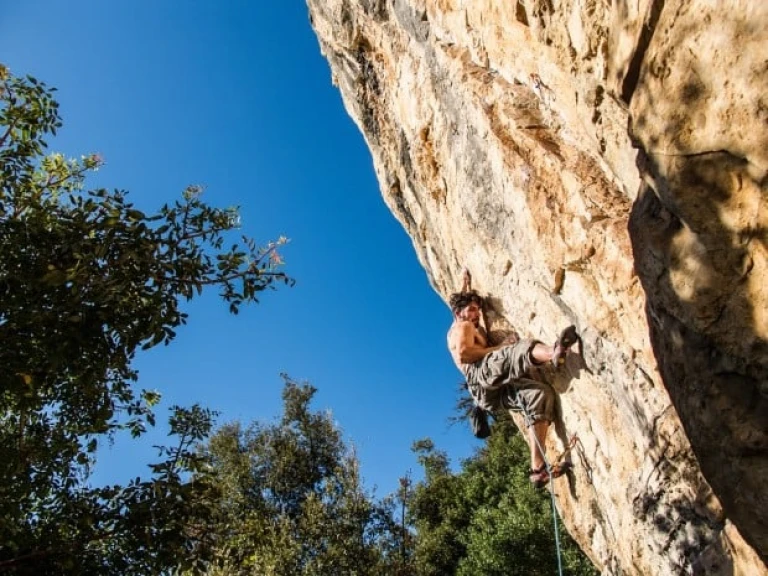 Climbing a rock, sounds easy? You bet! This extreme sport is dangerous and needs technical skills and preparation. A rock climbing haven in Cebu is found in Barangay Cantabaco, Toledo City. To get there, you can hop on a Toledo-bound bus at the Cebu South Bus Terminal and tell the bus driver to drop you off at the Lutopan junction. From there, you can ride a habal-habal to Barangay Cantabaco. There are a few local guides residing in the area, just ask around. Fear not if you have no complete gear; the guides have enough gears for rent.
5. Spelunking or caving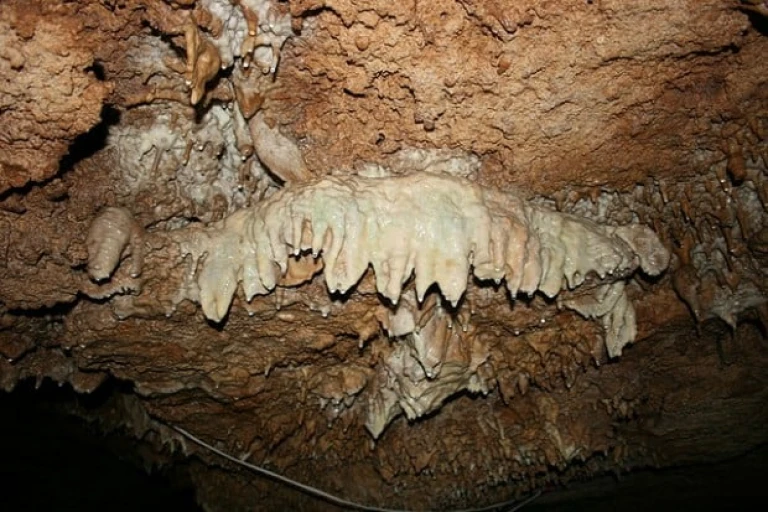 Image credit: Raelene Gutierrez
This one is not for the claustrophobic! There are so many caves to explore in Cebu but some of the popular ones which are open to public include the Igotan Cave in Talisay, Camp 7 in Minglanilla, Balay sa Agta in Argao, Bukilat Cave in Camotes and Ogtong Cave in Bantayan.
6. Sky Walk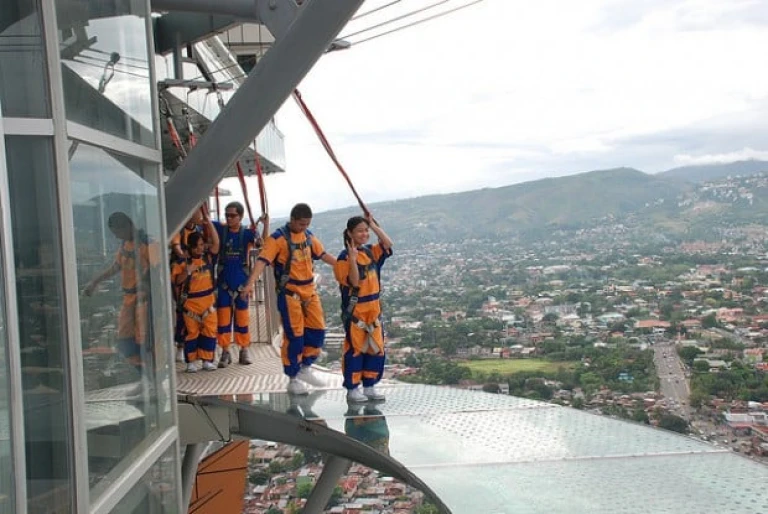 Image credit: Joel Mendoza
Conquer your fear of heights by walking around the translucent glass floor on the edge of Crown Regency Hotel, one of the tallest buildings in Cebu City. Complete the fun by riding their nerve-wracking edge coaster, a two-seat platform which you can tilt down as it moves around the edge of the building.
Cebu adventures for nature enthusiasts
7. Chasing waterfalls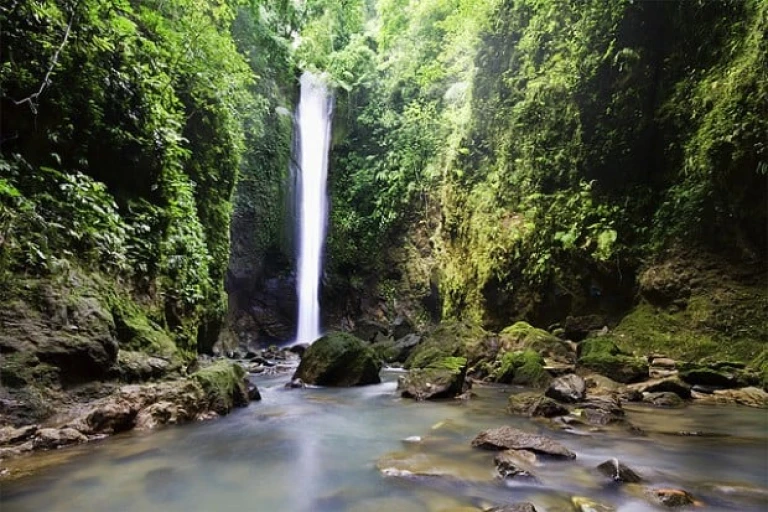 Image credit: Raymond Bosma
Chasing waterfalls, well, you literally have to chase some waterfalls! The neighbouring municipalities of Oslob and Samboan are home to some of Cebu's most majestic waterfalls like the Tumalog Falls and Aguinid Falls.
Hop on a bus at Cebu South Bus Terminal and head straight to either of the two destinations. If you're going to Oslob, tell the bus driver or conductor to drop you off at the Tumalog Falls junction, then take the habal-habal to the waterfalls. You may also make a side trip to swim with the whale sharks in Oslob, though this is frowned upon by animal protection groups.
If you choose Samboan, tell the bus personnel to drop you off at the town centre and from there, you can hire a habal-habal to take you to Aguinid Falls and other hidden falls of Samboan.
8. Mountain climbing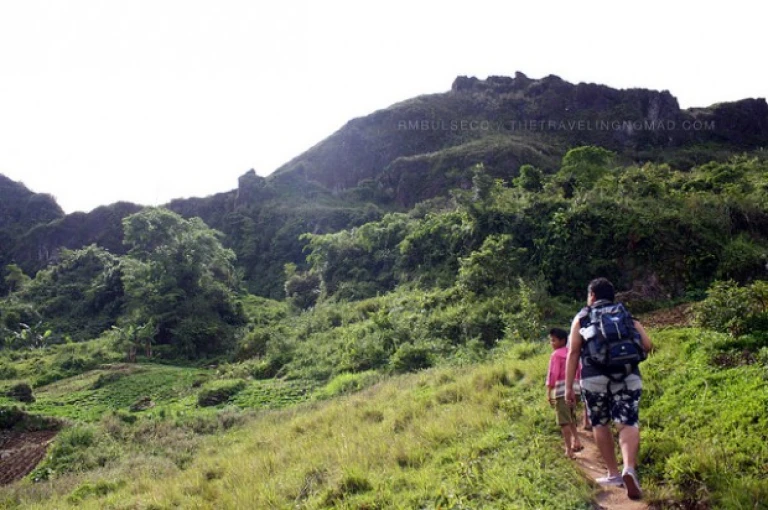 Image credit: RM Bulseco
Not a pro climber or hiker? Don't worry! The mountains in Cebu have easy to average trail difficulty. You can start off by climbing Cebu's highest peak, Osmeña Peak. Go to Dalaguete, an approximately three-hour bus ride from Cebu South Bus Terminal. From the highway, you can hire a habal-habal to take you to Osmeña Peak's starting point in Mantalungon. Note that as of this writing, habal-habal fare is ₱100 per person. From there, you can easily hire a local guide to show you the way or you can pre-arrange for a guide like Highland Adventures.
9. Camping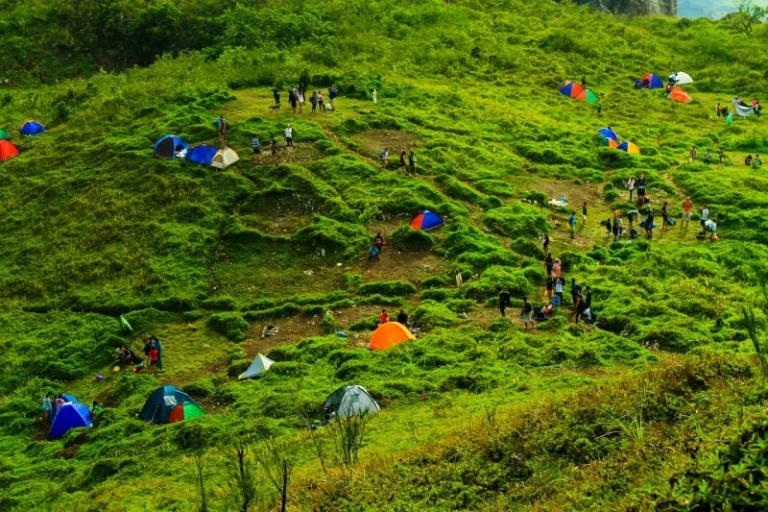 Image credit: Faith Mari
Mountain climbing and camping – sounds like a great combo! You can hit two activities at one go by camping overnight in Osmeña Peak. Don't miss the stunning sunrise for photography opportunities. If you don't want to camp in there, you may opt to follow the approximately six-hour Kawasan trail.
10. Glamping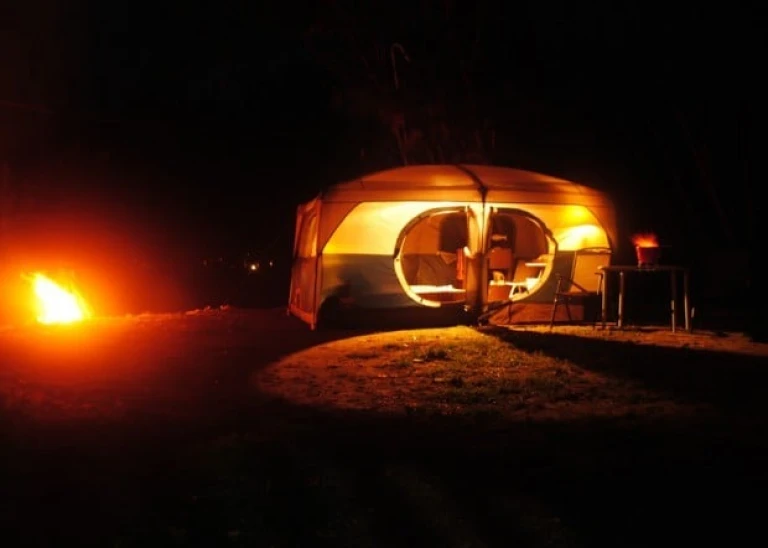 Image credit: Bluewater Sumilon
Hate camping in the wilderness? Go glamping (glamorous camping) in Sumilon Island. Though this activity is pretty expensive, you'll surely get what you pay for! Bluewater Sumilon offers you this new wave of camping, plus you get to do other exciting activities on the island like swimming, snorkelling, fishing and kayaking.
Cebu adventures for water babies
11. Snorkelling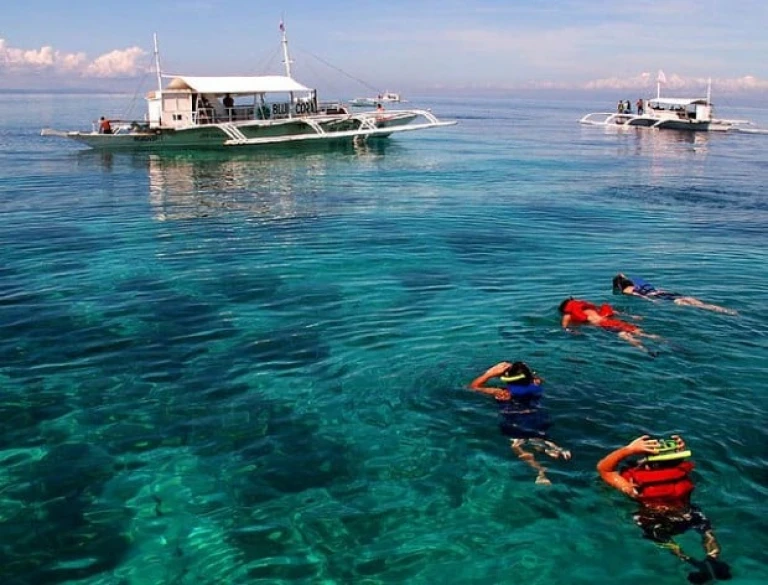 Image credit: Storm Crypt
Hit any beach in Cebu and go snorkelling! For non-swimmers and scuba diving wannabes, snorkelling is a good practice for your breathing and swimming skills. Take it from someone (that's me) who attempted to scuba dive without proper breathing exercises; I ended up being claustrophobic and thalassophobic (Google it).
12. Scuba diving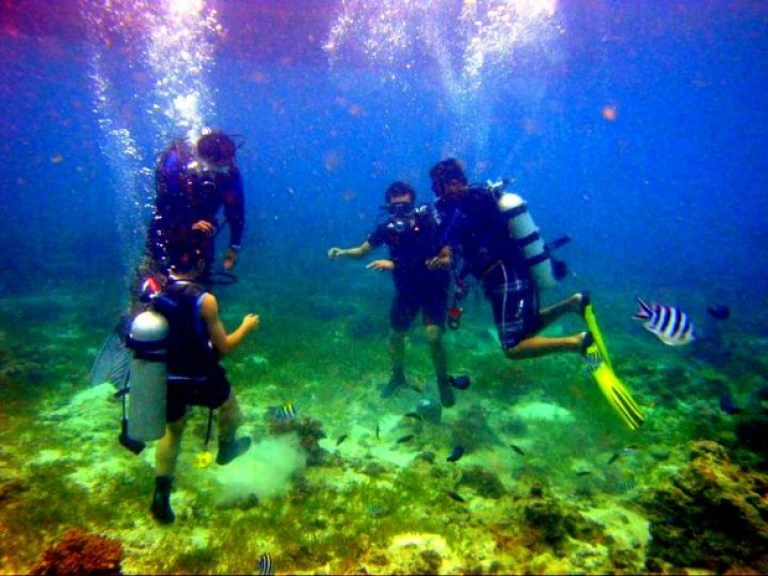 Image credit: Chill and Travel
My scuba diving crash course probably didn't leave a good mark on me but hey, I'll definitely try again if given the chance (and money). Scuba diving is relatively expensive in Cebu. Enrolling in a scuba diving class could set you back at ₱10,000 or more. You can find dive centres in popular beach destinations like Mactan Island and Malapascua Island.
13. Helmet diving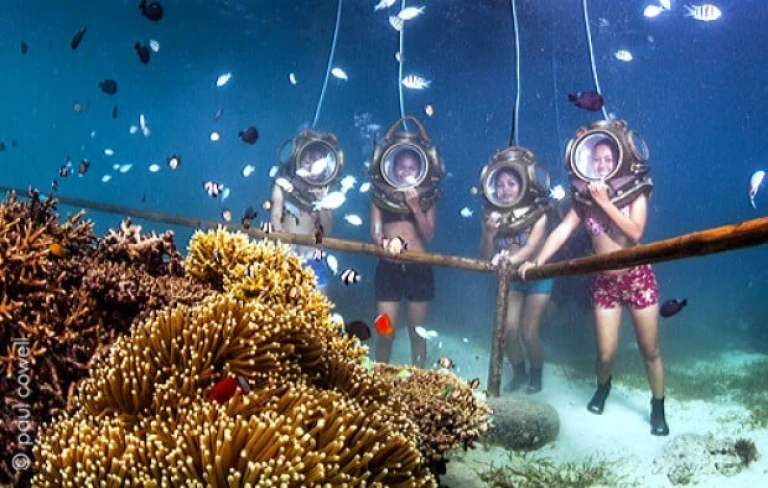 Image credit: Scotty's Action Sports Network
No challenge for sure, but helmet diving will give you the experience of what it's like to live underwater. The only drawback is that you need to stay in a limited space. You're not free to roam around because you're attached to a special helmet like that of an astronaut's. Scotty's Dive Center in Shangri-La Mactan offers this incredible kind of underwater experience.
14. Wakeboarding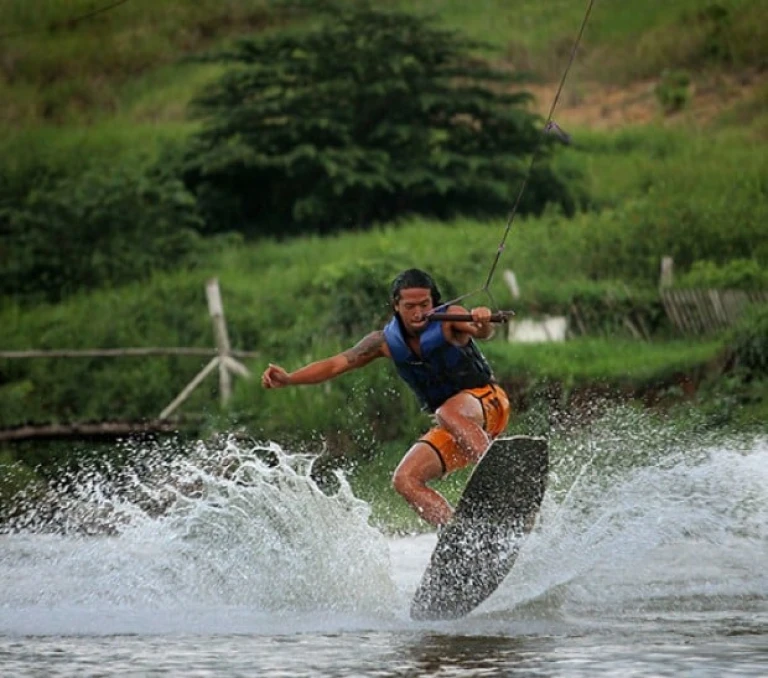 Image credit: Danasan Eco-Adventure Park
Just imagine the thrill of surfing, skiing and snowboarding all in one great adventure! A famous place to do wakeboarding is Danasan Eco-Adventure Park in Danao City, an approximately one hour ride from Cebu City. You may also enjoy ATV rides, go karts, horseback riding and other exciting Cebu adventures in this eco-park.