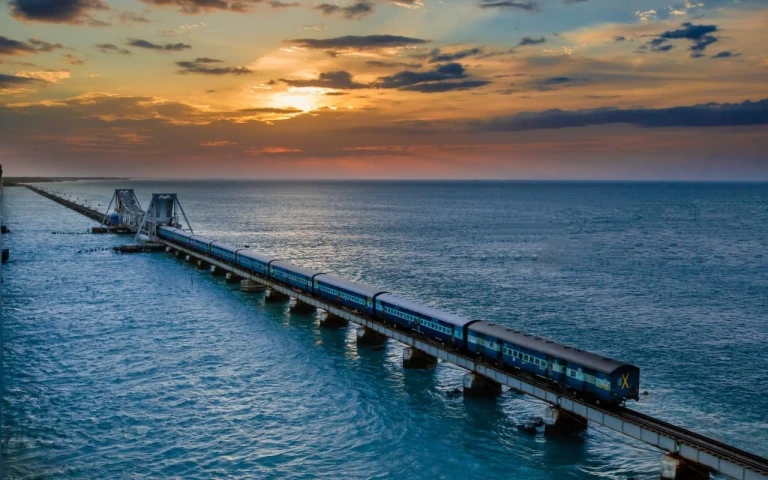 A travel guide to Rameswaram is essential for first-time visitors. Visit the Ramanathaswamy Temple, known for its intricate architecture and spiritual significance.
Explore the Pamban Bridge for stunning ocean views.
Indulge in local cuisine, particularly seafood delicacies, and take a refreshing dip in the holy waters of Agni Theertham.
Also read: Top 10 Things to Do in Varkala, Kerala 2023
How do I reach Rameswaram?
By air
Madurai Airport, which is well-connected to major cities in India, is the closest airport to Rameswaram.
You may take a cab or a bus from the airport to Rameswaram.
By train
Rameswaram is well served by train, with frequent trains running from major Indian cities.
The Rameswaram Railway Station is centrally located, making it easy for travelers to go to their selected sites inside Rameswaram.
By bus
Rameswaram is conveniently accessible by road, with frequent bus services from adjacent cities and towns.
There are both government and private buses available, providing a pleasant and economical way to get to Rameswaram.
The bus station is located in the heart of town, making it easy for visitors to enjoy Rameswaram's varied attractions.
Getting around
Getting around Rameswaram is relatively easy, as the town is small and most attractions are within walking distance.
However, for those who prefer a more convenient mode of transportation, autorickshaws and taxis are readily available for hire.
These options allow visitors to explore the town and its surrounding areas comfortably.
Additionally, renting a bicycle or a scooter can be a great way to navigate through the narrow lanes and enjoy the scenic beauty of Rameswaram at one's own pace.
Where to stay
For those seeking luxury, there are several high-end hotels and resorts available with stunning views of the ocean, like the Rameswaram Gateway Hotel and the Hyatt Place Rameswaram. These accommodations offer top-notch amenities and excellent service to ensure a comfortable and memorable stay.
On the other hand, budget travelers can find numerous guesthouses and homestays that offer comfortable accommodations at affordable prices, like the Hotel Temple Tower and the Hotel Royal Park. These options provide basic amenities and a convenient location, making them suitable for travelers on a tight budget.
Additionally, Rameswaram also offers a variety of mid-range hotels that strike a balance between luxury and affordability, such as Hotel Vinayaga and Hotel Pearl Residency. These hotels provide comfortable rooms and decent amenities at reasonable prices, catering to the needs of different types of travelers.
The best time to visit
Rameswaram is best visited during the winter months of October to March due to the pleasant weather, cooler temperatures, and the opportunity to explore the town's attractions.
The cooler temperatures make it comfortable for sightseeing and enjoying the beautiful beaches. Rameswaram also hosts several festivals, including the famous Arudra Darshanam in December, which attracts thousands of devotees.
The town comes alive with colorful processions, music, dance, and elaborate decorations, making it an immersive cultural experience.
Therefore, if planning a trip to Rameswaram, schedule it during the winter months to fully enjoy the town's attractions.
Things to do
Ramanathaswamy Temple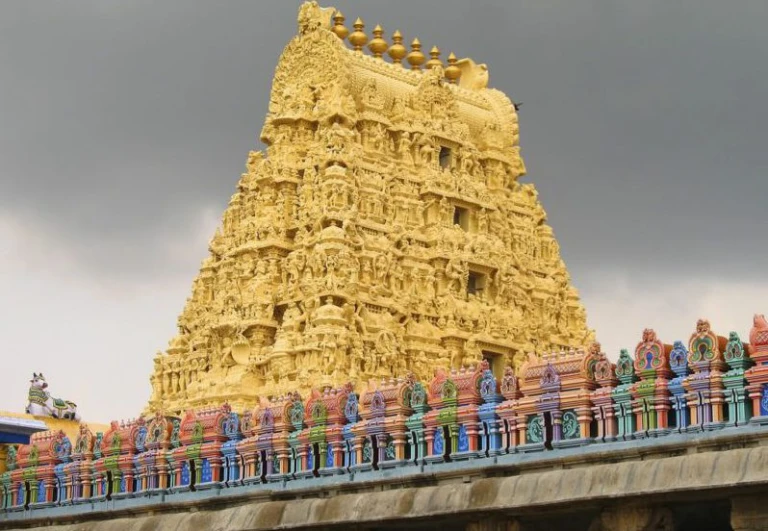 Rameswaram involves a visit to the famed Ramanathaswamy Temple, one of India's twelve Jyotirlinga temples. It is one of the most prominent Hindu pilgrimage destinations and is noted for its beautiful architecture.
It is believed that bathing in Agni Theertham's sacred waters cleanses one's sins. This temple's architectural magnificence is astounding, and it holds great religious significance.
Pamban Bridge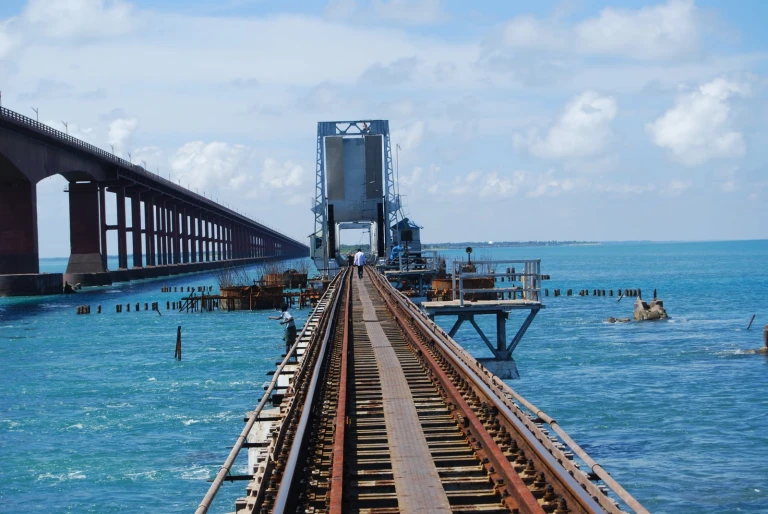 Another must-see attraction is the Pamban Bridge, an engineering marvel that connects Rameswaram to the rest of India. Walking or driving across this bridge affords breathtaking views of the ocean and surrounding landscape.
Pamban Bridge, also known as Annai Indira Gandhi Road Bridge, is India's second-longest sea bridge. It is an incredible feat of engineering and a testimony to human ingenuity that spans over 2 kilometres.
The bridge not only provides an essential transit link, but it also provides amazing panoramic views of the huge ocean and the captivating surrounding countryside.
Ram Setu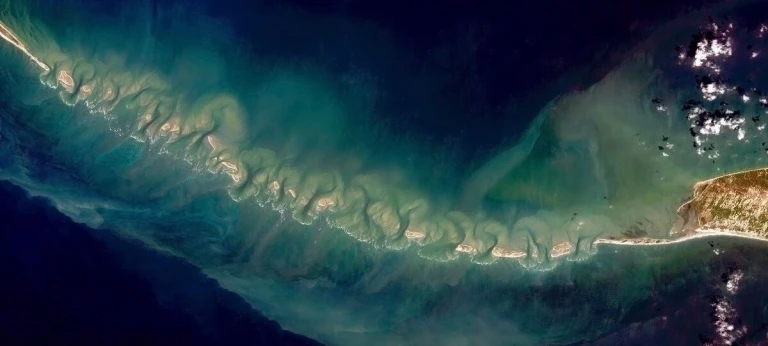 Ram Setu, also known as Adam's Bridge in the Hindu epic Ramayana, is a legendary bridge referenced in the Hindu epic Ramayana. Lord Rama and his army of monkeys and bears are said to have built it to reach the island of Lanka. This ancient edifice is rich in cultural and historical value, drawing people to its fabled roots.
Beaches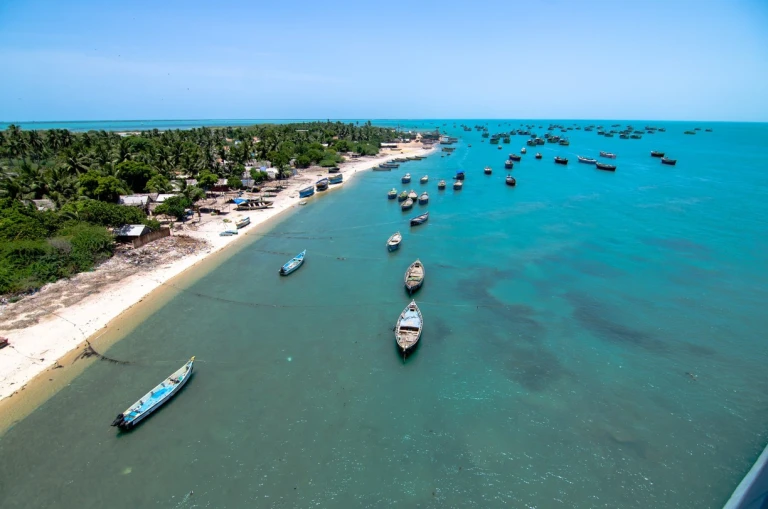 Exploring serene beaches like Dhanush Kodi Beach, Ariyaman Beach and Pamban Beach is a must-do activity in Rameswaram.
These beaches are known for their pristine beauty and are perfect for relaxation and unwinding.
The clear blue waters and soft sandy shores make them ideal for swimming and sunbathing.
Moreover, these beaches also offer various water sports activities like snorkeling and jet skiing, adding to the fun and adventure of the visit.
Also read: Top 10 Places to Visit in Kerala in 2023
Local must-try dishes in Rameswaram
Rameswaram offers a delectable array of intricate South Indian platters and thalis, predominantly vegetarian. However, one can also find a diverse selection of non-vegetarian options at the local hotels, including a wide variety of seafood cherished by the locals.
Some of the must-try local favorites include:
Filter Coffee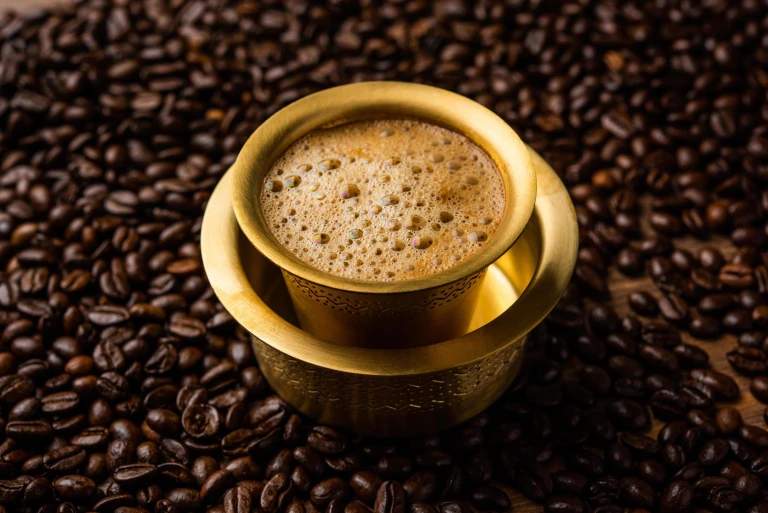 A South Indian specialty known for its strong and aromatic flavor, It is a must-try for coffee lovers who visit Rameswaram.
Cuttlefish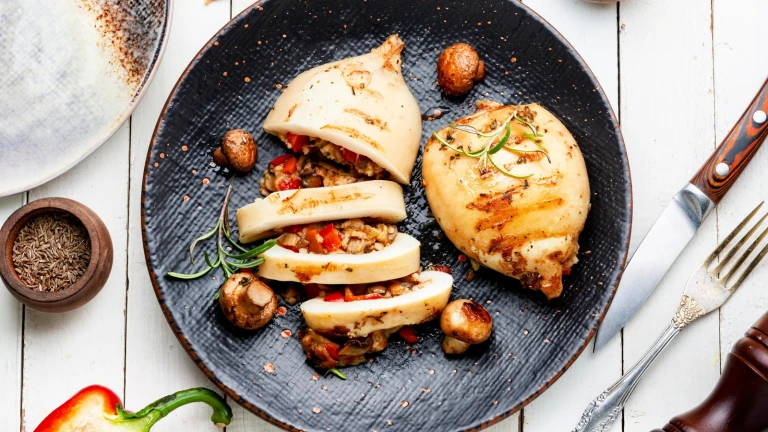 A popular seafood delicacy in Rameswaram is known for its tender texture and unique taste.
It is often served as a fried or grilled dish, showcasing the region's love for seafood.
Crab meat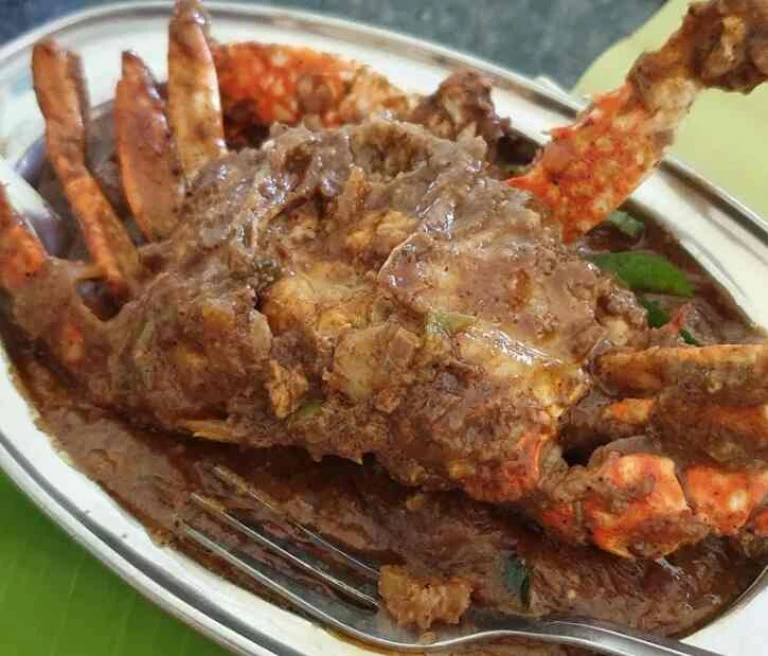 Another popular seafood option in Rameswaram, crab meat is known for its sweet and succulent taste.
It is commonly used in various dishes like crab curry or crab masala, showcasing the rich culinary heritage of the region.
Baby Octopus
A unique and adventurous choice for seafood enthusiasts, baby octopus is a delicacy that shouldn't be missed in Rameswaram.
With its tender and flavorful meat, it is often prepared in dishes like octopus fry or octopus masala, adding a delightful twist to the local cuisine.
Keema Vadas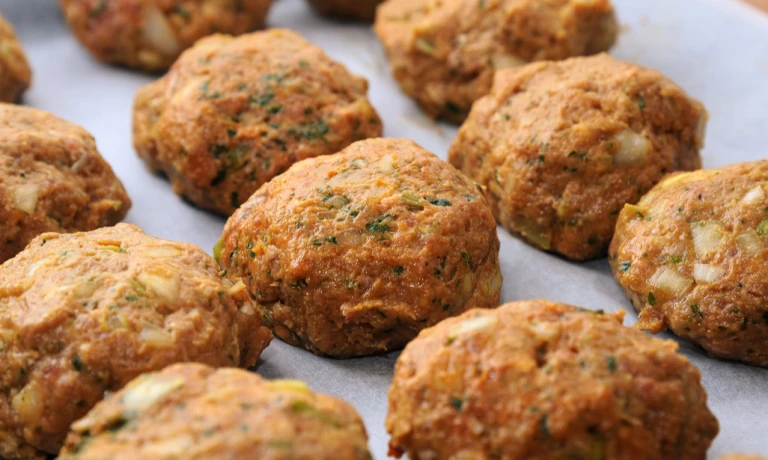 These deep-fried lentil patties are made with a mixture of minced meat, spices, and lentils, resulting in a savory and crispy snack.
Served with chutney or as a side dish, Keema Vadas are a must-try for those looking to explore the diverse flavors of the region.
Rasam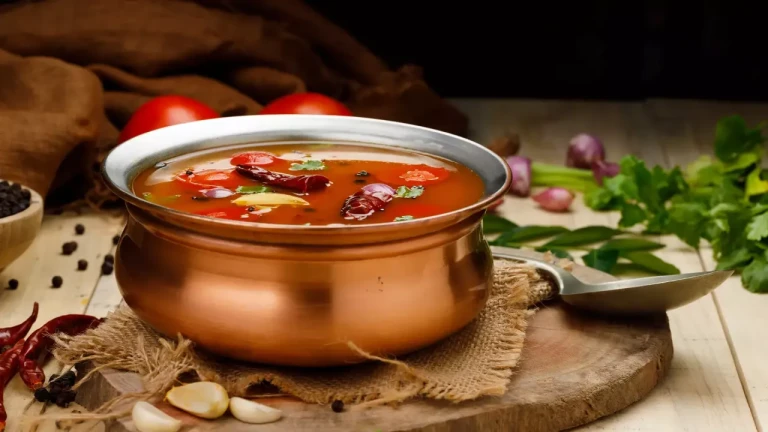 A tangy and spicy soup made with tamarind, tomatoes, and a blend of aromatic spices is another popular dish in Rameswaram.
It is often enjoyed as a comforting and refreshing appetizer or served alongside rice and other traditional dishes.
The combination of flavours in rasam perfectly complements the local cuisine and is a must-have for any food lover visiting the area.
Sambar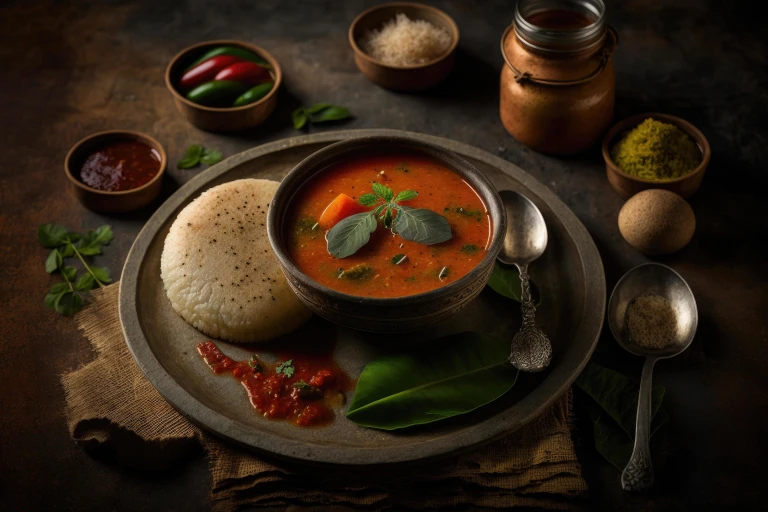 A lentil-based vegetable stew is another staple dish in Rameswaram.
Made with a variety of vegetables, lentils, and a unique blend of spices, sambhar is known for its rich and aromatic flavours. It is typically enjoyed with rice or as a side dish to dosas and idlis.
The hearty and satisfying nature of Samhar makes it a popular choice among locals and tourists alike.
Idli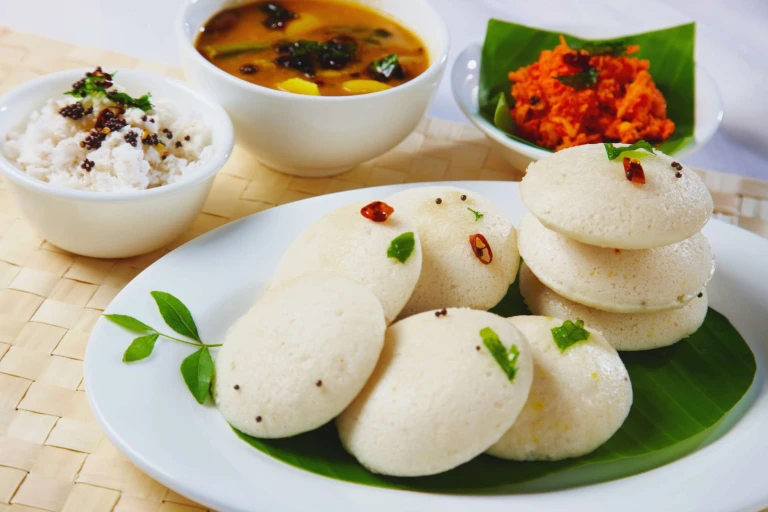 A steamed rice cake is a popular breakfast dish in Rameswaram.
Made from fermented rice and lentil batter, idlis are soft, fluffy, and incredibly light.
They are typically served with coconut chutney and sambar, adding a burst of flavor to the dish.
Vada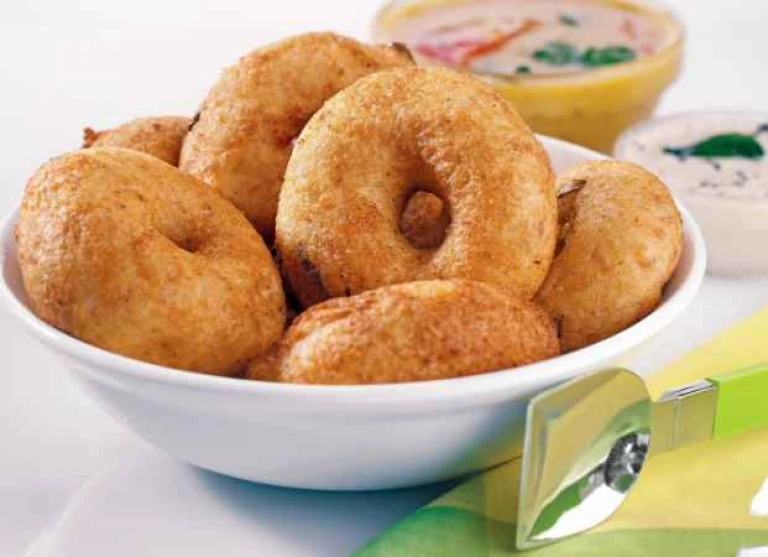 It is a savory fried snack made from lentil batter. It has a crispy exterior and a soft, fluffy interior.
Vadas are often enjoyed as a standalone snack or served alongside idlis and dosas.
They are commonly paired with coconut chutney and sambar for a delicious combination of flavours.
Dosa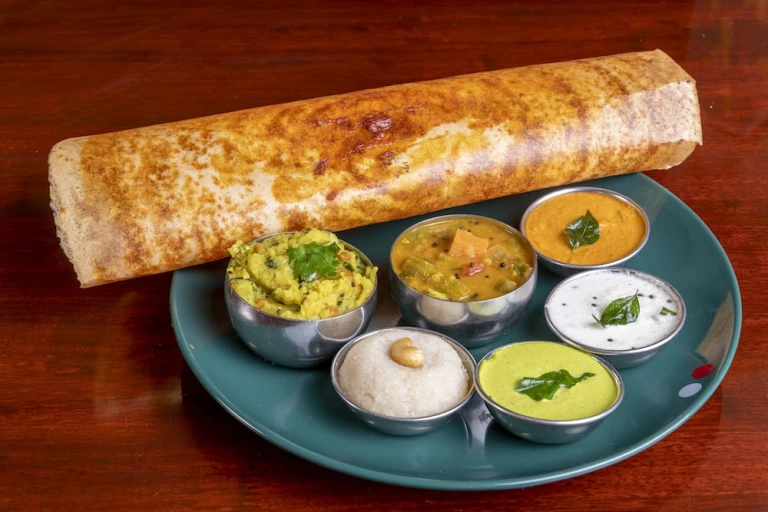 It is a thin, crispy pancake made from fermented rice and lentil batter. It is often served with coconut chutney and sambar, just like idlis and vadas.
Dosas can be filled with various ingredients, such as potatoes, onions, or cheese, or a few nonveg options like chicken or shrimp, to add more flavor and texture.
The dosas in Rameswaram are known for their perfect balance of crispiness and softness, making them a favorite among both locals and visitors alike.
Where to shop in Rameshwaram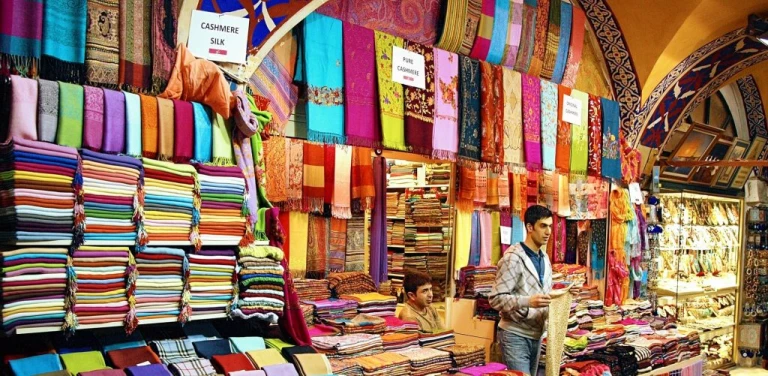 Rameshwaram is a holy town with a variety of shopping options for visitors. From local markets to modern shopping complexes, visitors can find traditional handicrafts, religious artifacts, and souvenirs.
Government-run emporiums and private stores offer silk sarees, spices, and local produce. For a contemporary shopping experience, popular shopping complexes house international brands, designer stores, and trendy boutiques.
Rameshwaram offers a blend of local culture and retail therapy, making it an ideal destination for those seeking a unique shopping experience.
Also read: Discovering the Treasures of Kannur, Kerala: A Traveler's Guide
Rameshwaram is a lovely and culturally rich location that combines spirituality and natural beauty in a unique way. Rameshwaram is a must-see destination for anyone looking for a tranquil and relaxing holiday, with gorgeous temples and picturesque beaches.
Rameshwaram's bustling local markets and delectable cuisine are other key draws. Visitors may sample delectable seafood dishes and browse for gorgeous handicrafts and souvenirs.
Rameshwaram provides something for everyone, whether it's seeing the ancient landmarks, taking a relaxing boat trip in the surrounding waterways, or simply relaxing in the peace and quiet.