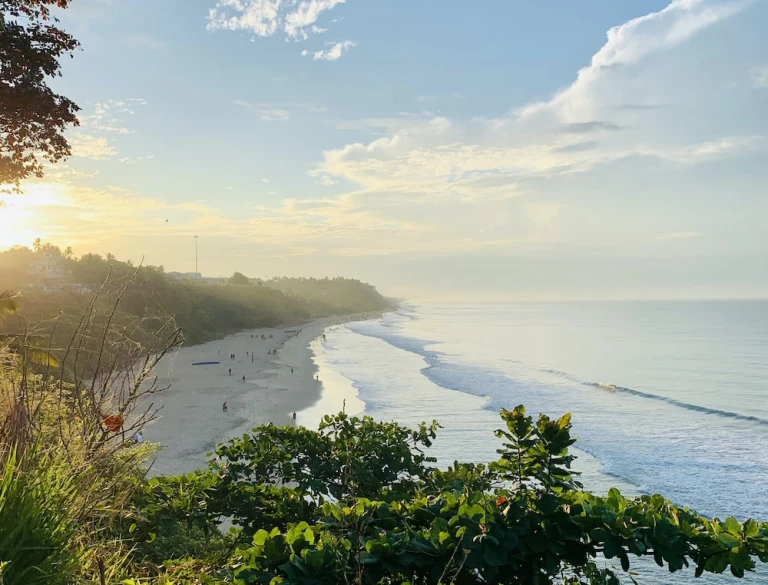 Varkala, a popular tourist destination in Kerala, offers a variety of activities for visitors. It offers immaculate beaches, stunning scenery, historic forts, and a charming lighthouse. Visitors may also wander around isolated islands and eat delicious food in trendy cafes and restaurants.
The perfect mix of modern living and traditional Keralan culture may be found in Varkala. Varkala is a destination for buyers searching for one-of-a-kind gifts to bring back home because of its thriving marketplaces and traditional handicrafts. 
We give you a list of must-to-do activities at Varkala:
1.Visit Varkala Beach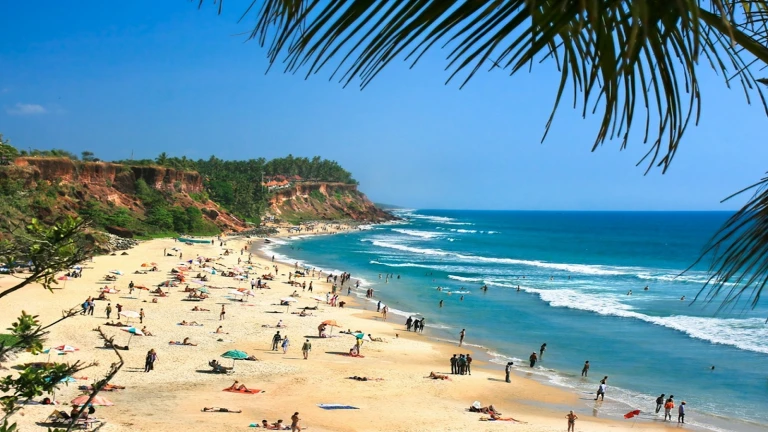 The picturesque hamlet is 10 kilometers away from Varkala Beach, which offers breathtaking views of the clear, turquoise seas of the Mediterranean. The beach provides water activities including surfing and parasailing and is renowned for its unusual cliff formations.
It is also well-known for its natural spring, which is thought to have therapeutic qualities. Visitors may cool down in the spring, which is said to heal the body of illnesses and the soul of sins. Adventure seekers frequently travel to Varkala Beach, which offers sports like parasailing and surfing. The locals think that bathing in the holy waters may cleanse the spirit and heal the body.
Location: Varkala Beach Rd, Varkala, Kerala.

Timings: The beach is open 24 hours and 7 days of a week.

Price: No entry fee.
2. Worship at Janardhana Swami Temple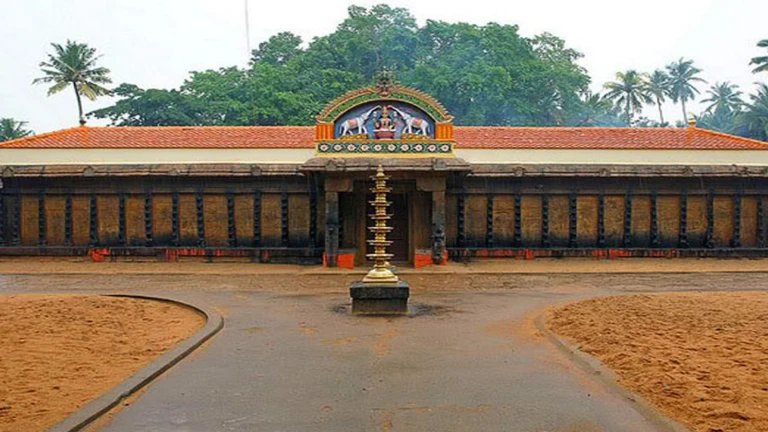 For Hindu worshippers and culture enthusiasts, visiting the Janardhana Swami Temple in Varkala is a major devotional experience. One of Kerala's oldest temples, it is thought to be older than 2000 years. The temple is a must-visit for spiritual consolation and insight into the area's rich cultural legacy because of its beautiful architecture and peaceful ambiance.
The temple is an ornate and grandiose-styled structure due to its towering arched entryway and tile roof. Visitors may see beautiful carvings and sculptures that showcase the area's rich cultural past and illustrate legendary tales.
After seeing the temple, you may take leisurely stroll along the seashore. Visitors may take in the primary celebration, Arattu, in March or April, where locals honor their ancestors.
Location: Near Papanasam Beach, Varkala, Kerala 695141

Timings: Every day of the week, 5:30 AM - 12:00 PM and 5:00 PM - 8:00 PM

Price: No entry fee.
3. Kappil Beach offers stunning views of the Arabian Sea.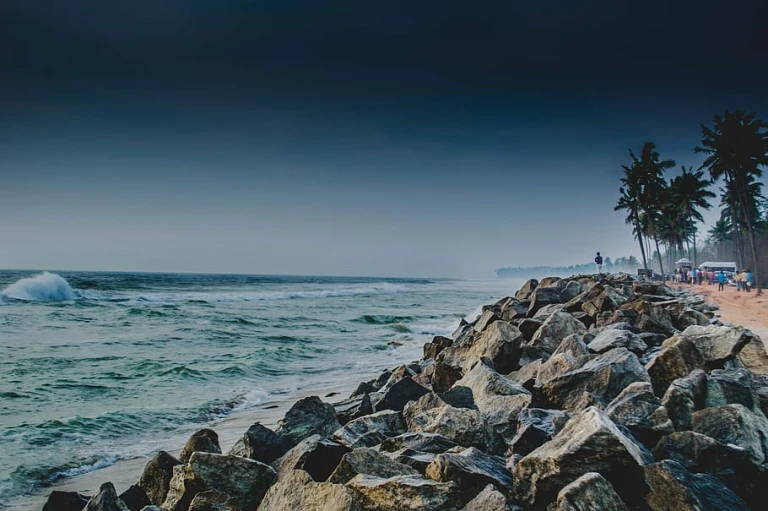 Kerala's Kappil Beach is a hidden treasure that provides a tranquil retreat from the city. Kappil's undeveloped sandy beaches are encircled by thick vegetation and coconut trees, which creates a tranquil environment.
The beach provides stunning orange sunsets and clear waves that are ideal for a romantic stroll with your significant other or for helping kids construct sandcastles. For a fun-filled vacation, water sports like kayaking, paddleboarding, and snorkeling are offered.
Under the seas' pure waters, visitors may enjoy the beautiful coral reefs and abundant aquatic life. Locals may also take part in the culture by savoring delectable seafood meals at adjacent beachside eateries.
Location: Near Paravoor, Kollam, Kerala

Timings: All days of the week except Sunday, 12:00 AM - 12:00 PM.

Price: No entry fee.
4. Yoga Classes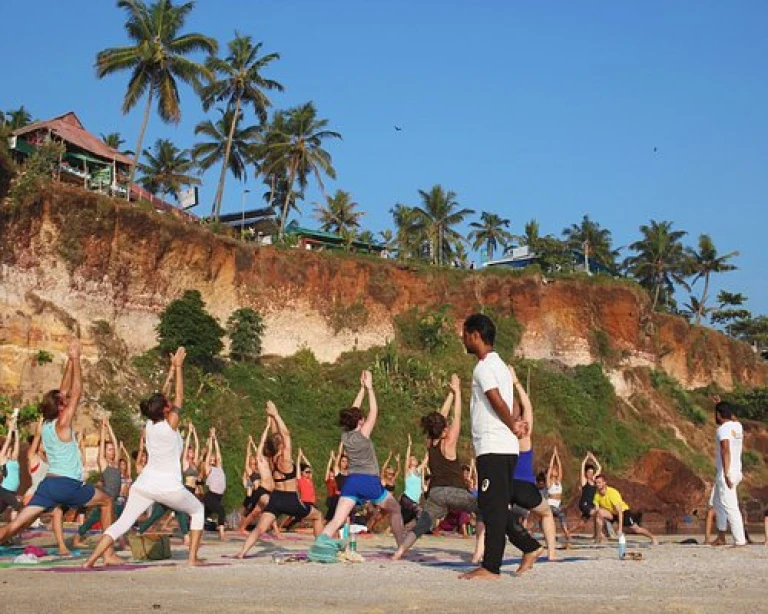 Varkala is a well-liked location for individuals interested in practicing yoga, and Kerala is a center for the practice. Varkala provides a range of lessons appropriate for all levels, from beginners to seasoned practitioners, thanks to its many yoga studios and retreat places. Students are guided through the practice in a peaceful environment by knowledgeable instructors, who assist them in achieving balance and inner serenity.
Traditional Hatha yoga courses, energizing Vinyasa flow sessions, and specialty programs like Yin yoga or Kundalini are all available in Varkala. Varkala's thriving yoga scene offers many possibilities to learn about and develop one's practice. With genuine professors and knowledgeable gurus, students can engage in meditation and soul-searching experiences. The majority of schools are surrounded by lush vegetation and palm palms, which creates a calm setting for learning.
Timings: vary depending on the ashrama and school.

Price: The cost varies depending on the school.
5. Varkala Aquarium is a must-see attraction.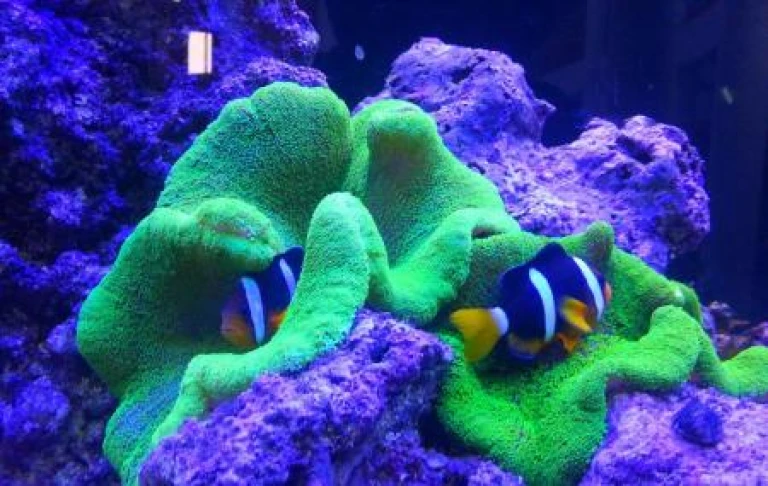 Between Black Beach and Odayam Beach in Varkala, there is an aquarium that provides kids with a fascinating and instructive experience. Children may engage in an engaging experience while viewing a wide variety of marine life at the aquarium.
Through well-maintained tanks and experienced personnel, visitors may learn about various fish species and their habitats. The grounds' spiraling walkway provides breathtaking views of a variety of fish species in their natural habitat, including indigenous karimeen, koi, angelfish, scorpionfish, and scorpionfish.
Visitors to the aquarium may learn more about initiatives to conserve marine life through the aquarium's interactive displays and educational events. The facility also offers a gift store where guests may buy trinkets and literature on marine life.
Location: Odayam Hatchery, Thiruvambadi Beach, Thiruvananthapuram, Varkala.

Timings: 10 AM to 6.30 PM, every day.

Price: Adults - INR 30, Child - INR 15
6. Pay a visit to the Varkala Lighthouse.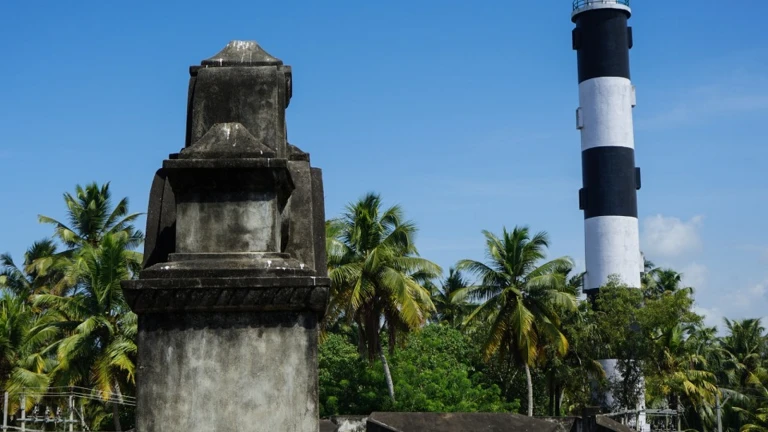 A well-liked tourist destination in Varkala, the British-built lighthouse from the 18th century provides breathtaking views of the Arabian Sea and the adjacent beaches. The building's pinnacle, which provides a bird's-eye perspective of the surroundings, is a well-liked location for photographers.
A must-see location for wildlife and photography aficionados, visitors may climb to the summit for a stunning sunset vista. With its provincial design and picturesque views of the surrounding areas, the lighthouse's European-style building also serves as a popular tourist attraction in Varkala.
Location: Anchuthengu, Kerala.

Timings: 8 AM to 5 PM, every day.

Price: No entry fee.
7. Varkala Culture Center offers tours of the local culture.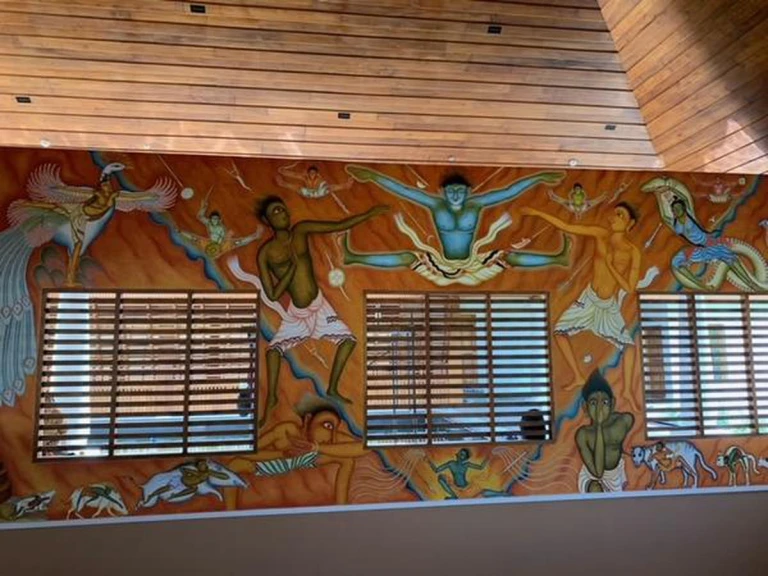 Varkala Culture Center is an excellent place to learn about Kerala's traditional culture. Visitors may immerse themselves in the region's rich history and traditions with experienced guides. The center provides tours of historic temples as well as traditional dance performances, delivering a one-of-a-kind and genuine experience. Visitors may also experience the authentic art styles of the state.
The facility presents a cultural evening with Kathakali dance performances by skilled performers throughout the tourist season. Intricate facial expressions, exquisite movements, and vivid clothing are shown in these performances.
Other art forms included in the evening are Mohiniyattam and Kalaripayattu, offering a thorough taste of Kerala's rich cultural history. The experience is one-of-a-kind, taking guests to another universe.
Location: Near North Cliff, Varkala, Kerala.

Timings: 6.30 AM to 9 PM, every day.

Price: INR 250 per person.
8. Go to Ponnumthuruth Island.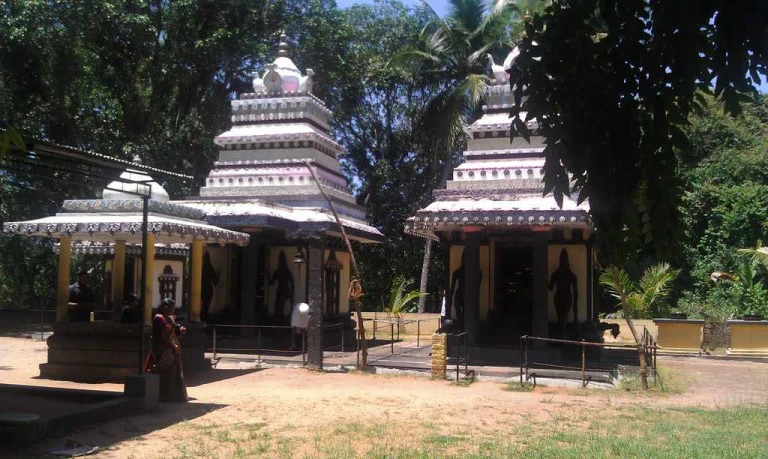 Ponnumthuruth Island is a lovely deserted island in Kerala, famed for its clean beaches, abundant flora, and calm ambiance. It is located 20 kilometers from Varkala. The 5-hectare island features breathtaking views and a 100-year-old Shiva Parvathi Temple.
Visitors may explore the island by boat, participate in water sports, or simply rest on the island's beautiful beaches. Akathumuri Lake's pure blue waters offer a calm ambiance, making it a great location for animal enthusiasts and religious pilgrims. The island also serves as a stopover for migrating birds and exotic water bird species.
Location: Ponnumthuruthu Island, Onnampalam Rd, Nedungada, Vettoor-cherunniyoor, Kerala.

Timings: 6 AM to 6 PM, every day

Price: There is no entry fee.
9. Shop at Varkala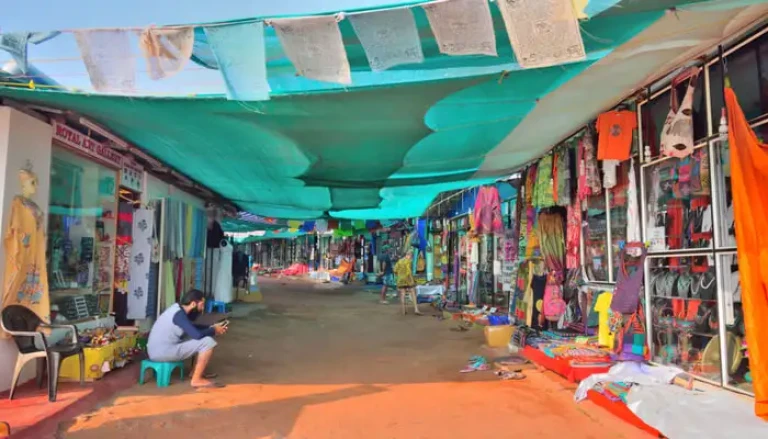 Varkala is a thriving shopping destination with a diverse selection of boutique boutiques, local markets, and handicraft shops. It sells everything from contemporary apparel to one-of-a-kind keepsakes. The city's alleyways are teeming with stores offering hippy apparel, Indian wear, bamboo items, and Kerala-only scents.
The bustling ambiance of the markets and stores entices visitors to discover hidden gems and support local craftspeople. Tibetan handicrafts such as musical bowls, flutes, dorjees, prayer flags, and conches may also be found in Varkala. The retail environment will undoubtedly satisfy you.
Timing: There are no time constraints.

Price: There is no entrance fee.
10. Eat at God's Own Country Kitchen.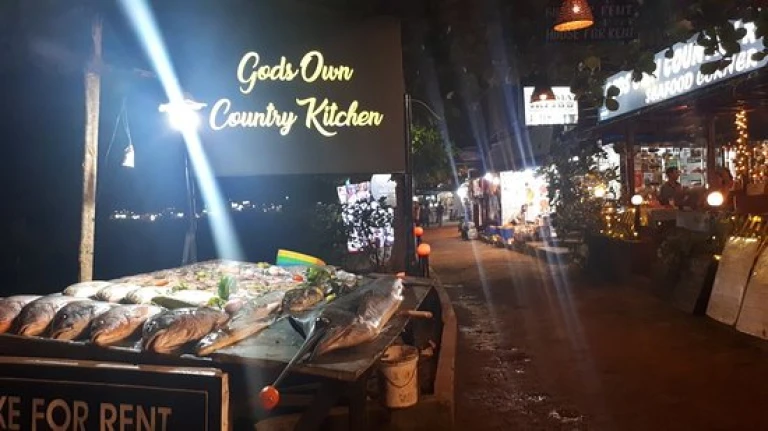 God's Own Country Kitchen in Varkala is a prominent restaurant serving a wide range of traditional Kerala cuisine and fusion meals. The restaurant has a comfortable ambiance and courteous personnel, making it a fantastic spot to experience traditional Kerala delicacies while taking in the sights of Varkala.
The Indian-international food offered is delectable, and the spicy fish wrapped in banana leaf is famous across the world. There are also cool drinks and scrumptious treats on the menu.
The pleasant environment and breathtaking ocean views make it a great location for a wonderful dining experience, with live band performances on occasion.  
To Conclude..
Varkala provides everything you need to make your trip unforgettable, whether you're planning a short getaway or a lengthy vacation. To make the most of your trip, go over the list of fun things to do in Varkala.
From indulging in water sports like surfing and parasailing to practicing yoga on the beach, there is something for everyone in Varkala. Don't forget to visit the famous Janardanaswamy Temple and take a dip in the natural mineral springs believed to have healing properties.