Imagine turquoise waters stretching as far as the eye can see, lush greenery covering towering limestone cliffs, and a vibrant nightlife that keeps the party going till the early hours. If you're picturing this tropical dream, you're likely envisioning the Koh Phi Phi Islands, a gem of Southeast Asia nestled in the Andaman Sea. In 2023, these islands are set to captivate travelers with their beauty and charm like never before. In this comprehensive travel guide, we'll take you on an island-hopping adventure through Koh Phi Phi, helping you explore its stunning landscapes, underwater wonders, and vibrant culture.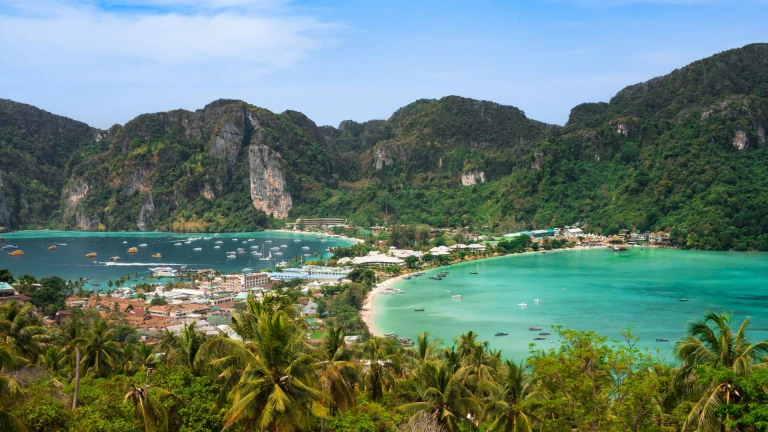 Getting to Koh Phi Phi
Before we delve into the heart of the islands, let's talk logistics. Getting to Koh Phi Phi requires a bit of planning but is entirely worth the effort.
1. Arriving by Air
The most common route for travelers is to fly into Phuket International Airport. Phuket is well-connected to major international airports and serves as a primary gateway to the region. From Phuket, you'll need to make your way to the pier to catch a ferry to Koh Phi Phi.
2. Arriving by Land and Sea
Alternatively, you can arrive via Krabi, another popular destination in southern Thailand. If you're already in Krabi, you can take a ferry directly to the islands.
Pro Tip: Ferry schedules can vary, so make sure to check the timings and book your tickets in advance, especially during peak tourist seasons.
Also Read: 20 Best Airbnbs in Thailand for Every Budget
The Main Islands of Koh Phi Phi
Koh Phi Phi is an archipelago consisting of six islands, but the two main ones are Koh Phi Phi Don and Koh Phi Phi Leh.
Koh Phi Phi Don
Koh Phi Phi Don is the larger and more populated of the two main islands. Here, you'll find the heart of the action, from bustling Tonsai Village to a wide range of accommodation options.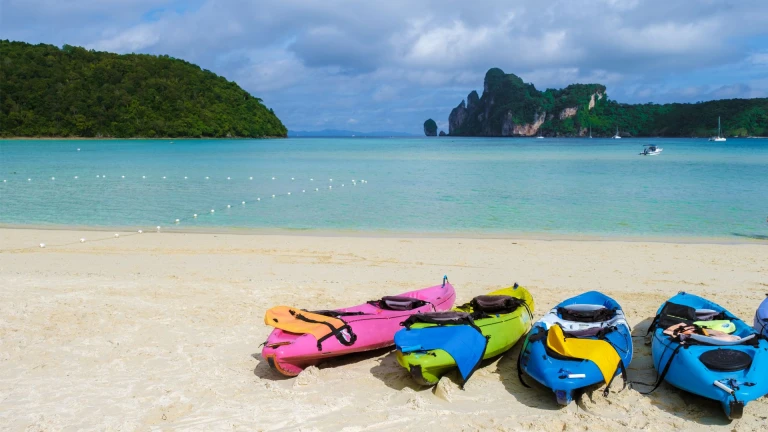 Accommodation
Budget Travelers: Budget-conscious backpackers will find plenty of hostels and guesthouses, particularly around Tonsai Village.

Mid-Range Travelers: If you're looking for a bit more comfort without breaking the bank, there are numerous mid-range hotels and resorts.

Luxury Travelers: For those seeking luxury, Koh Phi Phi Don boasts several high-end resorts, many of which offer stunning views of the sea.
Activities
Beaches: Koh Phi Phi Don is dotted with beautiful beaches. Laze on the powdery sands of Long Beach, snorkel at Loh Moo Dee Beach, or find solitude at Laem Tong Beach.

Snorkeling and Scuba Diving: The crystal-clear waters are home to a vibrant underwater world. Dive or snorkel to discover colorful coral reefs, schools of tropical fish, and even turtles and sharks.

Hiking: For panoramic views, embark on a hike to the island's viewpoint. The trek is challenging but incredibly rewarding, especially at sunrise or sunset.

Relaxation: After all the adventure, treat yourself to a traditional Thai massage to soothe your body and soul.
Nightlife
When the sun sets, Tonsai Village comes alive. There's a variety of bars and restaurants offering everything from Thai delicacies to international cuisine. Enjoy fire shows, beach parties, and live music, or simply sip a cocktail while gazing at the stars.
Koh Phi Phi Leh
Koh Phi Phi Leh, the smaller and less inhabited island, is famous for its breathtaking beauty and was catapulted to global fame by the movie "The Beach."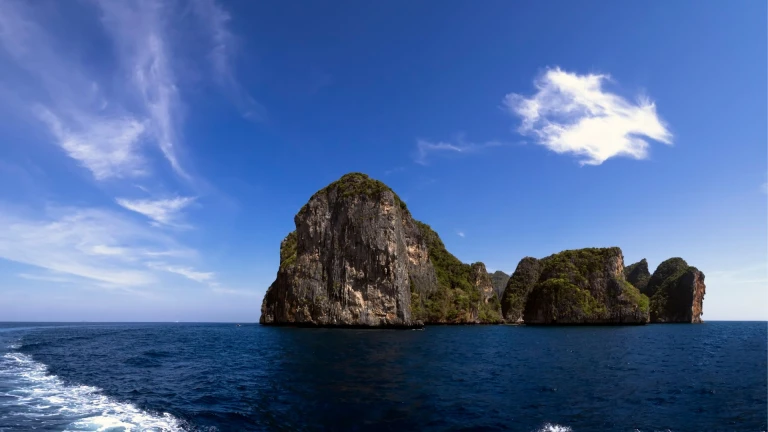 Famous for Maya Bay
Maya Bay, with its emerald waters, encircled by towering limestone cliffs, is an icon of Koh Phi Phi Leh. However, due to environmental concerns, it was temporarily closed for restoration. Check if it's open during your visit.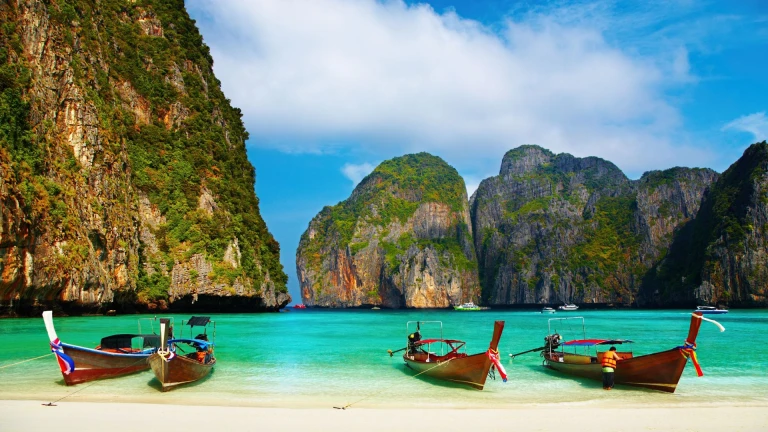 Other Highlights
Pileh Lagoon: This hidden lagoon is a snorkeler's paradise, with crystal-clear waters teeming with marine life.

Viking Cave: Known for its bird's nest harvesting, the cave's towering walls are covered in intricate paintings and carvings.
Island Hopping Tours
While exploring Koh Phi Phi Don and Leh is incredible in itself, one of the best ways to experience the region's beauty is through island hopping tours. Here are some popular options: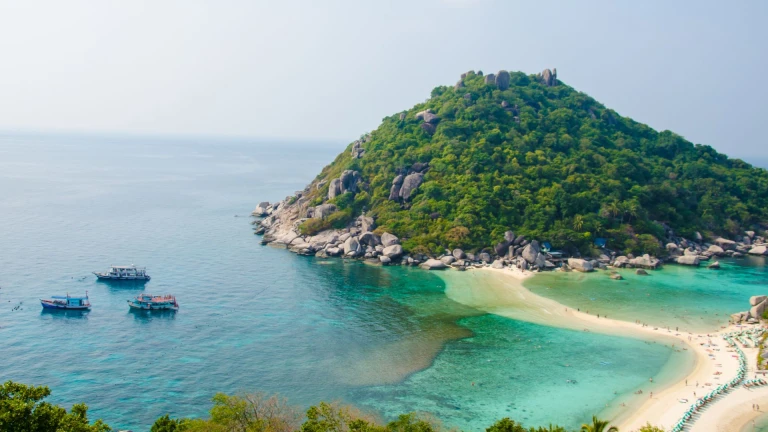 1. Four Islands Tour
This tour typically includes stops at Bamboo Island, Mosquito Island, Monkey Beach, and Phi Phi Leh. It's an excellent choice for snorkeling, sunbathing, and swimming with colorful marine life.
2. Phi Phi Leh Tour
If you're keen on experiencing the famous Phi Phi Leh, this tour is a must. It usually includes snorkeling at Maya Bay, exploring Pileh Lagoon, and visiting Viking Cave.
3. Sunset Cruise
For a romantic experience, consider a sunset cruise around the islands. Enjoy a picturesque sunset over the Andaman Sea while sipping cocktails on board.
4. Private Boat Charter
For a personalized adventure, rent a private boat. This option is perfect for families or groups of friends, allowing you to tailor your island-hopping experience.
Water Activities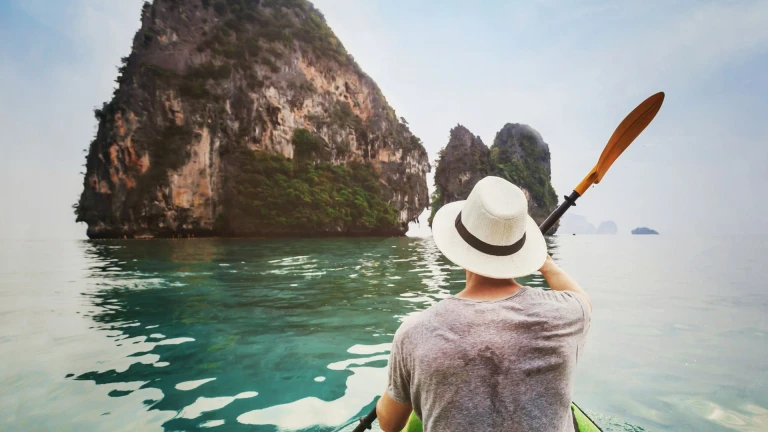 Koh Phi Phi offers a plethora of water activities to cater to all interests:
1. Snorkeling and Scuba Diving
The clear waters surrounding the islands are a paradise for divers and snorkelers. Dive into a world of vibrant coral reefs, schools of tropical fish, and even encounters with turtles and reef sharks.
2. Kayaking
Rent a kayak and explore hidden coves, caves, and lagoons at your own pace. Don't miss the enchanting Ao Nang Cave and the mesmerizing Viking Cave.
3. Cliff Jumping
If you're feeling adventurous, try cliff jumping at spots like Viking Cave and Maya Bay. The adrenaline rush combined with the stunning surroundings is an experience you won't forget.
Dining and Nightlife
Koh Phi Phi boasts a vibrant dining scene, offering both traditional Thai dishes and international cuisine. Don't leave without trying classics like Pad Thai, Green Curry, and Tom Yum Goong. As night falls, Tonsai Village transforms into a lively entertainment hub with beachfront bars, fire dancers, and parties that can last until the early hours.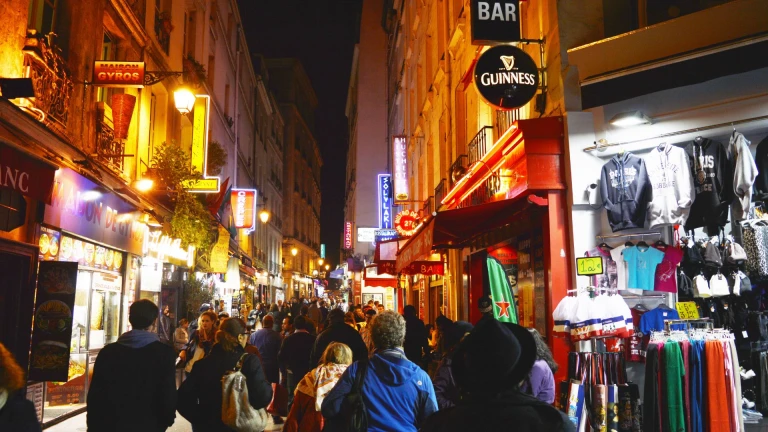 Practical Tips
Respect the local culture and environment by disposing of your trash responsibly and avoiding excessive noise during nighttime.

Pack essentials like sunscreen, swimwear, and insect repellent.

Check the weather forecast and tide schedules for the best snorkeling and diving conditions.

When participating in water activities, prioritize safety and ensure you're with experienced guides or operators.
Koh Phi Phi is a tropical paradise that will capture your heart with its natural beauty and vibrant atmosphere. Whether you're seeking adventure, relaxation, or a bit of both, this island-hopping tour guide will help you create unforgettable memories in 2023. Pack your bags, prepare for an adventure of a lifetime, and get ready to fall in love with Koh Phi Phi, where every moment is a postcard-worthy memory waiting to happen.

Also Read: Top 10 Cultural Destinations in Thailand for a Journey Through Tradition!