Destinations in Thailand are always worth the time and interest because they are filled with incredible stories or distinct traditions. With its innate natural beauty, such a country must have an impressive history behind it. Get to know what this ancient kingdom was and has become in the present day by touring these places.
Thailand tourist spots that highlight its history
1. Sukhothai Historical Park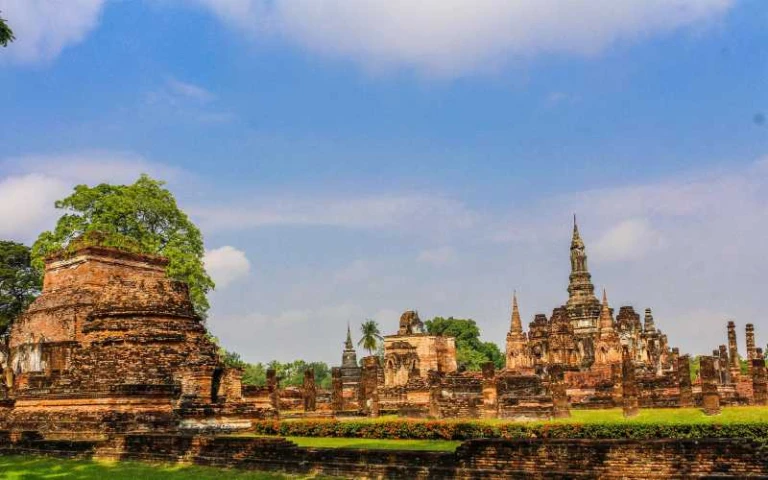 Image credit: icon0.com via Canva Pro
The ancient ruins discovered within Sukhothai Historical Park are breathtaking. The park contains so many historical sites that exploring it by bike or electric buggy will take almost a day. But every relic in this park holds a narrative waiting to be revealed.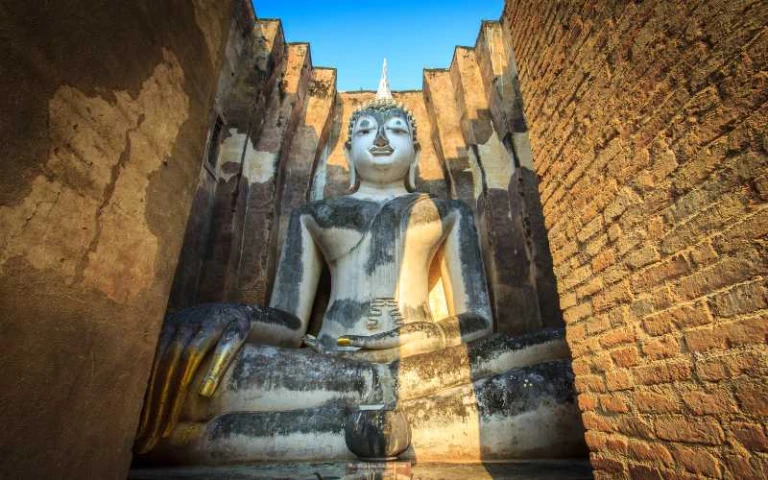 Image credit: southtownboy via Canva Pro
Wat Mahathat is a stupa (a Buddhist place of burial) within this World Heritage Park that you should visit. It is known as the Temple of the Great Relic and houses countless artefacts related to Buddhist tradition and practise. As a result, the stupa was the most important location during Sukhothai's reign as Thai capital. It also displays the best examples of Sukhothai architectural arts, such as the mandala pattern, lotus bud shape, and Buddha sculptures around its base. One of the must visit Destinations in Thailand
2. Phanom Rung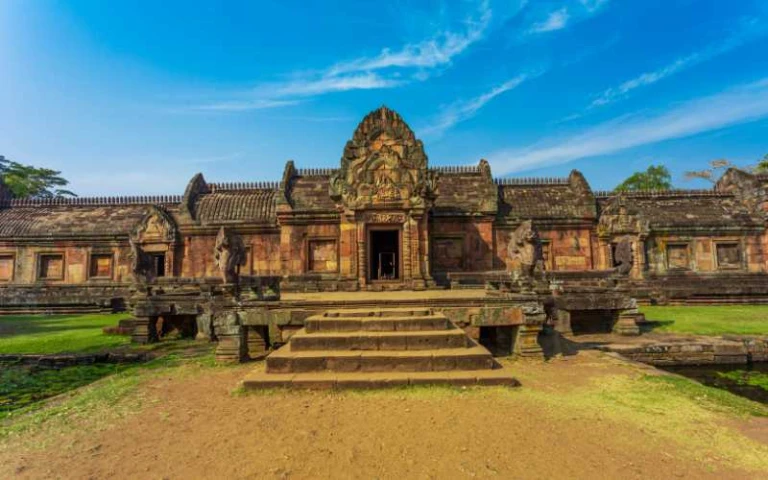 Image credit: banjongseal324 via Canva Pro
Visit Phanom Rung for an exciting and educational glimpse into Thai culture. Because of its unusual geological setting, this World Heritage site is one of Thailand's most popular tourist destinations. This whole Hindu temple complex has been sitting on the brink of a now-extinct volcano in Buriram Province for almost a millennium.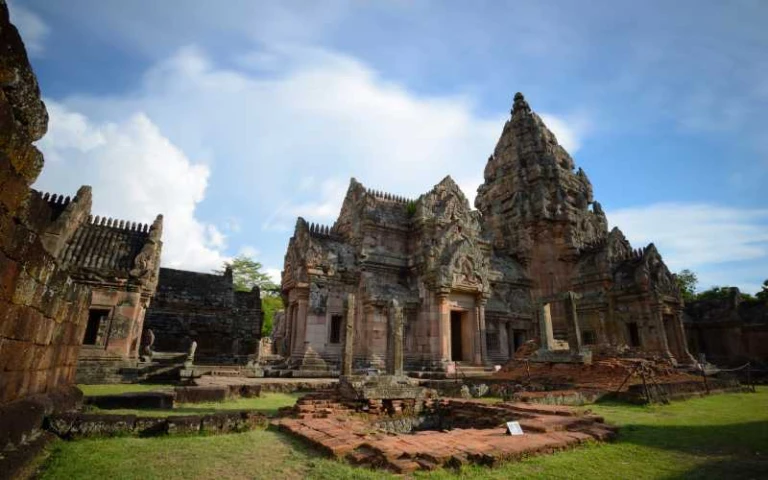 Image credit: montreehanlue via Canva Pro
Mount Kailash, the home of the Hindu god Shiva, is symbolised by Phanom Rung. In addition to being an important house of worship, the complex included structures with a variety of functions. Within the complex, there are two libraries, a hospital, and a place for travellers who want to stay. It also had a Royal Changing Pavilion for changing into different outfits during crucial rites. This demonstrates that Phanom Rung had a crucial role in the communities that around it.
Don't miss experiencing the Phra Narai Lintel, a priceless work of art that features the Hindu god Vishnu in a reclining posture.
3. Ancient Siam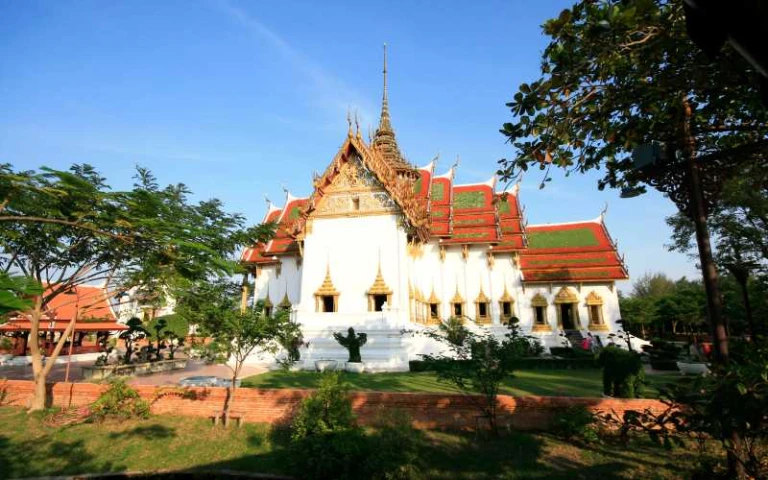 Image credit: zelg via Canva Pro
The idea for Ancient Siam originated with Lek Viriyaphant, a wealthy Thai man who had a passion for collecting art. He eventually became intrigued by the idea of building a facility for building replicas of historic sites or completely repairing them. He initially intended to build a golf course to display these restorations, but as the site expanded, he changed his mind and instead decided to build something more educational.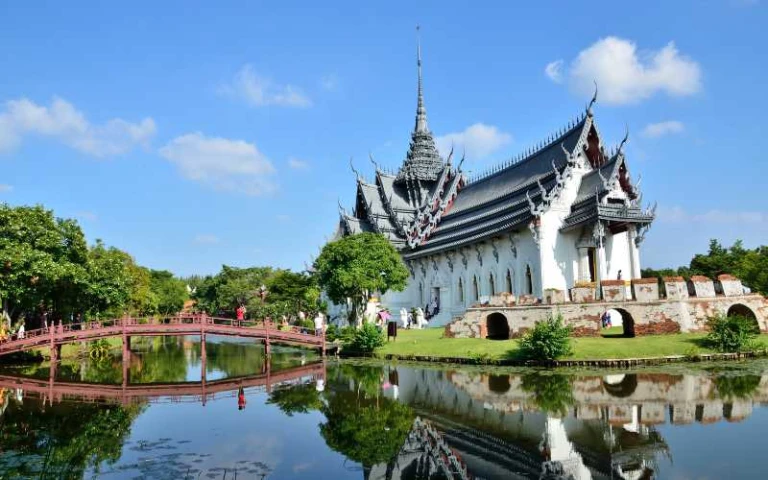 Image credit: Soraluk via Canva Pro
It is currently the biggest outdoor museum in the world and one of the top tourist destinations in Thailand for history buffs. Additionally, it has the same shape as the country itself!
The museum contains models of prehistoric buildings from Thailand up to the present day. A recreation of the Tiger King's Palace in Phetchaburi and the restoration of Wat Chong Kham are two examples. To support the preservation of Thailand's history and culture, Ancient Siam works closely with a group of specialists from the National Museum of Thailand.
4. The Bridge on the River Kwai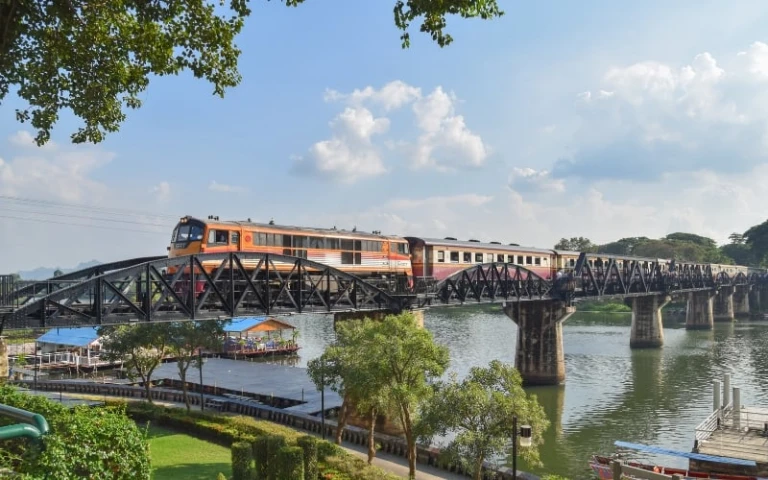 Image credit: Krzysztof Golik
Thailand takes pride in having resisted colonisation. While this is true it does not mean that Thailand was immune to World War II atrocities. The world-famous Bridge on the River Kwai stands as a memorial to the tragedy.
This bridge was constructed by a group of Dutch and British Captives who had been taken prisoner by Japan in 1942 and had been planned to be a component of the Burma Railway. Japan had already seized Kanchanaburi, but the supply line had not been completed in time. During its construction, numerous Prisoners died as a result of the brutal working conditions provided by the Imperial Japanese Army.
Although it is officially named as Bridge 277, due of the French novel and Hollywood film adaption, it is more commonly referred to as The Bridge on the River Kwai. Please keep in mind that the events represented in these works of media are highly fictionalised!
5. Ayutthaya Historical Park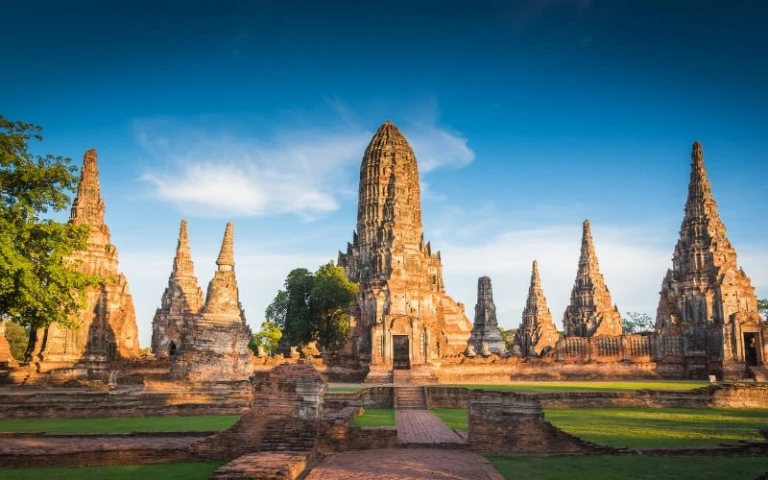 Image credit: karn684 via Canva Pro
The extensive remains of Ayutthaya Historical Park provides a proof that the second capital of Thailand flourished throughout its period. From 1378 to 1767, Ayutthaya served as the capital of Siam. According to certain evidence, Ayutthaya may have had connections to other parts of Asia, Arabia, and even Europe. It is still one of Thailand's most popular tourist spots, not just for tourists but also for locals.
It remains respected as one of Thailand's holiest destinations today. Due to its role as the first Buddhist university in the nation, Wat Mahathat Temple is highly regarded. There are still some monks in this area who volunteer to instruct visitors in appropriate meditation.
Places to visit in Thailand to immerse in the culture
6. The Elephant Jungle Sanctuary
Image credit: Konstantin Symeonidis via Canva Pro
Elephants and the Thai people share a truly unbreakable bond. The country has benefited from the strength of these magnificent beasts during its development as a nation and the battles it has fought. As deforestation threatens their natural habitats, their population has sadly been abused for tourism over time. Indian elephants are a subspecies of Asian elephants, and they are protected by The Elephant Jungle Sanctuary in Thailand. Additionally, it aims to raise awareness about actions that could endanger elephants in the future.
The Elephant Jungle Sanctuary has several locations in Thailand, but its flagship location is in Chiang Mai. Visitors can schedule tours to enjoy the company of these gentle giants while also learning about elephant conservation practises. If you wish to embrace ethics while travelling, this is one of the best places to visit in Thailand.
7. New Lumpinee Stadium
Image credit: Mr.Peerapong Prasutr
Despite its beautiful appearance, muay thai is not for the faint of heart. However, there is no questioning the importance of "the art of eight limbs" in Thailand's history and culture. Both kings and peasants enjoyed the spectacles it produced at ancient festivals. Because of its practical application, soldiers in the military had to learn it.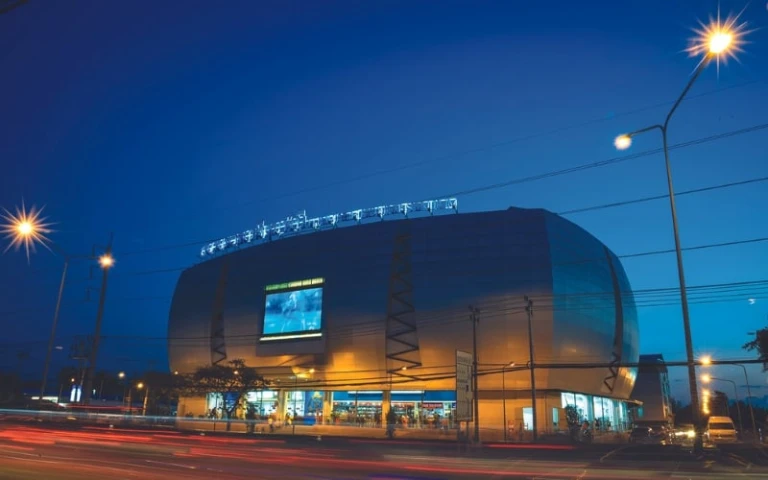 Image credit: Mr.Sayompoo Setabhrahmana
Today, it is a thrilling sport that attracts both locals and tourists. Major fights happen frequently in Bangkok's New Lumpinee Stadium. It is an updated version of the previous stadium that was first constructed in 1956 and draws many of fans of combat sports.
The Royal Thai Army manages this busy stadium, which hosts matches three times a week. If you're looking for furious flying knees and elbows, New Lumpinee Stadium can only accommodate the most spectacular fights.
8. The Grand Palace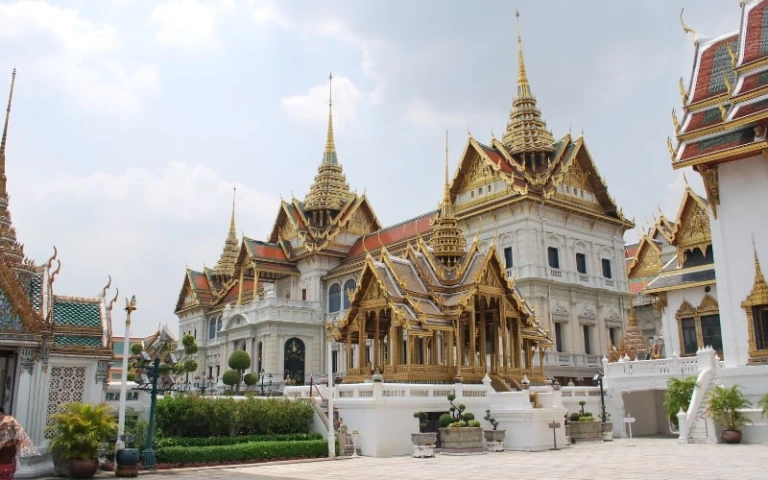 Image credit: TJ Alex via Canva Pro
No trip to Thailand would be complete without visiting the Grand Palace, which is located in the centre of Bangkok. Although this group of structures serves a variety of purposes, it is best known for serving as the royal family's home ever since Bangkok became Thailand's capital. Some buildings are used as ceremonial spaces for ceremonies or as administrative offices. The palace complex also provides accommodation for dignitaries, ambassadors, and VIPs from other countries.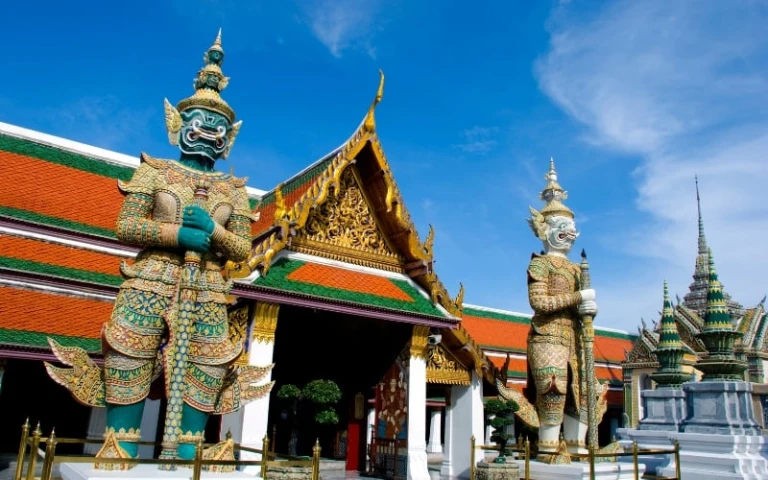 Image credit: richliy via Canva Pro
Booking a day tour might be a good idea if you want to fully comprehend the Grand Palace's significance. The complex features specific areas designated for each of its purposes. Given its large size, average tour times may take up to half a day for a complete description of the structures. In spite of this, there is no denying that the Grand Palace's architecture and interior artwork are both breathtakingly gorgeous.
9. Ban Chiang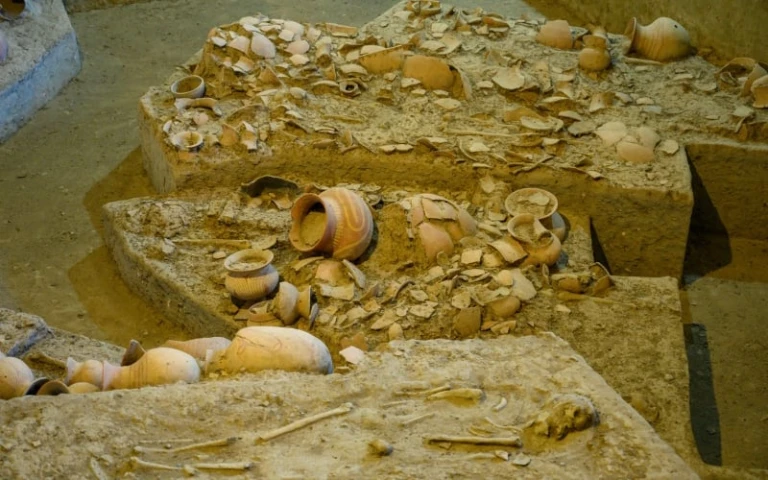 Image credit: xiquinhosilva
Ban Chiang, one of Southeast Asia's most significant archaeological sites, has always attracted scholars, even before it became a popular tourist destination in Thailand. Numerous theories contend that thousands of years before Siam and Thailand were ever conceivable, this location served as the cultural centre of a prehistoric society.
There was evidence of advanced metallurgy at the historical site. Iron casting and bronzework equipment discovered on the site date back at least 4,000 years. In addition to craftsmanship, distinct red pots were discovered. Historians believe that the ancient civilisation that lived in Ban Chiang used these pots in cultural and social interactions with other civilizations.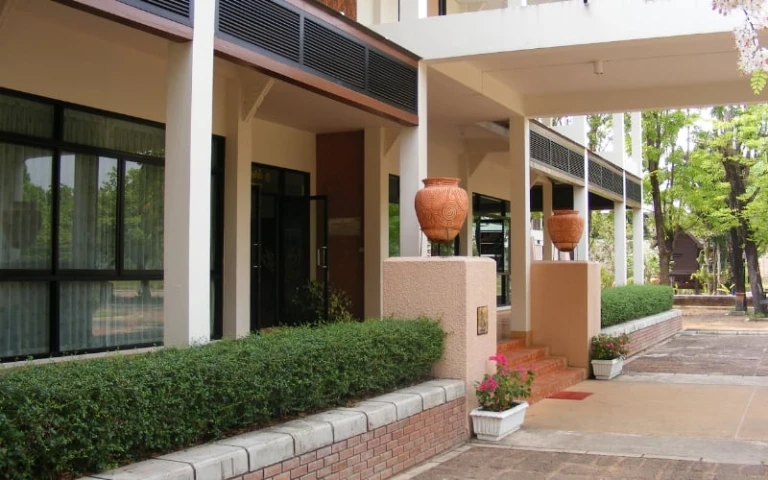 Image credit: User:Mattes
Due to their value, some of these pots were stolen by locals. A few recovered artefacts are on display in the Ban Chiang National Museum.
10. Khao Yai National Park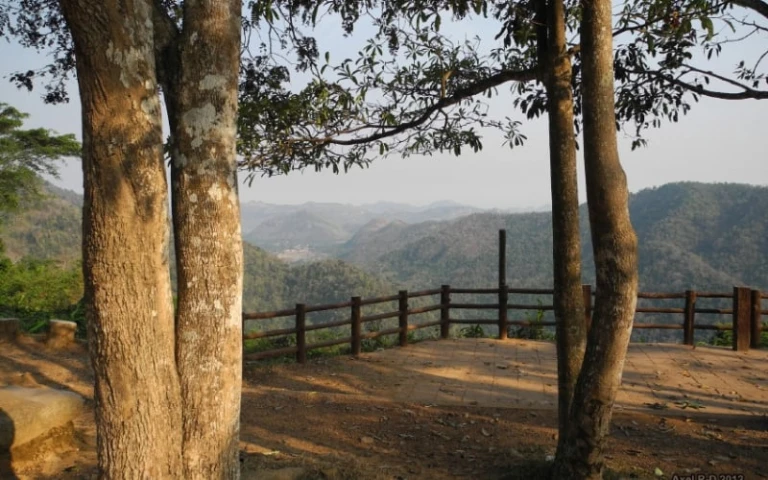 Image credit: Axel Drainville
Given that it was the nation's first national park to be formed, Khao Yai is one of Thailand's most significant tourist sites. It's situated west of the Sankamphaeng Mountain Range and is Thailand's third-largest national park. This national park is one of the few locations where wild creatures like elephants and black bears can travel freely, and it is home to a variety of flora and fauna. It even succeeded in hiding criminals from the law at one point, before it was designated a national park, due to its isolation.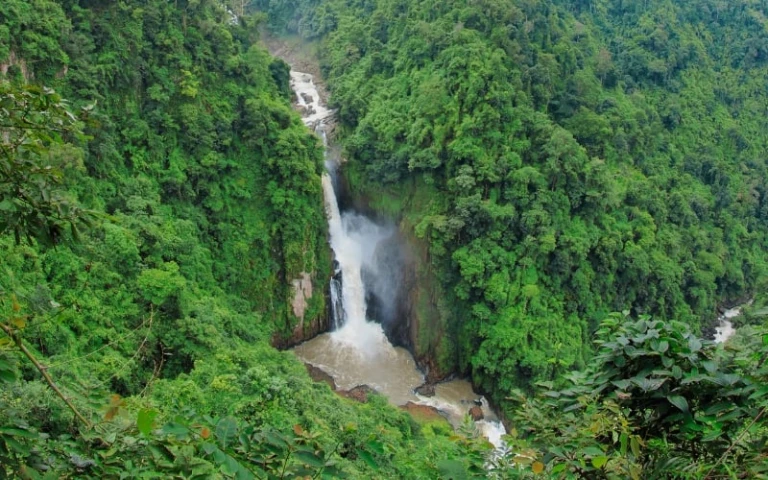 Image credit: kidsada Manchinda via Canva Pro
In Khao Yai National Park, there is no shortage of breathtaking waterfalls that are all accessible. Haew Narok Waterfall, with a height of 150m, is the tallest.In addition to being breathtaking, the Pha Kluai Mai Waterfall is well known for the orchids that grow nearby. Finally, despite the fact that swimming in the basin of the Haew Su Wat Waterfall is fantastic, local officials forbid it because of the choppy flood waters.
There are still so many activities that travellers can do when going to Thailand tourist spots. Each of them will help you know Thailand a little bit better. But for a trip that aims to provide more context behind its culture and history, these are some of the best destinations in Thailand.