Goa, often referred to as the "Pearl of the Orient," is a small but vibrant state on the western coast of India. Known for its stunning beaches, rich culture, and warm hospitality, Goa is a fantastic destination for family vacations.
With a perfect blend of relaxation, adventure, and cultural experiences, there's something for everyone in the family to enjoy. In this article, we'll explore the top attractions and provide some useful tips for a memorable family trip to Goa.
1. Beach Fun:
Sunset Beach Party, Goa, India
Goa is synonymous with its beautiful beaches. Spend quality time with your family on the golden sands of beaches like Baga, Calangute, Palolem, and Anjuna. Build sandcastles, play beach volleyball, or simply soak up the sun. Many beaches also offer water sports activities for the adventurous ones.
2. Explore Historic Forts: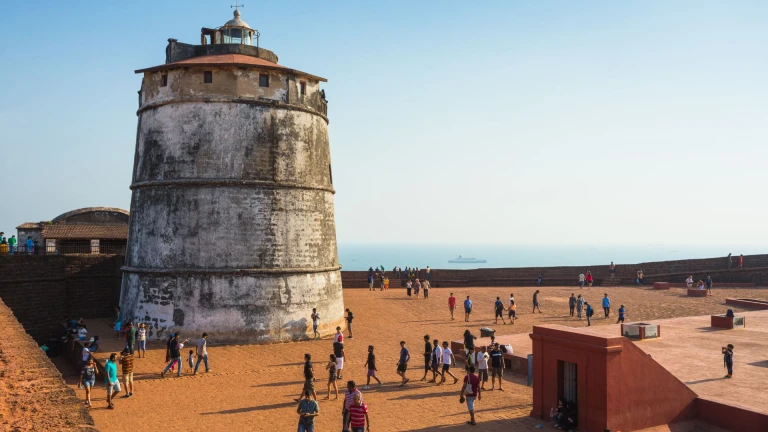 Aguada Fort, Goa
Goa is home to some well-preserved forts, including Aguada Fort and Chapora Fort. These historical sites provide an excellent opportunity for families to learn about the state's past while enjoying panoramic views of the coastline.
3. Wildlife Sanctuaries: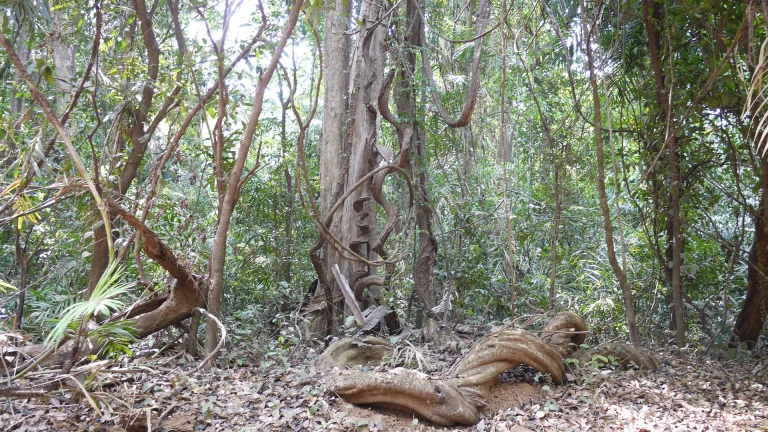 Bhagwan Mahavir Wildlife Sanctuary, Goa
Take your family on an exciting adventure to the Bhagwan Mahavir Wildlife Sanctuary or the Cotigao Wildlife Sanctuary. Here, you can spot various animals and enjoy the lush greenery of the Western Ghats.
4. Waterfalls: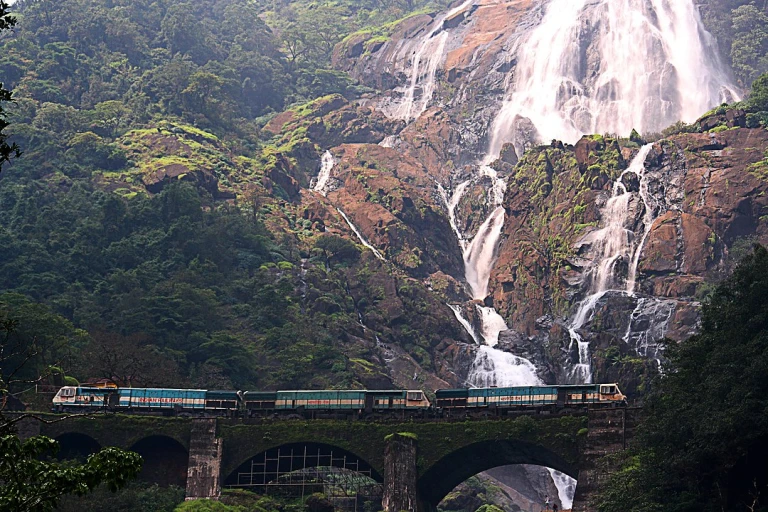 Dudhsagar Falls, Goa
Dudhsagar Waterfalls, one of India's tallest waterfalls, is a short drive from the capital city, Panaji. The sight of water cascading down amidst the dense forest is a visual treat and a great place for family photography.
Read more: How to plan a budget trip to Goa in 2023?
5. Visit Temples and Churches: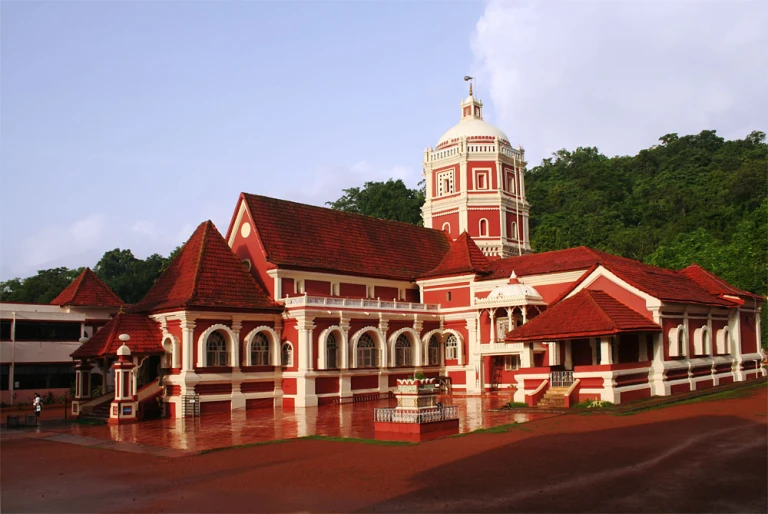 Shri Shantadurga Temple, Goa
Goa's cultural diversity is reflected in its many temples and churches. Explore the famous temples like Shri Mangeshi Temple and Shri Shantadurga Temple, along with the Basilica of Bom Jesus and Se Cathedral for a spiritual and educational experience.
6. Museums and Art Galleries: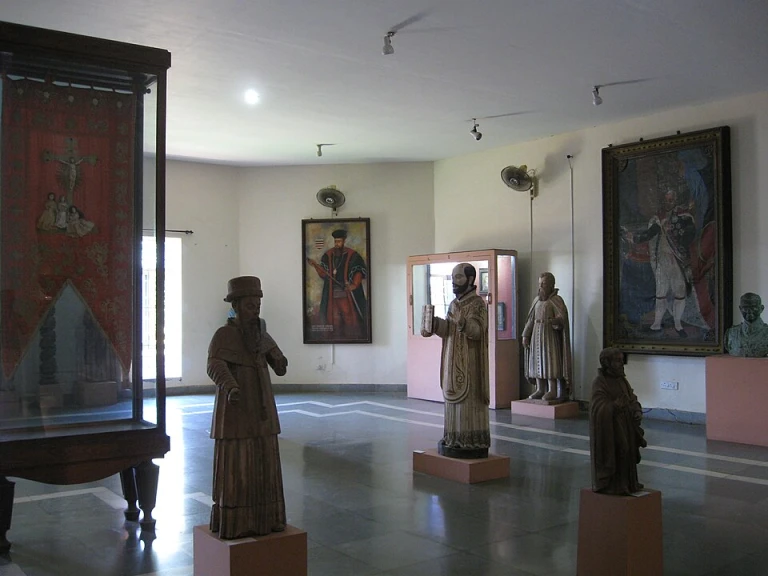 Goa State Museum
The state also boasts a rich art and cultural scene. Visit the Goa State Museum and contemporary art galleries to introduce your family to Goa's artistic heritage.
7. Dolphin Watching: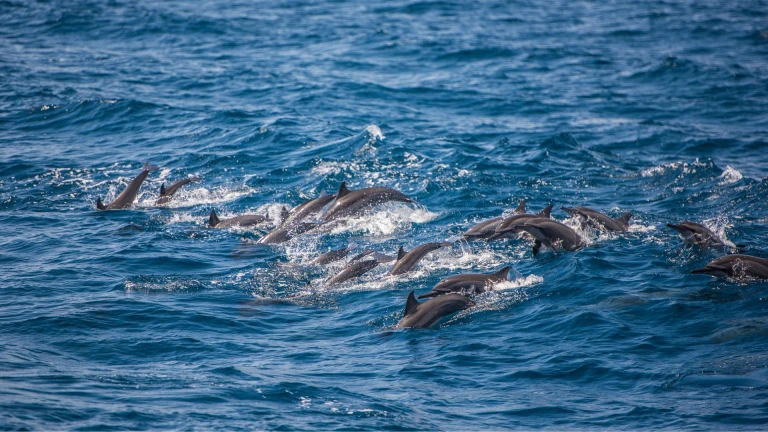 Dolphin Watching
Take a boat ride from Palolem or Sinquerim to spot playful dolphins in the Arabian Sea. It's a thrilling experience for kids and adults alike.
Read more: 20 Things to Do in Goa 2023 - Activities and Attractions
Tips for a Memorable Family Trip to Goa:
Plan Ahead: Goa is a popular tourist destination, so it's essential to plan your trip well in advance. Make reservations for accommodations, especially during the peak season.

Choose Family-Friendly Accommodations: Opt for family-friendly resorts or hotels that offer amenities like swimming pools, kids' clubs, and recreational activities for children.

Travel Light: Pack light but smart. Goa's climate is mostly warm and humid, so bring comfortable clothing, sunscreen, hats, and swimwear. Don't forget insect repellent for the evenings.

Cuisine Exploration: Goa is famous for its seafood and local dishes. Encourage your family to try Goan cuisine, but also ensure there are familiar options for picky eaters.

Respect Local Customs: While Goa is quite liberal, it's essential to respect local customs and dress modestly when visiting temples and churches.

Safety First: Keep a close watch on your children, especially at the beaches and during water sports activities. Use sunscreen to protect everyone from the sun's rays.

Transportation: Renting a car or scooters can be a convenient way to explore the state, but ensure your family's safety by wearing helmets and driving responsibly.

Language: While Konkani is the state's official language, English and Hindi are widely spoken. This makes communication relatively easy for tourists.

Cash and ATMs: Carry enough cash, as not all places accept cards. ATMs are available in major towns, but it's always a good idea to have some cash on hand.

Enjoy the Serenity: While Goa is famous for its nightlife and parties, it also offers serene and peaceful locations. Plan for a mix of relaxation and adventure to make the most of your trip.
Goa, with its warm and inviting atmosphere, is a wonderful destination for a family vacation. By following these tips and exploring the top attractions, you're sure to create lasting memories with your loved ones in this coastal paradise.
Whether you're lounging on the beaches, exploring historical sites, or delving into the local culture, Goa offers a wide range of experiences that can be enjoyed by visitors of all ages.