Goa, India's sunshine state, is renowned for its pristine beaches, vibrant culture, and a laid-back atmosphere. However, there's more to Goa than just its coastline and nightlife. One of the most exciting aspects of visiting Goa is the opportunity to explore its diverse and colorful shopping markets. From bustling bazaars to quaint flea markets, the shopping scene in Goa offers a fascinating blend of local and international wares. In this travel blog, we'll guide you through the 10 must-visit shopping markets in Goa, where you can find everything from traditional handicrafts to modern fashion and more.
Also Read: 20 Things to Do in Goa 2023 - Activities and Attractions
1. Anjuna Flea Market
Location: Anjuna Beach, North Goa
Open: Wednesdays (9:00 AM - 6:00 PM)
The Anjuna Flea Market is an iconic shopping destination in Goa, attracting visitors from all over the world. Established in the 1960s by the hippie community, this market is a treasure trove of clothing, jewelry, art, and more. You'll find everything from bohemian chic clothing to handmade accessories and home décor. Don't forget to haggle for the best prices, and soak in the lively atmosphere with live music and food stalls.
What to Buy
Bohemian Clothing: Anjuna Flea Market is famous for its eclectic collection of bohemian-style clothing, including tie-dye dresses, harem pants, and flowy skirts.

Handmade Jewelry: Discover unique handcrafted jewelry pieces, from beaded bracelets to intricate silver and gemstone creations.

Local Art: Shop for paintings, sculptures, and other artistic creations from local artists.

Home Décor: Find colorful tapestries, dream catchers, and other items to spruce up your living space.

Goan Spices: Don't forget to grab some authentic Goan spices to add a taste of Goa to your cooking.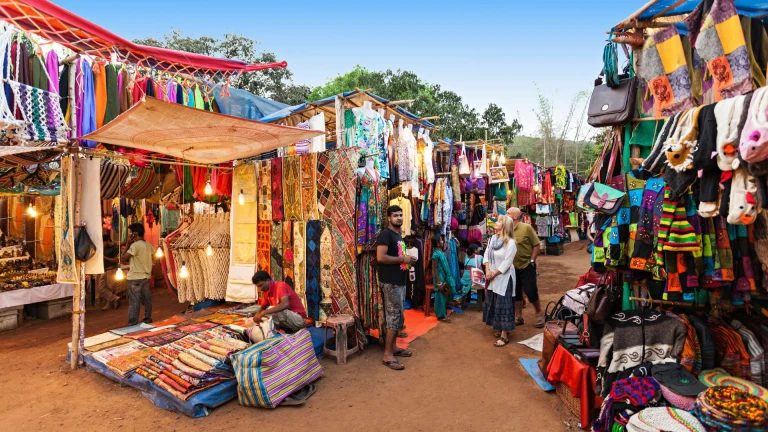 2. Mapusa Market
Location: Mapusa, North Goa
Open: Daily (6:00 AM - 8:00 PM)
If you want to experience the essence of a Goan marketplace, head to Mapusa Market. This daily market is a bustling hub for locals and tourists alike. Here, you can explore a wide variety of goods, including fresh produce, spices, pottery, textiles, and souvenirs. Try the local street food, and don't forget to visit the nearby St. Jerome Church for a spiritual touch to your shopping excursion.
What to Buy
Fresh Produce: Explore stalls of fresh fruits, vegetables, and seafood.

Spices: Purchase aromatic Goan spices, such as cardamom, cinnamon, and turmeric.

Textiles: Buy colorful saris, fabrics, and traditional Goan clothing.

Pottery: Discover beautifully handcrafted pottery items.

Souvenirs: Pick up souvenirs like trinkets, prayer beads, and more.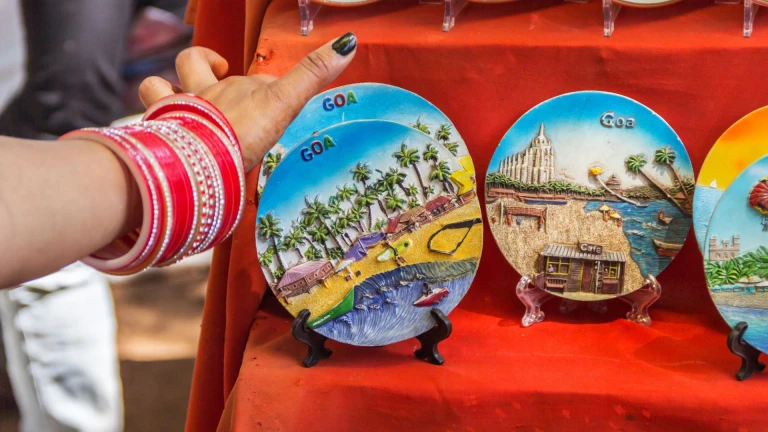 3. Calangute Market
Location: Calangute, North Goa
Open: Daily (9:00 AM - 9:00 PM)
Calangute Market, located in the heart of North Goa, is a shopper's paradise. It's an ideal place to pick up beachwear, jewelry, and other souvenirs. This market is known for its colorful and vibrant shops, and you can often find great deals on clothing and accessories. When you're done shopping, explore the nearby Calangute Beach for a refreshing dip in the sea.
What to Buy
Beachwear: Shop for swimwear, sarongs, and flip-flops for your beach outings.

Jewelry: Find a variety of jewelry, including silver, beaded, and shell designs.

Souvenirs: Collect mementos like keychains, fridge magnets, and postcards.

Local Handicrafts: Explore handicrafts such as carved wooden items and hand-painted ceramics.

Clothing: Browse through a range of casual clothing, including t-shirts and shorts.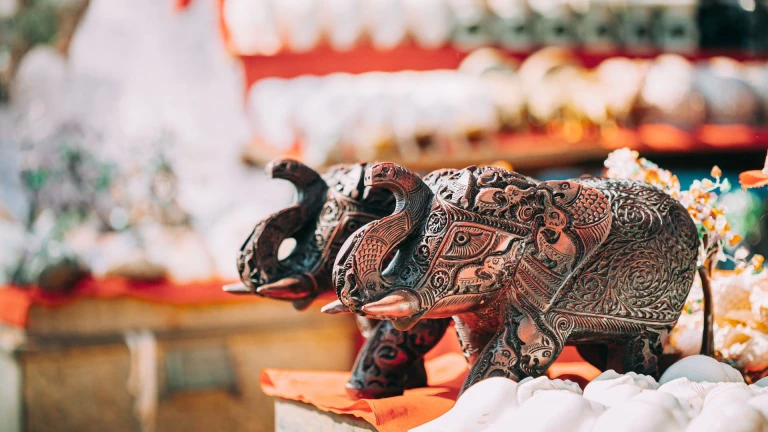 4. Palolem Market
Location: Palolem Beach, South Goa
Open: Daily (10:00 AM - 9:00 PM)
Palolem Market, situated near the serene Palolem Beach in South Goa, offers a unique shopping experience. It's a relatively small market but is perfect for picking up jewelry, clothing, and handicrafts made by local artisans. After shopping, you can unwind on the picturesque Palolem Beach or enjoy a quiet meal at one of the nearby shacks.
What to Buy
Handmade Jewelry: Admire and purchase unique jewelry pieces crafted by local artisans.

Clothing: Look for vibrant clothing, including beach cover-ups and dresses.

Hippie Fashion: Discover the iconic tie-dye and bohemian fashion.

Art and Crafts: Explore handmade art and crafts items, such as wall hangings and dream catchers.

Local Souvenirs: Find souvenirs like shell jewelry and seashell-decorated items.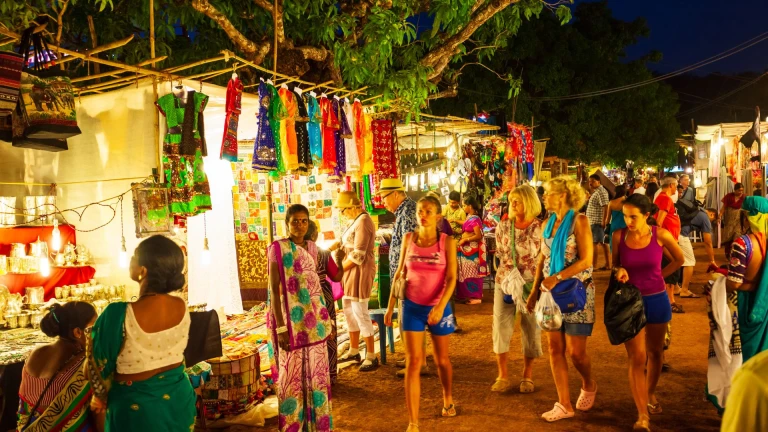 5. Colva Beach Market
Location: Colva Beach, South Goa
Open: Daily (9:00 AM - 9:00 PM)
Colva Beach Market is another fantastic shopping spot in South Goa. It's famous for its beachside shopping shacks that sell everything from sarongs and trinkets to handicrafts and souvenirs. You can spend hours strolling along the beach while exploring the market and enjoying the sea breeze.
What to Buy
Sarongs and Beachwear: Choose from a variety of colorful sarongs, swimsuits, and beach dresses.

Jewelry: Find fashionable costume jewelry, including beaded necklaces and bracelets.

Henna Tattoos: Get intricate henna tattoos done by local artists.

Local Snacks: Savor delicious Goan snacks and street food.

Beach Accessories: Shop for beach bags, hats, and sunglasses.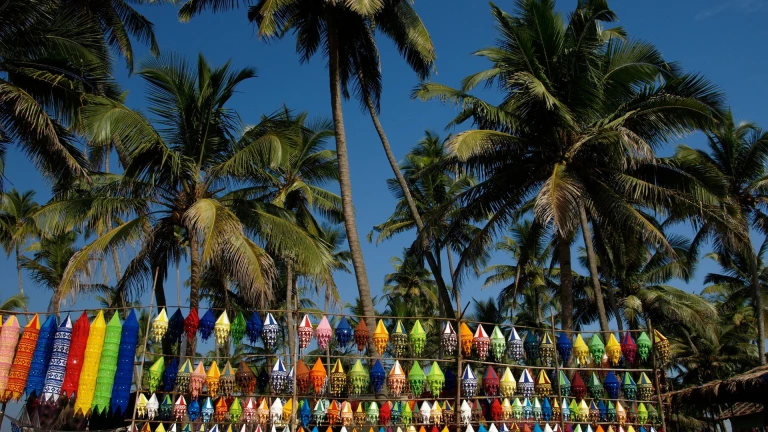 6. Calangute Bazaar
Location: Calangute, North Goa
Open: Daily (10:00 AM - 8:00 PM)
Calangute Bazaar is a lively market with a blend of local and international products. It's perfect for shoppers looking for clothing, accessories, and beach essentials. The market is surrounded by restaurants and cafes, making it a great place to take a break and savor some Goan cuisine.
What to Buy
Fashion and Accessories: Explore a variety of clothing, footwear, and accessories for men and women.

Electronics: Find budget-friendly electronic gadgets, including mobile phone accessories.

Local Handicrafts: Discover handmade products such as carved wooden items, pottery, and baskets.

Restaurants and Cafes: Enjoy Goan and international cuisine at nearby eateries.

Beauty Products: Purchase skincare and beauty products, including essential oils and herbal remedies.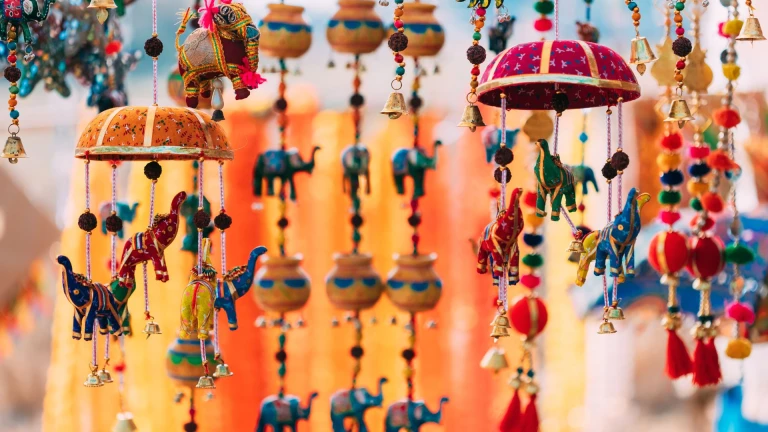 7. Tibetan Market
Location: Baga Beach, North Goa
Open: Daily (11:00 AM - 10:00 PM)
The Tibetan Market at Baga Beach is where you can find unique Tibetan handicrafts and clothing. From jewelry and rugs to clothing and meditation bowls, this market offers a peaceful shopping experience. After shopping, you can take a short walk to Baga Beach and enjoy the serene coastal views.
What to Buy
Tibetan Handicrafts: Shop for traditional Tibetan handicrafts, including prayer flags, singing bowls, and thangka paintings.

Tibetan Jewelry: Find intricately designed Tibetan jewelry featuring turquoise, coral, and silver.

Clothing: Explore clothing with Tibetan and bohemian influences, such as colorful harem pants and embroidered tops.

Home Décor: Discover unique home décor items like Tibetan rugs and tapestries.

Meditation Accessories: Buy meditation cushions, incense, and singing bowls for a peaceful atmosphere.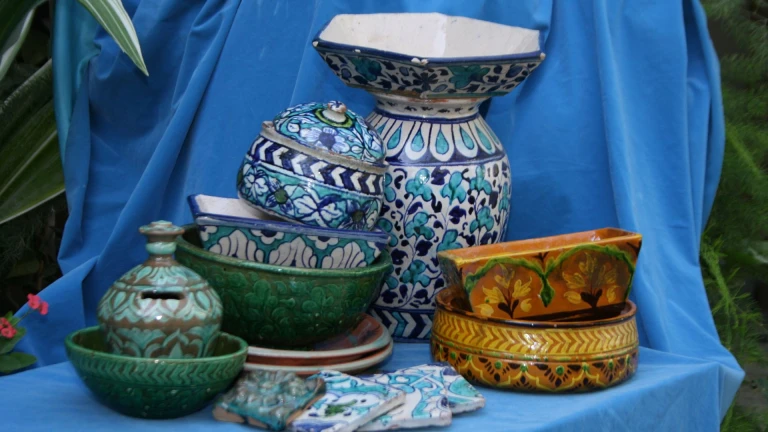 8. Ingo's Saturday Night Market
Location: Arpora, North Goa
Open: Saturdays (6:00 PM - 1:00 AM)
Ingo's Saturday Night Market is a vibrant and diverse market that operates only on Saturdays. It's a fantastic place to explore international cuisine, live music, and a wide range of products from around the world. You can find handmade crafts, clothing, jewelry, and even antiques here. It's a must-visit for anyone looking to experience Goa's eclectic side.
What to Buy
International Clothing: Explore a wide range of international fashion, from Moroccan kaftans to Thai fisherman pants.

Handmade Jewelry: Find exquisite jewelry items, including beaded necklaces and semi-precious stones.

World Cuisines: Sample dishes from around the globe, such as Mexican, Thai, and Italian cuisine.

Live Music and Entertainment: Enjoy live music performances and other entertainment options.

Unique Handicrafts: Browse through unique handicrafts, antiques, and eclectic home décor items.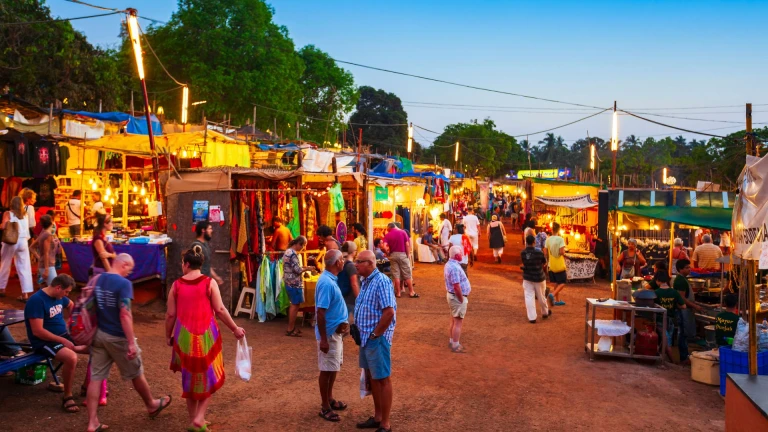 9. Quepem Market
Location: Quepem, South Goa
Open: Daily (6:00 AM - 8:00 PM)
Quepem Market is a hidden gem in South Goa, offering an authentic and local shopping experience. This market is famous for its fresh produce, spices, and a variety of traditional Goan goods. It's a great place to buy spices to take home and add a touch of Goa to your cooking.
What to Buy
Goan Spices: Stock up on aromatic Goan spices, including cardamom, cloves, and kokum.

Local Handicrafts: Purchase handmade items such as coir products, pottery, and wooden carvings.

Traditional Goan Sweets: Satisfy your sweet tooth with Goan specialties like bebinca and doce.

Fresh Produce: Buy fresh fruits and vegetables sourced from local farms.

Antiques: Explore antique shops and find unique collectibles.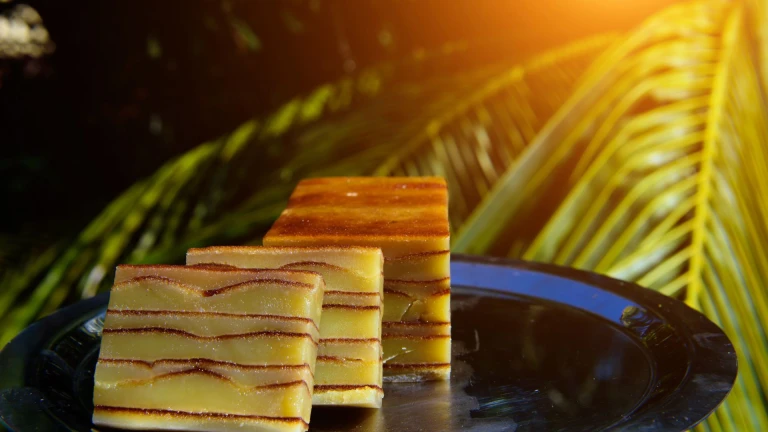 10. Mackie's Night Bazaar
Location: Arpora, North Goa
Open: Saturdays (6:00 PM - 1:00 AM)
Mackie's Night Bazaar is a delightful market that comes to life on Saturday evenings. It offers a range of products, from clothing to souvenirs and electronics. The market also hosts live music, making it a lively place to shop and enjoy the Goan nightlife simultaneously.
What to Buy
Fashion and Accessories: Shop for clothing, footwear, and accessories from local and international brands.

Electronics: Find gadgets, mobile accessories, and tech gear.

Home and Décor: Discover home décor items, including wall art, rugs, and furniture.

Global Street Food: Relish a variety of street food from different cuisines.

Entertainment and Live Music: Enjoy live performances, including music and cultural displays.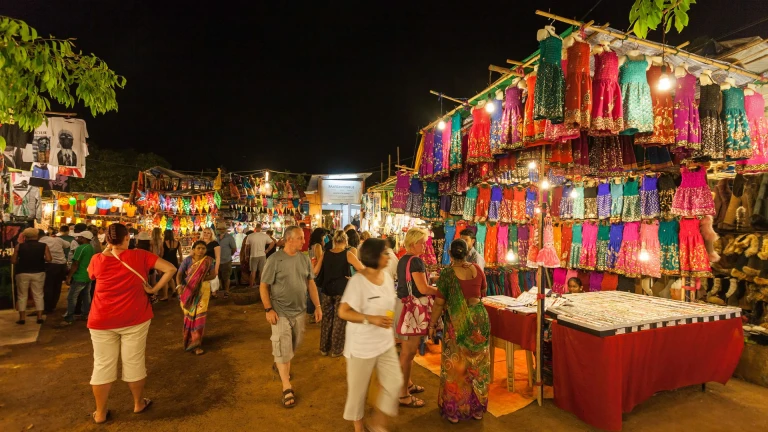 Also read: Things to do in Goa with your Bachelor friends 2023
Shopping in Goa is an experience in itself, with a wide array of markets offering everything from traditional Goan handicrafts to international fashion. Each market has its own unique charm and offerings, ensuring that you'll find something special to take home. So, whether you're a shopaholic or simply looking for mementos of your Goa vacation, these 10 must-visit shopping markets will undoubtedly enhance your experience in this beautiful coastal paradise. Don't forget to haggle, try local snacks, and immerse yourself in the vibrant atmosphere of these markets as you explore the enchanting world of shopping in Goa.
Also Read: Things to do in Goa with your Bachelor friends 2023