Bhutan, a jewel nestled in the Eastern Himalayas, is not only renowned for its breathtaking landscapes and unique culture but also for its distinctive souvenirs that reflect the essence of this mystical kingdom.
If you're planning a visit to Bhutan, don't miss the opportunity to bring home a piece of its rich heritage. In this guide, we'll explore the top souvenirs to buy in Bhutan that will serve as cherished reminders of your unforgettable journey.
1. Traditional Bhutanese Clothing (Gho and Kira):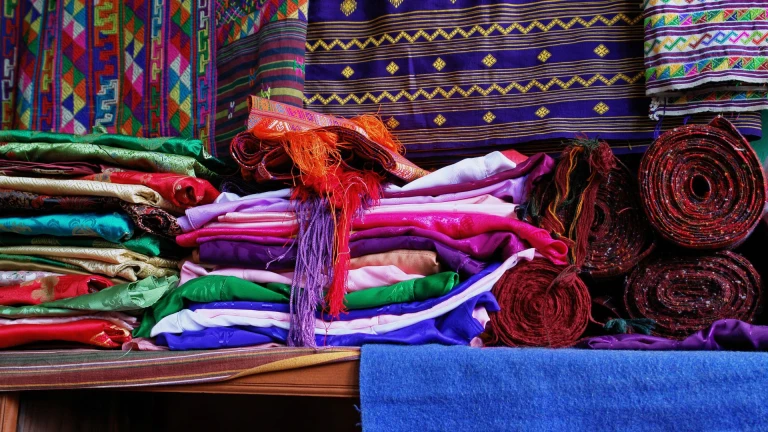 Bhutanese Clothing
Embrace Bhutanese culture by investing in the country's traditional clothing. The Gho, worn by Bhutanese men, and the Kira, worn by women, are intricately designed garments that showcase the nation's vibrant colors and patterns. These pieces are not just clothing; they are a tangible expression of Bhutanese identity.
2. Handwoven Textiles: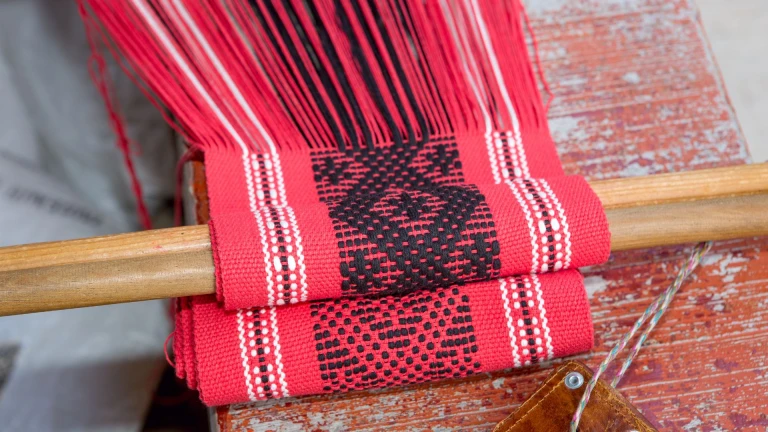 Handwoven Textiles
Bhutanese textiles are renowned for their quality and craftsmanship. Look for handwoven fabrics like the Yathra, a colorful woolen textile, and the delicate raw silk pieces. These textiles often feature traditional Bhutanese motifs and are perfect for adding a touch of Bhutanese charm to your home.
3. Thangka Paintings: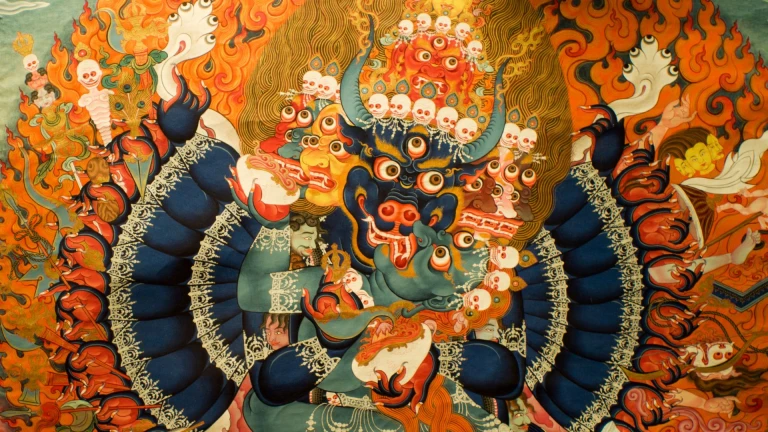 Thangka Paintings
Immerse yourself in Bhutanese spirituality with Thangka paintings, intricate religious artworks that often depict Buddhist deities, mandalas, and scenes from the life of Buddha. These finely detailed paintings are not only aesthetically pleasing but also hold deep spiritual significance.
Read more: Travel Guide to Bhutan from India 2023
4. Bhutanese Incense: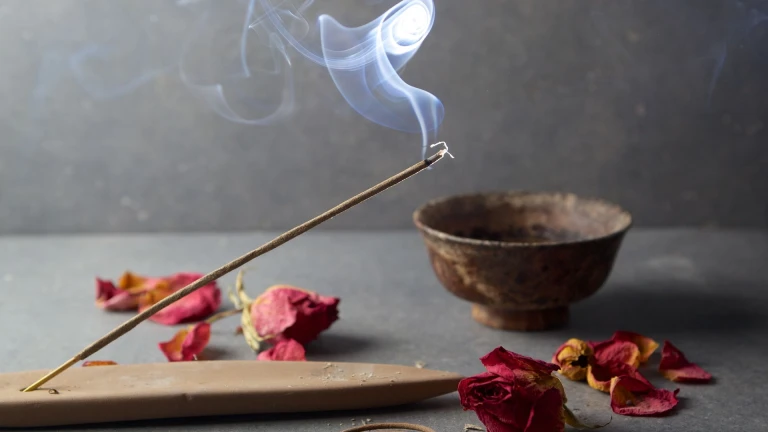 Bhutanese Incense
Engage your senses with the fragrant aroma of Bhutanese incense. Made from a blend of medicinal herbs and plants, Bhutanese incense is believed to have therapeutic properties. It's a thoughtful and unique gift that brings a piece of Bhutan's spiritual ambiance into your home.
5. Bhutanese Handicrafts: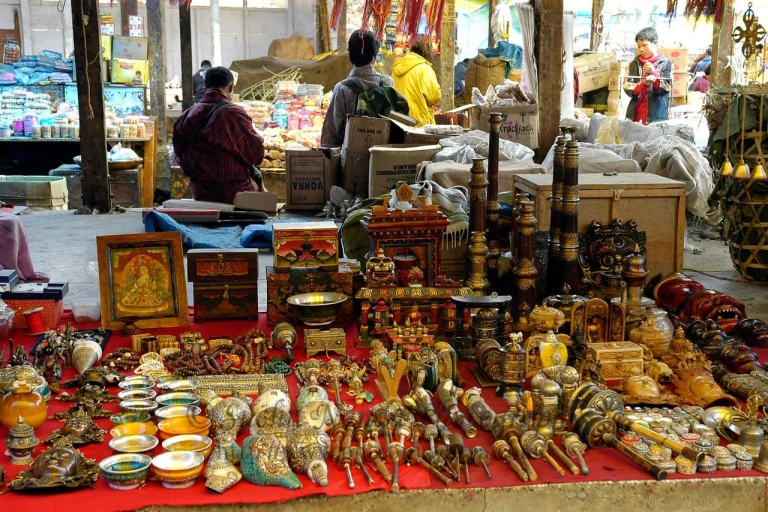 Bhutanese Handicrafts
Explore the local markets for a variety of handmade crafts such as wooden bowls, masks, and bamboo products. Each item is a testament to the skill and dedication of Bhutanese artisans, showcasing the country's commitment to preserving traditional craftsmanship.
6. Bhutanese Jewelry: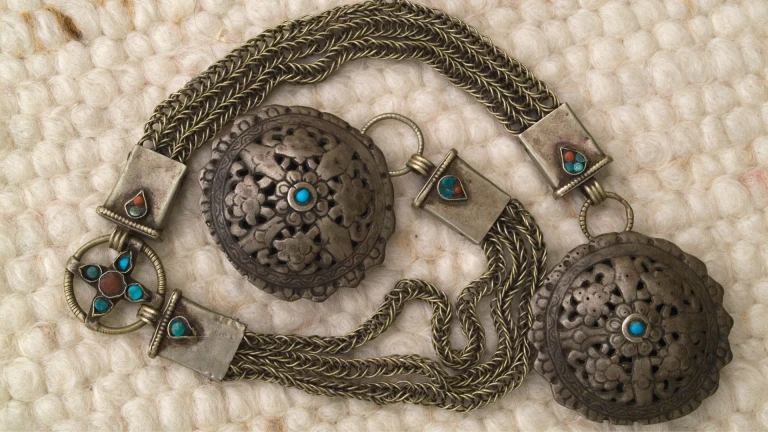 Bhutanese Jewelry
Adorn yourself with the intricate jewelry of Bhutan, which often features religious symbols and traditional motifs. Look for silver and turquoise pieces that capture the essence of Bhutanese design.
7. Bhutanese Red Rice: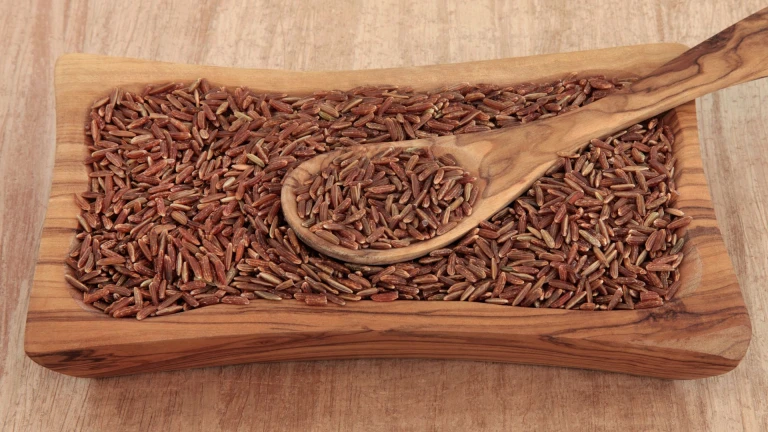 Bhutanese Red Rice
Take a taste of Bhutan home with you by bringing back the famous Bhutanese red rice. Known for its nutty flavor and nutritional benefits, this unique rice variety is a staple in Bhutanese cuisine and makes for a delicious and practical souvenir.
8. Bhutanese Paper Products: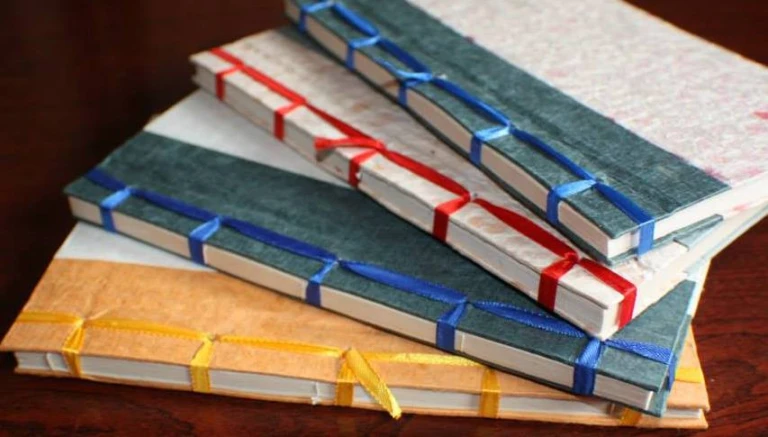 Bhutanese Handmade paper Img: Bhutan handmade paper
Bhutanese paper is handmade from the bark of the Daphne tree, creating a sturdy and eco-friendly material. Consider purchasing journals, notebooks, or traditional prayer flags made from Bhutanese paper, combining functionality with cultural significance.
9. Bhutanese Tea: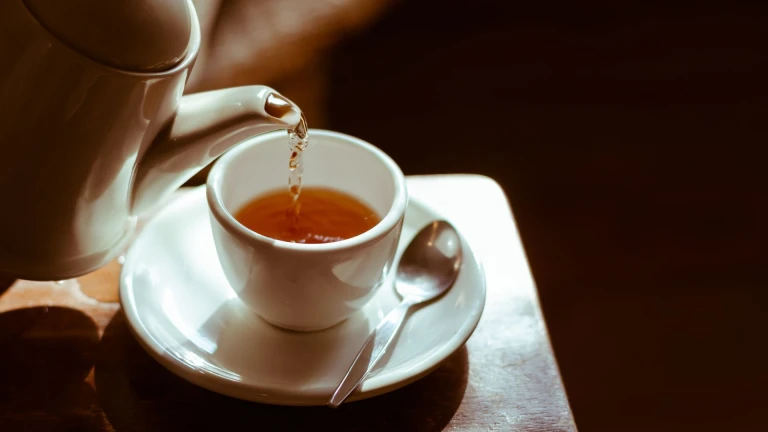 Bhutanese Tea
Bhutan is gaining recognition for its high-quality teas, especially green teas and blends made from local herbs. Look for beautifully packaged Bhutanese tea as a flavorful and aromatic souvenir that captures the essence of the country's pristine landscapes.
10. Bhutanese Stamps: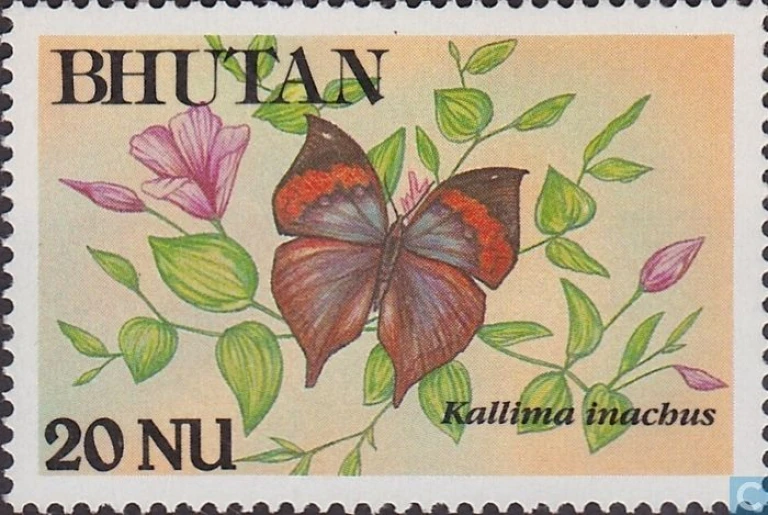 Bhutanese Stamps Img: Catawiki
Bhutan is famous for its vibrant and artistic postage stamps. Collectors and enthusiasts will appreciate the unique designs that often depict the country's flora, fauna, and cultural heritage. These stamps can be framed or kept as a distinctive addition to your collection.
11. Bhutanese Honey:
Bhutanese Honey
Explore the sweet side of Bhutan with its organic and locally produced honey. Bhutanese honey is known for its purity, unique flavor, and potential health benefits. It's a delectable souvenir that also supports local beekeeping communities.
12. Bamboo Products: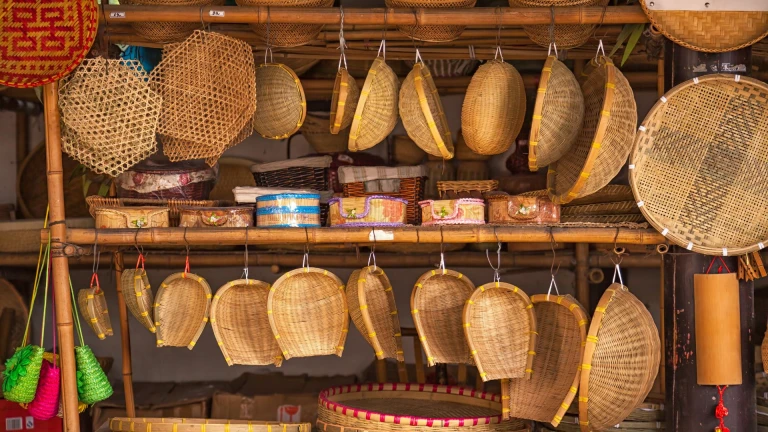 Bamboo Products
Bhutanese artisans skillfully craft various items from bamboo, such as baskets, mats, and even decorative items. These eco-friendly and intricately designed products showcase the country's commitment to sustainable living and traditional craftsmanship.
13. Bhutanese Dzi Beads:
Bhutanese Dzi Beads
Dzi beads are considered powerful talismans in Bhutanese culture, believed to bring good luck, ward off evil, and promote spiritual well-being. These beads, often made from agate, are intricately carved and come in various designs, each with its own symbolism.
14. Bhutanese Musical Instruments: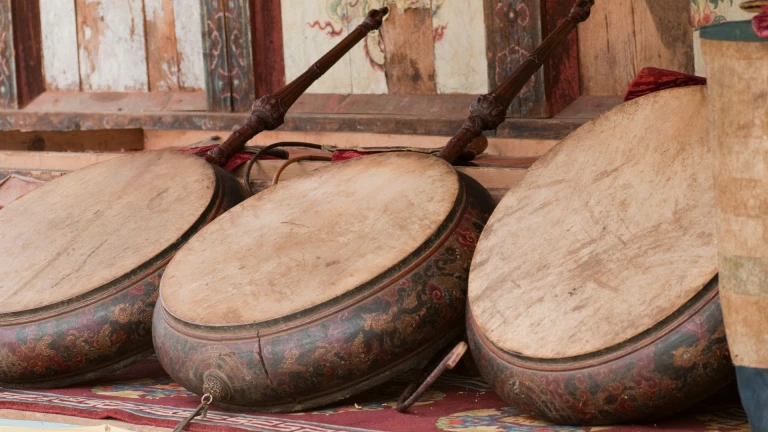 Bhutan Drums
Bring the melodies of Bhutan into your home with traditional musical instruments like the Drangyen (lute) or the Dramnyen (long-necked guitar). Even if you're not a musician, these beautifully crafted instruments can serve as decorative pieces with cultural significance.
15. Bhutanese Carved Masks: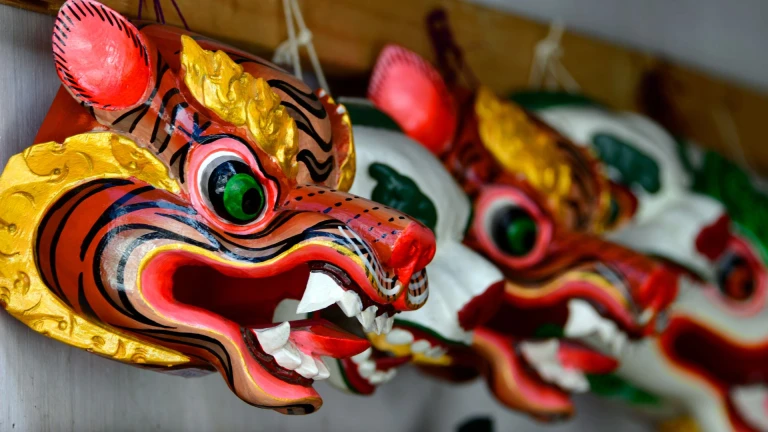 Bhutanese Carved Masks
Bhutanese mask dances are an integral part of religious festivals. Bring home a piece of this vibrant tradition with intricately carved masks. These handcrafted items often depict deities, demons, and mythical characters, adding a touch of Bhutanese spirituality to your living space.
Read more: Bhutan's Top 30 Attractions spots and Affordable Duty-Free Gold Shopping Tips