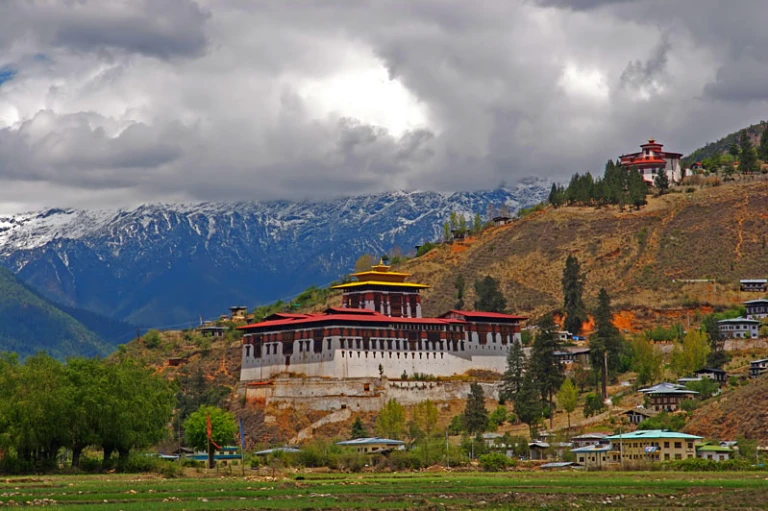 Are you ready to embark on a soul-enriching journey to the mystical kingdom of Bhutan, But worried you don't have a clue?  Worry not, fellow travellers, for we are here as your trusted guides through the  Hassle free plans, breath-taking landscapes, rich culture and  the hidden gems of Bhutan!
Welcome, to the land of the Thunder Dragon In the heart of the Himalayas, where time itself seems to breathe. Bhutan, a realm where ancient traditions waltz with modern aspirations, where the mountains whisper tales of enlightenment, and where the air is infused with the wisdom of the ages.
Do Indian Citizens need Visa for travelling to Bhutan?
 No, Indian passport holders do not need a visa to enter Bhutan.
 Identification Matters
To breeze through Bhutan's entry checkpoints, carry your valid passport or Voter ID card along with a couple of passport-sized photographs. It's your golden ticket to this enchanting kingdom.
Plan with a Licensed Operator- While you don't need a visa, Bhutan does have unique tourism regulations. Indian travellers must plan their trip through licensed Bhutanese tour operators. They'll arrange your visa clearance and help you explore Bhutan's wonders.
Travel guides are indispensable in Bhutan, and every traveller is strongly advised to rely on trusted sources or local Bhutanese agents for an enriching experience.
How to get to Bhutan from India?
By Air : Flights from India to Bhutan
For those who love a speedy entrance, consider hopping on a direct flight from major Indian cities like Delhi, Gaya, Bagdogra, Kolkata, Mumbai, or Guwahati. Drukair and Bhutan Airlines are your wings to this magical realm.
Bhutan's only international airport is Paro International Airport, nestled just 7 kilometres from the city. If you're looking to score budget-friendly flights, aim for the off-travel season, particularly in March and April when airfares tend to be more affordable.
The flight from India to Bhutan covers approximately 1,240 kilometres in a swift 2 hours and 20 minutes. For reference, New Delhi to Bhutan is about 2,047 kilometres and takes around 9-10 hours by air. Mumbai to Bhutan spans roughly 2,021 kilometres and clocks in at approximately 7 hours and 10 minutes via connecting flights.
By Road
If the open road beckons you, embark on a road trip through Jaigaon in West Bengal, which is practically a stone's throw from Bhutan's bustling Phuentsholing.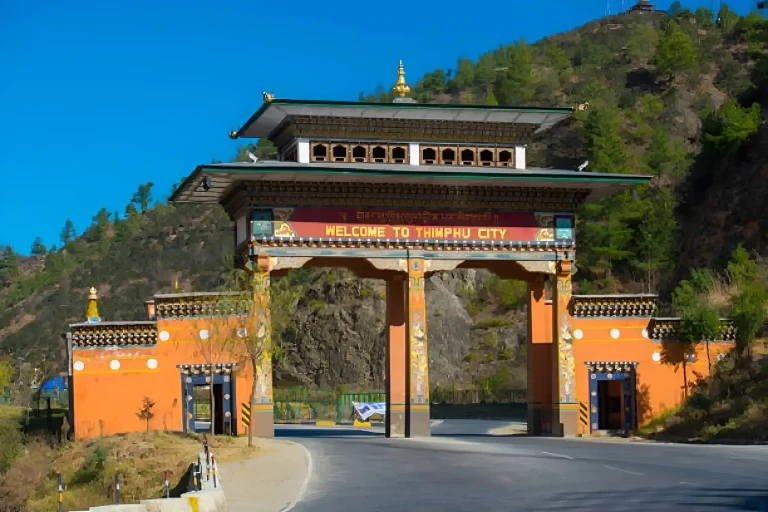 Picture this: you're planning an adventurous road trip from India to Bhutan. The well-trodden path leads you through Jaigaon, a charming town in West Bengal, merely 4.3 kilometres from the Bhutanese border hub, Phuentsholing. Here's the exciting part: you can seamlessly hop into private cabs that connect these two locales. And here's a nifty tip - if you're landing at Bagdogra or arriving at New Jalpaiguri by train, cab services are readily available. Bagdogra airport even offers the convenience of prepaid taxis, making your travel transition smoother than ever.
By Railway : Trains
For budget-conscious travellers, the train route offers a cost-effective option. While it's not possible to reach Bhutan directly by train, you can reach nearby stations like Siliguri, Hasimara, New Alipurduar, and then take a taxi or bus to cross over into Bhutan. Hasimara, a mere 17 kilometres from Phuentsholing, is the closest railway station to the Indo-Bhutan border in Jalgaon. It's accessible from various Indian cities like Kolkata, Delhi, Ranchi, or Kanpur. Alternatively, you can reach New Jalpaiguri for another convenient entry point. While it might not be the quickest route, your wallet will surely appreciate it.
Pro Tip for Bargain Hunters
If you're keeping a close eye on your budget, consider booking a flight to Bagdogra, then taking a cab to Phuentsholing. And here's a fun idea - before you finalize that Bagdogra flight, check out Drukair for some potentially surprising fares. Let fate decide your entry into the Land of the Thunder Dragon: heads, you fly; tails, you take the train. Let the coin toss guide you on this extraordinary adventure!
The Sustainable Development Fee (SDF)
Keep in mind that Bhutan has a unique aspect to its tourism policy – the Sustainable Development Fee (SDF). This fee is mandatory for tourists visiting the country and is designed to promote sustainable and high-value tourism while preserving Bhutan's culture, environment, and way of life. As of September 2023, Indians are charged 1200/- per day as SDF.
Documents required for Indian travellers visiting Bhutan
For Indian citizens, all you need to carry is your Voter ID card or Passport along with a couple of passport-sized photographs.
Getting the Necessary Permits
Bhutan has a few entry rules, but nothing too complicated. Phuentsholing is your gateway to Bhutan after crossing over from Jaigaon on the Indian side The good news is, you don't need a permit to enter Phuentsholing.
To expedite and ease the process of permit obtaining, the Department of Immigration, Ministry of Home and Cultural Affairs, and the Tourism Council of Bhutan have launched the Online Permit System. This nifty system allows for the online processing of permits through registered Bhutanese tour operators and TCB certified hotels.
Click here to Apply for the Permit
Offline permit-seeking travellers, take note - Bhutan's business days are from Monday to Friday, so don't find yourself in Phuentsholing on a Friday evening when things wind down. The immigration office opens at 10 AM, so it's wise to submit your paperwork, along with those mentioned documents, early to ensure your permit by day's end.
Once you've got your permit in hand, your journey to Thimphu can begin. You have options: catch a bus or hire a cab. Just remember, before you set forth, ensure your permit is stamped at the Customs Check post, which is about 5 kilometers from Phuentsholing en route to Thimphu. And don't forget the exit stamp as well.
This Tourist Permit allows you to explore Thimphu, Paro, and Punakha. But remember that additional permits are required for destinations like Bumthang and specific sites like Chele La Pass.
Currency Information
Now, let's talk money. The Bhutanese currency is called Ngultrum, which is equivalent in value to the Indian Rupee (INR 1 = Ng 1). So, when you're traveling in Bhutan, you'll find the notes of 5, 10, 20, 50, and 100 INR denominations widely accepted. However, please note that notes of 500 and 2000 INR are not valid in the country. So, it's a good idea to have smaller denominations on hand
Must-Visit Places: Discover Bhutan's Hidden Gems
1. Phuentsholing: Border Town Bliss
Your Bhutanese adventure kicks off in Phuentsholing, a charming border town. Explore the Karbandi Monastery, offering panoramic views of the Bengal plains, and soak in the serene atmosphere of Zangtho Pelri Lhakhang, a sacred Buddhist shrine. For something unique, visit the Crocodile Breeding Centre. And when night falls, explore the local dance and singing bars for a memorable experience.
2. Thimphu: Modernity with a Bhutanese Twist
Thimphu, Bhutan's capital, is a harmonious blend of tradition and modernity. Marvel at the Memorial Chorten, visit the colossal Kuensel Phodrang (Buddha Point), and explore the majestic Tashichhodzong (Tashichho Dzong). Dive into Bhutan's rich culture at the National Library and Institute for Zorig Chusum. Don't miss the Craft Bazaar, where local artisans showcase their talents. And when the sun sets, Thimphu comes alive with nightlife. Clubs like Club Ace and Vivacity offer a glimpse into Bhutanese party culture.
3. Punakha: Where Rivers Converge
About 85 kilometers east of Thimphu, you'll find Punakha, a mesmerizing valley where the Mo and Pho rivers converge. Dominating the landscape is the historic Punakha Dzong, a breathtaking fortress that served as Bhutan's capital for centuries. For thrill-seekers, Punakha offers river rafting on the Pho Chhu River, an exhilarating adventure you won't forget.
4. Paro: Valley of Serenity
Paro, with its wide, picturesque valley, is a place to fall in love with at first sight. Explore the Rinpung Dzong, a majestic fortress that stands guard over the valley. Embark on the iconic trek to Taktsang Lhakhang, famously known as Tiger's Nest Monastery, perched on a cliffside. Don't miss Kyichu Lhakhang, one of Bhutan's oldest temples, and indulge in a traditional farm-house experience.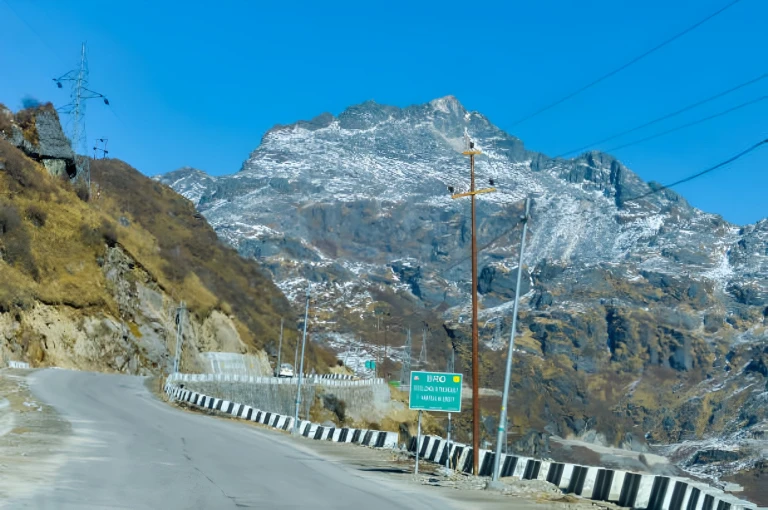 Commute : How to get around in Bhutan
By Air: Reach Bhutan through the only international airport in Paro, with flights operated by Druk Air and Bhutan Airlines.
By Taxi: Taxis are the go-to choice for local travel, but be ready for fixed rates and, occasionally, overcharging. Negotiating fares can be an adventure in itself!
By Bus: Local buses are available, but they might not provide the most comfortable journey, especially on winding roads. Private operators offer more comfortable rides for a bit extra.
By Car: While self-driving isn't recommended due to challenging roads with hairpin bends, if you're determined to take the wheel, ensure your car is well-prepared and follow traffic regulations strictly.
By Cycle/Bike: If you're a mountain biking enthusiast, Bhutan's terrain offers thrilling adventures.
By Walking: The best way to explore Bhutan's cities is on foot. Many nearby villages lack roads, so prepare to embrace the beauty of Bhutan on your own two feet.
Food in Bhutan : Best cuisines and Places to eat
The crown jewel of Bhutanese dishes is "Ema Datshi," a spicy concoction of chili peppers and cheese that sets your mouth on fire – in the best way possible! If you're feeling brave, give "Suja" a sip; it's the country's signature butter tea, a unique blend of savory and creamy flavors. While you're at it, indulge in some of the local alcohol, known as "Ara," which packs a potent punch.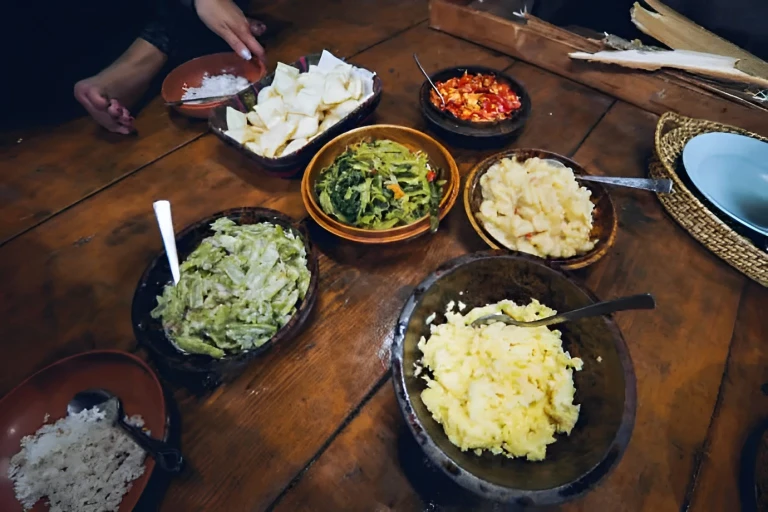 Pork Delight: Pork is a staple meat in Bhutan, so don't miss the opportunity to savor some delicious pork dishes.
Indian Fare: If you prefer something more familiar, you'll find plenty of Indian food options available for a comforting meal.
Your Bhutanese culinary adventure promises a blend of flavors that will leave you craving more. So, make sure to include some food exploration in your travel plans.
With your appetite satisfied, let's delve into the diverse accommodations available in Bhutan, where culture and comfort seamlessly intertwine
Here are five recommended places to eat in Bhutan for Indian travelers:
1. Doeboom Café (Paro): Enjoy delicious Bhutanese and international dishes in a cozy atmosphere with views of Paro Valley.
2. Babesa Village Restaurant (Thimphu): Sample authentic Bhutanese cuisine in a traditional setting, complete with wooden interiors and friendly service.
3. Sonam Trophel Restaurant (Thimphu): Savor Bhutanese and Tibetan dishes, including momos and ema datshi, in a warm and welcoming environment.
4. Ambient Café (Thimphu): Indulge in a variety of cuisines, from Bhutanese to Indian and continental, amidst a charming ambiance.
5. Champaca Café (Punakha): Relish homemade Bhutanese and international dishes in a garden setting overlooking the majestic Punakha Dzong.
Accommodation : Best places to stay
In Bhutan, where tradition meets modernity, your accommodation options span the spectrum. In bustling cities like Thimphu, Paro, and Punakha, you'll find everything from budget-friendly lodgings to luxurious retreats. But for a truly authentic experience, venture further afield and stay in a homestay or farm stay. There, you'll get a taste of Bhutanese life and hospitality up close.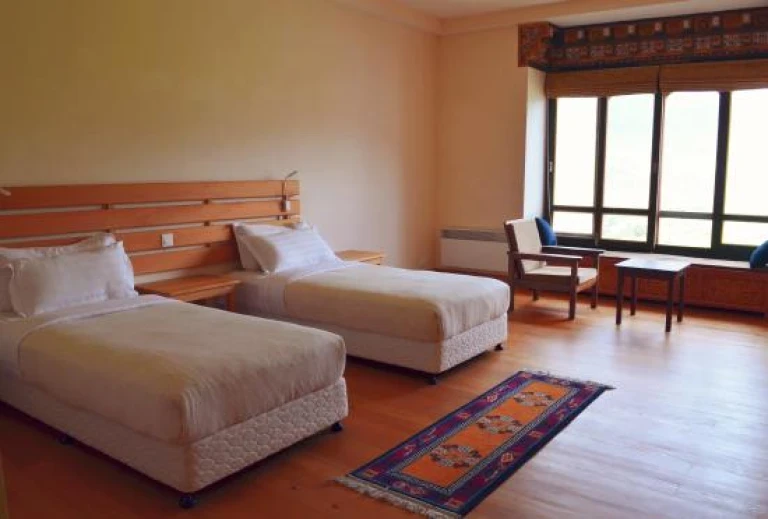 ( Drubchhu Resort, Punakha, Bhutan )
One budget-friendly option is the Drubchhu Resort. Nestled amidst paddy fields and overlooking the Punakha valley, this family-run resort gets its name from the natural spring, Drubchhu, on the property, known for its healing properties. Suggested suite: Deluxe Rooms, which exude warmth and comfort. Tariff: INR 4,500 per night onwards.
If you're seeking a blend of luxury and tradition, consider staying at the Le Meridien Paro, Riverfront. With amenities like free Wi-Fi and parking available at most hotels, you can enjoy a comfortable and convenient stay.
Here are some of the best budget hotels in Bhutan for travelers looking for comfortable and affordable accommodation:
1. Gangtey Palace Hotel - Paro:
Highlights: Converted palace with Hot Stone Bath, great views of Paro town and Rinpung Dzong, cozy bar.
Suggested suite: Deluxe Rooms
Tariff: INR 3,000 per night onwards
2. Swiss Guest House - Bumthang:
 Highlights: Surrounded by apple orchards, Owl trek on forest trails, Hot Stone bath, Red Panda draft beer.
 Suggested suite: Any in the new wing or on the first floor
Tariff: Seasonal rates, check with the hotel
 3. Yangkhil Resort - Trongsa:
Highlights: Tranquil surroundings, spacious rooms, and proximity to attractions like Trongsa Dzong.
Suggested suite: Deluxe Rooms
Tariff: Reasonably priced, inquire for current rates
What to do in Bhutan?
For Families:
Visit the Tiger's Nest Monastery (Paro Taktsang): Take a family trek to this iconic monastery perched on a cliff. It's an adventurous and culturally rich experience suitable for older children.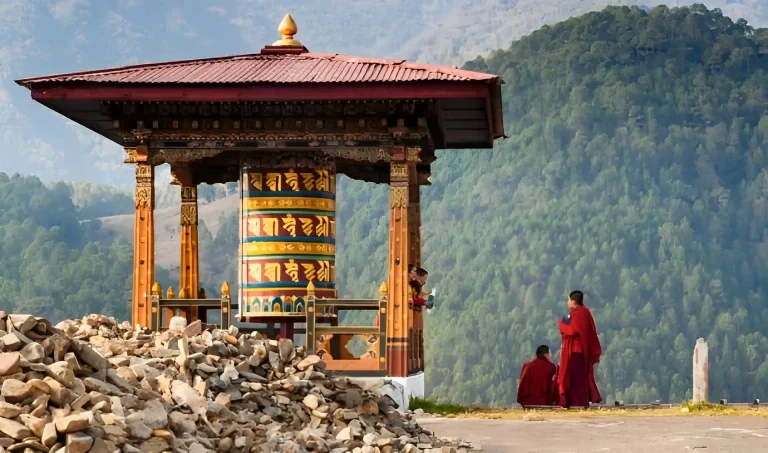 Explore Thimphu: Visit the capital city, Thimphu, to see the Tashichho Dzong, the Giant Buddha statue, and the Folk Heritage Museum. It's a great way to introduce your family to Bhutanese culture.
Bhutanese Cuisine: Enjoy a traditional Bhutanese meal, like Ema Datshi (chilli and cheese dish) and momos (dumplings). It's a culinary adventure for the whole family.
Attend a Local Festival: Plan your trip around a Bhutanese festival like the Paro Tshechu. It's a vibrant cultural experience your family will cherish.
Nature Walks: Bhutan's pristine landscapes are perfect for family nature walks. Explore the beautiful valleys and spot unique wildlife.
For Solo Travelers:
Trek to Jomolhari: Challenge yourself with a trek to Mount Jomolhari, one of Bhutan's stunning peaks. It's a solo adventure that offers breathtaking views.
Monastery Retreat: Spend time in solitude at a monastery or retreat center. It's a great way to immerse yourself in Bhutan's spiritual culture.
Photography Expedition: Capture Bhutan's stunning landscapes, vibrant festivals, and unique architecture. Solo travelers can focus on their photography passion.
Hot Springs: Relax in Bhutan's natural hot springs like Gasa Tshachu. It's a perfect solo getaway for rejuvenation
Local Encounters: Meet Bhutanese locals, learn about their way of life, and engage in conversations about their culture and traditions.
For couples :
Romantic Trek to Paro Taktsang: Share a memorable hike to the Tiger's Nest Monastery, followed by a romantic picnic amidst the scenic beauty.
Stay in a Traditional Bhutanese Lodge: Experience Bhutanese hospitality by staying in a traditional Bhutanese lodge. Enjoy the cozy ambiance and warm hospitality.
Private Hot Stone Bath: Indulge in a private hot stone bath for two. It's a traditional Bhutanese spa experience that's both relaxing and romantic.
Sunset at Dochula Pass: Enjoy a romantic sunset at Dochula Pass, where you can witness panoramic views of the Himalayas.
Candlelit Dinner: Arrange a candlelit dinner with Bhutanese delicacies. Many hotels and restaurants offer private dining options for couples.
 Best Time to Visit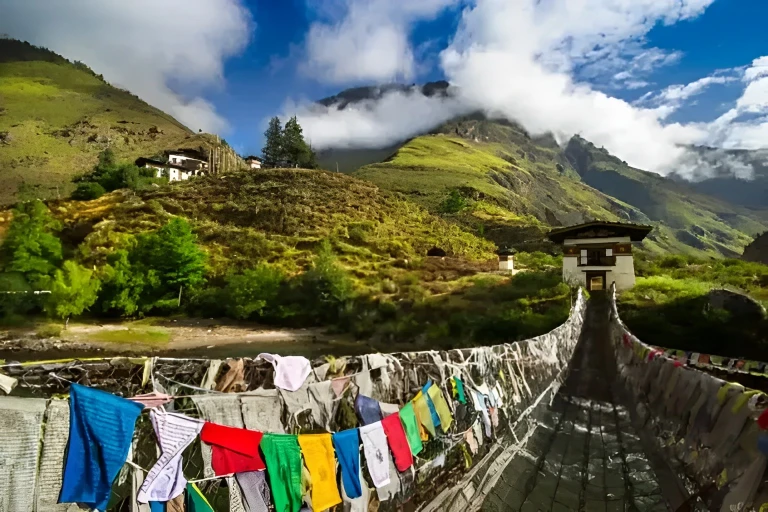 The magic of Bhutan can be experienced year-round, but for an extra dose of culture, time your visit with one of Bhutan's vibrant Tshechus, or festivals. These colorful celebrations offer an unparalleled glimpse into Bhutanese traditions.
Spring and Autumn These seasons, with pleasant temperatures ranging from 15-30 degrees Celsius, are ideal for most travelers. Just be prepared for occasional rain in spring.
Monsoon (June to September): While rain can make terrain slippery, it's also a time when Bhutan's lush landscapes come to life. Pack rain gear and venture forth!
Winter (December to February): For snow enthusiasts, winter brings a snowy wonderland, especially at altitudes above 3,000 meters. Layer up with thermals and warm clothing if you plan to embrace the chill.
Travel Guides: Your Bridge to Bhutan
Now, let's talk about the importance of travel guides in Bhutan. You might wonder why you need one, but trust us, they're more valuable than you might think.
Safety and Security: Bhutan is known for its rugged terrain, and some areas may pose safety challenges, particularly for trekkers. A knowledgeable guide is trained to assess risks, provide first aid if needed, and ensure your safety during the trip.
Local Insights: A local guide has an in-depth knowledge of the country's geography, history, and attractions.
Customized Itinerary: Travel guides can tailor your itinerary to your interests and preferences. Whether you're interested in trekking, cultural experiences, or wildlife spotting, a guide can create a personalized plan to meet your desires.
Access to Monasteries: Bhutan has numerous monasteries and dzongs (fortresses) that are important cultural and religious sites. Some may have restricted access or specific dress codes. A guide can facilitate your entry, offer explanations, and ensure you respect local customs.
Bhutanese Culture: Embrace the Unique Blend
Bhutan's culture is a fascinating fusion of Mahayana
Buddhism and ancient animist traditions. It's a land where Gross National Happiness is more important than Gross Domestic Product, and you'll find this philosophy reflected in the warmth of the people.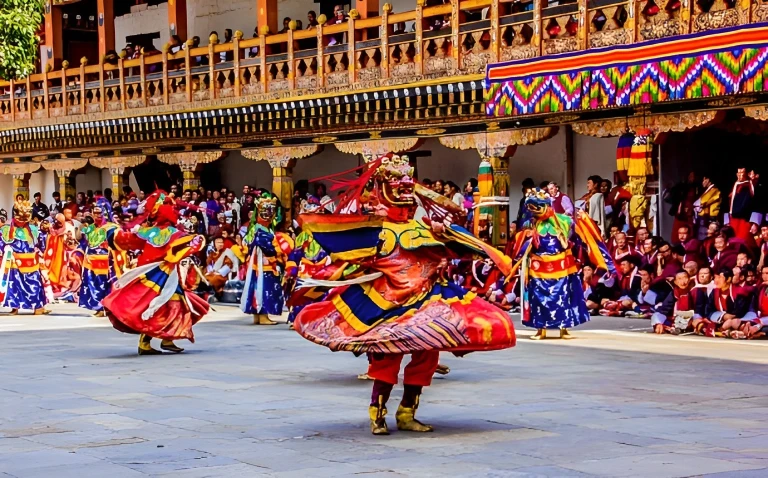 Don traditional Bhutanese attire, the Gho for men and Kira for women, and join in the celebrations. Learn the art of archery, Bhutan's national sport, or try your hand at darts. Don't forget to greet the locals with the customary "Kuzu Zangpo!"
Bhutan, with its serene landscapes, vibrant culture, and mystical aura, is a traveler's paradise waiting to be explored. It's a place where happiness isn't pursued but discovered in the simplest of moments—a land where the journey truly becomes the destination. it's not just the mountains that touch the skies; it's the spirit of its people.

So, Whether you're seeking adventure in the rugged mountains or spiritual solace in ancient monasteries, Worry not, Bhutan has it all.