Bhutan is a beautiful country nestled in the Himalayas, known for its stunning landscapes, rich culture, and unique way of measuring happiness.
1. Paro Taktsang (Tiger's Nest)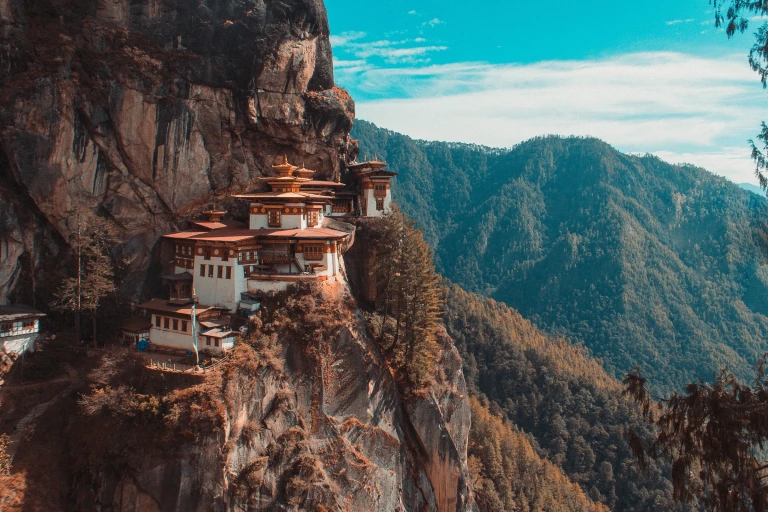 Also known as the "Tiger's Nest," this iconic monastery is perched 3,000 feet above the Paro Valley. It's believed to be where Guru Rinpoche meditated in the 8th century.
Things to do: Hike to the monastery (3 hours one way), explore its intricate architecture, and enjoy breathtaking views.

Timing: Open daily from 8 AM to 5 PM.
2. Punakha Dzong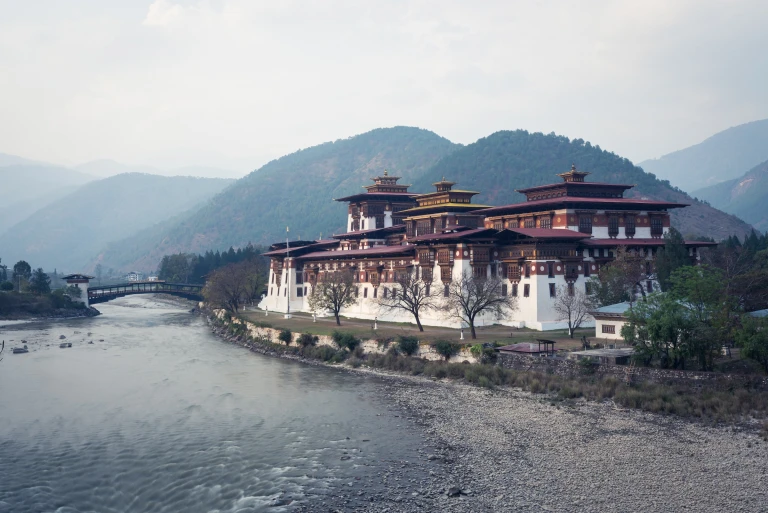 Located at the confluence of the Pho Chhu and Mo Chhu rivers, Punakha Dzong is a masterpiece of Bhutanese architecture.
Things to do: Visit the dzong, admire the beautiful courtyards, and explore the Khamsum Yulley Namgyal Chorten nearby.

Timing: Open daily from 9 AM to 5 PM. (timings might differ, verify before travel)
3. Thimphu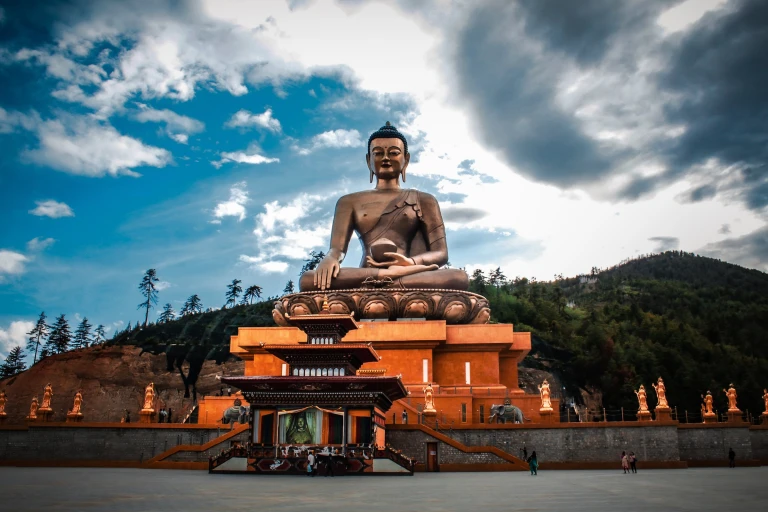 Bhutan's capital city blends traditional and modern elements, with no traffic lights and a vibrant street culture.
Things to do: Visit Tashichho Dzong, explore the National Memorial Chorten, and shop at the weekend market.
4. Dochula Pass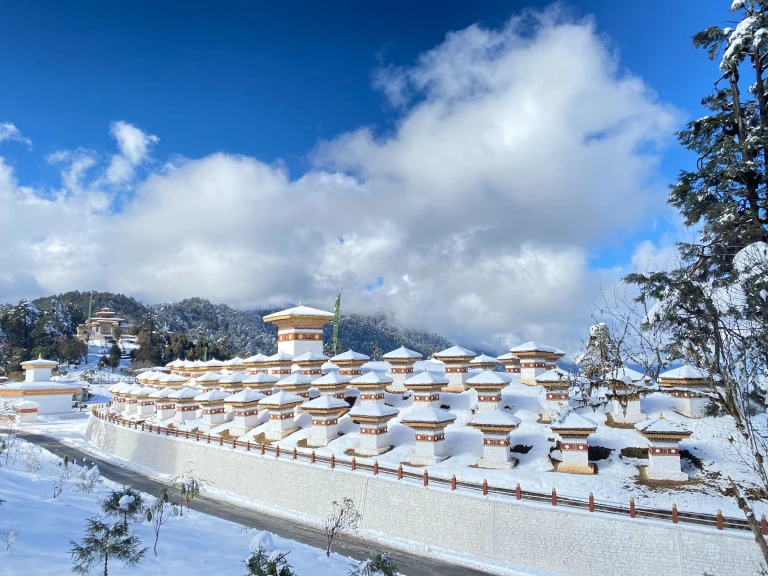 The pass is adorned with 108 chortens (stupas) and offers panoramic views of the Himalayan mountain range.
5. Hike to Jomolhari
The trek takes you through lush forests and alpine meadows.
Things to do: Trek to the base camp, witness the serene Jomolhari Lake, and experience camping in the wilderness.
6. Phobjikha Valley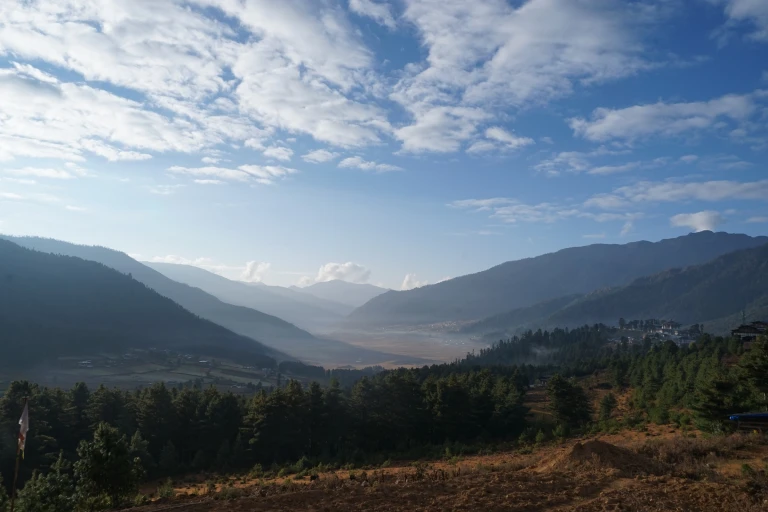 This valley is known for the rare black necked crane migration during the winter months, providing a unique natural spectacle.
7. National Museum of Bhutan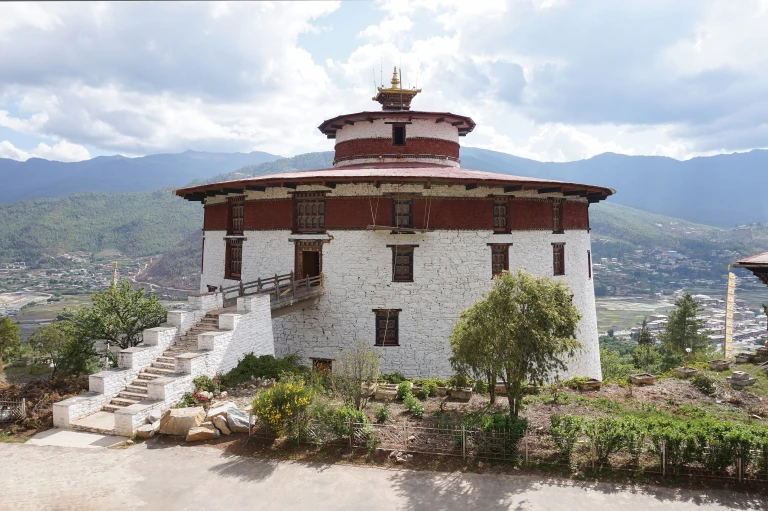 Located in Paro, this museum offers a comprehensive insight into Bhutanese history, culture, and art.
8. Rinpung Dzong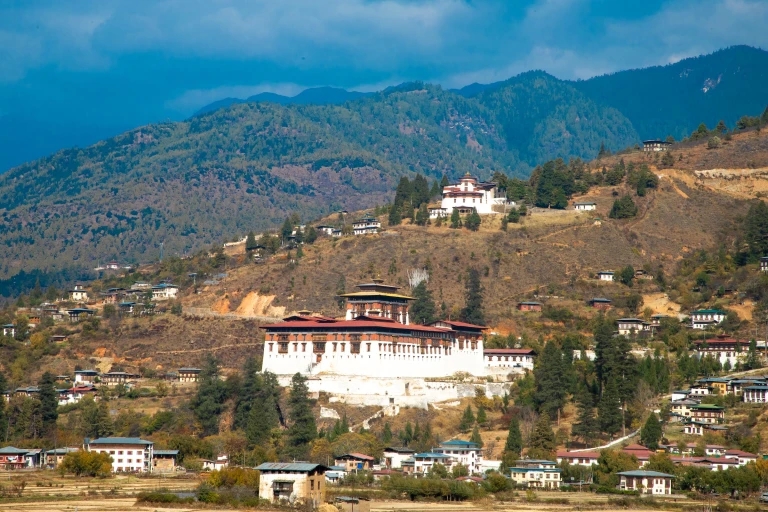 Rinpung Dzong is a striking fortress in Paro known for its intricate woodwork and murals.
Things to do: Visit the dzong, witness the Paro Tsechu festival (usually in spring), and admire the architecture.
9. Chimi Lhakhang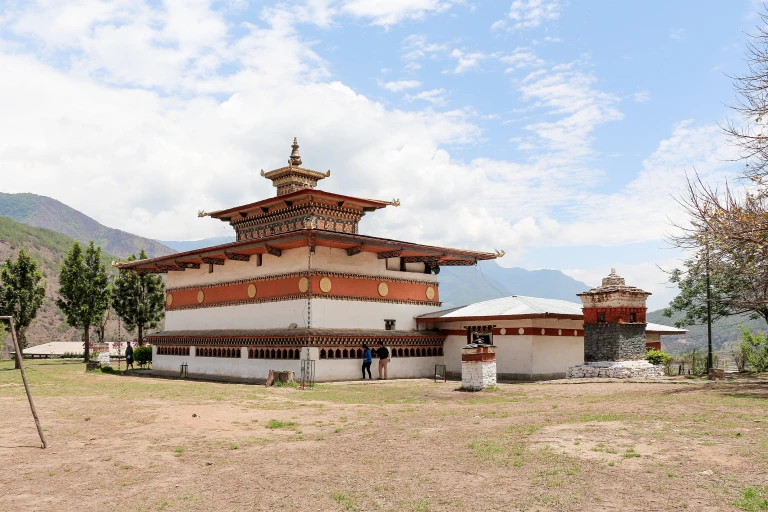 Also known as the Fertility Temple, it's dedicated to Lama Drukpa Kunley, who is known as the "Divine Madman."
Things to do: Seek blessings for fertility, explore the unique architecture, and enjoy a scenic hike to the temple.
10. Bumthang Valley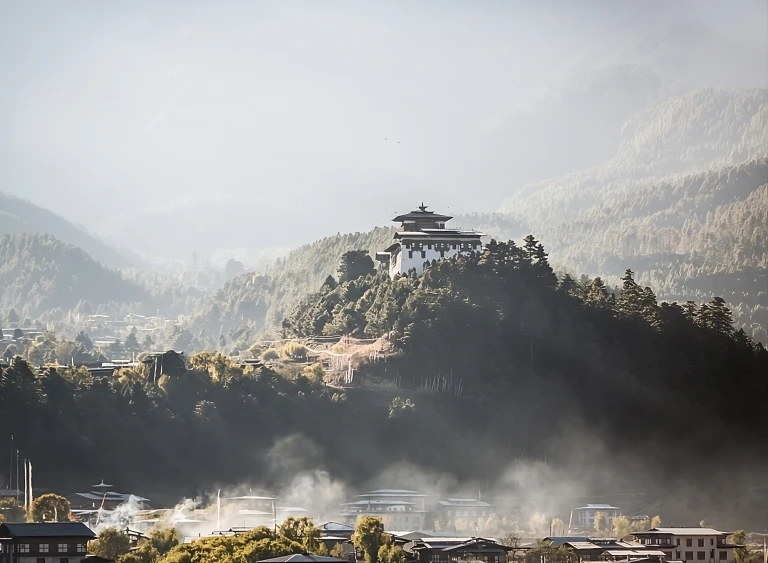 Bumthang is often referred to as the "Switzerland of the East" due to its stunning natural beauty and cultural significance.
Things to do: Visit various monasteries (Jakar Dzong, Jambay Lhakhang), explore the valley's lush landscapes.
11. Trongsa Dzong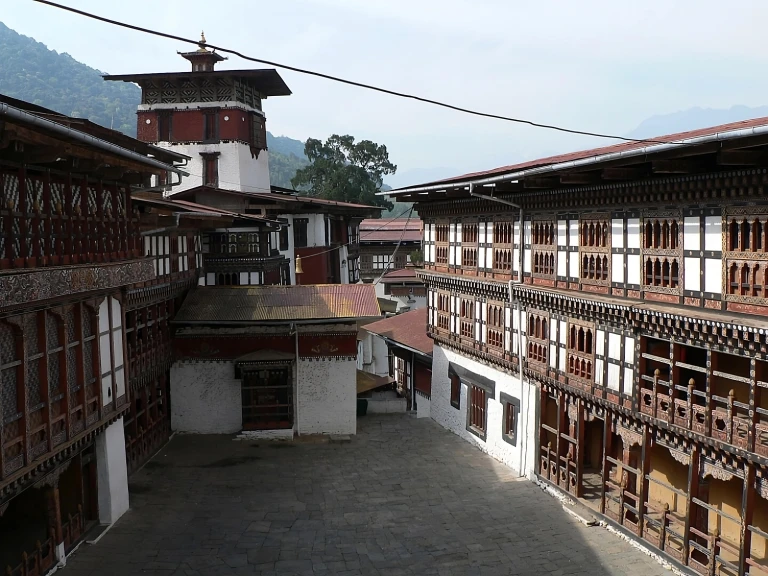 Trongsa Dzong is the largest dzong in Bhutan and an architectural masterpiece located in central Bhutan.
Things to do: Explore the dzong's intricacies, visit the Ta Dzong museum, and enjoy the stunning views of the surrounding landscape.
12. Gangtey Monastery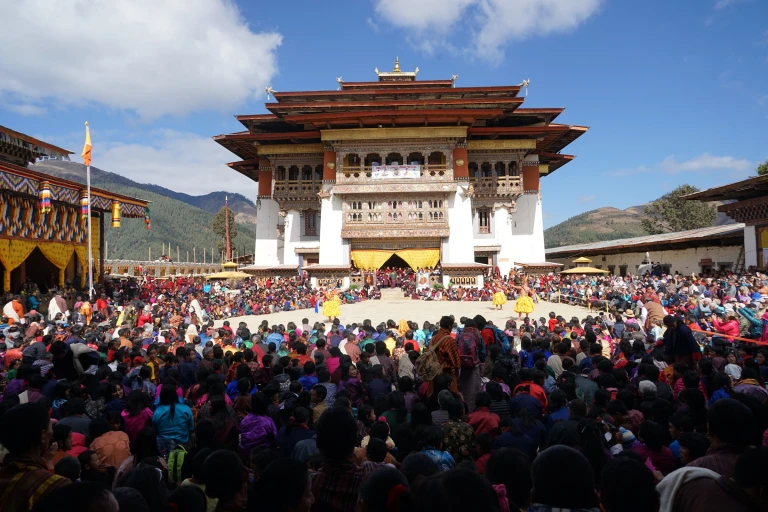 Gangtey Monastery, also known as Gangtey Goempa, sits atop a hill and offers panoramic views of the Gangtey Valley.
Things to do: Visit the monastery, soak in the serene atmosphere, and take nature walks in the valley.
13. Chele La Pass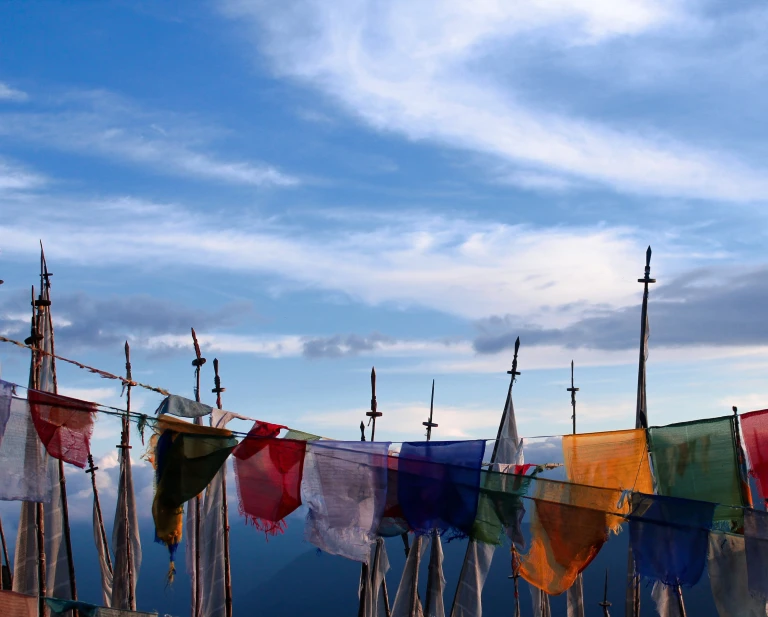 Chele La is the highest motorable pass in Bhutan, providing jaw dropping vistas of the Haa Valley and the Himalayas.
Things to do: Drive or hike to the pass, enjoy a picnic, and capture stunning photographs of the landscape.
14. Tashichho Dzong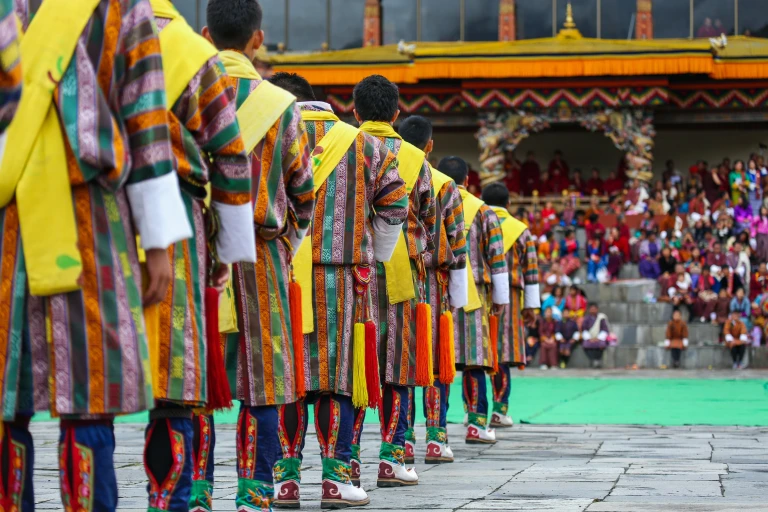 Tashichho Dzong in Thimphu serves as the seat of Bhutan's government and is an impressive example of Bhutanese architecture.
Things to do: Attend the colorful flag lowering ceremony, explore the dzong's courtyards, and witness the administrative hub of Bhutan.
15. Wangdue Phodrang Dzong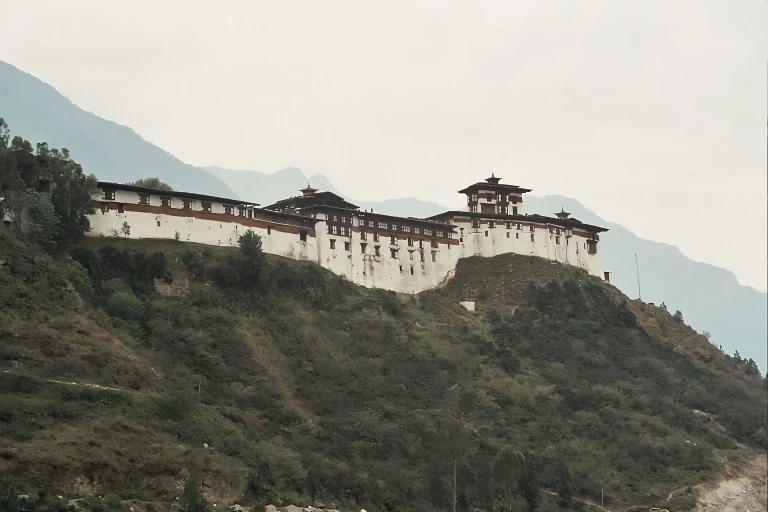 This dzong is beautifully situated on a hill overlooking the Punatsangchhu River and the town of Wangdue Phodrang.
16. Kyichu Lhakhang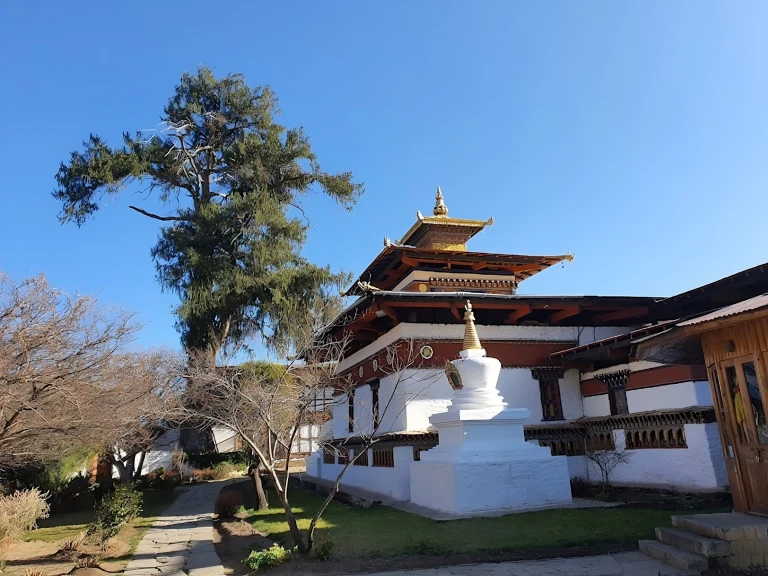 Kyichu Lhakhang is one of Bhutan's oldest and most sacred temples, believed to have been built in the 7th century.
Things to do: Pay your respects, admire the ancient murals, and soak in the spiritual ambiance of this historic site.
17. Dochula Festival
The Dochula Druk Wangyel Festival is a vibrant celebration held at Dochula Pass, featuring traditional Bhutanese dances and rituals.
Things to do: Witness the colorful festivities, try local food, and immerse yourself in Bhutanese culture during this annual event in December.
18. Chorten Kora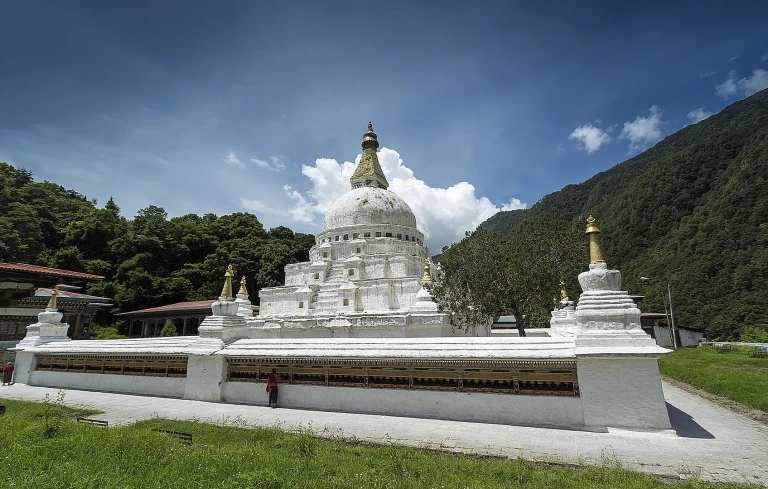 Chorten Kora is a mesmerizing stupa in Trashi Yangtse district, modeled after the famous Boudhanath Stupa in Nepal.
Things to do: Visit the stupa, take part in the annual Chorten Kora Festival (usually in March or April), and explore the charming town.
19. Hot Springs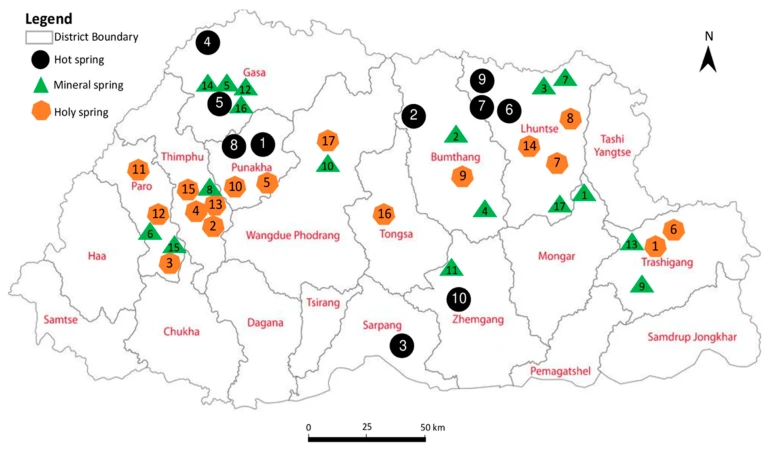 Bhutan is known for its stunning natural landscapes, including hot springs that are scattered throughout the country. These hot springs are not only popular for their therapeutic and relaxing properties but also for their cultural significance in Bhutanese society.
To name a few such as Gasa Tshachu, Duenmang Tshachu, Gelephu Tshachu, Punakha Tshachu, Chubu Tshachu and many others.
20. National Memorial Chorten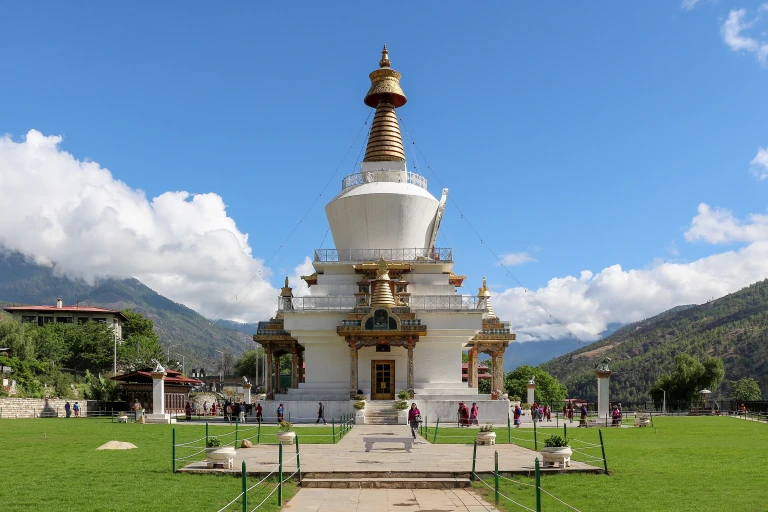 The National Memorial Chorten in Thimphu is a prominent religious landmark dedicated to Bhutan's third king, Jigme Dorji Wangchuck.
Things to do: Visit the chorten, observe locals circumambulating, and experience the spiritual atmosphere of this sacred site.
21. Zuri Dzong Hike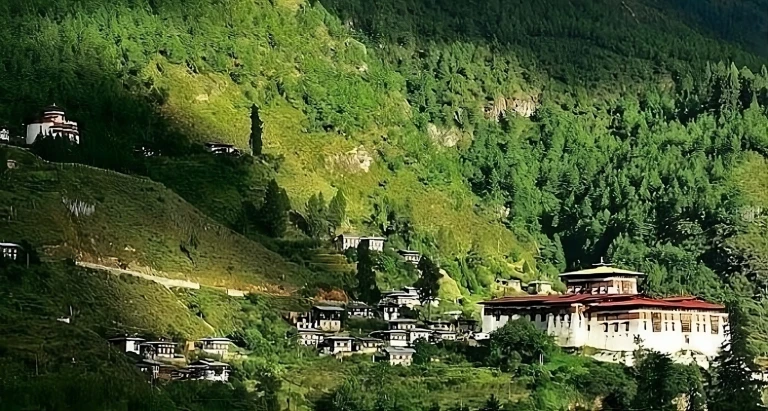 The Zuri Dzong is a remote monastery in Paro, accessible by a scenic hike through beautiful landscapes.
Things to do: Hike to the dzong, enjoy panoramic views of Paro valley, and immerse yourself in the serene environment.
22. Rukha Village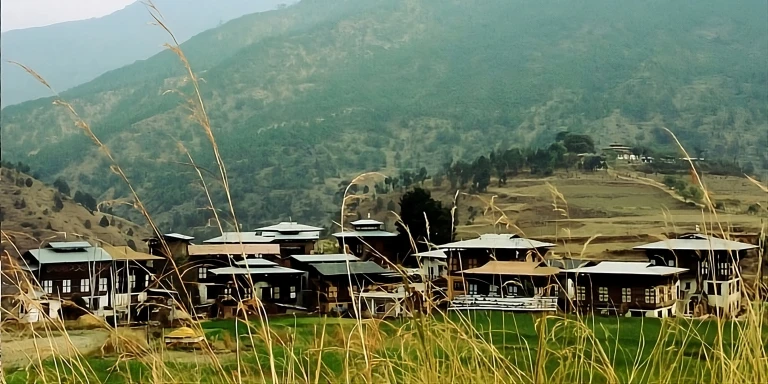 Rukha is a picturesque village that offers a glimpse into traditional Bhutanese rural life.
Things to do: Experience the local way of life, interact with villagers, and appreciate the authenticity of this remote village.
23. Kila Nunnery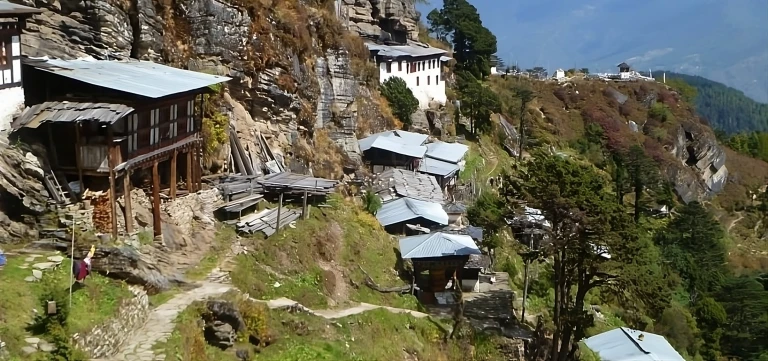 Located in Paro, the Kila Nunnery is a peaceful retreat with stunning views of the surrounding mountains.
Things to do: Explore the nunnery, meditate in the tranquil environment, and enjoy the serene ambiance.
24. Khamsum Yulley Namgyal Chorten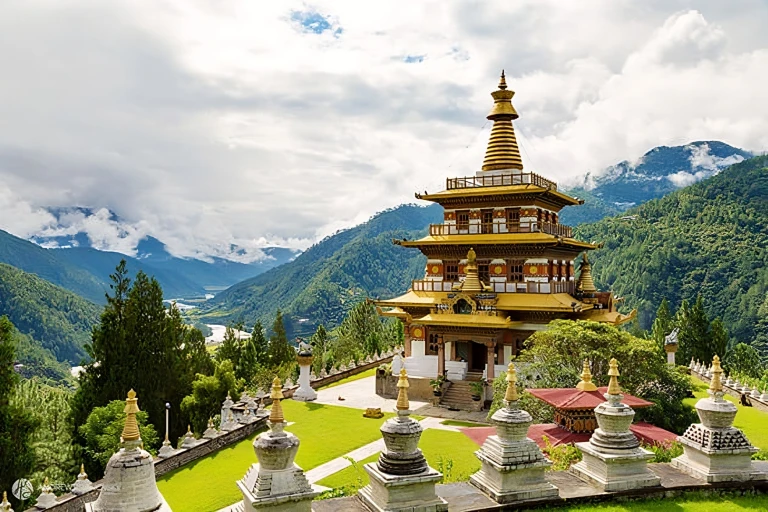 This ornate chorten in Punakha offers breathtaking views of the Punakha Valley.
Things to do: Hike to the chorten, admire the detailed artwork, and savor the scenic beauty of the surroundings.
25. Sakteng Wildlife Sanctuary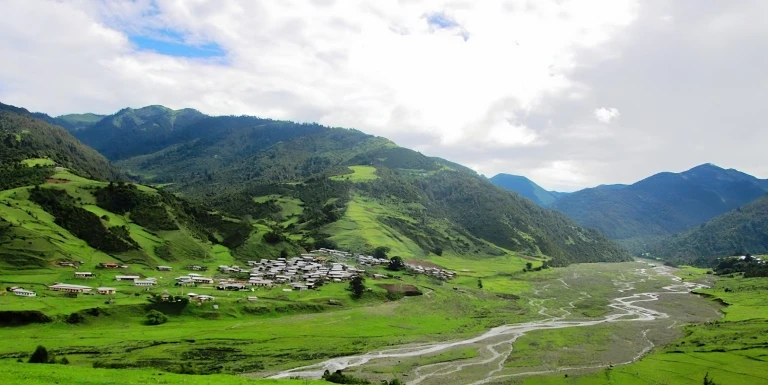 Located in eastern Bhutan, the sanctuary is home to diverse flora and fauna, including the elusive snow leopard.
Things to do: Explore the wilderness, go birdwatching, and immerse yourself in the natural beauty of this protected area.
26. Royal Textile Academy of Bhutan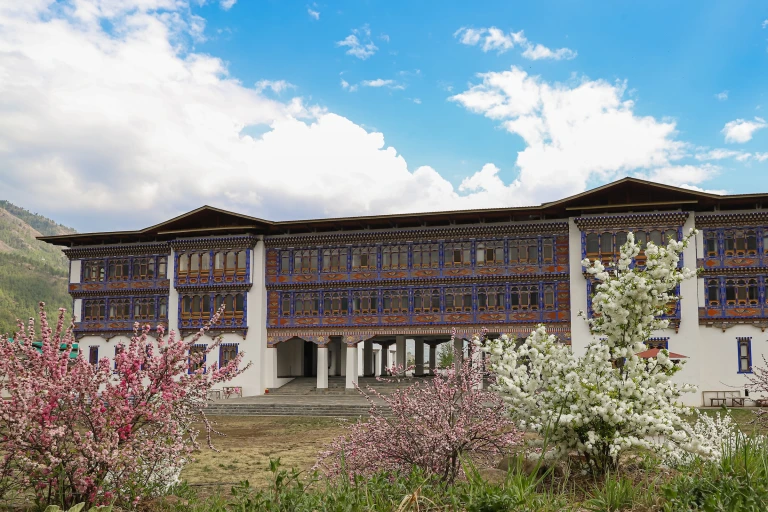 This academy in Thimphu showcases Bhutan's rich textile traditions and craftsmanship.
Things to do: Visit the academy, view exhibitions on traditional Bhutanese textiles, and shop for unique textiles and handicrafts.
27. Trashigang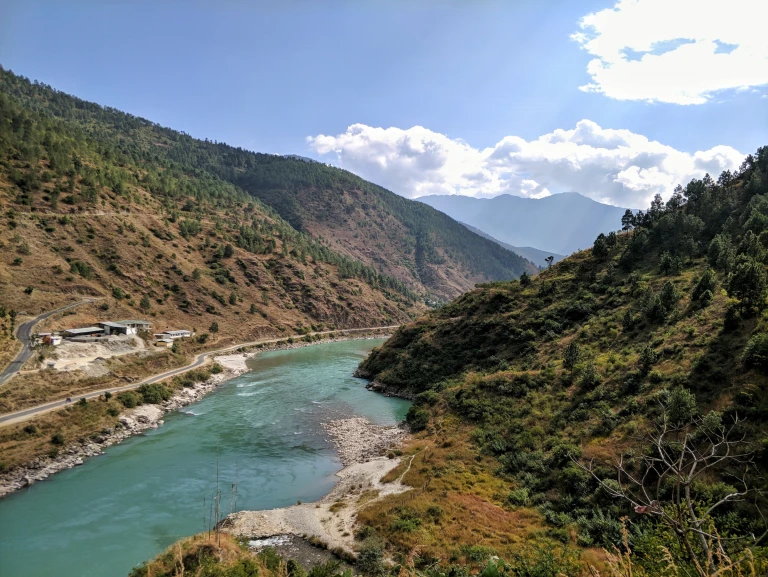 Trashigang is a bustling town in eastern Bhutan, known for its vibrant markets and cultural diversity.
Things to do: Explore the town, visit local markets, and experience the unique eastern Bhutanese culture.
28. Chhukha Hydropower Plant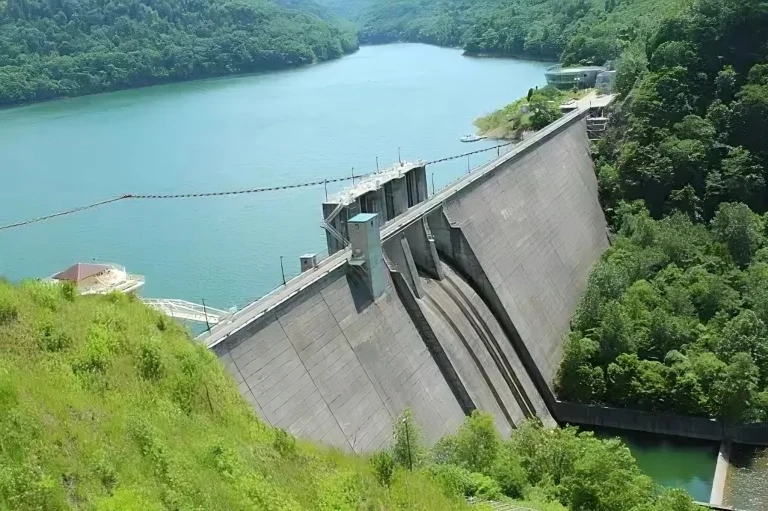 The Chhukha Hydropower Plant is the largest hydropower plant in Bhutan, showcasing the country's commitment to clean energy.
29. Jigme Dorji National Park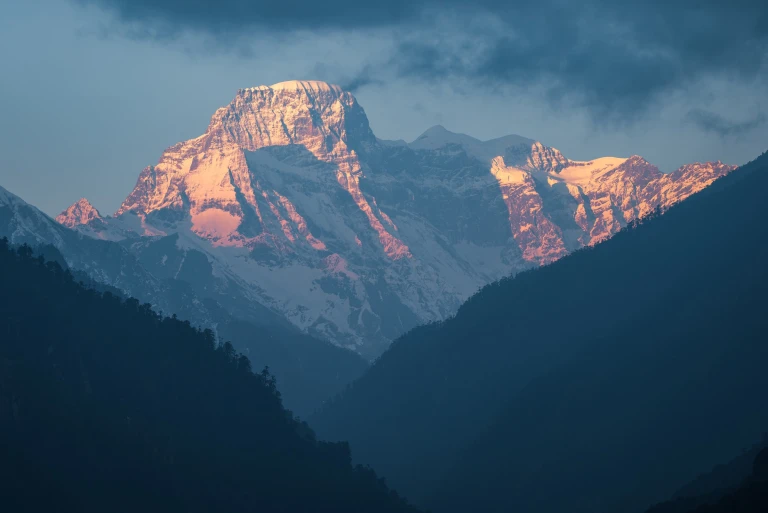 This national park covers a vast area and is home to diverse wildlife, including the elusive snow leopard.
Things to do: Explore the park's ecosystems, go wildlife spotting, and enjoy trekking and camping in pristine surroundings.
30. Zhemgang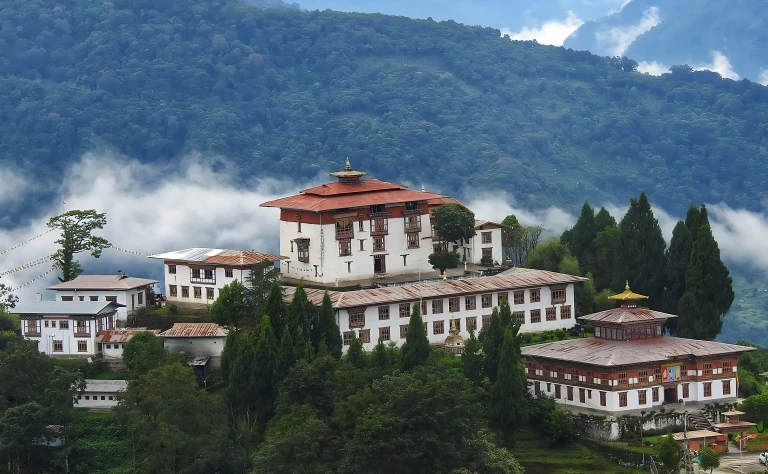 Zhemgang is a hidden gem known for its pristine natural beauty and tranquil environment.
Things to do: Experience the natural beauty, explore local villages, and immerse yourself in the serene ambiance of this off the beaten path destination.
How to buy Gold in Bhutan as a tourist?
Duty Free gold shopping in Bhutan can be an attractive option for visitors looking to purchase gold jewelry at competitive prices. Bhutan's prices are way lower than in many other countries.
Understand the Duty-free Allowance
Bhutan has specific duty free allowances for gold and silver jewelry, which can vary based on your nationality and the duration of your stay. Indian tourists can purchase duty-free gold from Bhutan, but there are some conditions that they must meet:
They must pay the Sustainable Development Fee (SDF), which is Rs 1,200-1,800 per day.

They must spend at least one night in a Department of Tourism-certified hotel.

They must pay for the gold in US dollars.

The amount of gold that Indian tourists can bring back to India tax-free is limited to:

1. Rs 50,000 for men (approximately 20 grams)

2. Rs 1 lakh for women (approximately 40 grams)

As of Sept 2023, current price of 24-carat gold in Bhutan is BTN 4,304.34 per gram.

Indian tourists can purchase duty-free gold from authorized jewelry stores in Phuentsholing and Thimphu. When making a purchase, they must present their passport, visa, and SDF payment receipt.
Shop in Authorized Outlets
Check the Purity
Negotiate Prices
While the prices in duty free shops are generally fixed, it doesn't hurt to ask if there's any room for negotiation, especially if you're buying multiple pieces or if you're a regular customer.
Compare Prices
Before making a purchase, visit multiple duty free shops and compare prices for the same or similar items. This will give you a better idea of the prevailing rates and help you make an informed decision.
Quality Over Quantity
Ask for Certificates
When purchasing gold jewelry, especially highvalue items, ask for certificates of authenticity and quality. This can provide peace of mind and make it easier to resell the jewelry in the future.
Pack and Declare Properly