Boasting a glorious harbour, dazzling beaches, and impressively cosmopolitan culture, Sydney is a mainstay in anyone's travel destination list. Not to mention, the city's sun-kissed weather, lush parks, eclectic art scene and amazing culinary offerings – there's certainly no reason not to visit this spectacular city Down Under!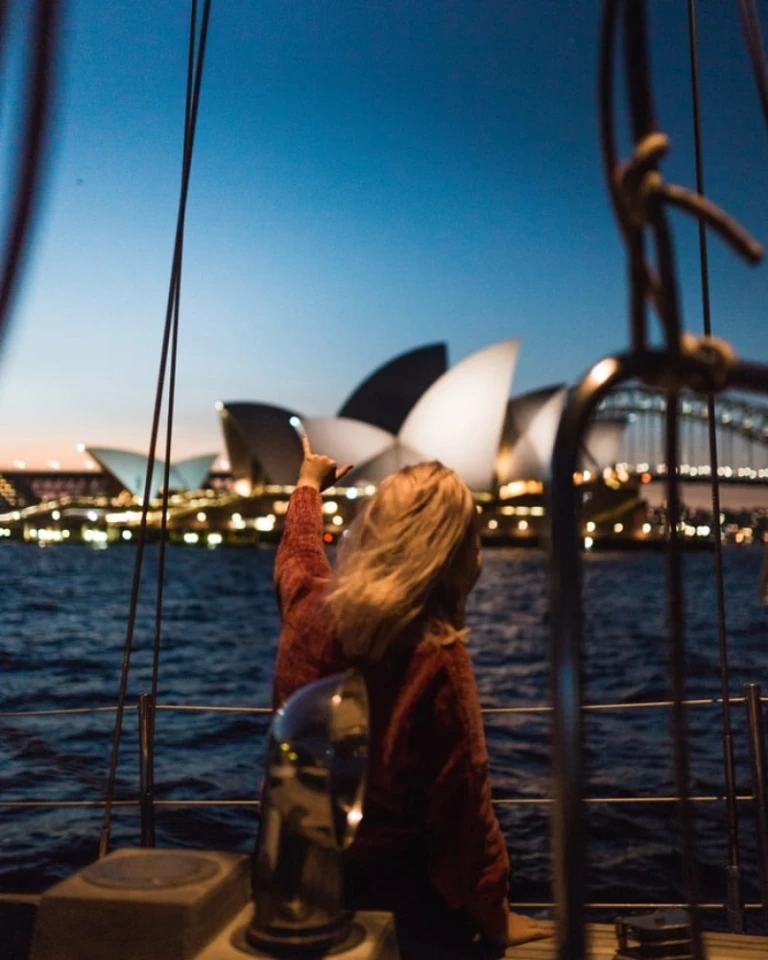 With all the talk about advancing yourselves professionally, why not upgrade the way you holiday instead? Take a much-needed break from all the work and professional upgrading for an upskilled holiday. Follow this all-you-need 8D7N itinerary that'll let you experience the best of Sydney and its Surrounds. #DoNSW the right way with this guide.
Day 1: Sydney City
Royal Botanic Garden Sydney

Image credit: Destination NSW
Start off your Sydney adventure at the enchanting Royal Botanic Garden! A tranquil oasis situated on the edge of arguably one of the world's greatest harbours, this garden houses thousands of plant species, colourful birds and even fruit bats. Be sure to check out the Calyx, a world-class horticultural space hosting intriguing plant-themed exhibitions.
Art Gallery of New South Wales

Image credit: (left) Destination NSW, (right) Art Gallery of New South Wales
With over 30,000 works in its collections, the Art Gallery of New South Wales is Sydney's most well-known public art gallery. Boasting an impressive neoclassical Greek facade, this gallery showcases the works of prominent Australian and European artists, and has over 40 temporary exhibitions put up each year.
Surry Hills Cafe Scene
If you have a passion for latte art and all things creative, then the precinct of Surry Hills is just for you! The area is brimming with quirky shops, indie theatres and hipster cafes, and it's perfect for you to spend the afternoon at.

Image credit: (left) Reuben Hills, (right) Cuckoo Callay
Open till 4pm daily, Reuben Hills is a popular, hipster cafe sporting minimalistic vibes. Its menu draws inspiration from Honduras and El Salvador, and boy do they know how to make a good cuppa! Be sure to try their signature Avo on Rye and Soft Baked Eggs! You can also pop by Cuckoo Callay, another local favourite for their sinful and lip-smacking French Toast and eye-catching pink beetroot lattes!
Vivid Sydney 2018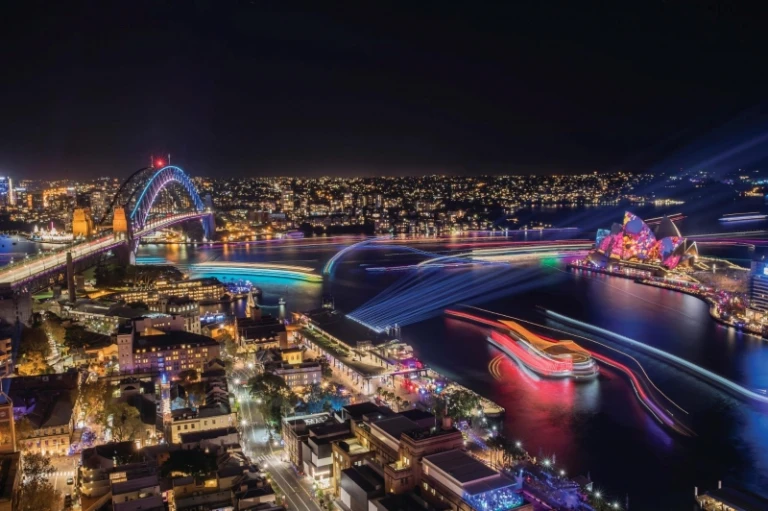 Image credit: Destination NSW
What better way to end your first day in Sydney than by taking in the views of the iconic Sydney Harbour? Watch the Sydney Opera House come alive in a spectacular and vibrant display of lights during Vivid Sydney 2018. This annual event promises to be bigger and better than ever this year as it celebrates its 10-year anniversary, and its happening from 25 May to 16 June 2018! Mark your calendars.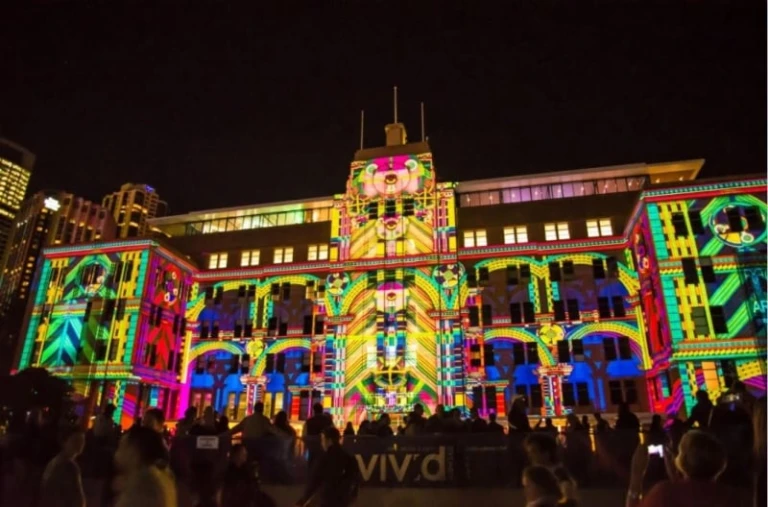 Image credit: Vivid Sydney
Be spellbound by the laser light shows, large-scale illuminations and state of the art 3D-mapped projections at various attractions and venues in the city. What's more, Vivid Music also features a great lineup of international and Australian artists, with concerts and gigs to enthrall music fanatics. For more details, visit Vivid Sydney's website.
Day 2: Royal National Park & Vivid Climb
Royal National Park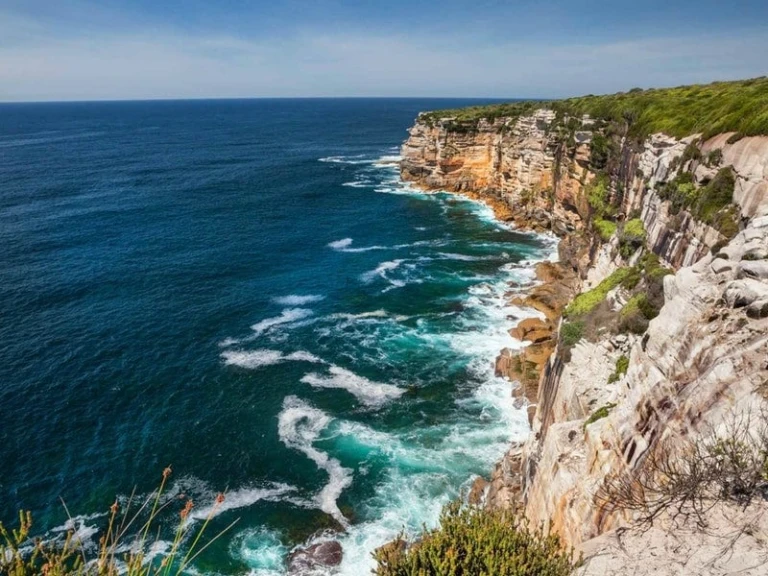 Image credit: Destination NSW
An hour's drive away from the Sydney CBD, the 16,000 hectare Royal National Park boasts plenty of activities such as fishing, bushwalking, birdwatching and hiking. It is the world's second oldest national park and it's perfect for a day trip. The mesmerizing coastal scenery will certainly blow you away.
Figure 8 Pool Tour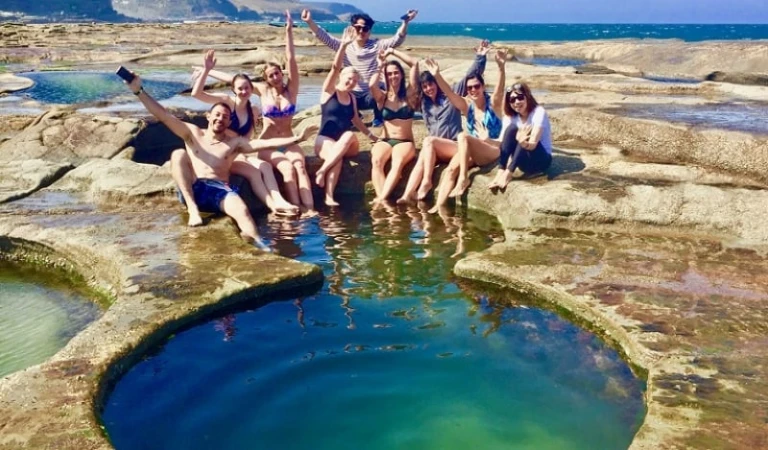 Image credit: National Parks NSW
A must see feature of the Royal National Park? The Figure 8 Pools! For safety reasons, it is advisable to go via a guided tour by Barefoot Downunder. The tour departs Sydney at 7am and returns at 5pm, and requires medium to high level of fitness (recommended for 13-50 years) due to changing terrain. Hike along The Coast Track and take a dip in the Figure 8 Pools. Then have a picnic at Garie Beach and explore the Wattamolla Lagoon, before visiting Bald Hill lookout! Keep your cameras handy for the numerous Insta-worthy photo opportunities.
The Vivid Climb

Image credit: BridgeClimb Sydney
In the evening, immerse yourself in a once-in-a-lifetime experience atop the Sydney Harbour Bridge! Conquer your fear of heights and trek to the top on a Vivid Climb with BridgeClimb Sydney. With an experienced climb leader guiding you, don your vests and be rewarded with spectacular bird's eye views of the Sydney Harbour and skyline which will be lit up for Vivid Sydney 2018. Experience the latest star highlight of BridgeClimb Sydney's Vivid Climb – a '70s inspired illuminated dance floor in the sky! It's the perfect opportunity to impress with your slick moves.

Image credit: BridgeClimb Sydney
If you're not visiting during Vivid Sydney, fret not because BridgeClimb also operates regular Climbs during the day as well as at night, dawn and twilight.
Day 3: Jervis Bay
Whale watching tour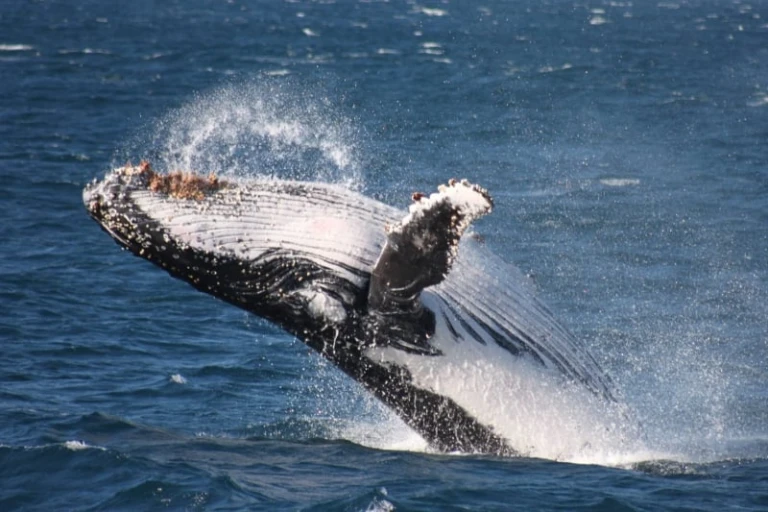 Image credit: Jervis Bay Wild
Whales migrate along the approximately 2000km-long New South Wales coast from May to November, peaking in July and September. You'll see these majestic mammals from many bays and viewing points in New South Wales, with Jervis Bay being a prime vantage spot. An approximate three-hour drive down south will take you to Jervis Bay. If it's your lucky day, you might even catch a massive humpback whale launching itself out of the ocean!

Image credit: (left) Destination NSW, (right) Jervis Bay Wild
Jervis Bay is also known for its picturesque natural beauty and various other wildlife like dolphins, seals and seabirds. Jervis Bay Wild is one of the several reputable tour companies that offer great whale and dolphin watching cruises!
Jervis Bay Stand Up Paddle

Image credit: Jervis Bay Stand Up Paddle
For those looking for a unique and novel experience, be sure to try stand-up paddling! Jervis Bay Stand Up Paddle offers lessons catering to all ages, and you're sure to be mesmerized by the glimmering waters of Jervis Bay!
Dinner and drinks at The Rook Rooftop

Image credit: The Rook Rooftop
Return to Sydney at night for one of its best kept secrets. The Rook is the perfect rooftop establishment to enjoy views of the city skyline. It is located high above the chaos and hubbub of Sydney's York Street, and it serves fresh lobsters, gourmet burgers and a wide variety of liquors for that idyllic evening cocktail fix (do try their Crunchy Nut Old Fashioned cocktail).
Day 4: Bondi Beach
Sydney is almost synonymous with its beaches, and Bondi Beach is heralded as one of the world's greatest, must-visit beaches!
Surfing at Bondi Beach

Image credit: Destination NSW
Surf's up! There's no better place to learn surfing than Bondi Beach, your ultimate surfing destination. Probably the friendliest and most professional surf school in all of New South Wales, Let's Go Surfing's highly-experienced staff will help you catch some serious waves – even if you're a complete beginner.
Bondi Icebergs Club

Image credit: (left) Destination NSW
Bondi Icebergs is the landmark of Bondi Beach. Here, you can enjoy a great meal, feast on bar bites, and enjoy refreshing iced cocktails against the azure blue backdrop of the ocean. Oh, and how can we overlook the iconic Bondi Icebergs Pool, located literally next to the ocean? No visit to Sydney is complete without taking a dip here.
Bondi to Bronte Coastal Walk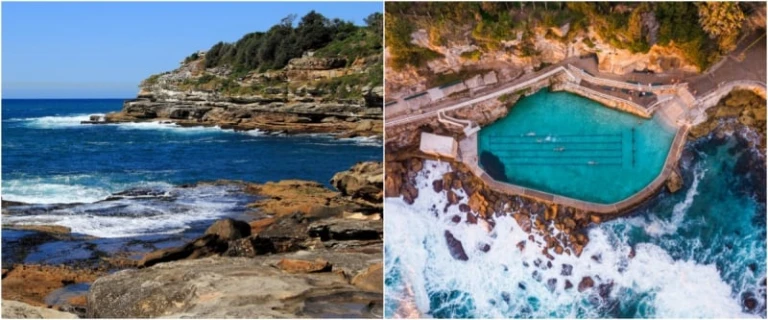 Image credit: John Menard
Starting from Bondi Icebergs Club, this 3.5km walk follows the coastline from Bondi Beach to Bronte Beach and is one of the most scenic coastal walks in all of Australia. Passing through Tamarama and Mackenzies Bay, there are many vantage points along the way where you can gaze at the amazing views and maybe even spot whales! After your coastal walk, end your evening at Bronte Baths, which sits right on the edge of Bronte Beach.
Day 5: Blue Mountains
A UNESCO World Heritage region, the Blue Mountains have long been one of New South Wales' biggest tourism drawcards. Just a two hour drive away from Sydney, it makes for a great day trip and if you have time, a great overnight too. Calling all nature enthusiasts – this is the place for you.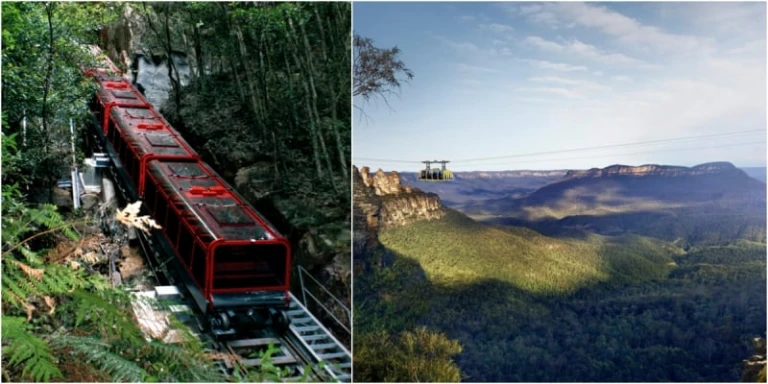 Image credit: (left) Scenic World Blue Mountains, (right) Destination NSW
The hotspots of the Blue Mountains, namely Wentworth Falls, the Three Sisters and Pulpit Rock are all located next to a series of country towns that ooze a ton of charm. Gaze at the Three Sisters rock formation from Echo Point Lookout in Katoomba, which also doubles up as a gateway to many walking trails. Or hop on board the world's steepest passenger railway and descend into ancient rainforests at Scenic World.
You can also go on one of the many tours from Katoomba to visit the Jenolan Caves, where you can discover limestone crystals and underground rivers which date back at least 340 million years!
Day 6: Port Stephens
Dubbed "The Awesome Coast", we think Port Stephens is one of the prettiest regions in all of New South Wales. It is an easy two and a half hour drive north of Sydney, boasting 26 stunning beaches and much more!
Stockton Bight Sand Dunes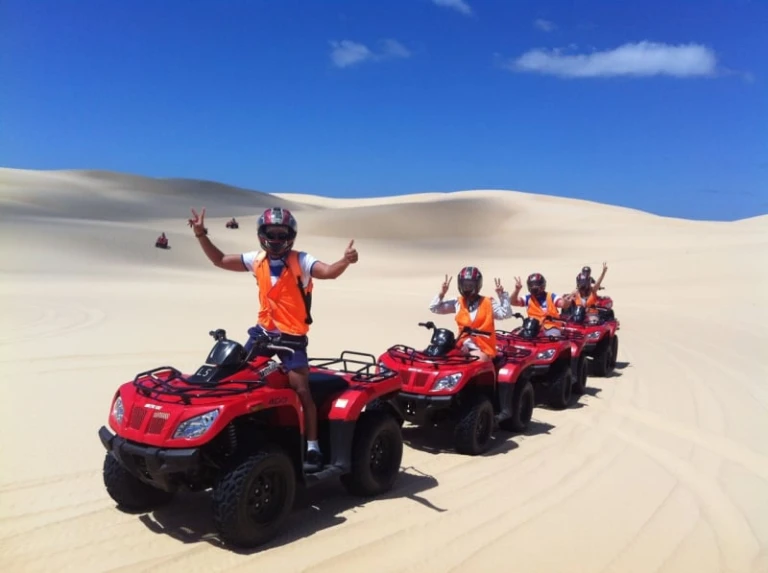 Image credit: Port Stephens Tourism
The chief drawcard of Port Stephens would be the Stockton Bight Sand Dunes. Promising loads of sandy fun, these dunes are the largest moving sand masses in all of the Southern Hemisphere. Get your heart racing by sand-boarding down 40 metre high dunes, or explore the 32 km stretch of sand in your own 4WD or quad bike!
Irukandji Shark and Ray Encounters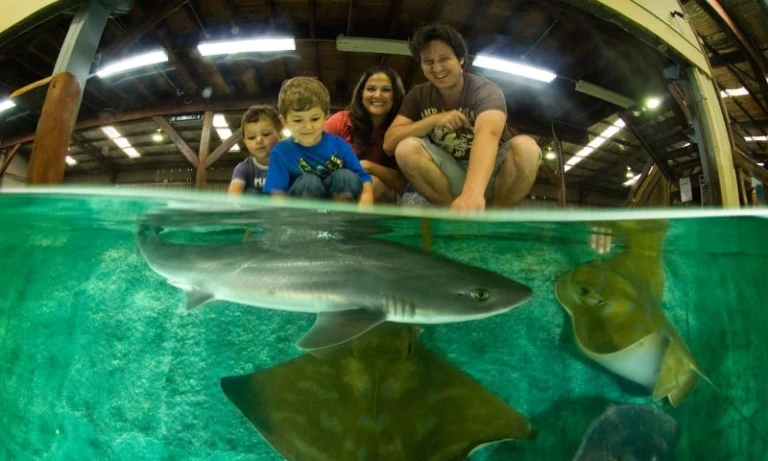 Image credit: Irukandji Shark and Ray Encounters
Australia's coast is home to a diverse array of marine wildlife as well. Get up-close-and-personal with various types of sharks and rays at Irukandji Shark and Ray Encounters! Lookout for their Ray Lagoon which features the Southern Eagle and Blue Spotted Mask Rays. If you're feeling brave, you can even choose to have a cuddle session with their 325kg stingray Raspy!
Tomaree Headland Hike

Image credit: (top) Eleleleven, (left) Christopher Watson, (right) National Parks NSW
For the last activity of the day, go on a hike up the Tomaree Headland situated near Shoal Bay. Don't worry, your hard work will be rewarded with stunning sceneries of Yacaaba Head as well as Cabbage Tree, Boondelbah and Broughton Islands. Do pack in your binoculars to spot humpback whales and the endangered Gould's petrel seabird.
Day 7: Hunter Valley
Particularly known for its award winning Semillon and Shiraz, Hunter Valley is one of Australia's premium wine regions dating back to the early 1800s. A filigree of narrow lanes criss cross in this mesmerizing verdant valley, which makes for a good day trip!
Sunrise Hot Air Balloon

Image credit: Destination NSW
Begin your morning with the ultimate blend of excitement and serenity high up in the air! Watch the glorious sunrise against the backdrop of Hunter Valley's vineyards from your hot air balloon. The flights take about an hour, and Balloon Aloft is the primary flight service provided with over 35 years of flying in Australia. In addition, all flights end with a gourmet breakfast!
Wine sampling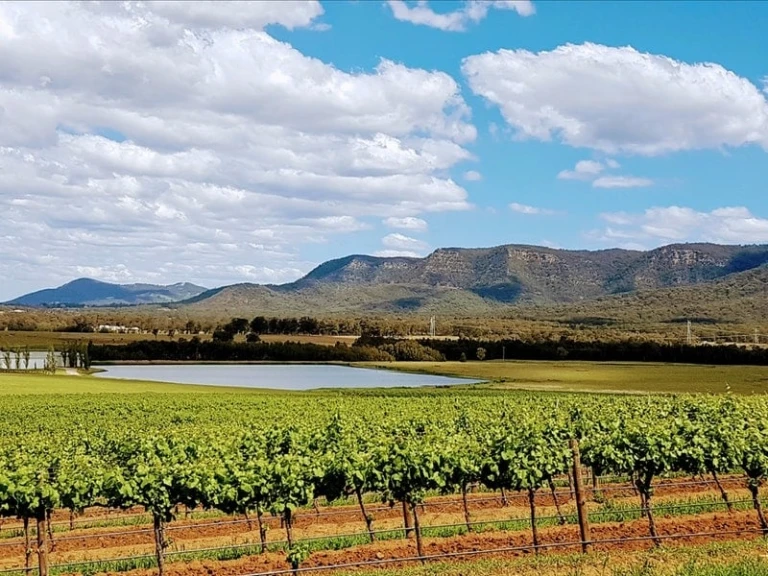 Image credit: Destination NSW
With more than 150 wineries, it might be a real challenge choosing which cellar door to visit. Tyrrell's Vineyards is one of Australia's highly reputable, family-owned wine companies known for its Vat 1 Semillon, and they conduct tasting tours at 10.30am daily! Audrey Wilkinson Vineyard is also another top favourite due to its scenic views of the Brokenback Mountain Ranges.
Horse-riding, cycling, cheese tasting and more

Image credit: Hunter Valley Resort
Not a wine enthusiast? There's a whole myriad of other activities to keep you busy! Hunter Valley Resort conducts exciting horse-riding lessons which run daily on the hour, from 8am to 5pm. Choose from a variety of trails that are catered for riders of all skill levels. You may also choose to rent their electric bikes and explore the area with a map!

Image credit: (left) Hunter Valley Cheese Factory, (right) Binnorie Dairy
Be sure to also attend one of the cheese-tasting sessions at the Hunter Valley Cheese Factory. This boutique cheese producer and retailer offers affordable cheese tasting boards for you to savour and dissect the flavours of five different cheeses for only AUD$6.95(~S$7)! Alternatively, head to Binnorie Dairy and enjoy tastings of its flagship Marinated Feta, Labna, Brie and other specialty soft cheeses.
Day 8: Aussie Wildlife & Opera House
Taronga Zoo

Image credit: (left) Destination NSW, (right) Taronga Zoo
Begin your last day in Sydney with a visit to the world renowned Taronga Zoo, the best attraction to see native wildlife and rare exotic animals. Nestled in a bushy harbour hillside, just a ferry ride away from Circular Quay, the zoo is teeming with kangaroos and koalas, and highlights include the nocturnal platypus habitat and the Asian elephant display.
Sydney Opera House Insider tour

Image credit: Sydney Opera House
Don't stop at admiring the Sydney Opera House from the outside. Why not get beneath the sails and join a Sydney Opera House Insider tour? Uncover its history and learn more about what makes this building a World Heritage listed attraction. The hour-long tour runs daily from 9am to 5pm every 15-30 minutes, but do book early to guarantee yourself a spot! Alternatively, choose a show to catch and select from contemporary, classical, opera, or the Sydney Symphony Orchestra.
Dinner at Bennelong

Image credit: Bennelong
Located in the Sydney Opera House and housed in a breathtaking space newly redesigned by Architect Tim Greer, Bennelong Sydney is one of the world's most beautiful restaurants. Boasting million-dollar, Insta-worthy views, this restaurant is perfect for any dinner situation.

Image credit: Bennelong
This hatted establishment serves up exquisite, modern Australian fare that's sure to get you drooling! Headed by celebrated Chef Peter Gilmore, the kitchen offers flexible dining options including their three-course a la carte meal and their special "Cured & Cultured" menu.
Aren't you tempted to just get packing and Scoot off to Sydney already? It's time to experience Sydney's diversity and the vivid sights and sounds that it has to offer. Arm yourself with this ultimate 8D7N itinerary to experience the best of this breathtaking city! Need we say more?