Nestled gracefully in the picturesque Kumaon region of Uttarakhand, Nainital is a charming hill station known for its captivating beauty. While it's a year-round destination, winter brings a special kind of enchantment to this already mesmerizing place. The promise of snowfall, the crisp mountain air, and the cozy ambiance make Nainital a must-visit destination during the colder months. In this comprehensive guide, we'll take you on a journey through the winter wonderland of Nainital. From the best time to experience snowfall to the must-visit places and the delectable local cuisine, we've got your winter adventure covered.
When to Visit for Snowfall
Nainital experiences snowfall during the winter months, typically from December to February. The level of snowfall can vary each year, but January is often considered the best time to witness the town blanketed in pristine white snow. If you're a snow enthusiast, plan your visit accordingly.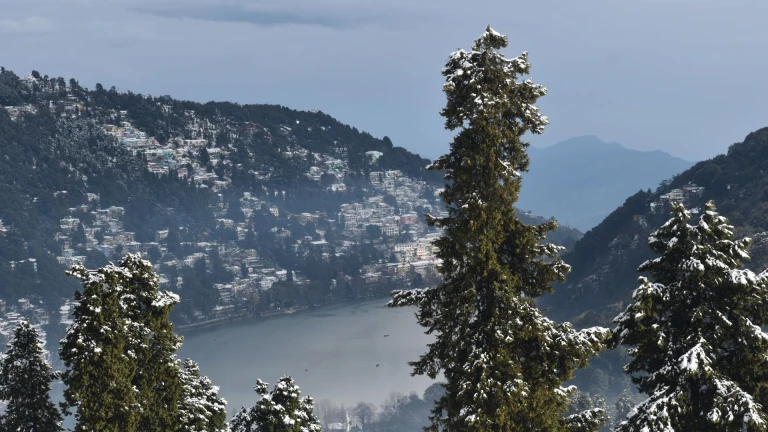 What to Do in Nainital During Winter
Snowfall Delights
The primary reason to visit Nainital in winter is to experience the joy of snowfall. Bundle up and take leisurely walks as the snow blankets the town. Capture the scenic beauty and relish the serene atmosphere. As you stroll through the snow-covered streets, you'll find that the town takes on a magical aura, with every building, tree, and street lamp adorned in glistening white.
Must Eat: To ward off the chill, savor hot and spicy street food like samosas, pakoras, and roasted corn from local vendors. These treats not only warm your hands but also your soul as you savor the winter delights.
Snow Trekking
For adventure seekers, winter opens up opportunities for snow trekking. The trails around Nainital, like Snow View Point and Tiffin Top, offer an exhilarating trekking experience amidst snow-covered landscapes. The crisp mountain air fills your lungs as you trek through a winter wonderland, with each step leaving a satisfying crunch in the snow.
Also Read: Himalayan Camping 101: Everything You Need to Know
Visit Snow View Point
Take the cable car or trek to Snow View Point for breathtaking panoramic views of the snow-covered Himalayas. The view from this vantage point is especially captivating during winter, with the entire landscape bathed in a soft, ethereal glow.
Shopping
Stroll through Mall Road, where you can find local shops selling woollen clothes, souvenirs, and handicrafts. The winter season brings out a unique charm to the street, with shops showcasing an array of warm clothing and winter accessories.
Must Eat: While on Mall Road, relish a hot and hearty bowl of thukpa, a Tibetan noodle soup, at a local restaurant. Thukpa's warmth and robust flavors make it an ideal winter meal.
Must-Visit Places in Nainital During Winter
Naina Devi Temple
Begin your winter exploration with a visit to the Naina Devi Temple. Located on the northern shore of Naini Lake, this sacred temple is a place of tranquillity and devotion. The temple's serene surroundings and architectural beauty are accentuated by the winter calm.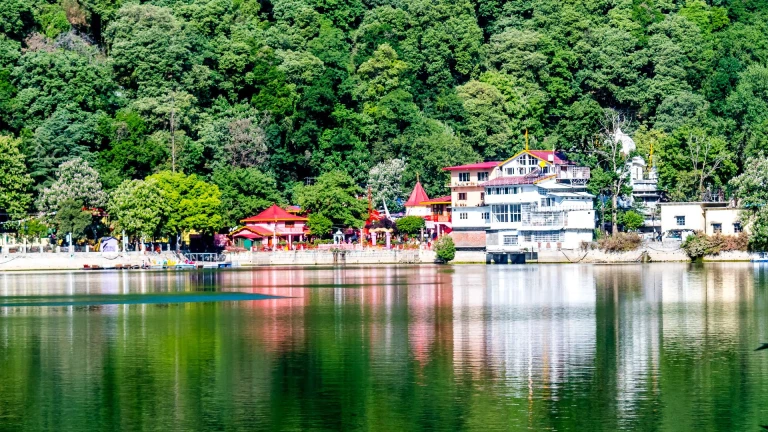 Naini Lake Promenade
A leisurely walk along the Naini Lake promenade is a quintessential Nainital experience. In winter, the lake's serene beauty is heightened by the snowfall. The lakeside walk becomes a magical journey as you observe the soft flakes falling gracefully onto the water's surface.
Naini Lake
The iconic Naini Lake is the heart of Nainital, and its beauty is amplified during winter. Take a serene boat ride and enjoy the reflection of snow-clad peaks in the pristine waters. The lake's tranquil surface mirrors the surrounding snow-capped hills, creating a surreal and captivating view.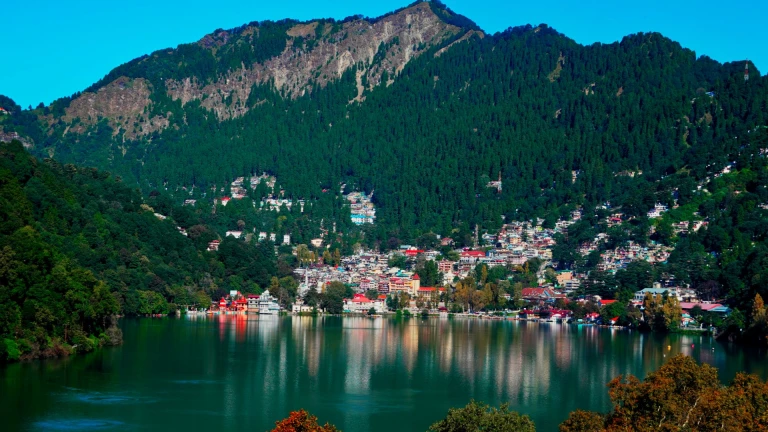 G.B. Pant High Altitude Zoo
A visit to this high-altitude zoo is a unique experience. In winter, you can see the animals frolicking in the snow, making it an ideal time to visit. Watching these creatures play in the snow adds an extra layer of charm to the zoo visit.
Tiffin Top
Also known as Dorothy's Seat, Tiffin Top offers a panoramic view of the Himalayas and Nainital. It's a great spot for trekking and enjoying the snow. The trek to Tiffin Top in winter provides not only stunning vistas but also a thrilling adventure. Named after an Englishwoman, Dorothy's Seat offers mesmerizing views of the surrounding hills and Nainital town covered in a white blanket of snow. The viewpoint is a must-visit during winter for breathtaking vistas.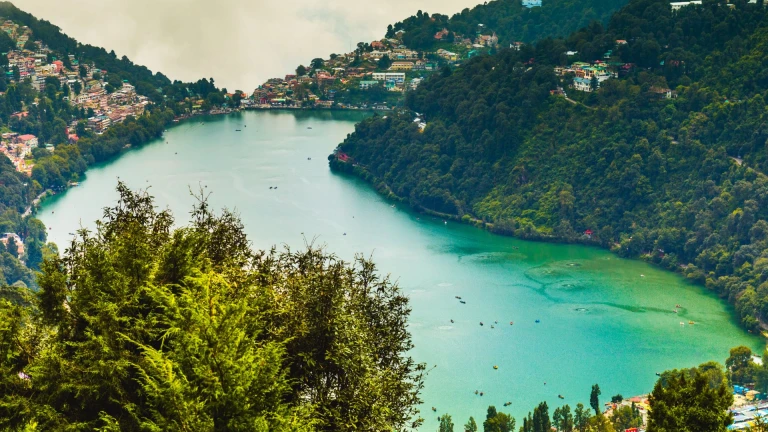 The Mall Road
Mall Road comes alive during winter with shops selling woollen clothes, antiques, and local handicrafts. Stroll along this bustling street and enjoy the festive atmosphere. The colorful displays and vibrant street life make for a memorable winter shopping experience.
Local Cuisine to Try
Don't miss the opportunity to savor the delectable local cuisine of Nainital during your winter visit:
Ras: A traditional Kumaoni dish made from various dals (lentils) with a distinct, spicy flavor. This dish is a hearty and warming option for a chilly day.

Aloo Ke Gutke: Spicy fried potatoes seasoned with local spices, a perfect winter comfort food. The fiery taste of this dish adds a spicy warmth to your palate.

Bhatt Ki Churkani: Black beans cooked in a thick gravy of spices and served with rice or roti. This dish is a filling and flavorful choice for a winter meal.

Gahat Ki Dal: A nutritious lentil soup made from horse gram lentils, perfect for warming up in the cold weather. This soup not only provides comfort but also a healthy dose of warmth.

Thukpa: A Tibetan noodle soup with vegetables and meat, ideal for keeping warm after a winter trek. The steaming broth and hearty ingredients make it a satisfying choice.

Bal Mithai and Singori: These sweet treats are a must-try, offering a delightful taste of Nainital's dessert culture. The sweet indulgence of Bal Mithai and the unique flavors of Singori are perfect for satisfying your sweet tooth.
Nainital in winter is a magical experience, where snowfall transforms this hill station into a serene wonderland. Whether you're seeking the thrill of snow trekking or the tranquillity of a lakeside stroll, Nainital offers a diverse range of activities and places to explore during this season. With its rich local cuisine and warm hospitality, Nainital ensures that your winter visit is not just about the stunning landscapes but also a delightful culinary journey. So, plan your winter escapade to Nainital, and let the snowflakes weave a tapestry of memories that you'll cherish for a lifetime. Embrace the enchanting beauty of Nainital in winter, and you'll discover a destination that truly comes alive amidst the snow.
Also Read: First snowfall of the season in Gulmarg