Unveil the enchanting tapestry of Jaisalmer in 2023, where history, culture, and golden sands converge to create a unique and captivating destination. The "Golden City" of India, Jaisalmer, is renowned for its stunning architecture, vibrant culture, and the vast Thar Desert that surrounds it. In this comprehensive travel guide, we will lead you through 20 must-visit places and experiences that promise to make your Jaisalmer journey an unforgettable adventure.
1. Jaisalmer Fort - The Golden Citadel
Your exploration of Jaisalmer begins with the iconic Jaisalmer Fort, often referred to as the "Golden Fort" due to its distinctive honey-golden sandstone architecture. This UNESCO World Heritage Site is a living fort with houses, shops, and temples nestled within its walls. As you wander through the narrow alleys, you'll feel like you've stepped back in time. Marvel at the intricate carvings, Jain temples, and the sweeping view of the city below from the fort's highest points.
Timings: 9:00 AM to 5:00 PM
Entry Fee: INR 50 for Indian nationals, INR 250 for foreign tourists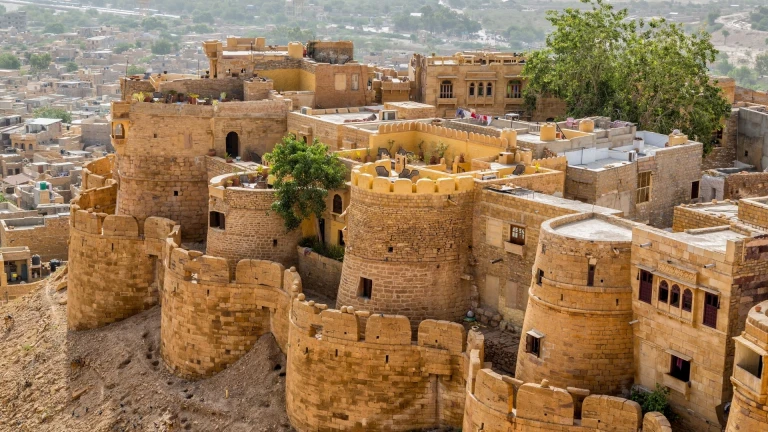 2. Patwon Ki Haveli - Architectural Marvel
Patwon Ki Haveli is a cluster of five intricately carved havelis (mansions) that showcases the artistry of Jaisalmer's craftsmen. Admire the exquisite carvings, and don't forget to visit the Haveli Museum for a deeper understanding of the city's history and culture. The havelis are a testament to the opulence and creativity of the merchant class in Jaisalmer during the 19th century.
Timings: 9:00 AM to 5:00 PM
Entry Fee: INR 100 for Indian nationals, INR 500 for foreign tourists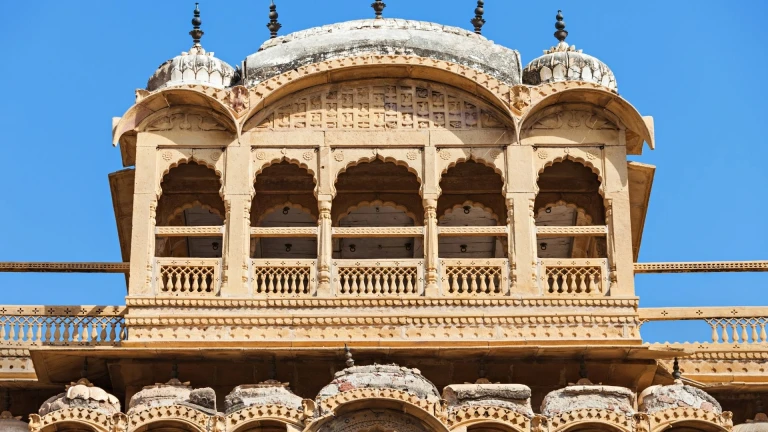 3. Salim Singh Ki Haveli - Peacock's Eye Balconies
Salim Singh Ki Haveli is known for its unique architecture, featuring peacock-shaped balconies. The building is a testament to the artistic skills of the bygone era. Explore its beautifully adorned rooms and balconies, each with its own unique design and character. The peacock balconies are the standout feature, offering a glimpse into the extravagant tastes of the past.
Timings: 9:00 AM to 5:00 PM
Entry Fee: INR 20 for Indian nationals, INR 100 for foreign tourists
4. Gadisar Lake - Tranquil Oasis
Gadisar Lake, surrounded by temples and shrines, is a serene oasis in the midst of the arid landscape. Hire a boat to glide over its calm waters or take a leisurely walk along its banks. The lake is especially captivating at sunrise and sunset. It's not just a natural attraction but a cultural one as well, with beautifully carved Chattris (cenotaphs) and shrines around its perimeter.
Timings: 8:00 AM to 8:00 PM
Entry Fee: Free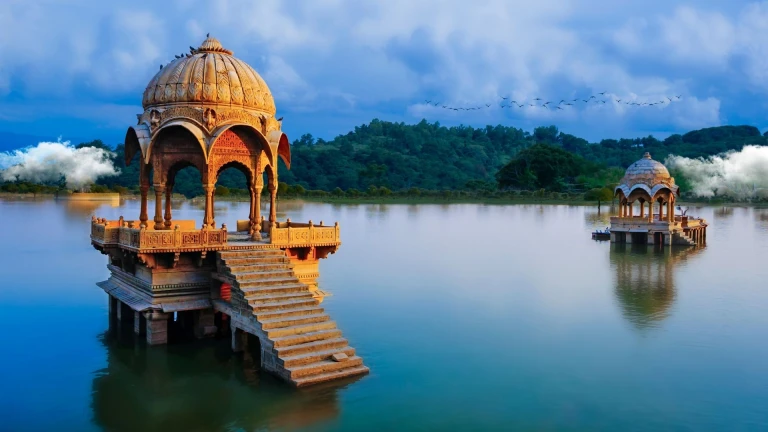 5. Desert Safari - Dunes of Thar
A visit to Jaisalmer is incomplete without a desert safari. Venture into the Thar Desert and experience the thrill of riding a camel or an all-terrain vehicle (ATV) on the golden sands. Witness the mesmerizing sunset, followed by traditional Rajasthani folk performances and a sumptuous dinner under the starlit desert sky. The desert safari is a thrilling adventure that offers a taste of the nomadic lifestyle of the region.
Timings: Evening safaris for sunset, overnight options available
Package Prices: Varies based on the type of safari and duration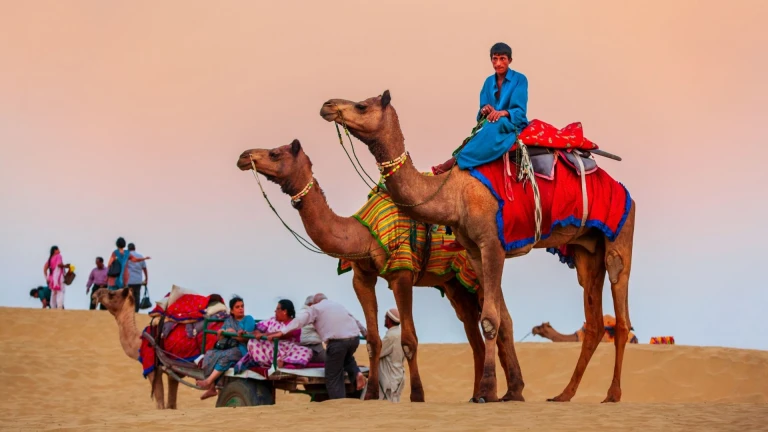 6. Sam Sand Dunes - Majestic Dunescape
For a quintessential desert experience, head to the Sam Sand Dunes. These dunes offer the perfect backdrop for camel rides and exhilarating adventures amidst the rolling sands. The endless expanse of dunes is a photographer's dream and a tranquil escape from the city's hustle and bustle.
Timings: Open all day
Entry Fee: Ranging from INR 1800 to INR 8000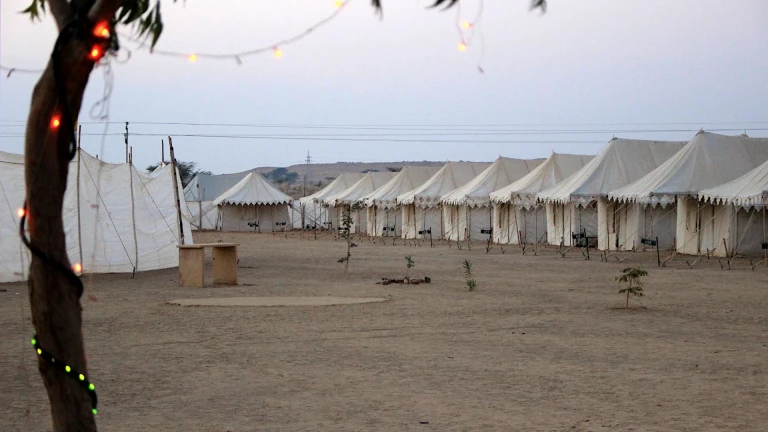 7. Kuldhara Village - The Abandoned Village
Delve into the mystery of Kuldhara, a deserted village that has stood still for centuries. Rumored to be haunted, this village carries an aura of intrigue and is a captivating place for photographers and history enthusiasts. As you walk through the winding streets of this ghost town, you'll be transported back in time and captivated by the stories of its former inhabitants.
Timings: 8:00 AM to 6:00 PM
Entry Fee: INR 30 for Indian nationals, INR 100 for foreign tourists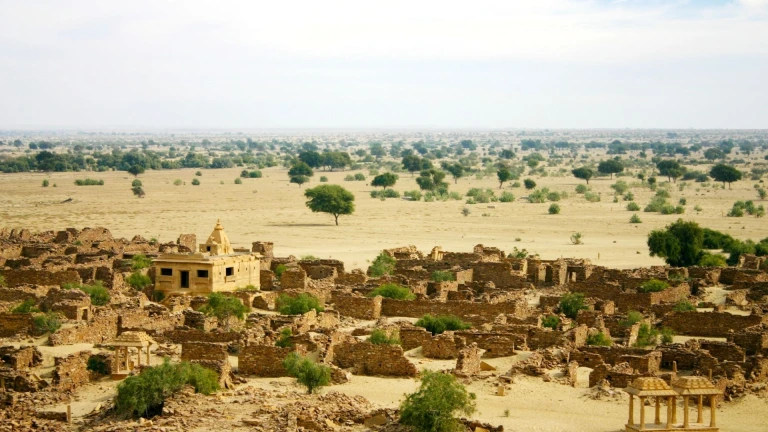 Also Read: Incredible India's UNESCO Gems: A Traveler's Delight
8. Nathmal Ki Haveli - Twin Haveli Delight
Nathmal Ki Haveli is renowned for its unique architecture as it was constructed by two different architects. The result is an intriguing haveli with distinct styles, both featuring elaborate carvings and intricate craftsmanship. The haveli is a testament to the exquisite craftsmanship and creative genius of the artists of the time.
Timings: 8:00 AM to 6:00 PM
Entry Fee: INR 20 for Indian nationals, INR 100 for foreign tourists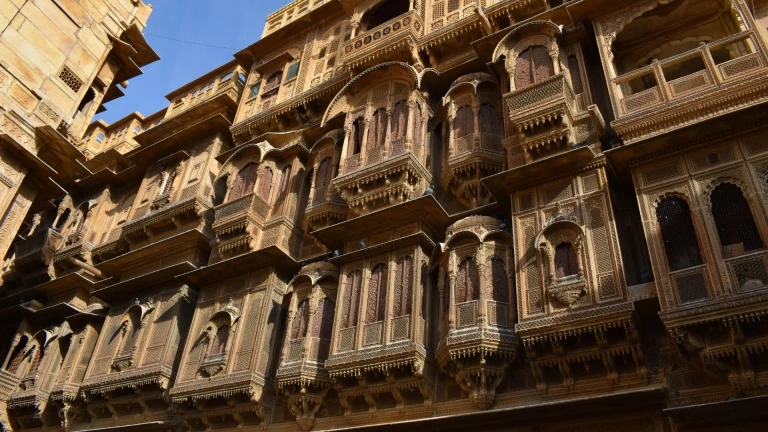 9. Jaisalmer War Museum - Salute to Valor
The Jaisalmer War Museum is a tribute to the valor of the Indian Armed Forces. It houses exhibits and artifacts that depict the history and sacrifices of the Indian military. The open-air gallery showcases tanks, fighter jets, and more. It's not just a museum but a place of reflection on the sacrifices made by the brave soldiers who serve the nation.
Timings: 9:00 AM to 7:00 PM
Entry Fee: INR 50 for Indian nationals, INR 100 for foreign tourists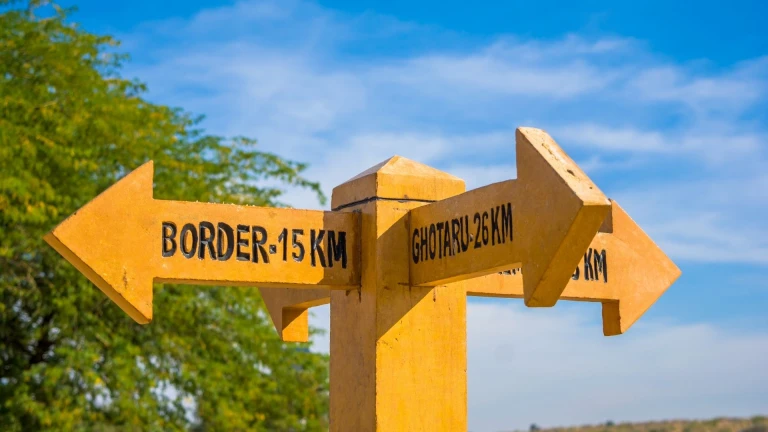 10. Badal Palace - The Cloud Palace
Badal Palace, or the "Cloud Palace," is part of the Jaisalmer Fort complex. It offers stunning panoramic views of the city and surrounding desert. Explore the intricacies of Rajput architecture and enjoy the vistas from its terraces. The palace is not only a historic site but also offers one of the best viewpoints in the city.
Timings: 9:00 AM to 5:00 PM
Entry Fee: Included in Jaisalmer Fort ticket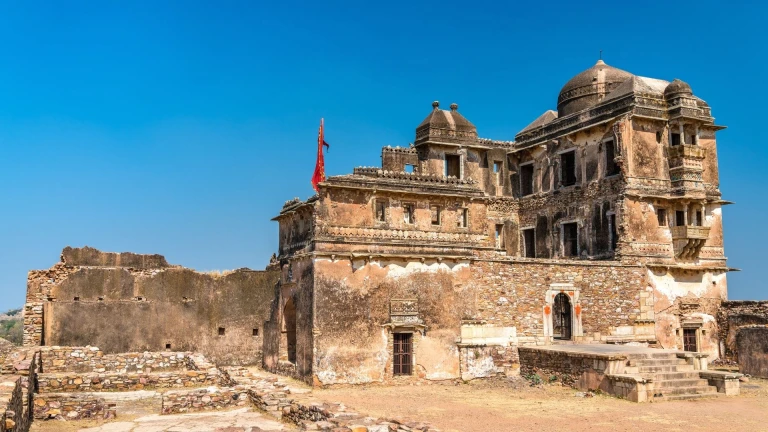 11. Tanot Mata Temple - Divine Devotion
Located near the India-Pakistan border, Tanot Mata Temple is a place of deep religious significance and unwavering faith. Visit to pay your respects and to learn about the temple's incredible history. The temple is a symbol of faith and resilience, as it withstood enemy attacks during times of conflict.
Timings: Open all day
Entry Fee: Free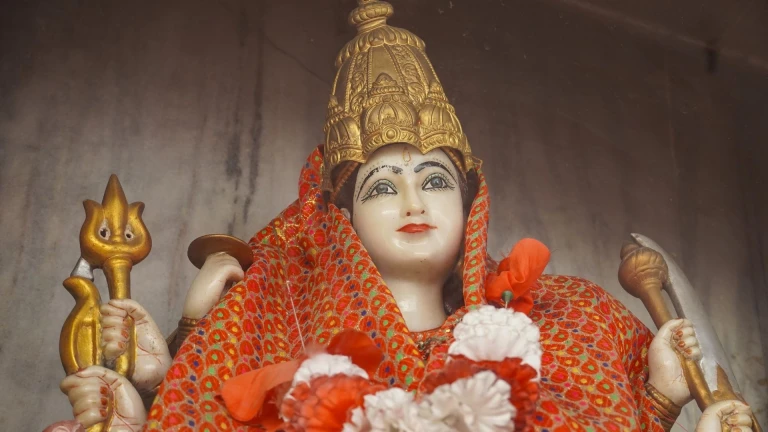 12. Silk Route Art Gallery - Artistic Treasures
Explore the Silk Route Art Gallery to witness the talent and creativity of local artists. The gallery showcases a wide range of art, from paintings to sculptures, providing a glimpse into the rich culture of Jaisalmer. The art gallery is a testament to the thriving art scene in the city.
Timings: 9:00 AM to 6:00 PM
Entry Fee: Free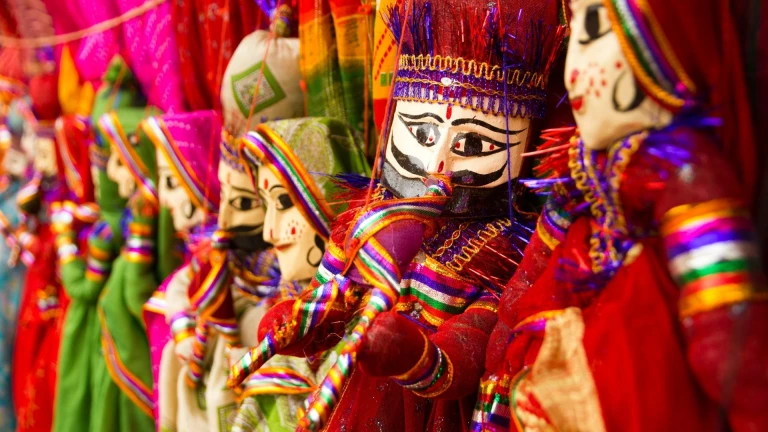 13. Khaba Fort - The Haunting Ruins
Khaba Fort is a hauntingly beautiful ruined fortress. Wander through the abandoned village, where empty houses and remnants of a bygone era paint an evocative picture of life in the desert. The fort is a step back in time, where you can feel the silence of the deserted village.
Timings: 9:00 AM to 6:00 PM
Entry Fee: INR 50 for Indian nationals, INR 200 for foreign tourists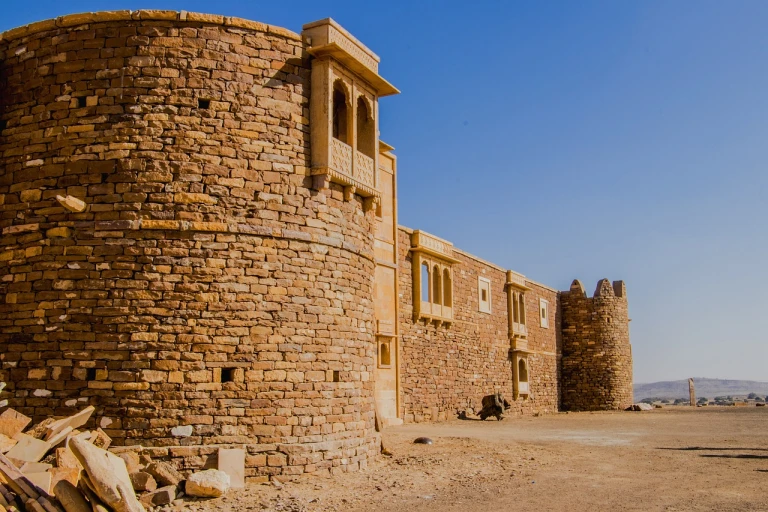 14. Bada Bagh - Royal Tombs
Bada Bagh is a garden complex that houses a series of royal cenotaphs or chhatris. The site offers a glimpse into the rich history of the royal families of Jaisalmer. Each chhatri is an architectural marvel, commemorating the legacy of the rulers of the region.
Timings: 8:00 AM to 6:00 PM
Entry Fee: INR 20 for Indian nationals, INR 100 for foreign tourists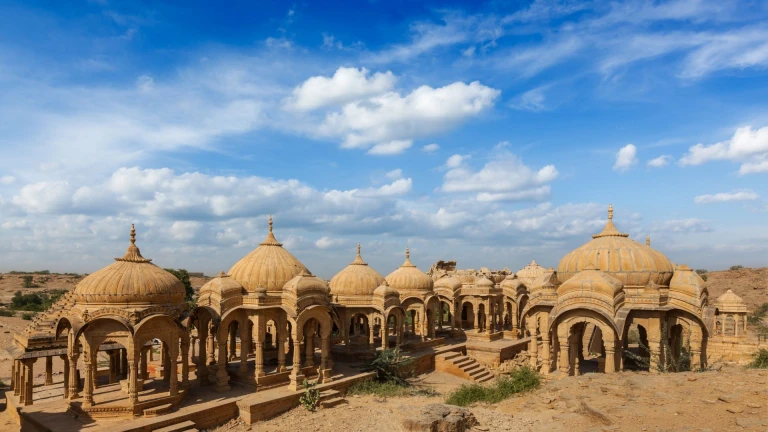 15. Barmer - A Desert Gem
A short excursion to the nearby town of Barmer is a delightful addition to your Jaisalmer itinerary. Barmer is known for its rich Rajasthani culture and handicrafts. Explore the colorful local markets, admire the intricate embroidery, and experience the warm hospitality of this charming desert town.
Distance from Jaisalmer: Approximately 153 kilometers (95 miles)
Travel Time: Around 3 hours by road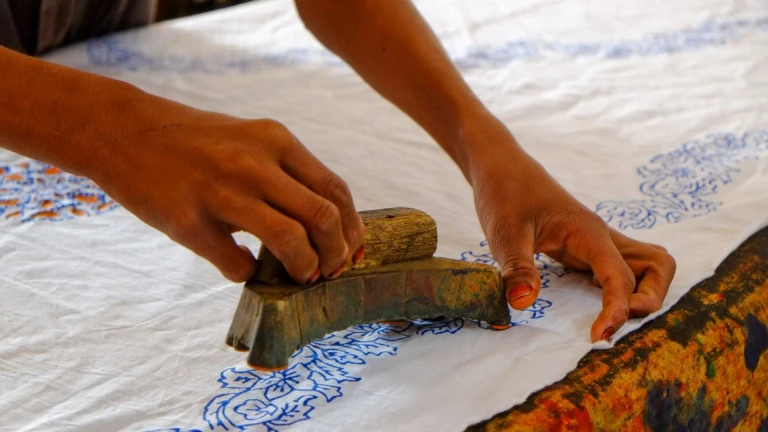 16. Desert Handicrafts - Shop for Treasures
Jaisalmer is a treasure trove of exquisite handicrafts. Shop for traditional Rajasthani textiles, jewelry, and leather goods in local markets. Don't forget to haggle for the best deals. The local markets are a treasure trove of authentic Rajasthani goods and a shopper's paradise.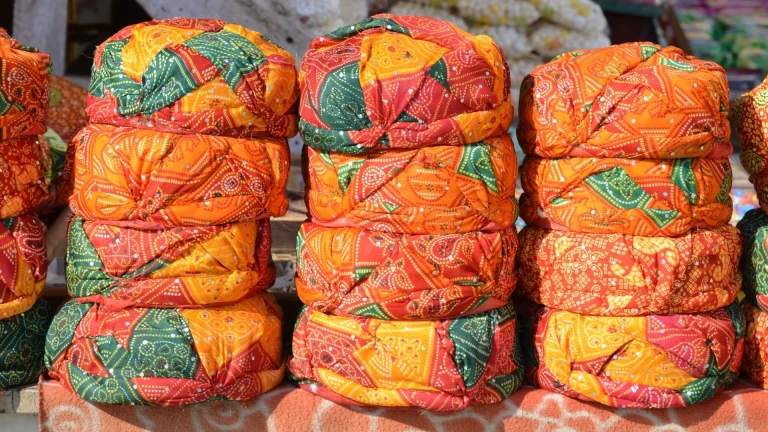 17. Folk Performances - Cultural Extravaganza
Immerse yourself in the vibrant culture of Rajasthan by attending folk performances. Watch mesmerizing dances, listen to traditional music, and marvel at the colorful attire of the artists. The folk performances offer a glimpse into the rich traditions of the region.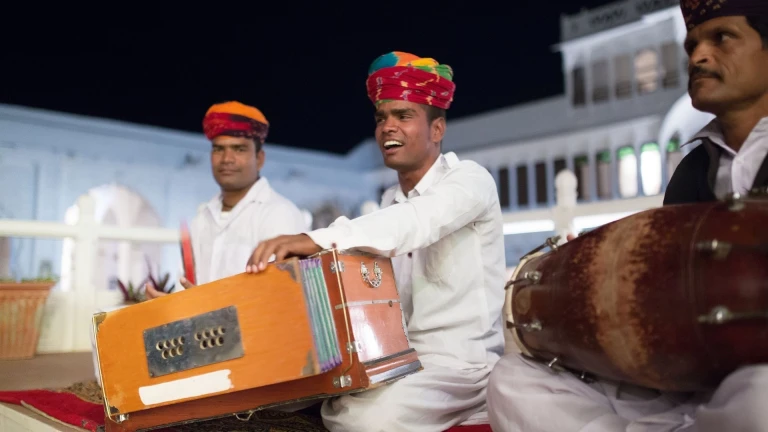 18. Jain Temples - Spiritual Solace
Jaisalmer is home to several stunning Jain temples. These architectural marvels offer a serene setting for contemplation and prayer. The Jain temples are not just places of worship but also architectural gems.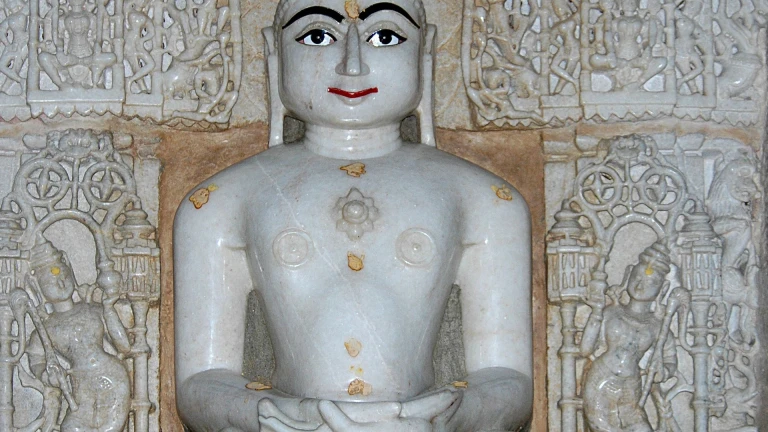 19. Vyas Chhatri - A Riverside Gem
Vyas Chhatri is a picturesque complex of cenotaphs that overlooks the tranquil Amar Sagar Lake. It's a peaceful spot to enjoy the serene surroundings, relax by the lake, and appreciate the intricate architecture of these royal memorials. The reflections of the chhatris in the water create a captivating scene, making it a must-visit for photography enthusiasts.
Timings: 9:00 AM to 6:00 PM
Entry Fee: INR 20 for Indian nationals, INR 100 for foreign tourists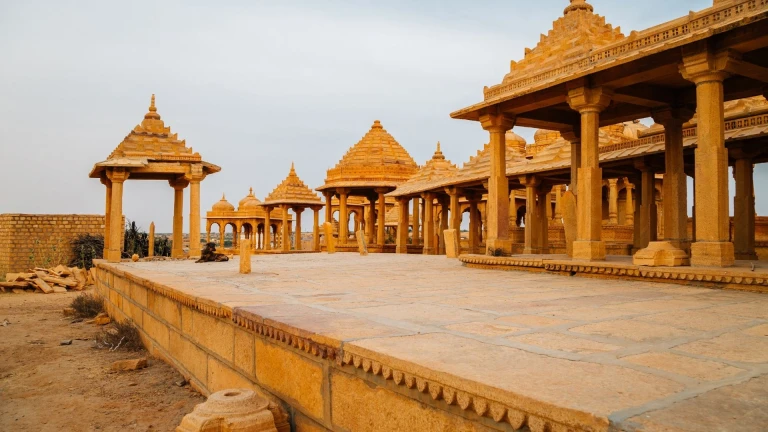 20. Local Cuisine - Flavors of Rajasthan
Indulge in the delectable flavors of Rajasthani cuisine. Try dishes like dal baati churma, gatte ki sabzi, and the famous Rajasthani thali. Savor the rich spices and unique culinary traditions of the region. The local cuisine is a sensory delight that will tantalize your taste buds.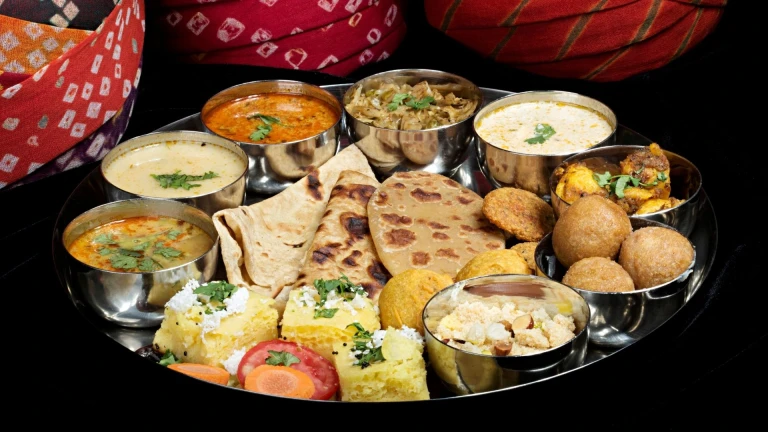 Also Read: Places that you MUST VISIT in Delhi with your Family
As you explore Jaisalmer in 2023, you'll find yourself immersed in the rich history, vibrant culture, and the golden sands of this enchanting city. Whether you're a history enthusiast, a nature lover, or a food connoisseur, Jaisalmer offers something for everyone. Enjoy your adventure in the heart of Rajasthan and create lasting memories in the "Golden City."