Mumbai, often referred to as the "City of Dreams," is a bustling metropolis known for its diverse culture, stunning coastline, and a myriad of thrilling activities to indulge in. Among these activities, parasailing and paragliding have gained immense popularity among adventure enthusiasts.
In this article, we will explore the exhilarating world of parasailing and paragliding in Mumbai, including how they work, safety considerations, and the top spots to experience these adrenaline-pumping adventures.
What is Parasailing?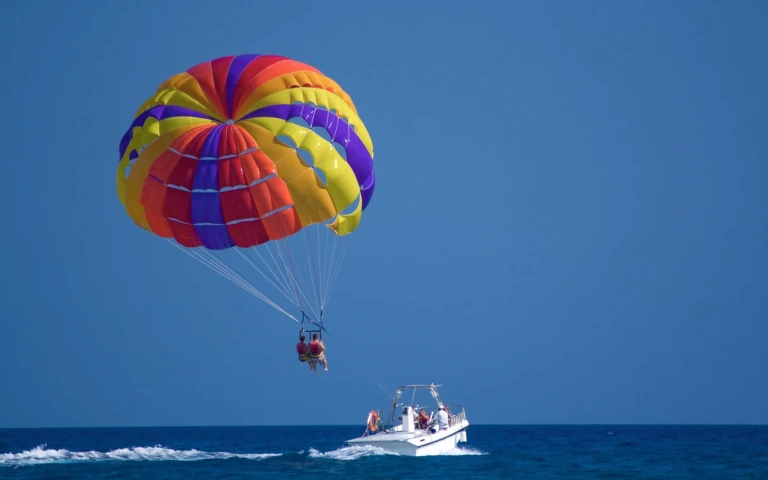 Parasailing
Parasailing is an adventure sport that combines the thrill of flying with the beauty of the open sea. It involves being tethered to a parachute-like canopy, known as a parasail, while being towed behind a speedboat. As the boat accelerates, the parasailor is lifted into the air, allowing them to glide high above the water. It's an experience that offers breathtaking views and an unmatched feeling of freedom.
How Does Parasailing Work?
Preparation: After securing a harness, you'll be attached to the parasail canopy and connected to the boat via a towline.

Takeoff: As the boat accelerates, the wind fills the parasail canopy, creating lift. This lift raises you off the deck, and you start soaring into the sky.

Flight: Once airborne, you'll experience the sensation of floating as you are pulled by the boat. The higher the boat goes, the more spectacular the views become.

Landing: When your parasailing adventure concludes, you'll be gradually brought back to the boat's deck for a safe and controlled landing.
Types of Parasailing
In Mumbai, you can typically find two types of parasailing experiences:
Winch Boat Parasailing: This is the most common form of parasailing, where a winch system on the boat controls the length of the towline, allowing for a controlled ascent and descent.

Platform Parasailing: Here, you take off and land from a platform, which can be a great option for those who prefer a gentler start and finish to their adventure.
Safety First!
Safety is paramount when it comes to parasailing. Always ensure that:
You are provided with proper safety equipment, including a life jacket and harness.

The operator is licensed and follows safety guidelines.

Weather conditions are suitable for parasailing, with clear skies and moderate winds.

You follow the instructions given by the operator to ensure a safe and enjoyable experience.
Top Parasailing Spots in Mumbai
Juhu Beach: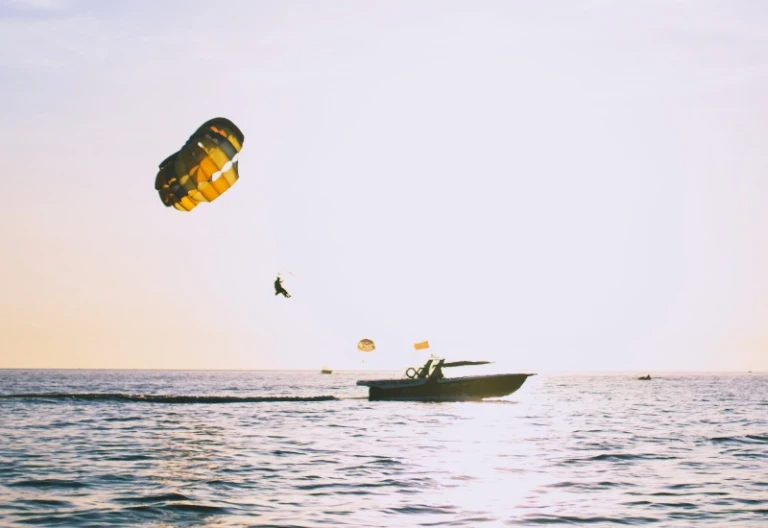 Parasailing at Juhu Beach
Juhu Beach is a quintessential Mumbai hotspot, and it's also a fantastic location for parasailing. Situated along the city's western coast, Juhu Beach offers parasailers the chance to take flight with a backdrop of the shimmering Arabian Sea and Mumbai's iconic skyline.
Its accessibility makes it a go-to choice for tourists and locals alike, with numerous operators offering thrilling parasailing adventures right on the beach. After your exhilarating flight, you can savor delicious street food, take a leisurely stroll along the shoreline, or simply unwind on the golden sands.
Gorai Beach: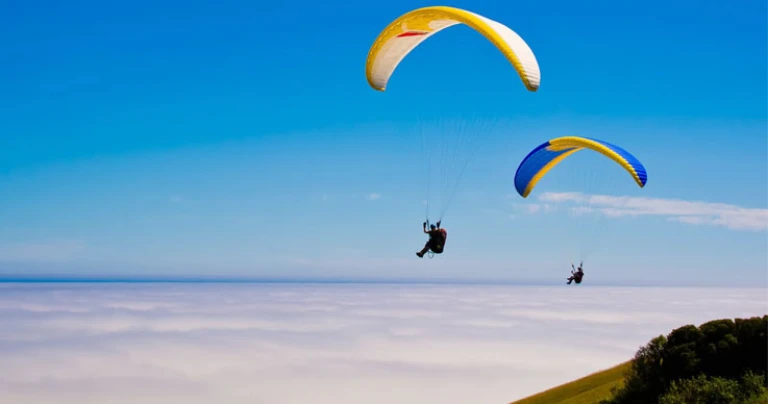 Parasailing at Gorai Beach
On the other hand, Gorai Beach provides a quieter and more serene atmosphere compared to the bustling Juhu Beach. Located in the northwestern part of Mumbai, Gorai Beach is accessible by a short ferry ride from Marve Beach.
The clean shores and tranquility make it an excellent choice for those seeking a more peaceful parasailing experience. While you may find fewer parasailing operators here, the experience is just as thrilling, if not more so, thanks to the serene surroundings that allow you to soak in the beauty of the sea and sky.
What is Paragliding?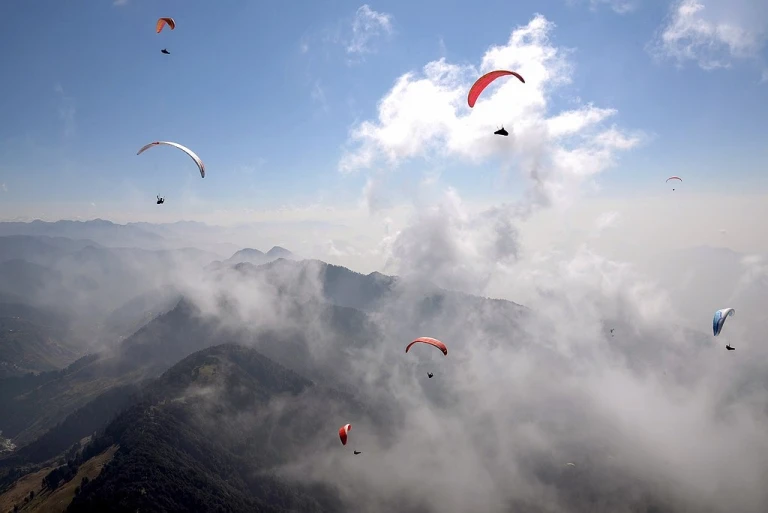 Paragliding
Paragliding is a thrilling adventure sport that allows you to glide gracefully through the air with the help of a lightweight, non-motorized glider. Unlike parasailing, which is done over water, paragliding takes you soaring over the hills and landscapes, offering an entirely different perspective of the city.
Other Information on Paragliding
Equipment: Paragliding requires a paraglider, harness, and helmet. You are also tethered to a parachute-like wing that captures air to provide lift.

Training: It is essential to undergo proper training before attempting solo paragliding. Mumbai offers a range of paragliding schools where you can learn the ropes.
Paragliding Spots in Mumbai
Kamshet: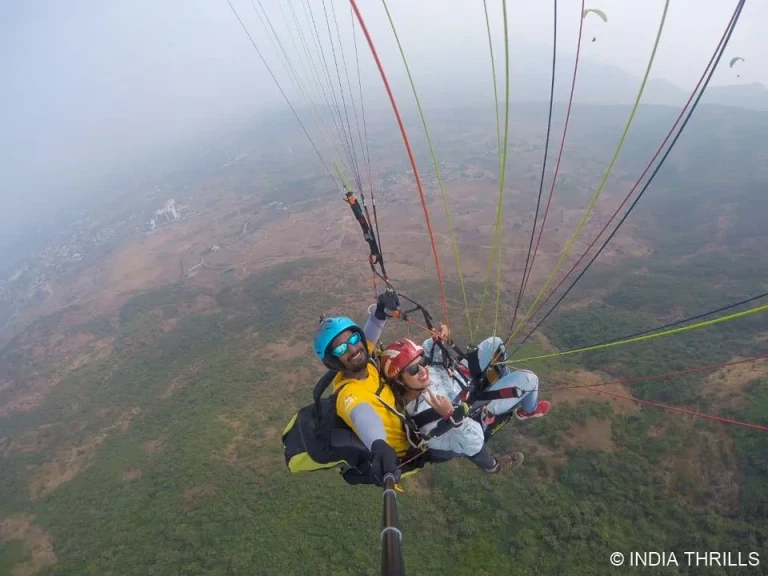 Paragliding at Kamshet
For paragliding enthusiasts, Kamshet is the ultimate destination. Located approximately 110 kilometers from Mumbai, this picturesque hill station is a mere 2-3 hour drive away. Nestled in the Western Ghats, Kamshet offers paragliders breathtaking views of lush green valleys, picturesque villages, and serene lakes.
The area is renowned for its exceptional thermals, providing a reliable source of lift for paragliders, making it an ideal spot for both beginners and experienced flyers. Kamshet is home to several paragliding schools and experienced instructors who can provide training and tandem flights for those looking to explore this thrilling adventure.
Read more: Explore 9 beautiful Hill Stations Near Mumbai in 2023
Pavana Lake: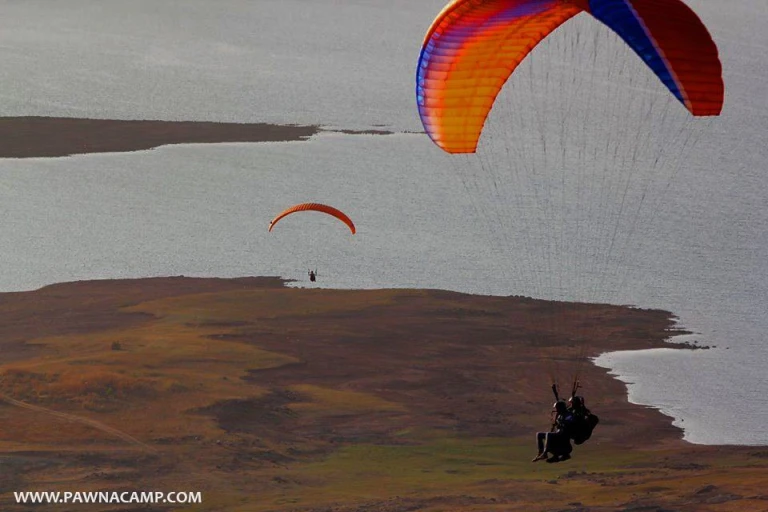 Paragliding at Pavana Lake
Just a stone's throw away from Kamshet is Pavana Lake, another delightful paragliding spot. Offering a tranquil setting with its clear waters and rolling hills, Pavana Lake provides a unique paragliding experience.
Paragliders here have the opportunity to glide gracefully above the serene lake, surrounded by the natural beauty of the landscape. With flight options catering to varying skill levels, from novice to expert, Pavana Lake is a peaceful yet exhilarating choice for a paragliding adventure near Mumbai.