Nestled in the Indian state of Meghalaya, Cherrapunji is a place of enchanting beauty and a traveler's paradise. Known for its abundant rainfall and lush landscapes, Cherrapunji offers a unique and immersive experience for those seeking to explore the natural wonders of Northeast India. In this Cherrapunji travel guide, we will discuss the best time to visit this captivating destination and the top things to do during your trip.
Before You Go
Before embarking on your Cherrapunji adventure, there are a few essential things to consider:
Travel Permits: Cherrapunji, located in the Indian state of Meghalaya, requires travelers from outside the state to obtain an Inner Line Permit (ILP). You can easily get this permit at the entry points of Meghalaya or apply for it online in advance.

Packing Essentials: Due to the varying weather conditions, pack accordingly. Be sure to include rain gear, comfortable hiking shoes, warm clothing if you're visiting in the winter, and insect repellent.

Health Precautions: Consult your healthcare provider for advice on vaccinations and other health precautions. It's also wise to carry a basic medical kit.

Local Culture: Familiarize yourself with the local customs and respect the indigenous Khasi culture. Meghalaya is a matrilineal society, so be mindful of their unique traditions.
Getting There
Cherrapunji is well-connected by multiple modes of transportation:
By Air:
The nearest major airport to Cherrapunji is Shillong Airport (also known as Umroi Airport), approximately 50 kilometers away. You can book a domestic flight to Shillong from major Indian cities like Kolkata, Guwahati, or Delhi. From the airport, you can hire a taxi to reach Cherrapunji.
By Train:
The nearest railway station is Guwahati Railway Station, which is about 147 kilometers from Cherrapunji. You can reach Guwahati by train from various major cities in India. From Guwahati, you can hire a cab or take a bus to Cherrapunji.
By Road:
Cherrapunji is well-connected by road, and the journey is a scenic delight. You can drive or hire a taxi from Guwahati, Shillong, or nearby towns. The roads are well-maintained, and the journey is an experience in itself.
Where to Stay
Cherrapunji offers a range of accommodation options to suit different budgets and preferences:
Hotels and Resorts: There are several hotels and resorts in and around Cherrapunji that offer comfortable stays with varying levels of luxury. Some even provide panoramic views of the lush landscapes.

Guesthouses and Homestays: Staying with local families in guesthouses or homestays is a fantastic way to experience the Khasi culture firsthand. You'll get a warm and authentic welcome.

Budget Accommodation: For travelers on a tight budget, there are affordable guesthouses and budget hotels available. These provide basic amenities for a comfortable stay.

Camping: If you're an adventure enthusiast, some campsites near Cherrapunji allow you to immerse yourself in nature and enjoy camping under the stars.
Best Time to Visit Cherrapunji:
Monsoon Magic (June to September): Cherrapunji is famous for receiving one of the highest annual rainfalls in the world. During the monsoon season, the landscapes come alive with vibrant greenery, gushing waterfalls, and misty valleys. If you want to witness Cherrapunji's iconic living root bridges at their finest and experience the magic of the rains, this is the time to visit. However, be prepared for occasional travel disruptions due to heavy rainfall.
Post-Monsoon Bliss (October to November):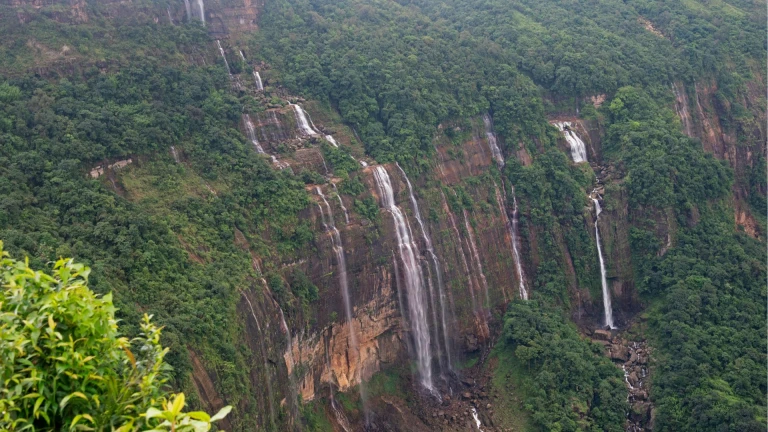 Cherrapunji, Meghalaya
After the monsoon season, Cherrapunji transforms into a lush paradise. The weather becomes more pleasant, and the rains recede, making it an ideal time for trekking and exploring the stunning scenery.
Winter Wonderland (December to February):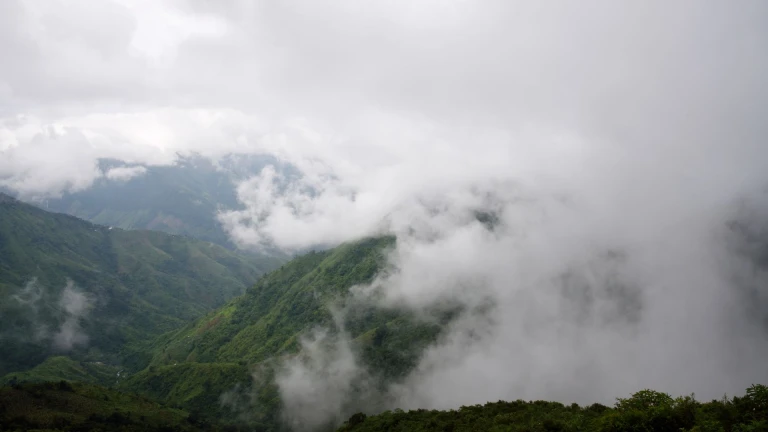 Cherrapunji, Meghalaya
If you prefer milder temperatures, visiting Cherrapunji during the winter months is a great choice. The cool, crisp air and clear skies offer breathtaking views of the landscape, and it's an excellent time for outdoor activities like hiking and sightseeing.
Blooming Spring (March to May):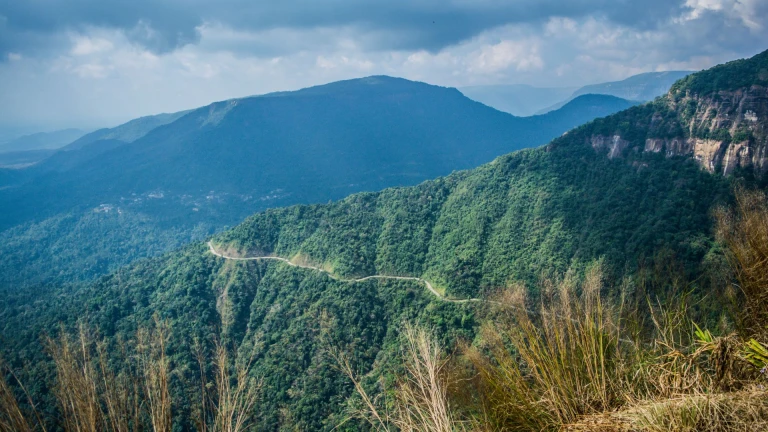 Cherrapunji
Spring in Cherrapunji brings a burst of colorful flora and fauna. The surroundings are alive with vibrant flowers and blooming orchids. This is a wonderful time for nature lovers and photographers to capture the beauty of the region.
Read more: A 3D2N Guide to Koh Samui's Marine Parks, Natural Wonders & More
Local Transportation
Within Cherrapunji, local transportation options are limited but sufficient:
Taxis: Taxis are the most common way to get around Cherrapunji. You can hire a taxi for a day or for the duration of your stay to explore the attractions.

Shared Cabs: You can also find shared cabs for shorter distances. These are a budget-friendly option, but they may involve some waiting.

Walking: Cherrapunji is a relatively small place, and many attractions are within walking distance of each other. Exploring on foot is a great way to soak in the natural beauty.

Guided Tours: Joining guided tours or treks is a popular way to explore the region. Local guides are knowledgeable about the terrain and can enhance your experience.
Top Things to Do in Cherrapunji:
Double Decker Living Root Bridge: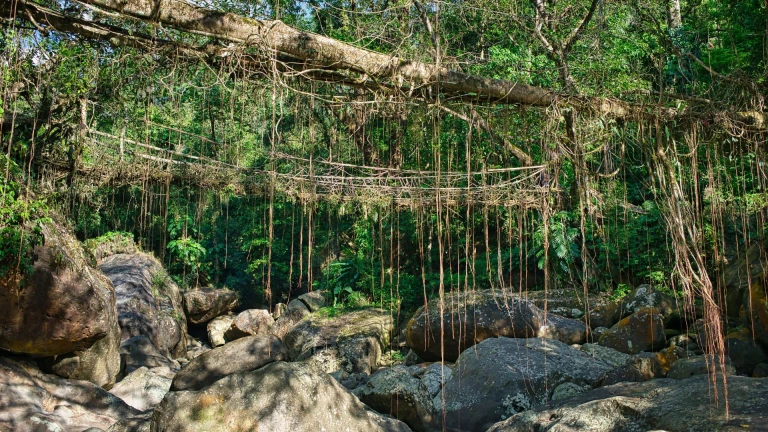 Cherrapunji Double Decker Living Root Bridge
Cherrapunji is famous for its living root bridges, a marvel of sustainable engineering. The Double Decker Living Root Bridge is a must-visit. It's a natural bridge formed by training the roots of rubber trees over several decades.
Nohkalikai Falls: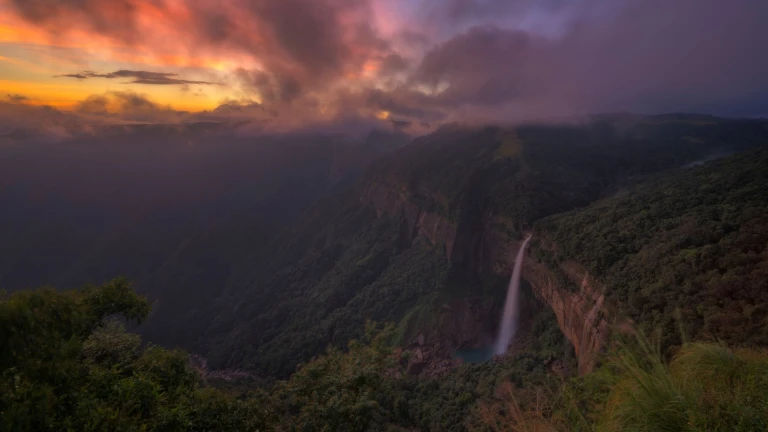 Cherrapunji Nohkalikai Falls
Visit the Nohkalikai Falls, one of the tallest plunge waterfalls in India, and enjoy the stunning panoramic views of the landscape from the viewpoint.
Mawsmai Cave: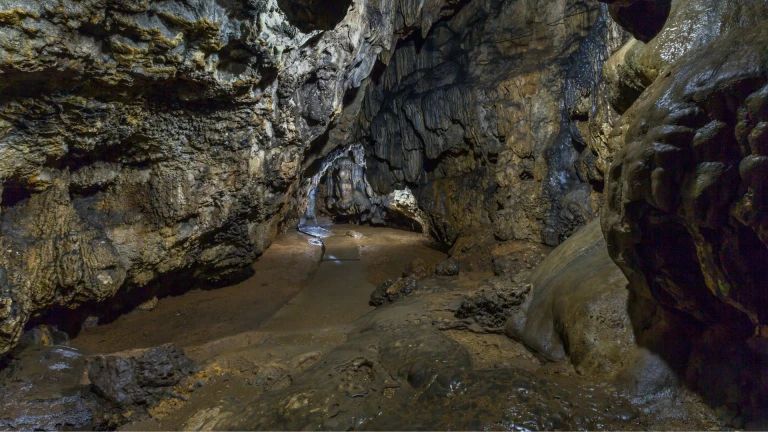 Cherrapunji Mawsmai Cave
Explore the limestone Mawsmai Cave, which offers an exciting underground adventure. Marvel at the intricate cave formations as you walk through the well-lit passages.
Dawki River and Umngot River: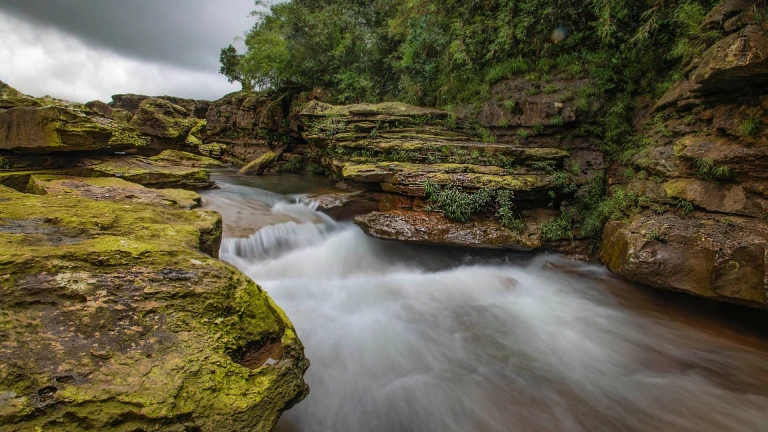 Cherrapunji Umngot River
Take a day trip to the crystal-clear waters of the Dawki and Umngot Rivers. You can go boating and witness the unique underwater beauty.
Mawsynram: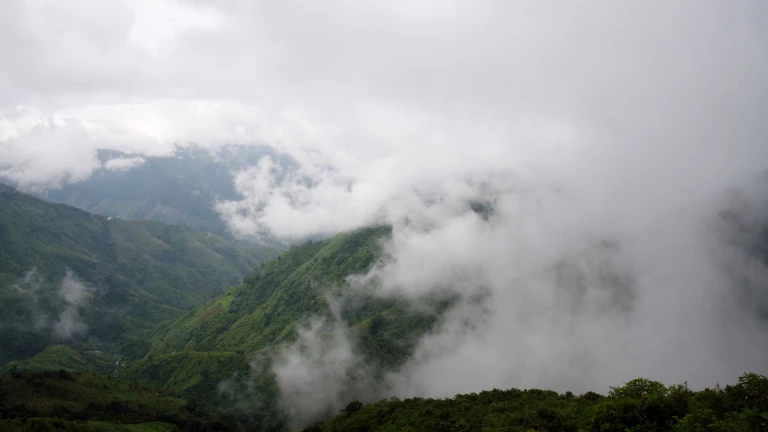 Cherrapunji Mawsynram
Visit Mawsynram, a nearby village that also receives heavy rainfall and boasts its own natural wonders. Explore the Mawjymbuin Cave and see the stunning stalactites and stalagmites.
Cherrapunji Eco Park: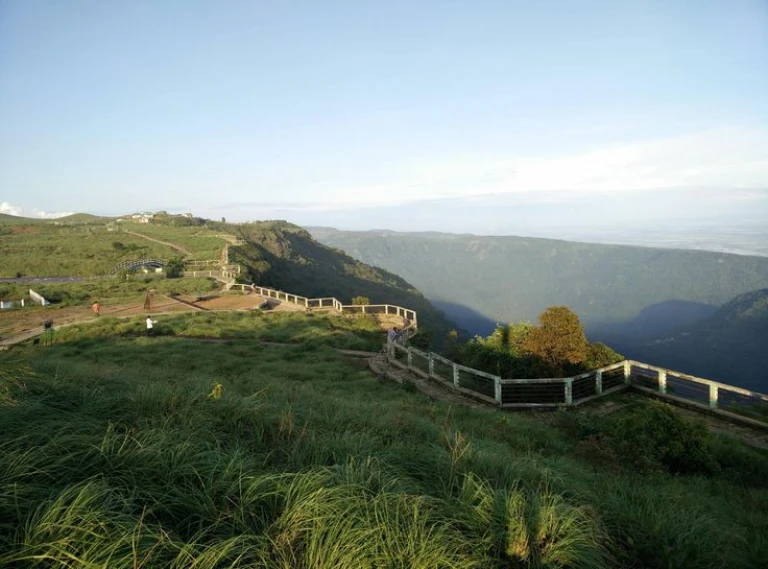 Cherrapunji Eco Park
Spend some time at the Eco Park, where you can enjoy a peaceful walk amidst the greenery and take in panoramic views of the surrounding hills and plains.
Local Culture and Cuisine: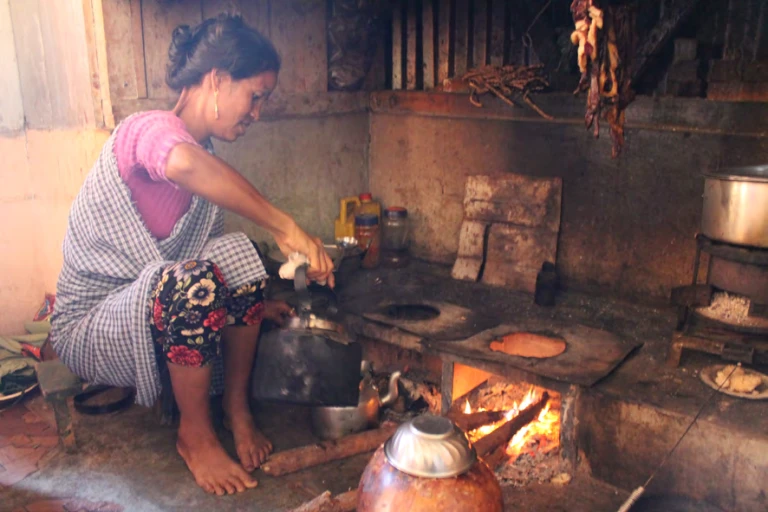 Khasi cuisine, Img: Alternatives Confluence
Don't forget to savor the local Khasi cuisine, which includes delicious dishes like jadoh, tungrymbai, and jhur side. Engage with the warm and friendly Khasi people to understand their culture and traditions.
What and Where to Shop
Cherrapunji may be renowned for its natural beauty, but it also offers some unique shopping experiences. Here's where to shop and what to look for:
Local Handicrafts: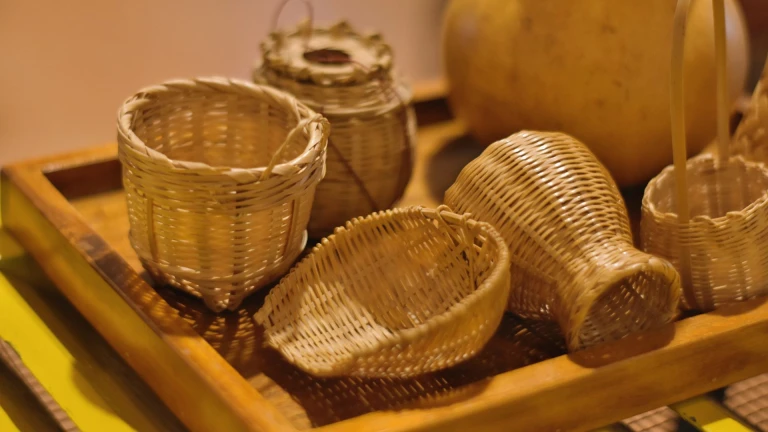 Khasi handicrafts
Cherrapunji is famous for its traditional Khasi handicrafts. Look for handwoven shawls, bamboo and cane products, and intricate knitted items. These make for excellent souvenirs and gifts.
Local Markets: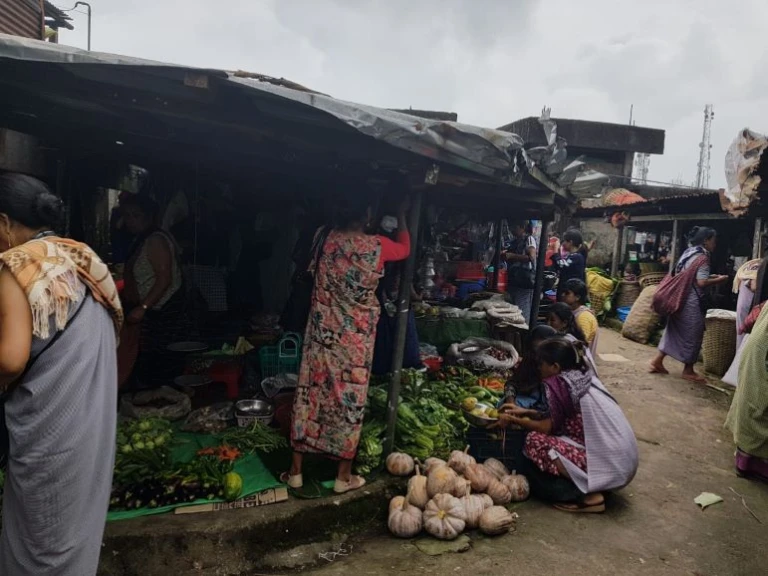 Sohra Market, Cherrapunji
Visit local markets like Sohra Market and Cherrapunji Market to browse a wide range of locally produced goods. You'll find organic fruits and vegetables, indigenous spices, and homemade pickles that capture the essence of the region.
Meghalaya Tea:
Meghalaya is known for its high-quality tea. Be sure to buy some organic tea leaves, available at various local shops. It's a great way to take a piece of Cherrapunji's serene landscape home with you.
Must-Try Local Food
Exploring a new destination is incomplete without savoring the local cuisine. Cherrapunji offers a variety of mouthwatering dishes that you must try:
Jadoh: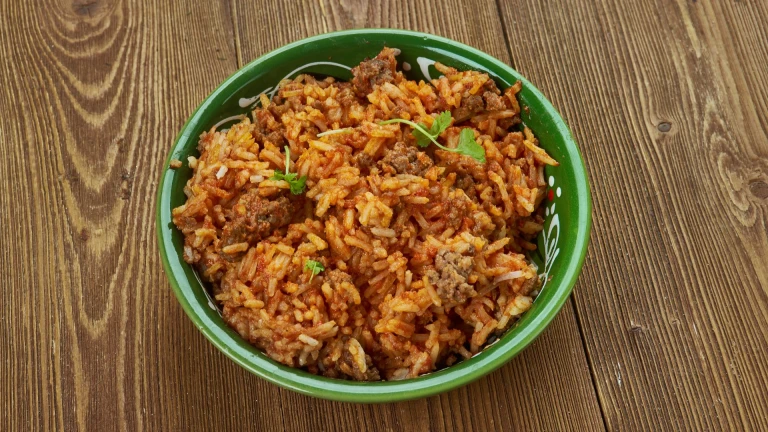 Jadoh
This is a traditional Khasi dish made with rice and meat, often pork or chicken. The unique flavor comes from the addition of local spices and herbs.
Tungrymbai:
Tungrymbai is a fermented soybean dish that's an acquired taste. It's tangy, spicy, and incredibly flavorful. Locals often eat it with rice.
Doh Khleh: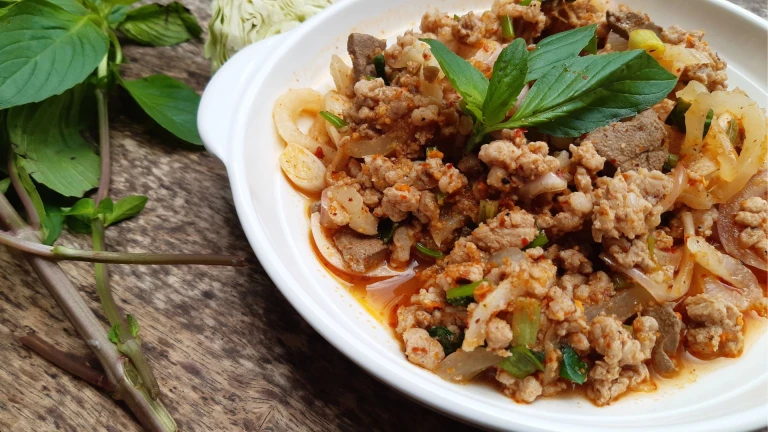 Doh Khlieh
This is a spicy salad made with minced pork, onions, and a variety of herbs and spices. It's a delightful burst of flavors.
Pukhlein: Satisfy your sweet tooth with Pukhlein, a dessert made from jaggery and rice flour. It's fried to perfection and served as a snack or after a meal.
Kyat: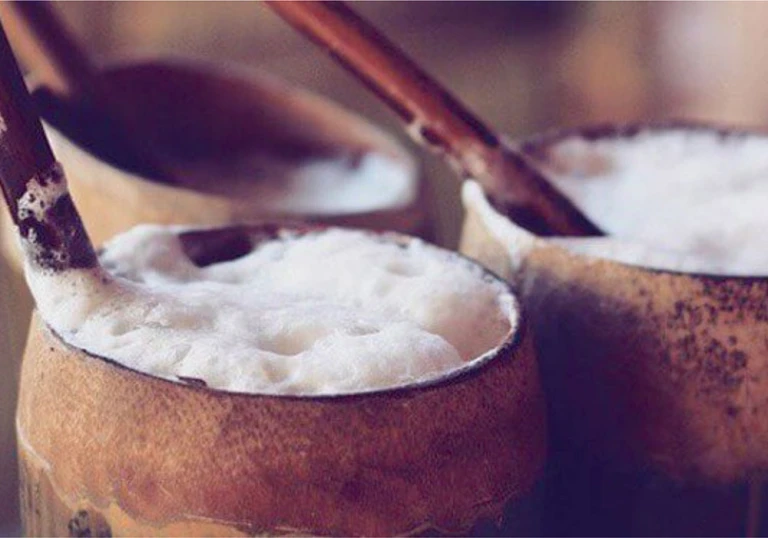 Rice beer Img - Brewer World
This is a traditional rice beer brewed by the Khasi people. It's a must-try for those interested in experiencing local culture.
Zan: A delicious rice-based porridge, Zan is often served as a comfort food. It's especially popular during cold winters.
Also Read: 15 Epic international Destinations to experience in December