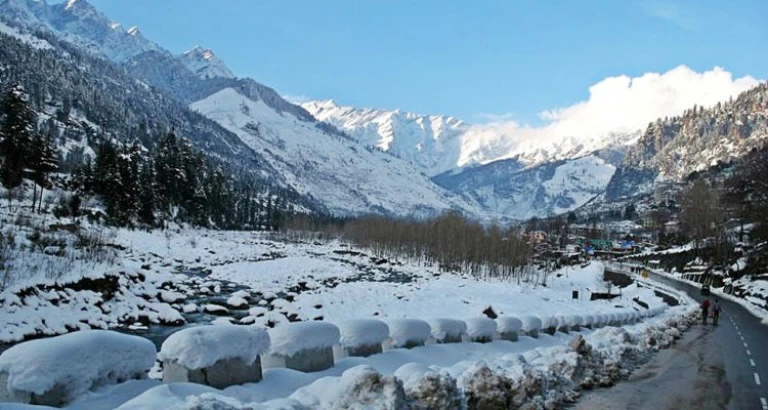 Manali, a white lady, is best visited during the summer months of March to June, when temperatures are pleasant, sky are clear, and flowers are in bloom. The town's terrain is beautiful, making it ideal for outdoor activities like as hiking and paragliding.
Manali changes into a snow-covered beauty in the winter, from November to February, providing skiing, snowboarding, and warm Cafes.
The town's distinct beauty makes it difficult to decide which season to visit, making it a great winter retreat.
Manali's distinct character makes determining the best season challenging.
How to reach Manali
By Air
Manali is easily accessible from the nearest domestic airport, Kullu-Manali Airport (KUU), which is 50 km away. Regular flights connect the airport to Delhi and Chandigarh. A taxi or cab ride from the airport takes about 2 hours.
By Train
There is no train station in Manali. If you're traveling to Manali by train, you must disembark at Joginder Nagar Railway Station, which is located 162.6 kilometers away from Manali.

From this station, there is no direct train access to any significant Indian cities. To go to Joginder Nagar Railway Station, you must first take a train to Pathankot, and then another train from Pathankot. You may take a cab from the train station, which will take you to Manali in around 4.5 to 5 hours.

You may ride a train to Chandigarh Railway Station, where you can then take a car or a bus. It is a better choice since Chandigarh Railway Station is served by several trains that link important Indian cities, including Delhi, Jaipur, Indore, Kolkata, Madurai, Lucknow, and many more.

From Chandigarh Railway Station, you can easily find transportation options to Manali, such as buses or private taxis. The journey from Chandigarh to Manali takes approximately 8–9 hours by road.
By Road
Manali is a well-known mountainous destination, so the roads leading there are quite lovely.

If you are traveling by car, the scenery of the mountains and the river should make for a lovely ride.

You can choose to take a cab or drive yourself. There are numerous abrupt turns along the way, so be sure the driver can handle hills.

Additionally, several state-run and private buses travel to Manali. Semi-sleeper Volvo buses are widely available and frequently used to go to Manali.
Accommodation in Manali
Manali provides a variety of lodging choices to fit every need and fancy. In Manali, guests may choose from small guesthouses and homestays to opulent resorts tucked away among the scenic mountains. Additionally, a lot of lodgings provide breathtaking views of the surroundings and convenient access to well-known tourist sites.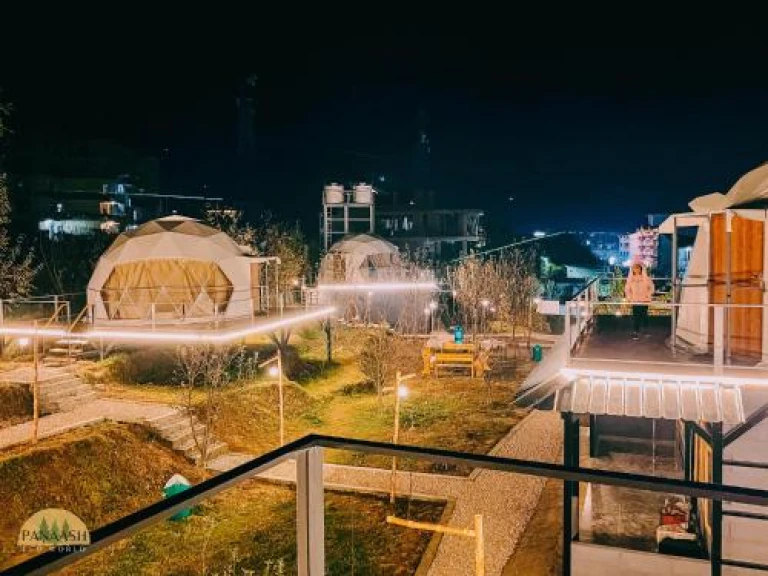 Some accommodations in Manali also offer unique experiences, such as staying in traditional wooden cottages or eco-friendly resorts that promote sustainable tourism. Whether you prefer a cozy and intimate setting or a luxurious retreat, Manali has something to offer for every traveller's taste and budget.
1. Manali in Summer
Manali offers respite from the city's heat from March to June, with temperatures ranging from 10 to 25 degrees Celsius. The fresh wind and picturesque splendour of the surrounding mountains make it a perfect location for travellers looking to escape the sweltering summer heat.
Places to visit in Summer


Rohtang Pass - Located at an elevation of 4000 meters, this must-see location appears to entice travellers year after year with its sheer grandeur. Your eye will be drawn to the mountains' magnificent glacial glaciers and flowing pristine rivers.
During the winter months, the Rohtang Pass is a popular destination for adventure seekers, with sports like as skiing and snowboarding available.
Furthermore, the route offers amazing vistas of the Himalayan peaks, making it a photographer's dream.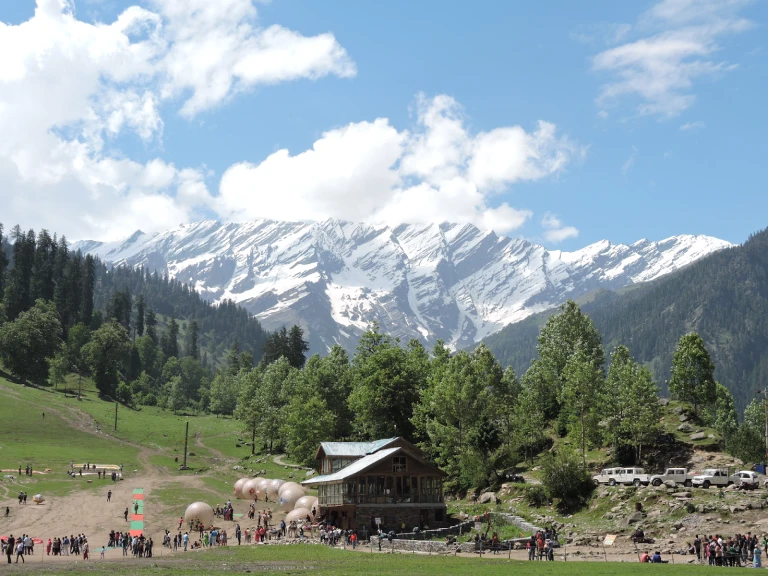 Solang Valley – A 13-kilometer stretch between Beas, Kund, and Solang hamlet, Solang Valley is a summertime haven for paragliding, zorbing, and horseback riding. The lush green meadows and blossoming flowers of the valley make for a beautiful setting for nature hikes and camping.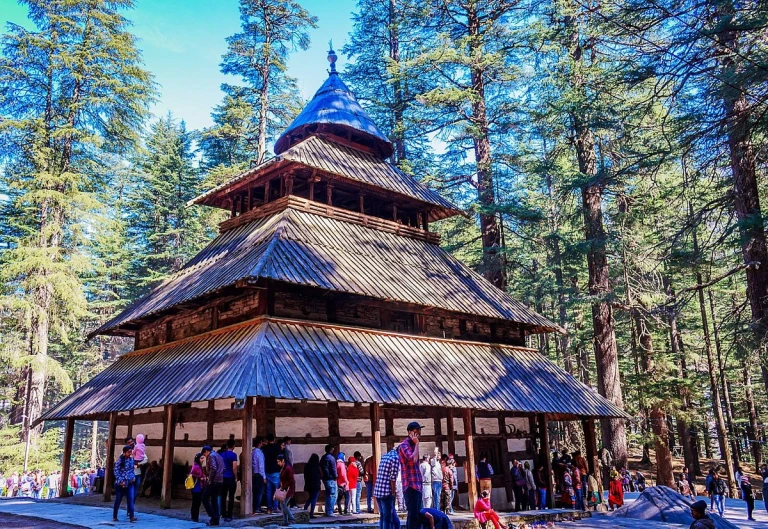 Hadimba Temple – The 4-tier Pagoda, a sacred shrine dedicated to Goddess Hidimba, is located in the dense Deodar forest, is renowned for its distinctive architectural and religious importance.
It provides a spiritual link for religious believers and art fans, with a meditation rock.
The beautiful woodwork and architectural architecture of the temple highlight the region's rich cultural history. This place tempts tourists to learn more about Manali's extensive cultural legacy.
For a relaxing respite from city life, visitors may also visit adjacent Dhungri Van Vihar, a beautiful woodland reserve.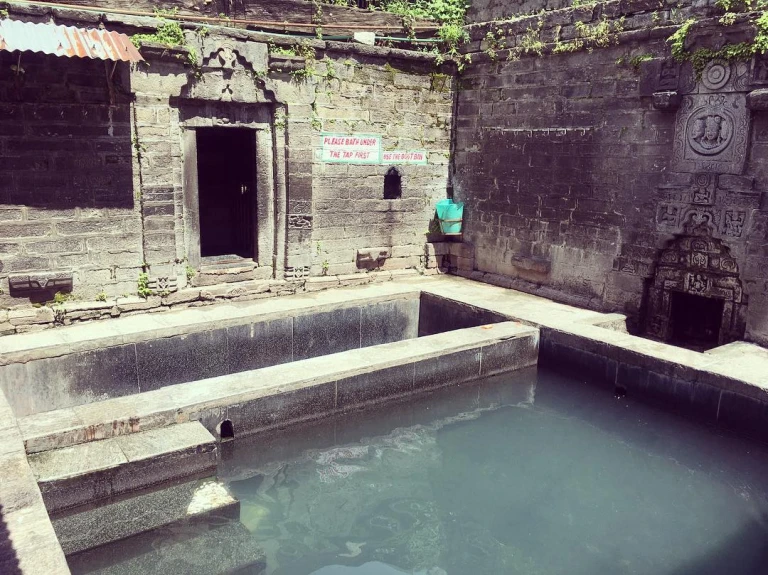 Vashisht Baths- The Vashisht Baths give the rare opportunity to take a hot mountain spring bath while receiving spiritual healing and renewal.
These baths are great for unwinding from everyday stress and taking in the wonders of nature because they include separate spaces for male and female bathing and give breathtaking views of the nearby mountains.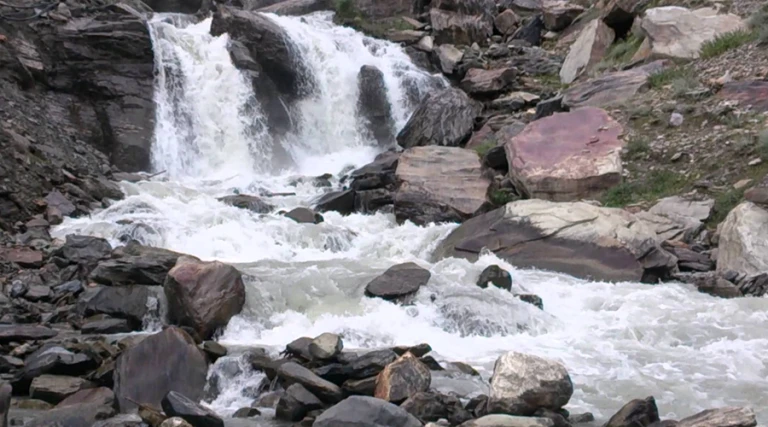 Rahala waterfalls – Located 17 km from Manali, offer a breathtaking summer experience surrounded by lush greenery. The tranquil environment brought on by the flowing water encourages rest and renewal. It is a great day trip destination for family and friends because adjacent places allow for picnics.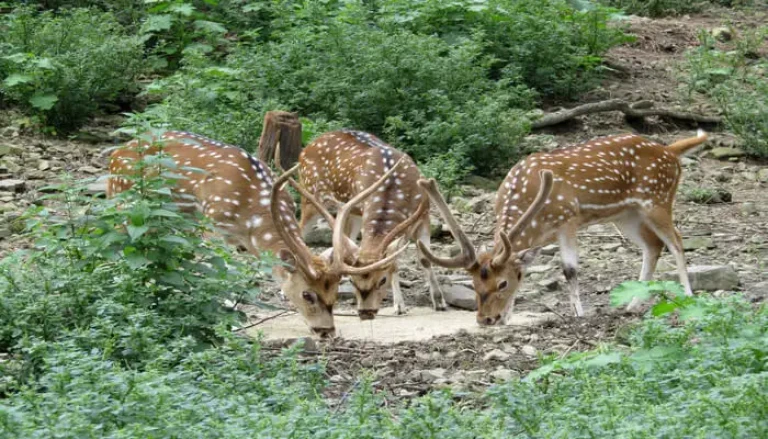 Manali Wildlife Sanctuary- A variety of uncommon flora and animals call this deep deodar forest, which spans an area of over 3000 hectares, home. It provides a reviving perspective of nature's riches and is the best site for photographers and bird watchers.
The well-kept walkways in the sanctuary provide opportunities for tourists to see unusual bird species and snap stunning photos.
The sanctuary's serene setting and variety of animals make it a fantastic destination for nature lovers seeking a peaceful escape from the bustle of city life.

Arjun Gufa – Manali's favorite picnic spot is the legendary Arjun cave, named after the brave who meditated there. The journey to the caverns is an adventurer's must-do, featuring close rock climbing and rappelling in addition to exhilarating turns and breathtaking mountain vistas.
Manali is a great place for thrill-seekers because it also provides a variety of leisure activities including river rafting and paragliding.
Activities to do in Summer
A number of summertime activities are available in Manali, including
Riding,

Paragliding,

Trekking,

Camping, and

Exploring the Pandoh dam.

Rock climbing,

Zorbing,

Horseback riding,

Boat tours,

Mountain biking,

River rafting,

Kayaking,

Hikes through verdant woods are other activities available to visitors.

Beautiful views of the scenery may be seen from cable cars.

Hot water bathing, shopping, and nature hikes are all available at the Vashisht baths.

A woodland hike and picture possibilities are available at Hadimba temple.

Along with its local markets, authentic Himachali food, and historic temples and monasteries, Manali also provides a rich cultural experience.
2. Manali in Monsoon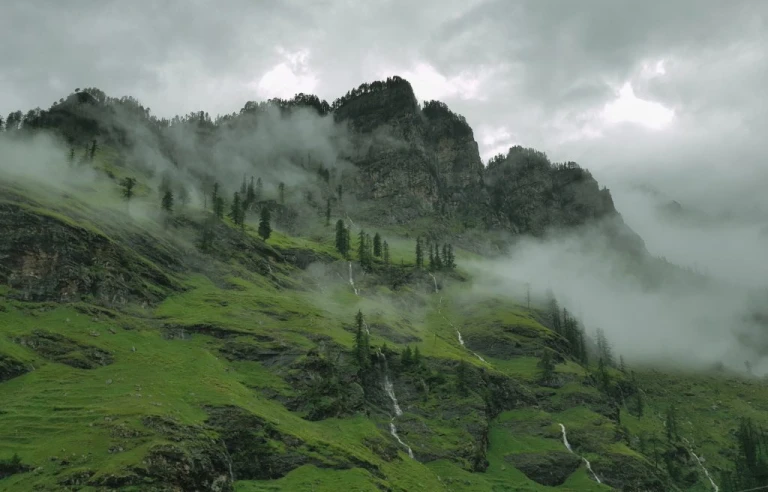 Manali's lush greenery comes to life during the monsoon season adding to the area's natural beauty with tumbling waterfalls and blooming flowers. Manali's monsoon season is frequently cool and refreshing, making it the perfect time to engage in outdoor activities like river rafting and trekking.
Thanks to the mist-covered mountains and the sound of rain, visitors will enjoy a singular experience. The serene surroundings and mist-covered mountains provide the perfect atmosphere for anyone looking for a tranquil getaway.
Places to visit in Monsoon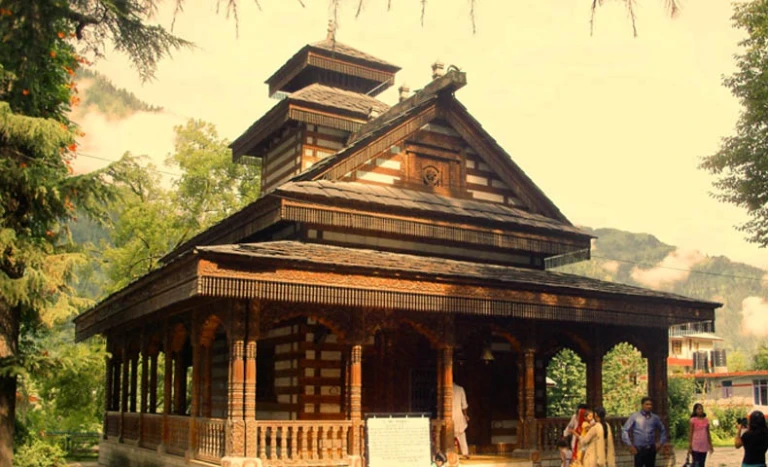 Museum of Himachal Culture and Folk Art – The Himachal Pradesh museum displays a priceless traditional collection from the 1990s, which includes musical instruments, garden items, and vessels.
It offers insight into the customs and way of life of the locals and is a must-see location for history buffs and individuals who are interested in regional culture. The museum also holds workshops and demonstrations so that visitors may get their hands dirty and discover the creative heritage of the area.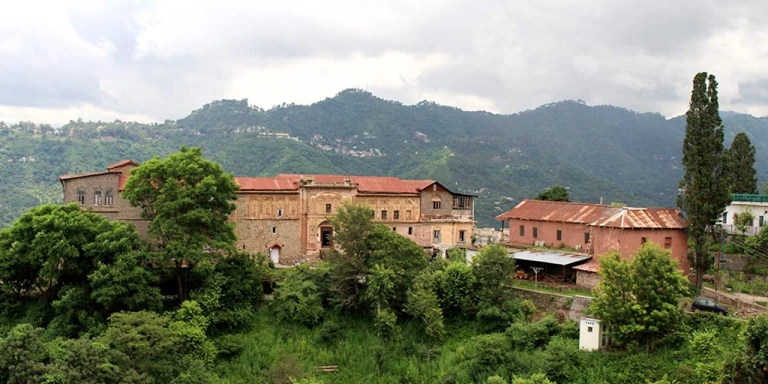 Kuthar Fort - With its strong stone walls and exquisite architecture, the 800-year-old architectural wonder that is the Kuthar fort is a fascinating stop for history buffs. Visitors may take in panoramic views of the lush green surrounds and tumbling waterfalls during the monsoon season, making it a spectacular experience.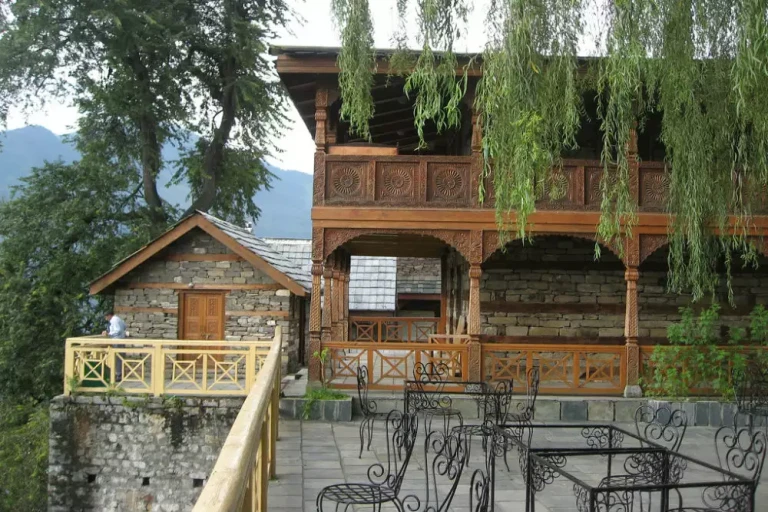 The Naggar castle- which combines wood and stone construction, was formerly a rest home but is now a historic hotel. This distinctive location caters to an increasing number of travelers looking for an outstanding experience and provides a glimpse into the area's rich past.
The castle is a great place for tourists looking for opulence because of its breathtaking vistas and historical significance.


Manali Gompa- It is a Buddhist pilgrimage site. It is a place of spirituality. Here, a massive statue of the Buddha has been constructed, and visitors go to see it in droves all year long. The Manali Gompa also offers a tranquil and calm atmosphere, which makes it a perfect place for thought and meditation.
Visitors may continue their cultural immersion by perusing the surrounding bustling Tibetan market, where they can find distinctive handicrafts and delectable Tibetan food. The pagoda-style monastery also features several attractive artworks that depict Lord Buddha's teachings.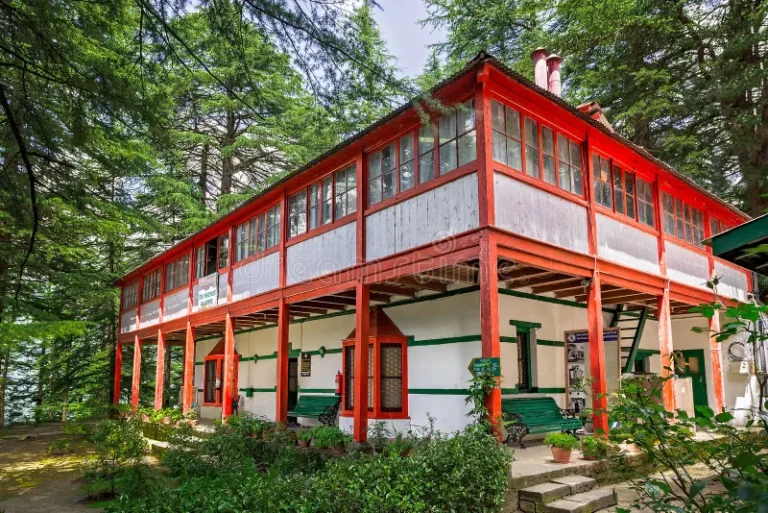 The Roerich Memorial Trust- It is a tranquil haven where visitors may appreciate the magnificent works of Russian painter Nicholas Roerich. It is situated on a hilltop with a view of flora.
The experience is enhanced by the serene hilltop location, which provides breathtaking views of the surrounding nature. The home has tastefully decorated private spaces and carefully picked artwork to provide color to the walls.
Activities to do in Monsoon
The Brahmand tour provides bikers with a one-of-a-kind opportunity to discover breathtaking landscapes, old monasteries, and immerse themselves in the region's rich cultural history.
Alternative activities such as:
This wide choice of experiences assures that everyone will find something to enjoy during their vacation to the Brahmand area.
3. Manali in Winter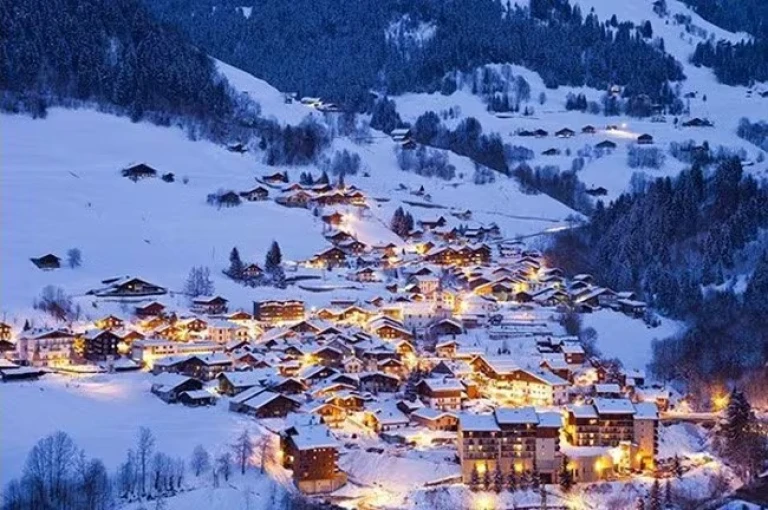 Winters in this area are a delight, with a rising number of people traveling to see the snow-capped mountains, lovely landscape, and wonderful food. The tranquil beauty and pleasant environment make it an excellent destination for adventure on the slopes or leisure in front of a warm fireplace.
Places to visit in Manali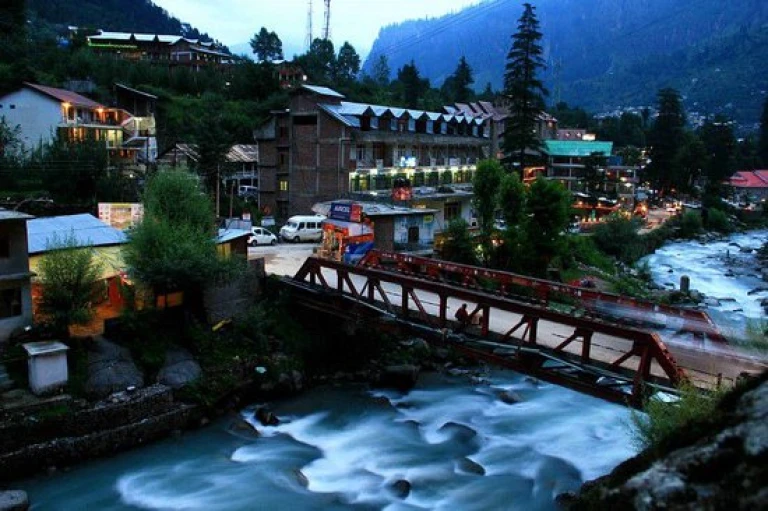 Old Manali - Leave everything behind and visit this fusion of modern and ancient settings, complete with old temples and elegant eateries. Enjoy the lively culture and exhilarating outdoor activities like paragliding and river rafting.
Don't miss out on exploring the lovely alleyways lined with local handicrafts and delectable Himachali food. For a tasty supper, stop by the Hadimba temple, Manu temple, Red House Cafe, and Cafe 1947.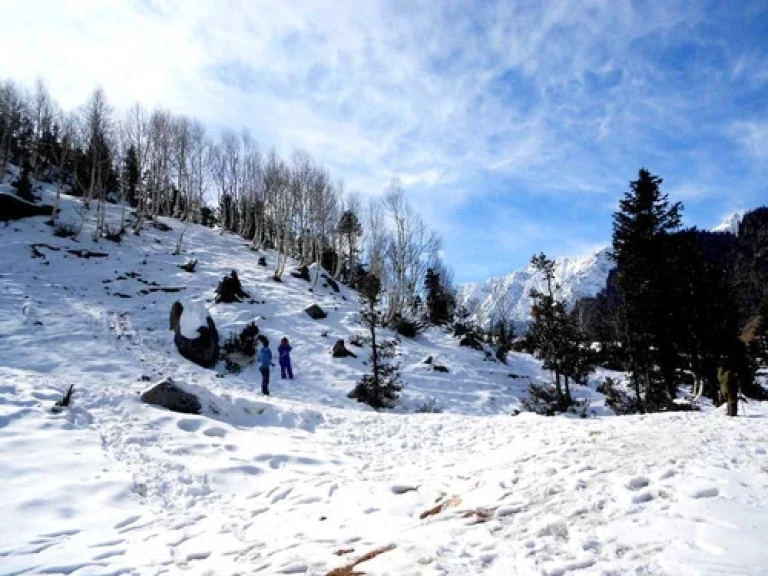 Gulaba - If you're looking for snow in the winter, be assured that the majestic town of Gulaba is exactly what you are looking for.
This location at 4300 meters will allow you to enjoy the sight of the picturesque mountains draped in a perfect layer of white.
Take part in exhilarating winter sports like skiing and snowboarding, or just enjoy a leisurely stroll while taking in the spectacular views of the nearby snow-capped mountains.
In order to stay warm in this winter paradise, don't forget to indulge in some hot local specialties like steaming momos and scorching hot chai.
Also read: 10 Epic Skiing Escapes in India You Can't Miss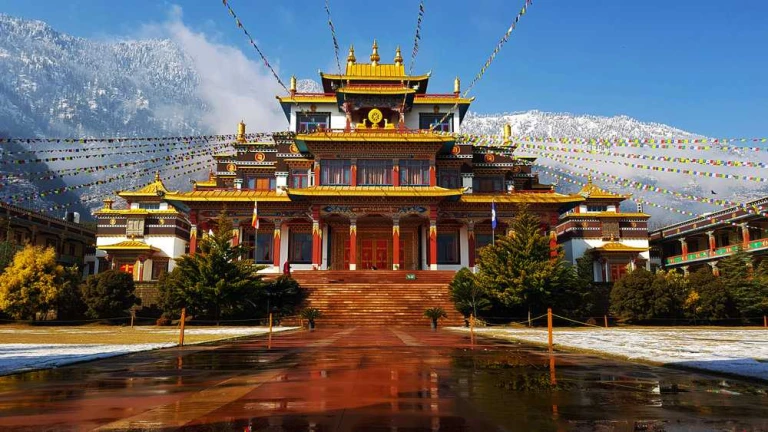 Choekhor Mahavihara – Find enduring tranquility at the monastery Choekhor Mahavihara in the charming Kullu valley. You must visit here in the winter to take use of it to the most. It is surrounded by beautiful mountains and vegetation.
The monastery provides a calm and quiet setting that is ideal for meditation and spiritual reflection. Additionally, the monastery is beautifully decorated throughout the winter, and you may participate in customary Buddhist rites and celebrations.
Furthermore, the monastery offers retreat programs and classes on mindfulness and Buddhism for those seeking a deeper understanding of the teachings.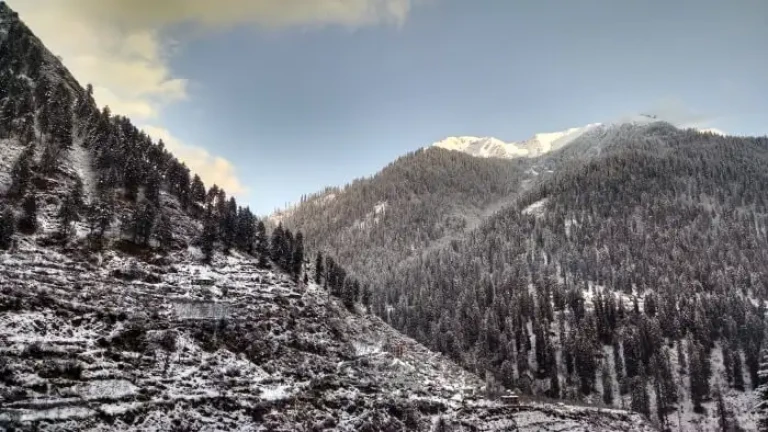 Kasol – Kasol, which is around two hours away from Manali, is a must-visit location in the winter. This hamlet is famed for its riverside camping adventures and is situated in the ethereal Parvati Valley.
Kasol is sometimes referred to as "Mini Israel" because of the number of Israeli tourists who visit the area and the number of Israeli cafés and eateries that are there.
The village also serves as a starting point for hikes to well-known surrounding locations like Kheerganga and Tosh, which provide breath-taking Himalayan views.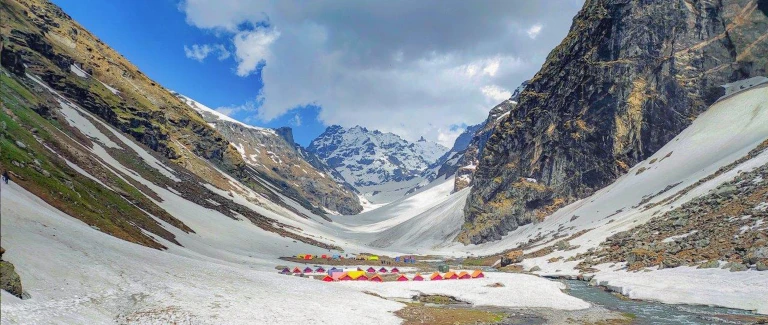 Hampta Pass – The Pir Panjal range and the chilly deserts of the Lahaul region may both be seen from the Hampta Pass, which connects the Kullu valley with Lahaul. Due to its stunning reveal and unmatched beauty, this is one of the finest spectacles to suffer and should not be missed throughout the winter.
The Hampta Pass is a popular trekking destination, attracting adventure enthusiasts from all over the world. The trail offers breathtaking views of snow-capped peaks, lush green valleys, and crystal-clear streams, making it a paradise for nature lovers.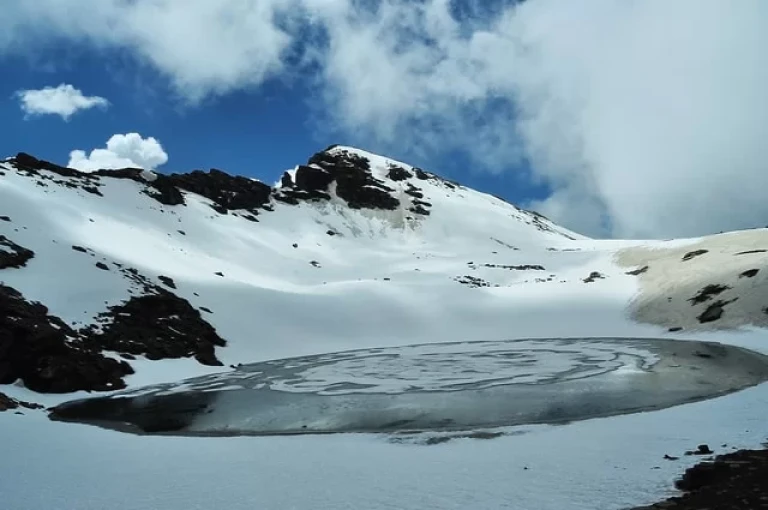 Beas Kund – The distance from Manali to this grand trekking trail is one hour. Come here and see what's on offer if you wish to take in nature's purest beauty. In the Solang Valley, there lies a tranquil alpine lake called Beas Kund.
It provides a breathtaking vista that will astound you, surrounded by mighty snow-capped peaks. Both novice and seasoned hikers may easily complete the Beas Kund path due to how simple it is.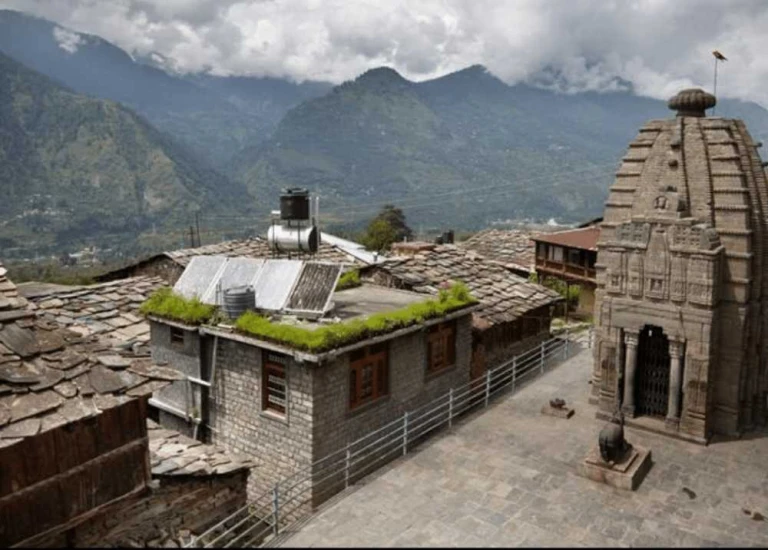 Gauri Shankar temple – The hike to this temple, which has stunning architecture from the 12th century and is close to the Nagar fortress, will lead you there. The Gauri Shankar temple, which is devoted to Lord Shiva, is a revered religious site in Nepal.
History and art lovers must visit this spectacular structure because of its elaborate carvings and fine craftsmanship. Visitors will have a genuinely unforgettable experience at the temple thanks to its appeal and the surrounding peacefulness and panoramic views of the Himalayas.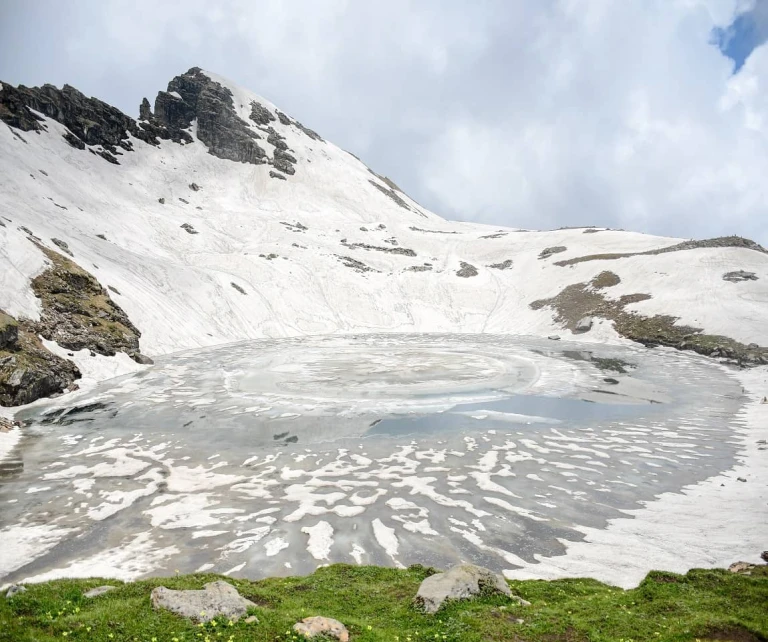 Bhigru Lake – The icy wonder, also known as the glacier lake, offers adventure seekers a fantastic walking track. High above the surrounding mountains, the lake provides stunning vistas of their snow-capped summits. Its calm environment and clean waterways make it the ideal location for nature enthusiasts to unwind and recharge in peaceful settings.
Activities to do in Winter:
Winters in Manali are filled with exciting activities like:
Snowboarding trips at Rohtang pass,

Snow-covered ski resorts at Solang, Gulaba, and Rohtang,

Lively shopping along mall roads.

Enjoy Gondola rides, Santa Claus sleigh rides, and

A winter carnival with live music and traditional dances.

Experience the thrill of ice climbing on frozen waterfalls

Indulge in hot chocolate and bonfires amidst the picturesque snow-capped mountains at your resort.
Don't miss the opportunity to witness the breathtaking beauty of frozen lakes and take part in thrilling snowball fights with friends and family.
Must try Local foods,
Khatta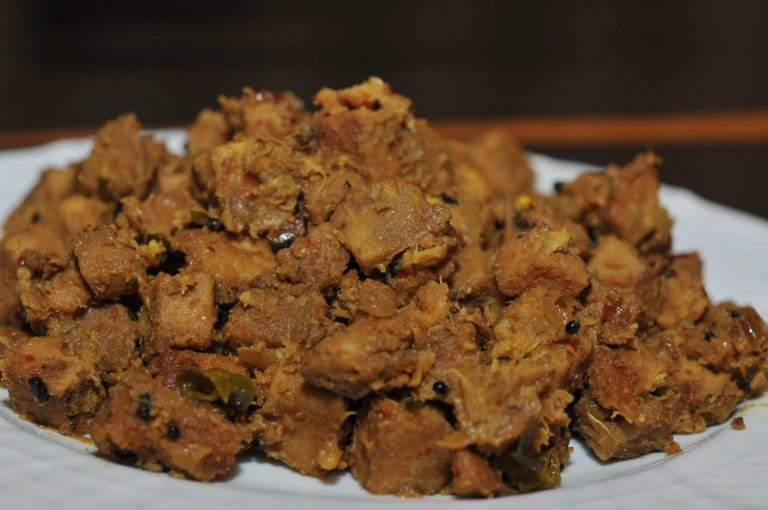 Khatta is a well-known dish in Manali because of its distinctive taste combination. A pleasant gastronomic experience is produced when the sweetness of the pumpkin properly balances the sourness of the dry mango powder. Additionally, each mouthful has a satisfying crunch from the crisp texture.
Siddu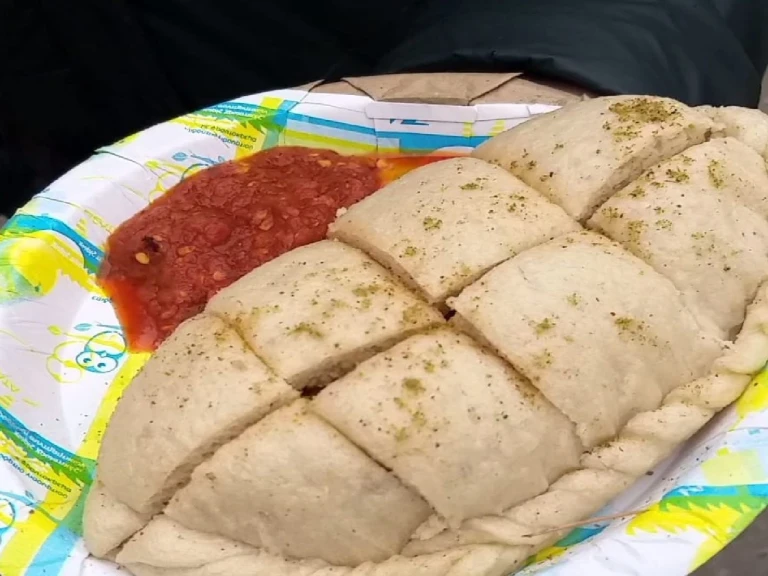 With its distinct flavor and mountain taste, siddu is the greatest Tibetan dish in Manali. It is created using conventional techniques. It looks different because of its half-moon form. Wheat flour is used to make siddu, which is stuffed with mutton. The greatest dish in Manali is this steamed bread, which is prepared in practically every home in Himachal Pradesh.
Chha Ghost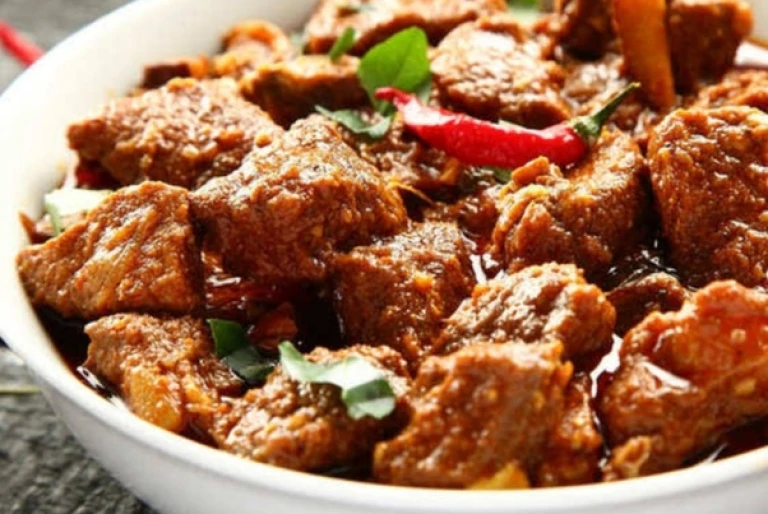 You must adore this dish if you wish to enjoy the greatest non-vegetarian flavors. To produce this insanely wonderful cuisine, they utilize marinated lamb and cook it with yogurt and gram flour. It pairs well with rice and keeps you warm throughout the bitter winter weather.
Bhey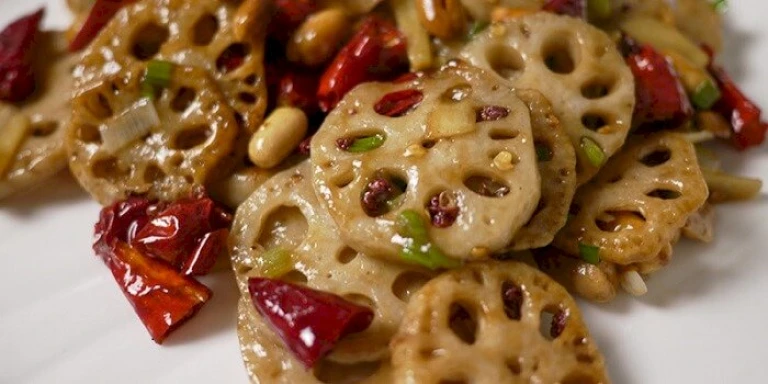 One of the greatest dishes in Manali is bhey, which is made using lotus stems. Crisp in flavor and golden brown in appearance. This snack goes well with chutney, hot tea, or coffee. It is mouthwatering and well-liked by tourists of all ages due to the combination of diverse spices.
Tudkiya Bhat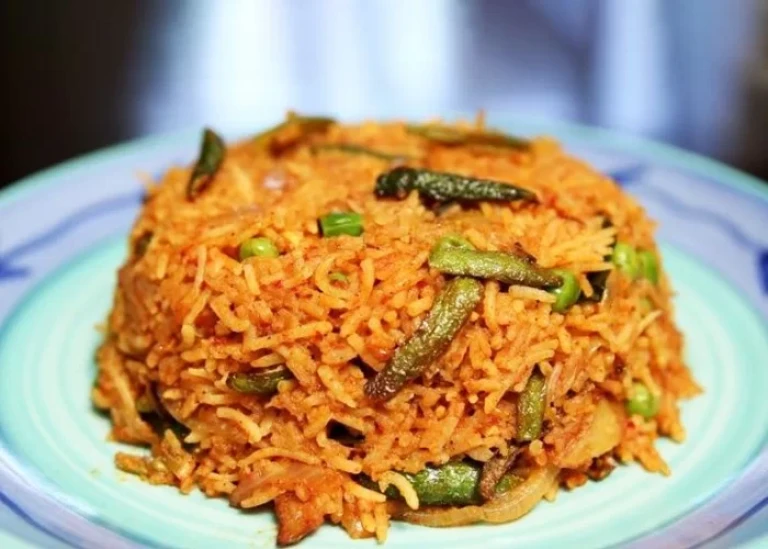 Himachal Pradesh's traditional main dish, Tudkiya Bhat, is prepared with vegetables and mountain spices. Every bite has flavor and fragrance that you can appreciate, especially on a rainy day. It is a must-try mountain dish in your Manali tour.
Aktori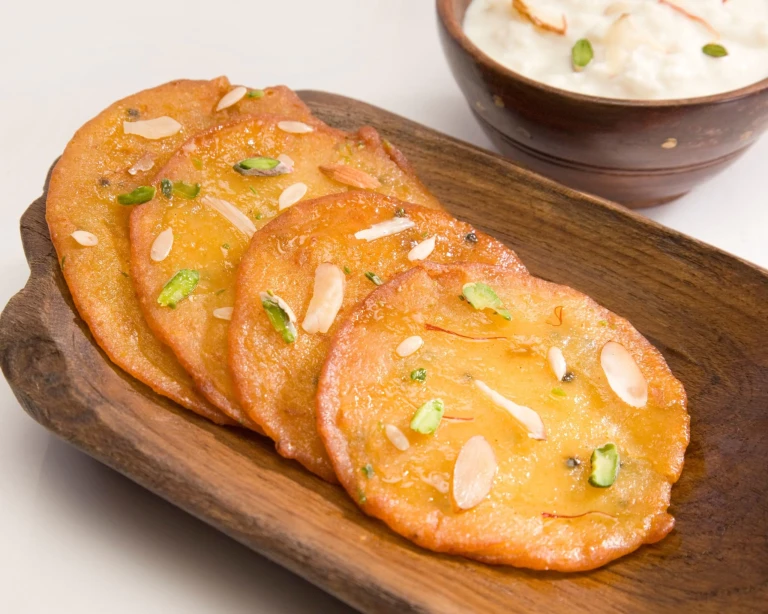 Buckwheat is used to make the cake known as aktori. Himachal Pradesh's seasonal events take advantage of Manali's finest cuisine. Honey can be used as a topping before eating to enhance its flavor and savoriness.
Also read: Top 15 Must-Visit Places Winter Destinations in Himachal Pradesh
Traveling to Manali at any time of year is a great idea. Whether you like the landscapes covered in snow in the winter or the blooming flowers in the spring, Manali has a lot to offer everyone. With year-round access to sports like skiing, paragliding, and trekking, Manali is also an absolute paradise for adventure seekers.
In addition, the town has a rich cultural history and is home to historic temples and monasteries that are well worth seeing. You will have wonderful experiences here, from intense sports to peaceful retreats.