Skiing in India is a unique and exhilarating experience. Due to its stunning snow-capped mountains and varied terrain, India offers a choice of skiing places that are appropriate for both novice and expert skiers. India's ski resorts range from the well-known slopes of Gulmarg in Kashmir to lesser-known gems like Auli in Uttarakhand or Tawang in Arunachal Pradesh, but all offer breathtaking views and unforgettable experiences.
Along with the excitement of skiing, these locations provide a distinctive cultural experience with chances to discover regional customs and cuisines. Skiing in India guarantees a memorable experience, whether you decide to glide down the slopes or immerse yourself in the local culture.
Top 10 epic ski escapes you must visit in India:
1. Gulmarg: "Heartland of winter sports in India"
Gulmarg should be at the top of your list if you want a memorable skiing experience. Unsurprisingly, skiers come to this charming town with its spectacular mountain vistas and well-kept slopes. Gulmarg has something for everyone, whether you're a novice or an expert, making it the ideal spot for an exciting winter experience. Gulmarg is Asia's 7th finest skiing and snowboarding destination.
It offers off-piste skiing and snowboarding on extensive runs, and the soft snow on its natural, pure slopes makes floating easy. Winter sports enthusiasts will find Gulmarg to be a delightful and breathtaking destination due to its location in the Pir Panjal Range in the Western Himalayas.
Its high elevation guarantees a lengthy skiing season with plenty of snowfall and groomed slopes that accommodate novice and experienced skiers. Winter sports enthusiasts frequently travel to Gulmarg, which is regarded as one of India's top locations for skiing.
Skiing Organizer: powderhounds

The cost of skiing in Gulmarg offers a one-time rate of Rs 370 for Part 1 (Gulmarg to Kongdoori) and Rs 480 for Phase 2 (Kongdoori to Mt. Apharwat). Powderhounds, the skiing organizer, provides various packages, including equipment rentals, ski lessons, and guided tours, while also offering stunning Himalayan mountain views.

The level of difficulty is easy, and Gulmarg's skiing experience is appropriate for all ability levels, including novices. The well-kept slopes and experienced instructors make it simple for everyone to learn and enjoy skiing in this beautiful setting.

Best time to ski: Last week of January through the last week of February
2. Pahalgam: "Valley of Shepherds"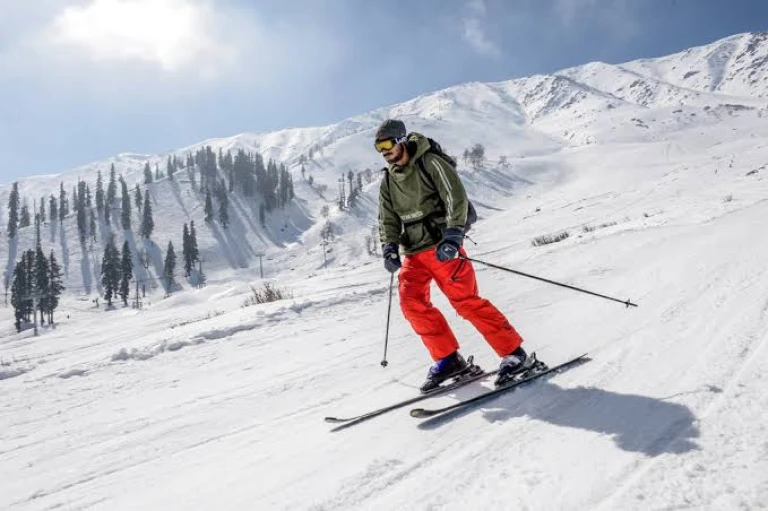 Pahalgam, a premier skiing destination in India, offers a variety of skiing options for both beginners and experienced skiers. Its well-maintained slopes and favorable weather conditions make it a popular choice for adventure enthusiasts.
Pahalgam also offers opportunities for winter sports like snowboarding and whitewater rafting, making it popular among Indian and international trekkers, adventure freaks, and nature lovers.
Skiing Organizer: The Jawaharlal Institute of Mountaineering and Winter Sports in Pahalgam offers top-notch skiing programs, professional guidance, and breathtaking mountain scenery, attracting global enthusiasts.

Entry Fee: Starts from INR 500

Difficulty level: The skiing programs offered by the Jawaharlal Institute of Mountaineering and Winter Sports in Pahalgam cater to all skill levels, from beginners to advanced skiers. With its challenging slopes and stunning views, skiing in Pahalgam promises an unforgettable experience for thrill-seekers.

Best time to ski: From November to February, Pahalgam experiences heavy snowfall, perfect skiing conditions, and serene surroundings, making it a popular winter sports destination.
3. Patnitop: "The pond of the princess"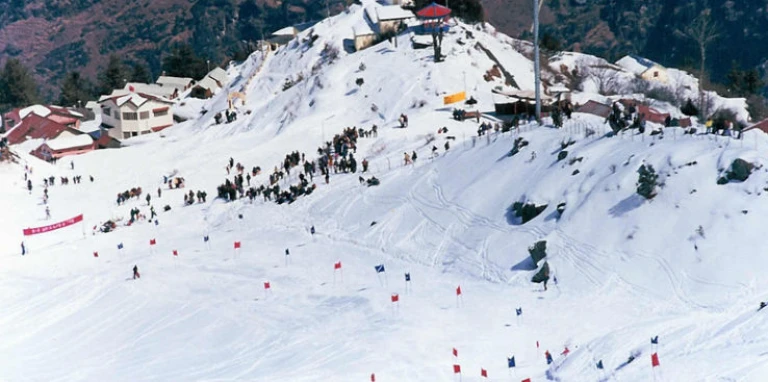 Patnitop, located in Jammu and Kashmir, is a popular destination for winter skiing enthusiasts due to its stunning view of the Himalayan peaks. With well-maintained slopes and professional instructors, visitors can enjoy adrenaline-pumping adventures in there serene surroundings. Ski courses are available for beginners, while experts can gear up for a fun-filled expedition.
For challenging routes, Madha Top, located 6 km away, is a great option. Patnitop is ideal for beginners, but for more challenging routes, Madha Top is a 6 km drive away.
Skiing Organisers: The Jammu and Kashmir Tourism Development Corporation (JKLTDC) is the main organizer for skiing activities in Patnitop.

The admission cost is INR 1,000. They provide a variety of packages and courses for various ability levels. JKLTDC promises a wonderful skiing experience in the magnificent Himalayan area, whether you are a novice wishing to learn the basics or an experienced skier seeking exhilarating slopes.

Difficulty level: A moderate level of skiing skills is required to fully enjoy the slopes.

Best time to ski: Because there is so much snowfall in January and February, it makes for ideal skiing terrain.
4. Auli: "Meadow in Garhwali"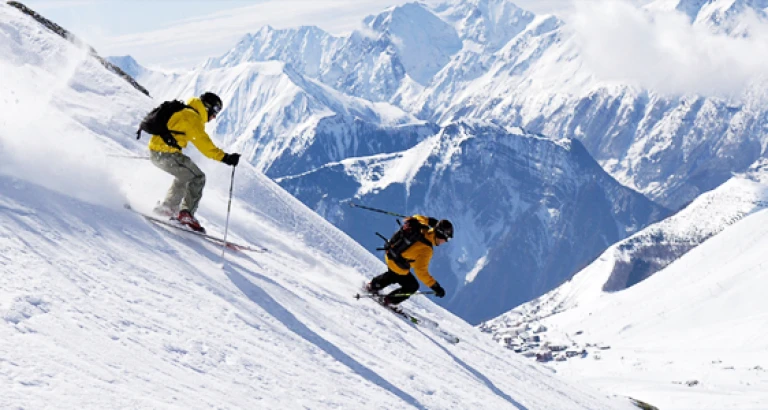 Auli, nestled in the gorgeous Himalayas, provides a spectacular panoramic vista that will leave tourists speechless. The calm ambiance and fresh mountain air make it a great getaway for anyone seeking peace and quiet.
Auli, located in the Garhwal highlands 250 kilometers from Rishikesh, is a must-see for adventure and snowsport enthusiasts. Auli is a popular skiing resort in India, with some of the greatest ski slopes in the country.
It draws both expert and beginner skiers due to its excellent combination of natural beauty and adrenaline sports. The snow-covered slopes provide an amazing experience for adventure seekers, making Auli a winter sports lover's paradise. Auli is also a prominent place for ice skiing in India.
Skiing Organizers: Auli Ski and Snowboard School, Snow Skiing India, and Himalayan Ski Village are popular skiing organizations offering professional training, equipment rental, and guided tours in Auli's picturesque surroundings.

Entry Fee: Ski packages in Auli start at INR 400, with options including day, multi-day, and season passes. Ski lessons and safe environments are also available for beginners

Difficulty level: Auli's moderate difficulty level makes it an ideal destination for both intermediate and advanced skiers. The ski packages offered by the skiing organizations in Auli provide a great opportunity for skiers to explore the beautiful slopes and improve their skills.

Best time to ski: Skiing in Auli is best from late November to March, with ideal snow conditions and scenic beauty, making it a thrilling experience for enthusiasts.
5. Kufri: winter sports capital of Himachal Pradesh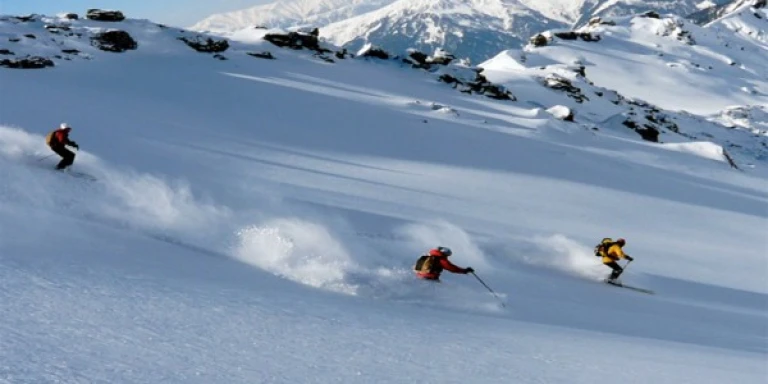 The best place in India for novices to go snowboarding and skiing is Kufri, which provides pure natural beauty. It is a legendary winter sports destination thanks to its stunning scenery. Adventurers shouldn't miss HPTDC's annual winter sports festival in Kufri, which draws competitors from all over the nation to display their abilities and participate in various snow sports competitions. The event offers fun-filled experiences for people of all ages, such as ice skating, tobogganing, and snowball battles.
Skiing Organiser: HPTDC, or Himachal Pradesh Tourism Development Corporation,organizess the Kufri winter sports festival, providing smooth facilities and skiing lessons for both experienced and beginners. They collaborate with experienced instructors to make the event an ideal destination for both skiers and spectators.

Entry Fee: Packages starting at INR 300 are available for purchase, and they include access to the ski slopes, equipment rental, competition participation, and reduced hotel rates.

Difficulty level: Skiing slopes are accessible to skiers of all abilities, making it simple for newcomers to pick up the activity and have fun. Everyone has a safe and pleasurable experience because of the teachers' individualized advice and assistance.

Best time to ski: between December and February, when the slopes are covered in fresh powder and the weather conditions are ideal for skiing.
Also Read: Top 15 Must-Visit Places Winter Destinations in Himachal Pradesh
6. Narkanda: "The Gateway to Apple Country"
Top snowboarding and skiing locations in India include Narkanda, which is situated at a height of 2,708 metres along the Hindustan Tibet Road. It provides breathtaking vistas of snow-covered mountains as well as well-groomed slopes that are appropriate for both novice and expert skiers.
Skiing and snowboarding classes are offered by the Himachal Pradesh Tourism Development Corporation, which equips participants with essential abilities. Narkanda is a well-liked tourist attraction because of its tranquil settings and qualified teachers.
Individuals of various skill levels can take advantage of the knowledge provided by taking a variety of courses, from beginning to advanced. As one of the greatest ski resorts in India, Narkanda is a popular destination for thrill seekers and daredevils.
Organizers: The Himachal Pradesh Tourism Development Corporation (HPTDC) and the International Youth Club (IYC) organize regular ski tours in Narkanda, ensuring a well-organized and enjoyable experience for participants and enhancing their skiing skills.

Entry Fee: The cost of a ski trip, which includes access to the slopes, expert instruction, and equipment rental, is INR 800. Enjoy the Himalayan scenery, skiers of all levels.

Difficulty level: The moderate slopes in Narkanda, which are appropriate for both novice and expert skiers, provide thrilling challenges of varying steepness, making it a great place to experience an adrenaline rush.

Best time to ski: Skiing in Narkanda is best from January to March due to ideal snow conditions, crisp mountain air, and breathtaking views, making it a must-visit destination for ski enthusiasts..
7. Yumthang Valley: "Valley of Flowers"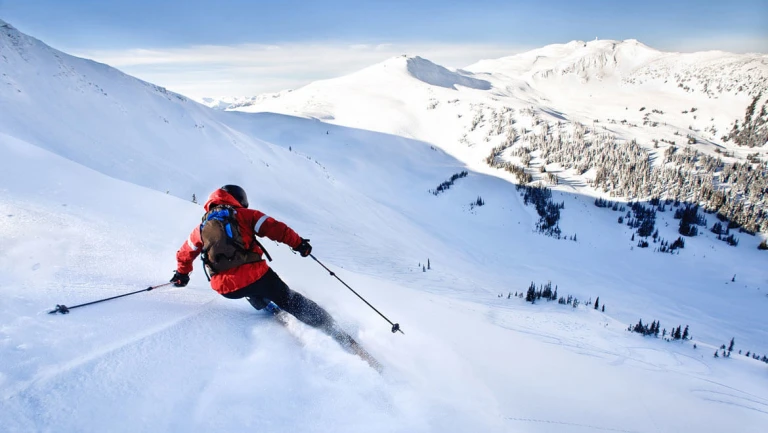 Yumthang Valley, located in Sikkim, is a popular destination for snow and adventure sports like skiing, snowboarding, and snowshoeing. Its picturesque landscape and snow-covered slopes attract thrill-seekers worldwide.
The valley also offers snowmobile rides and ice skating, making it an ideal winter destination. Visitors can enjoy activities like paragliding and river rafting. Located 140 km from Gangtok and at an elevation of 3,564 m above sea level, Yumthang Valley is a must-visit for adrenaline junkies.
Skiing Organizers: Local organizers in Yumthang Valley provide professional guidance, equipment rental, and ski lessons for enthusiasts, ensuring safety and providing an unforgettable experience amidst stunning Himalayan scenery. They also arrange beginner ski lessons.

Entry Fee: Skiing in Yumthang Valley starts at INR 1,200, with entry fees including equipment rental, slope access, accommodation, and meals, and can be arranged with packages.

Difficulty level: Hard, appropriate for seasoned skiers seeking an exciting challenge. It is the ideal location for adrenaline enthusiasts looking for an exceptional skiing vacation because of the steep slopes and unpredictably changing weather. The resort offers a variety of advanced trails and off-piste options for those looking to push their limits and test their skills.

Best time to ski: January to March, when there is fresh powder and ideal skiing conditions.
8. Rohtang: "An Ancient Trade Route"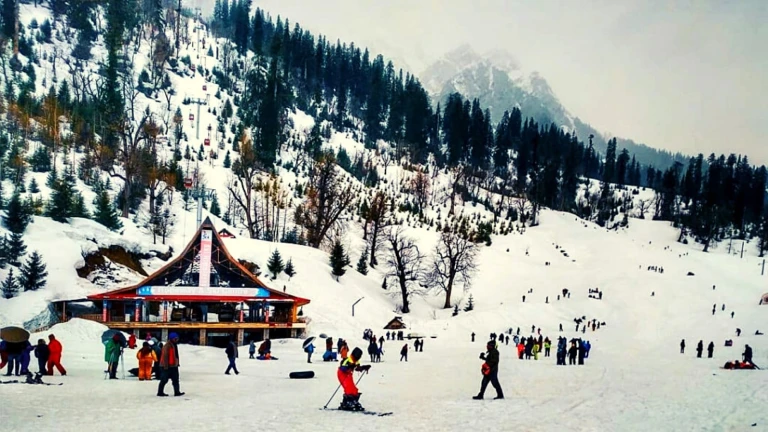 Rohtang Pass, near Manali, is renowned for its stunning landscapes, snowy mountains, and majestic valleys. Tourists flock to the pass for thrilling sports like skiing, snowboarding, and paragliding.
This unique destination in India is a top choice for adventure enthusiasts seeking an adrenaline rush in nature's beauty. The slopes offer suitable terrain for both beginners and experienced skiers, with snow-covered peaks and crisp mountain air adding to the thrill. Whether a seasoned skier or a first-timer, Rohtang Pass promises an unforgettable adventure.
Skiing Organiser: If you're looking to experience the thrill of skiing in Rohtang Pass, it's recommended to book with a reputable skiing organiser.

Entry Fee: The Rohtang Pass day pass, starting at INR 500 per person, includes ski slope access and rental equipment, but weather conditions are subject to change.

Difficulty level: The Rohtang Pass offers easy, intermediate, and expert ski slopes to accommodate skiers of all abilities. Safety precautions: To have a fun and safe experience while skiing at Rohtang Pass, it's critical to adhere to safety regulations and use the proper equipment.

Best time to ski: November to January, when the snowfall is at its peak, is considered the best time to ski at Rohtang Pass.
9. Sethan: "The hidden wonderland"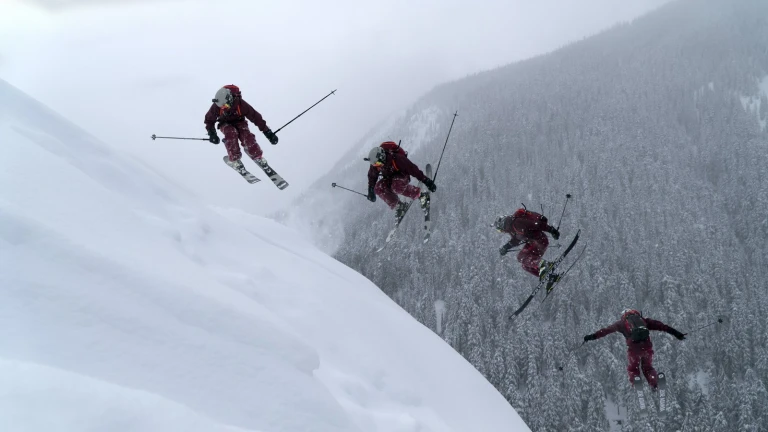 Sethan, a small village in the Himalayas, is renowned for its tranquil atmosphere and untouched natural beauty. Located 3,200 meters above sea level, it offers stunning views of the Dhauladhar ranges and is a popular destination for adventure enthusiasts, offering opportunities for trekking, paragliding, and skiing in winter. Visitors can stay in traditional wooden houses and interact with the friendly local community.
The village is surrounded by pristine forests and meadows, making it a paradise for nature lovers and photographers. Sethan offers exclusive ski slopes for all skill levels, catering to beginners and experts alike, making it an ideal winter sports destination.
Skiing Organizer: NA

Entry Fee: Starts From INR 300 Visitors can rent ski equipment from local shops and receive lessons from experienced instructors to enhance their skiing experience. Additionally, Sethan hosts annual skiing competitions and events, attracting professional skiers from around the world, adding to the excitement and thrill of the destination.

Difficulty level: Easy The easy difficulty level of skiing in Sethan allows beginners to feel comfortable and confident as they learn the sport. The destination's commitment to providing lessons and equipment rentals ensures that even those new to skiing can fully enjoy their experience on the slopes.

Best time to ski: The ideal period for snow-related activities such as skiing, snowboarding, or snow treks is from January to May.
10.Tawang: "Galden Namgey Lhatse"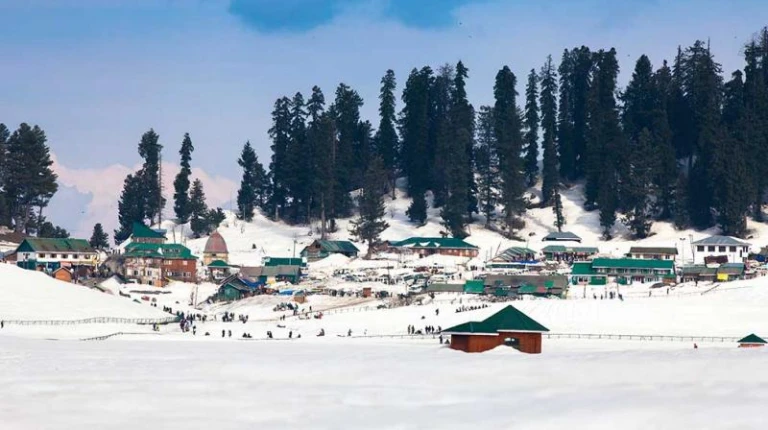 Tawang, in North East India, is one of the greatest places to go skiing because of its breathtaking elevation of 10,000 feet above sea level. Tawang offers a thrilling experience for both novice and experienced skiers, with its spectacular vistas of snow-capped peaks and immaculate slopes.
The town's distinctive cultural heritage and tranquil monasteries only increase its allure, making it a must-visit location for nature lovers and adventure seekers alike. Here, skiing is a relatively new sport. The feeling of skiing away from the crowds is surely amazing.
Skiing Organizer: Tawang Skiing Adventures offers various packages and services for all skill levels, including beginner lessons and advanced guided tours, with experienced instructors, top-notch equipment rentals, and well-maintained slopes.

Entry Fee: There is no entry fee to access the skiing slopes in Tawang. However, visitors may need to pay for the skiing packages or services offered by Tawang Skiing Adventures.

Difficulty level: Skiing in Tawang varies in difficulty, catering to all skill levels. Beginners can enjoy gentle slopes, while advanced skiers can tackle steep terrain. Tawang Skiing Adventures offers experienced instructors for a safe experience.

Best time to ski: The best months for skiing are December through February. Tawang receives a lot of snow during this season, which makes skiing conditions perfect. Furthermore, the cooler temperatures guarantee that the snow stays new and fluffy, improving the skiing experience as a whole.
Also read: 15 Epic international Destinations to experience in December
To conclude…
With its majestic peaks and clean slopes, skiing has become a popular adventure activity in India, particularly in the Great Himalayas. However, not every place has snow-covered terrain, thus a list of the greatest skiing spots is supplied.
Additionally, various companies provide ski holiday packages and training programs, including slopes and amenities for all ability levels, including novices. Some ski resorts also provide equipment rental, lodging, and après-ski activities.
Skiing has become a pleasant and fun pastime for both inhabitants and visitors in India, resulting in the development of world-class ski resorts that draw both local and foreign skiers.