When it comes to the enchanting beauty of India, the state of Kerala stands out with its lush green landscapes, serene backwaters, and vibrant cultural heritage. A visit to this God's Own Country is not just an exploration of nature but also an opportunity to bring a piece of Kerala back home with you.
In this article, we'll guide you through a delightful journey of souvenirs to buy in Kerala, ensuring that your memories of this magical destination linger long after your trip.
Read more: 10 Unique Things to Do Only in Kerala
Spices from Spice Gardens: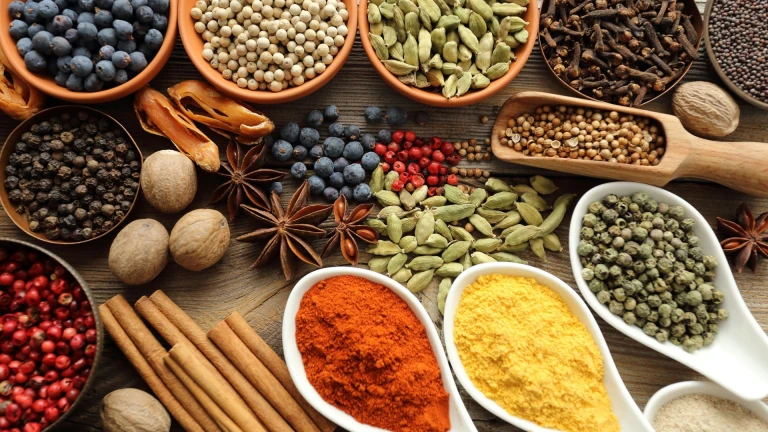 Spices from Spice Gardens
Kerala is renowned as the "Spice Capital of India," and a visit to one of its spice gardens is a must. Capture the essence of Kerala's aromatic spices like cardamom, black pepper, cinnamon, and cloves. Packaged in vibrant, locally inspired containers, these spices not only add flavor to your dishes but also bring a slice of Kerala's rich agricultural heritage.
Handcrafted Coconut Shell Products: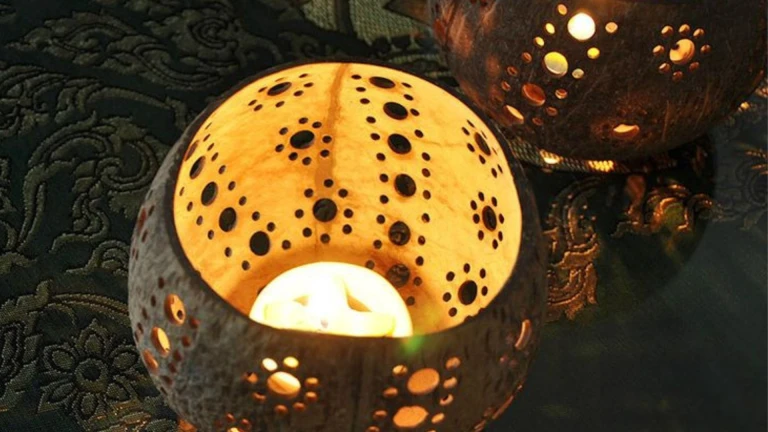 Handcrafted Coconut Shell Products Img: Duong Nguyen Thi
Coconut trees are synonymous with Kerala's landscape, and artisans here transform coconut shells into exquisite handicrafts. From intricately carved showpieces to stylish jewelry, these products reflect the skill and creativity of local craftsmen. Take home a piece of Kerala's coastal charm with a unique coconut shell souvenir.
Kerala Sarees - Kasavu and Mundu: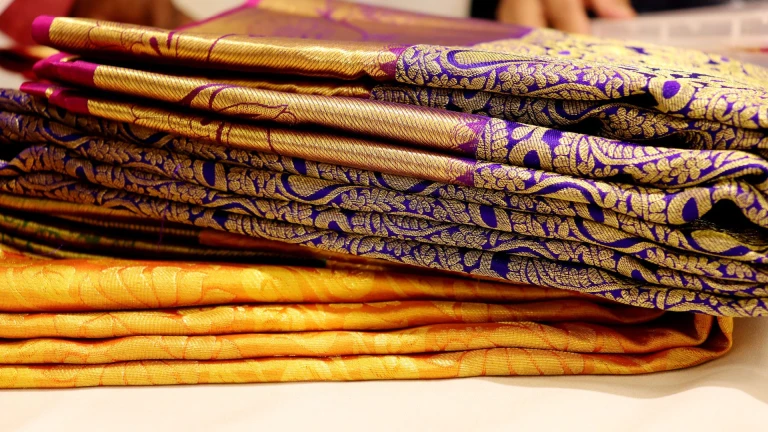 Kerala Sarees
For a touch of traditional elegance, invest in the timeless Kasavu sarees and Mundu. The Kasavu saree, characterized by its off-white fabric and golden border, is a symbol of Kerala's cultural heritage. Mundu, a traditional dhoti worn by men, is also available in various styles and makes for an authentic and stylish souvenir.
Handloom Textiles - Kerala Handloom Fabrics: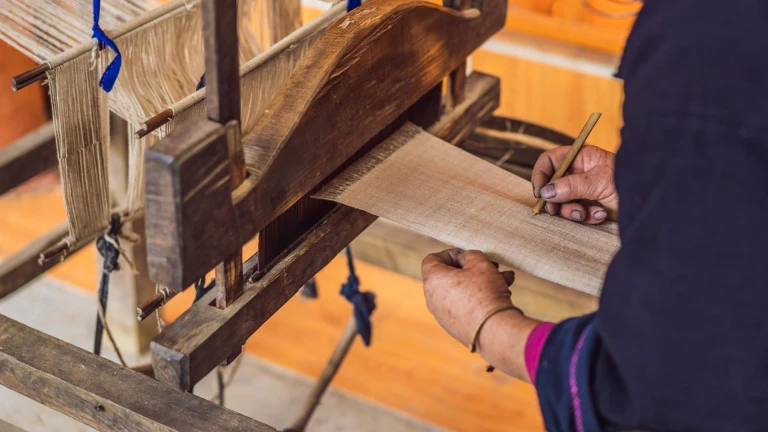 Kerala Handloom Fabrics
Kerala's handloom industry is celebrated for its vibrant colors and intricate designs. Purchase handloom textiles such as bedspreads, towels, and tablecloths to infuse your home with the vibrant spirit of Kerala. Each piece is a testimony to the state's rich weaving traditions.
Aranmula Kannadi - Metal Mirrors: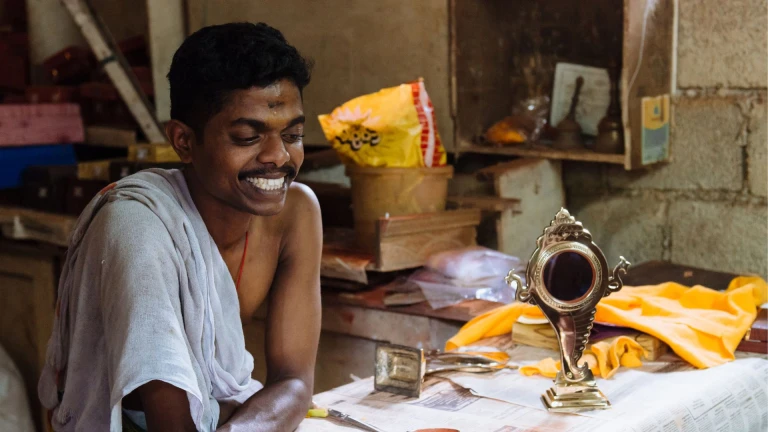 Man with a Aranmula Silver Mirror
Aranmula Kannadi, or Aranmula metal mirrors, are unique to Kerala and are considered auspicious. Crafted using a closely guarded traditional technique, these mirrors are made from a combination of metals. Purchasing one is not just acquiring a mirror but also owning a piece of Kerala's ancient craft and cultural legacy.
Kerala Tea and Coffee: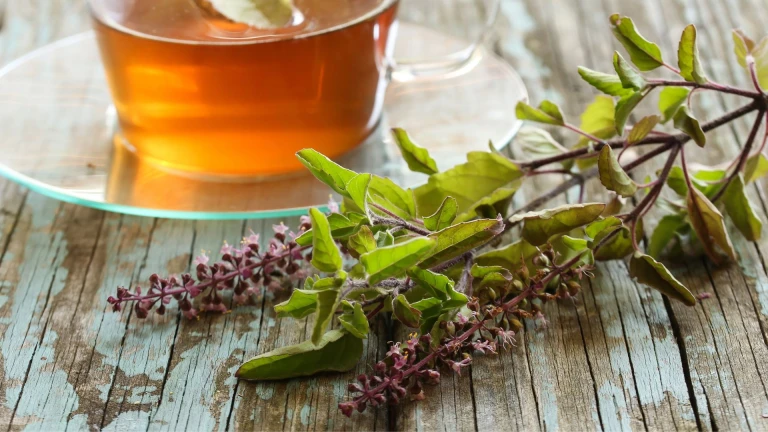 Kerala Tea
Take home the flavors of Kerala with its exquisite tea and coffee varieties. Whether it's the robust flavors of Malabar coffee or the fragrant Nilgiri tea, these beverages encapsulate the essence of Kerala's plantations. Packaged in attractive containers, they also make for great gifts.
Nettur Casket - Traditional Jewelry Boxes: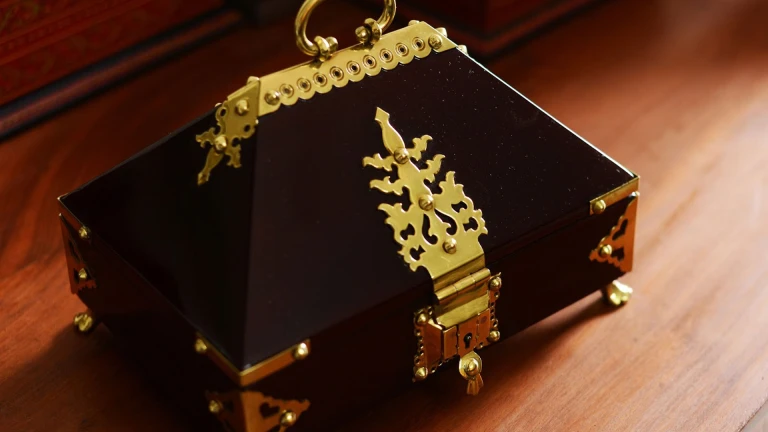 Nettur Casket Img: Nettur Casket
Nettur, a town in Kerala, is renowned for its traditional jewelry boxes known as Nettur Caskets. Crafted from rosewood or teakwood, these boxes are adorned with brass inlay work, depicting intricate traditional patterns. Bring home a piece of Kerala's royal heritage with these elegant and functional caskets, perfect for storing your precious jewelry.
Kathakali Masks: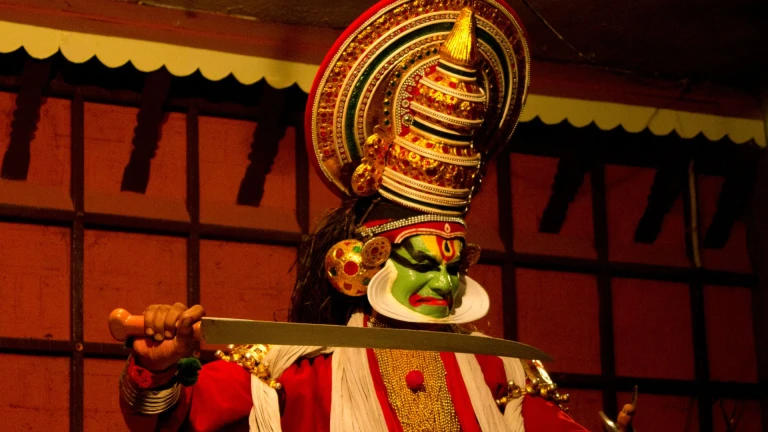 Kathakali
Immerse yourself in the vibrant art form of Kathakali, a classical dance-drama of Kerala, by bringing home a Kathakali mask. These colorful and expressive masks, often handcrafted from wood or papier-mâché, capture the dramatic characters of this traditional performance art. Display it as a unique piece of cultural decor or use it to add a touch of Kerala to your costume collection.
Coir Products: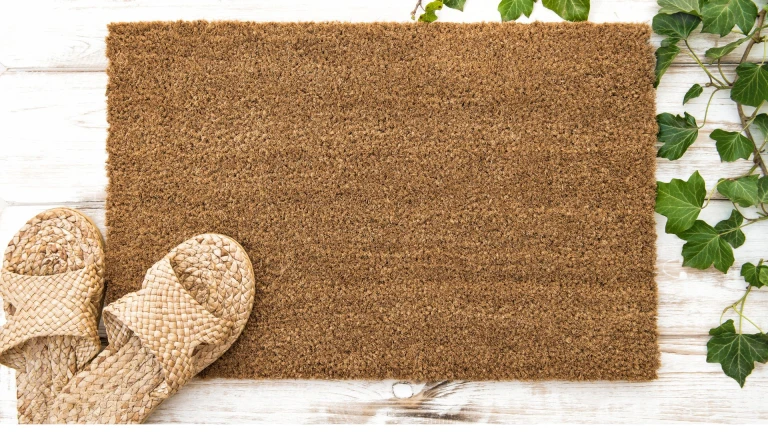 Coir Footwear and Mat
Derived from the husk of coconuts, coir is a versatile material used to create an array of products in Kerala. From coir doormats to bags, footwear, and wall hangings, these eco-friendly items showcase the state's commitment to sustainable living. Coir products not only make for practical souvenirs but also serve as a reminder of Kerala's dedication to environmental consciousness.
Snake Boat Miniatures: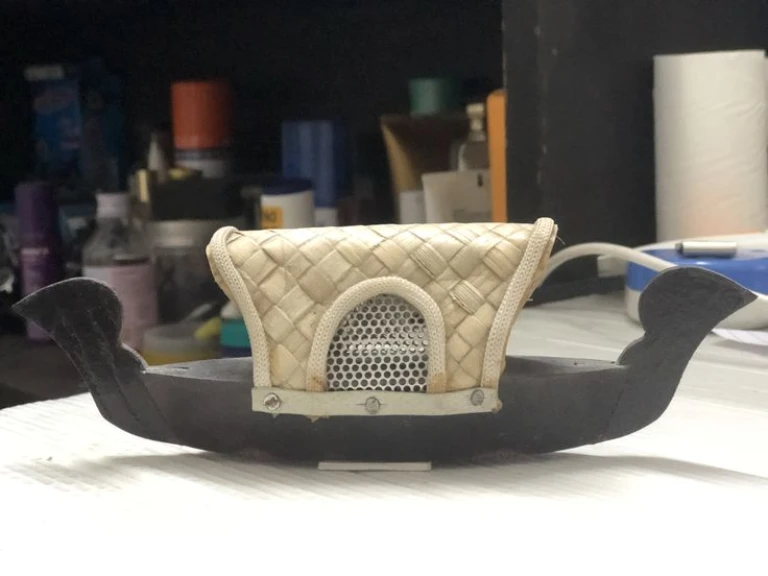 Miniature of a traditional Houseboat of Kerala Img: Navaneeth Krishnan
The iconic snake boat races are an integral part of Kerala's cultural heritage, especially during the Onam festival. Commemorate this thrilling tradition by bringing home a miniature snake boat crafted with meticulous detail. These handcrafted replicas serve as unique decorative items, capturing the spirit of the adrenaline-pumping boat races that define Kerala's festive spirit.
Aromatic Oils and Ayurvedic Products: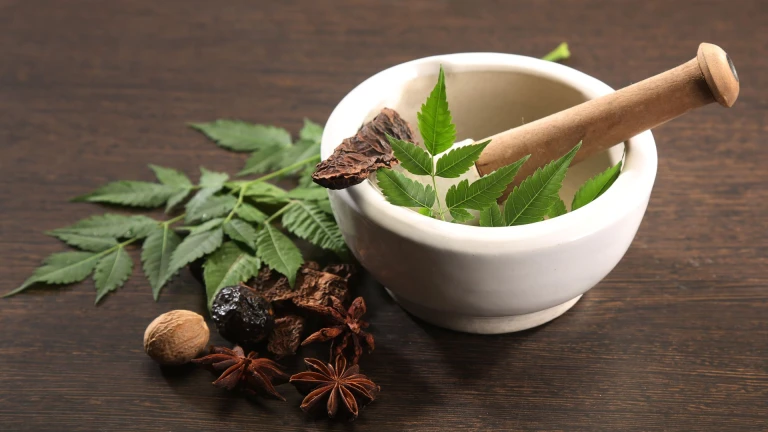 Ayurvedic Products
Kerala is synonymous with Ayurveda, the ancient Indian system of medicine. Explore the world of wellness by purchasing aromatic oils and Ayurvedic products. From soothing massage oils to herbal soaps and skincare essentials, these products offer a holistic approach to health and well-being, allowing you to take a piece of Kerala's wellness culture back home.
Wooden Handicrafts from Thrissur: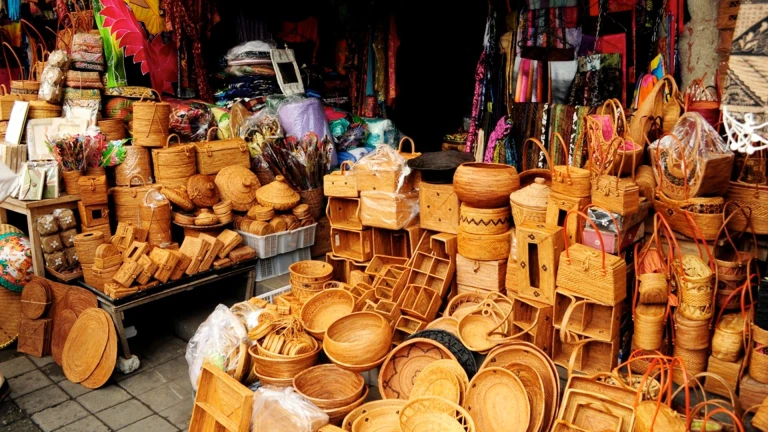 Wooden Handicrafts
Thrissur, known as the Cultural Capital of Kerala, is a hub for traditional wooden handicrafts. Items such as carved wooden elephants, Kathakali figurines, and traditional furniture pieces showcase the exceptional craftsmanship of local artisans. These wooden treasures not only celebrate Kerala's cultural richness but also add a touch of artistic flair to your living space.
Banana Chips and Jackfruit Products: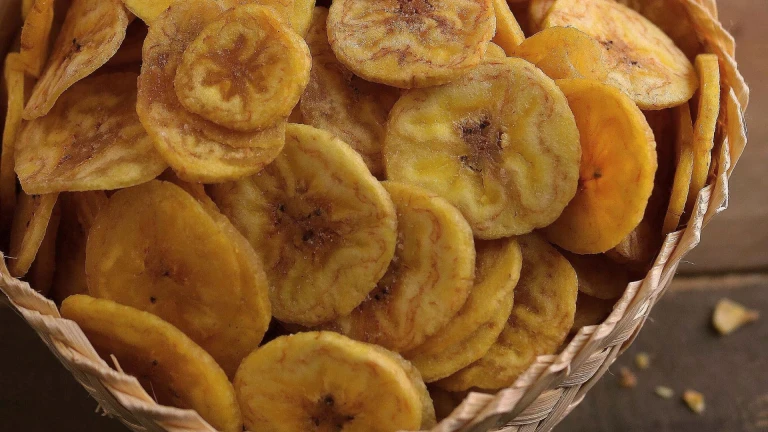 Banana Chips
Indulge your taste buds with Kerala's delectable snacks, such as banana chips and jackfruit-based treats. Packaged in vibrant and eco-friendly containers, these snacks make for tasty souvenirs that reflect the state's culinary diversity. Share the flavors of Kerala with friends and family, or savor them as a delightful reminder of your visit.
Read more: Top 10 Places to Visit in Kerala in 2023
As you explore the diverse landscapes and cultural tapestry of Kerala, don't forget to bring home a piece of this paradise. Whether it's the aroma of spices, the elegance of handloom textiles, or the artistic craftsmanship of local artisans, each souvenir encapsulates the spirit of Kerala. Make your trip unforgettable by collecting these treasures and reliving the magic of God's Own Country every time you glance at your unique Kerala souvenirs.