Welcome to a spiritual journey through North India, a land rich in ancient wisdom and divine energy. In this article, we'll explore ten enchanting spiritual destinations in North India that beckon travelers seeking enlightenment and inner peace. From the sacred banks of the Ganges in Varanasi to the serene temples of Himachal Pradesh, prepare to embark on a soul-stirring adventure that will leave you spiritually rejuvenated. Join us as we uncover the mysticism and spirituality of North India's most cherished locales.
1. Kedarnath Temple, Uttarakhand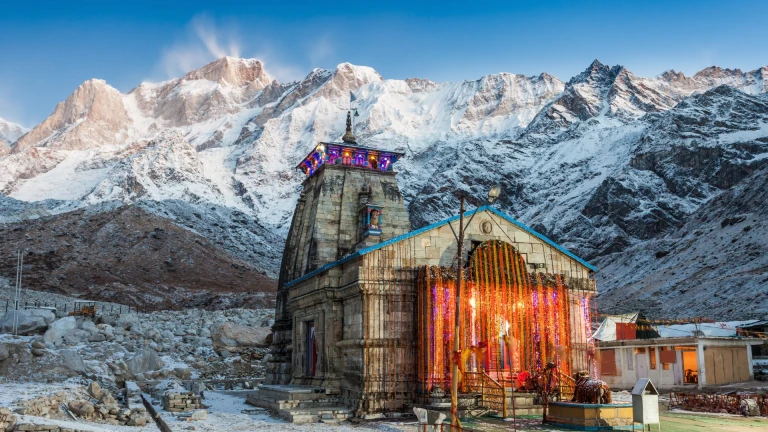 Nestled alongside the serene Mandakini River in Kedarnath, the Kedarnath temple holds a unique place among the 'Chota Char Dham,' a sacred pilgrimage circuit in Uttarakhand that includes Badrinath, Gangotri, and Yamunotri. This magnificent temple is one of the revered 12 Jyotirlingas devoted to Lord Shiva. To reach it, you'll embark on an exciting trek from Gaurikund, a journey filled with adventure and awe. For those seeking a profound experience, this trek is a must! Join the countless pilgrims who gather at this sacred site, surrounded by majestic glaciers and snow-capped peaks. The temple welcomes visitors from April to November, as the weather makes it challenging to access during the rest of the year. Don't miss the chance to explore this divine haven!
Best time to Visit: May to June & September to October

Nearest Airport: Jolly Grant Airport, Dehradun
2. Jagannath Temple, Puri, Orissa
The Jagannath Puri temple holds incredible significance for Hindu devotees as it is one of the revered Char-Dham Pilgrimages and dedicated to Lord Krishna. The temple is renowned for its annual Rath Yatra, a grand procession where millions gather to witness the majestic chariots carrying the deities. It's a sight to behold! Moreover, there are some mysterious occurrences here that have captured the attention of travelers worldwide, and these phenomena remain unexplained by science. The temple's history stretches back over a thousand years, and it holds a special place in Hindu mythology.
Best time to Visit: October and February

Nearest Airport: Bhubaneswar Airport
3. Rishikesh, Uttarakhand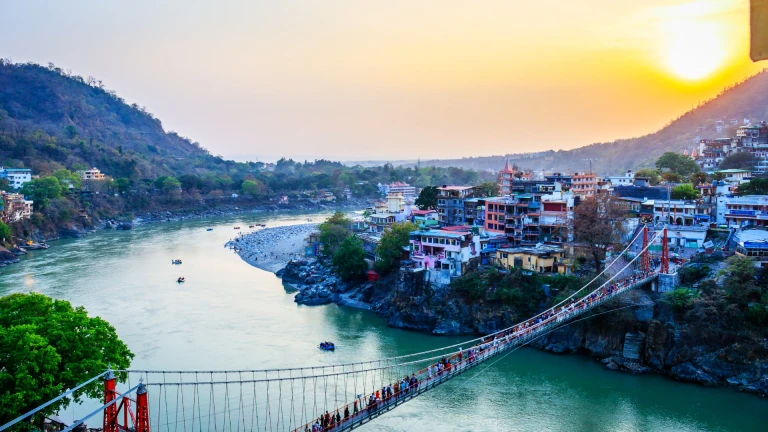 The Yoga Capital of India - Rishikesh, lies nestled at the foothills of the Garhwal Himalayas. It has been a significant spiritual destination in our country for ages. Nowadays, it attracts yogis and spiritual gurus not only from India but also from across the globe who come here to find tranquility through meditation. A perfect place to visit for a spiritual journey.
Best time to Visit: October to March

Nearest Airport: Jolly grant Airport, Dehradun
Also Read: Incredible India's UNESCO Gems: A Traveler's Delight
4. Varanasi, Uttar Pradesh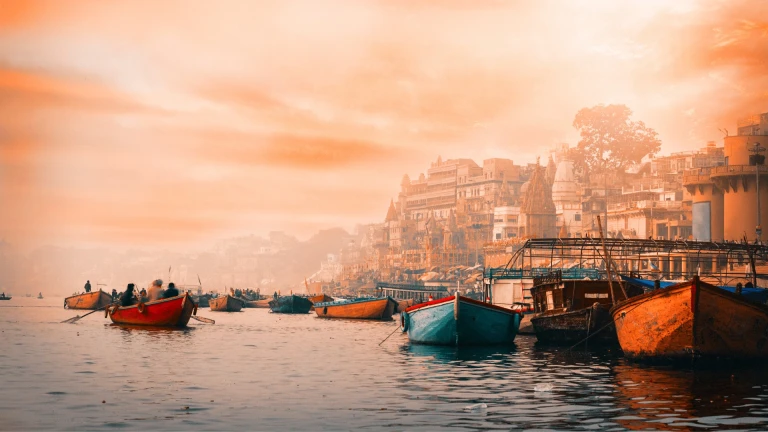 Welcome to Kasi, the enchanting city nestled within Varanasi, often referred to as the Spiritual Heart of India. Legend has it that this very city was crafted by none other than Lord Shiva himself, earning it the prestigious title of "the City of Gods." As the sacred Ganges River flows through its heart, pilgrims from far and wide flock here to cleanse their souls of sins, their hopes soaring like the birds above. Kasi's expansive landscape pays tribute to countless saints and sanyasis who seek solace in its tranquil embrace, making it a sanctuary for meditation and spiritual reflection.
Best time to Visit: November to February

Nearest Airport: Varanasi Airport
5. Golden Temple, Amritsar
Welcome to the magnificent Golden Temple in Amritsar, a place where spiritual teachings come to life! This iconic site holds a special place in the hearts of Sikhs. Built with unwavering devotion by Maharaja Ranjit Singh in 1830, it continues to stand as a symbol of strength and faith. This architectural marvel boasts a complex adorned with marble and copper, but the true gem lies within the shrine itself - it's crafted entirely from pure gold! And the best part? Every day, this hallowed ground serves Langar, a communal meal, to an astonishing 100,000 souls for free.
Best time to Visit: November to March

Nearest Airport: Amritsar Airport
6. Bodh Gaya, Bihar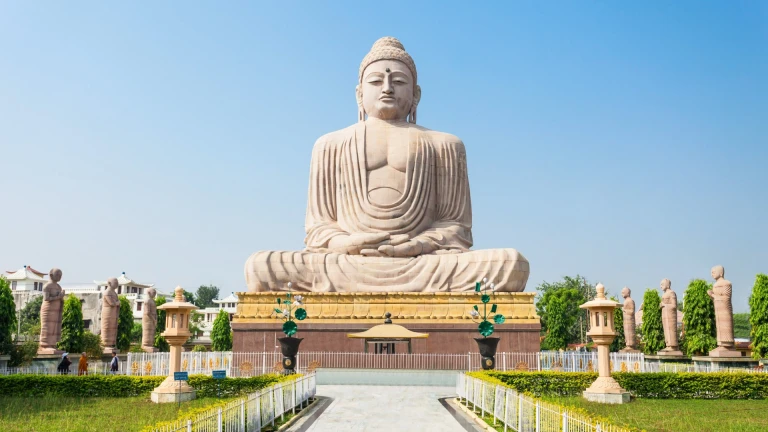 Step into the serene embrace of Bodh Gaya, where the remarkable journey of Prince Siddhartha Gautama culminated in his enlightenment, transforming him into the revered Buddha. Nestled in the heart of this ancient town lies the Mahabodhi Temple, a treasured UNESCO World Heritage site. Here, a harmonious blend of seekers, scholars, and curious tourists gather to immerse themselves in meditation and explore the profound teachings of Buddha. This holy place, situated in the tranquil embrace of North India, exudes an unmatched sense of peace and spirituality.
Best time to Visit: December and February

Nearest Airport: Gaya Airport
7. Badrinath, Uttarakhand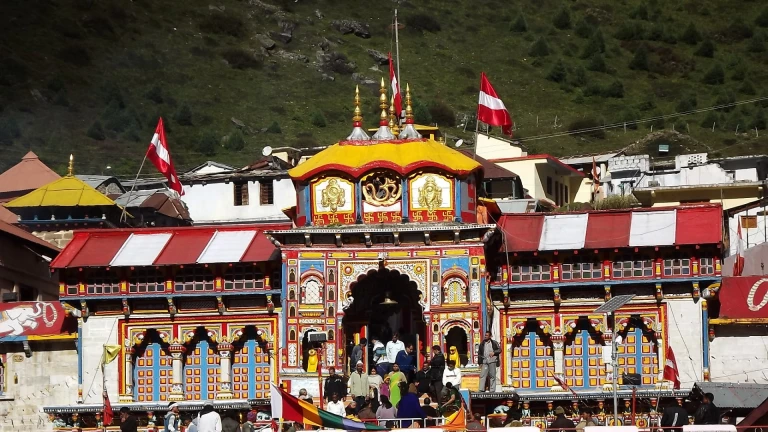 Nestled high up in the breathtaking Garhwal Himalayas, at an impressive altitude of approximately 3,100 meters, lies the enchanting town of Badrinath. This sacred haven, cradled alongside the majestic Alaknanda river, finds itself embraced by the Nar and Narayana mountain ranges. Legend has it that the venerable sage Adi Shankaracharya laid the temple's foundation back in the 8th century, dedicated to Lord Vishnu. For half the year, Badrinath's doors swing open to pilgrims, but when winter blankets the land in heavy snowfall, it's a tranquil, snowbound sanctuary.
Best time to Visit: May to June and September to October

Nearest Airport: Jolly Grant Airport, Dehradun
8. Mathura/ Vrindavan, Uttar Pradesh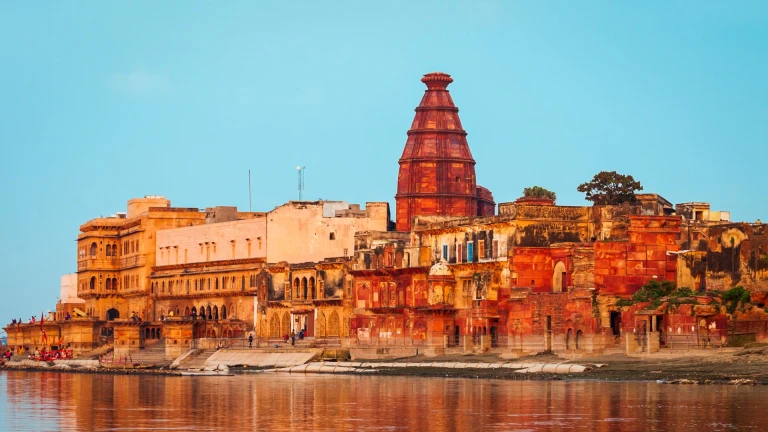 Mathura, the radiant birthplace of Lord Krishna, is steeped in history and spirituality. The heart of this ancient city revolves around the Kesava temple, now part of the Krishna Janmabhoomi Complex. As you explore, you'll discover a plenty of religious sites, including the revered Shri Bankey Bihari Mandir and the serene Naam Yog Sadhna Mandir. Don't miss the iconic Vishram Ghat, where Lord Krishna found solace after vanquishing Kansa. Mathura is a tapestry of divine stories waiting to be explored.
Best time to Visit: October to March

Nearest Airport: Agra Airport, Uttar Pradesh
9. Pushkar, Rajasthan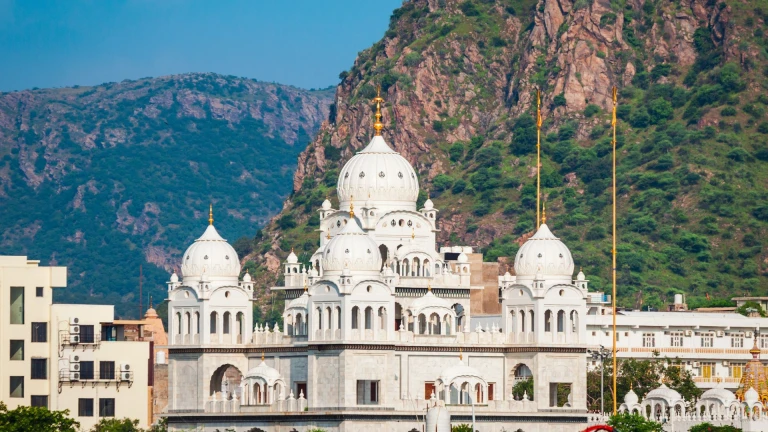 Nestled in the timeless embrace of India, Pushkar stands as one of its ancient gems, a city brimming with rich history and spirituality. This tranquil haven, just a hop to the northwest of Ajmer, beckons thousands of travelers and devout souls to Rajasthan's heart. Picture this: the Nag Pahar, aptly named the Snake Mountain, serves as a picturesque boundary between Ajmer and Pushkar. And oh, don't forget about the famous Pushkar rose, lovingly called 'the rose garden of Rajasthan,' whose sweet scent finds its way to every corner of the globe.
Best time to Visit: October and November

Nearest Airport: Jaipur Airport
10. Dharamshala, Himachal Pradesh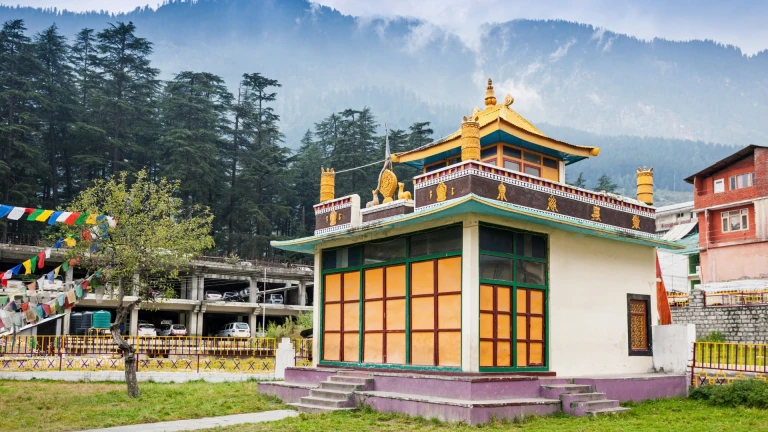 In 1959, an adventurous young monk embarked on a thrilling escape from Tibet, eluding the pursuing Chinese forces. His incredible journey took him across the majestic Himalayas, finally leading him to the warm embrace of India. Eventually, he settled in the picturesque town of Dharamsala, nestled among the Himalayan peaks of Himachal Pradesh. This is where the Dalai Lama found his sanctuary, establishing both his residence and the Tibetan government-in-exile. To this day, Dharamsala continues to be his cherished home, a vibrant hub preserving the rich tapestry of Tibetan culture.
Best time to Visit: March to June

Nearest Airport: Kangra Airport
Also Read: Himalayan Camping 101: Everything You Need to Know
As our spiritual odyssey through North India comes to a close, we hope you've been inspired by the profound beauty and tranquility of these sacred places. Whether you seek enlightenment, inner peace, or simply a deeper connection with the divine, these destinations offer solace for the soul. Remember, the journey of the spirit is an ongoing one, and North India's spiritual treasures are always ready to welcome you back. May your path be illuminated, and may you find continued enlightenment in your quest for spiritual growth. Namaste.