Hyderabad, the city of pearls, comes alive after the sun sets, offering a vibrant and diverse nightlife for both locals and visitors. From traditional cultural experiences to modern entertainment options, there's no shortage of nighttime adventures to embark on in this historical and cosmopolitan city.
In this article, we'll explore 15 fun things to try during your nighttime adventures in Hyderabad.
1. Visit the Charminar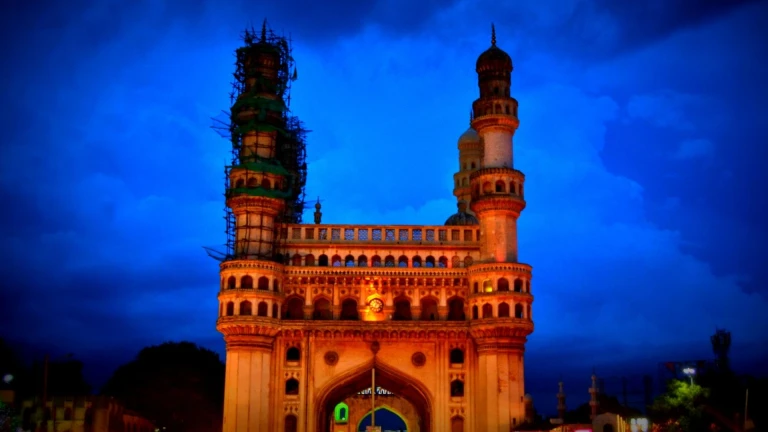 Charminar Hyderabad
Start your nighttime adventure by visiting the iconic Charminar. This historical monument takes on a different charm in the evening with its dazzling lights and bustling markets. You can enjoy local street food and shop for souvenirs as you soak in the atmosphere.
2. Explore the Golconda Fort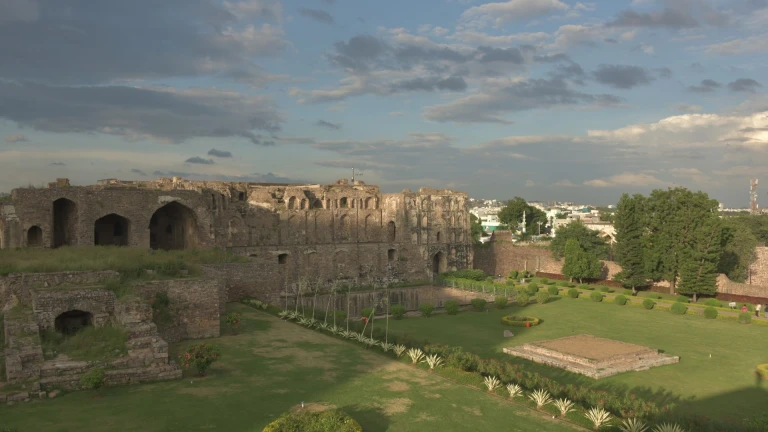 Golconda Fort, Hyderabad
Golconda Fort is not just a historic site; it's also an excellent spot for stargazing. Explore the fort's architectural marvels and then lay out a blanket and gaze at the stars. Don't forget to attend the sound and light show, which brings the history of the fort to life.
Also read: Amber Fort in Jaipur: Everything You Need to Know
3. Enjoy a Biryani Feast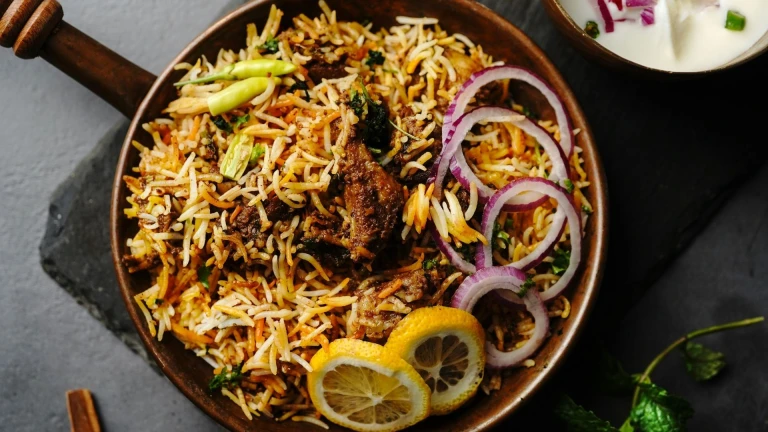 Hydrabadi Biryani
Hyderabad is renowned for its delectable biryani, and there's no better time to savor it than at night. Visit local biryani joints like Paradise, Bawarchi, or Shah Ghouse for a scrumptious meal that will tantalize your taste buds.
4. Take a Boat Ride at Hussain Sagar Lake
Hussain Sagar Lake, Hyderabad
Experience the beauty of Hussain Sagar Lake by taking a boat ride at night. The massive Buddha statue in the middle of the lake is beautifully illuminated, creating a serene and enchanting atmosphere.
5. Night Photography at Tank Bund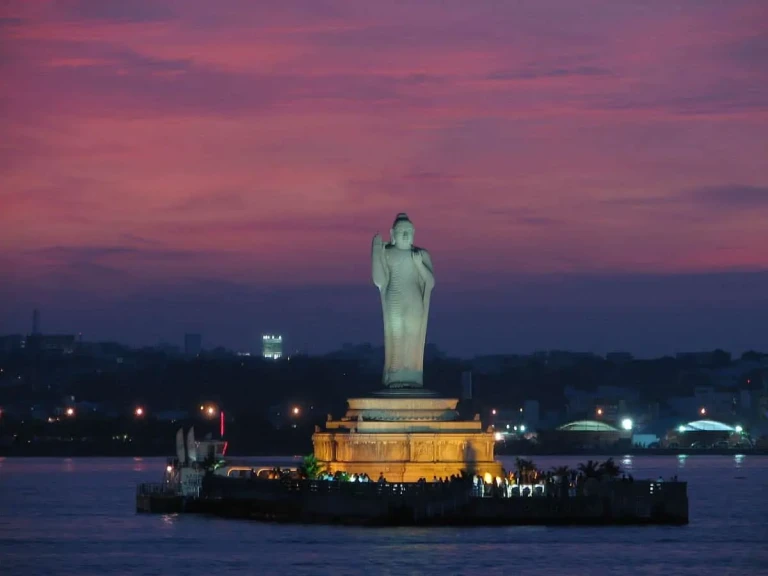 Tank Bund Lake, Hyderabad Img: Siasat.com
Tank Bund is a popular spot for photographers at night. Capture the reflection of the illuminated statues and surrounding buildings in the waters of Hussain Sagar Lake.
6. Visit Ramoji Film City
Ramoji Film City, Hyderabad Img: Journey with my Camera
Ramoji Film City is a popular attraction in Hyderabad, and it offers nighttime tours that provide a unique perspective on the city's film industry. The lights, sets, and studios come to life, offering an exciting experience.
7. Attend a Live Music Performance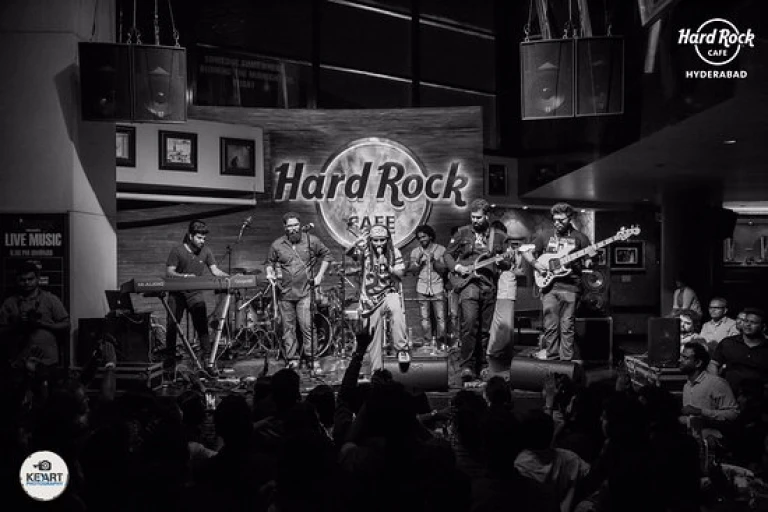 Hard Rock Cafe, Hyderabad
Hyderabad has a thriving live music scene. Check out venues like Hard Rock Cafe, Heart Cup Coffee, or The Moonshine Project for live performances by local and international artists.
8. Explore the Old City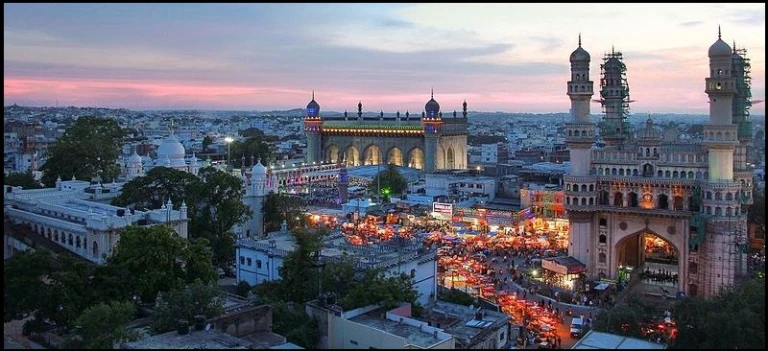 Hyderabad
Wander through the narrow lanes of the Old City to discover the true essence of Hyderabad. The historic buildings, bustling markets, and street food vendors create a unique ambiance that's best experienced at night.
9. Visit the Salar Jung Museum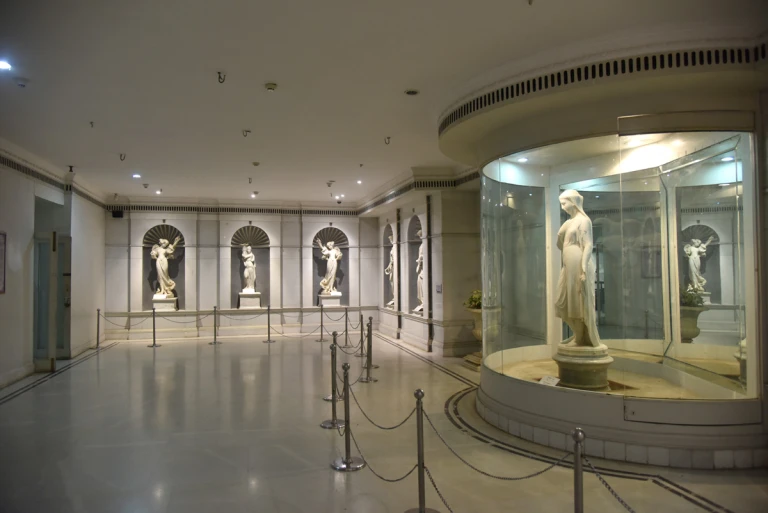 Salar Jung Museum, Hyderabad Img: Salar Jung Museum
The Salar Jung Museum is open until 8:00 PM, allowing you to explore its vast collection of art and artifacts after sunset. The dimly lit galleries add to the allure of the exhibits.
10. Experience Laser Show at Lumbini Park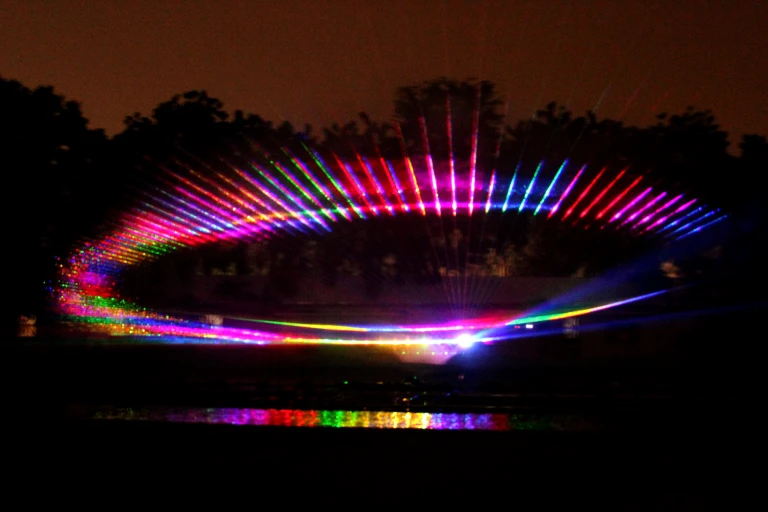 Laser Show at Lumbini Park Hyderabad
Lumbini Park hosts a stunning laser and musical fountain show that is a perfect way to spend an evening with your loved ones. The enchanting play of lights and music is a treat for the eyes and ears.
11. Shop at Night Bazaars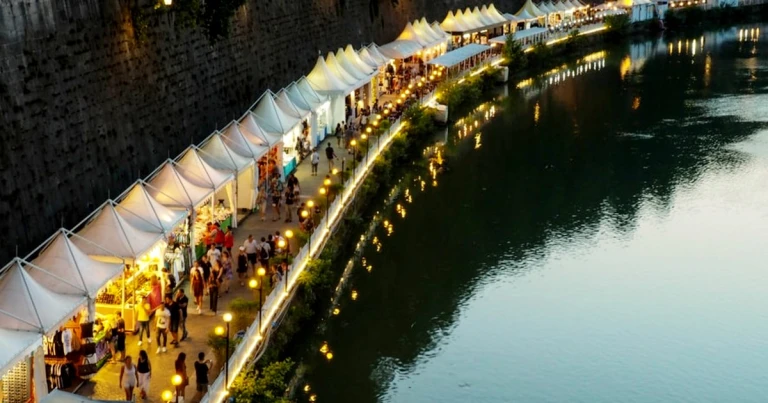 Hyderabad's night bazaar, Hussain Sagar Img: Curly Tales
Hyderabad's night bazaars are a shopaholic's paradise. Places like Laad Bazaar and Moazzam Jahi Market are open late, allowing you to indulge in some retail therapy after dark.
12. Try Nizami Sweets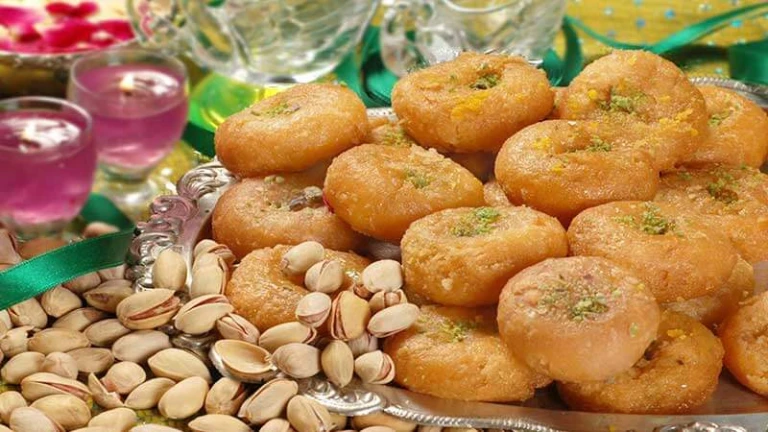 Nizami Sweets, Hyderabad Img: EaseMyTrip
Nizami sweets and bakeries are renowned for their delectable treats. Satisfy your sweet tooth with desserts like Double Ka Meetha, Qubani Ka Meetha, and the iconic Osmania biscuits.
13. Take a Moonlit Stroll at KBR Park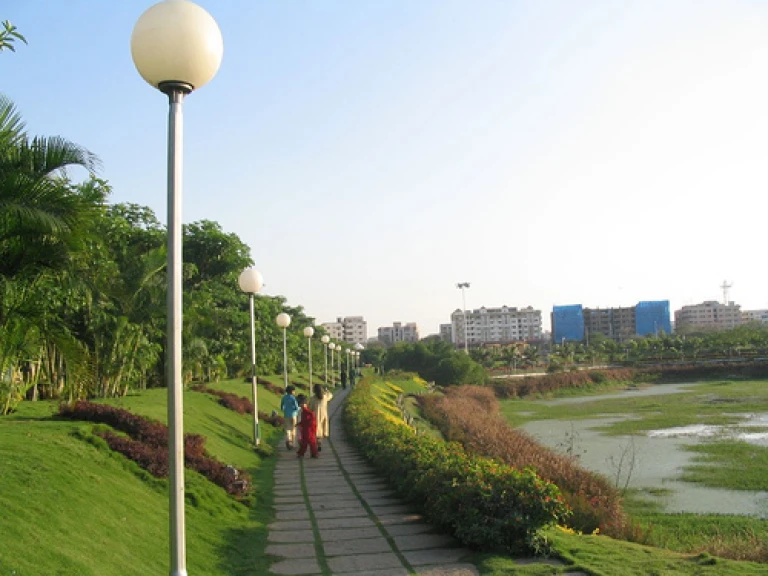 Hyderabad's kbr park
Kasu Brahmananda Reddy National Park is a serene escape from the city's hustle and bustle. Enjoy a moonlit stroll through the park's lush greenery and serene surroundings.
14. Attend a Cultural Performance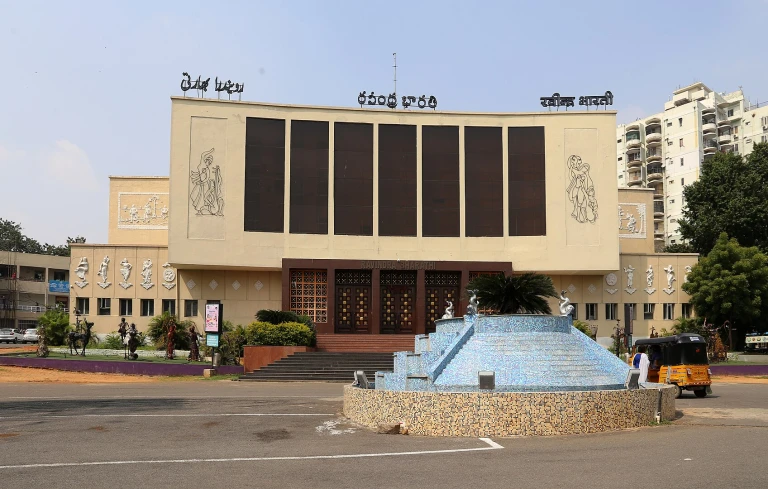 Hyderabad, Ravindra Bharathi.
Experience the vibrant culture of Hyderabad by attending a traditional dance or music performance. Venues like Ravindra Bharathi and Shilparamam host cultural events that provide a glimpse into the city's heritage.
15. Night Safari at Nehru Zoological Park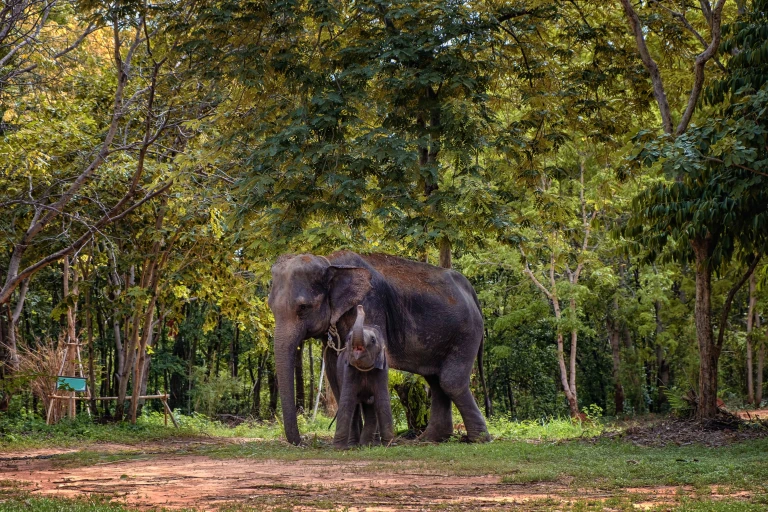 Nehru Zoological Park, Hyderabad
For an extraordinary experience, visit Nehru Zoological Park for a night safari. It's a fantastic opportunity to observe the nocturnal behavior of animals like tigers, lions, and leopards.
Read more: Bharatpur National Park: Your Complete Travel Guide