The "City of Nizams," Hyderabad, is a city with a long history and many interesting historical landmarks. These locations, such as the recognizable Charminar and the Golconda Fort, provide a window into the city's rich cultural legacy. The sumptuous Chowmahalla Palace, formerly the Nizams' residence, displays the regal way of life, while the tranquil Qutb Shahi Tombs provide a respite.
These locations are a must-see for history buffs and anybody who is interested in learning more about India's rich cultural heritage since they provide a window into the illustrious past and the art and architecture of the bygone era. Hyderabad will enthrall you, whether you're fascinated by history or just interested in India's extensive past.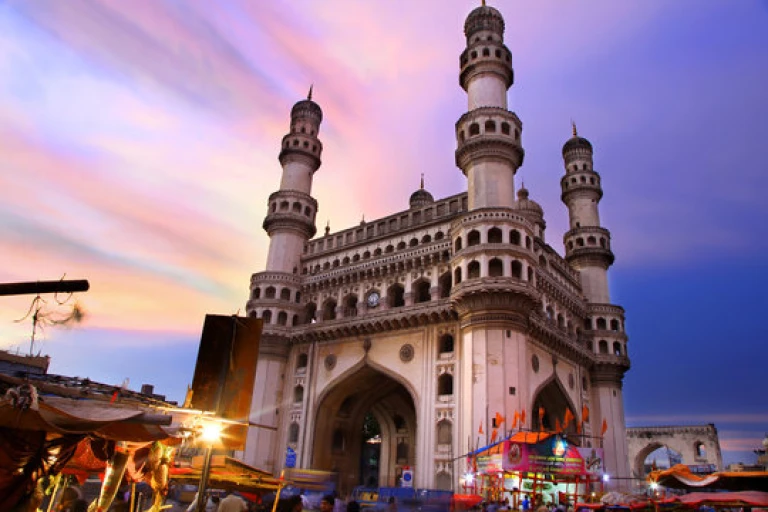 1. Golconda Fort
Golconda Fort in Hyderabad, India, has a rich history dating back to the Kakatiya Kings. It was completed by Rani Rudrama and her successor Prataparudra and later repaired by Sultan Quli Qutb-ul-Mulk of the Qutb Shahi dynasty.
The fort boasts eight gates, temples, mosques, stables, royal chambers, and four movable bridges. It was once home to the Koh-i-Noor, the Hope Diamond, and the Daria-i-Noor. The fort is renowned for its magnificent design and historical value, offering a dominating perspective of the city.
Visitors are drawn to the intricate carvings and artwork on the walls and ceilings, showcasing the rich cultural heritage of the region. Today, it serves as a symbol of the city's glorious past and a reminder of architectural brilliance and artistic excellence.
Location: Khair Complex, Ibrahim Bagh, Hyderabad

Timings: 08:00 a.m. to 05:30 p.m. Open every day except Fridays.

Attractions: The fort also houses a museum that displays artifacts and relics from the region's history, providing visitors with a deeper understanding of its significance.

Additionally, the fort's sprawling gardens offer a peaceful retreat, perfect for leisurely walks and picnics, making it a popular destination for both locals and tourists alike.

Entry Fee: ₹15 per person for Indian citizens and ₹200 per person for foreign nationals.
2. Charminar
Hyderabad's Charminar, popularly referred to as the Four Minarets, is a masterpiece of Qutb Shahi dynasty architecture. It is thought to have been constructed to mark the conclusion of a cholera epidemic or to mark the location where Qutb Shahi first saw Rani Bhagmati, who would become his future queen.
The square building's elaborate balustrades, balconies, and ceramic embellishments are composed of granite, marble, mortar, and limestone. Each of the imposing minarets, which have two balconies, is 56 metres high.
The mosque is the main attraction, and according to mythology, Charminar and the Golconda Fort were joined by a subterranean passageway.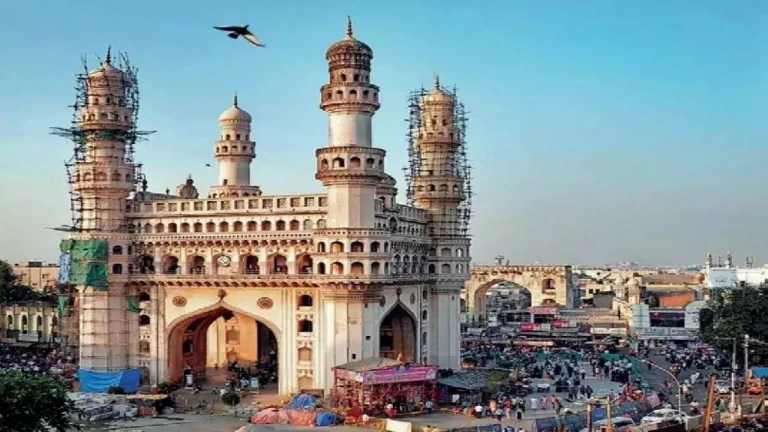 Location: The Charminar is situated in Char Kaman, Ghansi Bazaar, in the center of Hyderabad.

Timings: 09:30 a.m. to 05:30 p.m.; open every day except Fridays

Attraction: Visitors can climb up to the first balcony of the minarets for a panoramic view of the city. The Charminar is also famous for its bustling market, where visitors can shop for traditional handicrafts and pearls.

Entry Fee: INR 5 for Indians, INR 100 for foreigners
3. Qutub Shahi Tombs
The Qutub Shahi Tombs, also known as the Seven Tombs, are a group of mausoleums located in Hyderabad, India. These tombs were built in the 16th and 17th centuries and serve as the final resting place for the rulers of the Qutub Shahi dynasty.
Each tomb is an architectural marvel, showcasing a blend of Persian, Indian, and Islamic styles. The intricate carvings, grand domes, and beautiful gardens surrounding the tombs make them a popular tourist attraction and a symbol of the rich cultural heritage of Hyderabad.
The Qutub Shahi Tombs offer visitors a glimpse into the opulence and grandeur of the Qutub Shahi dynasty, which ruled over the region for nearly 170 years. The tombs stand as a testament to the artistic and architectural prowess of the era, leaving visitors in awe of the intricate detailing on the walls and ceilings.
Exploring the serene gardens surrounding the tombs provides a tranquil escape from the bustling city, allowing visitors to soak in the history and beauty of this historical site.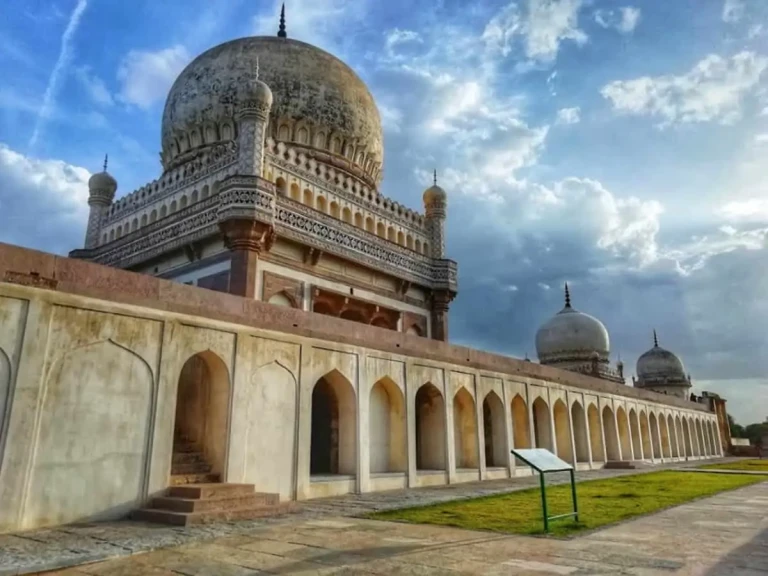 Location: Fort Rd., Toli Chowki, The Qutub Shahi Heritage Park is where the tombs are located.

Because of its convenient location, the rich cultural heritage of the Qutub Shahi dynasty is easily accessible to both residents and visitors.

Timings: 09:30 a.m. to 04:30 p.m., open every day except Friday.

Entry Fee: ₹10 for Indian nationals, ₹5 for children below 12 years, and ₹100 for foreign nationals.

The entry fee helps in the preservation and maintenance of the tombs and the surrounding gardens, ensuring that future generations can continue to enjoy this historical site.
4. Makkah/Mecca Masjid
Makkah/Mecca Masjid, located in Hyderabad, is one of the oldest and largest mosques in the country. Built during the reign of Sultan Muhammad Quli Qutb Shah, it is an architectural marvel that showcases a blend of Persian, Mughal, and Indian architectural styles. The mosque can accommodate thousands of worshippers and is a significant religious and cultural landmark in Hyderabad.
The name of the mosque, Makkah or Mecca Masjid, is derived from the bricks that were brought from Mecca and used in its construction. The main prayer hall is adorned with beautiful chandeliers and intricate calligraphy, creating a serene atmosphere for worshippers.
Every year, during the holy month of Ramadan, the mosque becomes a hub of activity, with people coming from all over to offer prayers and partake in the festive atmosphere. It is a symbol of the rich Islamic heritage of Hyderabad and attracts tourists and locals alike.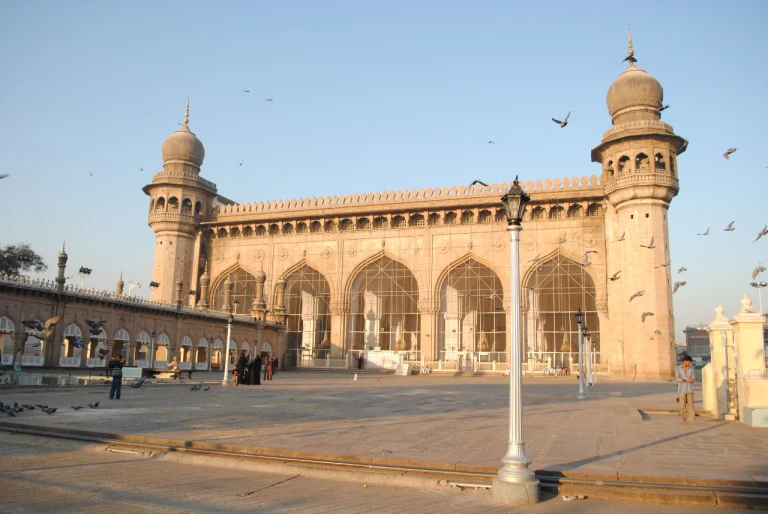 Location: Laad Bazaar Rd., Khilwat

Timings: 04:00 am to 09:30 pm; open every day except during prayer times.

Attraction: The mosque offers various educational programs and classes to promote Islamic teachings and values within the community.

Additionally, it serves as a platform for interfaith dialogue and understanding, hosting events that bring people of different faiths together to foster harmony and unity.

Entry Fee: Free
5. Chowmahalla Palace
Dating back to the 18th century, Chowmahalla Palace is a magnificent palace located in Hyderabad, India. It was the official residence of the Nizams of Hyderabad and served as the seat of power for the Asaf Jahi dynasty. It consists of several grand halls, courtyards, gardens, and fountains that showcase the opulence and grandeur of the Nizams' lifestyle.
Today, Chowmahalla Palace has been restored to its former glory and is open to the public as a museum. Visitors can explore the exquisite architecture, intricate carvings, and extensive collection of artifacts that provide a glimpse into the rich history and culture of the region.
The palace also hosts various cultural events and exhibitions, allowing visitors to immerse themselves in the vibrant heritage of Hyderabad. A visit to Chowmahalla Palace is a truly unforgettable experience that transports you back in time to the royal era of the Nizams.
Location: Khilwat, Motigalli, Hyderabad, Telangana, India. The palace is easily accessible and offers guided tours to enhance the visitor's understanding of its historical significance and architectural marvels.

Timings: 10:00 a.m. to 5:00 p.m. it is open every day except Fridays.

Attraction: The palace complex is known for its stunning architecture, featuring a unique blend of Persian, Mughal, and European styles.

Entry Fee: The entry fee for adults is INR 80, and for children, it is INR 20. Additionally, there is a separate fee for the guided tour, which costs INR 100 per person.
Also read: Nighttime Adventures in Hyderabad: 15 Fun Things to Try
6. Salar Jung Museum
The Salar Jung Museum is a renowned art museum located in Hyderabad, India. It is one of the largest museums in the country and houses an extensive collection of art, sculptures, manuscripts, textiles, and other historical artifacts from various civilizations.
The museum was established in 1951 and named after Salar Jung III, a former Prime Minister of the Nizam State. With over one million visitors annually, it is a popular tourist attraction that offers a fascinating glimpse into the rich cultural heritage of India.
The Salar Jung Museum is known for its diverse collection, which includes works from ancient Indian civilizations as well as Persian, European, and Far Eastern art.
Visitors can admire masterpieces like the Veiled Rebecca, a mesmerizing marble sculpture, or explore the intricate craftsmanship of Mughal miniatures. The museum also hosts temporary exhibitions and educational programs, making it a hub for art enthusiasts and scholars alike.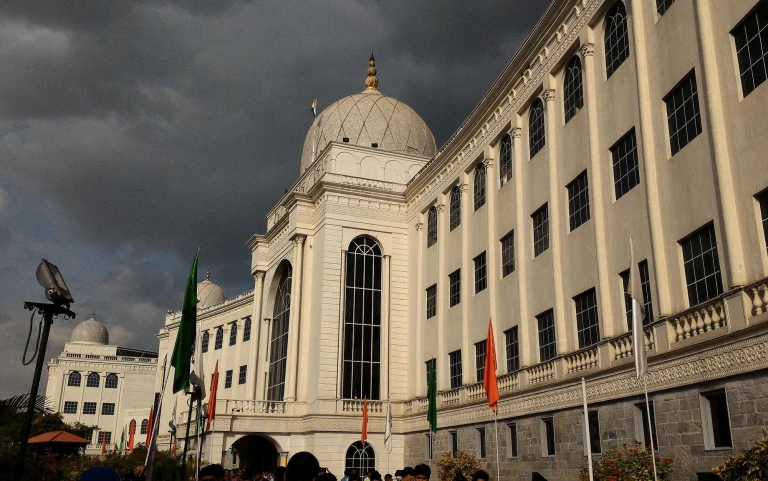 Location: Salar Jung Road, Naya Pul, Hyderabad, Telangana, India.

Timings: 10:00 a.m. to 5:00 p.m.; open every day except Fridays.

Attraction: The museum's collection includes over 40,000 art objects and artifacts from various civilizations and time periods, including paintings, sculptures, textiles, ceramics, and manuscripts.

Visitors can marvel at the intricate craftsmanship and learn about the diverse cultural traditions represented in the exhibits.

Entry Fee: INR 20 for adults, INR 10 for children, and free entry for students with valid ID cards. The museum also offers guided tours and audio guides in multiple languages to enhance the visitor's experience.
7. Taramati Baradari
Taramati Baradari, a historical Sarai and Persian-style garden, is a monument to Abdullah Qutb Shah's favorite courtesan, Taramati. It is well-known for its clever cross-ventilation design and has 12 entrances. Taramati and Premamati, two dancing sisters who pirouetted on ropes, are mentioned in legends along with their alluring voices. The Baradari presents classical music and dance acts and has excellent acoustics.
A large open-air theater with 1600 seats is also part of the property. Visitors can enjoy mesmerizing performances against the backdrop of the beautiful garden and the historic monument. The open-air theatre provides a unique and enchanting experience, allowing the audience to immerse themselves in the world of classical music and dance.
The excellent acoustics of the Baradari further enhance the performances, ensuring that every note and movement resonates with clarity and grace.
Whether it is the captivating stories of Taramati and Premamati or the artistic expressions of contemporary artists, Taramati Baradari continues to be a hub for cultural enrichment and entertainment.
Location: Ramdev Guda, Ibrahim Bagh, Hyderabad

Timings: 11:00 a.m. to 6:00 p.m.; open every day except Mondays.

Attraction: Visitors can explore the stunning architecture of the Baradari and immerse themselves in the rich history and cultural heritage of Hyderabad.

Additionally, the venue also hosts various workshops and events, providing opportunities for aspiring artists to showcase their talent and learn from seasoned professionals.

Entry Fee: Free
8. Toli Masjid
Two kilometres away from Golconda Fort lies a mosque called Toli Masjid, often referred to as Damri Masjid. Mir Musa Khan, who got one damri for every rupee spent building the Mecca Masjid, was the man behind its creation. The mosque has five arches with lotus medallions, two rooms, and two substantial minarets.
Toli Masjid, designated as a historic monument by the Archaeological Survey of India, is a symbol of the city's lengthy history.
The Toli Masjid's architectural magnificence is breathtakingly appealing. The complex wall carvings and magnificent minaret designs are examples of the period's exceptional craftsmanship.
For guests to pray and meditate, the mosque's calm environment offers a peaceful setting. It's difficult to avoid being enthralled by the cultural richness and historical importance that Toli Masjid embodies as one wanders the grounds.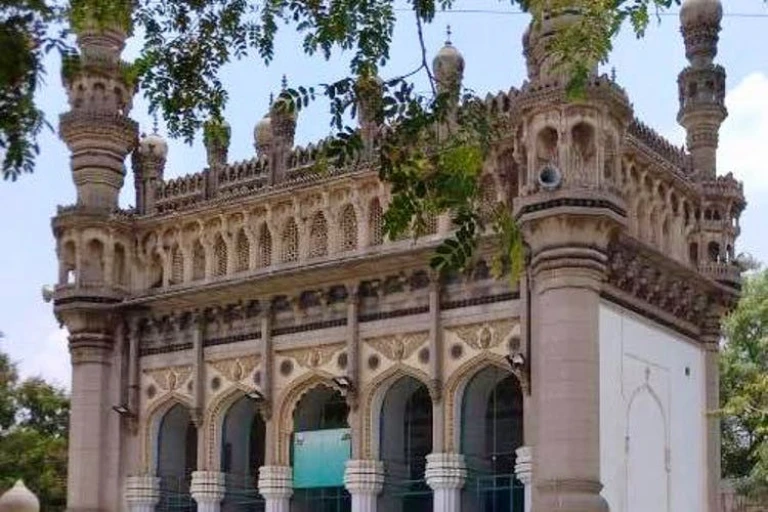 Location: Golconda Rd, Kulsumpura, Hyderabad

Timings: The mosque's timings from 10:00 a.m. to 6:00 p.m. allow visitors ample time to explore and appreciate its architectural beauty.

Whether one is a history enthusiast or simply seeking a serene atmosphere, Toli Masjid is a must-visit destination in Hyderabad.

Entry Fee: Free
9. Paigah Tombs
The Paigah Tombs, which span a vast area of 30–40 acres, are a beautiful example of marble artistry. The respected Paigah nobles, who were renowned for their steadfast fidelity to the Nizams and their remarkable service as politicians and generals, are buried in these graves. These tombs stand out for their superb craftsmanship, which includes deftly cut marble, painstakingly placed mosaic tiles, and ornate screens and canopies.
The architectural influences of the Mughal, Persian, Rajputana, and Asaf Jahi may be seen in the floral motifs, stucco work, and geometric patterns. Each tomb has a distinctive design that makes use of an abundance of motifs and latticework that are exclusive to these tombs.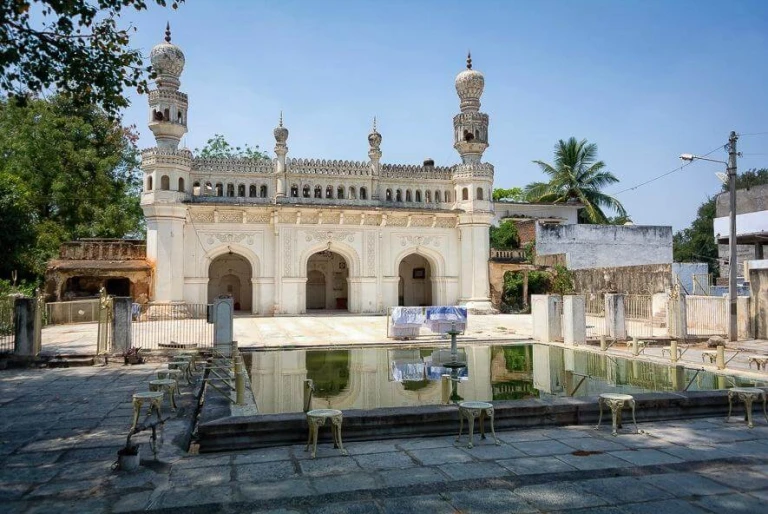 Location: Santosh Nagar, Kanchan Bagh, Hyderabad

Timings: 10:00 am to 05:00 pm; open every day except Fridays.

Attraction: The tombs are a popular attraction for tourists and history enthusiasts, offering a glimpse into the rich cultural heritage of the region.

Visitors can marvel at the intricate craftsmanship and architectural brilliance displayed in each tomb, making it a must-visit destination in Hyderabad.

Entry fee: Rs. 20 for adults, Rs. 10 for children

Additional Information: Visitors are advised to wear comfortable footwear as there is a significant amount of walking involved in exploring the tombs.

Photography is allowed inside the premises, but flash photography is prohibited.
10. Spanish Mosque
Due to its peculiar Moorish architectural design, this magnificent mosque in Hyderabad is sometimes referred to as the "Mosque of the Moors" and is a rare treasure in India. During the rule of Nizam Mir Mahbub Ali Khan Bahadur, Vikar-ul-Umra, Iqbal ud Dowla, initiated the construction of this mosque. Nawab Sultan Ul Mulk Bahadur, his oldest son, carefully oversaw the building.
This mosque, also known as Masjid Iqbal Ud Daula and Aiwan-e-Begumpet, was designed to resemble the magnificent Cathedral-Mosque of Cordoba in Spain. Quranic phrases are elegantly engraved on the walls, but what really distinguishes it are the spires that decorate its skyline, giving it the opulence of a cathedral. The spires, reaching towards the heavens, are adorned with intricate carvings and delicate filigree work. As the sunlight filters through the windows, the mosque is bathed in a soft, ethereal glow.
The fusion of architectural styles creates a breathtaking sight, blending the grandeur of the cathedral with the serenity of a mosque. Standing tall and majestic, this mosque is not only a place of worship but also a testament to the rich cultural heritage and artistic genius of its creators.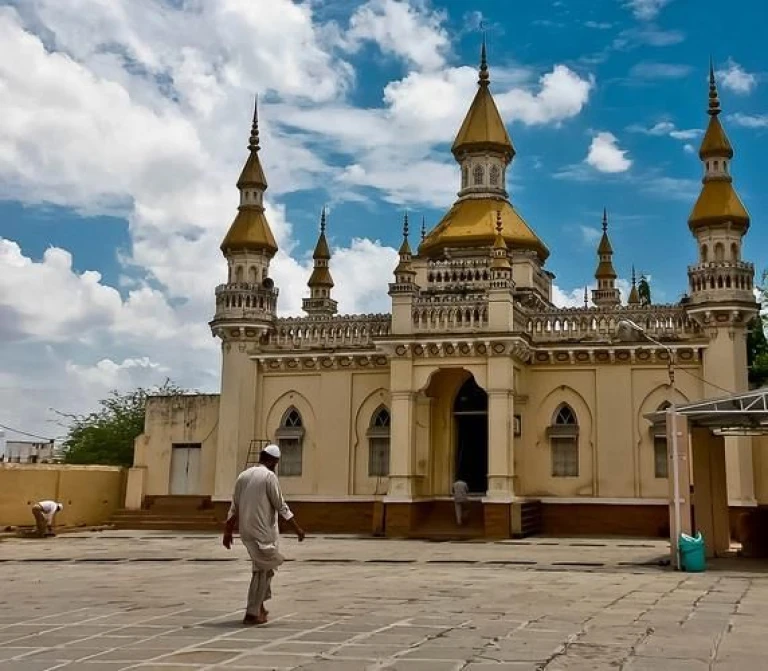 Location: Sardar Patel Road, Begumpet, Hyderabad

Timings: 05:00 a.m. to 09:00 p.m.; open every day.

Attraction: The mosque's intricate carvings and delicate patterns on its walls and domes are a visual feast for visitors.

Inside, the spacious prayer hall is adorned with beautiful chandeliers and colourful stained glass windows, creating a tranquil atmosphere for worshipers.

Entry Fee: Free
11. Falaknuma Palace
Falaknuma Palace, which translates as "Mirror of the Sky," is perched on a 2000-foot-high hill and is a tribute to Nawab Sir Vikar-ul-Umra's architectural genius. This spectacular castle, which was constructed in the late 19th century and has elaborate carvings and beautiful marble work, is a mix of Italian and Tudor styles.
The spectacular panoramic views of Hyderabad city that it provides from its high point add to its splendor. The palace, which is now a five-star hotel, draws guests into a world of grandeur and grace. Chandeliers, lavish tapestries, and antique furniture embellish its opulent interiors, which transport visitors to a time of opulence.
The palace's opulent ballrooms and expansive grounds have hosted a number of notable visitors and significant occasions throughout history, enhancing its reputation as a symbol of aristocracy and grandeur.
Standing tall and proud, Falaknuma Palace continues to be a mesmerizing testament to the architectural wonders of the past.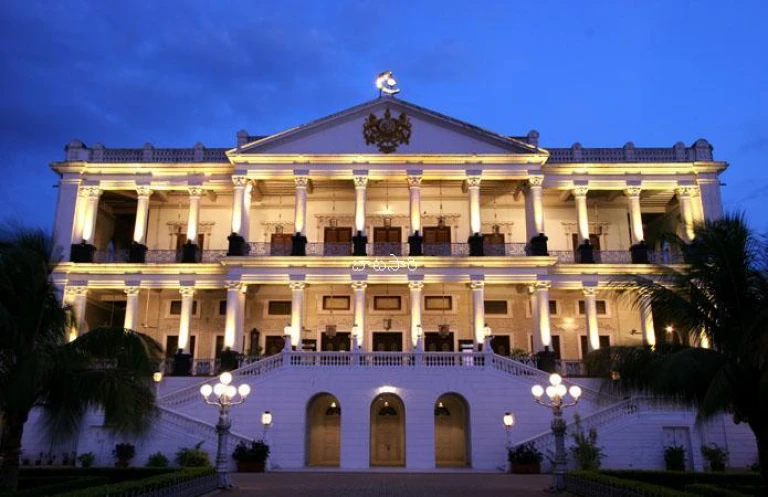 Location: Engine Bowli, Falaknuma, Hyderabad

Timings: 10:00 a.m. to 5:00 p.m., allowing visitors ample time to explore its magnificent halls and gardens.

Attraction: One of the main attractions of Falaknuma Palace is its stunning collection of rare artifacts and exquisite artwork, showcasing the rich cultural heritage of the region.

Additionally, visitors can also enjoy panoramic views of Hyderabad city from the palace's terrace, providing a breathtaking experience.

Entry Fee: Depending upon the type of tour and package chosen, the entry fee for Falaknuma Palace varies from ₹1500 to ₹5,000 per person. This fee includes a guided tour of the palace and access to its various rooms and gardens.

Visitors can also choose to indulge in a luxurious dining experience at the palace's renowned restaurant, which offers a delectable spread of traditional Hyderabadi cuisine.
12. Purani Haveli
The Nizams' official mansion, Purani Haveli, also known as Haveli Khadeem, today contains a museum with a collection of artifacts, presents, souvenirs, and miniatures. A single-story structure with European architectural traits is part of the U-shaped compound. Among the noteworthy items are a gold tiffin box, a picture, silver perfume bottles, coffee mugs, and daggers with diamond and pearl inlays.
The museum features complex metalwork, delicate woodwork, and vibrant fabrics that highlight the region's skilled workmanship. Visitors may ponder the gorgeous objects on exhibit and learn more about Haveli's fascinating past.
The quiet surroundings of the Haveli, with their lush gardens and peaceful courtyards offering a relaxing getaway from city life, add to the Haveli's magnificence. For history buffs and admirers of architecture, a trip to Purani Haveli ensures a memorable experience.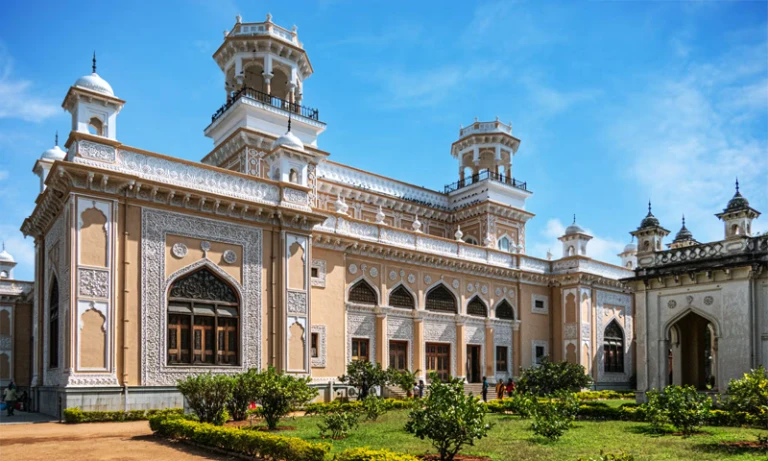 Location: Pathar Gatti, Hyderabad, Telangana

Timings: It is open from 10:30 am to 05:00 pm every day except Fridays, allowing ample time for exploration and appreciation of the Nizams' legacy.

Attraction: The Haveli is adorned with intricate carvings, beautiful murals, and stunning architecture that transport visitors to a bygone era.

Additionally, the location itself, Pathar Gatti is known for its bustling markets and vibrant street life, offering visitors a chance to immerse themselves in the local culture and indulge in shopping for traditional handicrafts and delicious street food.

Entry Fee: for Purani Haveli it is ₹15 per person for children and ₹80 per person for adults.

Also read: Bengaluru Airport is the world's most punctual airport, Hyderabad Takes 3rd Place
Hyderabad is a city that seamlessly blends its rich history with modern skyscrapers, creating a dynamic tapestry of ancient and contemporary life. The city's vibrant markets and Chowmahalla Palace narrate a chapter from a bygone era, attracting visitors from around the world. The city's rich cultural heritage is showcased through its architectural marvels, vibrant festivals, and artistic traditions. The city's cultural tapestry is a testament to its glorious past, from the grand celebrations of Eid to the intricate art of pearl jewelry making. Visitors can experience the authenticity and charm of the old city as they explore its narrow lanes, setting Hyderabad apart from other Indian cities.