Welcome to an enchanting journey from the vibrant streets of India to the mesmerizing landscapes of Türkiye! In this travel guide, we'll unveil the must-visit places that bridge these two diverse cultures, savor mouthwatering Turkish cuisine, unravel flight and transportation details, and offer insights into the rich tapestry of experiences awaiting you in this Eurasian gem. Get ready for an unforgettable adventure that blends tradition and modernity in perfect harmony.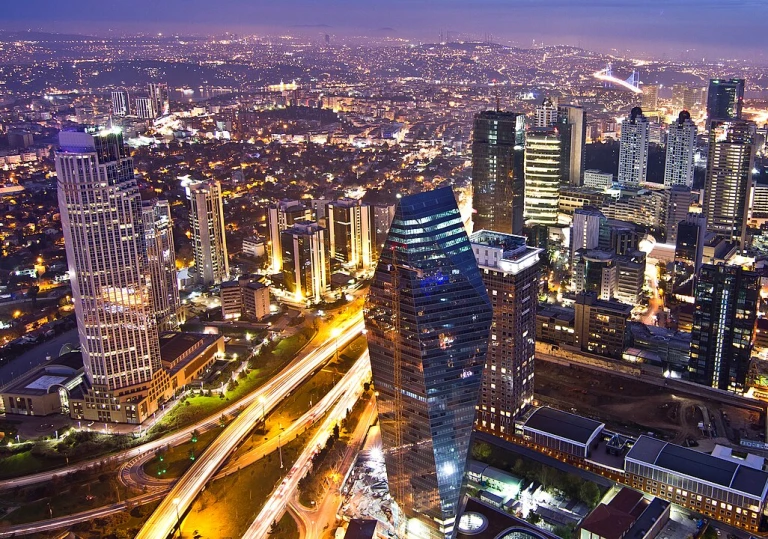 Istanbul - Image source
Can I travel to Türkiye (formerly known as Turkey) from India?
Yes you can travel to Türkiye from India. Türkiye is open for all the travelers around the world.
Documents required to travel Türkiye from India
Following are the documents required for applying Visa
A valid passport whose validity will exceed the duration of the visa you apply for by six months

Passport size photos

A copy of your completed and signed application form

Details about your itinerary

Proof of hotel bookings, flight bookings

Proof of having enough finances to support your travel and stay in the country

A cover letter with all the required details about your itinerary

Letter from the organization where the applicant is working

Recent statement from your bank

Income tax statements

Travel insurance policy that will cover major injuries or accidents
Covid-19 Requirements for traveling Türkiye
On June 1st, 2022, Türkiye lifted its COVID-19 restrictions. As a result, travelers traveling in Türkiye are not required to show documentation of their immunization history or PCR test results.
Flying options to Türkiye from India
There are many International Airports which connect to every nook and corner of the world. Major International Airports in Türkiye are
Istanbul Ataturk Airport (IST)

Istanbul Sabiha Gokcen International Airport (SAW)

Antalya (AYT)

Izmir (ADB)

Nevşehir – Kapadokya Airport (NAV)
Which Flights go to Türkiye from India?
Direct Flight options from India
Delhi
Indigo Airlines flies direct flights to Istanbul (IST) airport.

Turkish Airlines also flies direct flights to the Istanbul (IST) airport.
Mumbai (BOM)
Indigo Airlines flies direct flights to Istanbul (IST) Airport.

Turkish Airlines also flies direct flights to the Istanbul (IST) airport.
Connection Flights with one stop:
Chennai
Jazeera Airways flies to Istanbul (IST) airport via Kuwait (KWI).

Indigo Airlines with connection to Turkish Airlines Via Kuwait (KWI) flies to Istanbul Sabiha (SAW) Airport.
Hyderabad
Jazeera Airways flies to Istanbul (IST) airport via Kuwait (KWI).

Flynas Airlines flies to Istanbul (SAW) airport via Riyad (RUH) airport.
Bengaluru
Kuwait Airways flies to Istanbul (IST) airport via Kuwait (KWI).

Gulf Air flies to Istanbul (IST) airport via Bahrain (BAH).
The average flight time can take up to 7 hours for direct flights and 11 to 12 hours for flights with connection flights or flights with one stop.
Is e-visa available for Türkiye is Available for Indian Travelers?
Yes, E-Visas are available 24/7 for Indian Travelers. Once the applicants have filled out the required information on their identity, passport, and travel dates and have paid the online visa price, they can get their visa online. You can apply for e-visa through the official website.
Currency Exchange Information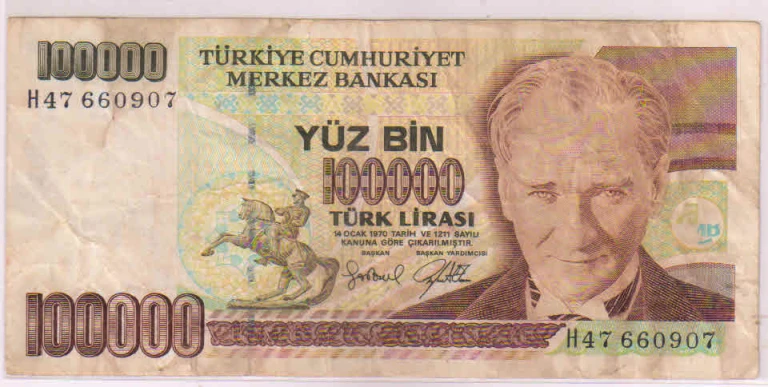 The Turkish Lira is the country's currency. 1 Turkish Lira (TRY) is equivalent to Rs. 3.07. The Republic of Türkiye's Central Bank is in charge of issuing banknotes and coins. The quantity of money that can be brought into Türkiye is unrestricted. When traveling overseas, cash worth at least TRY 25,000, Approximately Rs.75,000 , or their equivalent in other currencies must be declared.
Getting around in Türkiye
There are many transportation options available in Türkiye, including air, water, road and trains.
Planes
In Türkiye, there are around 50 active domestic and international airports, albeit the smallest may only have a single flight per day, usually connecting to one of Istanbul's two airports or the nation's capital, Ankara. Unless you're intending to travel on one of the major Turkish holidays, domestic tickets are typically inexpensive. Additionally, it takes just under two hours to travel across the country.
Bus and dolmuş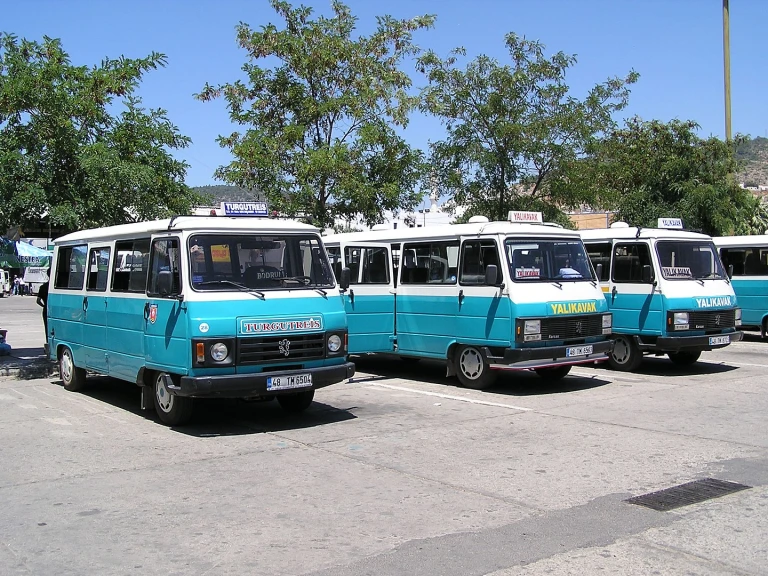 Image source
Türkiye is covered by buses of all shapes and sizes at any hour of the day or night, supported by a wide network of rest areas operated 24/7, some of which resemble small malls. Most long-distance buses make many stops there so that passengers can smoke, dine, pray, use the lavatory and purchase local foods and souvenirs.
You'll likely need to change to a dolmuş or minibus at the closest otogar (bus stop) to get to smaller towns and villages.
Car
Global firms like Avis, Budget, or Enterprise typically charge between $50 and $70 per day for a car rental with insurance. Cars with manual and automatic transmissions can be rented. It is a good idea to rent a 4WD vehicle if you plan to travel to more inaccessible locations, such as hills, mountains and other off-road experiences.
Turkish drivers can be aggressive and sometimes they might break the law. So, watchout and drive with caution while driving around with your rented car in Türkiye.
Train
Turkish train options tend to be few and slow, however they are growing. The bustling high-speed railway linking Istanbul, Eskişehir, and Ankara is one significant exception to this. Be sure to reserve your tickets in advance.
Ferries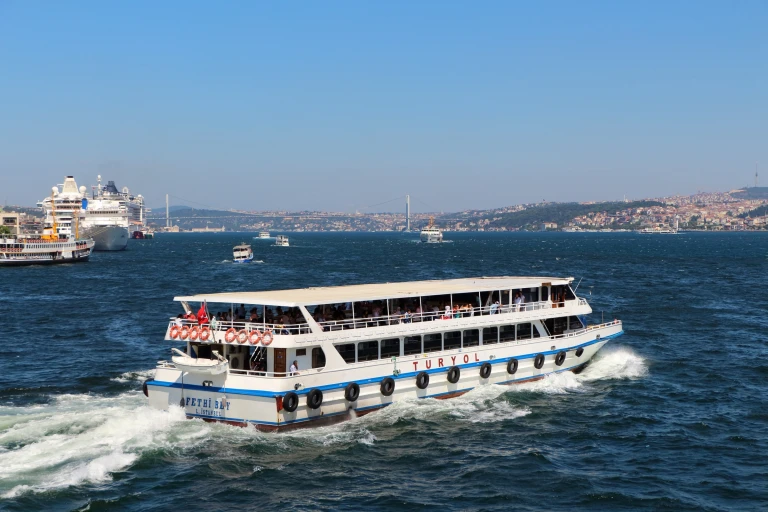 Ferries in Istanbul - Image source
Türkiye has four oceans on its borders, but there aren't many ways to travel by water there. Yalova and Mudanya are accessible by ferry from Istanbul via the Marmara Sea. Bodrum and Datça, two well-liked tourist spots on the nation's southwest coast, are connected by ferry as well.
Taxi
In Türkiye, taxis can be found just about anywhere. You can use the local ride hailing apps BiTaksi and Uber in Türkiye for getting the Taxis.They have a bad reputation in Istanbul for being rude and trying to con passengers, especially tourists.
Public Transportation
The main cities in Türkiye, including Istanbul, Izmir, Ankara, and Bursa, as well as Antalya, Konya, and Gaziantep, among a few others, all have some sort of metro or light rail system. Smaller cities are typically well-served by bus and dolmuş or minibus, though it can be challenging for tourists to navigate due to a lack of route charts and signage. Smaller towns and villages may only have sporadic minibus service.
Where to stay in Türkiye?
There are many staying options in Türkiye, including hotel rooms, Airbnb stays and more! You can choose one which suits your plans and budget.
Must-Visit places in Türkiye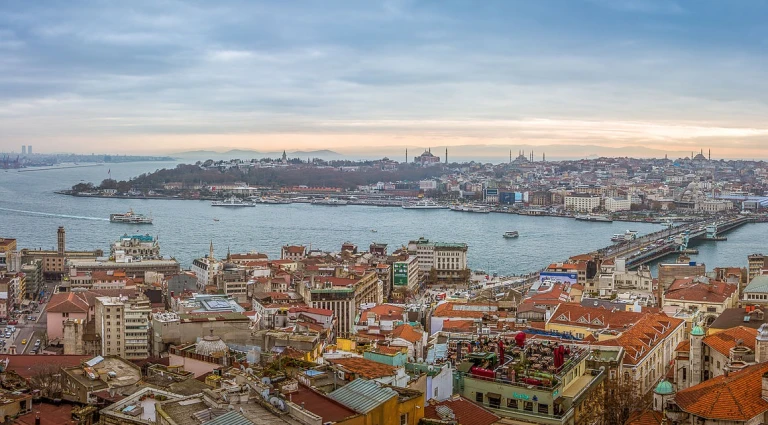 Image source
The Ancient City of Istanbul - Visit the Blue Mosque, the Hagia Sophia Museum, the Dolmabahce Castle, and several historic ruins

Cappadocia - Going on a romantic hot air balloon ride at the crack of dawn and seeing the stunning sunrise over the horizon are two must-do activities in Cappadocia.

Hot air ballooning - Cappadocia (image source)

Butterfly Valley - The renowned yet little-known Butterfly Valley in the Fethiye district is the ideal place to lose oneself in secluded nature and forget about the outside world.

Image source 

Grand Bazaar - The Grand Bazaar is as huge as its name implies, with a market area that covers 30,700 square meters and serves to serve as a reminder to visitors of how trade used to be carried out in Istanbul's ancient metropolis.
Must-Eat in Türkiye
Mantı (Turkish Ravioli) - Tiny, boiled like pasta dumplings stuffed with hot ground lamb.

Manti (Turkish Ravioli) (Image source)

Kumpir - Garlic, butter, and cheese-stuffed traditional Turkish baked potatoes

Lahmacun - Crispy, ultra-thin pizza with a flavorful topping of beef minced with peppers, tomatoes, fresh herbs, and earthy spices.

Turkish Delight - A delicately flavored jelly candy known as Turkish Delight or Lokum in Türkiye.

Turkish delight (Image source)