With its diverse landscapes, rich history, and a fusion of ancient traditions and modernity, this sprawling nation beckons adventurous travellers to embark on a journey of discovery. Kazakhstan is the world's largest landlocked country, offering an astonishing array of natural wonders. From the snow-capped peaks of the Tien Shan Mountains to the vast steppes that seem to stretch into eternity, Kazakhstan's landscapes are a playground for nature enthusiasts and outdoor adventurers alike. The official languages of Kazakhstan are Kazakh and Russian.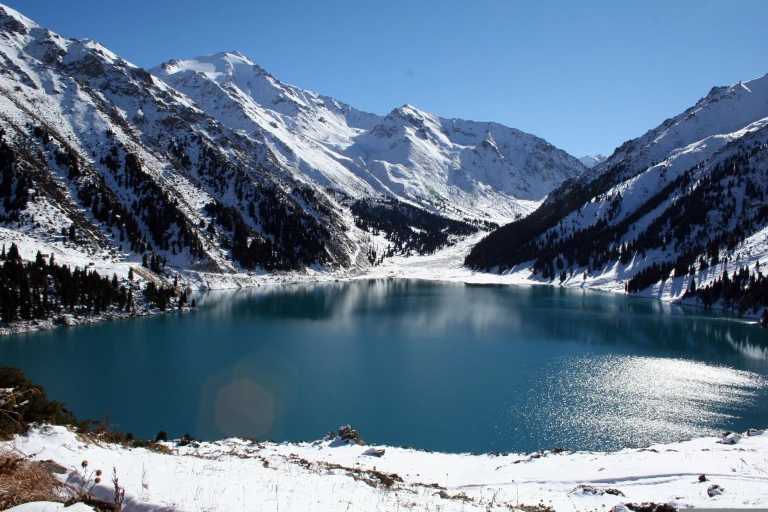 Can I travel to Kazakhstan from India?
Yes, Kazakhstan is completely open to Indian travellers, both for tourists as well as business travel.
Kazakhstan Visa Requirements for Indian travellers
Kazakhstan allows 14-days visa-free entry to Indian citizens who are there as tourists or on business. Visa-free travel is the ability to enter a country without applying for a visa. You cannot work during your stay at Kazakhstan.
But if you are visiting Kazakhstan for any other purpose, then you can apply for a visa by creating your account on the e-Visa portal and by applying online on the Kazakhstan Ministry of Foreign Affairs official website.
Documents required for Kazakhstan Tourist Visa
Original passport with a minimum validity of six months
Completed and signed visa application form

Recent passport-sized photos -2

Travel medical insurance

Proof of accommodation (Hotel Reservation / Invitation letter (if applicable) from a friend or family member residing in Kazakhstan)

Round-trip flight reservation or a detailed itinerary

Submit evidence of sufficient funds to support your stay in Kazakhstan
COVID-19 Info & Vaccination Requirements
Indian nationals won't need to complete any COVID-19 requirements like submitting a negative PCR test, presenting proof of vaccination or any such.
How many international airports are there in Kazakhstan
Cheapest flights to Kazakhstan
New Delhi:
IndiGo - Delhi to Almaty, Kazakhstan (Non-Stop) / Shymkent, Kazakhstan (1- Stop) / Astana, Kazakhstan (1- Stop)
(There are no Direct flights to Kazakhstan, apart from Delhi. Rest all the places from India will usually have a layover at New Delhi and a connecting flight to Kazakhstan from there.)
Lucknow:
Bengaluru:
Hyderabad:
Kolkata:
IndiGo(1-Stop) - Kolkata to Delhi and from Delhi to Almaty, Kazakhstan / Kostanay Kazakhstan

Vistara(1-Stop) - Kolkata to Delhi and from Delhi to Karaganda Kazakhstan
Best time to visit Kazakhstan
The best time to visit Kazakhstan largely depends on your preferences and the specific activities you plan to undertake during your trip. Kazakhstan is a vast country with diverse climates, so the best time to visit can vary by region.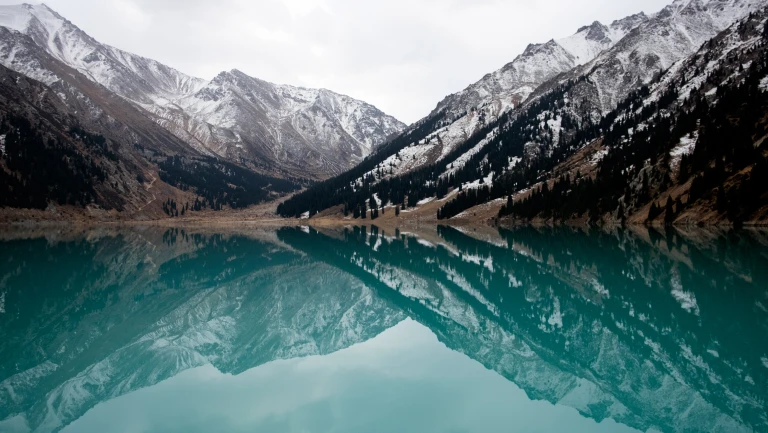 Late Spring (May to June): This is an excellent time to visit most parts of Kazakhstan, as the weather is mild and pleasant. The temperatures are generally comfortable, and you can enjoy outdoor activities like hiking and sightseeing. The famous apple orchards in Almaty start to blossom during this period.
Early Autumn (September to early October): This is another popular time to visit Kazakhstan, especially if you prefer milder temperatures and vibrant autumn foliage. The weather remains pleasant, and you can still engage in outdoor activities. The Almaty region, in particular, offers stunning fall colours.
Winter (November to February): If you enjoy winter sports like skiing and snowboarding, then the winter months are the best time to visit regions like Almaty, Shymkent, and the northern parts of the country. The mountains offer excellent skiing opportunities, and you can experience traditional Kazakh winter festivities. Be prepared for cold temperatures, especially in the north.
Currency Information of Kazakhstan
The currency of Kazakhstan is the Kazakhstani Tenge, abbreviated as KZT. The symbol for the Kazakhstani Tenge is ₸. ( 1 INR = 5.6 ₸ as on Sep 2023)
Banknotes are available in 200, 500, 1,000, 2,000, 5,000, and 10,000 tenge denominations and coins are issued in denominations of 1, 2, 5, 10, 20, 50, 100, and 200 tenge.
Mode of Travel - Commuting in Kazakhstan
There are many different modes of transportation available in Kazakhstan, depending on your budget and travel style.
Train: The railway system in Kazakhstan is extensive and efficient, making it a great way to travel long distances. Trains are also relatively affordable, making them a good option for budget travellers.

Bus: Buses are another popular option for getting around Kazakhstan. They are less expensive than trains, but they can be slower and less comfortable.

Marshrutka: Marshrutkas are small, shared taxis that are a popular way to get around in cities and towns. They are cheap and convenient, but they can be crowded and chaotic.

Taxi: Taxis are available in all major cities in Kazakhstan. They are a good option for getting around quickly and easily, but they can be expensive.

You can also choose to get rental cars if you have multiple travel plans.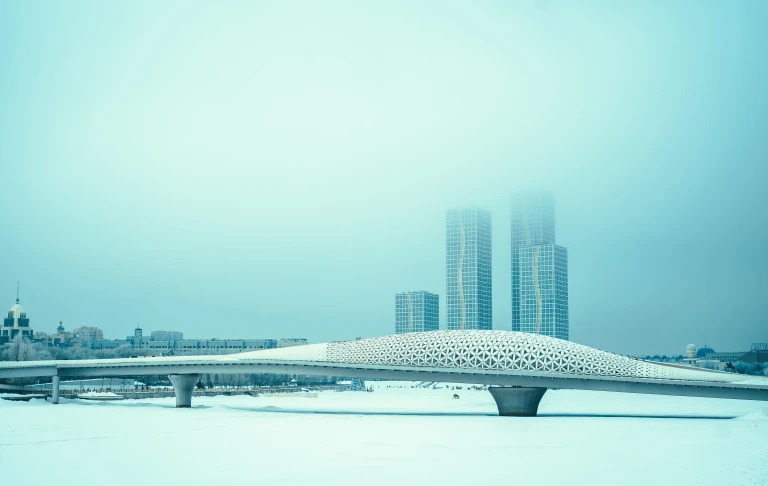 If you are travelling on a budget, it is a good idea to buy your tickets in advance, especially if you are travelling during the peak season.
While travelling by taxi, be sure to agree on the price before you get in. This will help to avoid any misunderstandings.
Where to stay in Kazakhstan?
In Kazakhstan, you can find various types of accommodation options to suit your preferences and budget. Here are some common types of stays:
1. Hotels: Kazakhstan has a wide range of hotels, from luxury 5-star establishments to more budget-friendly options. These typically offer comfortable rooms, amenities, and various services, such as restaurants, room service, and concierge assistance.
2. Hostels: Hostels are a cost-effective choice for budget travellers and backpackers. They offer dormitory-style rooms with shared facilities, making them a social and affordable option for accommodation.
3. Guesthouses: Guesthouses are small, family-run accommodations often located in rural or less touristy areas. They provide a more intimate and authentic experience, with home-cooked meals and a chance to interact with local residents.
4. Lodges: Lodges are often found in natural and remote areas, such as national parks or wilderness regions. They provide a comfortable place to stay for travellers exploring the outdoors and may offer guided tours or outdoor activities.
5. Yurt Camps: In some rural and nomadic areas of Kazakhstan, you can stay in traditional yurts, which are circular, portable tents. Yurt camps provide an authentic experience and are popular in areas like the Kazakh steppe.
6. Apartments: In major cities like Almaty and Nur-Sultan, you can rent apartments through platforms like Airbnb. Apartments are a good option for those who prefer a more private and home-like environment.
7. Resorts: Near natural attractions like Lake Balkhash or in spa towns like Borovoe, you can find resorts that offer a range of amenities, including pools, spas, and recreational activities.
8. Boutique Hotels: Boutique hotels are smaller, independently-owned establishments that often focus on unique design, personalized service, and a distinctive atmosphere.
9. Homestays: In some rural areas, especially in villages, you may have the opportunity to stay with a local family, providing an immersive cultural experience.
What to do in Kazakhstan?
Visit the capital city of Nur-Sultan, also known as Astana. This modern city is home to many impressive architectural landmarks, such as the Bayterek Tower and the Khan Shatyr Entertainment Centre.

Hike in the Tian Shan mountains. These mountains are home to some of the most beautiful scenery in Kazakhstan.

Visit the Charyn Canyon. This canyon is known for its dramatic rock formations and its beautiful turquoise waters.

Go skiing or snowboarding in the winter. There are many ski resorts in Kazakhstan, and the snow conditions are excellent.

Visit the steppes. The steppes are the vast grasslands of Kazakhstan, and they are home to a variety of wildlife, such as the saiga antelope and the snow leopard.
Two major differences between India and Kazakhstan
The art and architecture of India are very diverse, reflecting the country's long and complex history. Kazakh art and architecture, on the other hand, is more influenced by the cultures of Central Asia.

The food in India is very different from the food in Kazakhstan. Indian food is known for its spices and its use of rice and lentils, while Kazakh food is more likely to feature meat and potatoes.