Japan is well-known for its extensive and incredibly efficient transportation network. It comes as no surprise then, that the East Japan Railway Company (JR-East) is looking to push the limits of rail travel with its quirky lineup of fun, and creative themed trains. Affectionately dubbed Joyful Trains, they allow passengers to cozy up to Pikachus, drink finely-brewed sakes and even gaze up at the stars, all from the ease and comfort of their seats!
Trains in Japan aren't just a mode of transportation; they're an exciting journey to look forward to! These Joyful Trains will surely transform train rides across the country into extraordinary, technicoloured adventures. All on board with the idea? Then here are 11 joyful rides pulling up to your next stop: Japan!
1. POKÉMON with YOU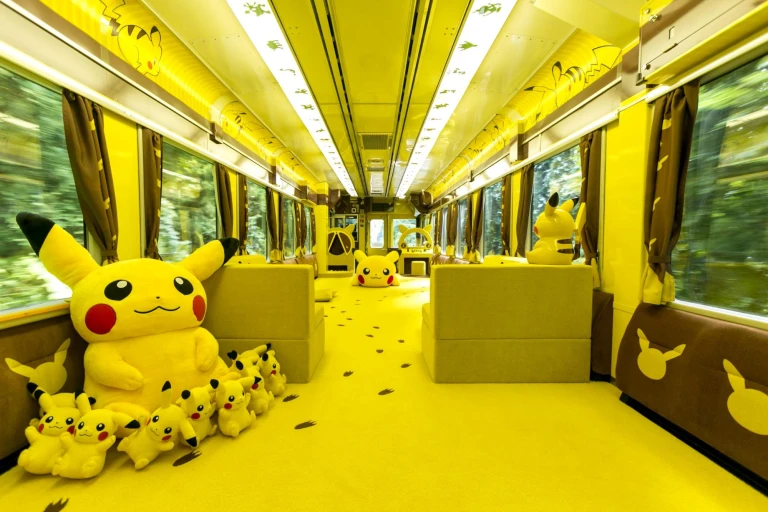 Image Credit: East Japan Railway Company ©2018 Pokémon. ©1995 – 2018 NintendoCreatures Inc.GAME FREAK inc. ©Pokémon. TM and ® are trademarks of Nintendo.
Pikachus are everywhere to be found aboard this cheery train developed as a Pokémon experience fit for the whole family. With an entire train decked out with soft plushies and dotted with tiny Pikachu footprints, it will be hard for you not to choose this Pokémon train when exploring the Tohoku region. Originally conceived to bring smiles back to children after the area's earthquake in 2011, the train was entirely revamped in July 2017 to put even brighter smiles on the little ones.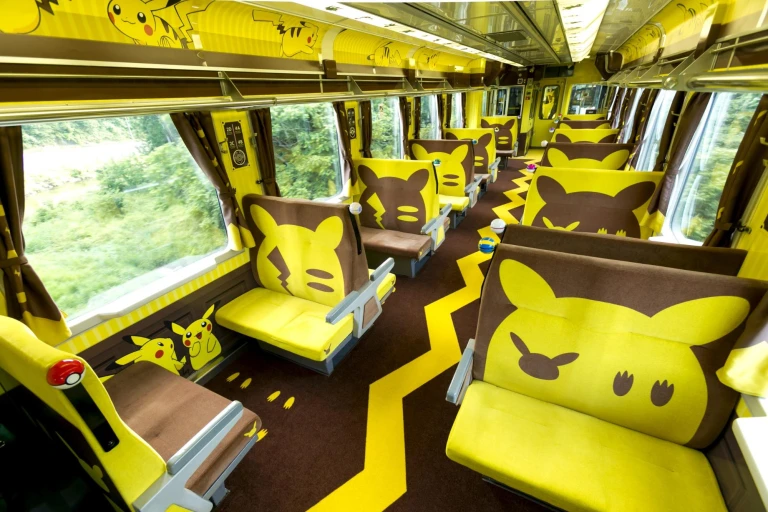 Image Credit: East Japan Railway Company ©2018 Pokémon. ©1995 – 2018 NintendoCreatures Inc. GAME FREAK inc. ©Pokémon. TM and ® are trademarks of Nintendo.
Servicing the route between Ichinoseki and Kesennuma, the POKÉMON with YOU train is a great way to visit gorgeous Geibikei, or Geibi Gorge, in all its autumnal glory. However, remember to check the train's schedule before you catch 'em all — it runs only once a day in either direction, and then only on specific days of selected months. Click here to find out more about this POKÉMON with YOU train!
2. SL Ginga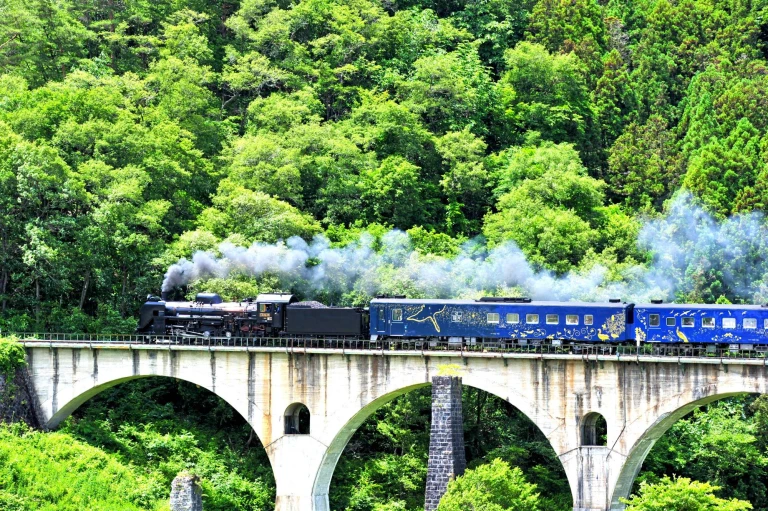 Image Credit: East Japan Railway Company
Wind through the Milky Way with Japan's very own Hogwarts Express, the magical SL Ginga. Featuring quilted seats and stained glass windows softly illuminated in mock gaslight, this restored steam locomotive transports passengers back to the dazzling modernity of 1920s Japan, a period so memorably depicted in Kenji Miyazawa's Night on the Galactic Railroad.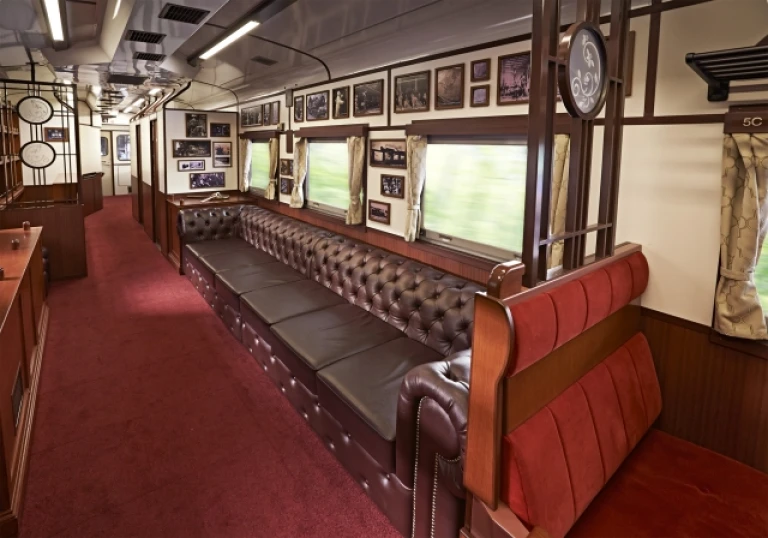 Image Credit: East Japan Railway Company
Learn more about the novelist's famous works in dedicated galleries as the train plies the route from Hanamaki to the coastal city of Kamaishi. Or else, simply bask in its cozy ambience while gazing at the heavens in the on-train optical planetarium. Constellations and galaxies also cover the SL Ginga's elegant exterior, evoking a journey through the "silver river" out in space. Click here to find out more about the SL Ginga train.
3. Resort Shirakami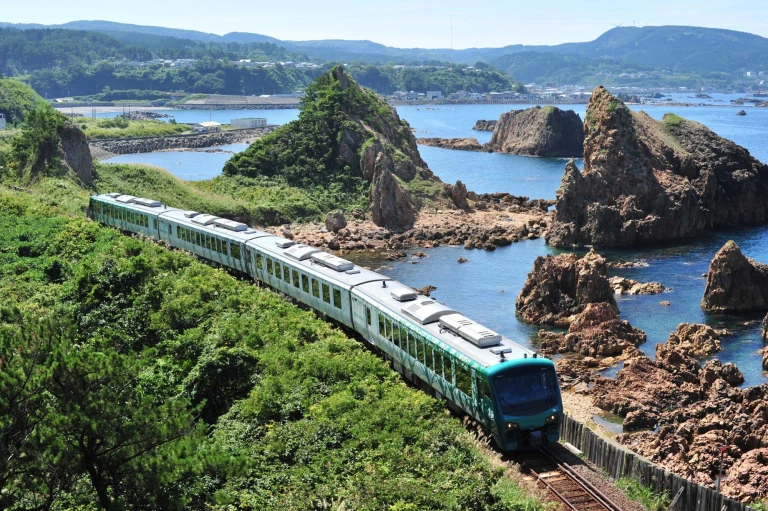 Image credit: East Japan Railway Company
For a more terrestrial yet equally spectacular train experience, book a ticket aboard the Resort Shirakami trains. Decorated to reflect the natural beauty and spirituality associated with the Shirakami-Sanchi highlands, the three different train configurations all echo the scenic landscapes to be seen along the Gono Line from Aomori to Akita. Have your camera ready as stunning vistas of the Sea of Japan come into view on this grand coastal ride!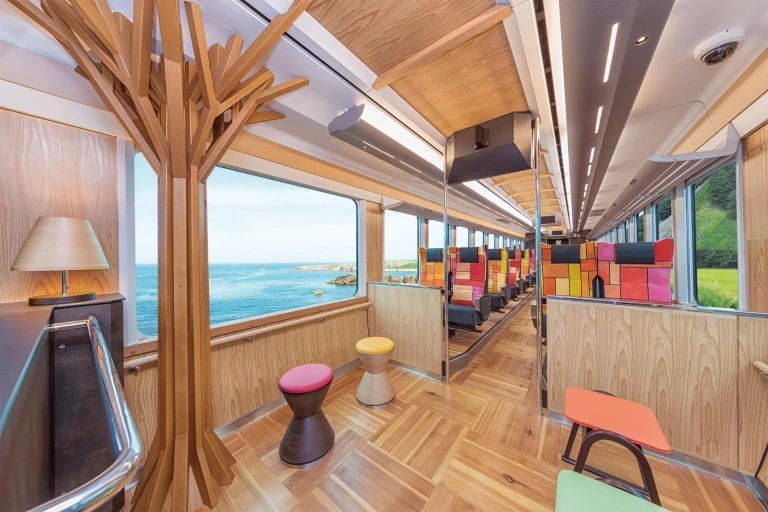 Image credit: East Japan Railway Company
Indeed, with spacious seatings, elevated floors and extra-wide windows, the Resort Shirakami ensures that you will always have the best views of Aomori's breathtaking coastlines. The best delicacies of the prefecture are available too with special bento boxes created for passengers, while puppet shows, traditional storytelling and shamisen musical performances round off your journey through dramatic landscapes.
With three trains running almost everyday, these Joyful Trains are among the easiest to book, so you had better have your planners (and cameras) close at hand! Click here to find out more about the Resort Shirakami trains.
4. Toreiyu Tsubasa
Image credit: East Japan Railway Company
Looking for a more immersive regional experience onboard a shinkansen (bullet train)? Then soak yourself in the elegant ambience of the Toreiyu Tsubasa, as wide birch tables, spacious tatami mat seatings and local fruit motifs create a lush setting reminiscent of an onsen town. And just like you would at any of Japan's famous hot springs, dip your tired feet into warm waters at a relaxing foot bath on board the Toreiyu Tsubasa.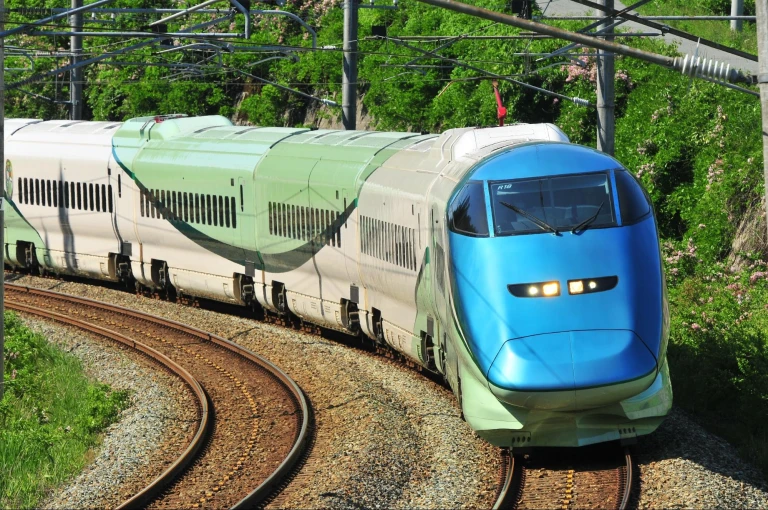 Once you're done with a foot bath, head on over to the Yuagari Lounge's bar counter and savour sakes, wines and juices from the Yamagata prefecture.Then strike a conversation with fellow passengers, or revel in the resplendent scenery from beyond the lounge windows. After all, the Toreiyu is named after a combination of the English "train" (torein) and the French for sun, or "soleil" (soreiyu). The train operates between Shinjō and Fukushima. Click here to find out more about the Toreiyu Tsubasa.
5. Koshino Shu*Kura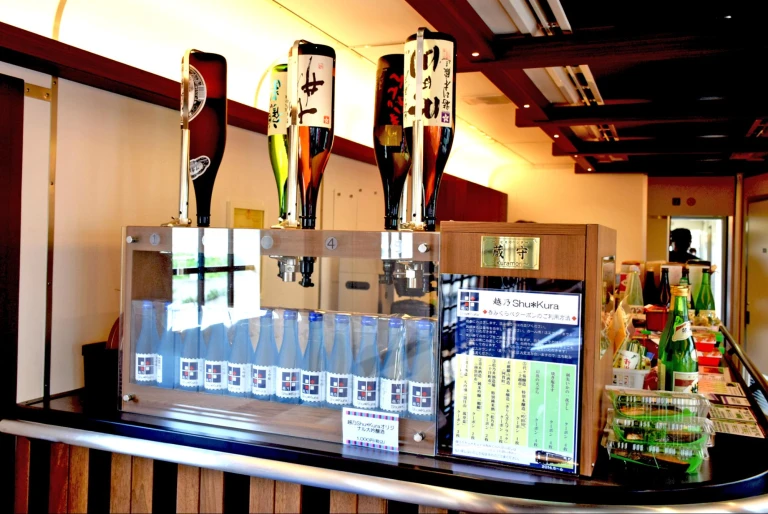 Image credit: East Japan Railway Company
After the Toreiyu Tsubasa, those with a refined taste for sake will be looking to board the Koshino Shu*Kura, an entire train dedicated to the Japanese beverage. Fitting too, that the train runs through Jōetsumyōkō to Tōkamachi in Niigata, a prefecture famous for its local brews.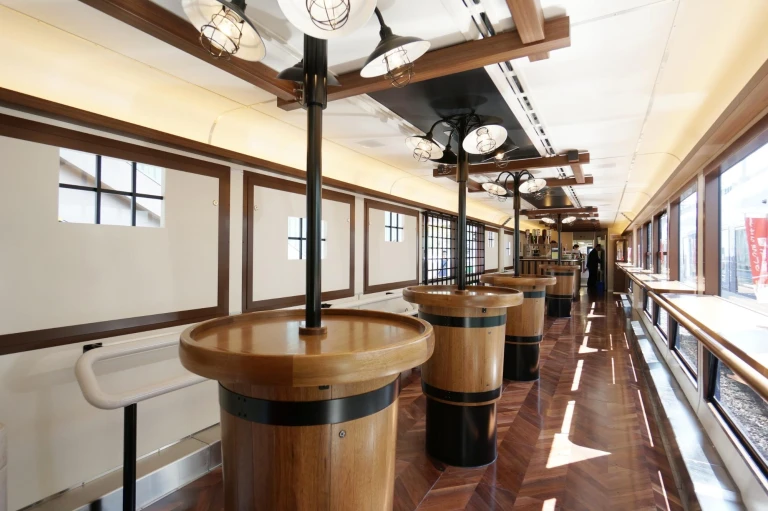 Image credit: East Japan Railway Company
The main draw of the Koshino Shu*Kura must be its sake-themed event car, laid out with standing tables modelled after sake casks. Here, the Kuramori service counter offers an excellent range of outstanding Niigata sakes and regional snacks. Jazz and classical music performances then make for an ideal atmosphere for you to relish your sake with fellow passengers.
Consider pampering yourself also with a full dining experience aboard the Koshino Shu*Kura, with its exclusive travel packages featuring selected combinations of specialty Niigata dishes and sake. Click here to find out more about the Koshino Shu*Kura.
6. TOHOKU EMOTION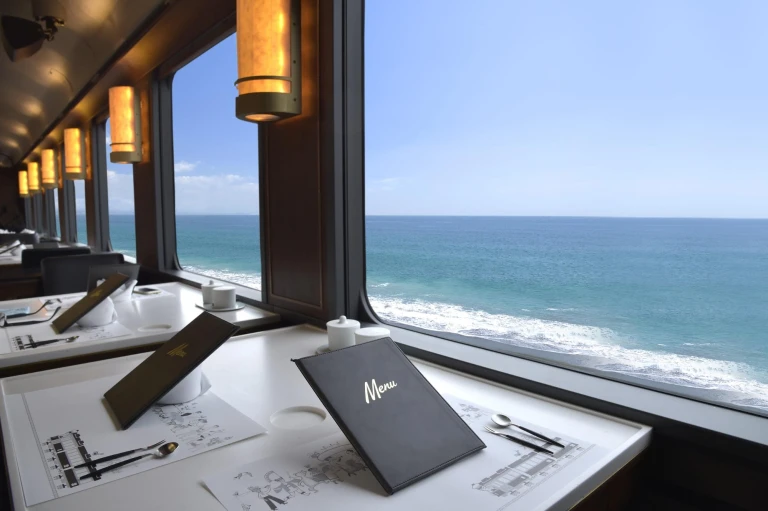 Image credit: East Japan Railway Company
Have your train ride take you to new culinary heights with the TOHOKU EMOTION. Exuding pure sophistication and elegance, embark on a gastronomic adventure with an on-train menu crafted entirely from Tohoku's regional ingredients. While you dine, feast your eyes on the deep ocean blue off the Sanriku Coast as the train rumbles along from Hachinohe to Kuji.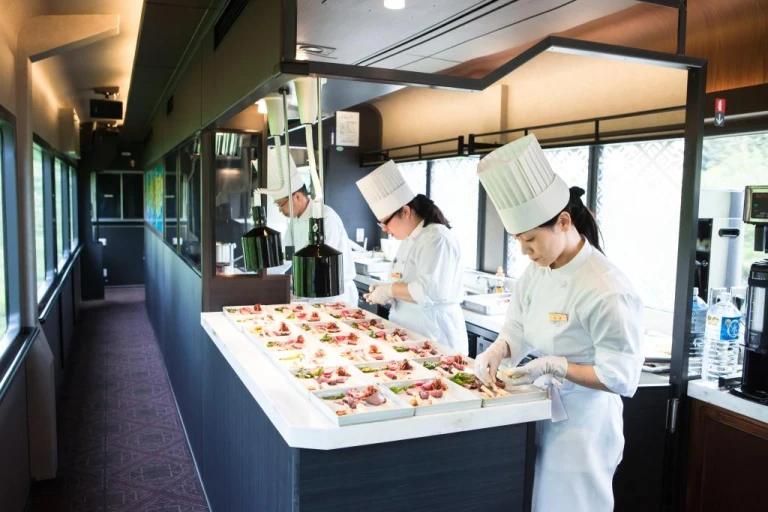 Image credit: East Japan Railway Company
Or else, your eyes can have a banquet at the open kitchen car stylishly decorated with traditional furnishings. For those en route to Kuji, your four-course lunch with free flow beverages (both alcoholic and non-alcoholic) will be prepared here, while those on the return train to Hachinohe can expect to see the chefs handcraft your dessert buffet creations in this kitchen. Apart from the open-dining carriage with seats facing the windows and the live kitchen carriage, the train also boasts a third carriage featuring private dining compartments ideal for small groups to enjoy their meal.
In all, come onboard the TOHOKU EMOTION for a luxurious, fine-dining train experience — the price of a ticket on this Joyful Train covers both train fare and meal. Click here to find out more about the TOHOKU EMOTION.
7. GENBI SHINKANSEN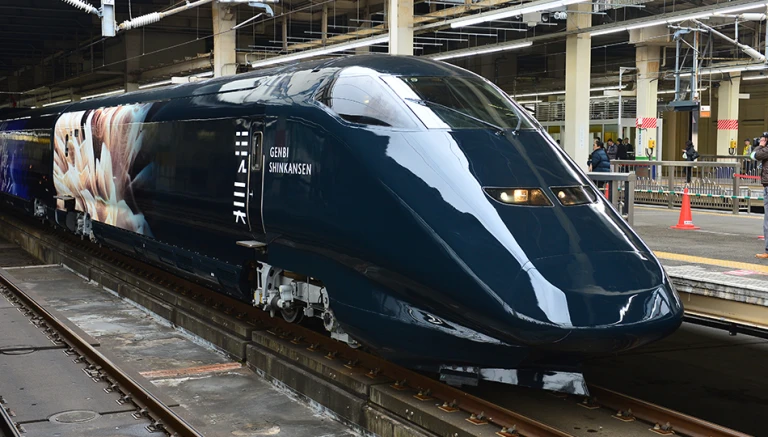 Image credit: East Japan Railway Company
The GENBI SHINKANSEN's dazzlingly sleek exteriors reflect the train's stylish interiors, designed as they are with cool refinement by the best contemporary artists in Japan. Indeed, touted as the "world's fastest art experience," each of the six cars puts a unique and urbane artistic twist to the classic shinkansen train.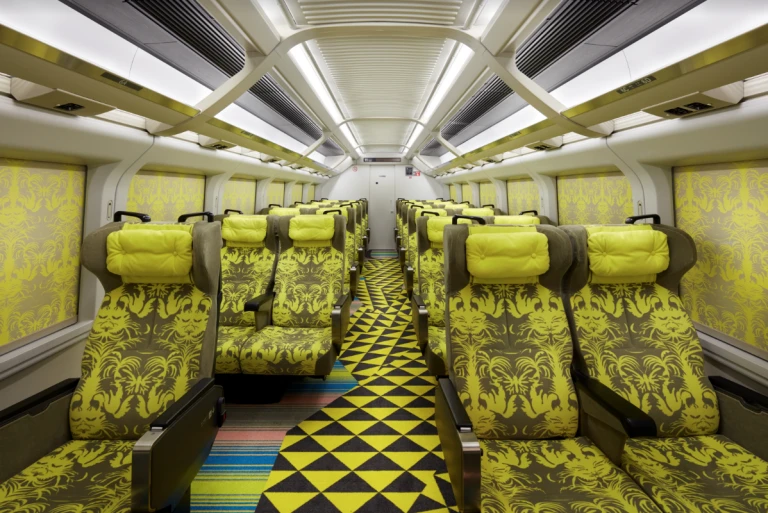 Image credit: East Japan Railway Company
Light and speed are underscored by bursts of neon yellow in the reserved seating car designed by Nao Matsumoto, while, by contrast, the train's café car transports you to the ancient highway of the Mikuni Kaidō. Enjoy a cup of the popular Tsubame Coffee from Tsubame-Sanjo as you relax in this rustic café designed by Kentaro Kobuke.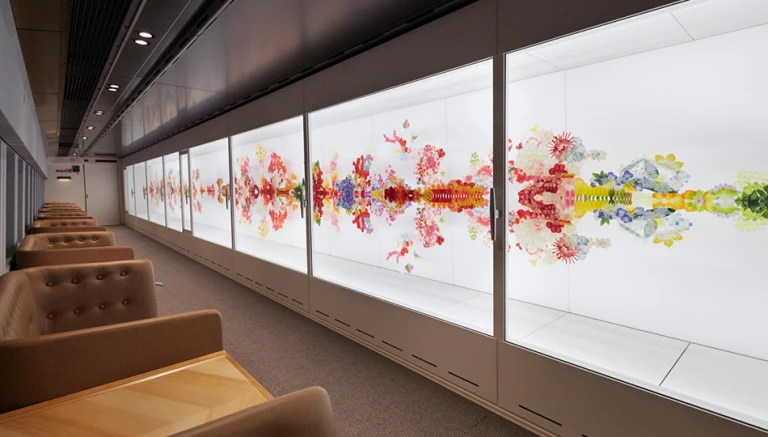 Image credit: East Japan Railway Company
For those with little ones, have them amuse themselves at the designated play area furnished with interactive modern art pieces and the wildly popular toy train system, Plarail. If not, they will be fascinated by Haruka Koujin's hanging kaleidoscopic mural, as the delicate pieces quiver to the rhythm of the rolling GENBI SHINKANSEN.
Connecting Echizo-Yugawa to Niigata, the GENBI SHINKANSEN will have you leave the train fully satiated by the fine pleasures of contemporary art. Click here to find out more about the GENBI SHINKANSEN.
8. Oykot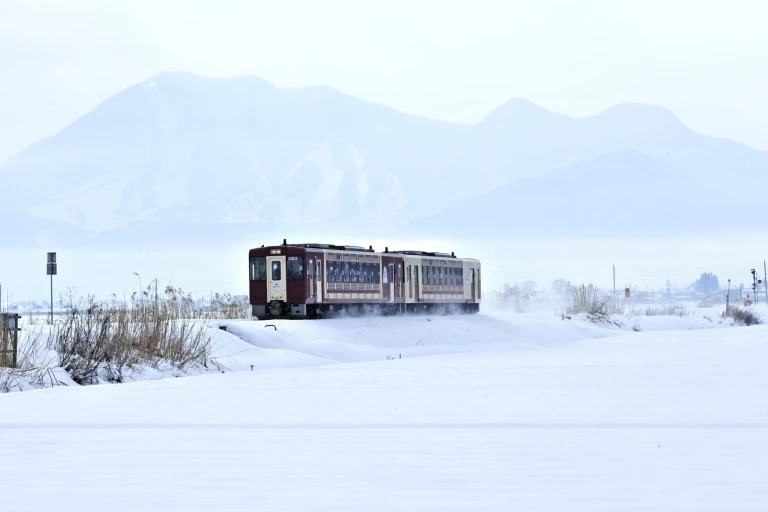 Image credit: East Japan Railway Company
In contrast to the urban aesthetics offered by the ultra-modern GENBI SHINKANSEN, the Oykot Joyful Train reverses the hands of time (literally, its name is Tokyo spelt backwards), evoking a pastoral homeliness reminiscent of Japanese countryside homes. Put on the brakes to a hectic pace of life through this train journey made to recreate a nostalgic trip back to rural hometowns, as the train interiors are furnished with seats resembling those at your grandparents'.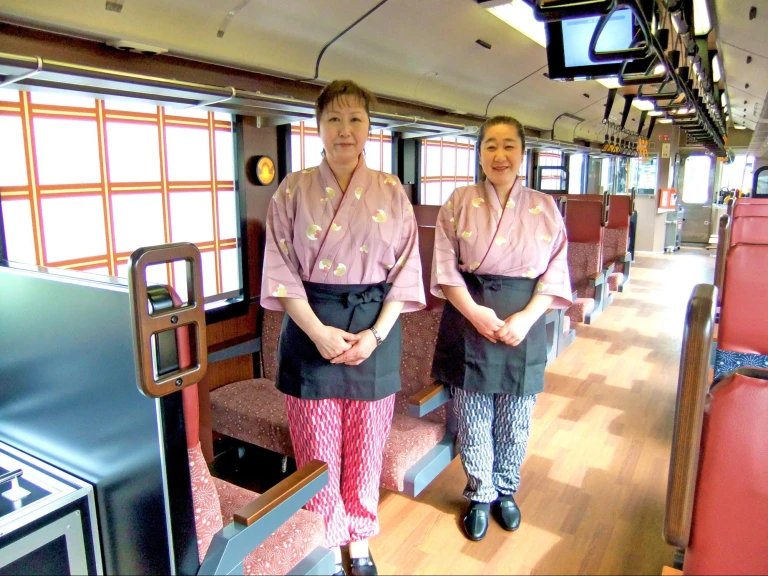 Image credit: East Japan Railway Company
With friendly attendants to assist you, the Oykot uncovers the true heart and hospitality of the Japanese. As the train rumbles on from Nagano to Tokamachi, have your eyes gaze upon quiet fields of rice paddies while you relish a complimentary pack of pickled nozawana, a customary treat served in the homes of the Shinshu area. Click here to find out more about the Oykot Train.
9. Resort Minori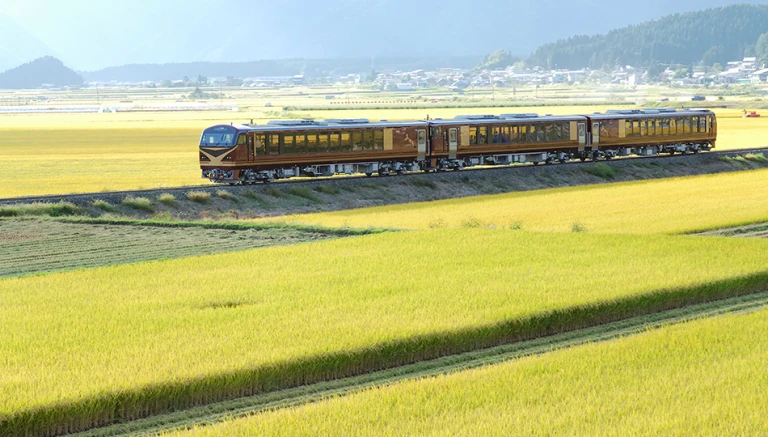 Image credit: East Japan Railway Company
Reap a bountiful train experience in fall with the Resort Minori, its golden stripes resembling the full ears of rice to be glimpsed from its windows. Indeed, with a name signifying "fulfilling," the train evokes the fruitful pleasures to be had on this trip along the Riku-East line from Sendai to Shinjō: among others, a refreshing visit to an onsen surrounded by autumnal reds and yellows.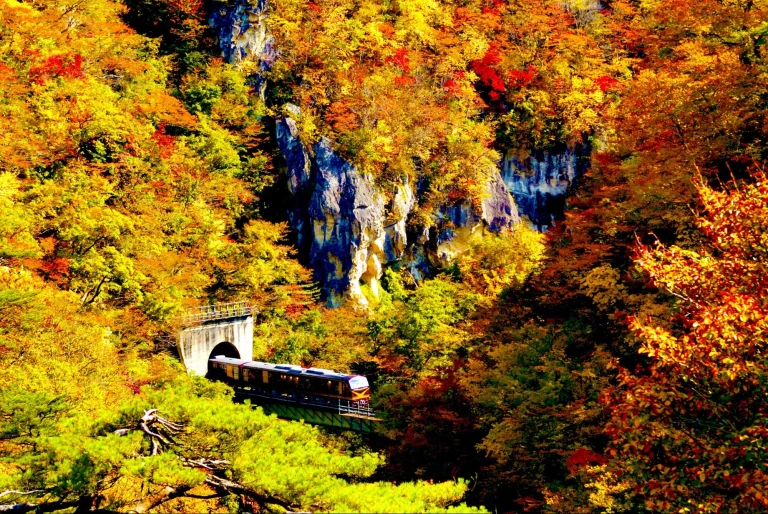 Image credit: East Japan Railway Company
All ablaze with fiery foliage that carpet it in rich, golden hues, the Naruko Gorge as seen in fall is indubitably the main highlight of a trip on board the Resort Minori. No wonder then, that seats for train rides in the last week of October are often snapped up fast and quick — be sure to reserve a ticket now if you'd like to catch this remarkable view of nature flaunting its autumnal beauty. Click here to find out more about the Resort Minori.
10. HIGH RAIL 1375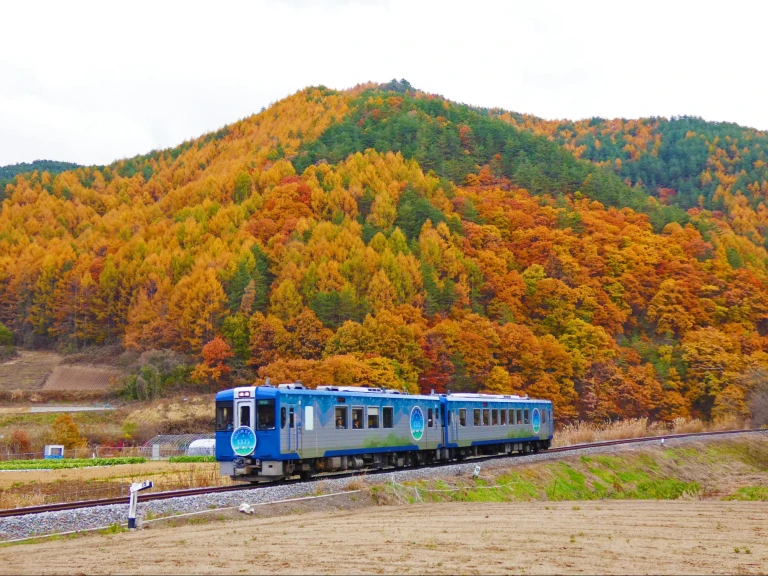 Image credit: East Japan Railway Company
Get closer to the skies with the HIGH RAIL 1375, so named after the elevation of train tracks along the Koumi Line. At 1375m, the ride offers the highest elevation of any train journey in Japan, which also means that the most amazing views of the surrounding highlands are always available in this train "nearest to the heavens".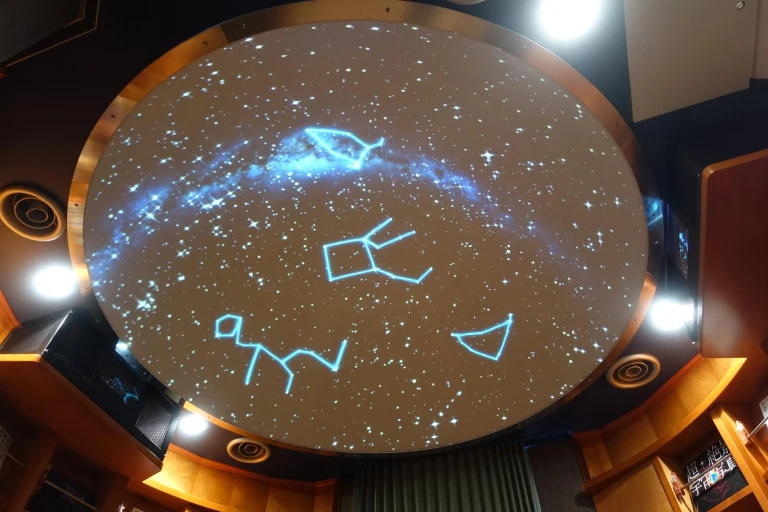 Image credit: East Japan Railway Company
In tandem with its elevated train experience, the HIGH RAIL 1375 also makes evening stops at Nobeyama Station for you to go on a free stargazing tour. This hour-long break will take you through the best places in Japan for stargazing, where you can expect to see constellations twinkling in clear night skies. Back in the train, continue your stellar journey in the on-train planetarium, complete with a library corner filled with astronomy books that will have you naming the stars in no time. Click here to learn more about the HIGH RAIL 1375.
11. FruiTea Fukushima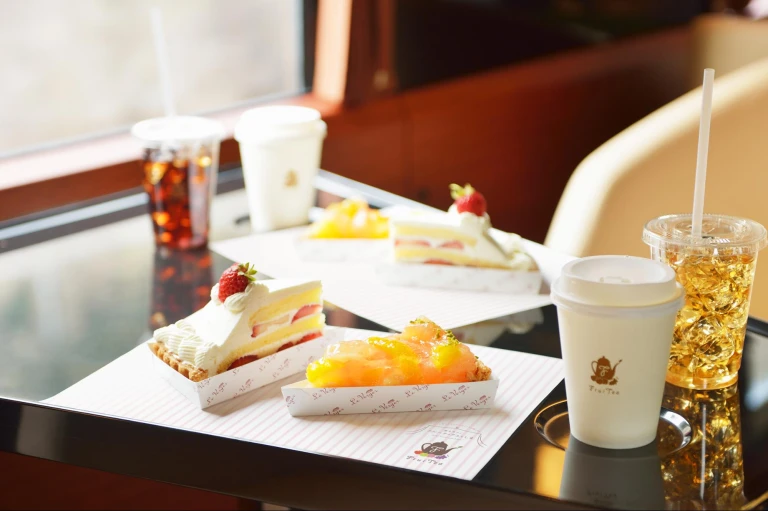 Image credit: East Japan Railway Company
After taking in its various autumn sights, why not try some of Japan's seasonal produce? Lined with fruit orchards, the Fukushima prefecture produces much of Japan's fruits, from crunchy apples to succulent grapes. Enjoy them all in lovingly crafted desserts and beverages on the FruiTea Fukushima, a train ride designed as a quaint café experience that is light on the stomach but heavy on fruity pleasure.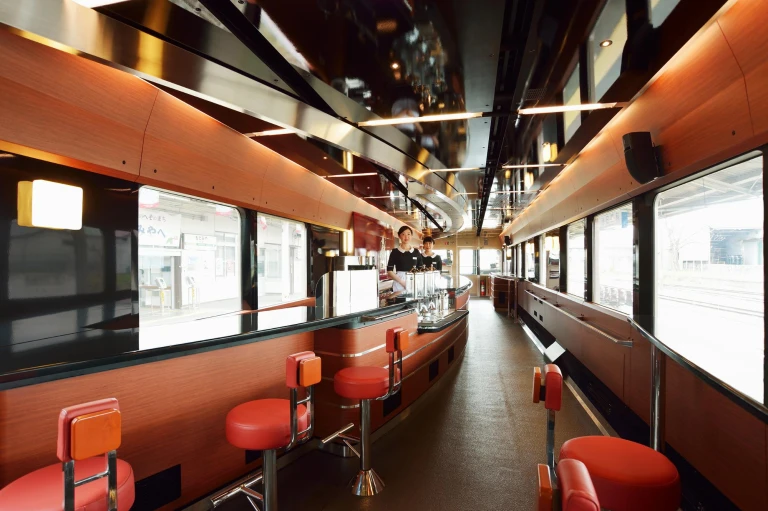 Image credit: East Japan Railway Company
The small, two-car FruiTea Fukushima provides intimate spaces for conversation with friends and family. In particular, the café car features an elegant countertop that arcs through the entire carriage, upon which you and your loved ones can savour a selection of tea sets included in the train fare. Treat your taste buds to delectable tarts, cakes and coffees or fruit teas on this fruit-ful journey from Kōriyama to Aizu-Wakamatsu! Click here to find out more about the FruiTea Fukushima.
JR East Hotels

Image credit: Hotel Metropolitan Akita
Excited to try out all these different Joyful Trains? To make your vacation fuss-free and convenient, stay at any of the many JR-East hotels scattered throughout Eastern Japan. Operating both the luxurious 4-star Metropolitan Hotel chains and the comfortable 3-star Hotel Mets chains, JR-East ensures that you will have pleasant accommodation wherever you may be enjoying Japan's autumn offerings at.
Furthermore, these hotels are conveniently located within close proximity to major JR stations, with some being directly connected to train stations, so boarding your next Joyful Train with JR-East will be an absolute breeze!
Click here for the full list of Metropolitan Hotels and Hotel Mets!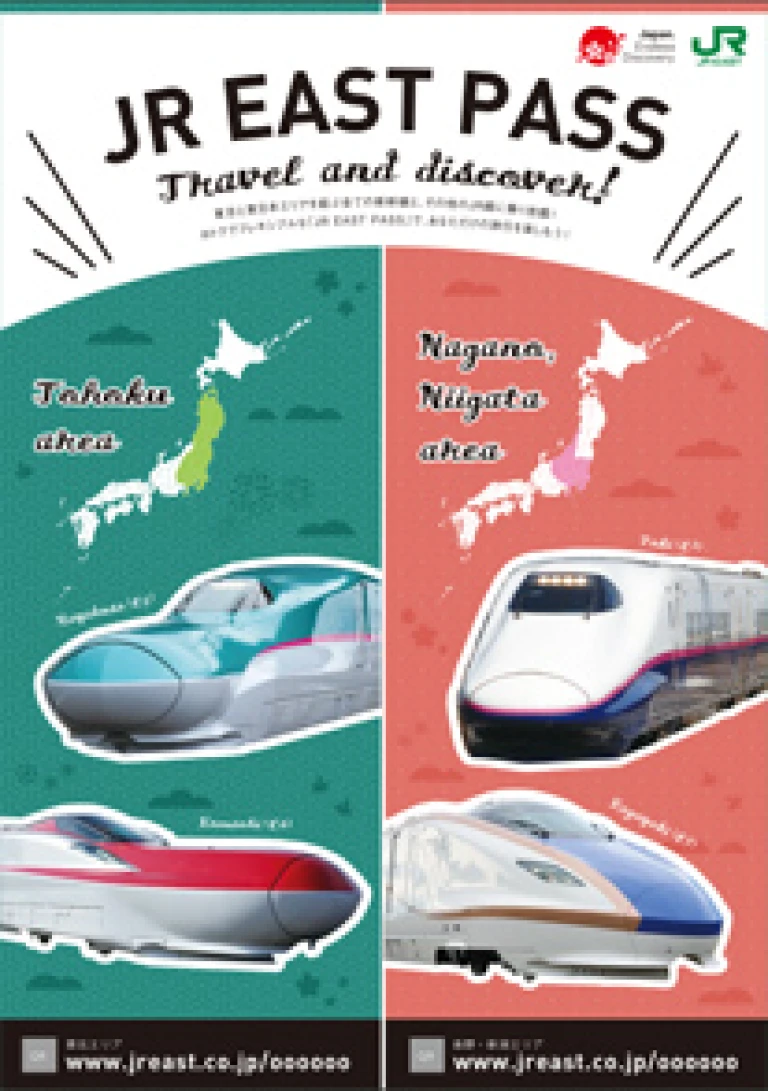 In addition, do you know that you can enjoy your Joyful Train experience for FREE with the JR East Pass or JR Nationwide Pass?!
Except for the TOHOKU EMOTION and FruiTea Fukushima trains which are sold separately as travel packages, the Passes otherwise grant you free access to the Joyful Trains listed here, and more!
Furthermore, you don't have to wait to exchange your pass in Japan to make the required seat reservations in advance on Joyful Trains. Both JR East Pass and JR Pass holders can expect to make online seat reservations for free, even before arriving in Japan. Pre-reserve your seats up to one month before arrival here, especially during peak periods and holiday seasons!
Most Joyful Trains run only on weekends, so be sure to check their timetables before confirming your booking.
Check out the timetables for Joyful Trains here!

To purchase Joyful Train packages (with special meal sets), please contact Wendy Tour.
To purchase your passes, contact the travel agencies listed below: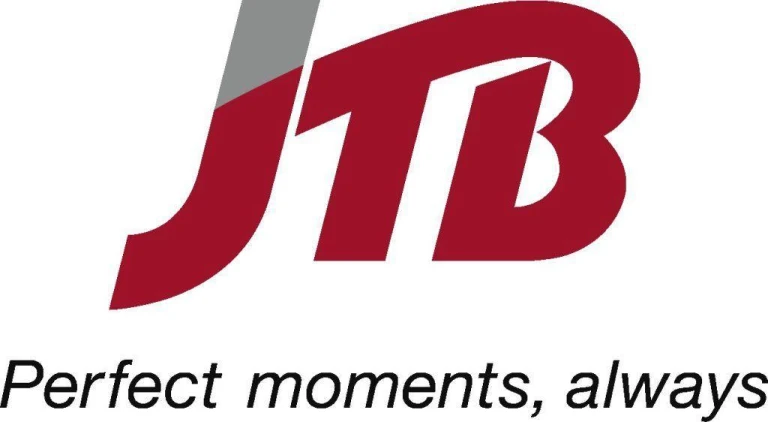 JTB
Tel: 6595 0600
Website (Singapore)
Website
(Philippines)
Website (Malaysia)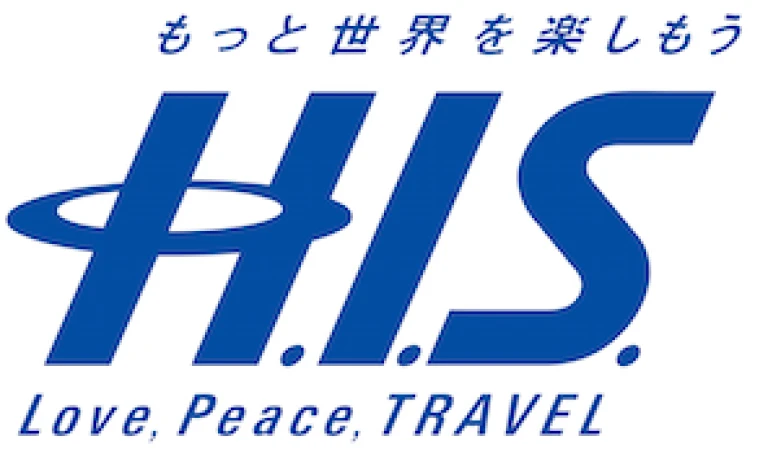 H.I.S.
Tel: 6222 1230
Website (Singapore)
Website
(Philippines)
Website (Malaysia)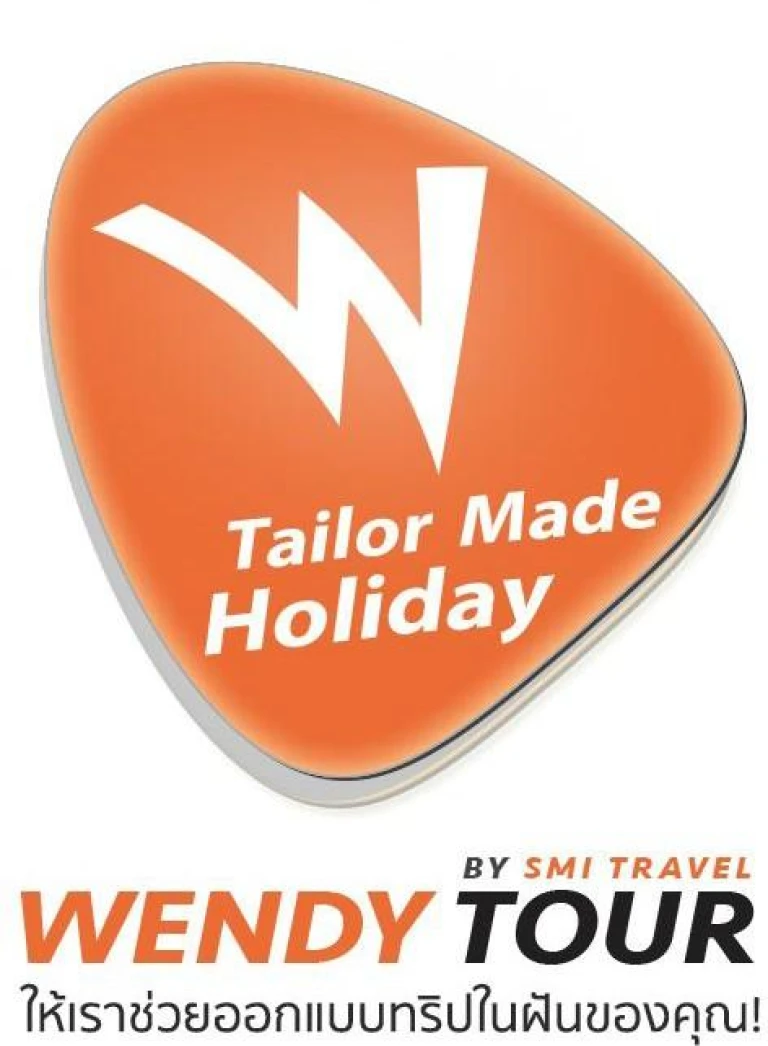 Wendy Tour
Tel: 6225 8324
Website
---


Azza Travel & Tours
Tel: 6292 7110
Website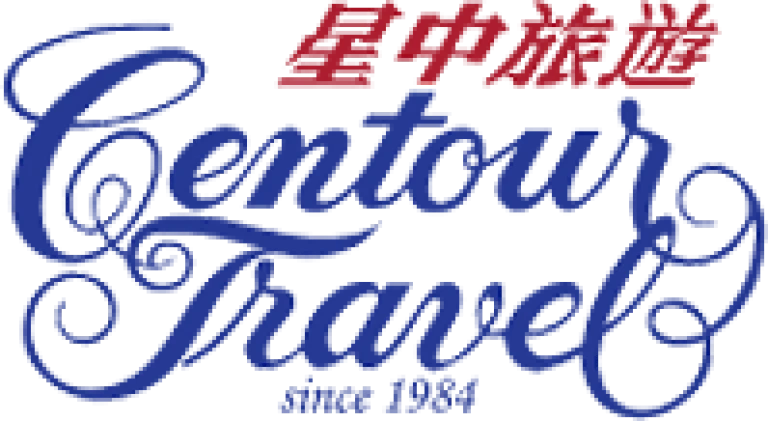 Centour Travel
Tel: 6344 3492
Website


Changi Recommends
Tel: 6701 1185
Website


Euro Asia Holiday
Tel: 6339 9133
Website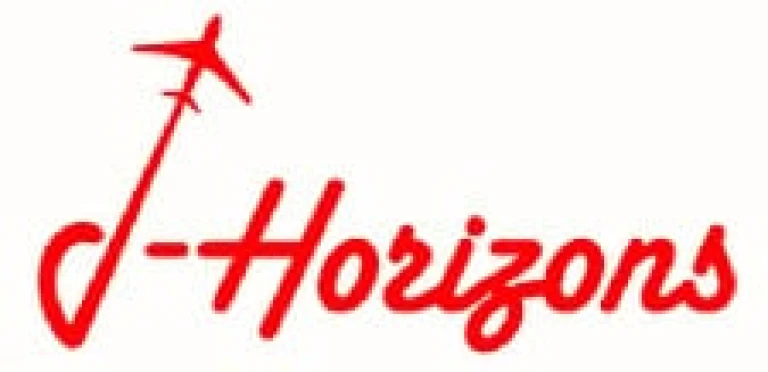 J-Horizons (Malaysia)
Tel:+60 (03) 2161 0922
Website
---
Brought to you by JR East (East Japan Railway Company)