Vast picturesque landscapes, massive plains of endless green, large open valleys teeming with untamed wilderness…
As far as New Zealand's natural attractions go, beautiful is an understatement, which is why the country has its fair share of adventure seekers and outdoor enthusiasts looking for the ultimate hiking experience. This massive country is dotted with easy-going trails and long, winding paths for hikers of all levels. Here, you can decide to either challenge yourself or take it slow, revelling in the sights and sounds of nature along the way.
With thousands of kilometres of tracks, New Zealand accommodates walking and hiking options for travellers with any level of experience. The short walks, ranging between 30 minutes and three hours, can be found virtually anywhere and can easily fit into travel itineraries. If you're looking for something that will take a little longer, the day hikes last up to four or eight hours at a time and offer an array of incredible landscapes to view.
Maybe you're a little fitter than most others or just looking for a real, proper challenge. If that's the case, you may find what you're looking for in New Zealand's multi-day hiking options which include the world-renowned "Great Walks". These are generally regarded as nothing short of epic, featuring some of the country's most spectacular scenery.
Short walks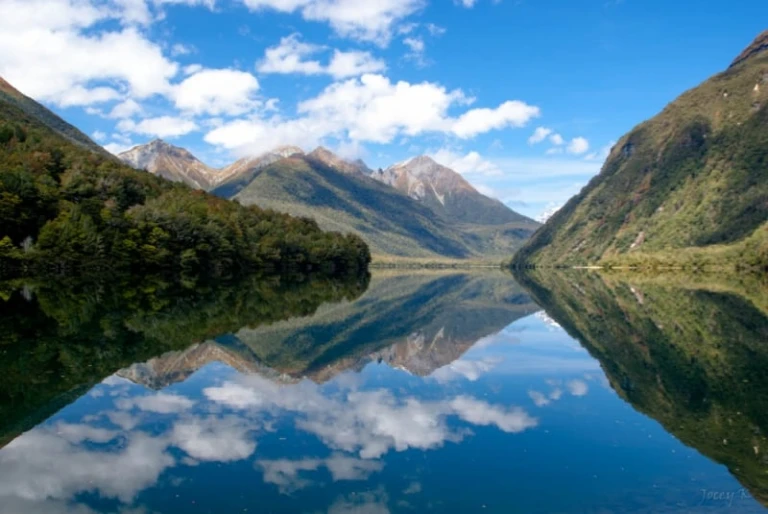 Image credit: Jocelyn Kinghorn | Lake Gunn
Lake Gunn Nature Walk – Located in Fiordland National Park, this walk passes through the ancient red beech forest and offers a glimpse of Eglinton Valley's birdlife. It is highly recommended that hikers begin at Key Summit track located at the Great Divide carpark, then detour to Cascade Creek Camp Ground. This short walk takes only 45 minutes in a 1.4km loop.
Kura Tawhiti Access Track – This short walk is popular for its spectacular limestone formations which can be seen from the highway. That said, it's best appreciated up close. The easy walking track continues through open pasture followed by a network of well-worn pathways that pass gigantic stones. Kura Tawhiti is also a well known rock-climbing site. It's a 20-minute hike that stretches about 1.4km.
Devil's Punchbowl Walking Track – It isn't as frightening as the name suggests. This easy track will lead you through a beautiful native forest where you'll eventually end up at the base of the incredible 132m Devil's Punchbowl Falls. The short walk to see the base of the waterfall up close is definitely not too difficult for beginners and well worth the trip. It takes around an hour and stretches just 2km.
Wainui Falls Track – The Wainui Falls is the largest one in Golden Bay. Follow the track that leads you through native bush, crossing open farmland and a native forest filled with rata trees, nikau palms and ferns. The track begins to climb gradually, offering glimpses of the Wainui River. After crossing a swing bridge you'll be able to hear the loud rushing of the falls close by. It takes about 1 and a half hours of 3.4 km.
Day hikes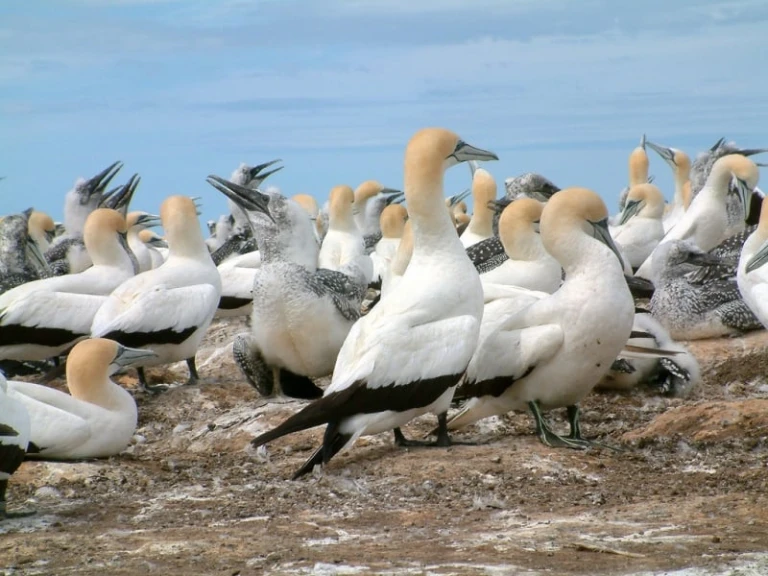 Image credit: Greg Bailey | Gannet colony at Cape Kidnappers
Cape Kidnappers Walking Track – Again, don't let the name scare you. This day walk is as safe as it is exciting and pleasant. The Cape Kidnappers Walking Track grants travellers panoramic coastal views, towering stratified cliff faces and Australasia's largest mainland gannet colony on an enjoyable beach walk. Along the way, make sure to check out the dramatic stratified rock beds and fault lines that underlie coastal Hawke's Bay. Take note that this walk is only accessible at low tide. It takes five hours and is roughly 19km long.
Hooker Valley Track – Once again, please don't be fooled by the name (New Zealand seems to have a lot of 'interesting' names for tracks). This path is family-friendly and a magnificent picturesque journey. The Hooker Valley is one of the most popular walks in Aoraki/Mt Cook National Park. Make your way through this rugged land of ice and rock, experiencing an ancient landscape in all its glory. Along the Hooker River, there are amazing views of Aoraki/Mount Cook if the weather allows it. Some sections may be rocky or muddy, so watch your step. This track takes about three hours and is 10km long.
Image credit: Esmée Winnubst | Roy's Peak
Roy's Peak Track – This will eventually lead you to discover the stunning Wanaka region while travelling from the Wanaka Lake through the open tussock grasslands to the summit of Roy's Peak. It begins with a zigzagged steep 4WD track from the carpark to the conservation area. Make sure to take your time and enjoy the amazing views from the ridgeline of Lake Wanaka and the surrounding peaks including Mount Aspiring. It lasts for about five to six hours and is 16km long.
The Great Walks of New Zealand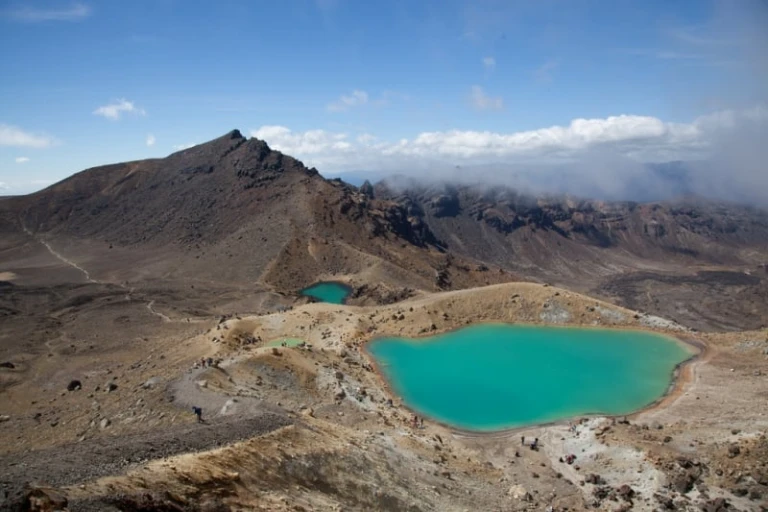 Image credit: russellstreet | Emerald Lakes along Tongariro Crossing
North Island – This series of the Great Walks of New Zealand features a number of popular attractions, including the Lake Waikaremoana Track which is one of the more gentle Great Walks and requires hikers to circumnavigate 46km around the picturesque lake over the course of three or four days. Next comes the Tongariro Northern Circuit which is part of the Tongariro Crossing and takes about three or four days to traverse up the stunning volcanic scenery.
The Whanganui Journey is actually more of a kayak trip 145km down the Whanganui River, from Taumarunui to Pipiriki, which takes around five days. It is an awesome New Zealand hike overall!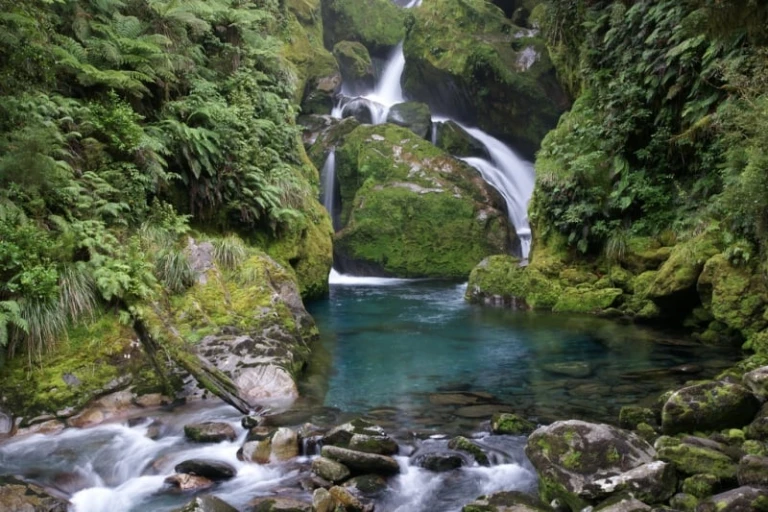 Image credit: Alex Massengale | Milford Track
South Island – This series of Great Walks include the Milford Track which is a jewel in the nation's hiking crown and a popular four-day track through Fiordland from Lake Te Anau to the stunning Milford Sound. The Routeburn Track between Glenorchy and The Divide crosses through Mt Aspiring and Fiordland National parks, totalling up to 32km in three days. The 60km Kepler Track, which is known for possibly being the most challenging Great Walk, also hosts the Kepler Challenge course (an 'ultra-marathon' trail running race).
The Abel Tasman Coastal Track is known for its golden beaches and crystal-clear water while the Heaphy Track is considered the longest Great Walk at 79km which translates to about four to six days of hiking.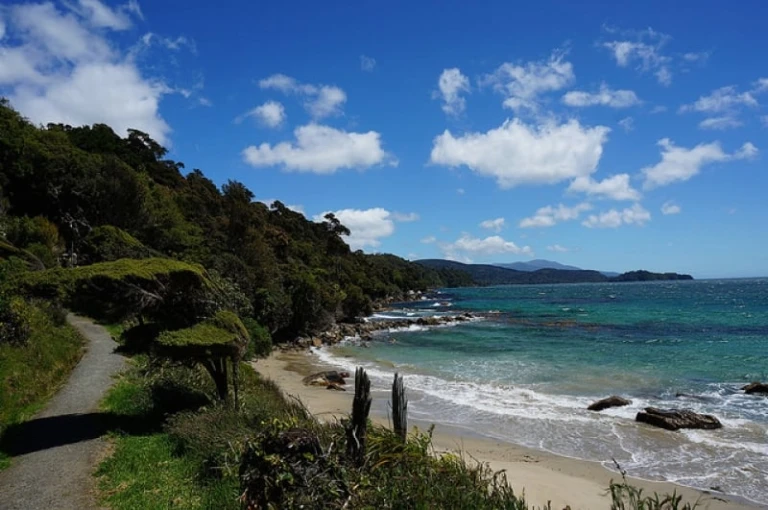 Image credit: Kristina D.C. Hoeppner | Rakiura
Stewart Island – This island is home to the Rakiura Track, which is a two- to three-day journey of roughly 30 or 37km that features a great mix of beach and forest scenery.
The fantastic hikes on this list are no doubt one of the best ways to explore New Zealand; after all, this country is famed for its raw natural beauty. But should you wish to kick-start your first journey in the country in a more laid-back manner, TripZilla highly recommends you to look into Dynasty Travel, the leading expert on New Zealand.