One of the best things about travelling to South Korea is getting to experience its four seasons. The Land of the Morning Calm shows off different sides of itself as winter transitions into spring, spring into summer, and so forth — and every phase is just as magical as the last.
Take Gangwon Province, for example. While it's hailed as Korea's winter wonderland with its enchanting snow capped scenes and world-class ski resorts, it actually transforms into another glorious destination altogether in the fall.
When visiting the province during this particular season, hiking is one of the most worthwhile ways to bask in its otherworldly beauty. That said, we've rounded up the best hiking trails in Gangwon Province that let you fully appreciate its breathtaking autumn scenery.
Best hiking trails in Gangwon Province for the full autumn experience
1. Seoraksan National Park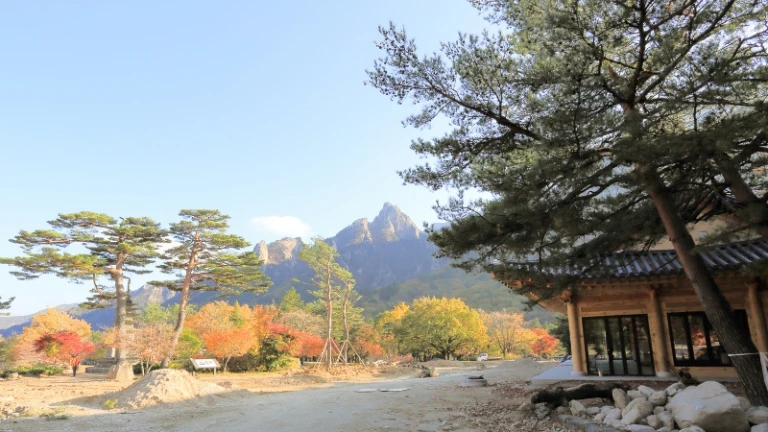 Image credit: Theoracle007 via Canva Pro
We start off this list with none other than Seoraksan National Park: South Korea's very first national park, and a UNESCO Biosphere protection site since 1982. Taking up all of 400 square metres, the park is home to some of Gangwon Province's most beautiful autumn scenes, ranging from mountains to waterfalls. Its centrepiece, of course, is the eponymous Mt. Seoraksan — the third highest mountain in South Korea and the highest overall in Gangwon Province's Taebaek mountain range.
Mt. Seoraksan also boasts a whopping 30 peaks, the highest of which stands at 1,708 metres. Depending on your speed and trail of choice, hiking in Seoraksan National Park can take anywhere from just 40 minutes to 16 hours. Trails range from beginner-friendly to expert-level, so keep reading to find the right one for you!
Daecheongbong Peak Trail
Leading up to Mt. Seoraksan's highest point, the 16.6-kilometre Daecheongbong Peak Trail will take you at least 11 hours and 20 minutes. The long, steep ascent is certainly worth it, though, as the trail is adorned with wildflowers and fall foliage.
As for the ultimate reward? Daecheongbong Peak is known to offer some of the best autumn views in all of Gangwon Province. The downhill trail is quite a sight, too. Experienced trekkers certainly won't want to miss out on this opportunity!
Tip: Make sure to pack appropriate clothing, as freezing temperatures can await you at the top!
Oryeon Waterfall Trail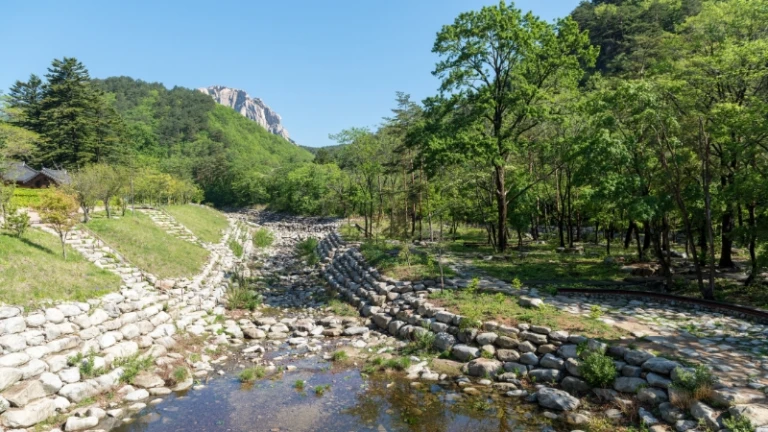 Image credit: Dr. Jürgen Tenckhoff via Canva Pro
The Oryeon Waterfall Trail starts at Namseoraksan Information centre, and is a 6.9-kilometre uphill hike. Along the trail, you'll get to enjoy excellent views of the surrounding valleys — and of course, as made evident by its name, the Oryeon Waterfall. Once you make it to the peak, you'll feel as though you're high up in the clouds and witness some of the most beautiful alpine vistas.
According to those who've taken this trail, the descent is just as (if not more) noteworthy. On your way down from the peak, be sure to watch out: You're in for some of the most amazing hiking views that Gangwon Province has to offer.
Note: While it's not considered an expert trail, the ascent is quite steep, so you might want to have a trekking pole handy. On top of that, do note that the route is on the rocky side. Some prior conditioning is definitely recommended!
Towangseong Falls Trail
Can't get enough of waterfalls? When hiking in Gangwon Province, don't skip the Towangseong Falls Trail. Running 6.6 kilometres, the trail will lead you to the majestic Towangseong Falls — plus, a series of mini waterfalls along the way. And yes, you're invited to dip your toes in and enjoy the cool waters!
Towards the trail, it's an upward journey towards the observatory. But once you make your way to the top, you'll find that the trek is undoubtedly worth it!
Seoraksan Castle Trail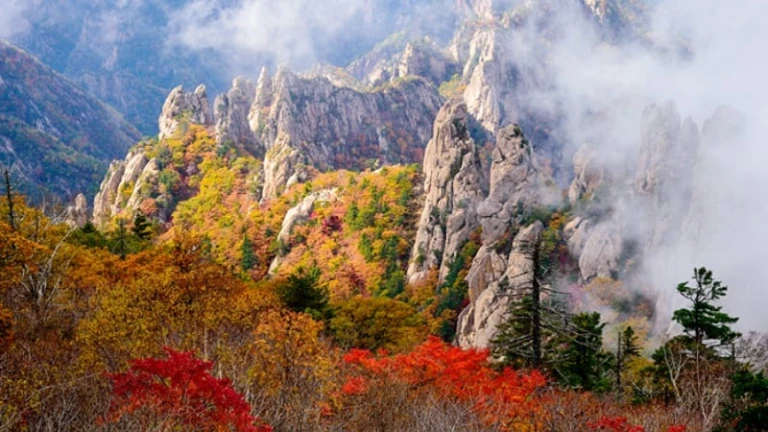 Image credit: Korea Tourism Organization Official Website
Fancy going on a hike that's short and sweet? Go for the Seoraksan Castle Trail, which will take you to Gwongeumseong Peak in just 20 to 30 minutes. The fact that it's a quick hike doesn't make it any less amazing at the top, too; when you finally get to the peak, you'll get to enjoy uninterrupted and panoramic views of Serok City and the Pacific Ocean.
The reason the trek is so short is because prior to that, you'll have to take a cable car at Seoraksan National Park's entrance. From there, you'll head straight to the starting point of the hike. Don't forget to look out your windows on the ride — the views of the autumn foliage are something else!
Jujeongol, Yongsopokpo Falls, and Mangyeongdae Loop
This 4.2-kilometre trail is quite possibly one of the most scenic hiking trails in Gangwon Province. Looping around a number of Seoraksan National Park's key attractions, this trail is an ideal choice for those looking to take a moderate hike amidst picturesque views. Most of it wraps around a river, and the first half is quite leisurely; gradually, the trail slopes upwards, leading up to the perfect picture of tranquility: the Yongsopokpo Falls.
Suryeomdong Valley Trail
The great thing about hiking in Gangwon Province is that there's never a shortage of options, whether you're a beginner or an experienced hiker. Those who belong to the latter category may want to take on the challenge of trekking the Suryeomdong Valley Trail, which is said to be one of Seoraksan National Park's toughest trails.
Of course, the laborious journey isn't one without rewards. Throughout the trail, you'll be passing by crystal clear streams and lush forests that become even more stunning in the autumn, when the leaves change colours. What's more, the hike will also take you to the enchanting Gwaneum Falls and Pokpo Viewpoint.
Cheonbuldong Valley Trail
One of the more challenging yet rewarding hiking trails in Gangwon Province, the Cheonbuldong Valley Trail is one of the region's most famous autumn destinations. As evidenced by its name, the trail's focal point is Cheonbuldong Valley, which is best known for its large number of peaks that resemble thousands of Buddhist statues.
Even more interestingly, it's also known as Seorak Valley, and is considered one of the "10 Sights of Seoraksan Mountain." On top of all that, it's also been named one of Korea's top three valleys!
Proving worthy of all the praise it receives, there's not a dull moment along this 13.2-kilometre hike. Along this trail, you'll be walking through a myriad of breathtaking scenes: Waseondae Rock; Munjudam Pool; Ihodam Pool; Gwimyeonam Rock; Oryeon Falls; and Cheondang Falls. What's more, this hiking trail is popular for its exceptional autumn landscapes, wherein fall leaves blend beautifully with the valley's unique rock formations.
2. Odaesan National Park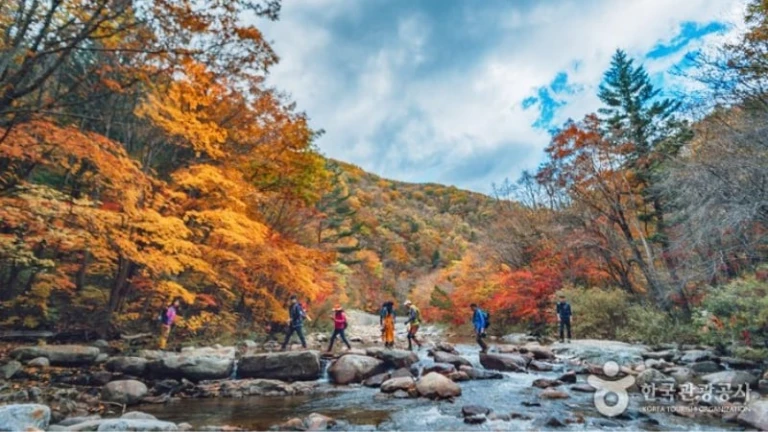 Image credit: Korea Tourism Organization Official Website
Ask locals about hiking in Gangwon Province in the autumn, and Odaesan National Park will surely be one of their recommendations. In addition to being one of the most popular parks to hike in South Korea, it's also one of the places where the colours of autumn first make their mark — a sight that's certainly not to be missed!
The park, named for the 1,563-metre Mt. Odaesan, also boasts the largest natural forest in Korea. Covering over 300 square kilometres, it spans three different cities: Gangneung, Hongcheon, and Pyeongchang.
Seonjae Trail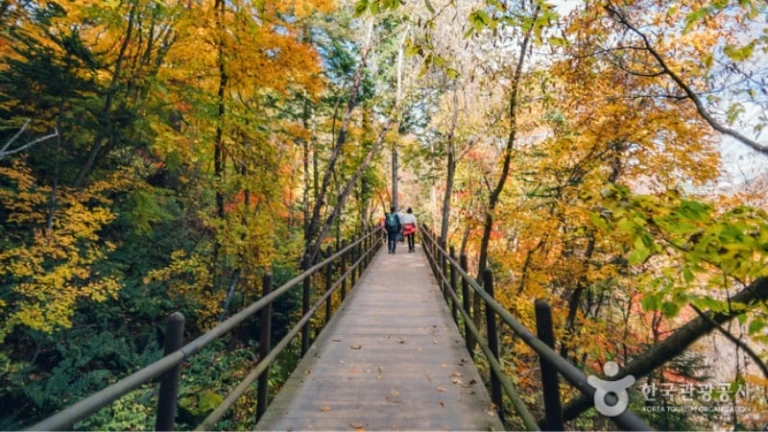 Image credit: Korea Tourism Organization Official Website
The Seonjae Trail is one of the best loved hiking trails in Gangwon Province, and it's not hard to understand why. First of all, it's a generally flat trail, so hikers need not worry about having to trek up steep inclines.
Second, while it'll take you about three hours to complete the 9.4-kilometre trail, the leisurely hike will take you through some of the most gorgeous scenes. The highlights? Woljeong and Sangwon temples, and a stunning fir tree forest that served as a filming location for hit K-drama Goblin.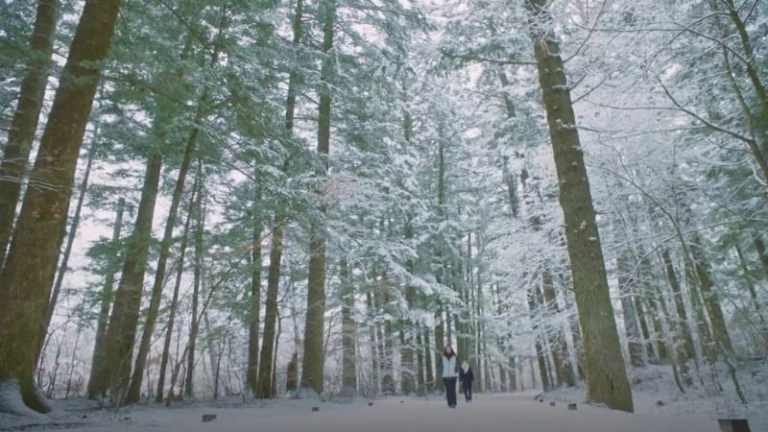 The Seonjae Trail as seen on Goblin | Image credit: tVN
Upon reaching Sangwon temple, you'll find that it's where the Seonjae Trail ends and the Pilgrim's Trail begins. If you decide to proceed along the next trail, it'll take you to Birobong — Mt. Odaesan's highest peak and widest viewpoint.
Sogeumgan Valley – Noinbong Trail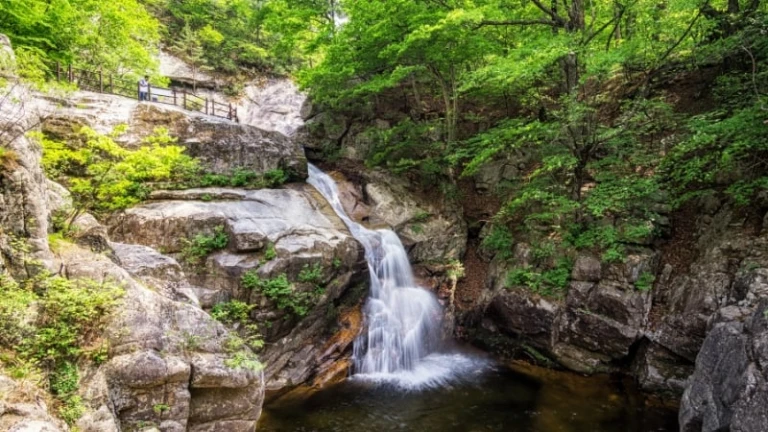 Image credit: aaron90311 via Canva Pro
Situated closer to Gangneung, the Sogeumgan Valley – Noinbong Trail is a moderately easy one to complete. It's a 12.2-kilometre point-to-point trail that entails passing by stunning landscapes, awe-inspiring rock formations, and even a waterfall! The trail also presents you with the opportunity to hike up to Noinbong, a peak from which you can take in some of the most incredible nature views.
Sangwangbong – Birobong Trail
Lush forests, Buddhist temples, and the possible sight of wildlife are some of the things that await you at the Sangwangbong – Birobong Trail. The 13.4-kilometre loop trail goes from Sangwangbong Peak to Birobong Peak, both of which boast majestic views. When peppered with autumn leaves, these sights become even more postcard-worthy!
Tip: Should you spot any wildlife, be sure not to interrupt them while in their natural habitat.
3. Chiaksan National Park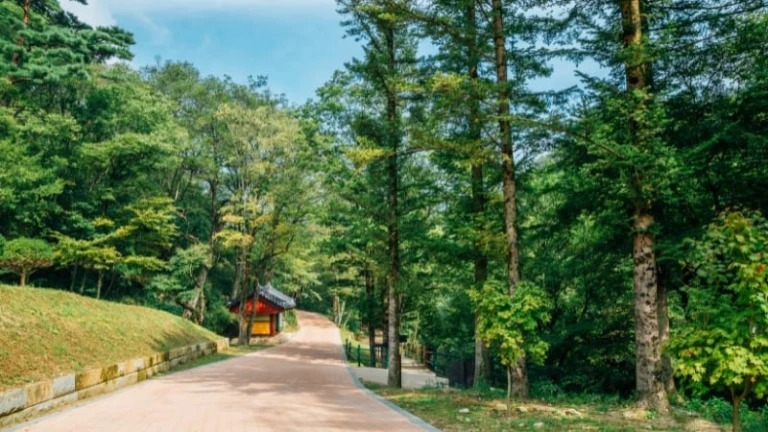 Image credit: Sanga Park via Canva Pro
Chiaksan National Park is one of the smaller national parks in the province, but that doesn't make it any less worth visiting. In fact, it's very popular among avid hikers during the autumn season, given it's resplendent nature trails. Expect to see valleys, rock formations, and even waterfalls — and even peaks that tower over 1,000 metres above sea level!
Seryeom Waterfall Trail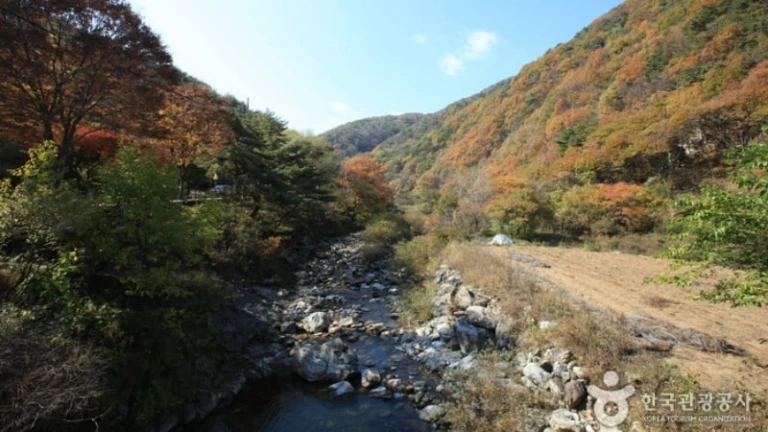 Image credit: Korea Tourism Organization Official Website
Planning on hiking in Gangwon Province with the whole family? Add the Seryeom Waterfall Trail to your itinerary. This particular trail is a highly recommended pick for those travelling with children and elderly visitors, given its gentle slopes.
Its scenic views are marked by wildflowers, bird sightings, and striking autumn foliage. The 6.6-kilometre trail culminates in the Seryeom Waterfall; while it may be smaller than others, this waterfall is known to be one of the most beautiful attractions in Chiaksan National Park.
Guryongsa Trail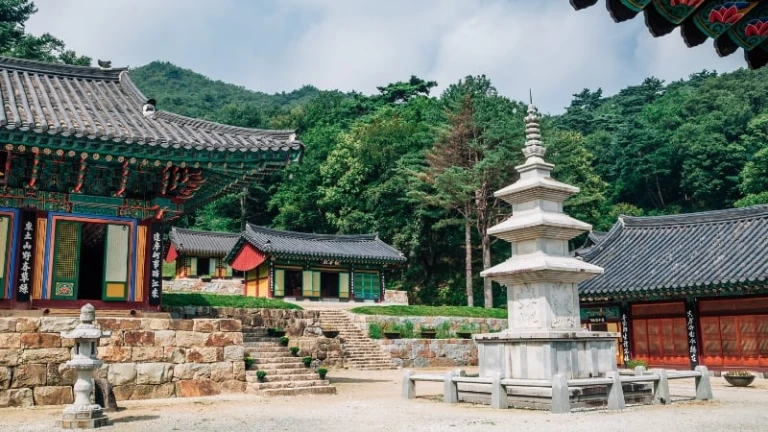 Image credit: Sanga Park via Canva Pro
This 6.8-kilometre trail is yet another must when hiking in Gangwon Province during the autumn. After all, it's not only one of the most popular sights in Chiaksan National Park; it's also among the most sought-after attractions in Wonju.
What makes the Guryongsa Temple so remarkable, you might wonder? The magnificent Buddhist temple dates all the way back to the year 668, when it was founded by Great Master Uisang —  one of Korea's most respected scholars and monks. This well-known structure is also known for its majestic architecture and beautifully painted exteriors; not to mention, its serene atmosphere provided by its natural surroundings.
4. The Olympic Aribaugil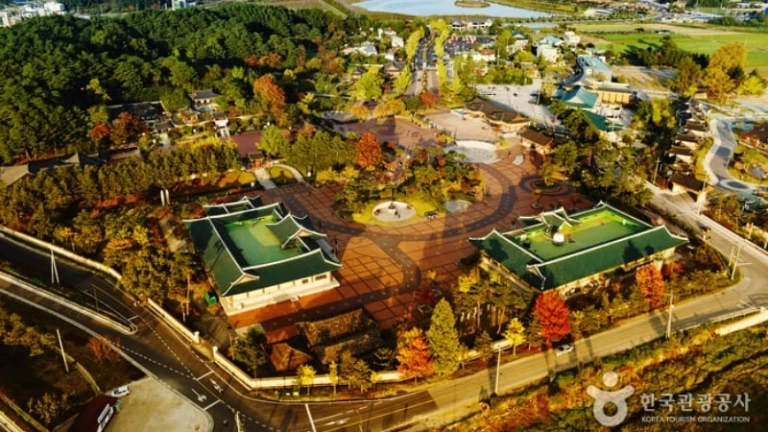 Image credit: Korea Tourism Organization Official Website
If you've been following the Olympics, then you'll know that Gangwon Province hosted the 2018 Winter Olympics. Here's a cool fact: The Olympic Aribaugil was constructed specifically for the Games, in order to connect the three host cities, namely Gangneung, Pyeongchang, and Jeongson. This was to allow both visitors and Olympians to be able to explore the best of what each city has to offer.
The network of trails covers an entire 131.7 kilometres, running from Jeongseon County all the way to Gyeongpo Beach in Gangneung. There are a total of nine courses for visitors to explore! Without a doubt, a trip to these trekking courses is a must when visiting Gangwon Province in autumn — after all, the Olympic Aribaguil is considered a national treasure!
Course 1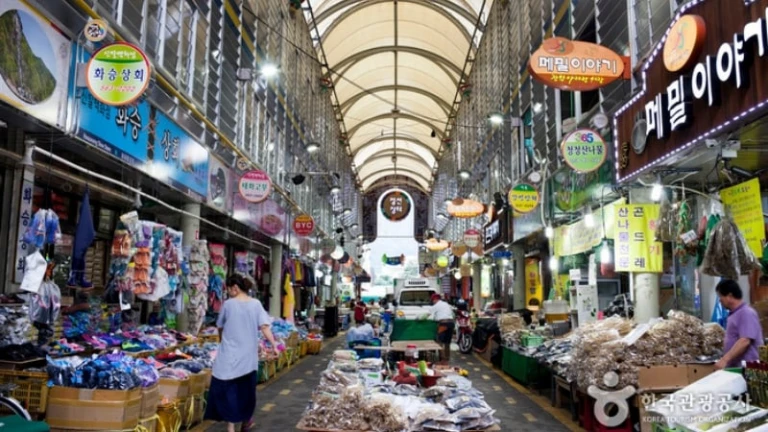 Image credit: Korea Tourism Organization Official Website
The Olympic Aribaugil certainly isn't your average hiking trail. For one thing, its first course starts at the famous Jeongseon Arirang 5-Day Market, where merchants sell loads of local goods. You'll want to take this opportunity to sample the local cuisine, and perhaps even shop for souvenirs. It's definitely a different way to begin a hike, but that's what makes it so special!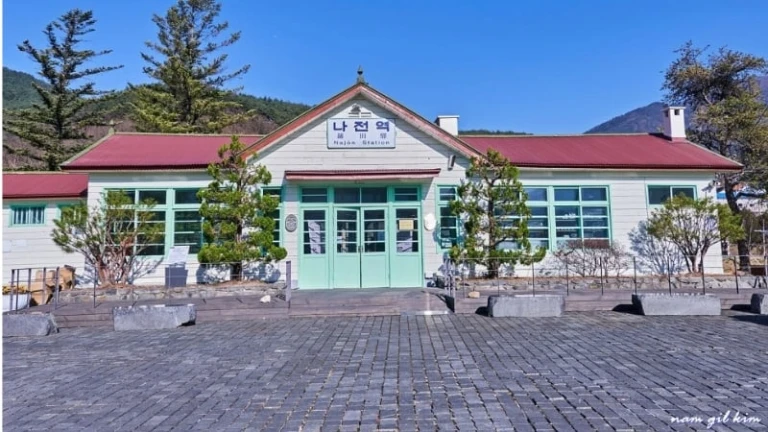 Image credit: 정선군 via The province of Gangwon Official Facebook Page
Course 1 will also take you through a riverside walk by the Joyang River, and eventually to the unmanned Najeon Station. While no longer functional, the station is actually quite famous as it's often used as a filming location for K-dramas, films, and TV commercials. Don't forget to take photos!
Course 2
At 20.5 kilometres, this is the longest of all the courses along the Olympic Aribaugil. The great thing about it, though, is that it's a relatively flat trail, so the hike isn't all that exhausting. Here, you'll get to see a rural Korean village, views of the Joyang River, and remarkable mountain vistas. Plus points: Visitors can also ride rail bikes along this course!
Course 3
While Course 2 is the longest, Course 3 is the toughest out of all those on the Olympic Aribaugil. This is because hikers will have to climb up Mt. Nochusan, which is situated at an altitude of 1,322 metres.
It takes about six hours to trek through this entire course. It starts at Gujeolli station, where visitors are welcome to ride on Korea's first-ever rail bikes, all the way to Auraji Station. Another highlight of Course 3 would be the Mojeongtab Trail, which is adorned with thousands of stone towers that were erected by a local woman who worked on them for almost 30 years. According to locals, the woman had a dream that told her that her wish would be granted if she made 3,000 stone towers; wishing for good health for her family, she built about 4,000.
Course 4
A 10-kilometre trail that starts at Baenadeuri Village and ends at the entrance of Doam Dam, Course 3 is said to offer some of the best views along the Olympic Aribaugil. This course will have you walking alongside the Songcheon stream, as well as paths surrounded by lush greenery. During the fall season, this course provides some of the prettiest views of the autumn foliage at the foothills of Mt. Balwang!
Courses 5 to 8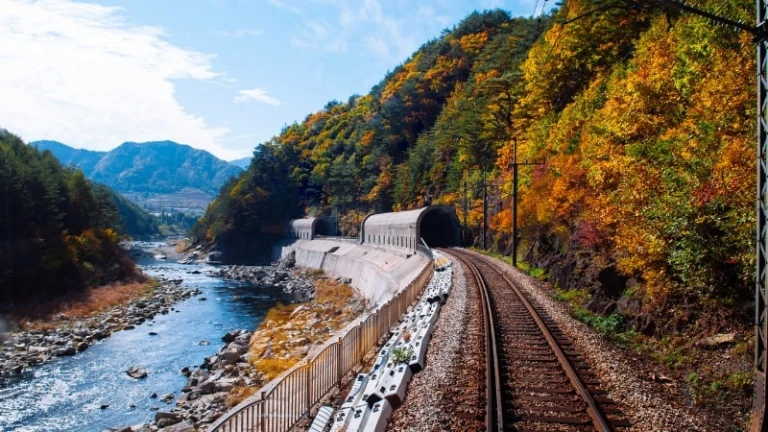 Image credit: PixHound via Canva Pro
Courses 5 to 8 pass through the breathtaking Baekdudaegan mountain, which features some of Gangwon Province's magnificent autumn scenes. To add to that, they'll also take you through Daegwallyeong, a famous mountain pass in the Taebaek Mountains.
As for the highlights? On Course 5, you'll get to visit Anbandegi, Korea's largest mountain cabbage field. What's more, you'll also be able to view Pyeongchang from Hyeongge Outlook, and Gangneung from Neunggyeongbong Outlook. On the other hand, Course 6 lets you walk down Seonjaryeong Mountain and witness sights like Bohyeon Temple and the Old Daegwallyeong Road.
Meanwhile, Course 7 is where you'll find Suljan Rock, from which you can glimpse an amazing view of Baekdudaegan. Course 8 will take you to Myeongjugun Tomb, where King Myeongjugun from the Silla period is buried. It's also where you'll get to walk along the Shim Stefano trail, which is popular for hosting the most interactions between locals and travellers.
Course 9
Image credit: AaronChoi via Canva Pro
Finally, Course 9 leads to Gyeongpo Beach — one of the province's most famous sites, specifically located in Gangneung. On the way there, you'll have the opportunity to see noteworthy attractions that include the Jukheon Reservoir; Seonyojang, one of the largest private hanok or traditional houses in Korea; and Ojukheon manor house, where artist Sin Saimdang and her son Yulgok Yi Yi once resided.
5. Wonju Sogeumsan Suspension Bridge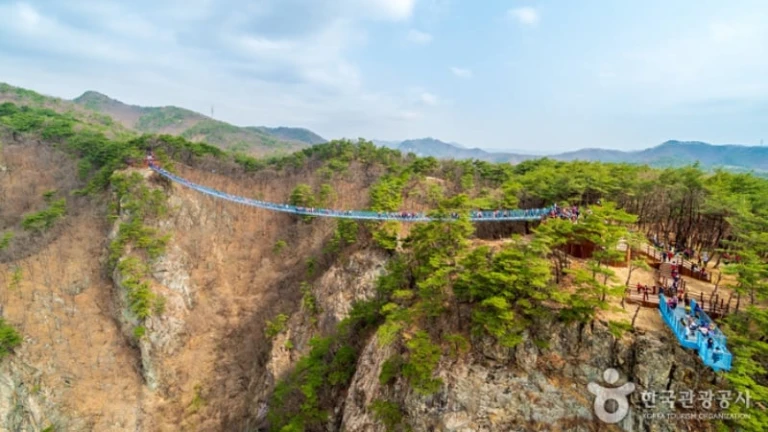 Image credit: Korea Tourism Organization Official Website
This 5.3-kilometre loop trail undoubtedly stands out from other loop trails in Gangwon Province. Case in point: It requires you to cross a man made bridge — the longest and largest pedestrian bridge in Korea, at that!
The Sogeumsan Suspension Bridge is 100 metres above ground, 200 metres long, and 1.5 metres wide. Needless to say, this attraction isn't for the faint of heart. But should you be able to pluck up the courage, you can rest assured that the bridge's wooden walkway is safe even for children!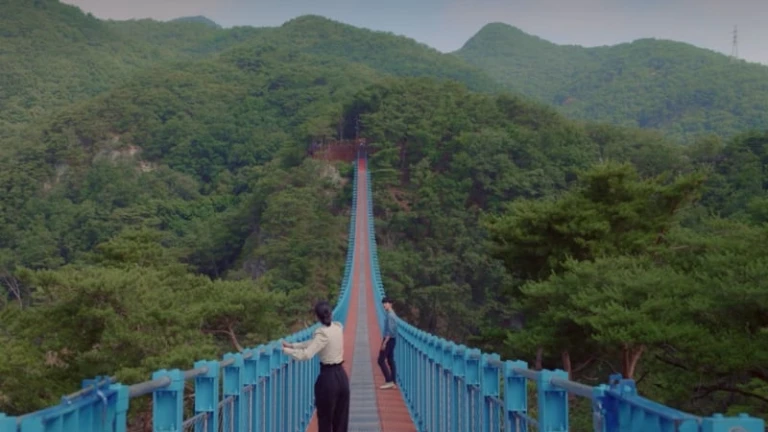 Sogeumsan Suspension Bridge as seen on It's Okay to Not Be Okay | Image credit: It's Okay To Not Be Okay via Netflix
You might also recognise this bridge from the K-drama It's Okay to Not Be Okay — episode nine, to be specific. Since opening to the public in 2018, it's been dubbed Wonju's premier tourist attraction; but we can imagine that being featured in a well-loved drama has raked in even more visitors.
The bridge itself is already photo op-worthy, but the views make the heart-pumping walk across it so much more rewarding. From up there, views of the Seomgang River and its surrounding mountains are absolutely stunning, and even all the more so when they flaunt the colours of autumn. Make sure to bring your cameras!
6. Mureung Valley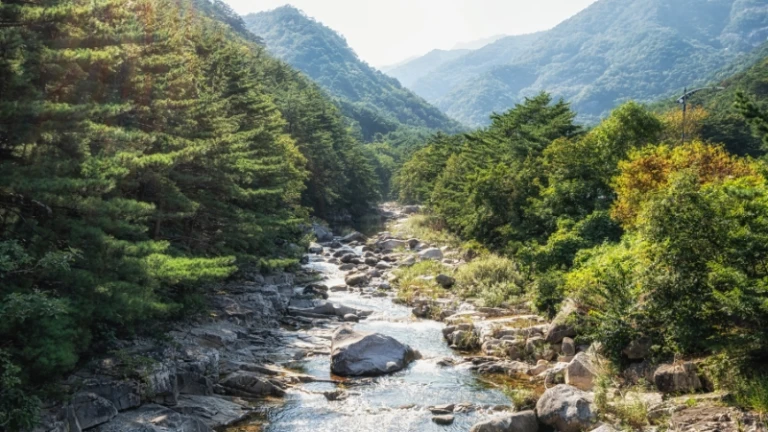 Image credit: aaron90311 via Canva Pro
Situated between the captivating Dutasan and Cheongoksan mountains, the Mureung Valley trail spans a total of 6.1 kilometres. The trail is particularly known to have been frequented by scholars and poets, and you'll find proof of just that at its starting point. The trail begins with Mureung Rock, a concrete slab with enough space for hundreds of people to sit on; this very rock is inscribed with the names and works of notable names like 16th-century calligrapher Yang Sa-eon.
As you traverse the trail, you'll surely enjoy basking in the tranquil and refreshing beauty of nature. Here, you'll be greeted by the sights and sounds of water softly flowing through the valley; this scene becomes particularly picturesque during Gangwon Province's autumn season, when it's painted with colourful fall leaves! Apart from nature views, you'll also pass by attractions that include the Samhwasa Temple, Haksodae, Ongnyudong, and Seonnyeotang Ravine.
7. Hantangang River Geopark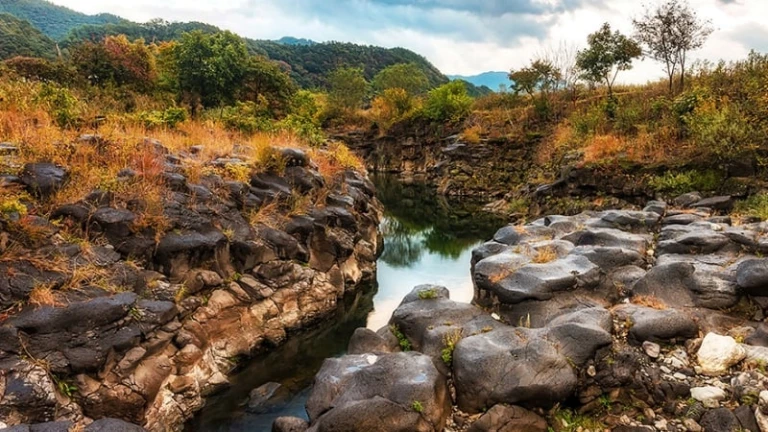 Image credit: Hantangang River Geopark Official Website
Hantangang River Geopark offers what's possibly one of the most unique autumn hiking trails in Gangwon Province. What makes this UNESCO Global Geopark so remarkable is its main attraction: a 8.9-kilometre trail that loops around Hantangang River, making it the first trail of its kind.
With an expanse of over 1,000 square metres, Hantangang River Geopark lets you enjoy more than just autumn foliage. Here, you'll also be treated to sights of basalt cliffs, waterfalls, and more awe-inspiring landscapes brought about by a volcanic eruption that dates back thousands of years. Borrowing from the words of Seo Seong-Cheol, commentator of the geopark, it's a place where geology, ecology, history, and culture meet!
Without a doubt, Gangwon Province is one of the top places to enjoy South Korea's autumn season — and hiking is the best way to do it. Which of these hiking trails are you adding to your itinerary first?
For more information, visit Gangwon Tourism Organization's official website.