Are you a thrill-seeker who relishes the feeling of adrenaline coursing through your veins as you take on an exciting pursuit? Then, you have come to the right place! We list down a series of fun and high-octane adventurous activities in Singapore every swashbuckler must tick off.
While Singapore is no adventure capital of the world, it still brims with a plethora of things to do that's sure to get your heart thumping. From bungee jumping to skydiving, these adventurous activities in Singapore are one for the books. Ready for an adventure of a lifetime?
The best adventurous activities in Singapore
1. Bungee jump at AJ Hackett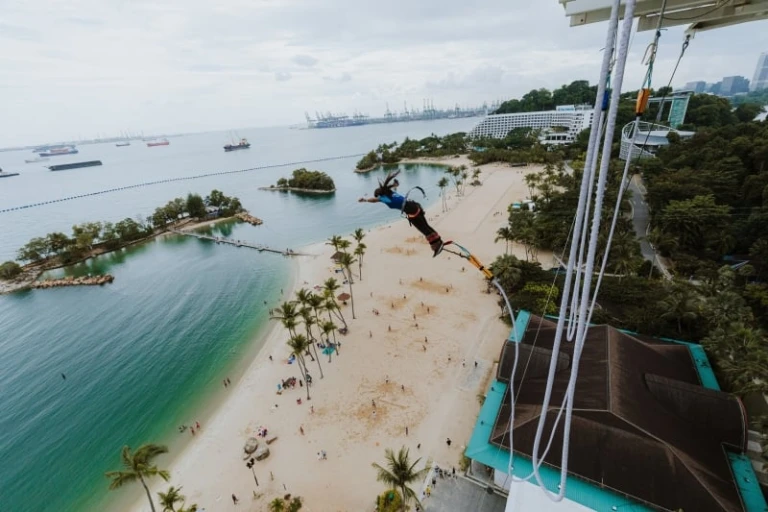 Image credit: Skypark Sentosa by AJ Hackett Official Facebook Page
At Sentosa, you can spot Singapore's only bungy tower and it's there where you can experience the weightlessness of flying. Make your way to AJ Hackett and take a leap of faith from a platform that stands 50 metres above ground. As you spring off the deck, your fear of heights will slowly ebb away and an unparalleled view of the azure blue ocean and endless stretch of pristine sand will greet you.
Address: 30 Siloso Beach Walk, Singapore 099011
2. Hop on a giant swing at AJ Hackett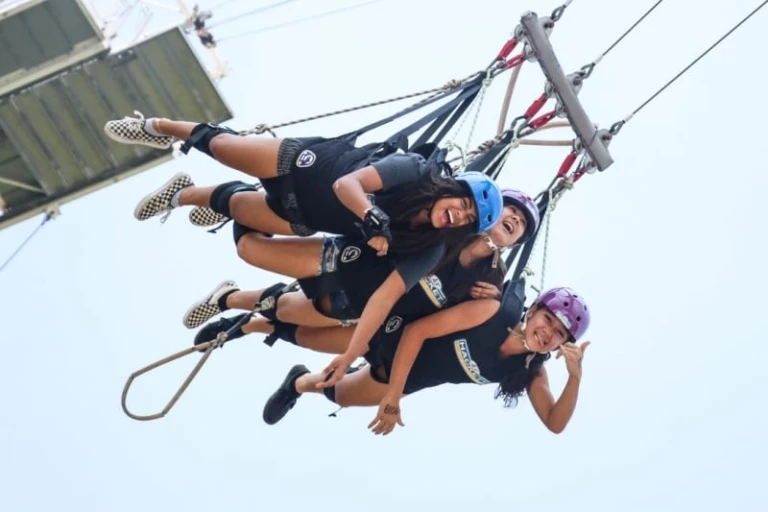 Image credit: Skypark Sentosa by AJ Hackett Official Facebook Page
If bungee jumping is not enough to fuel your love for adrenaline, give the Giant Swing a go! Also at AJ Hackett, strap yourself to a massive swing and dive to the ground in the blink of an eye. We're talking about an electrifying speed of over 100km/hr. But before that, you must muster the courage to pull the release that'll send you hurtling down to the bed of sand.
P.S — This adventurous activity in Singapore is ideal for those looking to jio their buddy along.  The Giant Swing can accommodate up to three people per ride. However, do check ahead to ascertain if there are any restrictions in line with Singapore's safe distancing measures.
Address: 30 Siloso Beach Walk, Singapore 099011
3. Skydive at iFly Singapore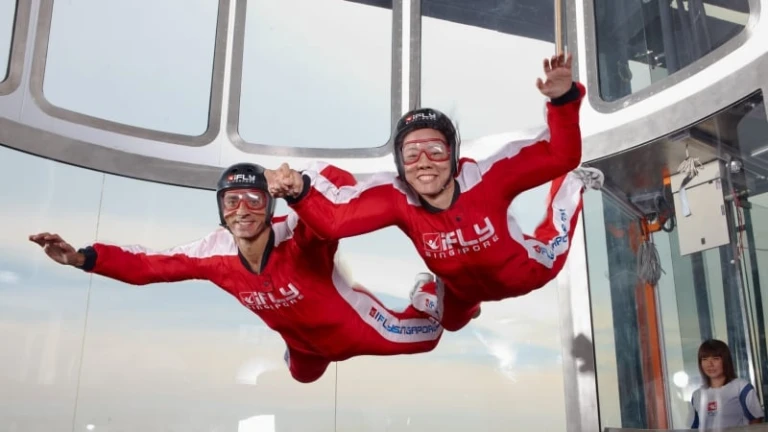 Image credit: Sentosa Official Website
Did you know that our Little Red Dot is home to one of the world's largest indoor skydiving wind tunnels? Yes, you read that right! Called iFly Singapore, you can experience the sensation of skydiving at a fraction of its cost at this super-cool place. How does it work? Essentially, a tunnel pushes up heavy wind to propel you in the air — replicating the feeling of free-falling from a plane. Thanks to its sheer size and diverse wind speeds, you can even perform some gravity-defying stunts. You can do all that while knowing you're in safe hands.
Address: 43 Siloso Beach Walk, #01-01, Singapore 099010
4. Zipline at Mega Adventure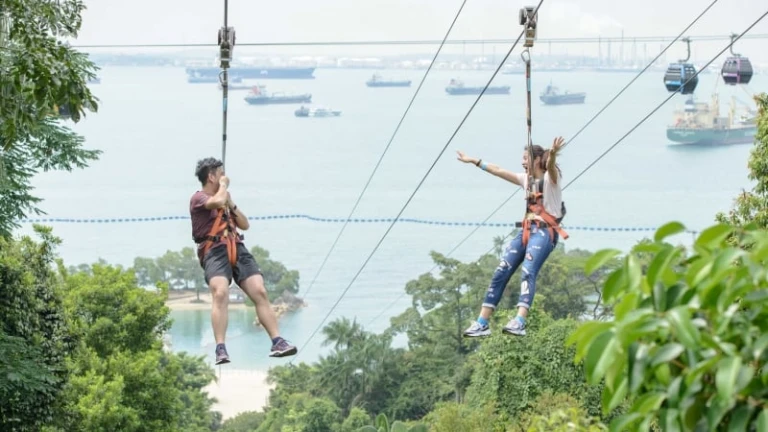 Image credit: Sentosa Official Website
Yes, this is another fun thing to do in Sentosa to grace this list of adventurous activities in Singapore, but we promise it's the last of its kind. Make your way to Mega Adventure to step into the shoes of Tarzan. There, a zip line that spans 450 metres long will have you soaring over lush forests and the glistening sea. Try to keep your eyes open as the scenery from up above is unbeatable.
Tip: Don a comfortable pair of shoes as you don't want to risk losing your footwear. 
Address: 10A Siloso Beach Walk, Singapore 099008
5. Go-kart at KF1 Arena
Image credit: KF1 Official Facebook Page
Looking to speed things up a bit? KF1 Arena, located at Kranji, is the place to be! After all, it's the largest go-kart circuit in Singapore where you can reach a lightning speed of 40mph! Hit the tarmac on a high-powered four-wheel vehicle like your favourite F1 racer and keep your eye on the finish line. Rest assured, the 14 winding turns on the 780-metre track will elevate the thrill factor!
Address: 1 Turf Club Avenue, Singapore 738078
6. Scuba dive at Sisters' Islands Marine Park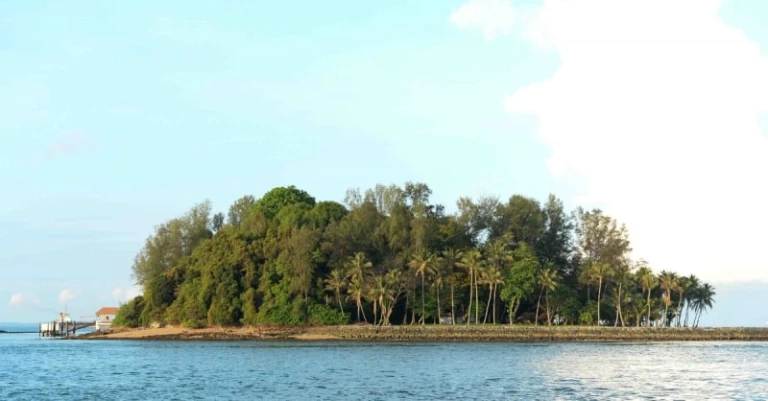 Image credit: National Parks Board Official Website
Water babies, this adventurous activity in Singapore is for you! Explore the variegated trove of underwater treasures at Sisters' Islands Marine Park. There are two separate dive trails: one that takes you six metres deep and another one that takes you 15 metres deep. With 20 demarcated stations, you can expect to feast your eyes upon a myriad of marine creatures and coral reefs. Plus, you can immerse yourself in an environment that covers about 71 percent of the earth's surface, yet so much of it remains unexplored.
Tip: According to the National Parks Board, drivers must have logged at least 20 dives with one local dive within the past two years as a requirement.
Address: Sisters' Islands
7. Zoom through slides at Wild Wild Wet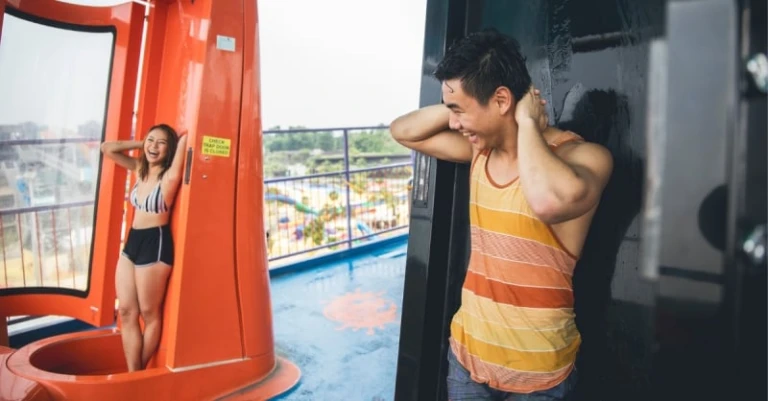 Image credit: Wild Wild Wet Official Website
Wild Wild Wet may not exactly come to mind at the mention of adventurous activities in Singapore. But, thanks to a handful of its spine-tingling rides, we had to include it. There are four extreme rides for you to try at the waterpark park. They are Free Fall, Slide Up, Torpedo, and Vortex — all with a high thrill and speed factor. Want to try the most nerve-wracking ride? Make a beeline for Torpedo, where you can experience a mind-numbing free-fall from a six-storey capsule that takes you through a series of twists and turns.
Address: 1 Pasir Ris Close, Singapore 519599
8. Cable-ski at Singapore Wake Park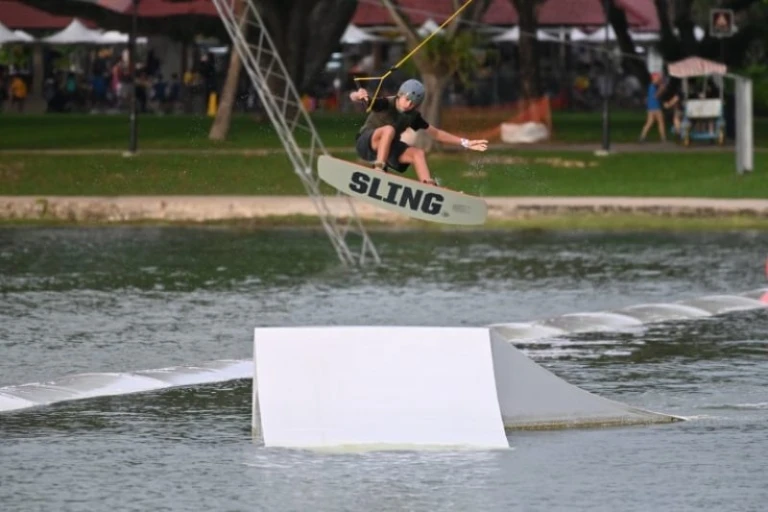 Image credit: Singapore Water Park Official Website
Cable skiing is an exhilarating way to glide through deep waters, pulled by an overhead cable that stimulates the action of being tugged by a boat. Now, who would have thought that you can experience this right here in Singapore! Just head to Singapore Wake Park — nestled in the eastern part of Singapore. There, you can spend the day under the sun trying out this water sport. With three different cable systems, both the novice and experienced can give it a go in a safe environment. Pick up multifarious skills while you're at it such as learning to balance on a wakeboard and overcoming basic obstacle tricks.
 Address: 1206A East Coast Parkway, Singapore 449891
9. Paintball at Red Dynasty Paintball Park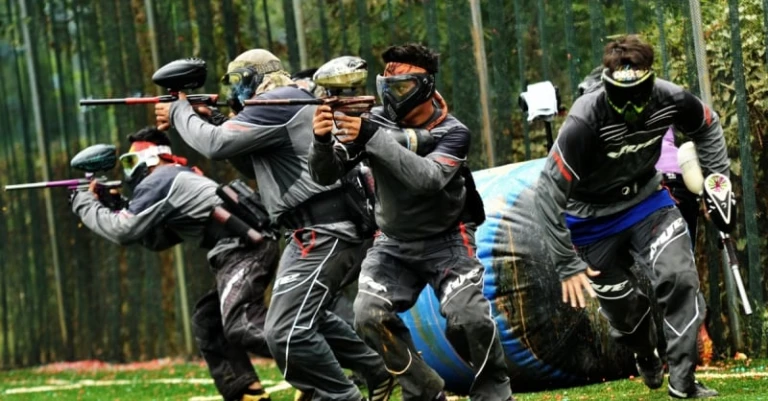 Image credit: Orto Official Website
You know what makes paintball so gripping? Beating the odds to conquer the game unscathed. At Red Dynasty Paintball Park, you can eliminate your competitors in a military-inspired setting by knocking them out with water-soluble coloured capsules. Armed with your own paintball marker, face mask, and chest protector, you have to complete the game objective to emerge victorious. The way forward: Strategise and work closely with your teammates.
Address: 220 Turf Club Road, Singapore 288001
10. Play at Airzone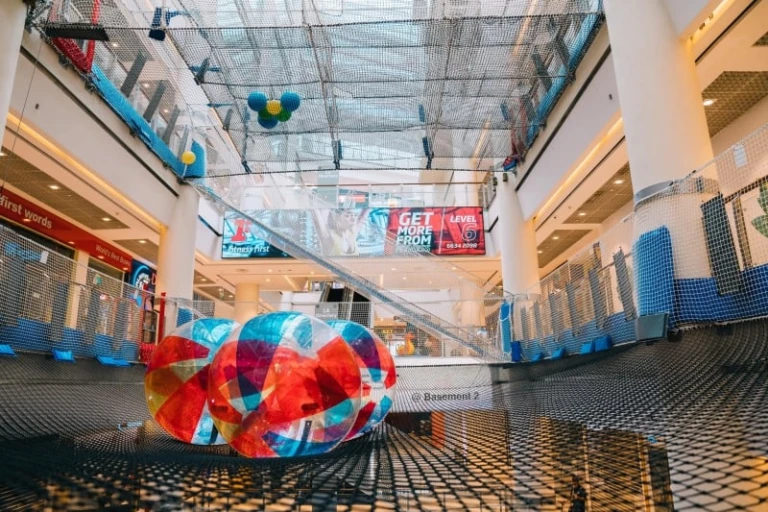 Image credit: Airzone Official Facebook Page 
While a play area doesn't give someone a buzz per se, the very fact that Airzone is suspended five storeys high is sure to raise your spirits. At this elevated playground that hangs mid-air right smack in the middle of City Square Mall, you can float around the bouncy nets. Besides, there are a plethora of attractions such as a 3D maze, a floating ball pit, and a big slide to ensure you have a whale of a time. P.S — this adventurous activity in Singapore is perfect for the young, and the young at heart.
There you have it: A list of adventurous activities in Singapore. Which of them would you like to try first? Don't forget to share this article with all the adrenaline junkies you know!