Jharkhand's popular waterfalls, including Hundru, Jonha, Lodh, Dasam, Sita, Panchghagh, and Hirni, are already packed with visitors, even ahead of the festival season. 
An official from the Tourism Department said that waterfalls in the state are a major tourist draw, attracting visitors from both within and outside West Bengal. The waterfalls are known for their natural beauty and cascading waters.
A Kolkata-based tourist was left awestruck by the scenic beauty of Jonha Falls, which he visited on Saturday.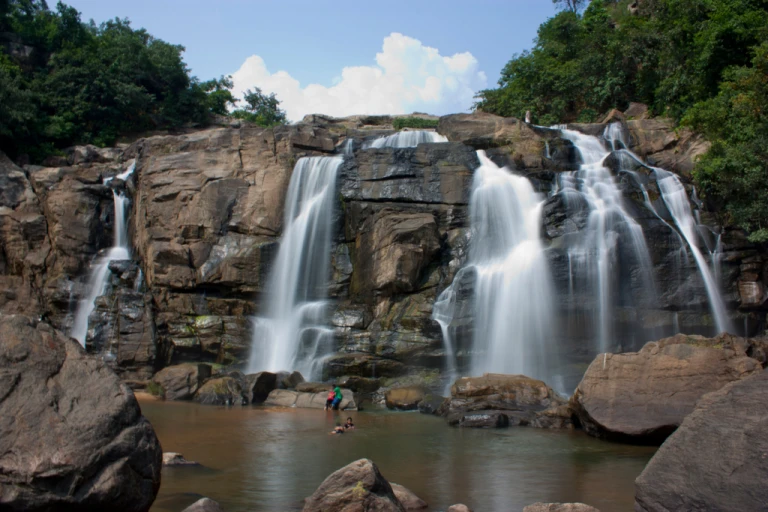 Image Source
"I have never seen such a beautiful place in my life," Tarak Nath Sahu told PTI. "The hills and huge quantity of water falling from a height of about 150 feet is magical."
Sahu wished that there was a staying facility at the falls, as it would make it one of the best tourist destinations in the world.
Jonha waterfall, a popular tourist destination 40 km from Ranchi, is witnessing a huge influx of visitors. Visitors can enjoy the mesmerising waterfall by trekking down around 700 stairs. Other waterfalls in and around Ranchi are also attracting a large number of visitors.
Jharkhand Waterfalls See 10,000 Tourists Daily
Around 10,000 tourists from Jharkhand, West Bengal, and Bihar visit the waterfalls of Hundru, Jonha, Lodh, Dasam, Sita, Panchghagh, and Hirni every day, said Jharkhand Tourism Security Committee (JPSS) Chairman Rajkishore Prasad on Monday.
JPSS, a branch of the Jharkhand Tourism Development Corporation (JTDC), manages and maintains the major waterfalls of Jharkhand. Prasad said that about 110 'Tourist Mitras' are working for JPSS in the care of these waterfalls.
The surge in tourists is attributed to the state's efforts to promote tourism in the region. The government has developed infrastructure and launched several initiatives to attract visitors.
Jharkhand has immense potential in the field of tourism and the government can get good revenue from it, said Sanjay Kumar, Assistant Professor (Electronics) at Birla Institute of Technology (BIT), on Saturday.
Kumar, who visited Jonha Waterfall with his wife Babita Aggarwal, was awestruck by its natural beauty. He told PTI that he had been to many European countries like Spain and Denmark but had never seen anything like it.
He urged the government to make an excellent plan for tourism and promote these tourist places.
Kumar's statement comes at a time when the Jharkhand government is trying to boost tourism in the state. The state has several waterfalls, hills, forests, and temples that attract tourists from all over the country.