When autumn paints Seoul in stunning shades of amber and crimson, the city transforms into a picturesque wonderland that beckons travelers from around the globe. From traditional hanbok strolls to breathtaking panoramic views, Seoul offers a myriad of experiences to cherish during this season. Let's embark on a journey through the top 14 autumn activities and must-visit places in Seoul, complete with delectable dishes you simply can't miss.
1. Namsan Seoul Tower - Embrace Seoul's Radiance
As the leaves turn to fiery shades of red and gold, Namsan Seoul Tower emerges as an enchanting beacon atop Namsan Mountain. Prepare for a heart-thumping adventure that will take you to the city's highest point. Beyond the breathtaking views, you'll discover the timeless tradition of leaving love padlocks, a symbol of everlasting love. And while you're here, savor the irresistible tteokbokki, Seoul's signature spicy rice cake dish, for a culinary journey that complements the stunning scenery.
Timings: Namsan Seoul Tower is usually open from 10:00 AM to 11:00 PM.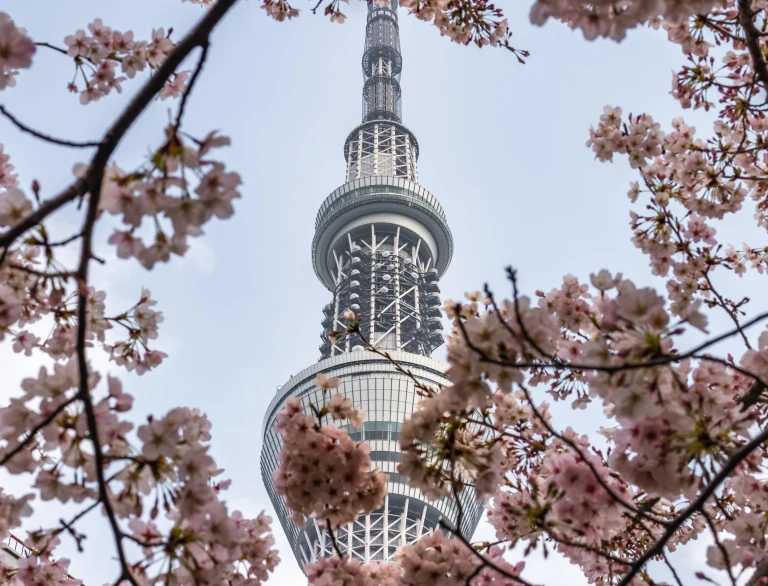 2. Gyeongbokgung Palace - Step into History
Step into a realm of timeless elegance as you don a traditional hanbok amidst the historic grandeur of Gyeongbokgung Palace. The air is filled with the earthy fragrance of maple and ginkgo trees, transporting you to a bygone era of K-drama romance. After your royal photo session, satisfy your taste buds with a classic bibimbap bowl, where the flavors of Korea come together in a harmonious mix.
Timings: Gyeongbokgung Palace is typically open from 9:00 AM to 6:00 PM.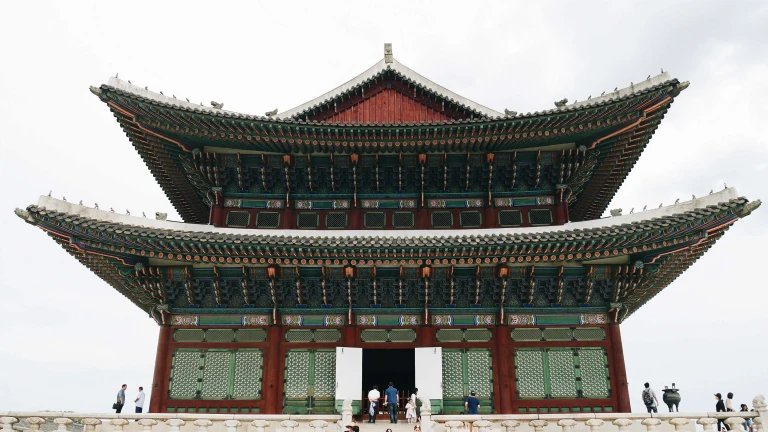 3. Seoul International Fireworks Festival - A Dazzling Evening
October brings a spectacle that rivals the vivid autumn foliage in Seoul— the Seoul International Fireworks Festival. Join a sea of excited spectators at Yeouido Hangang Park, securing your picnic spot for a night of pyrotechnic magic. Or take a serene river cruise along the Han River to witness this dazzling display from a unique perspective. As you enjoy the breathtaking fireworks, don't forget to treat yourself to the sweet delight of hotteok, Korean pancakes.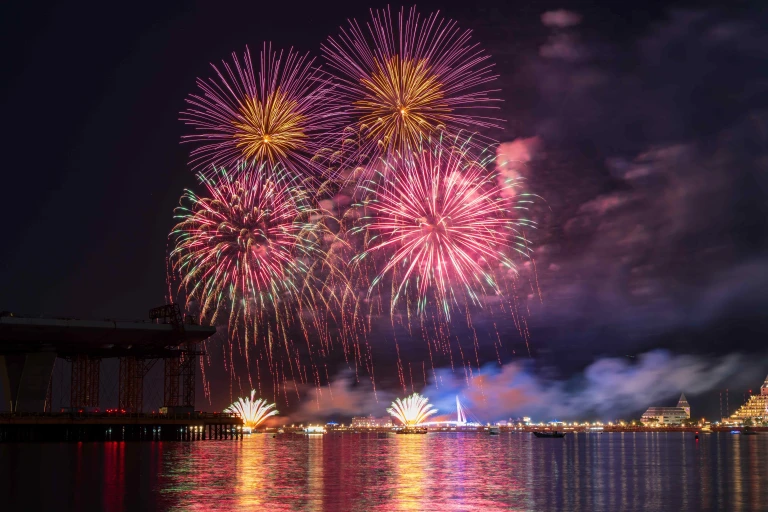 4. Cheonggyecheon Plaza - Glimmering Lanterns
November transforms Cheonggyecheon Plaza into a mesmerizing world of color and light. Follow the trail of hanji lanterns that line the serene Cheonggyecheon stream, bringing life to the heart of Seoul. Marvel at the intricate designs and perhaps spot your favorite cartoon characters illuminating the night. While you're here, relish a bowl of jjajangmyeon, savory black bean noodles, at a nearby eatery.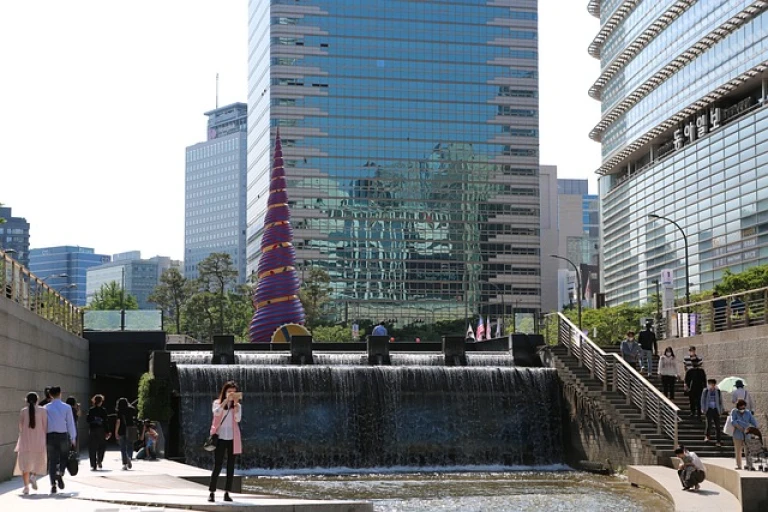 5. Cafe Relax in Ui-dong - Sip Coffee Amidst Nature
Cafe Relax in Ui-dong is your gateway to a peaceful retreat amidst the vibrant hues of autumn. As you sip your steaming coffee, gazing out at the crimson leaves, you'll find that time slows down in this serene setting. For a memorable culinary experience, try dak galbi, a spicy stir-fried chicken dish that perfectly complements the tranquil beauty outside.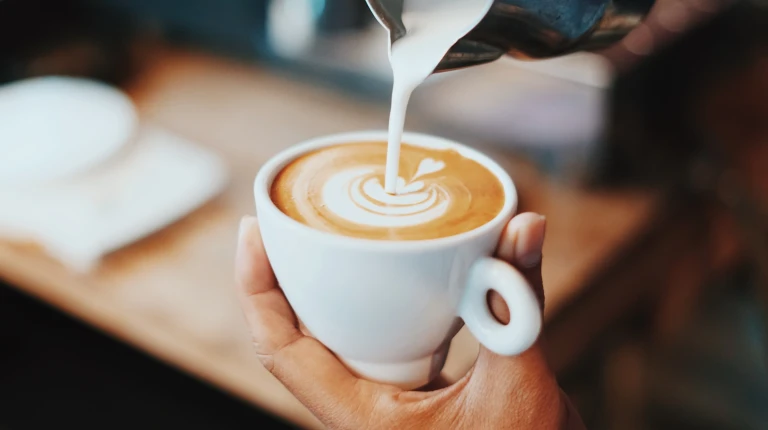 6. Nami Island - Ziplining Amidst Autumn Glory
Venturing to Nami Island is an adventure that promises an adrenaline rush amidst autumn's grandeur. As you soar along the 940-meter-long zipline, surrounded by the vibrant colors of fall, you'll feel a sense of exhilaration like no other. And once you've landed, savor dakgangjeong, crispy fried chicken glazed in sweet and spicy sauce, at a local eatery.
Timings: 7:30 AM - 9:45 PM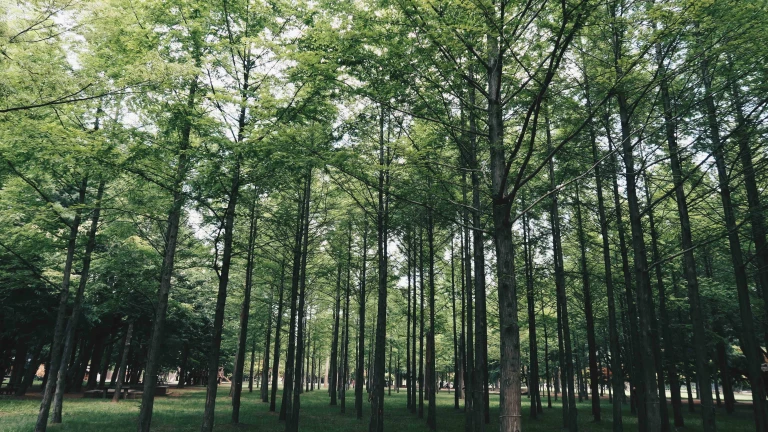 7. Mount Seorak National Park - Hike Amidst Nature
Embark on a journey to Mount Seorak National Park, where autumn paints the landscape in fiery shades. Hiking enthusiasts will find a paradise of trails, each offering a different perspective of the season's beauty. Along the way, the aroma of savory bindaetteok, mung bean pancakes, will tempt your taste buds, providing the perfect sustenance for your adventure.
Timings: 9am to 6pm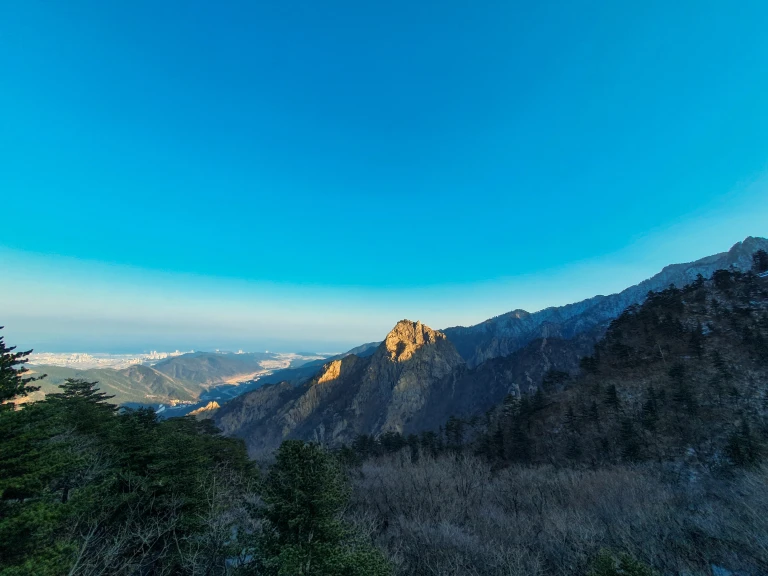 8. Changdeokgung Palace - Walk in Royal Footsteps
Changdeokgung Palace, a UNESCO World Heritage Site, welcomes you to immerse yourself in the footsteps of great rulers from the Joseon era. Wander through well-preserved architecture and stroll beneath the vibrant autumn canopies in the Secret Garden. As you explore, don't forget to indulge in the mouthwatering bossam, a dish of tender pork belly, at a nearby restaurant.
Timings: 9am to 5pm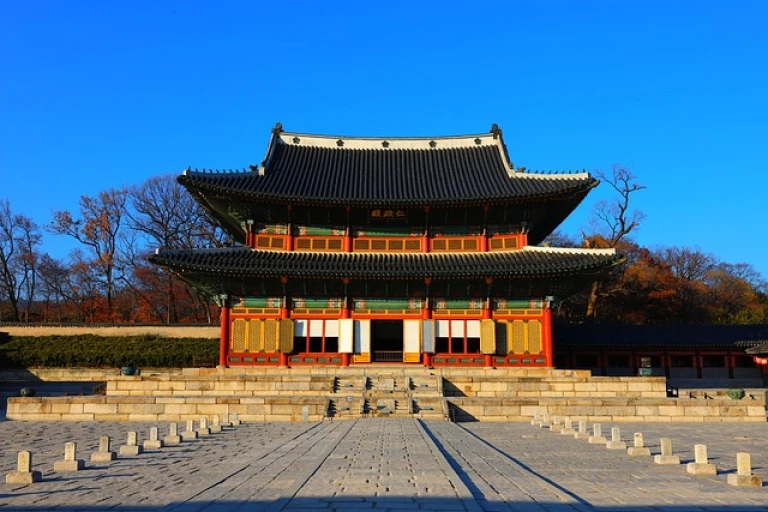 9. Samcheong-dong - Golden Ginkgo Trees
Samcheong-dong beckons you to a street lined with ancient ginkgo trees, their golden leaves casting a magical spell. Visit the Samcheongdong Ginkgo Street in the early morning or on a tranquil weekday to avoid the crowds. After soaking in the autumn brilliance, reward your senses with brunch at Cafe Slow Park, where you can savor delightful kimchi jeon, savory kimchi pancakes.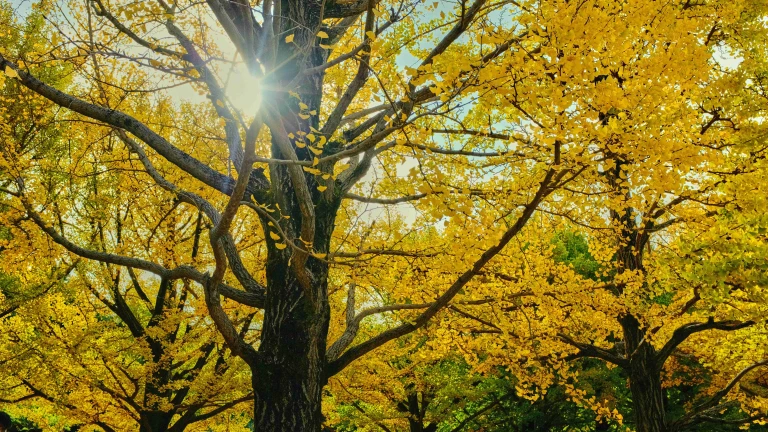 10. Seoul Forest Park - Nature's Oasis
Seoul Forest Park is an oasis of serenity amidst the bustling city, and autumn adds a special charm to its beauty. Sit on a park bench and watch the world go by as vibrant leaves fall around you. Take a stroll along the Cloud Bridge and savor odeng, fish cakes on skewers, a popular Korean street food that perfectly complements the serene atmosphere.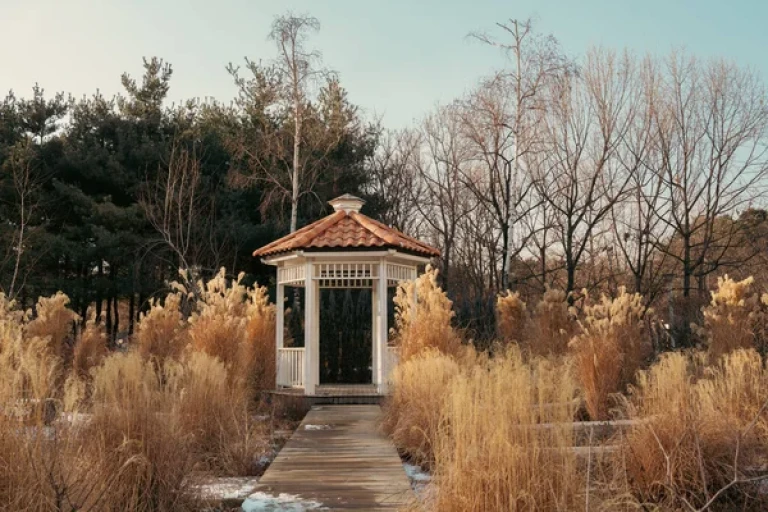 11. Bukhansan National Park - Autumn Hiking Trails
Embark on an adventurous journey to Bukhansan National Park, where autumn's colors are at their peak. Hike amidst rocky peaks and tranquil temples, each trail offering a unique experience. Along the way, you might be offered makgeolli, a traditional Korean alcoholic drink, or kimbap, rice wrapped in seaweed, by friendly locals, providing a taste of authentic Korean hospitality.
Timings: 4am to 5pm
Entry Fee: There is an entrance fee for the park, usually around 3,000-5,000 KRW for adults.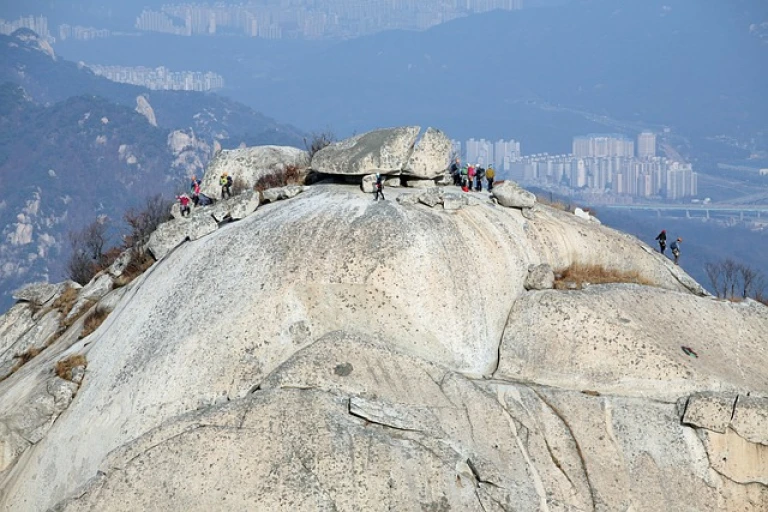 12. Olympic Park - A Sea of Pink Muhly
Olympic Park, once the stage for the 1988 Summer Olympics, transforms into a mesmerizing sea of pink muhly during autumn. Witness the dazzling spectacle as you stroll through the park's pathways. While enjoying the pink beauty, don't miss out on the opportunity to savor bindaetteok, Korean mung bean pancakes, from a local food stall.
Timings: 4am to 5pm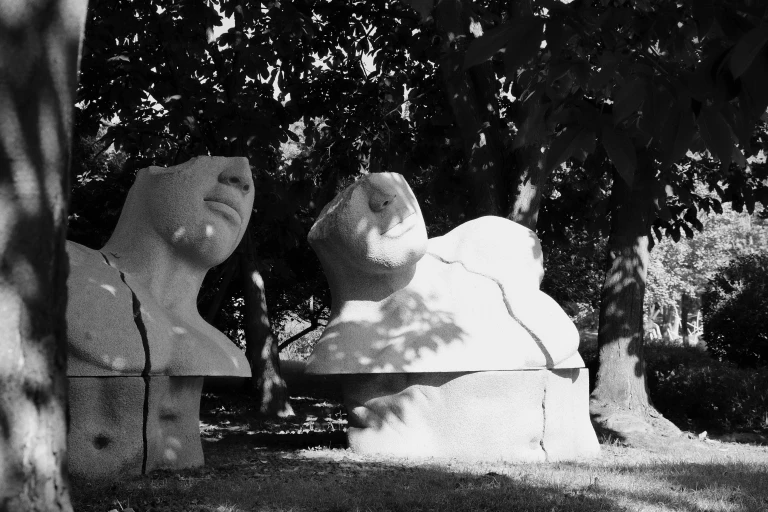 13. Seokchon Lake - Serenity Amidst Cosmos
Seokchon Lake near Lotte World offers a tranquil escape amidst a field of orange cosmos. Share a romantic moment with your partner while indulging in hotteok, Korean sweet pancakes, by the peaceful waters. As you relax, you might even spot some adorable ducks and geese on the calm surface.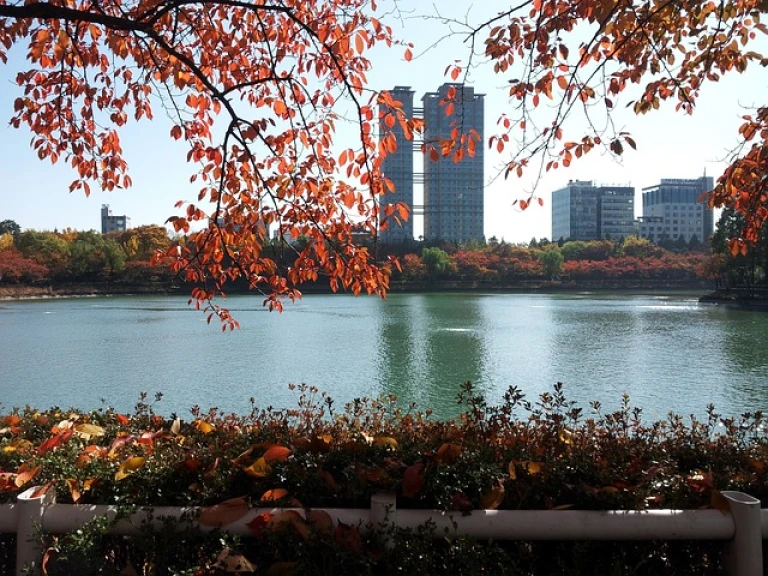 14. Haneul Park - Silver Grass Delight
Haneul Park in Mapo-gu welcomes you to a breathtaking world of silver grass that stretches across wide-open fields. Capture the picturesque scenery, featuring pink muhly and pink broom cypress resembling cotton candy. During your visit, be sure to relish a bowl of doenjang jjigae, a hearty soybean paste stew, at a local eatery to complete your autumn adventure.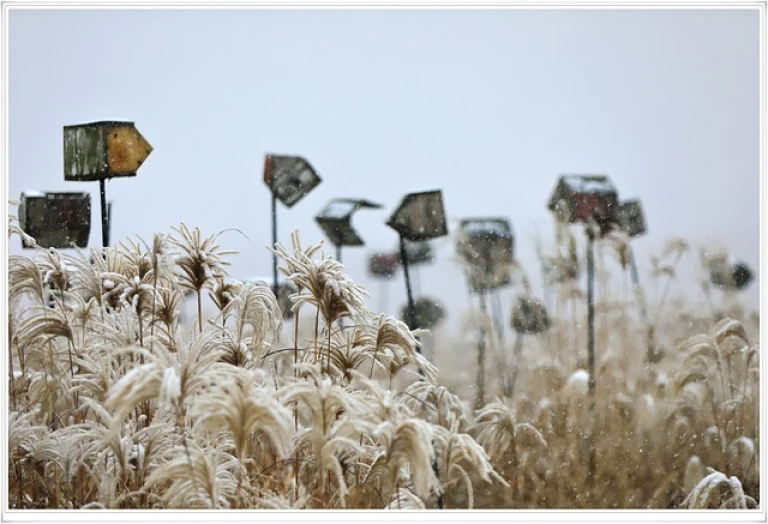 With these enticing introductions, your journey through the top 14 autumn activities and must-visit places in Seoul is set to be a thrilling and unforgettable experience. As you explore the vibrant colors and rich culture of Seoul in the fall, you'll find yourself immersed in a world of beauty, adventure, and mouthwatering delights.