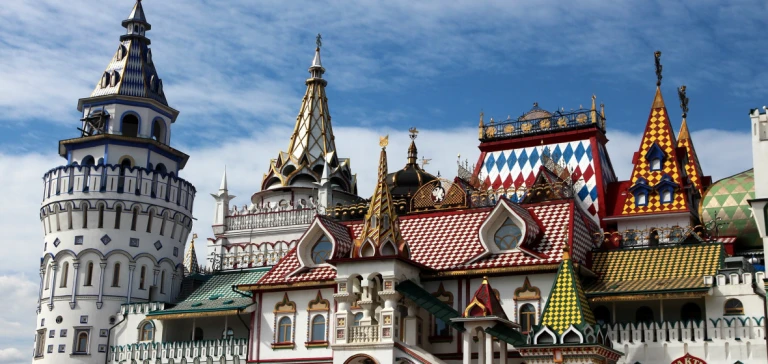 Russia, a young country with a rich history that includes Scandinavian rulers, the Bolshevik revolt, and the formation of Communism, is enticing Indian tourists with its attractive cities, northern skiing resorts, luxurious palaces, and ballet-lit theaters. The Moscow City Tourism Committee promotes the city as a cultural capital and economic center, with the goal of attracting trade partners, visitors, and vacationers. The country's rich cultural past, which includes magnificent towns, wealthy palaces, and ballet-lit theaters, has made it a favorite destination for Indian tourists. The city also draws business partners, visitors, and vacationers.
Can I travel to Russia from India?
Yes, Russia is fully open to Indian travelers, both for tourists and business travelers.
Visa Requirements for Indian Travellers to Russia
DOCUMENTS REQUIRED
Before you apply for a tourist visa, ensure that you meet the visa requirements, fill the application form, attach the required documents and pay the required fees.
Covid Info & Vaccination Requrements for Russia
International airports are there in Russia
Although there are 329 international airports in Russia, only main bases in Moscow and St. Petersburg take in flights from India
Airlines and state of departure
No direct flights Available

Regular one-stop flights from Mumbai and Delhi
Major airlines are:
Air India,

Lufthansa and

Air France
Seasonal Guide to Russia
Russian weather is cold most of the year but summer is a bright beacon for travellers looking for exploration. Spring is also a decent time to visit.
Spring (March to May):
The Spring temperatures in Russia average at around 30°C by May end, and while March and April see the melting of snow on streets, May is the best spring month to visit.
Summer (June to August):
Summer is an amazing time to enjoy all the sightseeing, hiking, nature parks, mushroom-picking expeditions and the legendary 'White Nights' in Russia. The temperature may warm up to 30°C by July and everything is bright and cheery.
Autumn (September to November):
The season of autumn sees cooling temperatures, rains and dampened air in Russia. While September is still warm enough, come October and the rain turns into snow, later turning to hail in many parts. But this is also the harvest season and most weddings happen at this time, before winter makes everything rein in the pace.
Winter (December to February):
Russian winters are a thing of legends. They are white, blinding and too cold for most Indians who are used to tropical winters. The temperatures may drop to anywhere between -20°C and -50°C, with snow blanketing the cities in thick sheets. This is one of the most beautiful sights too, as proven by tourism in Moscow and St. Petersburg.
Currency Information of Russia
The ruble or rouble (RUB) is the currency of the Russian Federation. 1 ruble = 0.86 INR
Getting around in Russia
Public transport
Busses, trolleybuses, trams, and underground run efficiently in Russian cities and towns, but can be packed with people during rush hours. The cost of a single ride is from 15 rubles (in Irkutsk) to 60 rubles (in Moscow).
Currently, big cities of Russia are getting newer and more modern busses and trolleybuses. And even if you are not a fan of public transport, you might at least consider having a ride as a part of the local life experience.
Metro
Metro is the best way to get around in many cities. Currently, the list of Russian cities with a functioning metro system includes Moscow, St Petersburg, Nizhny Novgorod, Novosibirsk, Samara, Yekaterinburg, and Kazan. There is also an underground tram in the town of Volgograd (former Stalingrad). Ticket prices vary depending on the city, e.g. the cheapest fare for a single ride is 28 rubles in Nizhny Novgorod and it is 60 rubles in the capital.
Car rental
Popular rental car services (Sixt, Europcar, Avis, and Rentalcars) are available at the airport terminals of major cities and small towns too. However, in some regions of the country, you might find only local rental companies. They may even not have a website with an English interface; thus, in such cases, hiring a driver would be a better idea. Hiring a car with a driver is the best option for your first visit, especially if you are going to explore deep Russia.
Taxi
Taxis in Russia are reasonably priced and easy to use. Most Russian people prefer Uber Russia or Yandex. Other options would be Gettaxi, Citymobil, and Taxovichkof; however, they are less popular among locals.
To facilitate the process of getting a cab in Russia, you should download special apps, e.g. Yandex or Uber Russia.
Where To Stay In Russia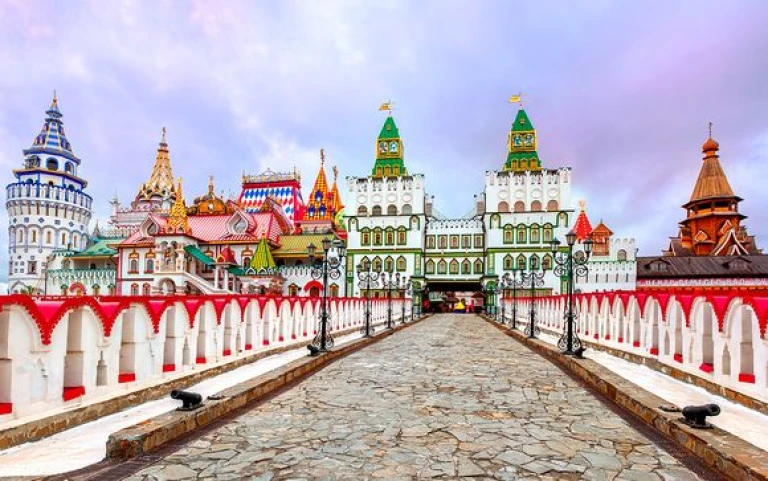 When it comes to accommodation in Russia, the country offers a wide array of hotels, ranging from luxurious options to more budget-friendly ones. However, it's important to note that even the more modest hotels typically come with a price tag of at least $100 per night. An alternative worth considering is renting an apartment. This not only tends to be more cost-effective but also provides the added convenience of having your own kitchen. Given that dining out in Russia can be on the expensive side, taking advantage of local supermarkets and preparing some of your meals at home can lead to significant savings. This way, you can enjoy the convenience and comfort of home-cooked breakfasts and dinners while exploring all that Russia has to offer.
Things to do in Russia
Explore Red Square in Moscow: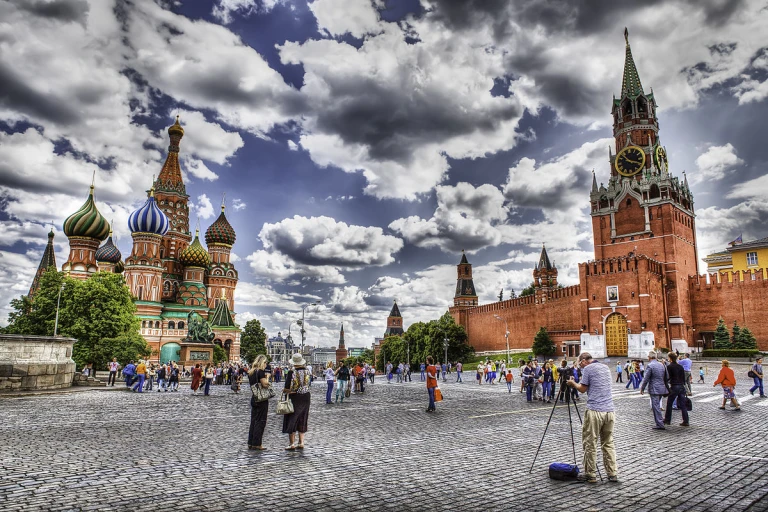 The Red Square is a UNESCO World Heritage Site in Moscow and the biggest of its kind in the world. Fringed by Cathedrals and palaces and malls alike, the Red Square is a good place to spend a morning, scouting Russian history and indulging in some shopping therapy at GUM Department Store.
Visit the Winter Palace of St. Petersburg: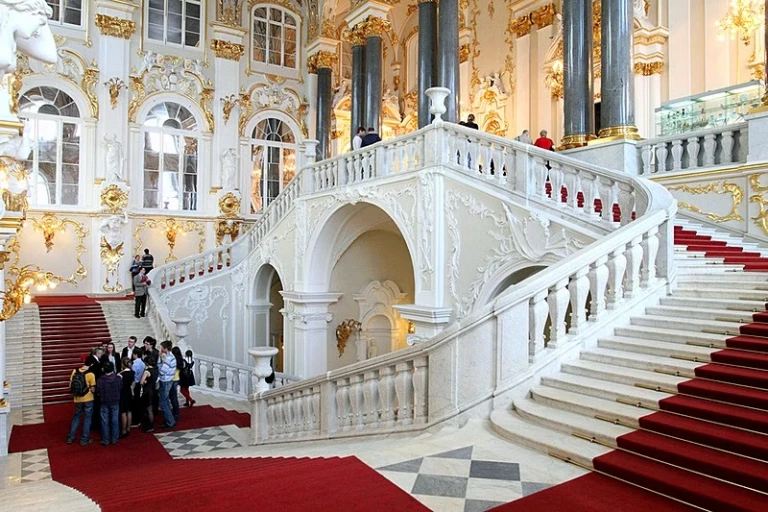 St. Petersburg is known for many things, but it is best known for the Tsar's Winter Palace, that has become an uncrowned stamp of Russia. With its beautiful build and stunning art and gold work, the Winter Palace must be explored at least once in a lifetime.
Explore the Kremlins: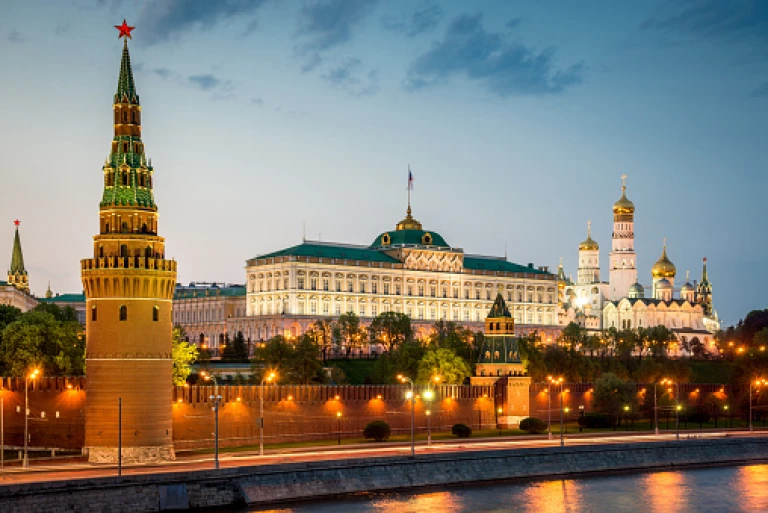 In Russia, a Kremlin was a fortified city, which later spilled over into the modern townships that we see. Moscow Kremlin is one of the most beautiful and touristy places to visit when in the capital. It has the seat of the Russian Government and the President's Office, along with palaces where state dinners are hosted and cathedrals that are as beautiful as fairytale castles. You must spend a day around here.
Go to the City of Dead: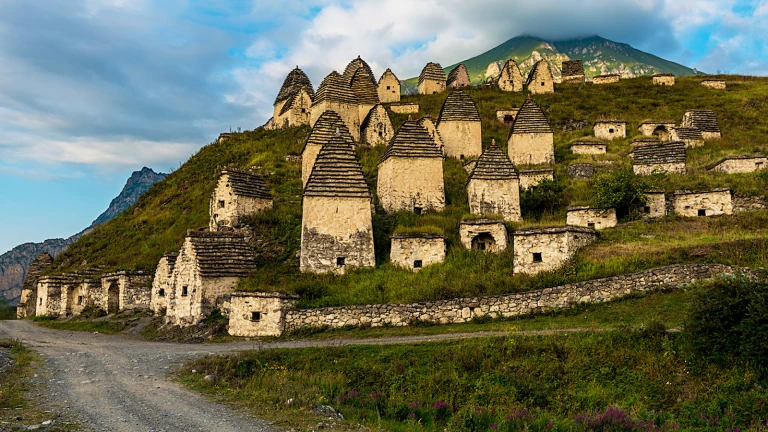 A tour of the City of Dead is really a mix of history, tragedy and poetic beauty. This village, known as Dargavs is really only a collection of empty time-ravaged houses and a cemetery with 100 crypts of the families that died here due to a plague back in the 1600s. The tour is highly coveted when in Russia.
Skiing: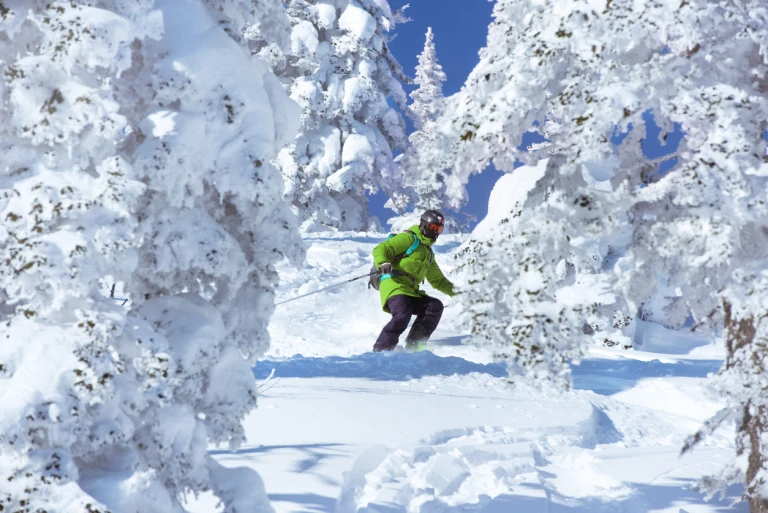 Those who love winter and snow sports, Russia is your haven. Because the country is knee deep in snow for more than 6 months in a year, skiing resorts do great business. Visit the Red Valley, Baikal Lake and the Serbian stretch to enjoy breathtaking sceneries and thrilling slopes to snowboard and go skiing.
What To Eat In Russia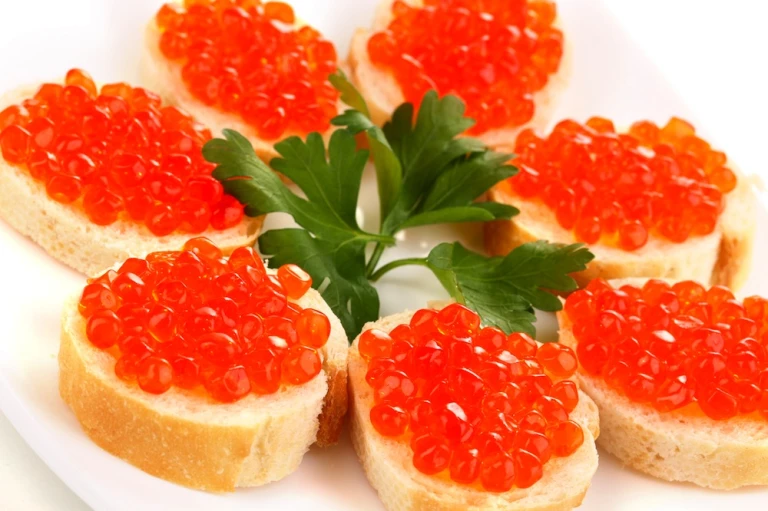 Russian cuisine is deeply influenced by the country's fertile soil, which yields an abundance of grains and vegetables. These ingredients form the basis of a delightful array of dishes including bread, salads, appetizers, and soups.
Additionally, Russia's extensive waterways provide a diverse selection of fish, and like many cold-climate regions, there is a fondness for hearty, rich dishes.
Here are some culinary highlights to keep an eye out for: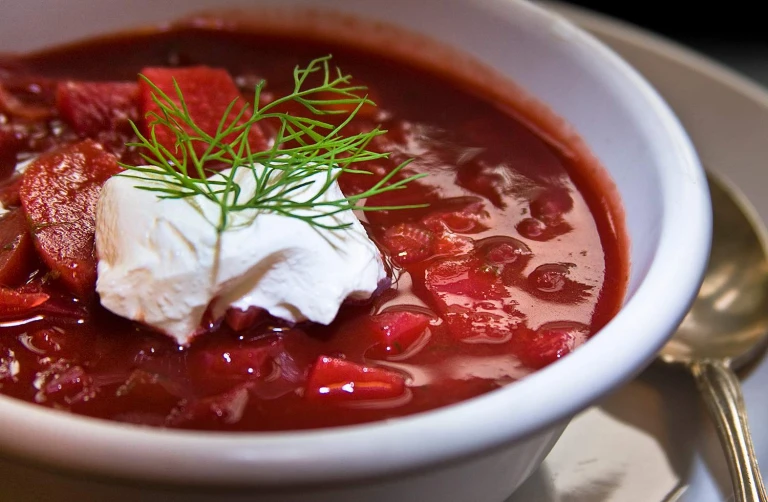 Soups - Try the classic ukha, which features strong fish tastes, or the zingy and meaty solyanka. Both of these meals are well-known Russian soups that highlight the wide variety of ingredients used in their cooking.
The solyanka delivers a robust and substantial blend of meats and vegetables, while the ukha is renowned for its delicate balance of tastes.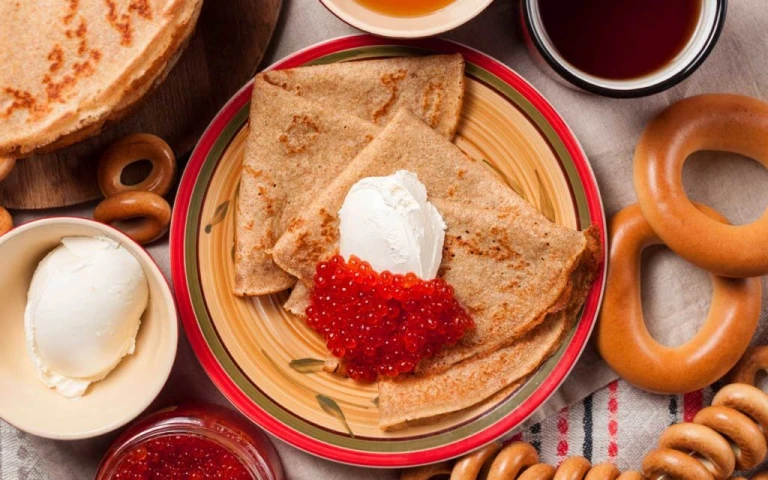 Bliny (pancakes) - These frequently come with opulent toppings like ikra (caviar) or tvorog (cottage cheese), providing a mouthwatering contrast of tastes and textures.
The tvorog contributes a creamy and somewhat acidic flavor to the meal, while the ikra gives it a rich and briny flavor. When combined, these toppings improve the overall pleasure of consuming these delicious delicacies.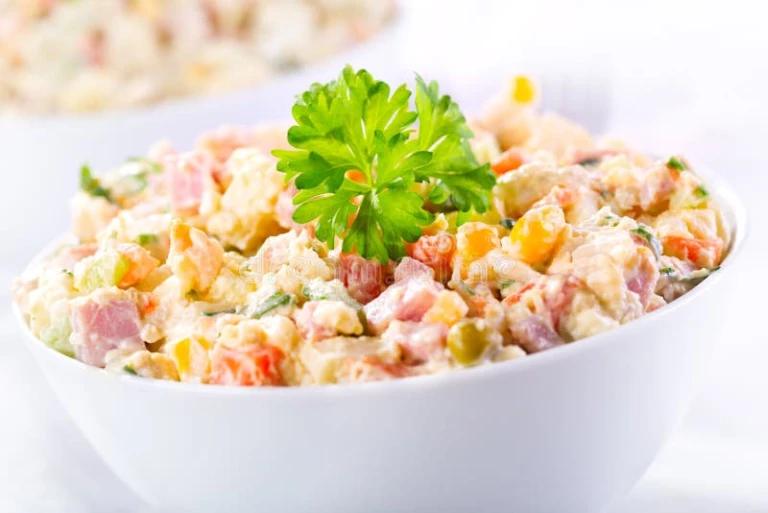 Salads - In Russian cuisine, a variety of salads are widely consumed and frequently lavishly covered in mayonnaise. You must taste the traditional Olivier salad, which includes diced potatoes.
The crisp vinegarette salad, which is created with beets and pickles, and the vibrant herring beneath a fur coat salad, which is stacked with herring, potatoes, carrots, and beets, are other common salads in Russian cuisine. During festive events, these salads are frequently eaten as appetizers or side dishes.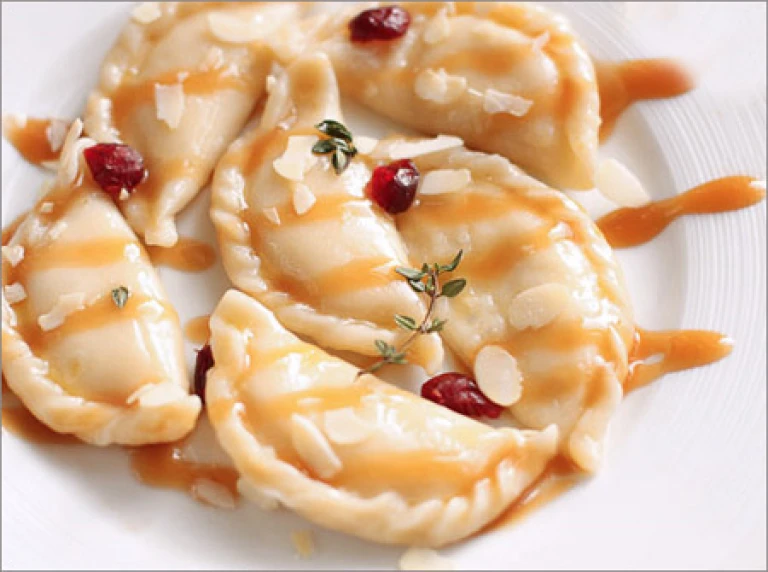 Pelmeni (dumplings) - Enjoyed with a dollop of sour cream and a spritz of vinegar, these delectable pockets of dough are filled with flavorful meat. A delectable sensation is produced by the marriage of the tasty meat filling and the delicate bread.
The richness of the meal is well balanced by the tanginess of the sour cream and vinegar, which creates a light contrast.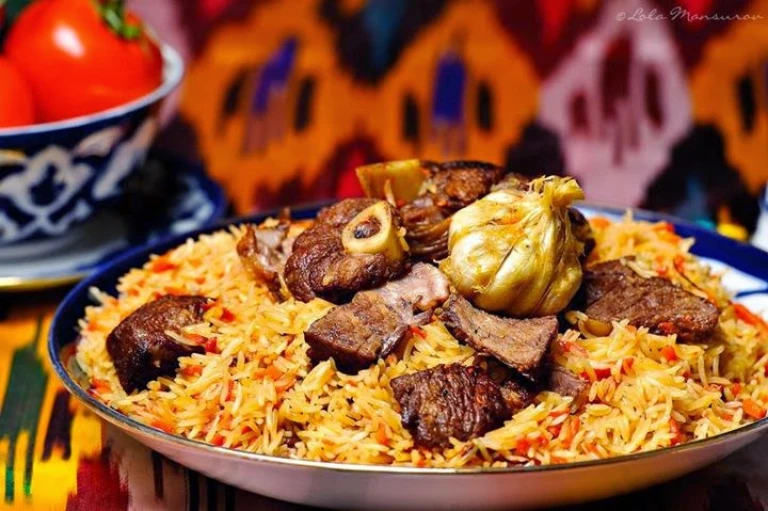 Central Asian influences - Discover regional tastes with delicacies like lagman, a delicious noodle dish, shashlyk, a sort of kebab, an Uzbek pilaf, or plov. These recipes frequently feature a special combination of spices and ingredients, showcasing the rich culinary tradition of Central Asia.
Each meal delivers a magnificent explosion of sensations that will take you to the heart of Uzbekistan or Tajikistan, from the aromatic rice in plov to the juicy grilled meat in shashlyk.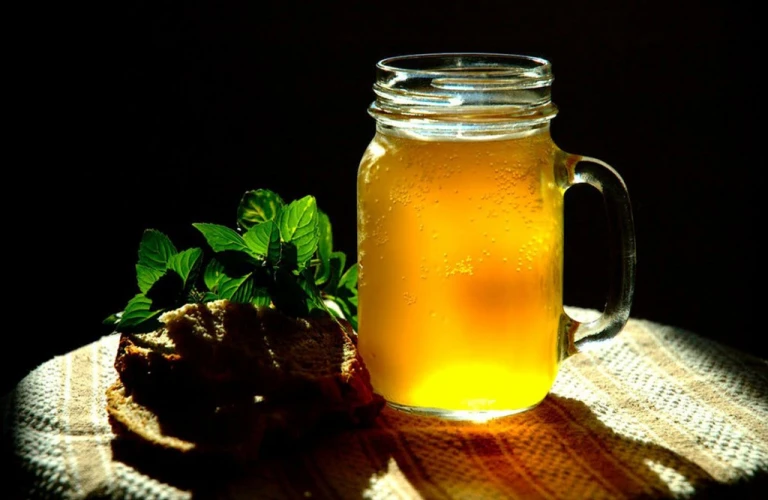 Kvas - This is a cool drink with a taste that's similar to beer and has a distinctive flavor.
Alternatively, for a delicious rush of fruity flavor, try Mors, a concoction of red berry liquids. Both Kvas and Mors are well-liked traditional Russian libations that go well with meals or on their own.
While mors is lauded for its sweet and tart undertones, making it the ideal choice for those yearning for a pleasantly fruity drink, kvas is renowned for its somewhat acidic and bread-like flavor.
A wide range of palates are catered to by the rich and tasty diversity of Russian cuisine. Without relying on Western fast-food establishments, dining in Russia is inexpensive and delectable.
The nation has its own fast-food restaurants with street-side kiosks and comfort food options. There are several inexpensive "business lunches" available in bars and restaurants.
It is best to use bottled water or Kvass instead of tap water and ice in beverages. Think about pairing the Survival Water Filter Pro with a Sistema reusable bottle for a budget-friendly and environmentally-friendly solution.
To conclude
Embarking on a journey to Russia as a tourist is an opportunity like no other. This vast and diverse country boasts a wealth of attractions that cater to a wide range of travel interests. From its breathtaking natural wonders to the captivating allure of its ancient cities, Russia has something to offer every type of tourist.
Whether you're drawn to the pristine beauty of its landscapes or the rich history of its cities, a visit to Russia promises a truly unforgettable experience.
So, pack your bags and prepare to explore the wonders of this remarkable nation, because Russia is waiting to welcome you with open arms.
Also read: Exploring Russia on a Budget: Essential Travel Tips for Affordable Trips