Qatar, a Middle Eastern gem, seamlessly blends ancient traditions with modernity, alluring Indian travelers of diverse backgrounds. From the age-old practices of falconry and camel racing to the adrenaline-pumping water sports and upscale dining experiences, the country offers a tapestry of experiences. Doha, the bustling capital, boasts a skyline adorned with architectural wonders, while the vast desert serves as a playground for thrilling 4x4 adventures and conceals historical treasures. Along the coastline, kite surfers revel in the gusty winds, and the western beaches exude a pristine beauty. Qatar caters to a spectrum of preferences, be it a lively family retreat, an adventure-filled holiday, an immersion in rich culture, a luxurious resort stay, a theme park escapade, or a world-class shopping spree. Families, especially those with children and teenagers, receive a warm welcome, as Qatar unfurls a tapestry of experiences destined to forge cherished memories.
Can I travel to Qatar from India?
Qatar warmly welcomes Indian travelers, extending its doors for both tourism and business purposes. This open policy provides an excellent opportunity for Indian nationals to explore the rich culture and vibrant landscapes of Qatar, as well as engage in various business ventures and collaborations.
Visa Requirements for Indian travellers to Qatar
For Indian travelers seeking a Qatar visa, there are specific eligibility criteria that must be met:
Firstly, applicants must have valid and justifiable reasons for their visit to Qatar.

Secondly, travelers need to demonstrate that they possess sufficient financial resources to support themselves and any dependents for the duration of their stay.

Additionally, Indian citizens must assure of their intention to return to India following their stay in Qatar.

Applicants are also required to maintain a clean criminal record and may be asked to furnish a Police Clearance Certificate (PCC) as evidence of this.

Furthermore, meeting the minimum health criteria set by the authorities is imperative.

Individuals must have a clean slate in terms of criminal records.

In terms of required documentation, Indian travelers need to submit the following:

A passport with blank pages and a validity of at least 6 months.

Two recent colored passport-size photographs.

Two photocopies of the first pages of the passport.

An invitation letter or application from a Qatar resident (for tourist visas).

Confirmed flight tickets.

Proof of hotel or accommodation reservation.
For specific types of visas, additional documents are necessary:
Business Visa:
Photocopy of a Qatari residence permit or ID.

Original and photocopy of a passport with a minimum validity of 6 months.

Two recent passport-size photographs.

A letter from the employer in Qatar detailing the purpose of the business, the name of the Indian organization involved in the business, and specific applicant details.
Tourist Visa:
Original passport with a minimum validity of 6 months (with two blank pages for visa stamp).

Recent photographs.

PAN card.

Confirmed flight tickets to and from Qatar.

Proof of accommodation or hotel reservation.
Covid Info & Vaccination Requirements for Qatar
As of November 1, 2022, Qatar eagerly awaits the arrival of visitors with updated entry rules designed to facilitate a smooth and hassle-free experience. Notably, travelers entering the State of Qatar are no longer mandated to present a Polymerase Chain Reaction (PCR) or Rapid Antigen test certificate before their journey.

Moreover, for citizens and residents of Qatar, there is no longer a requirement to undergo a Rapid Antigen test, nor a PCR test, upon arrival in the country. This adjustment in protocol signifies a significant step towards normalizing travel procedures for Qatar's populace.

It is worth noting that Indian travelers, too, are currently being welcomed without specific COVID-19 testing or quarantine measures. However, it is advised to have your vaccination certificates readily available, as this may serve as a precautionary measure. This streamlined approach not only demonstrates Qatar's commitment to ensuring a seamless travel experience but also reflects the nation's confidence in its vaccination efforts.

Overall, these updates reflect Qatar's dedication to maintaining a safe and welcoming environment for visitors, while also prioritizing the well-being of its residents. As you plan your visit to the State of Qatar, rest assured that the entry process has been streamlined for your convenience, emphasizing a warm welcome and a hassle-free journey.
Which Flights to Qatar from India?
International airports in Qatar
Hamad International Airport:
Location: Located in the capital city, Doha.

Significance: It is the primary and major international airport in Qatar.

Facilities: Offers world-class amenities including shopping, dining, lounges, and transit hotel services.

Terminals: Comprises two main terminals - Terminal 1 for international flights and Terminal 2 for domestic flights.

Airlines: Serves as a hub for Qatar Airways and offers a wide range of international carriers.

Connectivity: Well-connected to major cities around the world, making it a crucial hub for global travel.
Unscheduled Airports (Al Khor Airport; Doha International Airport):
Al Khor Airport: Located in the city of Al Khor, it primarily serves as a general aviation facility.

Doha International Airport: Previously served as the main international airport for Qatar before the inauguration of Hamad International Airport.

Usage: Both these airports, while significant, are not designated as major international airports and mainly handle unscheduled or non-commercial flights.

Facilities: Offer more limited amenities compared to Hamad International Airport, with a focus on general aviation services.
Which airlines operate direct flights, and from which Indian airports
Doha International Airport serves as a pivotal gateway for travelers flying between India and Qatar. Air India Express and IndiGo Air offer direct flights from multiple Indian cities to Doha, providing convenient options for passengers. These flights cater to various regions in India, ensuring easy connectivity for both business and leisure travelers.
Direct Flights to Doha International Airport:
Air India Express (BOM, CCJ, CNN, COK, IXE):
Departure Cities: Mumbai (BOM), Kozhikode (CCJ), Kannur (CNN), Cochin (COK), and Mangalore (IXE) Offers direct flights to Doha, providing convenient travel options for passengers in these cities
IndiGo Air (BLR, BOM, CCJ, COK, DLE, HYD, MAA)
Departure Cities: Bangalore (BLR), Mumbai (BOM), Kozhikode (CCJ), Cochin (COK), Delhi (DEL), Hyderabad (HYD), Chennai (MAA) provides direct flights to Doha from various Indian cities, ensuring seamless connectivity between India and Qatar.
These direct flight options cater to a wide range of regions in India, making it convenient for travelers from different parts of the country to reach Doha International Airport. Whether for business purposes, family visits, or leisure travel, these flights offer efficient and reliable services for passengers traveling between India and Qatar.
Which other common airline options (1 connection)
Even though you can fly directly to Qatar, you might find an indirect flight more convenient. You'll likely stop at:
Kuwait City Airport (KWI) with Jazeera Airways flights from Chennai Airport (MAA) to Doha Airport (DOH),

Muscat Airport (MCT) on flights from Mumbai Airport (BOM) to Doha,

Abu Dhabi Airport (AUH) on flights with Etihad Airways from New Delhi (DEL) to Doha.
Doha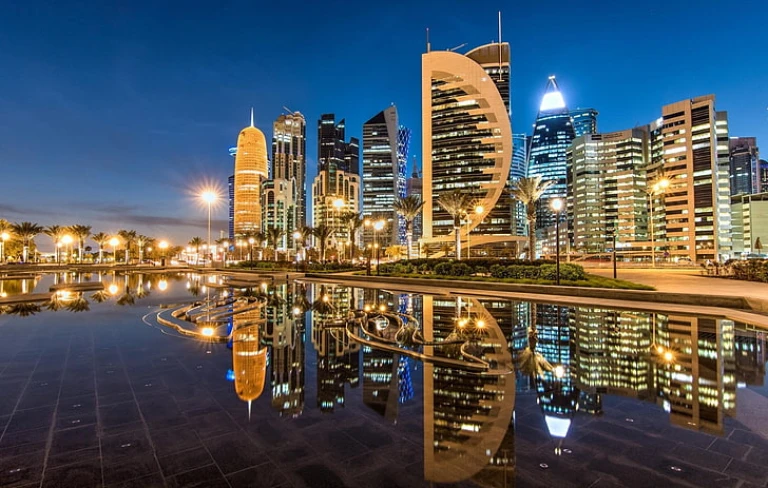 What you need to know before you go
Doha, a burgeoning gem in the heart of the Middle East, is poised for greatness, rapidly ascending as a global focal point. In response to the surging demand, the city is meticulously developing its infrastructure and expanding its array of attractions. Remarkably, this growth is harmoniously woven around its historical charms and time-honored traditions, resulting in a juxtaposition of modern shopping malls and historical roots.
Beyond its role as the host city for the highly anticipated 2022 FIFA World Cup, Doha boasts a selection of must-see attractions. Among them stands the awe-inspiring Museum of Islamic Art, alongside the grandeur of Souq Waqif. A visit to the picturesque Corniche is also a must, offering a glimpse of wooden dhows gracefully bobbing in the bay against a backdrop of towering skyscrapers.
Seasonal Guide to Qatar
Qatar experiences a desert climate characterized by scorching summers and mild winters.
Winter Season
The best time to visit Qatar is during the winter months:
From November to April.
During this period, the weather is pleasantly cool, making it ideal for outdoor activities and exploration.

Daytime temperatures range from 20°C to 25°C (68°F to 77°F), offering a comfortable atmosphere for sightseeing and adventures.

Additionally, this season provides a respite from the intense heat that prevails in the summer months.
From December to February,
Indian travelers can expect pleasant weather with temperatures ranging from 19.3 to 24 degrees Celsius.

This period is widely considered the best time to visit Qatar. The milder climate allows for comfortable sightseeing experiences, complemented by a refreshing breeze.

Additionally, this season presents opportunities to engage in various cultural festivals and enjoy the picturesque beaches. It is an ideal time for tourists to immerse themselves in the rich traditions and vibrant culture that Qatar has to offer.
Some recommended activities during the winter months in Qatar include:
Exploring Cultural Festivals: Participate in the numerous cultural festivals that occur during this time, offering a glimpse into Qatar's rich heritage and traditions.

Beach Leisure: Take advantage of the mild weather to relax on Qatar's stunning beaches, enjoying the serene coastal views.

Sightseeing: Embark on tours to explore the country's iconic landmarks, historical sites, and architectural wonders.

Outdoor Adventures: Engage in outdoor activities such as desert safaris, dune bashing, and water sports, taking advantage of the comfortable weather conditions.

Enjoying Local Cuisine: Indulge in the diverse and delectable Qatari cuisine, with its blend of Middle Eastern flavors and influences.

Shopping Excursions: Explore the bustling souqs and modern malls, where travelers can find unique souvenirs and experience the vibrant local market scene.
Overall, the winter months provide Indian travelers with an optimal window to experience the best of Qatar's culture, landscapes, and attractions in a comfortable and enjoyable setting.
Currency Information of Qatar
The official currency of the State of Qatar is the Qatari riyal (QAR). As of September 16, 2023, at 02:30 UTC, the exchange rate stands at 1 Qatari riyal equivalent to 22.824512 Indian Rupees (INR).
Getting around in Qatar
Airport transfers
For travelers seeking independence and flexibility in their transportation, Qatar offers an accessible and cost-effective public transport system.
The bus network efficiently links Hamad International Airport to various destinations within the city, providing a convenient mode of travel. To utilize the bus service, passengers must use a Karwa Smartcard, obtainable at HIA help desks near baggage claim belts 5 & 6.

Karwa taxis stand as a convenient and flexible option for commuting to and from Hamad International Airport. The taxi pavilion is conveniently located to the left of the arrivals hall.

All taxis are equipped with meters, and the initial fare from the airport starts at QAR 25 (USD 7), with cash payments accepted in Qatari Riyal exclusively. The average travel time to the city center is approximately 30 minutes.
Rent a Car
For those inclined towards self-driving or renting a vehicle, a variety of local and international car rental agencies operate in Qatar, some with branches at HIA, such as Avis, Budget, Europcar, and Hertz.
Ride-hailing
Limousines
Elevate your travel experience with Mowasalat's brand-new limousines, ranging from the prestigious Mercedes S-Class for business engagements to the environmentally-conscious Audi E-Tron for a sleek and sustainable ride, or the luxurious Mercedes V-class for family travel.
Metro
The state-of-the-art Doha Metro system is now in operation, seamlessly connecting key points of interest throughout Doha. While primarily subterranean at present, an above-ground tram system is in progress and is expected to be unveiled soon.
The Doha Metro encompasses three lines: Red, Green, and Gold, featuring a total of 37 stations spread across 76 km. The lines converge at the centrally located Msheireb Station, close to Doha's primary cultural attractions.
The Red (coastal) Line links Hamad International Airport to West Bay, Katara Cultural Village, Qatar University, and Lusail.

The Green (educational) Line connects Hamad Hospital, Al Bidda Park, Qatar Foundation's Education City, and Mall of Qatar.

The Gold (historic) Line passes through Khalifa Stadium, and Villaggio Mall, proceeding to Souq Waqif and the National Museum of Qatar.
Railways
This automated rail network showcases some of the world's fastest driverless trains.
When compared:
India and Qatar both offer distinct public transport systems tailored to their unique contexts. India, with its vast and diverse landscape, boasts an extensive network of buses, trains, metros, and local modes of transport like auto-rickshaws. While occasional congestion and varying levels of accessibility can be observed, India's public transport admirably caters to the demands of its large population. Affordability is a key feature, making it accessible to a wide demographic.
In contrast, Qatar's public transport system is more streamlined and modern, reflecting its smaller size and higher economic status. The country features an efficient bus network, well-planned metro lines, and reliable taxi services. While fares may be higher, the convenience and comfort provided align with Qatar's higher standard of living. The infrastructure is designed to cater to a population with different mobility patterns, offering a contemporary and efficient mode of transportation.
TRENDING NOW IN QATAR
Explore Qatar through the eyes of a falcon
Located within the confines of Souq Waqif, the Falcon Souq is one of the most exciting places to visit in Doha. Embark on a captivating journey as we invite you to explore the wonders of Qatar through the enchanting eyes of a falcon. In this video, we've unleashed the spirit of this majestic bird to showcase the beauty and hidden treasures of Qatar like never before.
Qatar's Panda House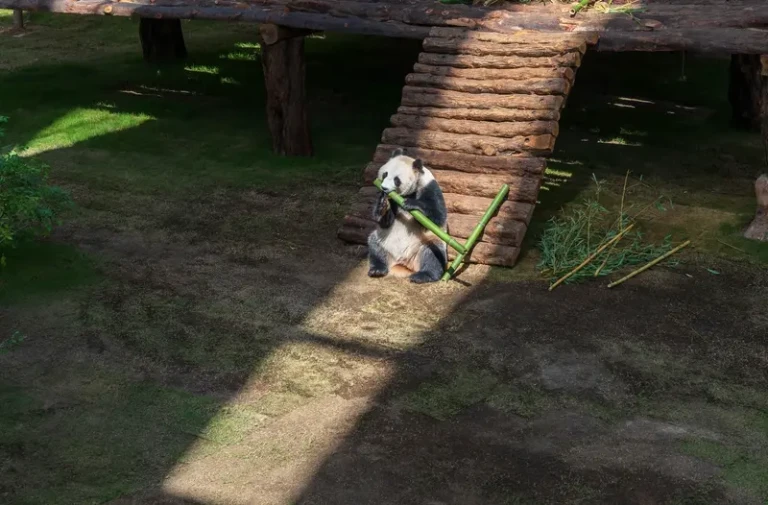 Visit the Middle East's first-ever panda park to meet our newest resident giant pandas and find amazing entertainment at neighboring Al Khor Family Park. Just 50 km north of Doha you'll get up close to two lovable pandas living in a spacious custom-built panda house. The pandas live in supreme comfort inside this magnificent enclosure – one of the largest in the world. Caretakers look after their well-being around the clock and communicate with them in Mandarin and English. Staff are also learning the Sichuan dialect to make the first pandas in Qatar feel at home.
The Qatar Calendar 'Summer Edition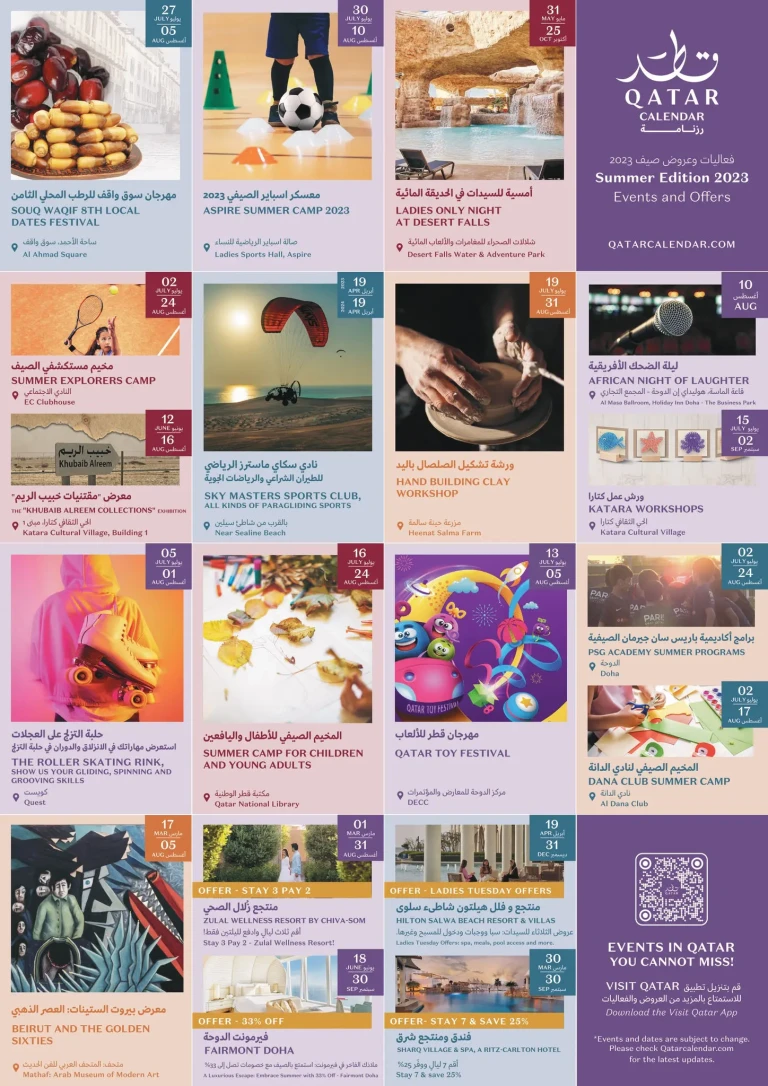 Qatar Tourism has unveiled the latest edition of its tourism guide, Qatar Calendar, showcasing a fun-filled lineup of events, offers, and activities taking place over the summer months in Qatar.
From enriching cultural experiences to adrenaline-pumping adventures and activities to keep the little ones busy, the Qatar Calendar 'Summer Edition' caters to all interests and ages, guaranteeing a memorable summer season for residents and visitors in Qatar.
Popular Attractions
Education City
The flagship initiative of the Qatar Foundation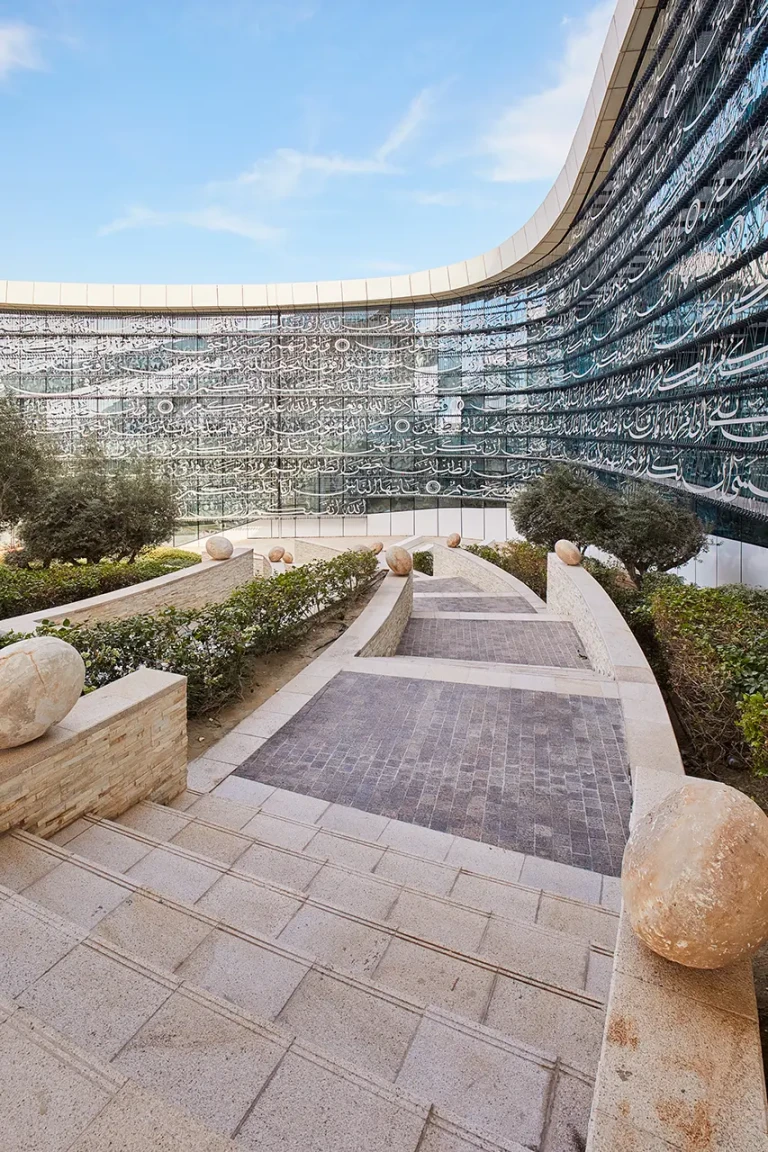 Unlike any other place in Qatar, Education City is home to branch campuses of some of the world's leading educational institutes, a homegrown research university, start-up incubators, technology parks, heritage sites, cultural institutions, and much more.
The Pearl-Qatar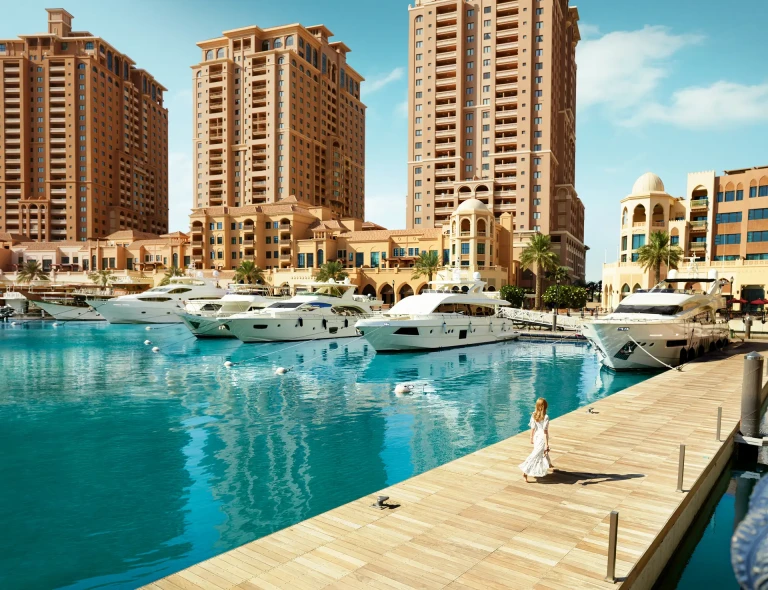 The Pearl Qatar is a man-made island near Doha's prestigious West Bay District. Featuring Mediterranean-style yacht-lined marinas, residential towers, villas, and hotels, the area also offers a luxurious shopping experience with premium designer boutiques and showrooms. The Island is also home to modern dining spots - from refreshing ice creams to five-star culinary experiences, and stands out for its pedestrian-friendly squares and plazas along with its wide range of landscaped gardens. The Pearl is a popular visitor attraction by its elegance, and inviting descriptions such as the 'Arabian Riviera'.
Conclusion
Qatar beckons Indian travelers with a blend of rich traditions and modern experiences. With open doors, streamlined visa procedures, and enhanced safety measures, Qatar promises a memorable journey. From architectural marvels to cultural treasures, and pristine beaches to desert adventures, Qatar offers a tapestry of experiences that leave a lasting impression on every visitor. So, pack your bags and embark on a journey to discover the enchanting land of Qatar.
Also read: 10 Must-Visit Tourist Places in Qatar for Your Itinerary in 2023