Pune, often referred to as the "Oxford of the East" or the "Cultural Capital of Maharashtra," is a vibrant city that seamlessly blends its rich historical heritage with a modern, cosmopolitan lifestyle. Known for its educational institutions, IT hubs, and delectable street food, Pune is a treasure trove of tourist attractions waiting to be explored in 2023. With a diverse range of experiences, from exploring ancient forts and serene hill stations to indulging in the city's lively arts and culinary scene, Pune has something to offer to every traveler.
In this article, we will take you on a journey through Pune's top 20 must-visit places and attractions. Whether you're a history buff, nature enthusiast, foodie, or simply seeking an unforgettable getaway, Pune has it all. So, pack your bags, put on your explorer's hat, and get ready to embark on a memorable journey through Pune.
1. Shaniwar Wada
Shaniwar Wada, Pune's most iconic landmark, is a historical fortification that tells a tale of the city's rich history. This 18th-century fort is a must-visit destination for history enthusiasts and those keen on exploring Maratha heritage. Shaniwar Wada is an architectural masterpiece, displaying a fusion of Mughal and Maratha styles.
The fort is known for its imposing walls, bastions, and gates, which have witnessed countless historical events. As you enter through the grand Delhi Gate, the imposing facade of Shaniwar Wada leaves you awe-struck. While much of the fort was destroyed in a fire, there are several structures and features still intact, such as the Thorlya Rayancha Diwankhana, the Nagarkhana, and the Ganpati Hall.
The highlight of the visit is the light and sound show that takes place in the evenings. It vividly narrates the fort's history and the legends associated with it. Shaniwar Wada is a fantastic place to start your Pune exploration and immerse yourself in the city's historical grandeur.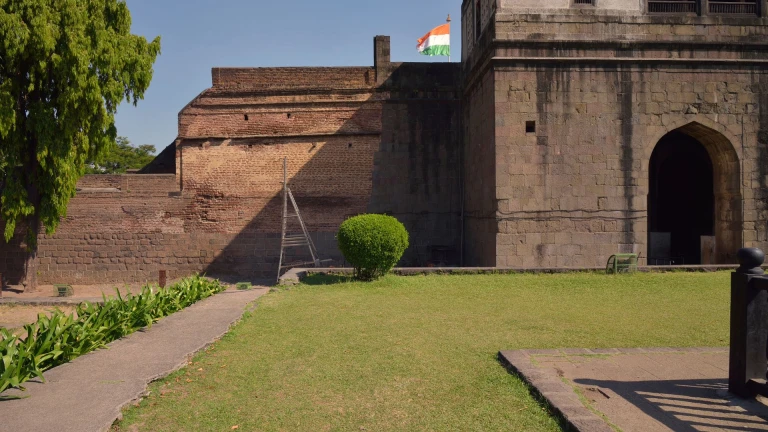 2. Aga Khan Palace
Aga Khan Palace isn't just a historical marvel; it's a place with deep significance in India's freedom struggle. This elegant palace, set amidst lush gardens, is an architectural gem. It was built by Sultan Muhammed Shah Aga Khan III in 1892 and later served as a prison for Mahatma Gandhi and other freedom fighters.
The palace stands as a symbol of India's struggle for independence and the sacrifices made by those who fought for the nation's freedom. Within the palace, you'll find a museum that displays photographs and personal belongings of Mahatma Gandhi. Strolling through the palace and its gardens, you'll be transported to a significant chapter in India's history.
Aga Khan Palace is an excellent place for history enthusiasts, and it also provides a peaceful environment for leisurely walks and reflection. The well-maintained gardens are a welcome retreat from the bustling city life.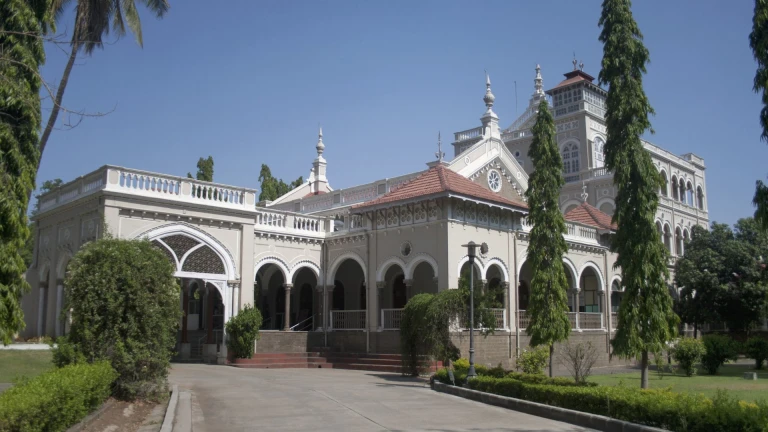 3. Sinhagad Fort
Sinhagad Fort, situated atop a hill, offers breathtaking panoramic views of Pune city and the surrounding countryside. This fort, with its rich history and natural beauty, is a favorite among history buffs and nature lovers alike.
The journey to Sinhagad Fort involves a scenic drive or a trek up the hill, both of which are rewarding experiences. As you reach the fort's entrance, you'll notice the statue of the Maratha warrior Tanaji Malusare, who played a crucial role in the fort's history.
Once you enter the fort, you'll encounter several structures, including the Kondana cave and the Tanaji Malusare Samadhi. While exploring the fort, you'll come across ancient temples and cannons, providing glimpses into the Maratha era.
The real highlight, though, is the view from the fort's ramparts. The vast expanse of the Sahyadri hills and the serenity of the countryside make for a memorable experience. Sinhagad Fort is an ideal place for trekking, picnicking, and enjoying the natural beauty of the Pune region.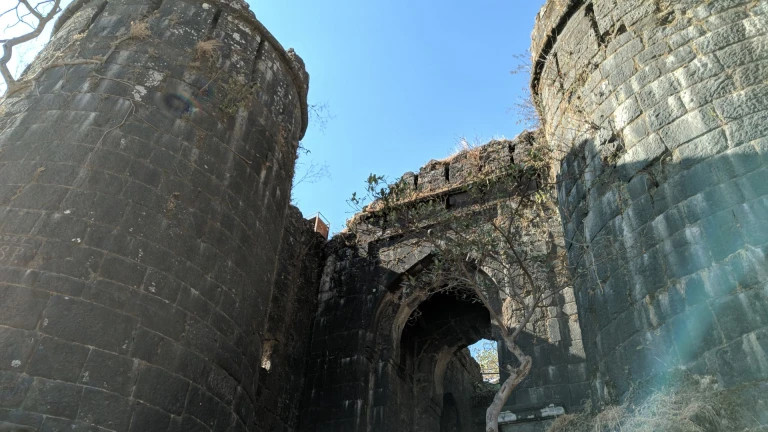 4. Osho International Meditation Resort
For those seeking spiritual rejuvenation and inner peace, the Osho International Meditation Resort is a serene oasis in Pune. Established by the spiritual guru Bhagwan Shree Rajneesh, also known as Osho, this resort offers various meditation programs and workshops to help you find inner tranquility.
The resort's ambiance is tranquil, with lush gardens, reflective pools, and a calming atmosphere. It's a haven for those looking to disconnect from the chaos of daily life and connect with their inner selves. You can participate in meditation sessions, yoga classes, and wellness programs designed to reduce stress and promote mental well-being.
The Osho Ashram, as it's often called, is open to visitors who wish to explore the teachings of Osho and experience the therapeutic benefits of meditation. Remember to check the resort's schedule for events and workshops during your visit, and be prepared to immerse yourself in a world of serenity and self-discovery.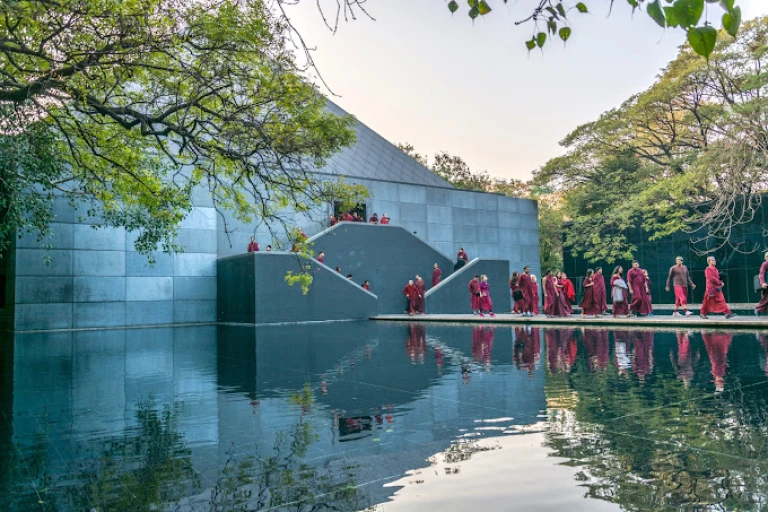 5. Raja Dinkar Kelkar Museum
The Raja Dinkar Kelkar Museum is a treasure trove of art and artifacts collected over decades by Dr. Dinkar Kelkar. Located in the heart of Pune, this museum is a journey through India's rich cultural heritage.
The museum's collection includes more than 20,000 objects, from intricate sculptures and musical instruments to traditional clothing and historical artifacts. Dr. Kelkar's passion for preserving India's heritage is evident in every corner of the museum.
Visitors can explore the various galleries, each dedicated to a specific aspect of Indian art and culture. The Mastani Mahal Gallery, in particular, stands out for its exhibits related to the legendary love story of Bajirao and Mastani.
Additionally, the museum's architecture is a marvel in itself, with its traditional Indian design and ornate wooden doors. The Raja Dinkar Kelkar Museum is a must-visit for history and art enthusiasts, offering a glimpse into India's diverse and intricate cultural tapestry.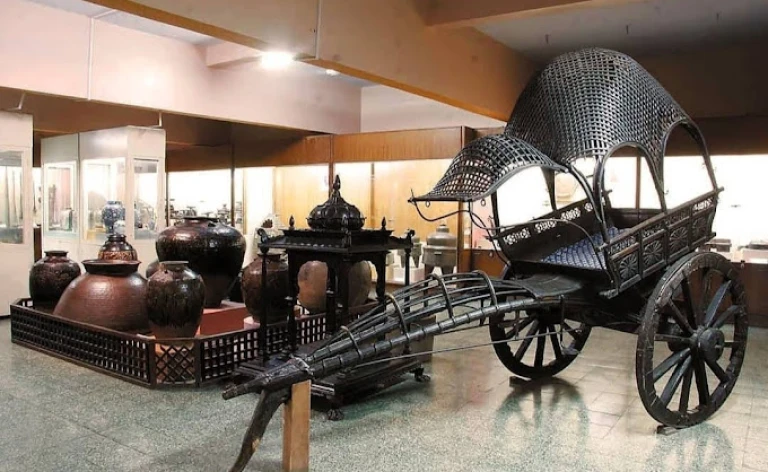 6. Parvati Hill and Temple
Parvati Hill is a charming hillock in Pune that offers not only breathtaking views of the city but also a serene escape from its bustling streets. Atop this hill, you'll find the Parvati Temple, dedicated to the goddess Parvati, and several other temples.
The climb to the top of Parvati Hill involves a series of steps, making it a delightful trek. As you ascend, you'll encounter picturesque views, gardens, and historical remnants, including the remnants of the Peshwa fort and the temple complex. The Parvati Temple, with its unique architecture, is a place of tranquility and devotion.
Sunset is an ideal time to visit as the view from the hill becomes magical with the city's lights coming to life. Parvati Hill and Temple provide an opportunity to experience both natural beauty and spirituality, all within the heart of Pune.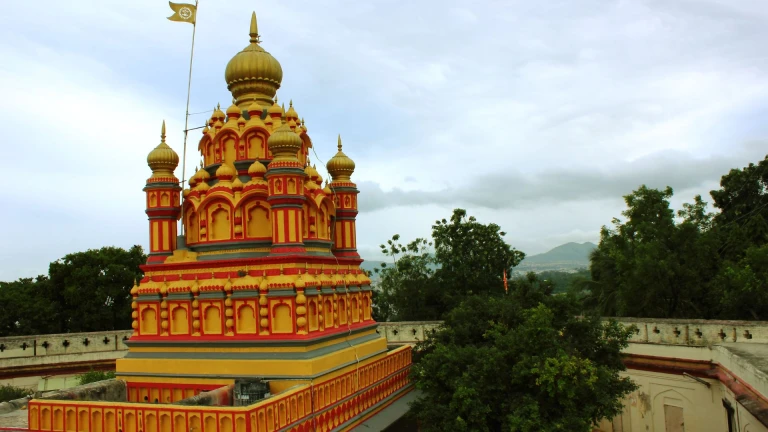 7. Pataleshwar Cave Temple
Pataleshwar Cave Temple is a remarkable ancient rock-cut temple dedicated to Lord Shiva. Located in the heart of Pune, this temple is an architectural marvel and a sacred site for Hindu devotees.
Carved out of a single rock, the temple boasts intricate stone carvings and a Shiva Linga, symbolizing the deity. The temple's unique feature is its underground sanctum, which adds an element of mystery and mystique to the site.
Visiting Pataleshwar Cave Temple is like stepping back in time. It provides an opportunity to appreciate the intricacies of ancient Indian rock-cut architecture and immerse yourself in the spiritual ambiance. The temple's serene courtyard and the soothing echoes of hymns create an otherworldly experience.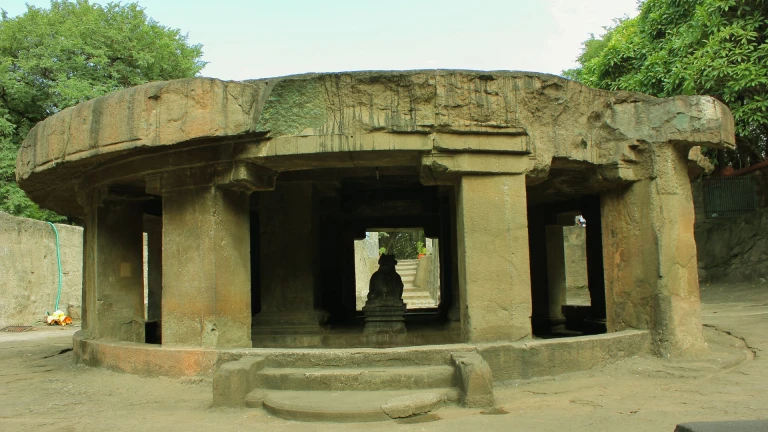 8. Shinde Chhatri
Shinde Chhatri is a fine example of Maratha architecture and a memorial dedicated to the 18th-century military leader, Mahadji Shinde. It's renowned for its intricate designs and ornate carvings that reflect the opulence and grandeur of the Maratha rulers.
The structure is a beautiful blend of Rajasthani and Maratha architectural styles, featuring a domed shikhara and a grand entrance gate. The chhatri, which means "umbrella" in Hindi, is a symbolic representation of the warrior's valor.
Visitors can explore the various chambers and halls within Shinde Chhatri, each adorned with remarkable carvings and artifacts. The temple complex also houses a memorial to the horses that served the Maratha army.
Shinde Chhatri stands as a testament to the Maratha heritage and offers a glimpse into the regal past of Pune. It's an architectural gem and a historical treasure that every visitor to Pune should experience.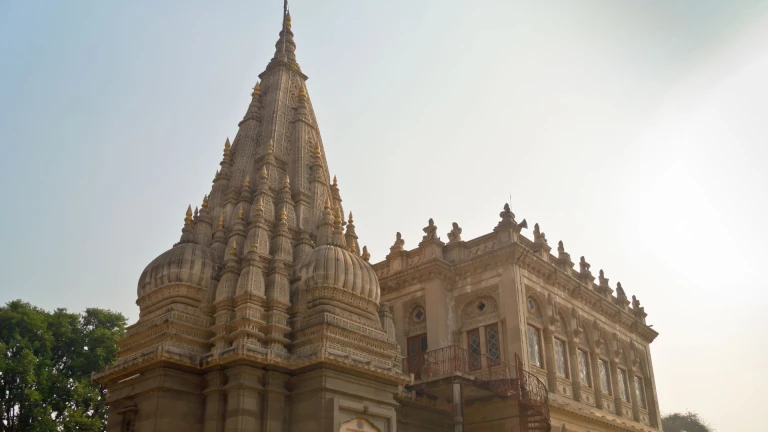 9. Saras Baug
Saras Baug is a popular park and temple complex that offers a peaceful escape in the heart of Pune. The gardens, the lake, and the Ganesh Temple make it a delightful place to visit, especially for families and nature lovers.
The centerpiece of Saras Baug is the Talyatla Ganpati Temple, dedicated to Lord Ganesha. The temple is situated in the middle of a small lake, accessible via a narrow bridge. It's an idyllic spot for devotees and provides a picturesque backdrop for photography.
The well-maintained gardens and walkways around the lake offer a serene environment for a leisurely stroll or a picnic. The park is a lovely spot to relax and enjoy the beauty of nature right in the heart of the city. If you visit during festivals, the temple and the entire complex come alive with colorful decorations and celebrations.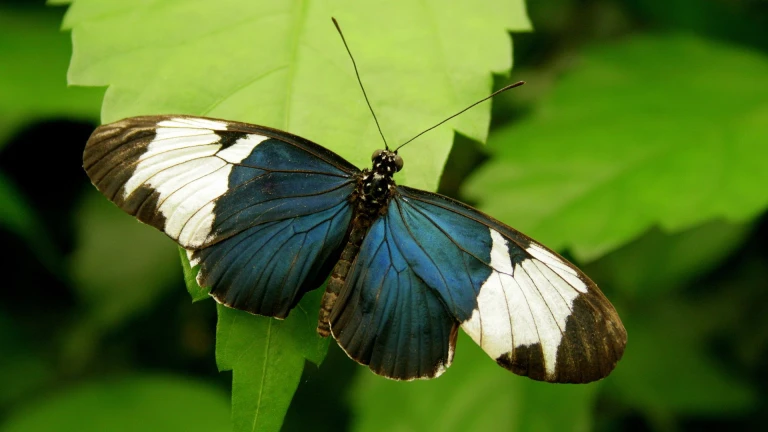 10. Pune Okayama Friendship Garden
The Pune Okayama Friendship Garden, also known as Pu. La. Deshpande Garden, is a beautiful Japanese garden that symbolizes the strong bond between Pune and Okayama, Japan. The garden is a tranquil spot to relax and enjoy nature's beauty.
Strolling through this meticulously landscaped garden, you'll encounter traditional Japanese elements such as cherry blossoms, zen gardens, and koi ponds. It's a peaceful oasis that provides a stark contrast to the city's hustle and bustle.
The garden is named after the renowned Marathi writer, Pu. La. Deshpande, who played a significant role in establishing this friendship garden. It's a popular spot for photography, meditation, and a leisurely afternoon spent amid serene surroundings.
11. Dagdusheth Ganpati Temple
The Dagdusheth Ganpati Temple is one of Pune's most significant religious sites, dedicated to Lord Ganesha. The temple, founded by a sweetmeat seller named Dagdusheth Halwai, is beautifully decorated during festivals and attracts devotees from far and wide.
The temple's Ganesha idol is revered for its grandeur and beauty. It's adorned with real gold and precious gems, making it an awe-inspiring sight. The temple comes to life during the Ganesh Chaturthi festival, with elaborate decorations, processions, and cultural performances.
Visiting the Dagdusheth Ganpati Temple offers not only a spiritual experience but also a cultural one. The devotion and fervor of the worshippers, coupled with the temple's exquisite decorations, provide a sense of the local traditions and beliefs.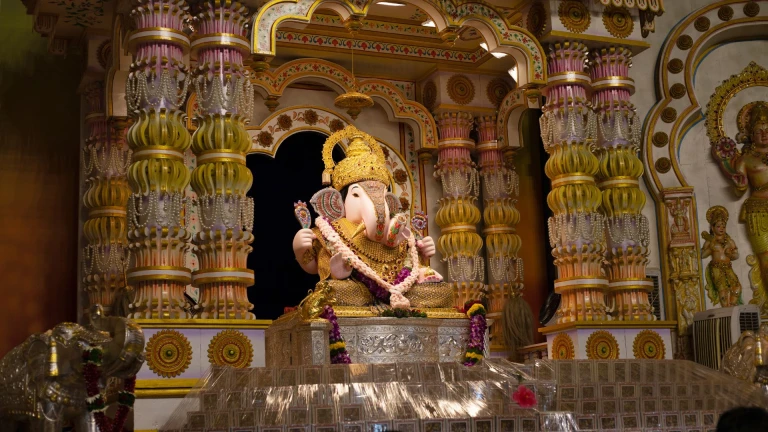 12. Mulshi Lake and Dam
Mulshi Lake and Dam is a picturesque destination nestled in the Sahyadri hills, about 45 kilometers from Pune. This reservoir is surrounded by lush greenery and offers a serene atmosphere for nature enthusiasts.
The drive to Mulshi is a delightful experience in itself, with winding roads that provide stunning vistas. Upon arrival, you can enjoy a leisurely stroll by the lakeside, relish a picnic, or partake in various activities, including boating and bird-watching.
The Mulshi Lake area is also known for its eco-friendly resorts, making it an ideal spot for a weekend getaway. The tranquil surroundings and the soothing sound of water create a peaceful atmosphere that's perfect for unwinding and reconnecting with nature.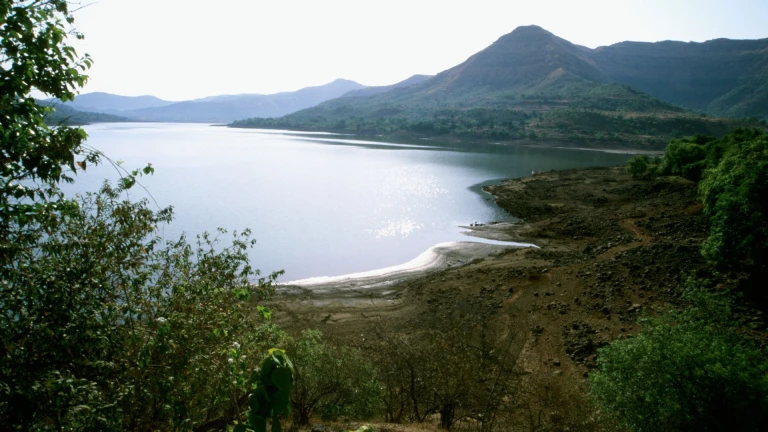 13. Panshet Dam
Panshet Dam, located about 50 kilometers southwest of Pune, is another picturesque reservoir surrounded by lush greenery. It's a popular spot for picnics and water sports, offering a day of fun and relaxation.
Visitors can engage in activities like boating and jet-skiing on the dam's waters. The scenic beauty, with the Sahyadri hills as a backdrop, makes it an ideal location for photography and outdoor enthusiasts.
The dam and its surroundings offer a welcome escape from the city's hustle and bustle, making it a perfect place for families and adventure seekers alike.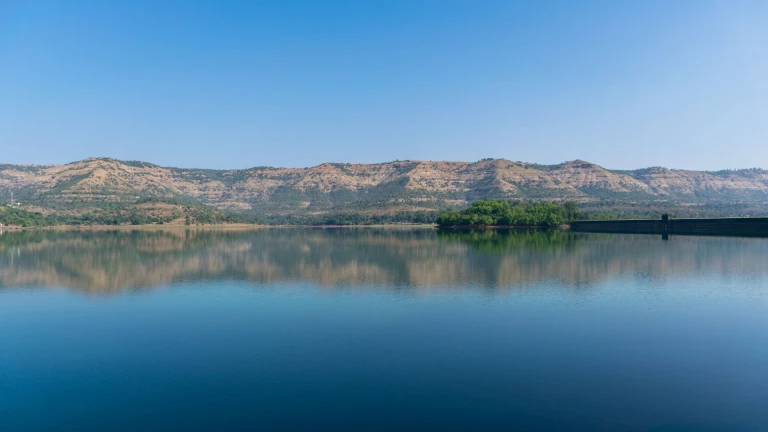 14. Vetal Hill
Vetal Hill is a fantastic spot for hiking and offers panoramic views of Pune city. It's a favorite among nature enthusiasts and fitness enthusiasts looking for outdoor activities.
The hill is part of the Western Ghats and stands 2600 feet above sea level. There are several trekking routes, with the most popular one starting from the ARAI Hill base. The trek is moderately challenging but highly rewarding, especially at sunrise or sunset.
Once at the summit, you'll be greeted with breathtaking views of Pune and its surrounding areas. Vetal Hill is also a fantastic spot for bird-watching, as it's home to a variety of avian species.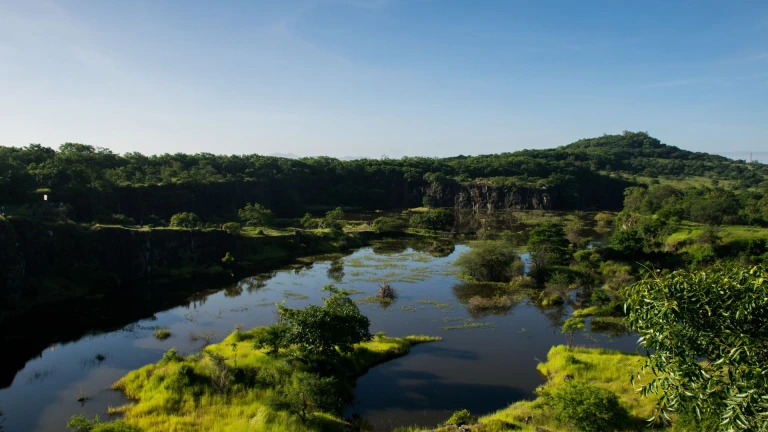 15. Lohagad Fort
Lohagad Fort is a historic fort located in the Sahyadri Mountains, about 52 kilometers from Pune. The trek to the fort and the views from the top are absolutely stunning, making it a popular destination for adventure enthusiasts.
The name "Lohagad" translates to "Iron Fort," and it's a reminder of the fort's robust construction. The fort's history dates back to the Maratha Empire, and it's been a witness to several significant events.
The trek to Lohagad Fort is relatively easy, making it suitable for all levels of hikers. As you ascend, you'll come across structures like the Vinchukata, which offers captivating views, and the grand entrance, known as the Ganesh Darwaja. From the summit, you'll be rewarded with panoramic vistas of the Sahyadris and the surrounding countryside.
Lohagad Fort is not only a historical treasure but also a nature lover's paradise, offering both cultural and scenic experiences.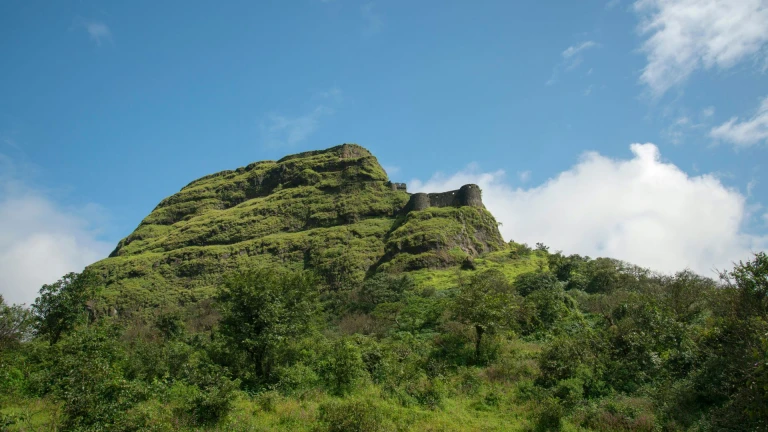 16. Khadakwasla Dam
Khadakwasla Dam is a picturesque reservoir and a popular day-trip destination, about 20 kilometers from Pune. It's surrounded by lush greenery, making it an ideal spot for picnicking and water sports.
The dam is a source of water supply to the city, and its serene surroundings are a welcome escape from the urban chaos. Visitors can enjoy activities like boating, paddle boating, and jet-skiing on the dam's calm waters.
Khadakwasla Dam also boasts a scenic drive, with lovely views and numerous food stalls offering local delicacies. It's a favorite among Pune residents for a leisurely day out, offering a tranquil atmosphere and an opportunity to connect with nature.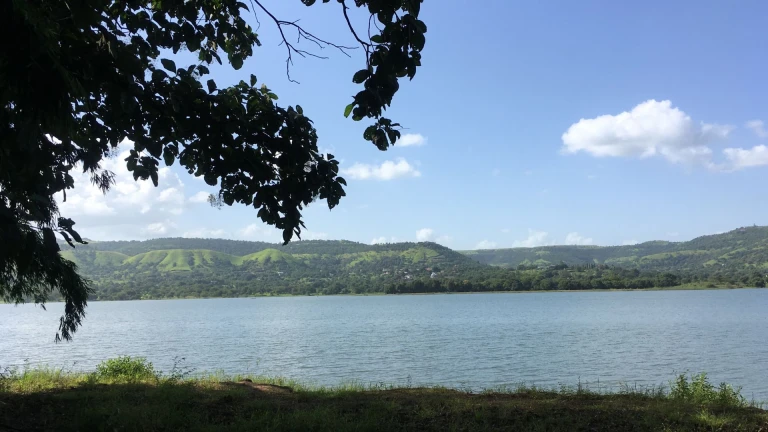 17. Lavasa City
Lavasa City is a planned hill station and city known for its Italian architecture, serene lakes, and a range of adventure activities. Located about 65 kilometers from Pune, it's a fantastic getaway destination for those seeking a change of pace.
As you enter Lavasa, you'll notice the European-inspired architecture, complete with colorful buildings, cobbled streets, and an artificial lake. The city is designed to resemble a picturesque Italian town, and it offers a charming ambiance.
While in Lavasa, you can engage in various water sports, take a lakeside walk, or explore the nearby lush forests. The city also features a range of dining options, from casual cafes to fine dining restaurants, offering a variety of cuisines.
Lavasa is a destination that provides a refreshing change from the usual urban environment, making it a must-visit for those looking to unwind and enjoy a European-inspired retreat.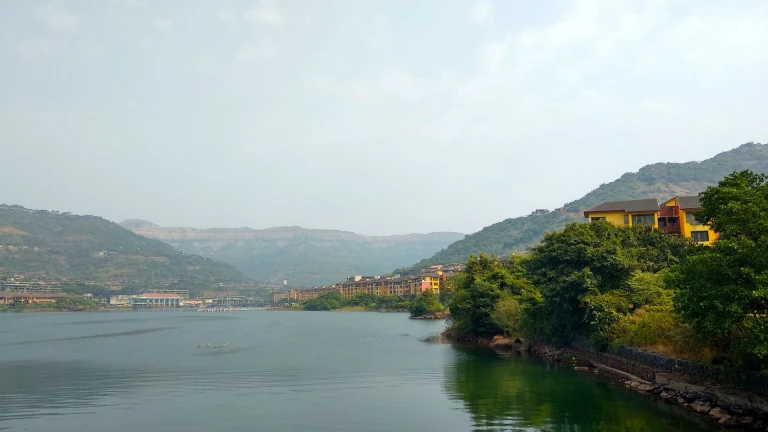 18. Rajiv Gandhi Zoological Park
The Rajiv Gandhi Zoological Park, located in the city's Katraj suburb, is home to a diverse range of wildlife and offers an educational and fun experience for visitors of all ages.
The zoo is a sprawling complex with enclosures for various animals, including tigers, leopards, elephants, and numerous bird species. It's an ideal place for families, as children can learn about wildlife conservation and enjoy a day of exploration.
The zoo also features a snake park, a butterfly garden, and a range of fun activities. It's a great spot to appreciate India's rich biodiversity and the importance of wildlife preservation.
Visitors should check the zoo's schedule for feeding times and shows to get the most out of their visit. It's a place where you can not only observe incredible animals but also gain a greater understanding of the natural world.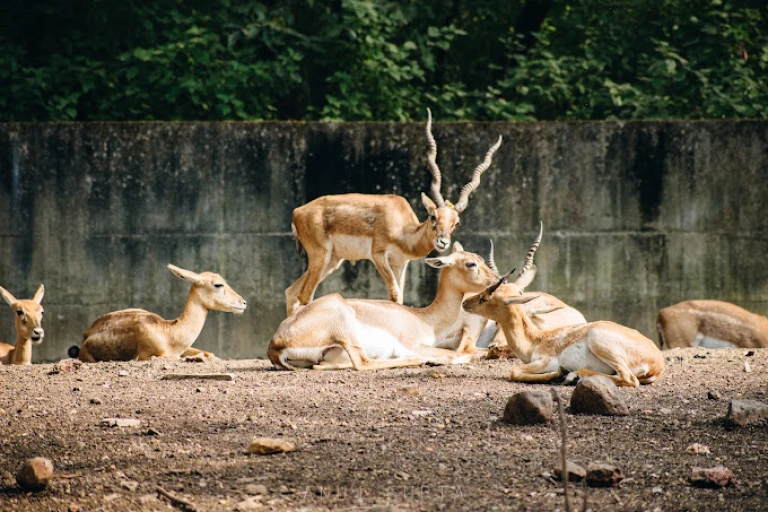 19. Empress Garden
Empress Garden, formerly known as the Victoria Gardens, is a lush green oasis in Pune. This serene park is a perfect escape from the city's hustle and bustle, offering a tranquil environment for nature lovers and picnickers.
The garden, spread across 39 acres, boasts a variety of flora, including a vast collection of trees, flowers, and ornamental plants. You can take leisurely strolls along well-maintained pathways and explore the beautiful landscapes.
Empress Garden also features an array of bird species, making it a bird-watcher's paradise. It's a peaceful spot to relax, enjoy nature, and unwind amidst the vibrant flora and fauna of Pune.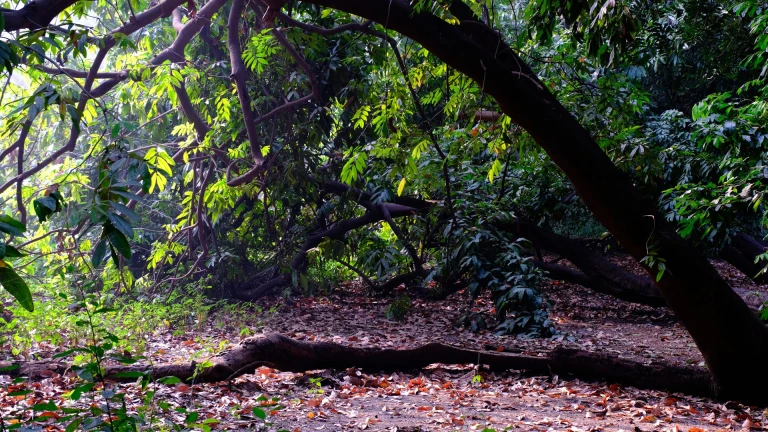 20. National War Museum
The National War Museum, located in Pune, is a tribute to India's armed forces and a place of historical significance. This museum commemorates the bravery and sacrifices of the country's soldiers, making it an essential stop for those interested in military history.
The museum houses a remarkable collection of artifacts, including weapons, uniforms, documents, and memorabilia from various wars and conflicts. It provides a comprehensive overview of India's military history, from ancient times to the present.
Visitors can explore exhibitions dedicated to the armed forces, India's independence struggle, and the heroes who have defended the nation. The outdoor area features an array of military vehicles and aircraft.
A visit to the National War Museum is a poignant and educational experience that pays tribute to the valor and commitment of India's armed forces. It's a must-visit for history enthusiasts and those interested in understanding India's military heritage.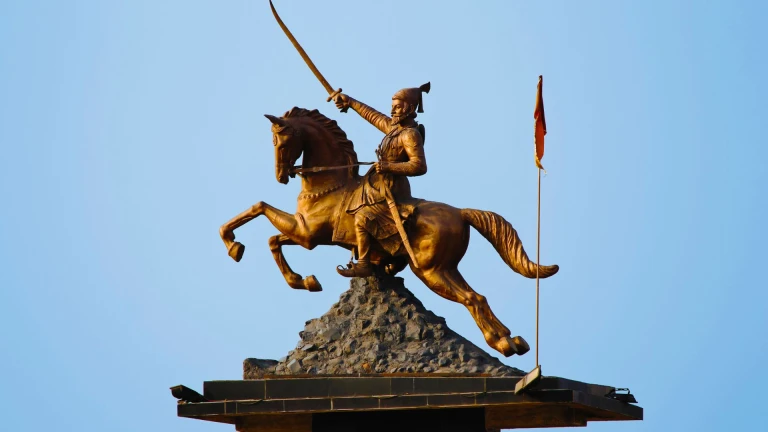 Also Read: Explore 9 beautiful Hill Stations Near Mumbai in 2023
Pune, a city steeped in history, culture, and natural beauty, offers a plethora of experiences for travelers. From the historical grandeur of Shaniwar Wada to the serenity of Parvati Hill, and the cultural treasures of Raja Dinkar Kelkar Museum to the lush landscapes of Mulshi Lake and Dam, Pune showcases its diverse facets with grace.
As you embark on your journey to Pune in 2023, prepare to be enthralled by a city that seamlessly blends the past and the present. Whether you're a history buff, a nature lover, a spiritual seeker, or an adventure enthusiast, Pune has something unique to offer.
So, don your explorer's hat, discover the timeless charm of Pune, and create lasting memories in a city where heritage meets modernity, and natural beauty harmonizes with urban vitality. We hope this guide has ignited your wanderlust and provided insights into the top 20 places to visit in Pune. Enjoy your Pune adventure!