Lisbon, the capital city of Portugal, is a vibrant and historic destination that captivates visitors with its unique blend of old-world charm and modern excitement. Nestled along the banks of the Tagus River, Lisbon is a city of seven hills, each offering breathtaking views of the cityscape and the Atlantic Ocean. Whether you're a history enthusiast, a food lover, an art connoisseur, or simply a wanderer seeking new adventures, Lisbon has something to offer everyone. In this blog post, we'll guide you through the top 15 must-see attractions in Lisbon for first-time visitors.


1. Belém Tower (Torre de Belém)
Belém Tower, also known as Torre de Belém, stands proudly on the banks of the Tagus River, welcoming visitors to Lisbon with its graceful presence. This iconic fortress is a symbol of Portugal's Age of Discovery, built during the 16th century to protect the city from potential invaders. Its architectural style is a stunning example of Manueline, characterized by intricate stonework and maritime motifs that reflect Portugal's rich maritime history.
In addition to its historical significance, Belém Tower is also a UNESCO World Heritage Site, making it a must-visit attraction for history enthusiasts, architecture aficionados, and anyone eager to immerse themselves in Portugal's glorious past.
Major Attractions: Don't forget to explore the adjacent gardens and enjoy a leisurely stroll along the riverfront promenade while you're in the area.

Apr-Sep: Tue-Sun 10am-6.30pm (last entry 6pm)

Oct-Mar: Tue-Sun 10am-5.30pm (last entry 5pm).

Admission: €6, concessions €3, free for under-12s.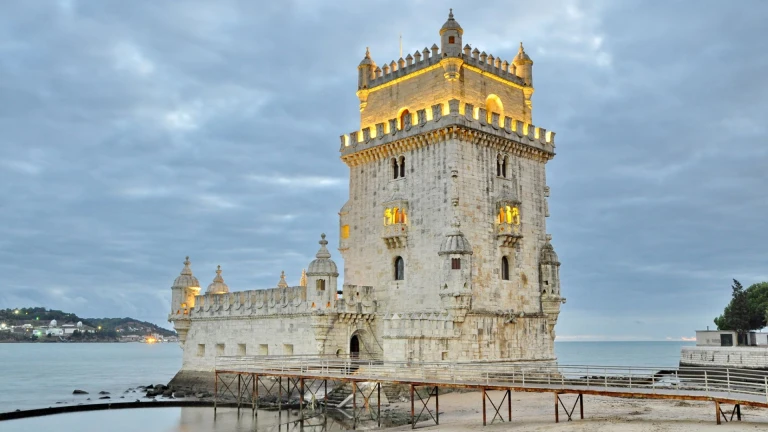 2. Jerónimos Monastery (Mosteiro dos Jerónimos)
The Jerónimos Monastery, or Mosteiro dos Jerónimos, is an architectural masterpiece that leaves an indelible impression on all who visit. This stunning structure, situated in the historic district of Belém, is another UNESCO World Heritage Site that tells the story of Portugal's golden age of exploration.
Construction of the monastery began in the early 16th century and was funded by the riches brought back from the East by Vasco da Gama. Its architecture is a blend of Manueline and Gothic styles, boasting intricate details like intricate arches, ornate spires, and delicate stone carvings.
Major Attractions: Maritime Museum, Church of Santa Maria, Tombs of Vasco da Gama

May-Sep: Tue-Sun 10am-6pm

Oct-Apr: Tue-Sun 10am-5pm

Admission: church free; cloisters €10, concessions €5, free for under-12s.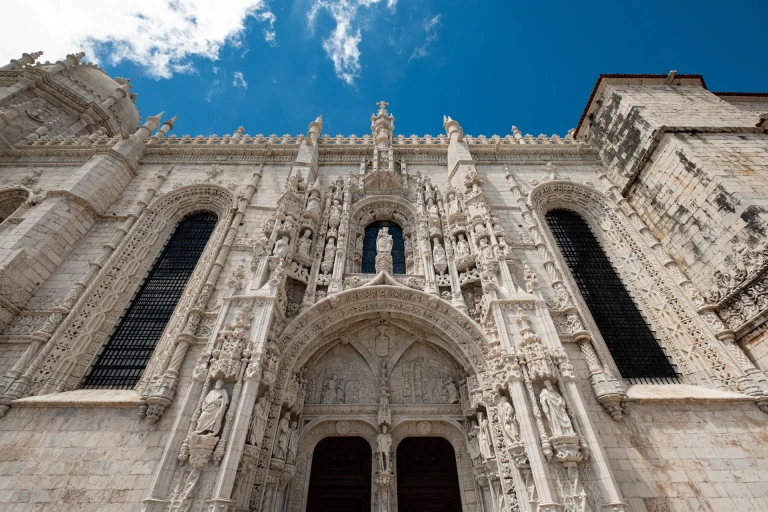 3. Lisbon Cathedral (Sé de Lisboa)
The Lisbon Cathedral, or Sé de Lisboa, is a historic and spiritual touchstone in the heart of Lisbon. Its roots trace back to the 12th century when it was originally constructed following the city's reconquest from the Moors.
One of the standout features of the Lisbon Cathedral is its iconic rose window, a masterpiece of Gothic design that bathes the interior in a soft, colorful light. The cloisters, dating from the 13th century, are a hidden gem within the cathedral complex, offering a peaceful escape from the bustling streets of the city. Here, you can admire the intricate Manueline-style arches and enjoy a moment of tranquility.
For those seeking a deeper connection to Lisbon's rich history and spiritual heritage, the Lisbon Cathedral is an essential stop. It stands not only as a testament to the city's endurance through the ages but also as a place of quiet reflection amidst the vibrant urban landscape.
Timings:
Daily: 9 am to 7 pm.

Cloister: 10 am to 6 pm (Sunday from 2 pm). May through September until 7 pm.

Treasury: 10 am to 5 pm. Closed on Sundays and holidays.
Entry Fee:
Adults: € 5

Children 7-12 years old: € 3

Children under 6: free entry

4. São Jorge Castle (Castelo de São Jorge)
Perched majestically atop one of Lisbon's seven hills, São Jorge Castle (Castelo de São Jorge) is a historic fortress that offers visitors a captivating journey through time. This iconic castle is a tangible link to Lisbon's rich and complex past, with its origins dating back over a thousand years.
Inside the castle complex, you'll find a treasure trove of historical artifacts and architectural marvels. The castle's battlements, towers, and walls have stood the test of time, and exploring them gives you a sense of what life was like in medieval Lisbon. The archaeological site within the castle grounds provides insights into the Moorish and medieval periods, with remnants of ancient buildings and a cistern.
Major Attractions: São Jorge Castle's lush gardens are a peaceful oasis within the city, offering shaded pathways, fountains, and peacocks that roam freely.

Mar-Oct: Every day 9am-9pm;

Nov-Feb: Every day 9am-6pm.

Admission: €10, concessions €5, free for under-12s.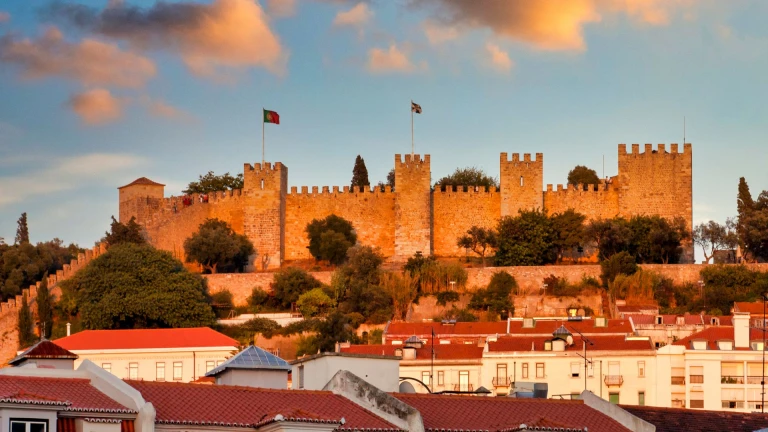 5. Alfama District
Alfama, Lisbon's oldest neighborhood, is a captivating maze of narrow, winding streets, steep staircases, and charming, pastel-colored houses. This historic district is a living testament to Lisbon's enduring heritage, and exploring its labyrinthine alleys is like stepping back in time.
Wandering through Alfama, you'll encounter cobblestone streets adorned with colorful tiles, or azulejos, and laundry strung across picturesque balconies. It's a place where time seems to stand still, and the pace of life is leisurely. You'll often hear the soulful strains of Fado music drifting from cozy taverns and restaurants, providing a soundtrack to your exploration.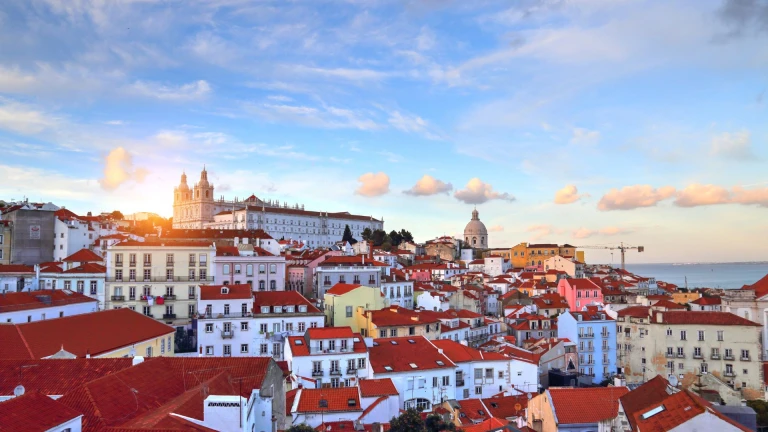 6. Jardim Botânico
Lisbon's botanical garden is a 10-acre space that is secluded from the streets around it in the Principe Real neighborhood. It boasts one of the greatest collections of subtropical plants in Europe and was developed between 1858 and 1873. There are also a staggering 18,000 different varieties of exotic plants from all over the world and dense vegetation. You'll be learning new things about plants since they are all neatly labeled.
Apr-Sep: every day 9am-8pm.

Oct-Mar: every day 9am-5pm.

Admission: €3, concessions €1, free for under-10s.
7. Convento do Carmo
Despite the fact that it hasn't had a roof since it caved in during the 1755 earthquake, the damaged Carmo Convent is regarded as Lisbon's most charming church. It currently serves as a memorial and a reminder of the earthquake. The stunning medieval arches still exist and are really attractive. While Manueline (Portuguese Gothic) windows and other embellishments were added later, in the 16th and 18th centuries, the majority of the construction dates to the 1300s. If you look hard, you could even notice two unsettling South American mummies—a kid from Peru and a female from Chile.
May-Sep: Mon-Sat 10am-7pm

Oct-Apr: Mon-Sat 10am-6pm

Admission: €5; concessions €4; free for under-14s.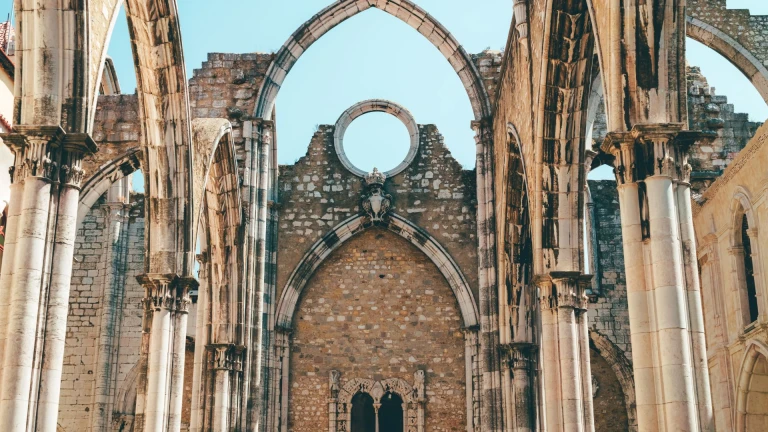 8. Igreja de São Roque
On the site of an ancient chapel dedicated to So Roque, Filippo Terzi helped construct Igreja de So Roque for the Jesuits. The single-nave building was largely constructed between 1565 and 1573, though it was without a roof for a further ten years. The ceiling is kind of a wonder. The roof was originally going to be vaulted, but in 1582 it was decided to build a flat one out of durable Prussian wood that had been lavishly painted. Although the interior sacristy's murals are beautiful, the side chapel honoring St. John the Baptist is the primary draw. Observe the opulent ivory, gold, and lapis lazuli, which testifies to Portugal's riches and extravagance throughout its colonial era. It took four years to reconstruct, in part because of the intricate mosaic above the altar, after been constructed in Rome and sent to Lisbon in 1749 after receiving the Pope's blessing. Items from the chapel, including artwork by Italian goldsmiths, paintings, and ornately embroidered vestments, can be found in the nearby museum.
Apr-Sep: Mon 2pm-7pm, Tue-Wed 10am-7pm, Thu 10am-8pm; Fri-Sun 10am-7pm

Oct-Mar: Mon 2pm-6pm, Tue-Sun 9am-6pm (break for mass Tue-Sat 12.15pm & Sun 12.30pm)

Admission: church free; museum €2,50, concessions: €1, free for under-12s.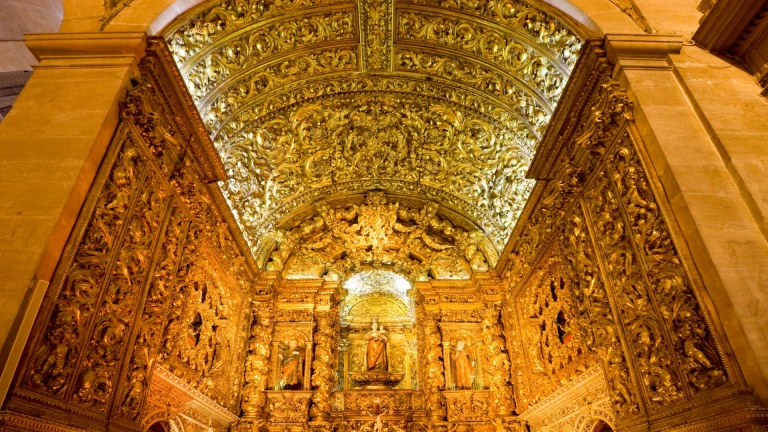 9. Ajuda National Palace (Palácio Nacional da Ajuda)
The Ajuda National Palace, or Palácio Nacional da Ajuda, is an architectural gem nestled on one of Lisbon's hills. This neoclassical palace, with its elegant façade and regal interiors, is a testament to Portugal's royal history and its enduring cultural significance.
Construction of the palace began in the 19th century after the devastating earthquake of 1755, which had a profound impact on Lisbon's architectural landscape. It was intended to be the official royal residence, but Portugal's monarchy fell before the palace could be fully completed. The palace's neoclassical design is characterized by its symmetrical layout, graceful columns, and opulent decoration. Inside, visitors are treated to a sumptuous journey through time, with lavishly furnished rooms that evoke the grandeur of Portugal's monarchy. The Throne Room, with its intricate ceiling, and the impressive Ballroom are particular highlights.
Visiting the Ajuda National Palace is like stepping into a time capsule of Portuguese royalty. Its architecture, interiors, and historical artifacts provide a captivating window into the country's rich past.
Mon-Tue & Thu-Sun 10am-5.30pm (last entry 5.30pm, no access to the second floor).

Admission: €5; concessions €2,50; free for under-12s.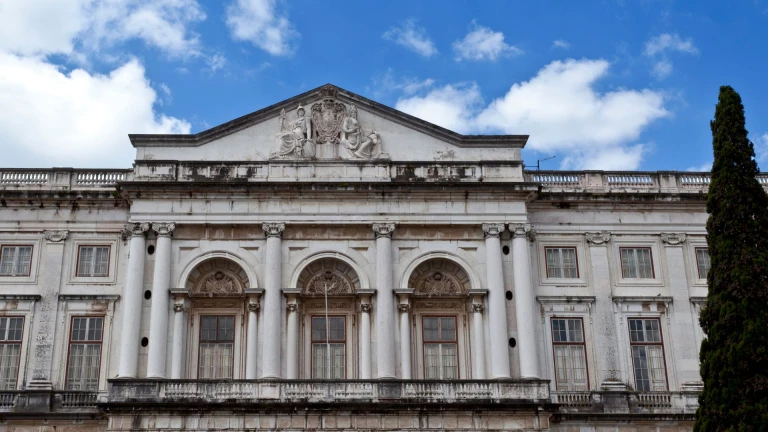 10. Panteão Nacional
The church's dome was finished in 1966, 285 years after construction began, which is why the phrase "a job like Santa Engrácia" refers to a project that takes an eternity. The current church stands where a previous one formerly stood. That church was demolished after it was desecrated during a heist in 1630. A Jewish suspect was accused, put to death, and then cleared. He allegedly foretold that the new church would never be finished since an innocent guy had been found guilty before he passed away. The first attempt to build a new Santa Engrácia duly failed in 1681 (perhaps because to a building error made worse by a storm), and work was resumed the following year.
The interior of the new design, by master stonemason Joo Antunes, is dominated by marble in a variety of colors, and it is quite close to Peruzzi's plans for St. Peter's in Rome. The national Pantheon, a shrine to commemorate deceased Portuguese heroes, was voted upon by the Republican government in 1916 for Santa Engrácia, which at the time still had a roof. General Humberto Delgado, a leader of the resistance assassinated by the secret police in 1962, fado diva Amália Rodrigues, and football star Eusébio are among others who have been buried subsequently.
Apr-Sep: Tue-Sun 10am-6pm (last entry 5.40pm)

Oct-Mar: Tue-Sun 10am-5pm (last entry 4.40pm)

Admission: €4, concessions €2, free for under-12s.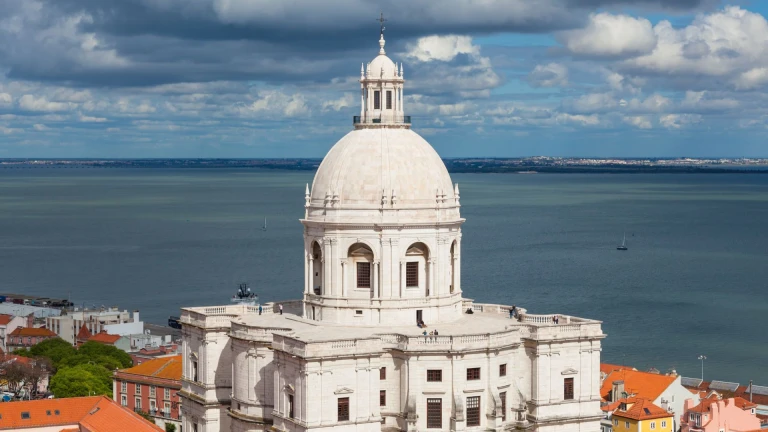 11. Calouste Gulbenkian Museum (Museu Calouste Gulbenkian)
The Calouste Gulbenkian Museum (Museu Calouste Gulbenkian) is a cultural gem nestled within the lush greenery of Parque Gulbenkian. This remarkable museum, named after its founder, Calouste Gulbenkian, houses an exceptional collection of European and Asian art, making it a must-visit for art aficionados and cultural enthusiasts.
The museum's architecture is a harmonious blend of modern design and natural beauty, with large windows allowing natural light to flood the galleries and offering glimpses of the park's serene gardens. As you enter, you'll be greeted by a striking statue of Diana, the Roman goddess of the hunt, setting the tone for the art treasures that lie within.
The collection at the Calouste Gulbenkian Museum is both diverse and impressive. It spans various artistic periods and regions, with highlights that include exquisite pieces of jewelry, sculptures, and paintings by renowned artists such as Rembrandt, Monet, and Lalique. The museum's Asian collection features stunning ceramics, textiles, and sculptures from China, Japan, and other parts of the continent.
Museum: 10am-6pm Tue-Sun (last entry 5.30pm)

Admission Fee: €5 (€15 with Centro de Arte Moderna and all exhibitions); €2.50 reductions; free under-13s & all Sun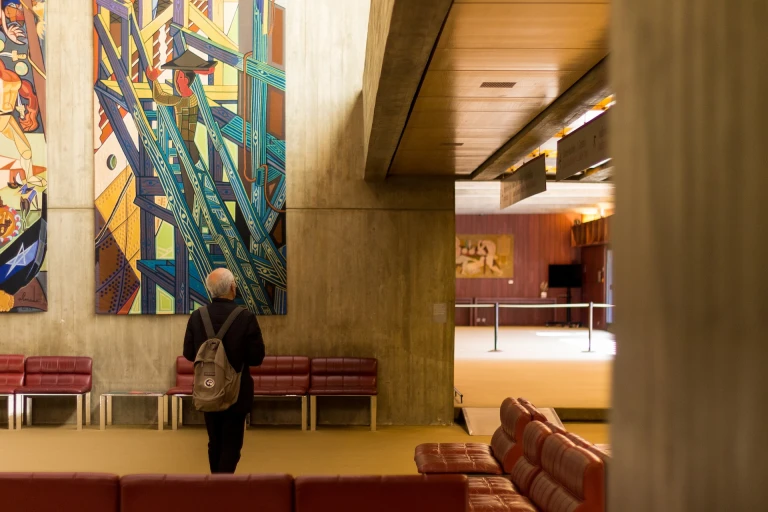 12. Elevador de Santa Justa (Santa Justa Lift)
The Santa Justa Lift, or Elevador de Santa Justa, is an architectural marvel that connects the Baixa district to the Carmo Square. This elegant iron elevator, designed by Raul Mesnier de Ponsard, is a testament to Lisbon's historical engineering achievements and offers both transportation and panoramic views of the city.
Reaching the top platform of the Santa Justa Lift is a magical experience. From here, you'll be treated to breathtaking vistas of Lisbon's historic center, including views of the Castle of São Jorge, the Baixa district, and the Tagus River. It's an ideal spot for taking photographs, enjoying a romantic moment, or simply soaking in the city's beauty.
Visiting the Santa Justa Lift is not only an opportunity to traverse Lisbon's hills with ease but also a chance to appreciate the city's architectural heritage and savor stunning panoramic views that will leave an indelible impression.
May-Oct: 7.30am-11pm every day

Nov-Apr: 7am-9pm every day.

Admission: €5.
13. Igreja de São Vicente de Fora
Nearly a month after retaking Lisbon from the Moors in 1147, Portugal's first king, Afonso Henriques, placed the cornerstone for the first church of St. Vincent "Outside," meaning outside the then-city walls. He was carrying out a promise to build Christian temples on the graves of Portuguese warriors and northern European crusaders. King Philip II of Spain, who was in charge of Portugal at the time, decided to start over and hired Juan Herrera, the man who built the Escorial, as his own architect. Herrera collaborated with Italian architect Filippo Terzi to create a new church in the mannerist style. The main dome and roof collapsed on a multitude of worshipers after the 1755 earthquake, seriously damaging the 1629-built structure. The cloisters are the main attraction. They are lavishly decorated with early 18th-century tile panels, some of which illustrate fables by La Fontaine. The Braganza family, the final dynasty to rule Portugal, is honored in the interior with a royal pantheon. In front of the identical tombs of Dom Carlos I and Crown Prince Luis Filipe, who were assassinated in 1908, is a figure of a woman in tears.
Church: 8am-1pm, 2.30-5pm Tue-Sat; 8am-noon Sun

Church free: Cloisters €4; €2 reductions; free under-13s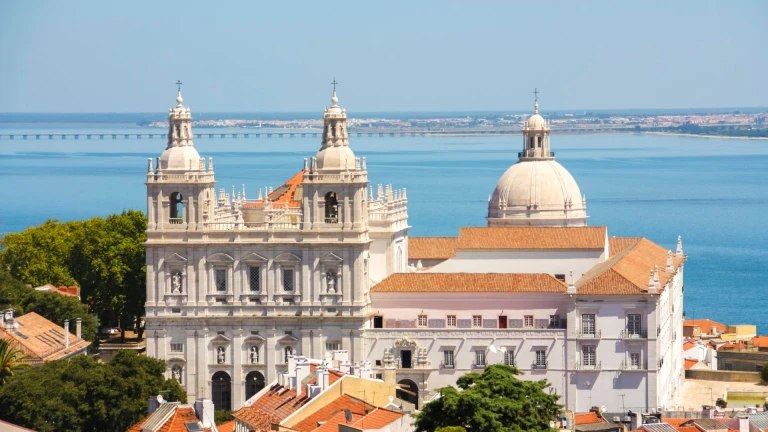 14. Casa dos Bicos
Brás de Albuquerque, the son of the first Viceroy of India, gave the order for the construction of this impressive structure between 1521 and 1523. Its unique façade, which is covered in a grid of point-cut diamonds known in Portuguese as "bicos," was influenced by examples from the Italian Renaissance, including the Palazzo dei Diamanti in Ferrara. A ground-floor display hosted by the Museu de Lisboa within lays bare (literally) the plot's history from Roman to medieval times, featuring pieces of the old city wall, indications of a center for the manufacture of fish preserves, and modern ceramics and glassware. It offers many conversations on literary and social issues and features a bookshop with a decent selection of the author's writing.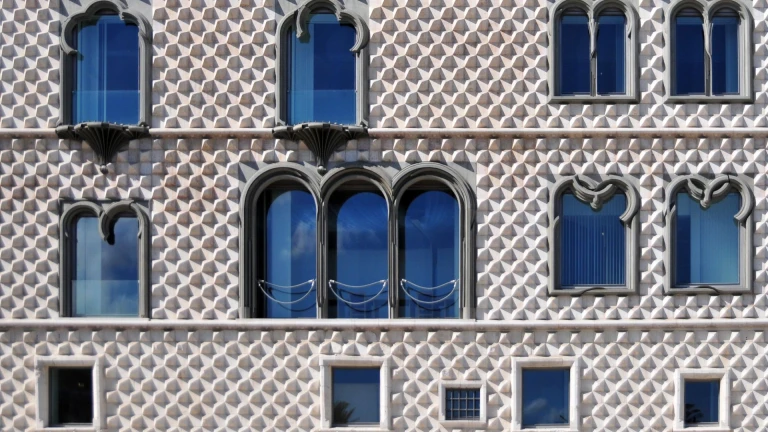 15. Basílica da Estrela
One of Lisbon's most well-known sights is the Baslica da Estrela, with its elaborate white dome. Ten years were spent on construction (1779–1799), during which Mafra School sculptors created the statues. Even though many of the artworks are by Italian masters, the church's interior is lavishly adorned with Portuguese marble. For beautiful views of the city, climb the 114 steps.
Church Timings: 7.30am-7.45pm daily

Church fee: Roof terrace €4; €2 reductions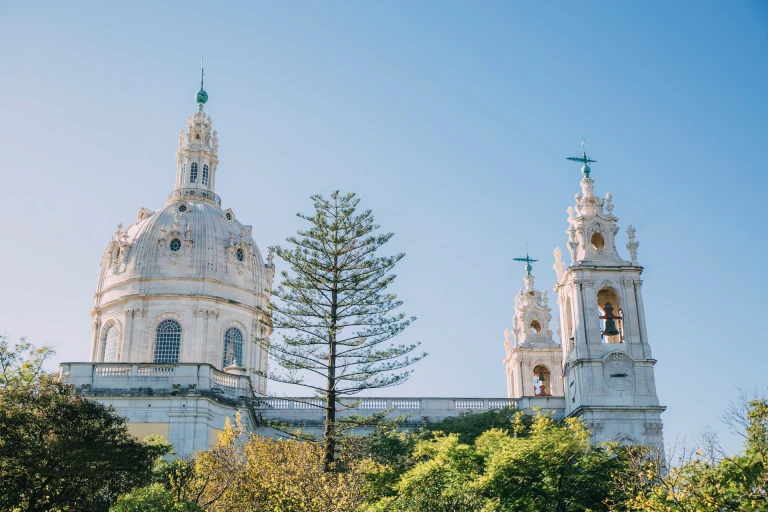 Lisbon is a city of contrasts, where tradition meets modernity, and every street corner tells a story. Whether you're a history enthusiast, an art lover, a food connoisseur, or simply a wanderer seeking new adventures, Lisbon has something to offer everyone. These top 15 must-see attractions are just the beginning of your unforgettable journey in Lisbon, a city that seamlessly blends tradition and modernity. So, pack your bags, prepare your camera, and get ready to embark on an incredible adventure in Lisbon, a destination that promises memories to last a lifetime.