The Philippines, a tropical paradise consisting of over 7,000 islands, is a dream destination for adventure seekers in 2023.
With its stunning landscapes, crystal-clear waters, and warm, welcoming people, this Southeast Asian gem offers a wide array of exotic activities that promise unforgettable memories.
Whether you're a thrill-seeker, a nature lover, or a culture enthusiast, the Philippines has something for everyone. In this article, we'll explore 15 exotic activities that will make your trip to the Philippines in 2023 an adventure of a lifetime.
Read more: Travel Guide to Philippines from India 2023
1. Island Hopping in Palawan: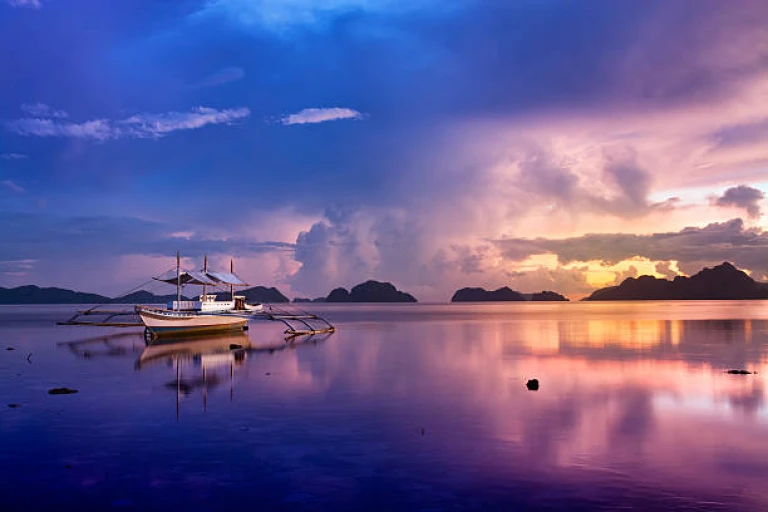 Island Hopping in Palawan
Palawan is a tropical paradise offering island-hopping adventures to destinations like El Nido, Coron, and the Underground River. You'll explore hidden lagoons, limestone cliffs, pristine beaches, and vibrant coral reefs teeming with marine life.
El Nido is known for its dramatic karst formations and crystal-clear waters, while Coron boasts shipwreck diving sites. The Underground River, a UNESCO World Heritage Site, takes you on an enchanting journey through a subterranean river and cave system.
2. Dive into Tubbataha Reefs Natural Park: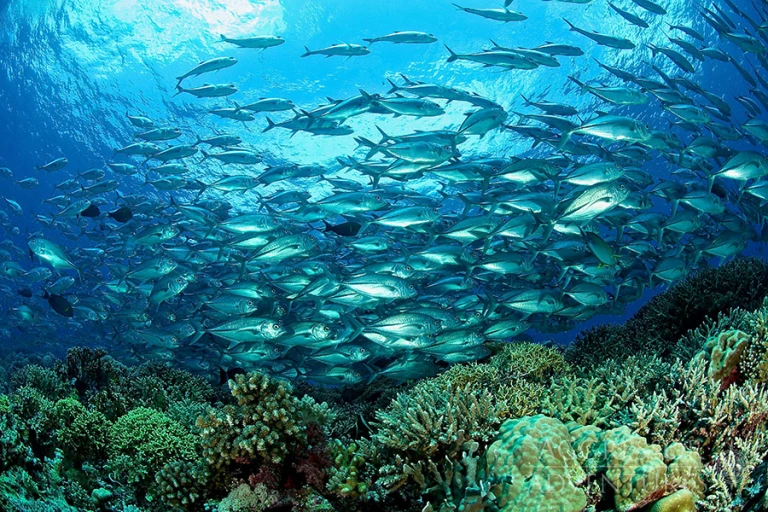 Tubbataha Reefs Natural Park
Located in the Sulu Sea, Tubbataha Reefs Natural Park is a remote marine sanctuary and UNESCO World Heritage Site. Diving here offers a chance to encounter diverse marine species, including sharks, rays, and vibrant coral reefs. This pristine underwater paradise is accessible only by liveaboard boats during the diving season, making it a truly unique and remote adventure.
3. Climb Mount Apo: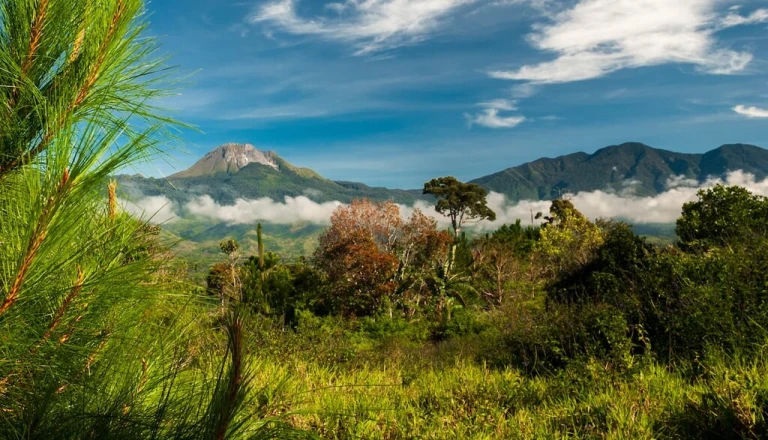 Mount Apo
Mount Apo, the highest peak in the Philippines, beckons adventure seekers with its challenging trek. The journey takes you through lush forests, mossy forests, and eventually to the summit, where you'll be rewarded with panoramic views of Mindanao's landscapes, hot springs, and the sense of accomplishment of reaching the country's peak.
4. Swim with Whale Sharks in Oslob: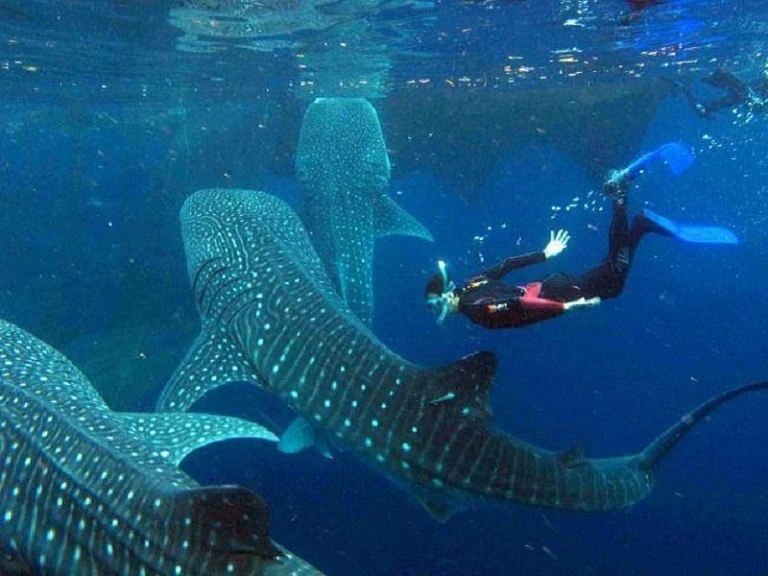 Whale Sharks in Oslob
Oslob in Cebu is known for its incredible opportunity to swim with whale sharks, the world's largest fish. This eco-friendly experience allows you to observe these gentle giants in their natural habitat while snorkeling or diving. It's a mesmerizing encounter with marine life you'll remember forever.
5. Explore the Chocolate Hills in Bohol: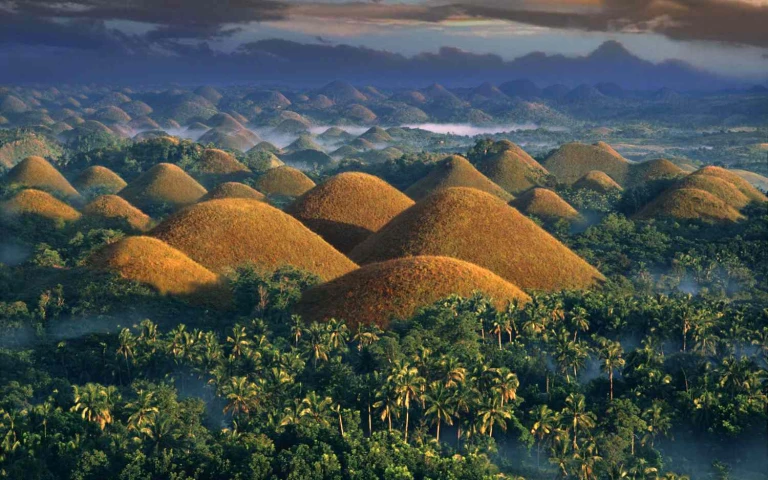 Chocolate Hills in Bohol
The Chocolate Hills in Bohol are a geological wonder featuring around 1,200 perfectly cone-shaped hills. During the dry season, the grass-covered mounds turn chocolate brown, creating a surreal and breathtaking landscape. You can hike to the viewpoint or explore the hills up close.
6. Visit Mayon Volcano: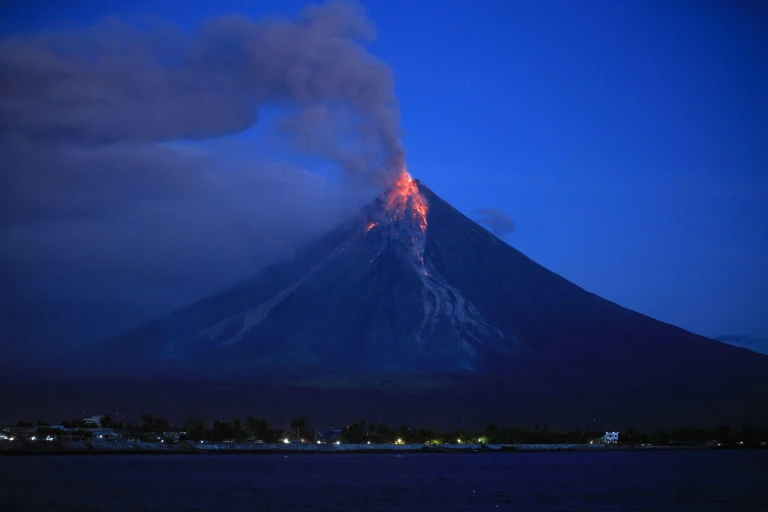 Mayon Volcano
Mayon Volcano, located in Albay, is renowned for its near-perfect symmetrical shape. You can embark on a thrilling adventure by hiking its slopes, riding ATVs, or simply enjoying the awe-inspiring views from nearby viewing spots. The volcano's constant activity adds to its allure.
7. Go Cave Exploring in Sagada: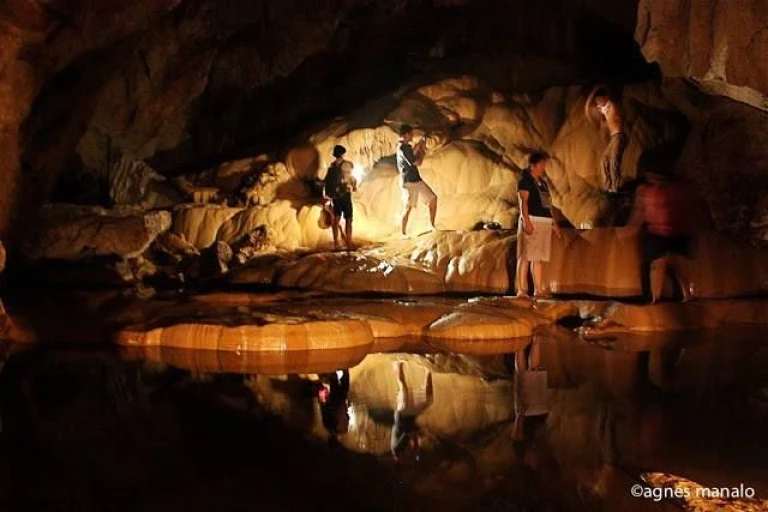 Cave Exploring in Sagada
Sagada, nestled in the Cordillera Mountains, is a hub for cave exploration. The Sumaguing Cave is the most famous, known for its intricate rock formations, underground pools, and captivating chambers. Spelunking adventures here promise both excitement and natural beauty.
8. Sail to Siargao for Surfing: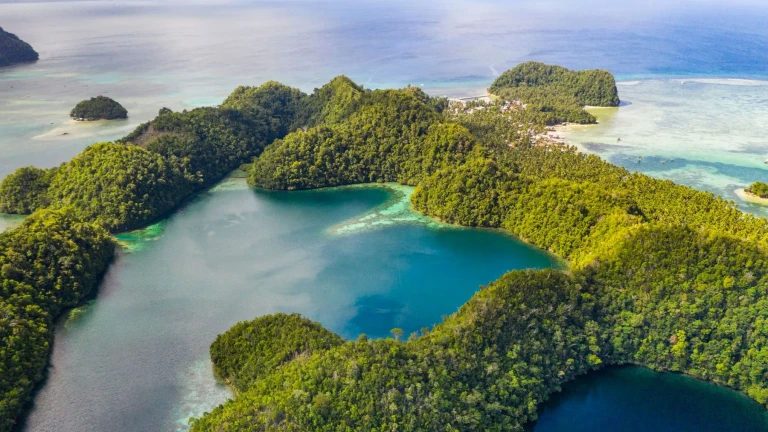 Siargao
Siargao, dubbed the "Surfing Capital of the Philippines," offers world-class waves at Cloud 9. Whether you're a pro or a beginner, the island has breaks suitable for all levels. Apart from surfing, Siargao also boasts pristine beaches, lagoons, and a laid-back atmosphere.
9. Experience the Ati-Atihan Festival in Kalibo: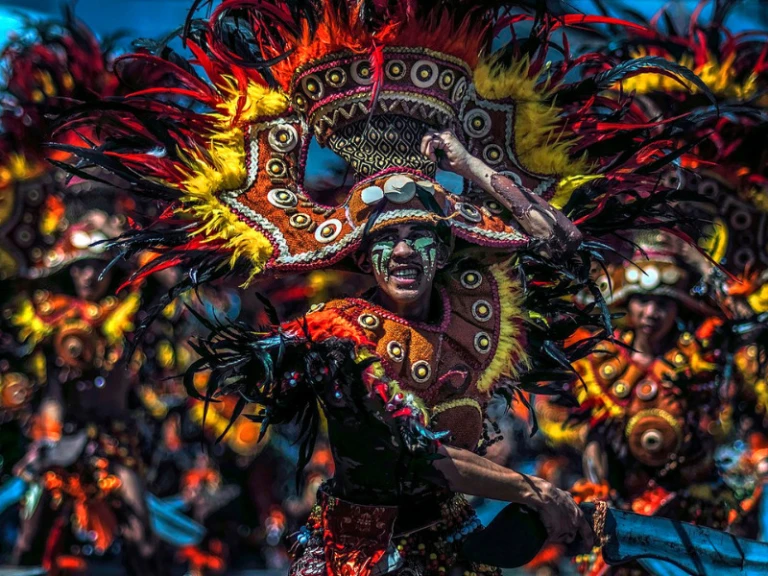 Ati-Atihan Festival in Kalibo
The Ati-Atihan Festival in Kalibo, Aklan, is one of the Philippines' liveliest celebrations. It features vibrant costumes, tribal dances, and a lively atmosphere. Join the locals in painting your face with soot and revel in the rich cultural heritage of the region.
10. Trek to Batad Rice Terraces: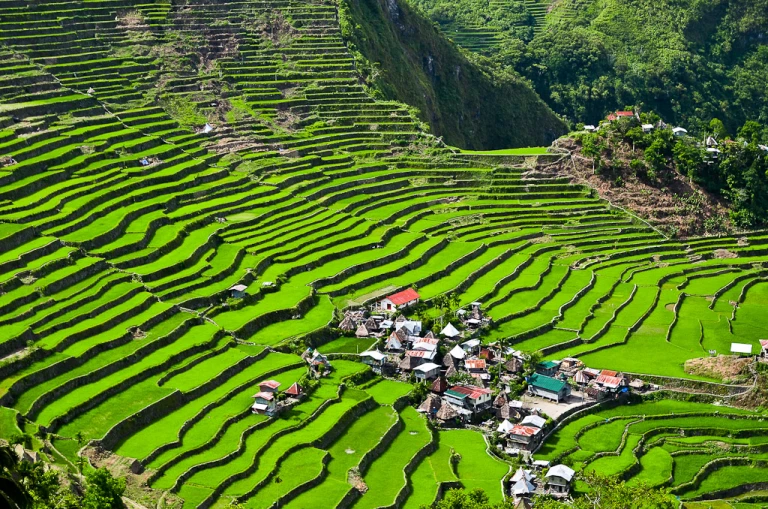 Batad Rice Terraces
The Batad Rice Terraces in Ifugao are a UNESCO-listed wonder. Trekking through the terraces allows you to witness the impressive farming practices of the indigenous people. The lush, green landscapes and terraced rice paddies make for a stunning backdrop.
11. Kayak through the Puerto Princesa Underground River: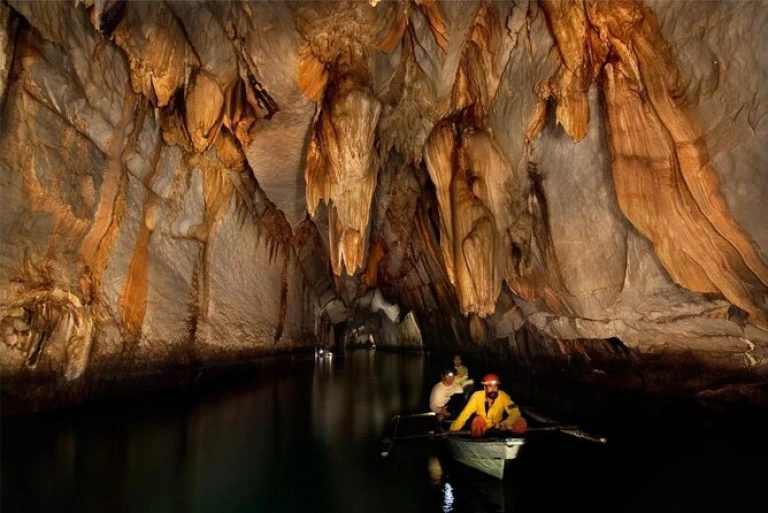 Puerto Princesa Underground River
The Puerto Princesa Underground River is a UNESCO World Heritage Site and one of the New Seven Wonders of Nature. Explore its enchanting subterranean beauty by kayaking through a network of caves, limestone formations, and underground rivers, all within a lush national park.
12. Experience the Banaue Rice Terraces: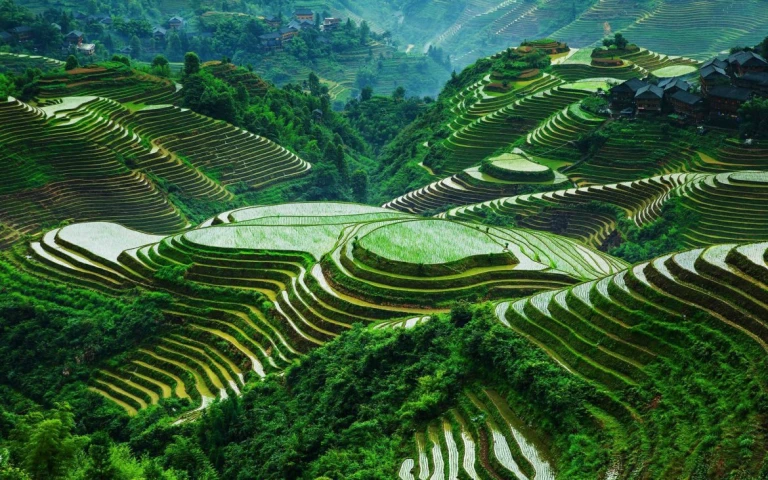 Banaue Rice Terraces
The Banaue Rice Terraces in Ifugao are often called the "Eighth Wonder of the World." These centuries-old terraces are carved into the mountainside and showcase the ingenious farming techniques of the Ifugao people. You can trek through the terraces, interact with locals, and immerse yourself in their culture.
13. Scuba Diving in Anilao: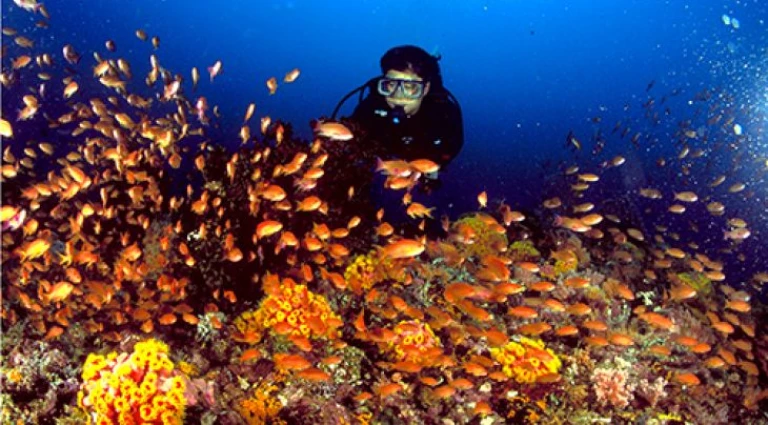 Scuba Diving in Anilao
Anilao in Batangas is a paradise for scuba diving enthusiasts. Known for its coral gardens, underwater caves, and a diverse array of marine life, it's a must-visit destination for underwater explorations. You can spot vibrant corals, rare critters, and schools of fish in its clear waters.
14. Discover the Enchanted River in Hinatuan: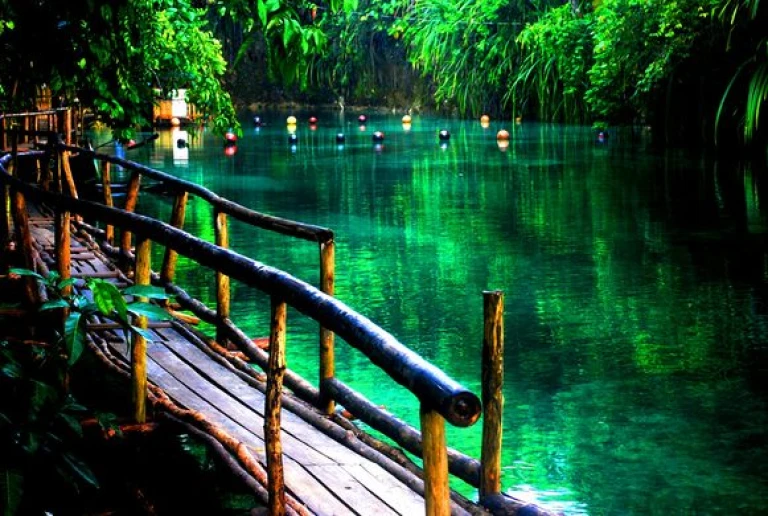 Enchanted River in Hinatuan
The Hinatuan Enchanted River is a mesmerizing natural wonder with stunning blue waters. It's called "enchanted" due to its mysterious depths. Snorkel or dive to uncover its secrets, including underwater caves and the vibrant marine life that calls it home.
15. Visit the Underground Cemetery in Nagcarlan: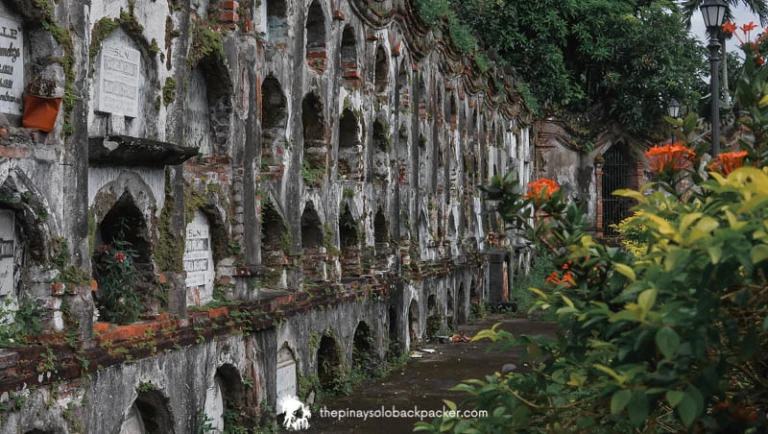 Underground Cemetery in Nagcarlan
Nagcarlan's Underground Cemetery is a historical treasure where a burial chamber is situated beneath a quaint chapel. It offers a unique glimpse into the Philippines' colonial past and its burial customs.
Read more: 13 Historic Sites in the Philippines to Visit (2023)