Are you ready to embark on an unforgettable adventure to the picturesque landscapes, vibrant cities, and Maori culture of New Zealand? As an Indian traveler, New Zealand offers a unique and diverse experience that will leave you in awe of its natural beauty and warm hospitality.
In this travel guide, we will take you on a journey from India to New Zealand, providing you with essential tips, itinerary suggestions, and cultural insights to make your trip truly memorable.
1. Before You Go
Visa and Entry Requirements

New Zealand Passport
Before you start planning your trip to New Zealand, it's crucial to check the visa requirements. Indian citizens typically need a visitor visa to enter New Zealand. The application process can be done online, and it's advisable to apply well in advance of your travel dates. Ensure you have a valid passport, proof of funds, and return flight tickets for a smoother visa application process.
Visitor Visa
Indian passport holders are generally required to obtain a visitor visa to enter New Zealand for tourism purposes. The visitor visa allows you to stay in New Zealand for a specific period, usually up to 9 months, for various purposes such as tourism, visiting friends and family, or attending short courses.
Applying for a Visitor Visa
Online Application: The easiest and quickest way to apply for a New Zealand visitor visa is through their official website. You'll need to create an Immigration New Zealand (INZ) account, complete the online application form, and upload the required documents.

Paper Application: If you prefer a paper application, you can download the forms from the INZ website, fill them out, and submit them along with the necessary documents to the nearest New Zealand Visa Application Centre (VAC).
Required Documents
When applying for a visitor visa, you'll typically need to provide the following documents:
Valid Passport: Ensure your passport is valid for at least three months beyond your intended departure date from New Zealand.

Completed Application Form: Fill out the visitor visa application form accurately.

Passport-Sized Photographs: Recent passport-sized photographs are required. Check the specifications on the INZ website.

Proof of Funds: You must show that you have sufficient funds to cover your expenses during your stay in New Zealand.

Travel Itinerary: Provide details of your travel plans, including flight bookings.

Purpose of Visit: Clearly state the purpose of your visit, whether it's for tourism, visiting family, or any other valid reason.

Accommodation Details: Include proof of your accommodation arrangements in New Zealand, such as hotel bookings or an invitation from a host.

Health and Character Requirements: You may be required to undergo a medical examination or provide police clearance certificates if requested by INZ.
Currency Exchange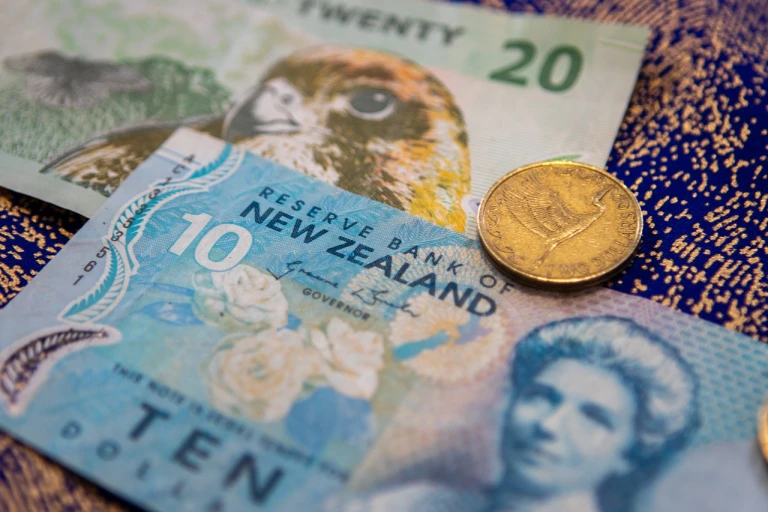 New Zealand Dollar
The currency used in New Zealand is the New Zealand Dollar (NZD). The exchange rate between these two currencies can vary.
To get the most accurate and current exchange rate for converting Indian Rupees (INR) to New Zealand Dollars (NZD), I recommend checking with a local bank, a currency exchange service, or using a trusted online currency converter or financial website.
2. Getting There
Flights from India to New Zealand:
Several airlines offer flights from major Indian cities like Delhi and Mumbai to New Zealand's main international airports in Auckland, Wellington, and Christchurch. The most common layover destinations are Singapore, Hong Kong, or Australia. Be sure to compare fares and book your tickets well in advance to secure the best deals.
Flights

New Delhi

(Roundtrip )

VietJet Air, Jetstar

Air India, Air New Zealand

Air India, Qantas

Mumbai

Air India, Qantas

Air India, Air New Zealand

THAI, Qantas

Pune

Air India, Qantas

Air India, Air New Zealand
3. Local Transportation
Local transportation in New Zealand is generally reliable, efficient, and well-suited for travelers exploring both urban centers and remote natural landscapes. The country offers various transportation options to suit different needs and preferences:
Buses: Buses are a common mode of transportation in cities and towns across New Zealand. In urban areas like Auckland, Wellington, and Christchurch, you'll find extensive bus networks operated by different companies.

Trains: While New Zealand's rail network is not as extensive as some countries, it offers scenic train journeys that are worth experiencing. The TranzAlpine, for example, takes you through the Southern Alps, offering breathtaking views. Other popular routes include the Northern Explorer and Coastal Pacific.

Taxis and Rideshares: Taxis are readily available in urban areas, and rideshare services like Uber operate in cities like Auckland and Wellington. They are a convenient option for getting around within a city, especially if you're in a hurry or have heavy luggage.

Ferries: If you plan to travel between New Zealand's islands, ferries are a common means of transportation. The Interislander and Bluebridge are the two main ferry operators connecting the North and South Islands. These journeys offer scenic views of the Cook Strait.

Domestic Flights: New Zealand has a well-connected domestic flight network. Air New Zealand and other regional carriers operate frequent flights between major cities and smaller airports. Domestic flights are particularly useful for covering long distances quickly.

Cycling: New Zealand is known for its cycling-friendly infrastructure. Many cities have dedicated bike lanes and cycling paths. Bike rentals are available in tourist areas, and cycling can be an excellent way to explore the countryside at a leisurely pace.

Walking: In urban areas and tourist destinations, walking is often the best way to explore. New Zealand's cities are pedestrian-friendly, and many tourist attractions are within walking distance of each other.

Car Rentals: Renting a car is an excellent option for travelers who want the flexibility to explore off-the-beaten-path destinations. New Zealand has well-maintained roads and highways, making it easy to navigate. Just remember to drive on the left side of the road.

Camper Vans: For a unique experience, consider renting a camper van or motorhome. New Zealand has designated campgrounds and freedom camping areas where you can park overnight. This option is ideal for travelers looking to immerse themselves in the country's natural beauty.

Water Taxis: In coastal and lakeside areas, water taxis provide transportation to remote beaches and islands. They are common in places like Abel Tasman National Park and Queenstown's Lake Wakatipu.
4. Where to stay in New Zealand
New Zealand offers a wide range of accommodation options to suit all budgets. From luxury hotels and boutique lodges to hostels and holiday parks, you can find something that fits your style and needs. It's a good idea to book your accommodation in advance, especially during the peak tourist season.
5. Best Time To Visit New Zealand
New Zealand is a year-round destination, and the best time to visit depends on your preferences. If you love warm weather and outdoor activities, consider visiting during the summer months (December to February).
However, if you prefer fewer crowds and lower prices, the shoulder seasons of spring (September to November) and autumn (March to May) are excellent choices. Winter (June to August) is ideal for skiing and snowboarding enthusiasts.
6. Exploring New Zealand
Must-Visit Destinations in Newzeland:
Auckland:

Auckland

New Zealand's largest city is a bustling metropolis with a unique blend of urban and natural attractions. Don't miss the Auckland Sky Tower, Waiheke Island for wine tasting, and a trip to the Waitakere Ranges for stunning rainforest and beaches.

Rotorua:

Rotorua

Known for its geothermal wonders and Maori culture, Rotorua is a must-visit. Explore the geysers and mud pools in Te Puia and experience a traditional Maori cultural performance.

Queenstown:

Queenstown

The adventure capital of the world, Queenstown offers adrenaline-pumping activities like bungee jumping, skydiving, and jet boating. It's also a gateway to the stunning Fiordland National Park.

Wellington:

Wellington

New Zealand's capital city is known for its vibrant arts scene and culinary delights. Visit Te Papa, the national museum, and take a ride on the Wellington Cable Car for panoramic views.

Christchurch:

Christchurch

Explore the garden city's beautiful parks and the stunning Banks Peninsula. Don't forget to take a scenic ride on the TranzAlpine train through the Southern Alps.
Cultural Experiences: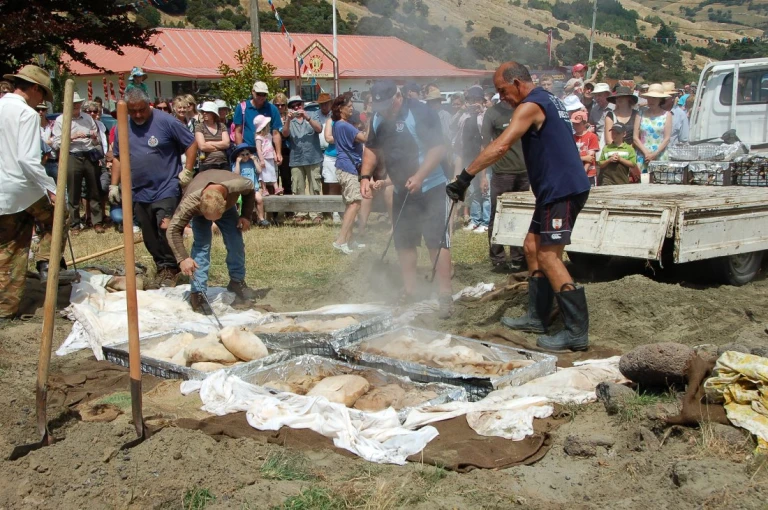 The Hangi: A Maori Feast
New Zealand is home to the Maori culture, and you should take the opportunity to learn about their traditions and history. Attend a traditional Maori hangi (feast) and visit a marae (meeting ground) to gain insights into their rich heritage.
Food and Cuisine:
New Zealand's food and cuisine reflect a unique blend of cultures, making it a diverse and flavorful culinary destination. Here are some of the key elements and dishes that define New Zealand's food culture:
1. Seafood: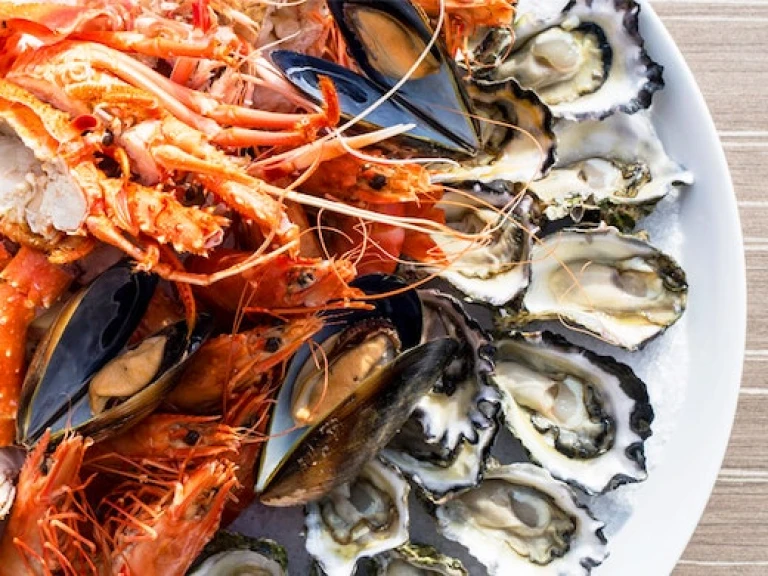 Seafood, New Zealand
With its extensive coastline and abundant marine life, seafood is a prominent feature of New Zealand cuisine. Some popular seafood dishes include green-lipped Mussels which are often steamed or cooked in a variety of sauces. Crayfish (Lobster) which is usually prepared grilled, boiled, or in creamy dishes.
2. Lamb and Venison: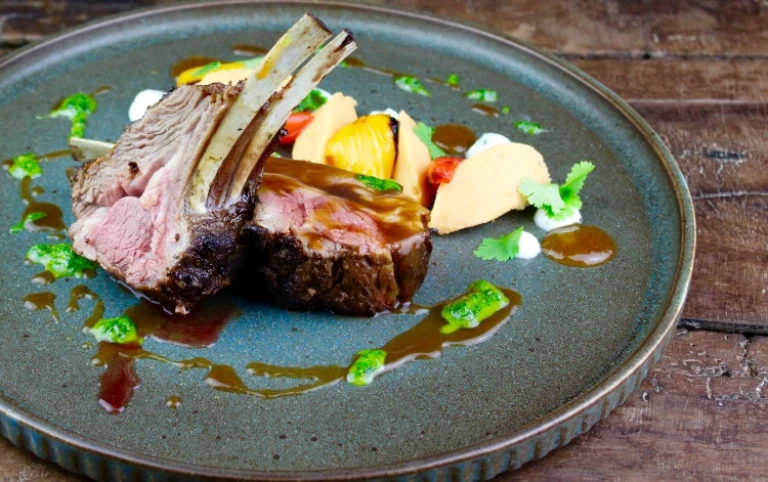 Lamb and Venison
New Zealand is famous for its high-quality lamb and venison. The grass-fed meat is tender and flavorful. Common lamb dishes include roast lamb served with mint sauce or in a lamb rack. Venison is often featured in gourmet preparations.
3. Maori Cuisine: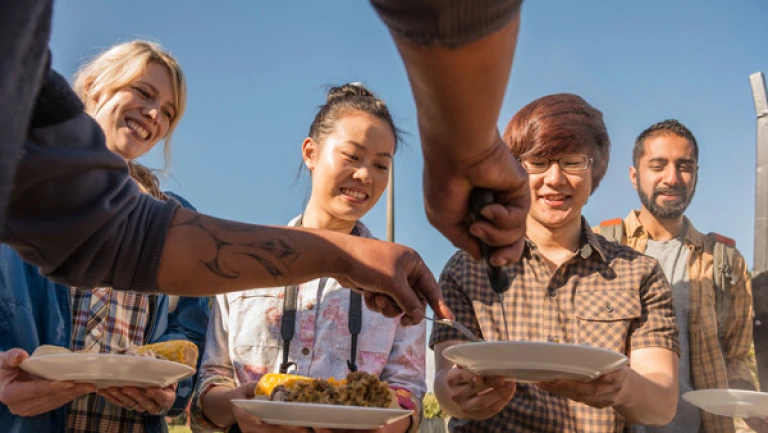 Maori Cuisine
Exploring Maori cuisine is an essential part of experiencing New Zealand's food culture. Traditional Maori dishes include:
Hangi: Food is cooked in an earth oven, resulting in a unique smoky flavor. It typically includes chicken, pork, lamb, kumara (sweet potato), and other vegetables.

Paua: A type of abalone, paua is used in various dishes, such as fritters or steaks.

Rewena Bread: This traditional Maori sourdough bread is made from a potato starter and has a distinct flavor.
4. Pacific Rim Fusion: New Zealand's cuisine often blends flavors from Asian, Pacific Island, and European traditions, resulting in dishes like:
Pacific-Style Seafood Salads: Featuring fresh seafood with coconut and tropical fruit.

Asian-Inspired Dishes with a Kiwi Twist: Fusion cuisine that incorporates ingredients like New Zealand venison or lamb with Asian sauces and spices.
A journey from India to New Zealand promises an unforgettable travel experience filled with stunning natural beauty, adventure, and cultural richness. Whether you're exploring the vibrant cities or immersing yourself in the pristine landscapes, New Zealand will captivate your heart and leave you with memories to cherish forever. So, pack your bags, and get ready to discover the land of the Kiwis!
Read more: 15 Must-Do Activities in New Zealand's South Island in 2023