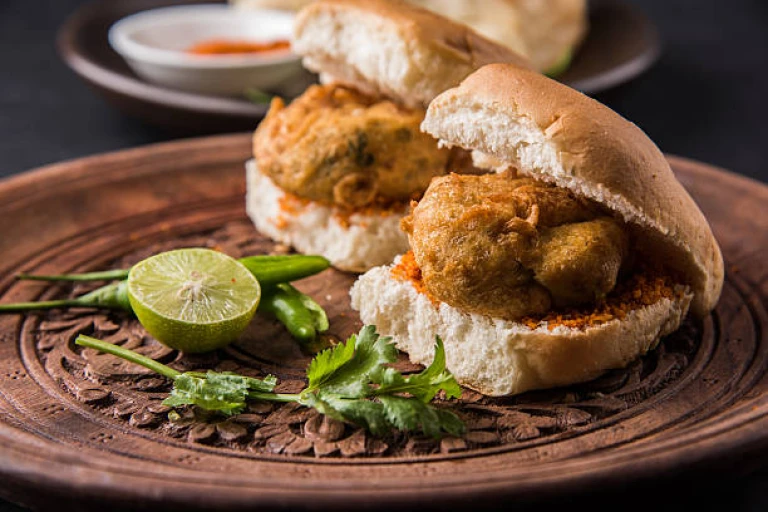 When it comes to cuisine, Mumbai is unrivaled. Mumbai is a gastronomic haven with a thriving and diversified cuisine scene. The city caters to every appetite, from street food like vada pav and pav bhaji to fine dining establishments serving various cuisines.
Every one of us has a favorite restaurant in town. Specific venues, however, stand out from the multitude, whether it's due to their outstanding cuisine, recognizable décor, or colorful backdrop. We've produced a list of our top 15 unforgettable eateries in Mumbai that we keep returning to!
1. Cafe Madras, Matunga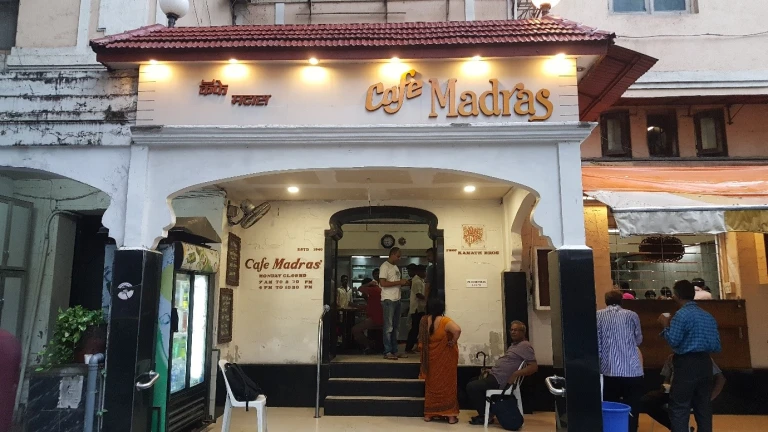 It is well-known for its authentic South Indian taste and ample quantities. It attracts both residents and visitors with its lively environment and cuisine, such as fluffy set dosa, appam with stew, and bisibele bhaat.
Long wait times, especially on weekends, make it a popular destination for tourists as well as residents. The popularity of the restaurant can be linked to its consistent quality and low rates. Furthermore, the courteous personnel contribute to the overall excellent eating experience at Cafe Madras.
What to order: Set Dosa, Appam With Stew, and Bisibele Bhaat
Shell Out: INR 250 for two
Address: GROUND FLOOR KAMAKSHI BUILDING, 391/B, Bhaudaji Rd, Matunga East, Mumbai, Maharashtra 400019
2. Cafe Leopold, Colaba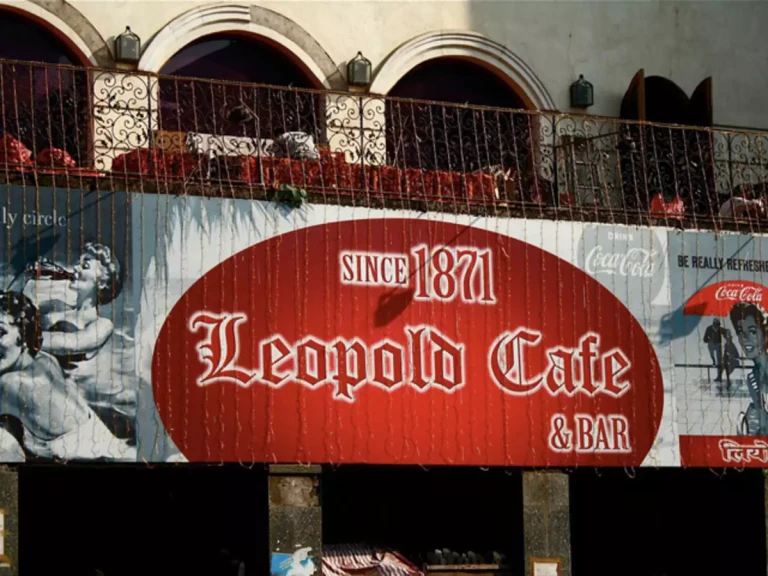 Cafe Leopold, a prominent Colaba cafe, is noted for its lively atmosphere and superb food. It attracts both residents and visitors due to its rich history and extensive food.
The restaurant is noted for its relaxed environment, which embodies Mumbai's busy street culture. Its prominent position in Colaba allows guests to savour exquisite food while immersing themselves in the vibrancy of the surrounding region.
Cafe Leopold has a variety of delectable street food selections, including local specialties and foreign cuisines to suit any pallet. It has been featured in both news and pop culture, and it is especially popular with visitors.
What to order: Split a beer tower among friends and wash down your Chicken Stroganoff, Chicken Wings, Mushroom Tikka
Shell Out: INR 2,000 for two
Address: Police Station, Shahid Bhagat Singh Road, Colaba Causeway, near Colaba, Mumbai, Maharashtra 400001
3. Shree Thaker Bhojanalay, Kalbadevi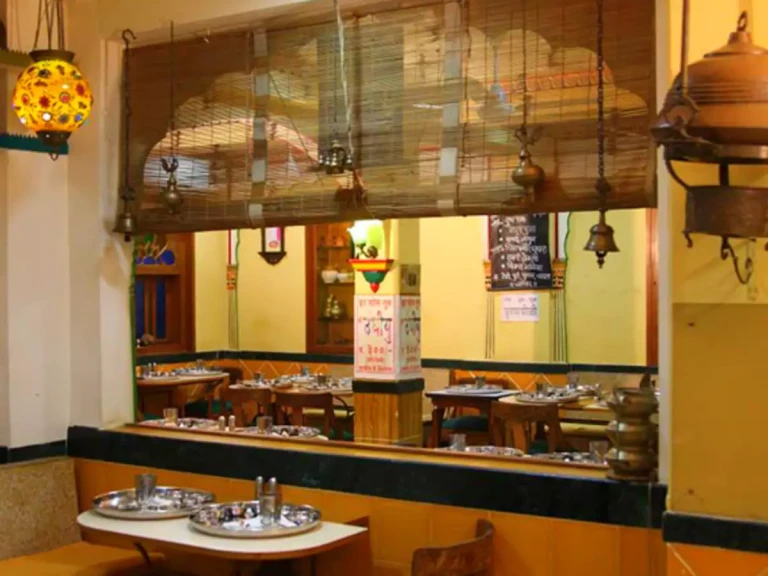 Shree Thaker Bhojanalay, a well-known Mumbai restaurant, is famous for its genuine Gujarati thali. The restaurant serves a wide range of food, including classic curries, farsan, and desserts, and it is a popular choice for both residents and visitors.
The eatery, located in Kalbadevi's bylanes, is famed for their limitless veg thali, which is both excellent and inexpensive.
The warm and inviting atmosphere enhances the whole eating experience, making it a must-visit for anyone looking for authentic Gujarati food. For those desiring Gujarati food, the restaurant's healthy dining experience and exquisite thali make it a must-visit.
What to order: Classic Thali, Sunday Thali
Shell Out: INR 1,300 for two
Address: Building No, 31, Dadiseth Agiyari Ln, Marine Lines East, Gaiwadi, Kalbadevi, Mumbai, Maharashtra 400002
4. Britannia And Co, Ballard Estate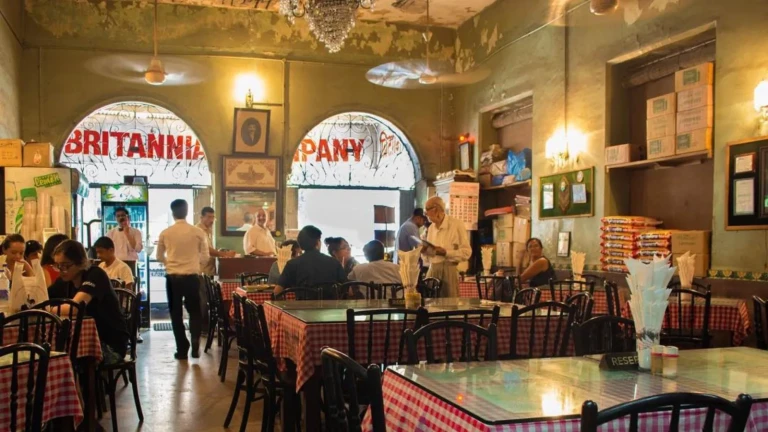 Britannia And Co. is a prominent Mumbai restaurant noted for its excellent Iranian and Parsi food. The restaurant's classic design and pleasant environment appeal to both residents and tourists. Signature dishes such as Berry Pulao and Dhansak demonstrate their dedication to retaining traditional tastes.
The restaurant has a broad range of vegetarian and non-vegetarian alternatives, and the attentive and courteous service enhances the eating experience. The restaurant's charm, run-down décor, and nostalgic Duke's raspberry soda make it a must-see for foodies exploring Mumbai's rich culinary legacy.
What to order: Berry Pulav, Mutton Dhansak, Sali Boti, Caramel Custard
Shell Out: INR 1,000 for two
Address: Britannia and Company Restaurant St, Ballard Estate, Fort, Mumbai, Maharashtra 400001
5. Khyber, Kala Ghoda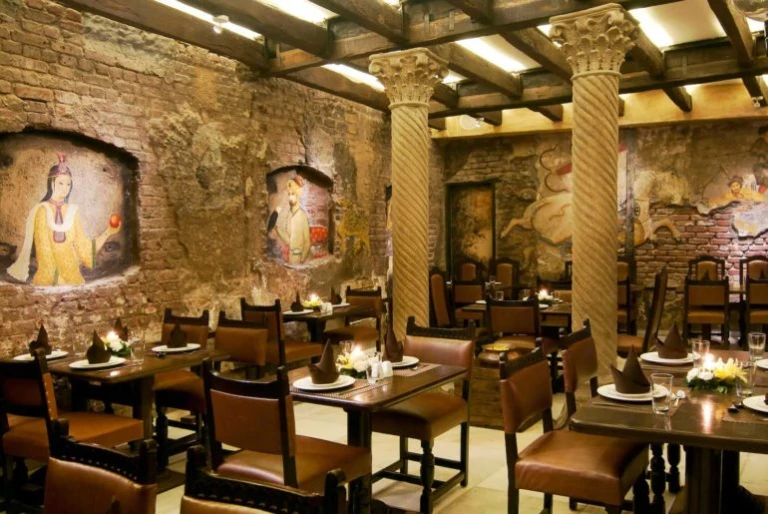 Khyber, a fine dining restaurant in Kala Ghoda, serves authentic North Indian food with an elegant and traditional touch. It is popular among residents and visitors for its original tastes and outstanding service, and it has a storied history dating back to 1958. Celebrities frequent the restaurant because of its regal air, mughal-style décor, and exposed masonry.
The cuisine takes you on a gastronomic trip through the tastes of North India, from delicious kebabs to fragrant biryanis. Khyber's attention to detail and devotion to high-quality ingredients offer a memorable dining experience, making it an outstanding venue for romantic meals or special occasions.
What to order: Malai Tikka, Afghani Chicken, Butter Chicken, and Paan Kulfi
Shell Out: INR 2,700 for two
Address: 145, Mahatma Gandhi Road, Kala Ghoda, Fort, Mumbai, Maharashtra 400001
6.

Suraj Lama Momos, Versova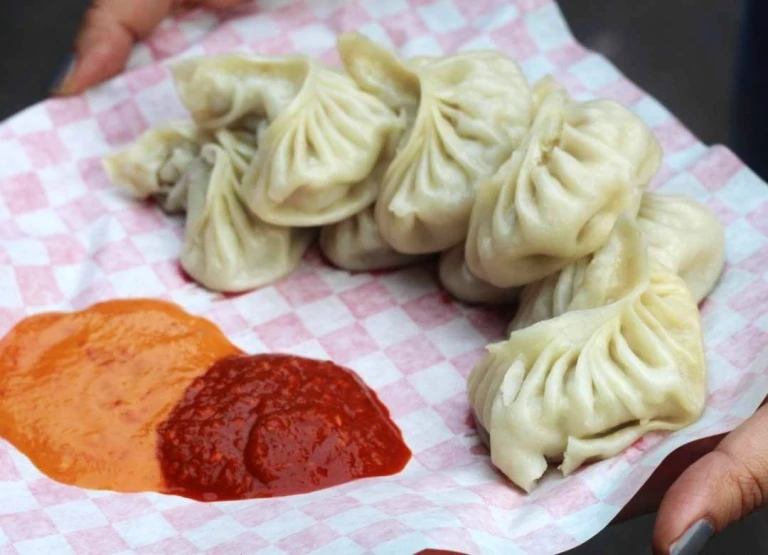 Mumbai's momowallahs, renowned for their genuine Indian momos, are renowned for their expert methods for producing the ideal tastes and textures. Visit Suraj Lama Momos, the pride of Andheri, if you're in Versova for its delectable momos.
The modest stand provides traditional steamed and decadent fried choices with interesting fillings and dipping sauces. Don't pass up the opportunity to indulge in these delicious sweets while taking in Versova's tranquil seaside ambiance.
What to order: Chicken cheese tandoori momos, pahadi tikka momos, fried momos
Shell Out: INR 500 for two
Address: Seven Bunglow, Seven Bunglow-Versova, Mumbai - 400061 (Near Seven Bunglow Polise Chauki)
7. Prithvi Cafe, Juhu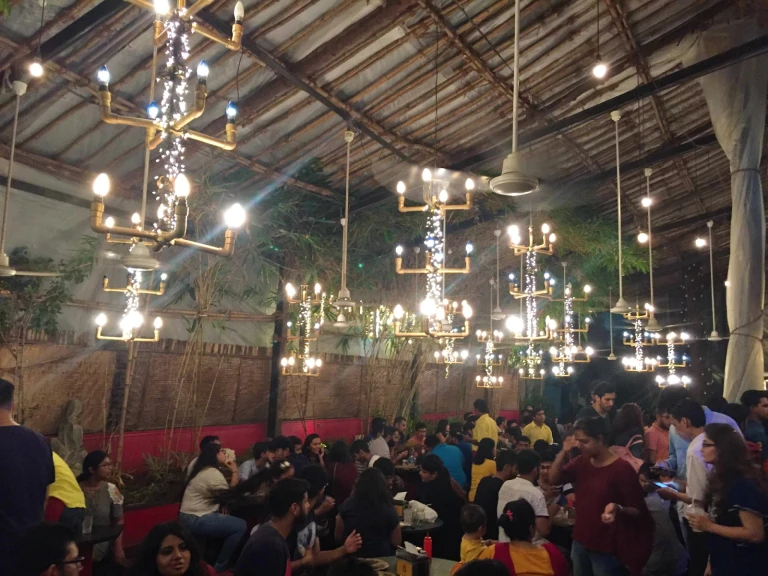 This café in Mumbai's core provides a pleasant and romantic ambiance ideal for low-cost dating nights. It's a favorite hangout for Mumbai's student and creative set, thanks to its inexpensive food selections and lovely atmosphere.
The creative ambience of the cafe is further boosted by live music performances and poetry readings on occasion. Its prominent position draws both residents and tourists looking for one-of-a-kind eating experiences.
The patio chairs and fairy lights offer a charming atmosphere for relaxing with coffee and warming nibbles. The menu has a combination of classic Indian dishes and fusion cuisine, catering to a wide range of tastes.
Every taste, from masala chai to street culinary delights, makes an indelible impact. This café offers both a quiet place to work and a lively setting in which to mingle.
What to order: Suleimani Chai, Irish Coffee, Mixed Parathas, Kheema Pav
Shell Out: INR 300 for two
Address: 20, Janki Kutir Apartment, Alongside Prithvi Theatre, Juhu Church Rd, Mumbai, Maharashtra 400049
8. Delhi Darbar, Colaba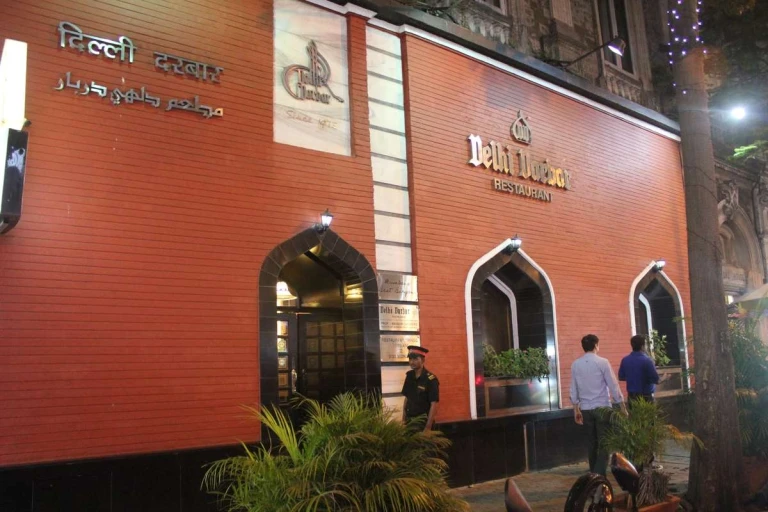 For those who miss combining dal makhani, butter chicken, and naan for the ultimate cuisine feast, Delhi Darbar Colaba, a popular Mughlai restaurant, is a must-visit. It has something for everyone, with a daily changing menu as well as classics.
The restaurant also serves a variety of vegetarian dishes, such as paneer tikka and veggie biryani, guaranteeing that even vegetarians may enjoy the rich tastes of Mughlai cuisine.
Furthermore, Delhi Darbar Colaba is noted for its warm and friendly ambiance, making it the ideal location for a memorable dining experience with friends and family.
What to order: Chicken Leg Barra, Murgh Musallam, and Butter Chicken
Shell Out: INR 1,100 for two
Address: Holland House, Colaba Causeway, Near Regal Cinema, Scindia Society, Police Colony, Apollo Bandar, Colaba, Mumbai, Maharashtra 400005
9. Kyani & Co, Marine Lines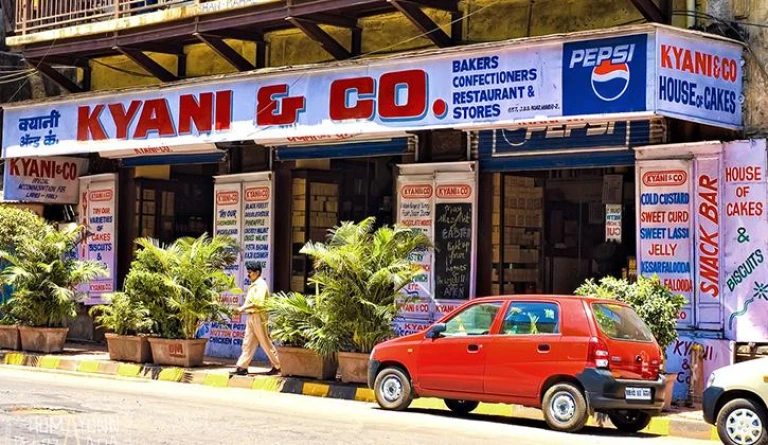 Kyani and Co is a well-known cafe with a century-long tradition. This Iranian café in Marine Lines is popular with office workers, college students, and foodies, and its keema pav and khaari are must-tries. The pleasant ambience and historic design of the café add to its allure, sending guests back in time.
The keema pav is a tasty blend of delicious minced beef and soft bread, while the khaari is a crispy and flaky pastry that goes great with a cup of hot chai.
What to order: Elaichi-flavoured chai, bun maska, khaari, kheema pav, chicken sali boti, dhansak
Shell Out: INR 300 for two
Address: Jer Mahal Estate, 657, Jagannath Shankar Seth Rd, opp. Metro Inox Theatre, Dhobi Talao, Marine Lines, Mumbai, Maharashtra 400002
10. Bademiya, Colaba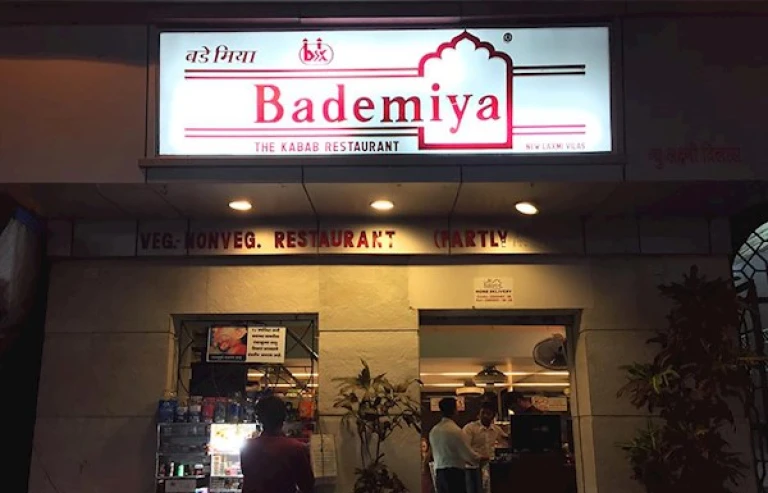 Bademiya in Colaba is a popular after-work hangout renowned for its superb street cuisine and lively environment. Bademiya is a favorite site for relaxation after a hard day or to keep the party going till the early hours of the morning.
It is known for its kebabs and rolls, including the famous chicken seekh kebab, mutton keema roll, and bhuna chicken. The restaurant also serves vegetarian alternatives such as paneer tikka and veggie rolls.
The bustling environment and courteous personnel make it a great spot for friends to explore Mumbai's street food scene.
What to order: Chicken Seekh Kebab, Mutton Kheema Roll, and Bhuna Chicken
Shell Out: INR 900 for two
Address: Tulloch Rd, behind Hotel Taj Mahal, Apollo Bandar, Colaba, Mumbai, Maharashtra 400039s: Tulloch Rd, behind Hotel Taj Mahal, Apollo Bandar, Colaba, Mumbai, Maharashtra 400039
11. Bachelorr's, Chowpatty & Bandra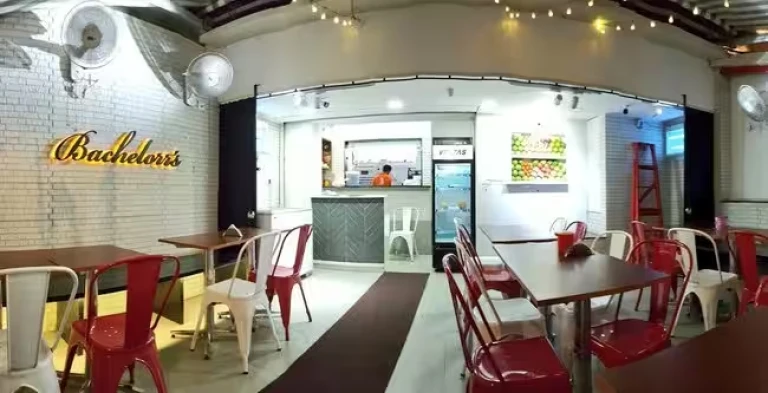 Bachelorr's is a well-known late-night snack establishment in Mumbai, famed for its wide range of ice cream flavors and fruit shakes. It's a popular choice for both locals and tourists, thanks to its handy locations across the city.
The restaurant serves conventional chocolate shakes as well as innovative flavor combinations, pleasing both sweet and adventurous palates. Bachelorr's is very popular with folks who are driving to SoBo. The restaurant's reputation for high-quality ingredients and consistently delectable desserts has earned it a following among foodies.
The lively ambiance enhances the whole experience, making it a must-see for anyone looking for a delicious late-night snack. Classic roasted Cadbury ice cream, strawberry cream, and Green Chilli Ice Cream are all on the menu.
What to order: green chili ice cream, wrapsules, pizzas, and grilled sandwiches.
Shell Out: INR 300 for two
Address: House Party, Shenoy Mansion, 5th Rd, Khar West, Mumbai, Maharashtra 400052
12. Cafe Mondegar, Colaba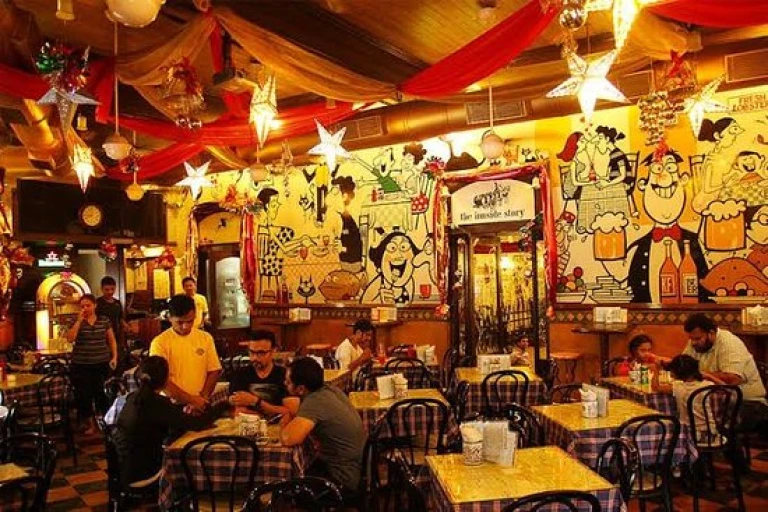 Cafe Mondegar, located on Colaba Causeway, is a popular hangout for both residents and visitors. The cafe's bright ambiance, quirky design, and superb food make it a local and tourist favorite. The cafe, which opened in 1932, has classic paintings by renowned artist Mario Miranda, which provide a sense of aesthetic beauty.
It was the city's first café to offer a vintage jukebox, creating a nostalgic ambiance for tourists to enjoy their favorite tracks while eating. The cafe's dedication to preserving its history and charm makes it a must-see destination for visitors looking for a one-of-a-kind eating experience.
The cafe's enviable position on a bustling street, along with dazzling jewelry and bright clothing, adds to its allure. Additionally, the cafe offers a diverse menu catering to various dietary preferences.
What to order: bacon-wrapped prawns, Arrabbiata penne pasta, Mondy's special steak cheeseburger
Shell Out: INR 1,300 for two
Address: Metro House, Colaba Causeway, near Regal Cinema, Apollo Bandar, Colaba, Mumbai, Maharashtra 400001
13. Ashok Vada Pav, Prabhadevi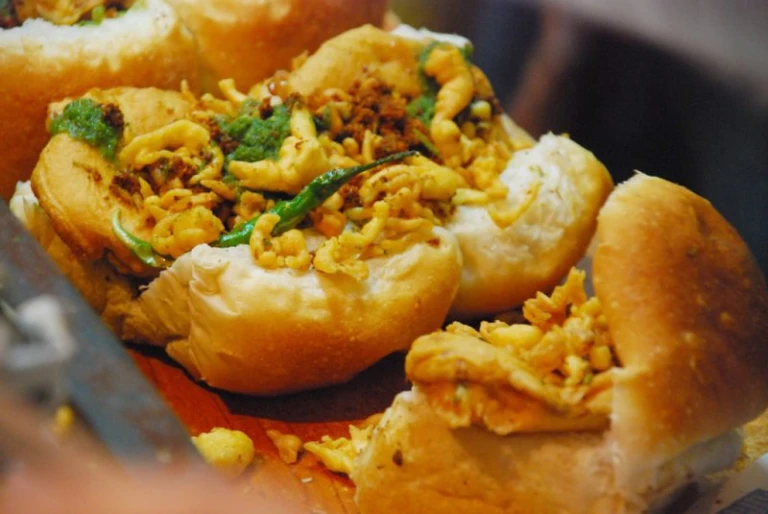 Ashok, Mumbai's vada pav kings, is famous for its scrumptious 'choora pav', a novel variation of the original vada pav. They load the pav with choora and chutney, producing a delectable texture that is difficult to resist. Ashok's chutney enhances the whole flavor with a tangy and spicy bite, making it a must-try for vada pav fans.
Because of carefully selected ingredients and rigorous preparation, Ashok's vada pav has continuously tasted the same for over two decades. Each vada is fried to perfection, with a golden and crispy surface and a tasty and moist interior.
Ashok's commitment to excellence has gained him a devoted following of customers who return for more of his delectable vada pav. Ashok's modesty cart can be found at Kirti College in one of the lanes of Dadar.
What to eat: Ashok's famous choora pav, normal vada pavs
Shell Out: INR 100, two people can enjoy an authentic taste of Mumbai street food.
Address: Kashinath Dhuru Marg, Dadar West, Dadar, Mumbai, Maharashtra 400028
14. Gaylord, Churchgate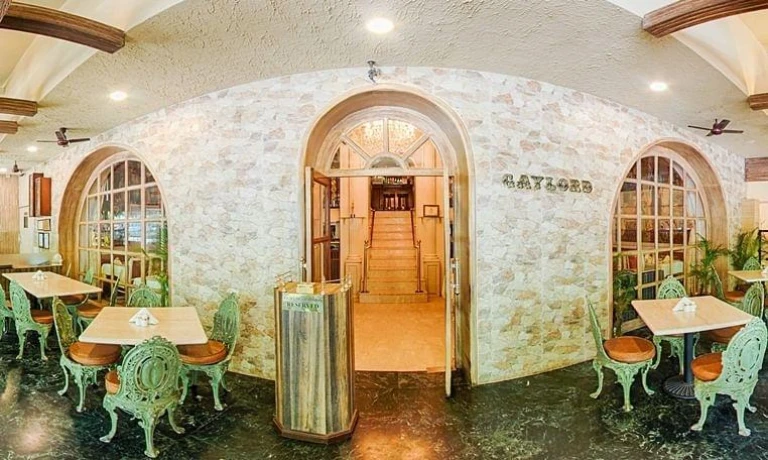 Gaylord's fine dining restaurant provides a romantic evening with superb cuisine prepared by famous chefs. Alternatively, for a casual yet wonderful eating experience, dine in the beautiful setting of their outdoor bakery.
Gaylord has been a treasured institution in Bombay since 1956, with a rich history and timeless appeal. You can anticipate the highest quality and taste whether you dine in a sophisticated diner or the outside bakery.
Gaylord has a broad cuisine that caters to a wide range of tastes and preferences, including classic North Indian meals with fragrant spices as well as Continental and European selections. Indulging in these delectable treats with your loved one at Gaylord will undoubtedly make for an unforgettable dining experience.
What to order: Waldorf salad, tandoori jumbo prawns, Chicken A'la Kiev, Baked Alaska
Shell Out: INR 2,000 for two
Address: Mayfair Building, V N Rd, Churchgate, Mumbai, Maharashtra 400020
15. K Rustom's, Marine Drive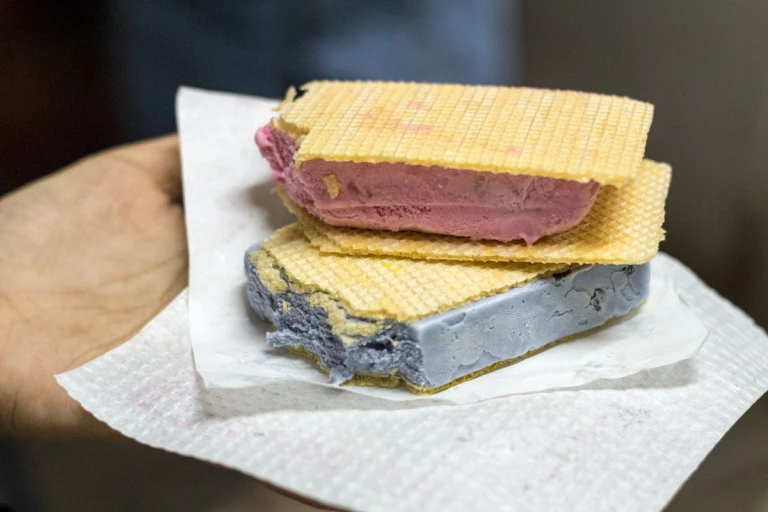 K. Rustom & Co. often known as K. Rustom's, is a Mumbai-based Iranian ice cream parlor that has been manufacturing fresh, delectable cookies since 1953. The famous ice cream is served in the form of a large slab sandwiched between wafer cookies and covered in thin butter paper.
With flavors ranging from basic vanilla to exotic mango, the unusual mix of creamy ice cream and crunchy biscuits provides a wonderful texture. A visit to K. Rustoms transports consumers back in time while relishing the ultimate ice cream treat, whether they are locals or tourists.
The most popular flavors, walnut crunch and Kesar Pista, are layered with walnut, caramelized sugar, and pista, which enhances the entire flavor and adds a delightful crunch with each mouthful. The harmonious blend of smooth ice cream and crunchy toppings makes it irresistible.
What to order: Green mango, guava, choco delight, walnut crunch, papaya, and sitaphal ice-cream biscuits
Shell Out: INR 150 for two
Address: Brabourne Stadium, 86, Veer Nariman Rd, Churchgate, Mumbai, Maharashtra 400020
Conclusion
These notable eateries have become well-known landmarks in Mumbai's gourmet scene, attracting both locals and visitors. These restaurants, which range from the historic Leopold Cafe to the trendy and inventive Bombay Canteen, have not only improved the dining experience but also contributed to Mumbai's burgeoning culinary culture.
Their distinct menus and ambiance have made them popular among foodies looking for a taste of Mumbai's numerous gastronomic offerings. These eateries have played a vital part in putting Mumbai on the world cuisine map, with their fame growing through word-of-mouth and social media.