When the hustle and bustle of city life becomes overwhelming, the serene hill stations near Bangalore offer the perfect escape. In 2023, make the most of your weekends by exploring these enchanting destinations that promise cool weather, lush landscapes, and a refreshing change of pace. Here are some of the best hill stations near Bangalore, along with essential details to plan your getaway:
1. Coorg (Kodagu)
The journey to Coorg takes you through winding roads, coffee plantations, and scenic beauty. The route is a picturesque drive that offers travelers glimpses of the Western Ghats' splendor.
While en route to Coorg, don't miss the opportunity to visit the Namdroling Monastery, Dubare Elephant Camp, and the picturesque Bylakuppe Tibetan Settlement. These attractions add cultural richness and natural beauty to your journey.
Once you reach Coorg, you can explore the coffee estates, the majestic Abbey Falls, the sacred Talakaveri, and immerse yourself in the rich Kodava culture. The hill station is known for its serene landscapes and opportunities for nature enthusiasts and trekkers.
Distance from Bengaluru: Approximately 265 kilometers.
Estimated Travel Time: 5-6 hours.
Best Time to Visit: October to March.
2. Ooty (Udhagamandalam)
The road to Ooty is a journey through the Nilgiri hills, offering breathtaking views of tea plantations and dense forests. It's a scenic drive that promises to be a visual treat.
On your way to Ooty, consider stopping at Bandipur National Park and Mudumalai National Park, both of which offer a chance to witness wildlife in their natural habitat. The journey itself is an attraction with its lush landscapes.
Ooty is home to the famous Ooty Botanical Gardens, Ooty Lake, Nilgiri Mountain Railway, and the highest peak in the Nilgiris, Doddabetta Peak. These places are perfect for those seeking natural beauty and a touch of history.
Distance from Bengaluru: Approximately 270 kilometers.
Estimated Travel Time: 6-7 hours.
Best Time to Visit: April to June, September to November.
3. Yelagiri
The journey to Yelagiri from Bengaluru is a pleasant drive that covers approximately 160 kilometers, taking you through picturesque Tamil Nadu landscapes. As you leave the city behind, you'll meander through scenic highways and winding roads, gradually ascending into the refreshing hills of Yelagiri.
En route to Yelagiri, you can make pit stops to enjoy the serene beauty of the Jalagamparai Waterfalls and explore the charming town of Vaniyambadi. These delightful detours add a touch of adventure to your road trip.
Yelagiri, a lesser-known gem in the Eastern Ghats, offers a tranquil retreat. Explore the Swamimalai Hills with their breathtaking viewpoints, embark on a trek to the Velavan Temple, and unwind by the Punganur Lake. The town's laid-back atmosphere and lush greenery make it an ideal destination for relaxation and rejuvenation.
Distance from Bengaluru: Approximately 160 kilometers.
Estimated Travel Time: 3-4 hours.
Best Time to Visit: Throughout the year.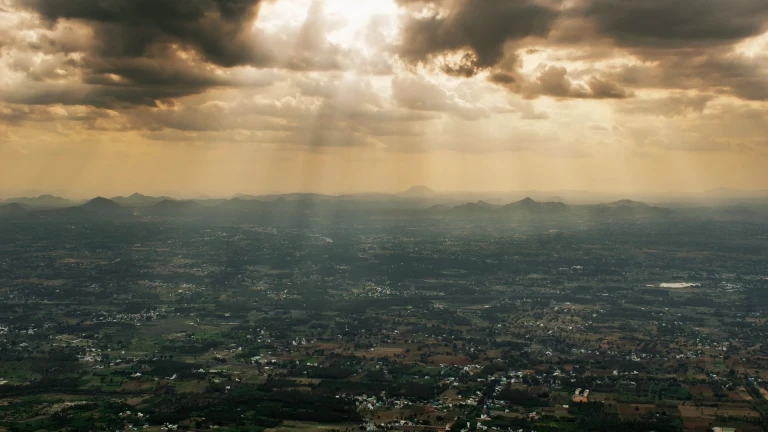 4. Nandi Hills
Nandi Hills is the closest hill station to Bengaluru, making it a quick and easy getaway. The short drive of around 60 kilometers takes you through a scenic route with rolling hills and pleasant views.
While the journey is relatively short, you can make a pit stop at the beautiful Bhoga Nandeeshwara Temple or the quirky Nandi Statue Park. These sites offer a glimpse into the cultural and historical heritage of the region.
Nandi Hills is famous for its stunning sunrise at the summit, historic Nandi Fort, and the serene Amrita Sarovar Lake. It's a perfect destination for a day trip or a short weekend getaway from Bengaluru.
Distance from Bengaluru: Approximately 60 kilometers.
Estimated Travel Time: 1.5-2 hours.
Best Time to Visit: Early mornings for the sunrise, but Nandi Hills can be visited year-round.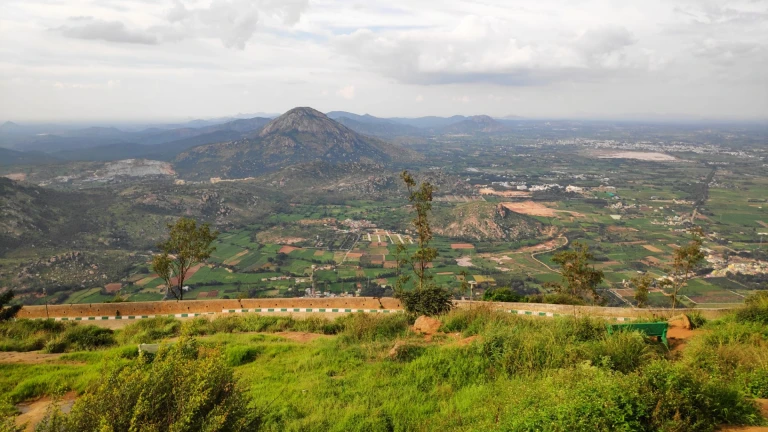 5. Chikkaballapur
The road trip from Bengaluru to Chikkaballapur is a short and refreshing escape, covering around 60 kilometers in approximately 1-2 hours. The route takes you through the beautiful Karnataka countryside.
While the journey is relatively brief, you can explore the stunning Bhoga Nandeeshwara Temple, the serene Nandi Hills, and enjoy a relaxed time at Muddenahalli. These stops add cultural and natural diversity to your trip.
Chikkaballapur offers attractions like Nandi Hills, Skandagiri Trek, and the historic Bhoga Nandeeshwara Temple. It's an excellent place for nature lovers and trekkers.
Distance from Bengaluru: Approximately 60 kilometers.
Estimated Travel Time: 1-2 hours.
Best Time to Visit: Chikkaballapur can be visited year-round, but early mornings are perfect for watching the sunrise at Nandi Hills.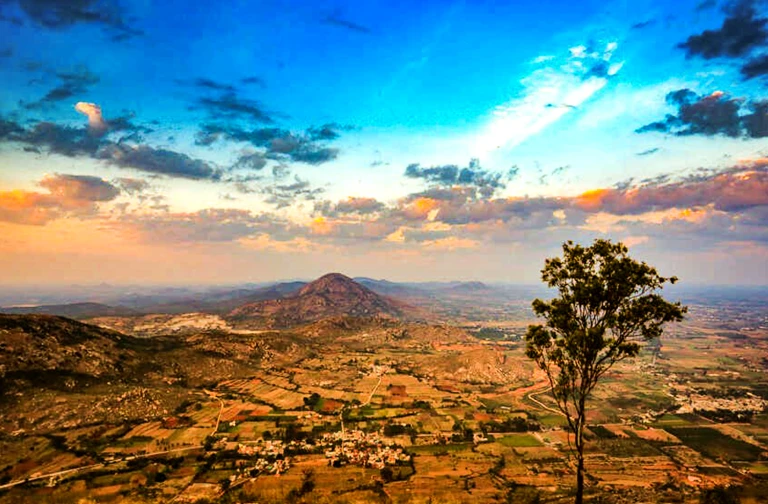 Image credit: Karnataka Tourism
These hill stations near Bangalore beckon with their unique charm and the promise of a rejuvenating getaway. Whether you're seeking adventure, culture, or simply a break from the routine, these destinations have something for everyone. Plan your trips wisely based on the best time to visit each, and embark on memorable journeys to these stunning hill stations in 2023.
Also Read: 15 Road Trips from Bengaluru You Can Take in 2023